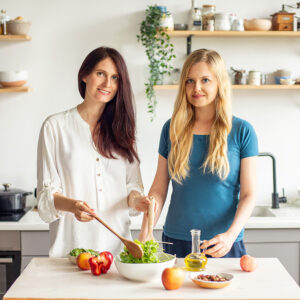 Welcome to the Willow's Kitchen! We're Julia and Lana – two passionate cooks, professional food photographers, and recipe developers. We created this blog to share our love of healthy, vibrant, and delicious food with you.
Over the years, we've developed a deep appreciation for the power of fresh, whole ingredients to nourish the body and delight the senses. Being professional food photographers, we bring this love of food to life through stunning visuals that capture the beauty and flavor of every dish.
At the Willow's Kitchen, we offer a diverse range of recipes that embody our love for season-focused, plant-based cooking. We develop many vegan and gluten-free recipes, but also have traditional healthy recipes with a unique twist that you will love. We believe that healthy eating should never be boring or restrictive, and we're always experimenting with new flavor combinations and techniques to create dishes that are both delicious and nutritious.
Our goal is to inspire you to step into your kitchen and start cooking with confidence. We believe that everyone can benefit from healthy, plant-based food, and we're committed to sharing recipes that are approachable, easy to make, and absolutely delicious. Whether you're a seasoned home cook or just starting out, we hope you'll find something here that inspires you to get creative in the kitchen and helps you enjoy cooking even more.
We're thrilled to share our passion for food with you, and we look forward to sharing a lot more recipes and food tips with you in the future. If you have any questions or feedback, please don't hesitate to reach out to us at thewillowskitchenhome@gmail.com. Thank you for visiting Willow's Kitchen!
Work with Us
Here are some of the ways we can work together:
Recipe Development If you want to showcase your products with some interesting and eye-catching recipes, we can help. That's what we do for fun and professionally all the time.
Food Styling & Photography We are available to photograph and style your recipes for product websites, marketing materials, editorial projects and social media campaigns.