These Vegan Applesauce Oatmeal Pancakes are an easy, healthy and delicious breakfast that can be made in minutes. Perfect for a weekend brunch or breakfast!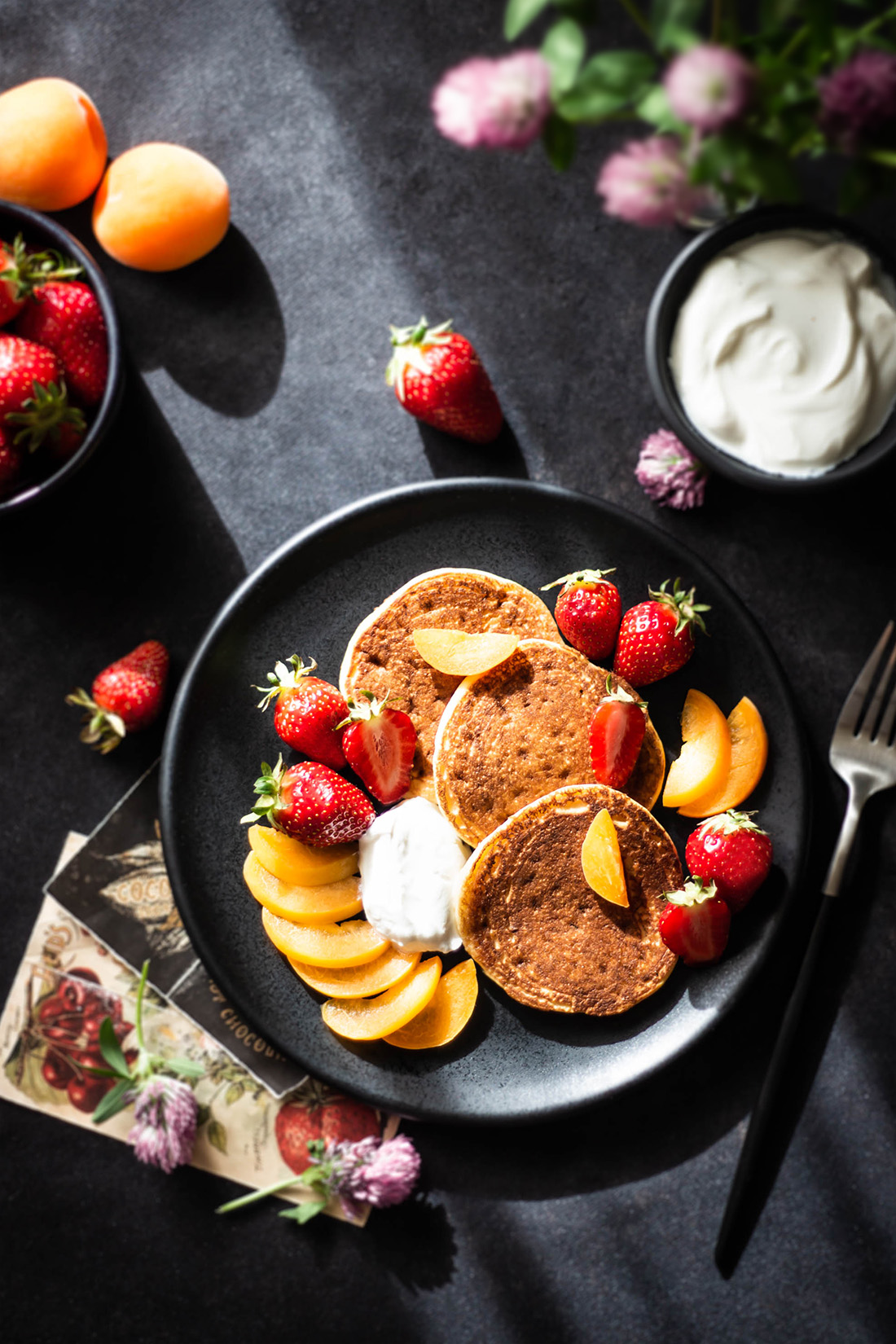 Oatmeal is always considered to be very healthy and filling breakfast. Oats contain the most important components for the formation and development of bones and muscles, such as magnesium, potassium, calcium, phosphorus, iron, zinc and other minerals and vitamins. That's why oats are highly recommended for children.
So what if we combine healthy and delicious? These applesauce oatmeal pancakes are flourless, contain only the natural sweetness of maple syrup and are really tasty.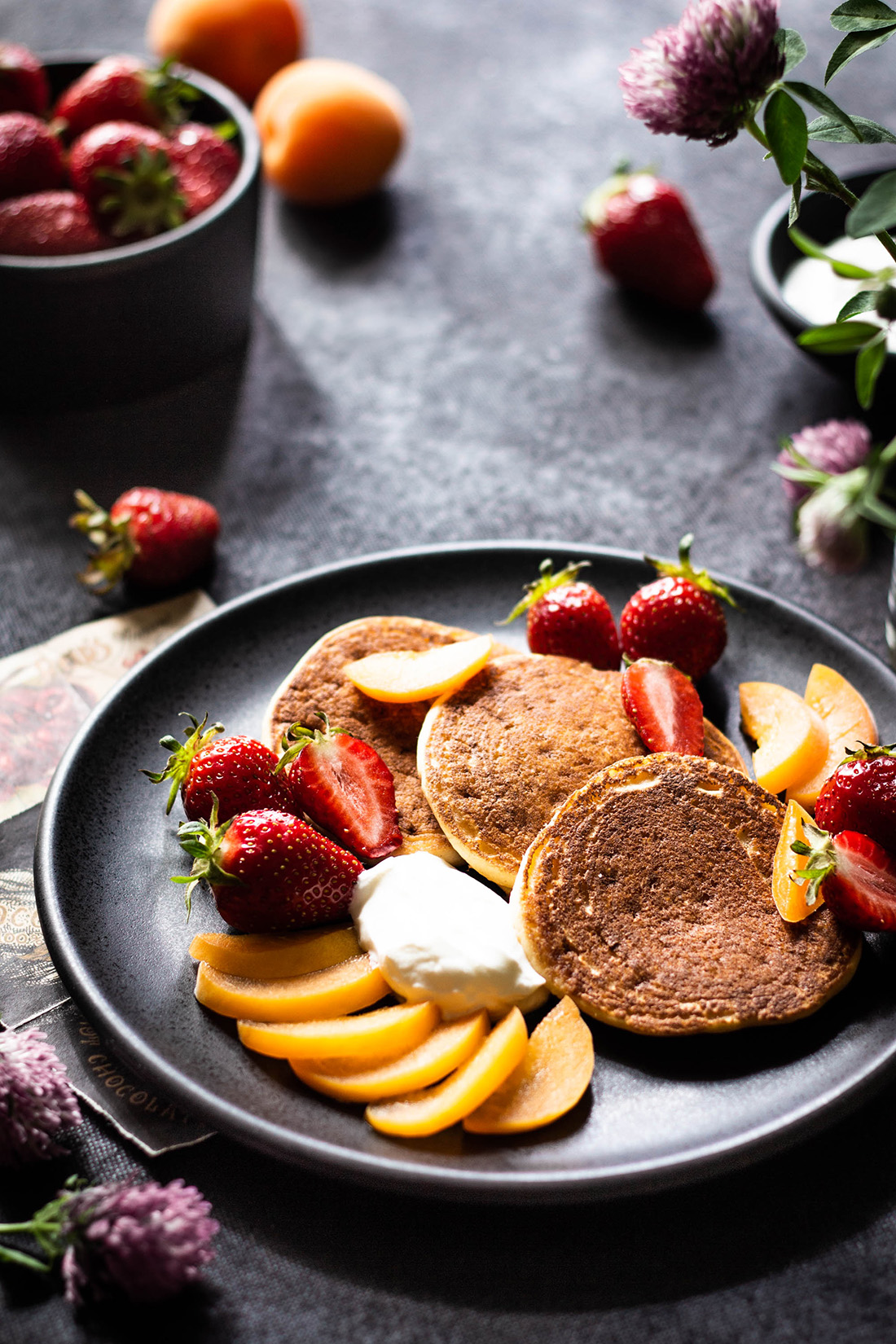 By adding different toppings, you can create a nutritionally balanced breakfast. Tossing berries and fruits into your pancakes is a great way to enrich your breakfast with antioxidants and vitamins. Sprinkle with some nuts or seeds to add healthy fats and some protein. It will fill you for longer and increase your energy. But the biggest advantage is that these applesauce oat pancakes are extremely delicious! Moreover, they are very easy to make.
Applesauce is widely used as a substitute for eggs in vegan baking because of the ability to bind ingredients. Also, it makes the texture better. And of course it gives a slight apple flavor to the pancakes. If you want to bring the flavor of apple pie – add some spices. Cinnamon, nutmeg, ginger and cloves  go well with applesauce. Choose your favorite ones or use the mix.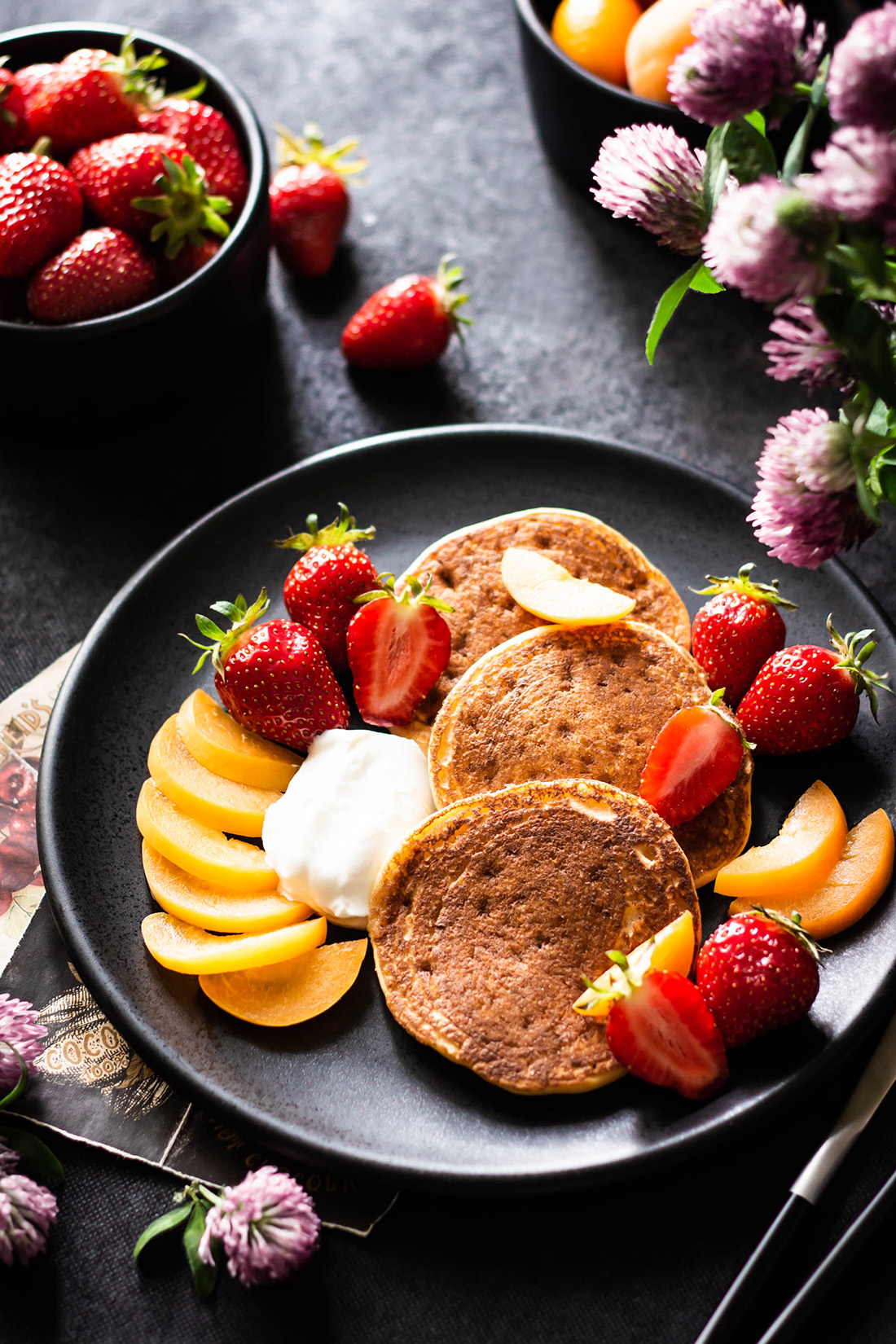 These Applesauce Oatmeal Pancakes are really what your family needs. Add your favorite add-ins, top with maple syrup or salted caramel sauce, and you will get a perfect morning!
If you like this recipe, be sure to check out Tiramisu Overnight Oats, Vegan Buttermilk Pancakes and Apple Cinnamon Oatmeal recipes.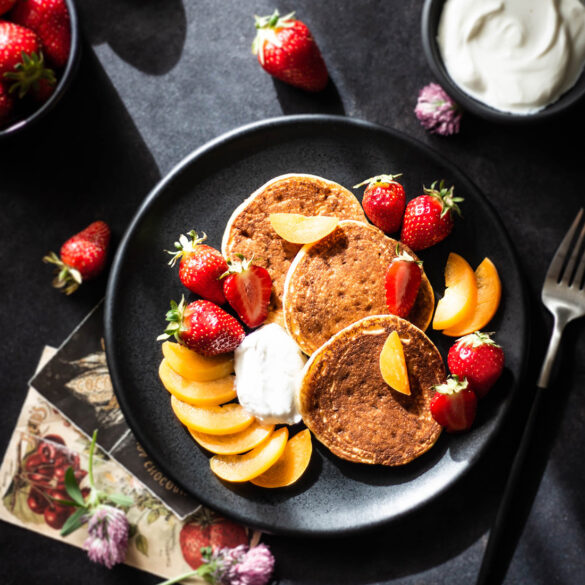 These Vegan Applesauce Oatmeal Pancakes are an easy, healthy and delicious breakfast that can be made in minutes. Perfect for a weekend brunch or breakfast!
Ingredients
1 ½ cups (150 g) rolled oats
⅔ cup (160 ml) almond milk
3 tbsp (60 g) applesauce
2 tbsp (40 g) maple syrup
1 tbsp coconut oil, melted
1 tbsp apple cider vinegar
1 tbsp baking powder
1 tsp vanilla extract
pinch of salt
Instructions
Blend the rolled oats in a food processor or coffee grinder until finely ground flour.
Mix ground oats with baking powder and pinch of salt.
In a separate bowl, mix together almond milk and apple cider vinegar, stir to combine. Set aside for 5-10 minutes to curdle to get a vegan buttermilk. Add melted coconut oil, applesauce, maple syrup and vanilla extract
Pour the liquid ingredients into the dry ingredients and stir well. Let the batter rest for about 5 minutes.
Preheat a non-stick pan on medium heat. If necessary you can lightly oil the pan.
Pour the batter onto the hot pan (1 tbsp for one pancake) and cook the pancakes for about 2-3 minutes until the top begins to bubble and the pancakes become dry around the edges. Flip and cook the second side till slightly golden brown.
Repeat the process with the remaining batter, adding more oil if needed.
Serve warm with fresh berries and maple syrup.
Nutrition
Calories:
277kcal
Fat:
8.6g
Saturated Fat:
4.4g
Cholesterol:
0mg
Sodium:
134mg
Carbohydrate:
45.2g
Fiber:
4.4g
Sugar:
13.3g
Protein:
6g
Vitamin D:
53mcg
Calcium:
248mg
Iron:
2mg
Potassium:
697mg
Did You Make This Recipe?
Tag us on Instagram
@thewillowskitchen
and hashtag #thewillowskitchen to show your results. And be sure to leave a comment in the section below :)