Vegan Baked Feta Pasta is a super delicious, fast, and easy-to-make dinner idea. You only need a few ingredients for this spectacular dish. Roasted cherry tomatoes, creamy and tangy vegan baked feta, gluten-free pasta, and a few herbs and seasonings, make this dish amazingly good. It will blow you away with its tenderness, flavor, and very rich taste. It's one of the easiest and most delicious recipes! If you are looking for something new, interesting, and easy to make – this trendy dish is definitely worth a try. You'll love it.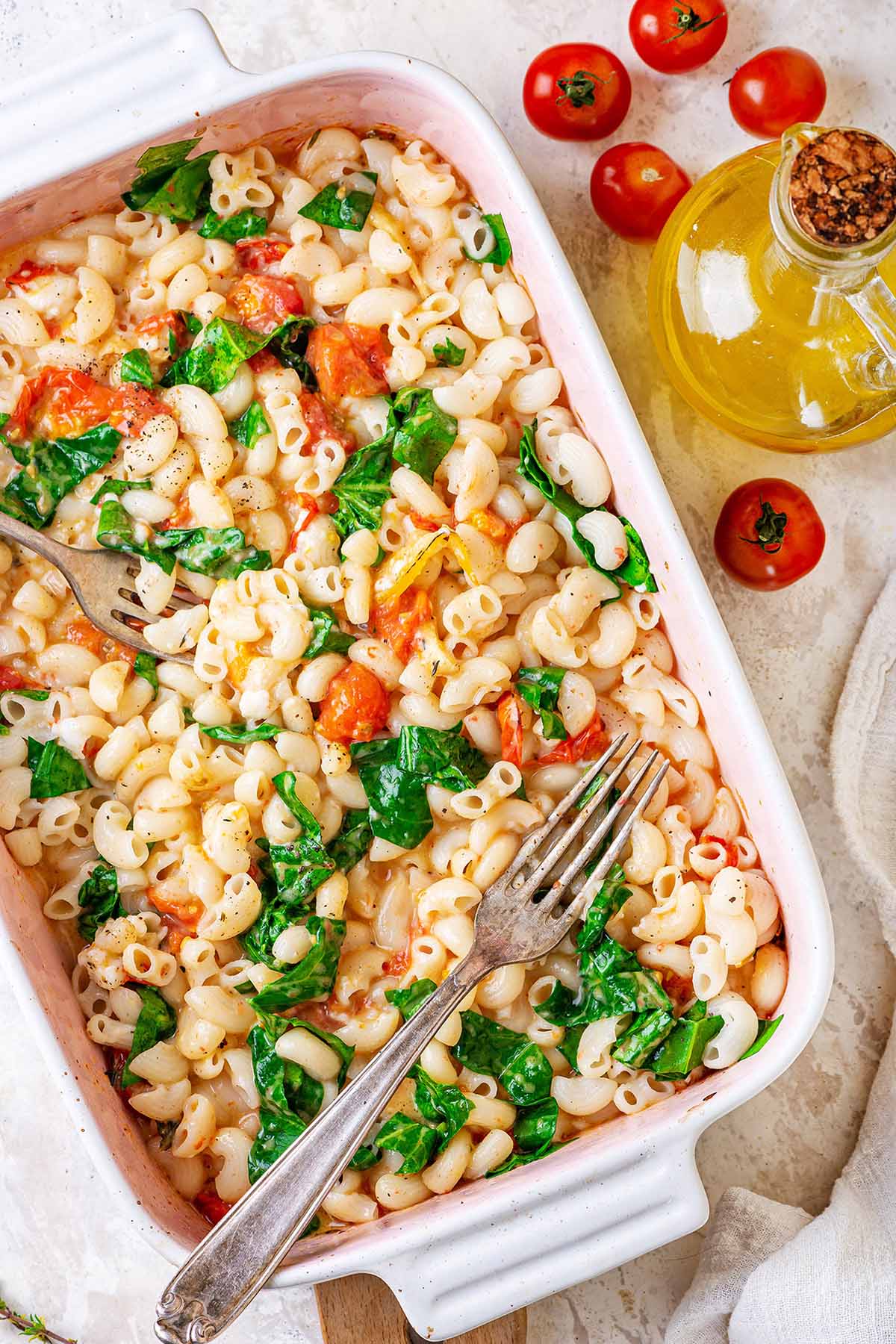 Baked Feta Pasta has rapidly gained popularity worldwide. The concept of this dish first gained attention on TikTok through Finnish blogger Jenni Häyrinen, and it quickly became a sensation in many countries. And why wouldn't it? It is a delicious, super-fast, and easy-to-make dish that is sure to be loved. You only need a handful of ingredients to create a divinely delicious dish – cherry tomatoes, feta cheese, pasta, olive oil, and a few herbs and seasonings to enhance the taste. In just a few steps, you can enjoy a spectacular dinner.
Ingredients
Cherry Tomatoes: Small, sweet, and juicy tomatoes are the star of the dish. When baked, they become tender and bursting with intense flavor, adding vibrant color and delightful bursts of sweetness. They create a luscious sauce when combined with feta that perfectly complements the other ingredients.
Vegan Feta Cheese: Vegan feta cheese is a dairy-free alternative to traditional feta cheese. It provides a creamy, tangy, and slightly salty taste that pairs well with the other ingredients.
Olive Oil: Olive oil adds richness and helps in roasting the cherry tomatoes and creating a flavorful sauce.
Garlic: Garlic adds flavor and enhances the overall taste of the dish.
Thyme: Adds earthy and slightly floral notes to the dish. Fresh thyme sprigs can be used for a stronger flavor.
Salt and Pepper: For seasoning the dish and bringing out the flavors of the other ingredients.
Lemon: Lemon slices provide a refreshing tanginess that complements the richness of the dish.
Gluten-free Pasta: Allows to make this dish absolutely gluten-free. Choose your preferred type of gluten-free pasta.
Spinach: Adds a pop of green color and freshness to the dish. It complements the other ingredients and adds nutritional value.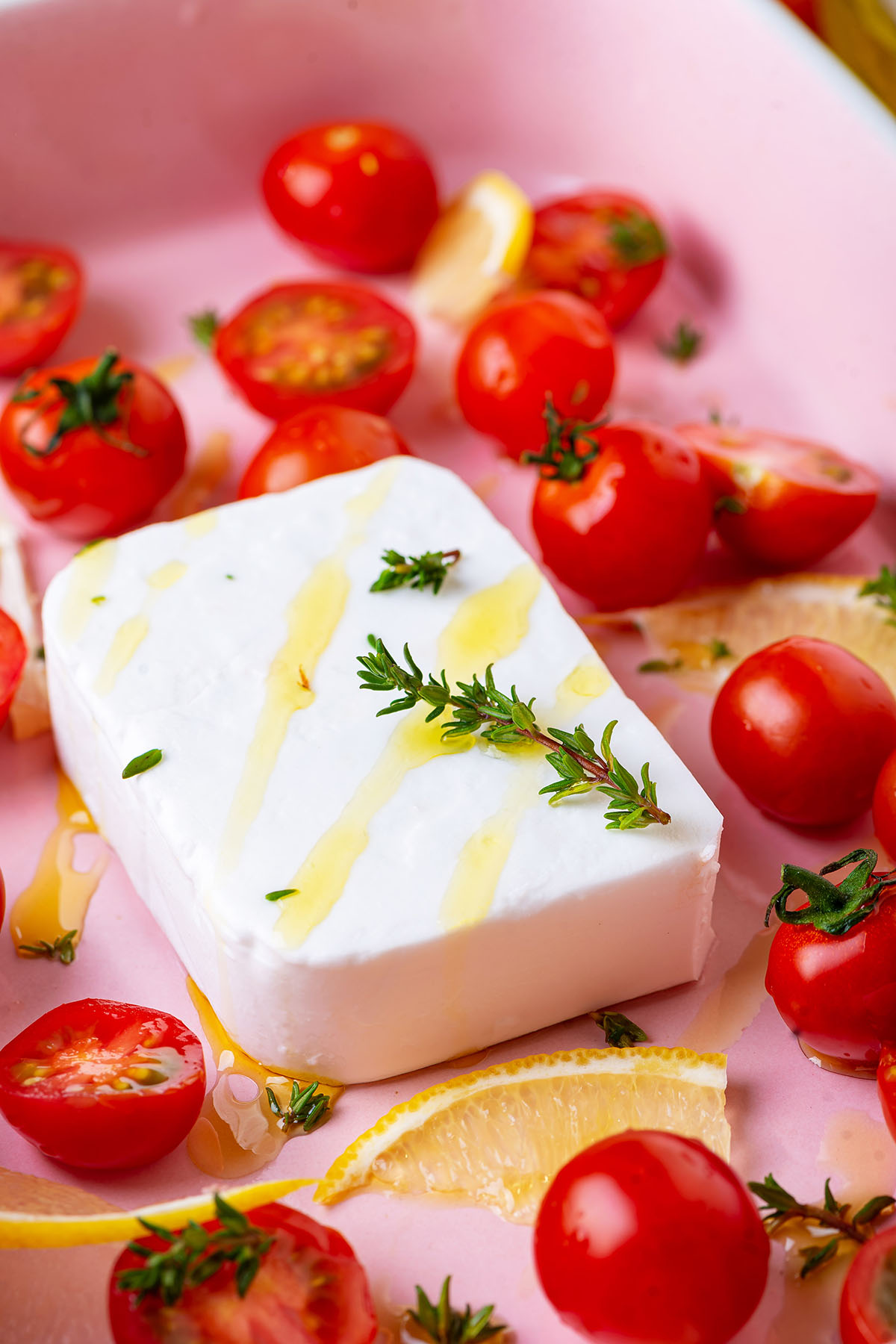 Why This Dish Is Absolutely Worth a Try
Irresistible Creaminess: The combination of baked feta cheese, cherry tomatoes, garlic, and lemon creates a creamy and tangy sauce that coats the pasta beautifully. The feta cheese melts to a velvety consistency, infusing every bite with luxurious creaminess.
Bursting with Flavor: The roasted cherry tomatoes release their natural sweetness, creating a burst of flavor that complements the savory notes of garlic and tangy feta cheese.
Easy and Time-Saving: With just a few simple steps, you can create a satisfying and flavorful meal. Baking the ingredients together allows them to meld and develop a depth of flavor effortlessly, while the spinach adds a pop of freshness without much effort.
Dairy-free and Gluten-free: This recipe offers a dairy-free and gluten-free version of the classic baked feta pasta, making it suitable for those with dietary restrictions or preferences.
Versatile and Customizable: While the recipe provides a delicious base, you can customize it to suit your preferences. Feel free to experiment with additional seasonings, herbs, or even protein sources like tofu or chickpeas to elevate the dish according to your taste.
Warm and Comforting: This baked feta pasta dish offers a comforting and satisfying meal that is perfect for cozy nights or gatherings with loved ones.
Vegan, Gluten-free, and Dairy-free Version of This Classic Dish
This recipe offers a delicious dairy-free and gluten-free version of this trendy dish. Use Violife vegan feta cheese as a dairy-free alternative and choose your preferred gluten-free pasta. Combine them with cherry tomatoes, garlic, lemon, and seasonings for an unbelievably delicious dinner. Your family will absolutely fall in love with it.
A solid block of vegan feta cheese is baked with cherry tomatoes, garlic, lemon, and seasonings until it becomes creamy, tangy, and incredibly delicious. Then, mix these ingredients with gluten-free pasta and a handful of fresh chopped spinach. The addition of spinach refreshes the dish and further enhances its tenderness. It's best to serve it straight out of the oven when the consistency of the feta sauce is especially soft and creamy.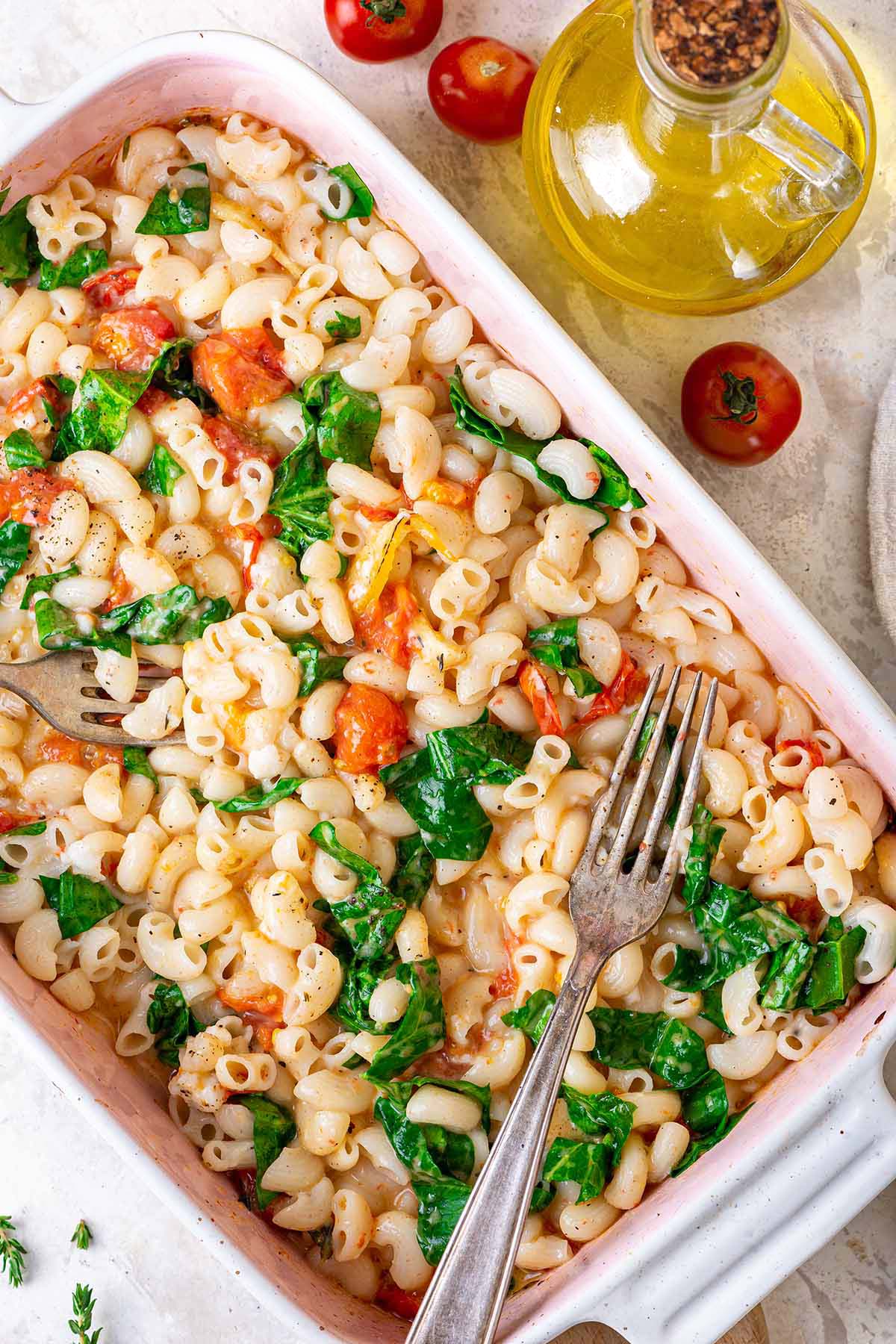 Step-by-Step Instructions
Preheat your oven to 400°F (200°C).
Place cherry tomatoes into the baking dish. Take a block of vegan feta cheese and place it in the center of the baking dish.
Drizzle olive oil over the cherry tomatoes and vegan feta cheese. Add garlic, sprinkle with thyme, and season with salt and pepper.
Thinly slice the lemon and place the lemon slices in a baking dish.

Place the baking dish in the preheated oven and bake for about 25-30 minutes, or until the cherry tomatoes have softened, and the vegan feta cheese has melted.

While the ingredients are baking, cook gluten-free pasta according to the package instructions until al dente. Drain and set aside.
Once the baked mixture is ready, remove it from the oven and give it a gentle stir to combine the softened tomatoes and creamy vegan feta cheese.

Add the cooked gluten-free pasta to the baking dish and toss it with the tomato and feta mixture until well coated.
Sprinkle a handful of chopped spinach over the top and gently mix it into the pasta. Serve immediately, while the feta sauce is still soft and creamy.
Ideas to Customize
We use thyme, garlic, and pepper in this recipe, but feel free to add some other seasonings. Be creative! Here are some ideas on how to customize the recipe:
Roasted Veggies: Roast some colorful vegetables like bell peppers, eggplant, or zucchini alongside the feta and cherry tomatoes.
Exotic Spices: Spice things up with aromatic spices like cumin, coriander, or turmeric. These spices can add an intriguing twist and create a more complex flavor profile.
Smoky Flavor: Infuse a smoky element by including a touch of smoked paprika or chipotle powder.
Other Herbs: Experiment with a variety of fresh herbs like thyme, basil, rosemary, or cilantro. Chopped fresh herbs can provide a burst of fragrance and elevate the taste.
Fresh Greens: Add various leafy greens such as arugula, kale, or traditional basil leaves in place of or in addition to spinach. This will add vibrant colors and a range of flavors.
Citrus Flavor: Squeeze some fresh lemon juice over the dish just before serving to add a bright and zesty note. This will uplift the flavors and provide a refreshing twist.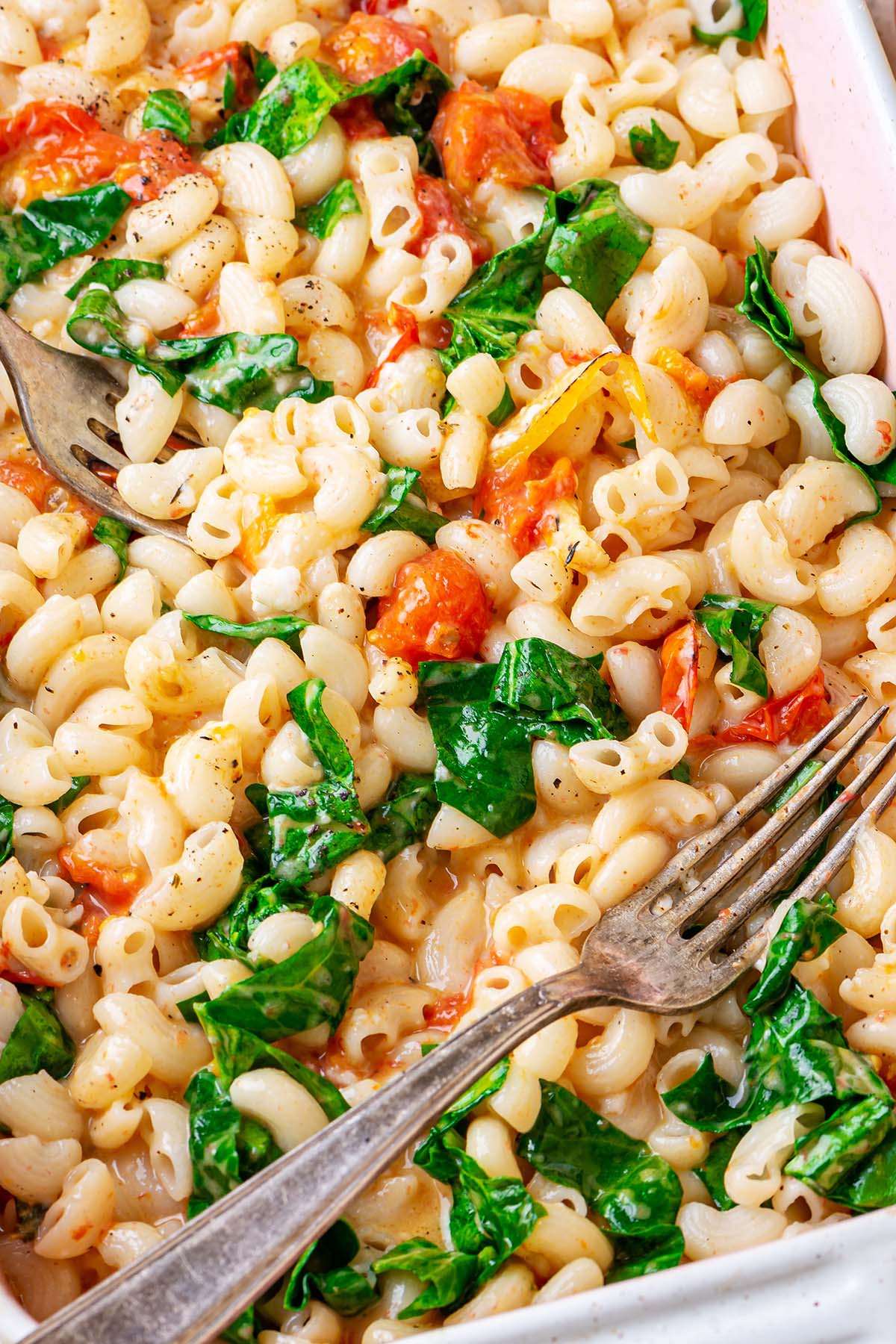 More Delicious Vegan Dinner Ideas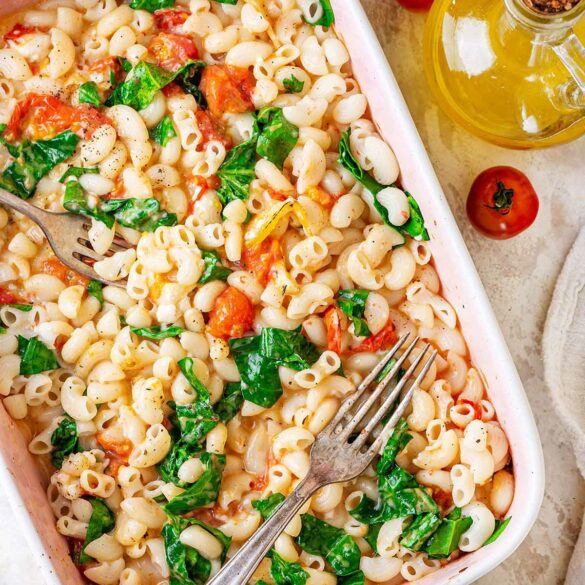 Baked Feta Pasta is a very tasty, super-fast, and easy-to-make dish that you undoubtedly will love. You only need a handful of ingredients to create a divinely delicious dish. Cherry tomatoes, feta cheese, pasta, and some herbs and seasonings enhance and enrich the taste. In just a few steps you will get a spectacular dinner.
Ingredients
1 pound (453g) cherry tomatoes
¼ lemon, thinly sliced
4 cloves garlic, minced
4 tbsp olive oil
1 block (200g) vegan feta cheese*
1 tsp thyme (or a few springs of fresh thyme)
salt and pepper to taste
8 oz (226 g) gluten-free pasta of choice, uncooked
a handful of spinach, chopped
Instructions
Preheat your oven to  400°F (200°C).
Add whole cherry tomatoes, slices of lemon, and garlic into 8x11-inch baking dish, and drizzle with olive oil. Toss to coat.
Add a vegan feta cheese block to the center of the dish. Season with thyme, salt, and pepper.
Bake it for about 20-25 minutes or until the tomatoes are juicy and ready to burst, and the feta cheese becomes melty.
Meanwhile, prepare your pasta according to the package instructions and set aside.
Remove the dish from the oven and using a spoon or spatula, crush the tomatoes and feta to create the sauce. Toss cooked pasta into the dish along with fresh chopped spinach and stir well to ensure everything is coated with the sauce.
Notes
* Violife feta cheese works perfectly for this recipe.
Nutrition
Calories:
505kcal
Fat:
26.2g
Saturated Fat:
10g
Cholesterol:
45mg
Sodium:
709mg
Carbohydrate:
52.1g
Fiber:
5.5g
Sugar:
3.3g
Protein:
14.6g
Calcium:
262mg
Iron:
3mg
Potassium:
76mg
Did You Make This Recipe?
Tag us on Instagram
@thewillowskitchen
and hashtag #thewillowskitchen to show your results. And be sure to leave a comment in the section below :)