If you're looking for a delicious salad recipe that is great for both a holiday table and as everyday food, this light and easy Broccoli Salad with Cranberries and Poppy Seed Dressing is a must-try! It's a perfect combination of fresh vegetables, crunchy seeds, and sweet and tangy dried cranberries, all coated in a creamy dressing without mayo. This salad is a great side dish for any meal, or it can be enjoyed on its own as a light lunch or healthy snack.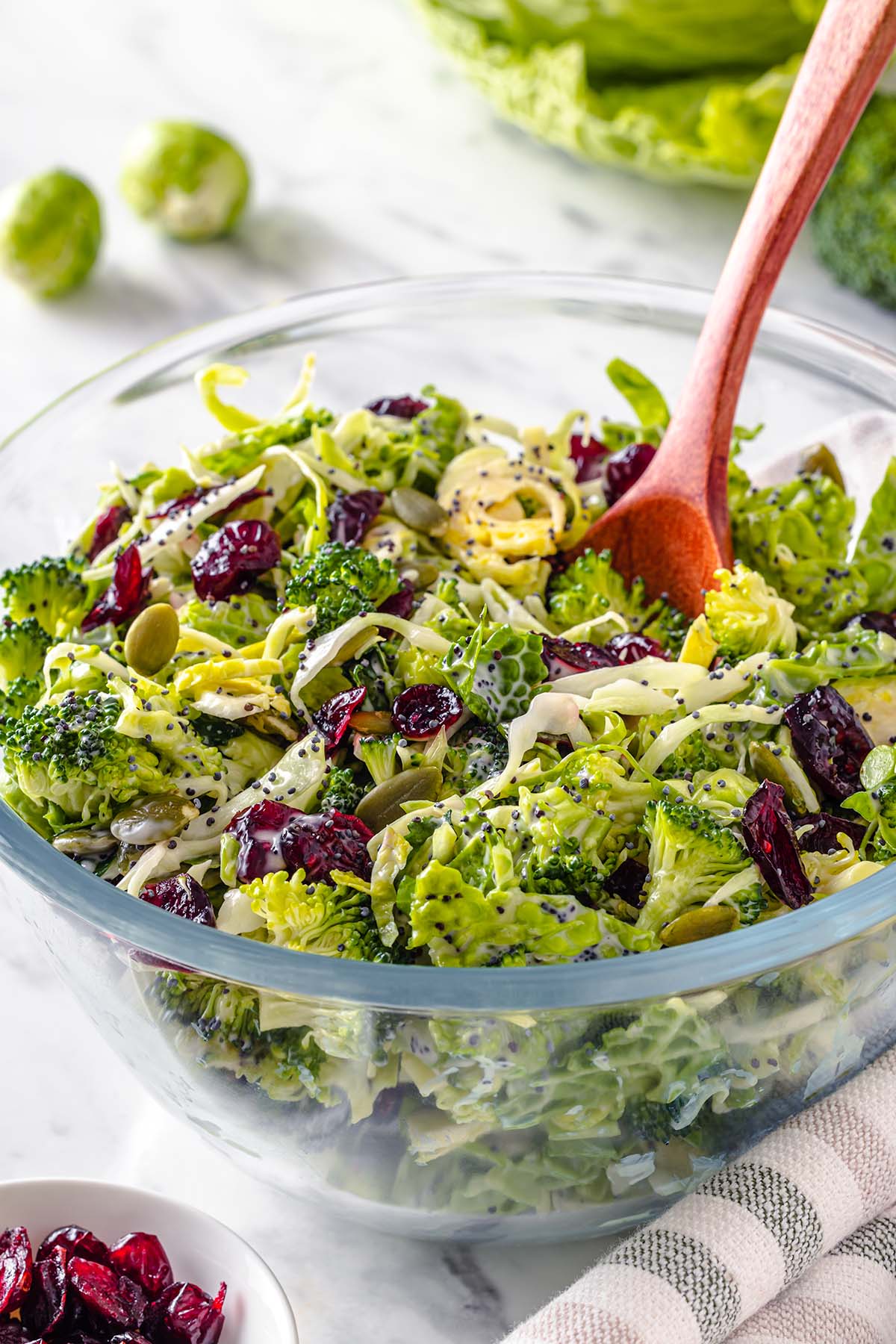 The salad is not only packed with healthy ingredients, but it's also incredibly delicious! The combination of the sweet and tangy dressing with the added crunch of fresh veggies and the nutty flavor of pumpkin seeds creates a wonderful explosion of flavors and textures in your mouth. The dried cranberries add a nice touch of sweetness that balances out the slight bitterness of the cruciferous. This salad is a perfect side dish for any meal and will leave you wanting more!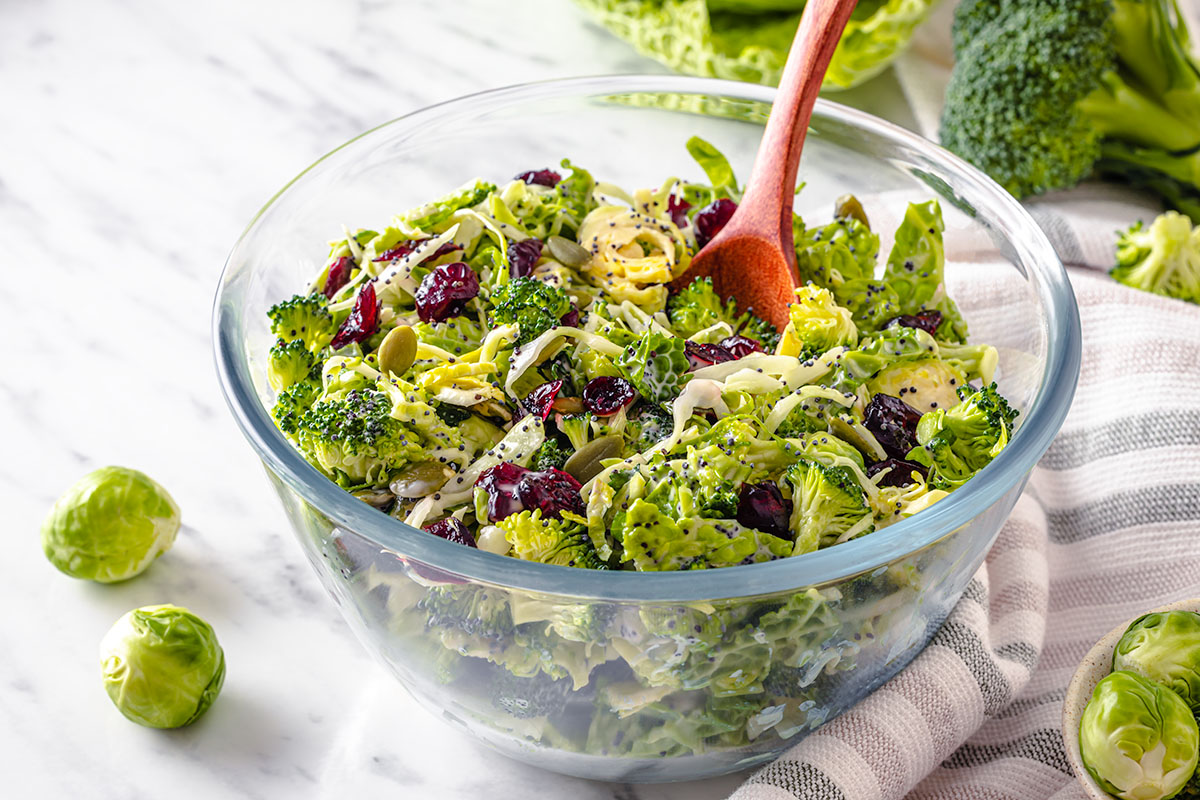 Ingredients
Broccoli Rich in vitamin C, fiber, and antioxidants, broccoli is a nutritious and versatile vegetable that adds a crunchy texture to the salad.
Brussels sprouts are packed with vitamins and minerals, including vitamin K, vitamin C, and folate. They add a pleasant texture and mild, slightly nutty flavor.
Green cabbage. Another nutrient-dense cruciferous vegetable, green cabbage is a good source of vitamin C, vitamin K, and fiber. Both green cabbage and savoy cabbage can be used in this recipe.
Pumpkin seeds add a delicious nutty flavor and satisfying texture to the salad and are a great source of healthy fats, protein, and minerals.
Dried cranberries. These sweet and tart berries add a pop of flavor to the salad, as well as a boost of antioxidants and fiber. Look for unsweetened cranberries to avoid added sugars.
Honey or maple syrup. These natural sweeteners add a touch of sweetness to the dressing
Poppy seeds add a subtle nutty flavor and a lovely crunch to the dressing.
Greek yogurt. Being a healthier lighter alternative to mayonnaise, it adds creaminess and tanginess to the dressing while keeping it light and refreshing.
Apple cider vinegar adds a tangy, slightly sweet flavor that complements other dressing ingredients.

Salt to balance the flavors in the dressing and enhance the other ingredients.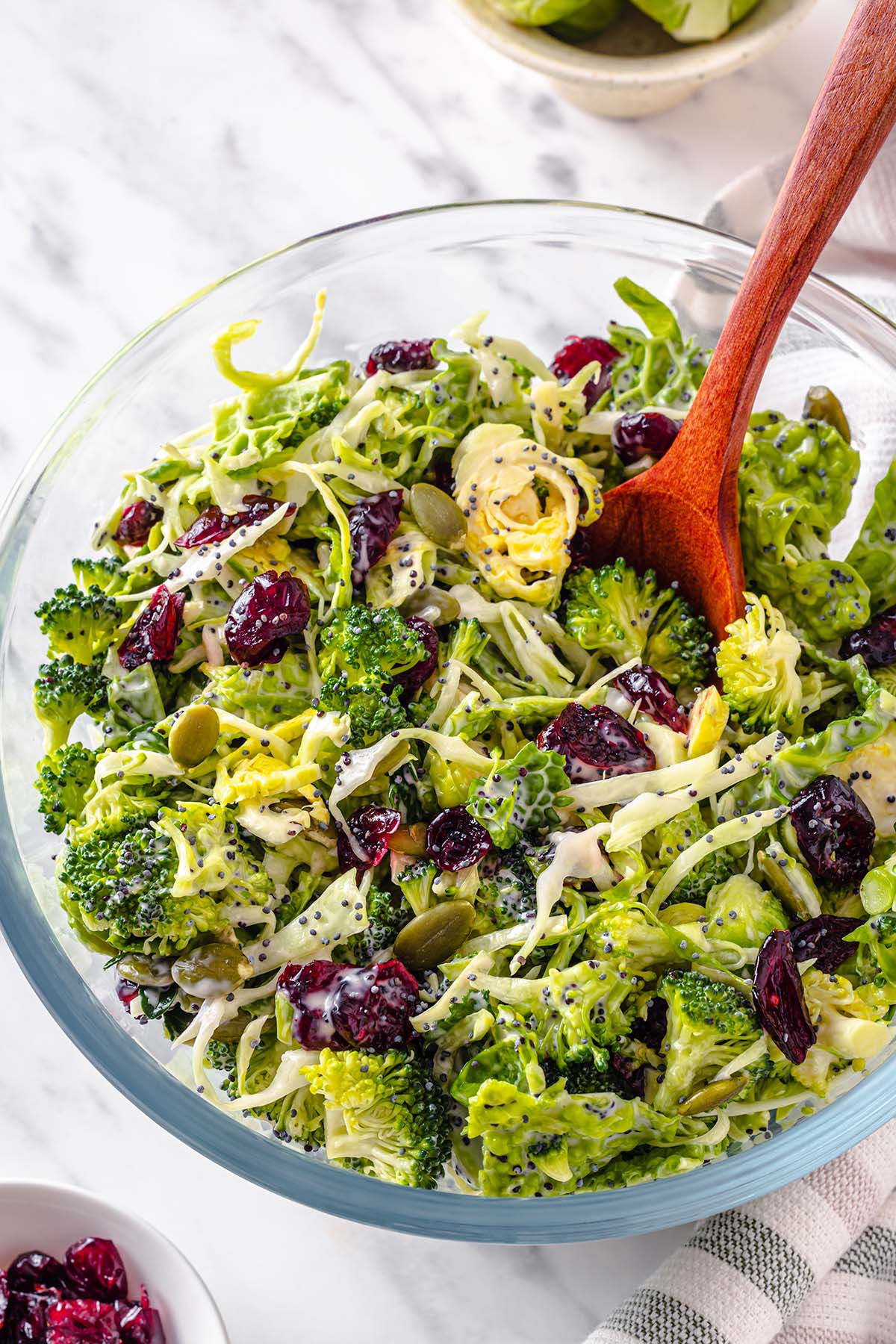 How to make Poppy Seed Dressing
In a small mixing bowl, whisk together the honey, poppy seeds, Greek yogurt, salt, and apple cider vinegar until smooth and well combined.
Taste the dressing and adjust the amount of vinegar or sweetener if necessary to achieve the desired level of sweetness and tanginess.
Use the dressing immediately or store it in an airtight container in the refrigerator for up to a week.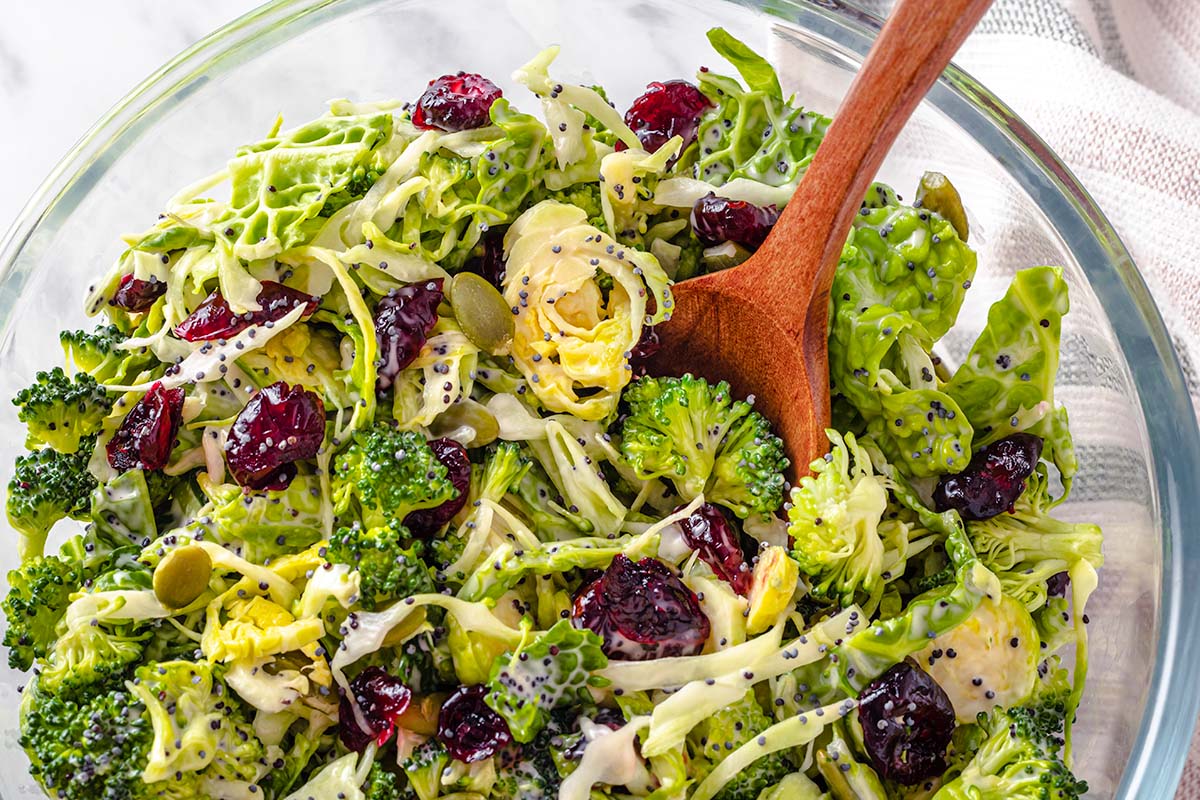 Common Questions about the Broccoli Salad

Can I make this salad ahead of time?
You can prepare the ingredients ahead of time and store them without dressing in the fridge. It is best to dress the salad 30 minutes before serving, so that the flavors are enhanced, but the salad is not too wet.
Can I freeze the salad?
It is not recommended to freeze this salad as freezing can cause the vegetables to become mushy and the dressing to separate. It is best to store the salad in the refrigerator and consume it within a few days.
Can I make it vegan?
Yes, absolutely! You can easily make a vegan version of the salad by substituting Greek yogurt with a plant-based alternative such as soy yogurt or coconut yogurt. You can also use a vegan mayonnaise, or make your own vegan mayo at home using aquafaba as a base. Also, use maple syrup instead of honey.
Can I use different types of nuts or dried fruits?
Yes, you can customize this salad using different nuts or dried fruits. Almonds, pecans, or sunflower seeds would make a great substitution for pumpkin seeds. Raisins could be used instead dried cranberries.
Is this salad gluten-free?
Yes, this salad is naturally gluten-free as it does not contain any wheat-based ingredients.
Can I add other vegetables to this salad?
Of course, you can add other vegetables to this salad such as shredded carrots, red cabbage, or chopped bell peppers. However, be mindful of the ratio of vegetables to dressing to maintain the balance of flavors.
How to store
To store this salad, place it in an airtight container and refrigerate for up to 3 days. Make sure to keep the dressing separate until ready to serve to prevent the salad from becoming too soggy. 30 minutes before serving, mix the dressing well and pour it over the salad. If you plan to serve the salad at a later time, it's best to wait to add the pumpkin seeds and dried cranberries until just before serving to ensure they retain their crunchiness.
More healthy and delicious salad recipes to try
Also, here are other delicious salad recipes you need to try:
This Broccoli Salad can be a great addition to any Easter table. The sweetness of the dressing and dried cranberries complements the savory flavors of the other dishes on the table, making it a perfect balance. Plus, the nutty crunch of the pumpkin seeds adds a nice texture that pairs well with the softness of other dishes. So, whether you're hosting or attending an Easter gathering, this broccoli salad is a great choice to include in your menu.
More recipes perfect for Easter table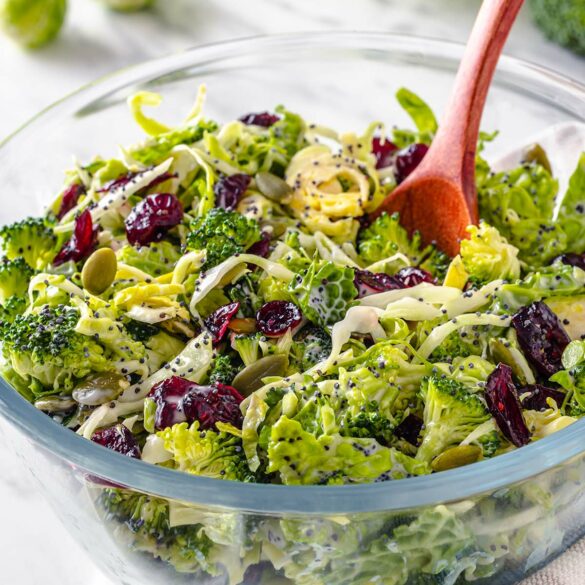 Ingredients
1 head (1 lb) green broccoli
10 Brussels sprouts
¼ head (about ½ lb) green cabbage or savoy cabbage (or their mix)
½ cup pumpkin seeds
½ cup dried cranberries
1 tbsp honey
1 tbsp poppy seeds
½ cup Greek yogurt
⅓ tsp salt
2 tbsp apple cider vinegar
Instructions
Start by preparing the vegetables. Cut the broccoli into bite-sized florets, slice the Brussels sprouts thinly, and shred the cabbage.
In a large mixing bowl, combine the broccoli, Brussels sprouts, and cabbage. Add the pumpkin seeds and dried cranberries to the bowl and toss to combine.
In a small mixing bowl, whisk together the honey or maple syrup, poppy seeds, Greek yogurt, salt, and apple cider vinegar until smooth and well combined.
Pour the dressing over the vegetables and stir well to coat. Cover the bowl with plastic wrap and refrigerate for at least 30 minutes before serving to allow the flavors to meld together.
Did You Make This Recipe?
Tag us on Instagram
@thewillowskitchen
and hashtag #thewillowskitchen to show your results. And be sure to leave a comment in the section below :)