This cherry pie recipe is made with fresh sour cherries (or tart cherries). This easy super delicious recipe is perfect all year round, not only in summer. You can use frozen cherries, as long as fresh ones are unavailable. It's bursting with cherry flavor, and the lattice crust is delightfully flaky. Super delicious recipe, it will be one of your favorites.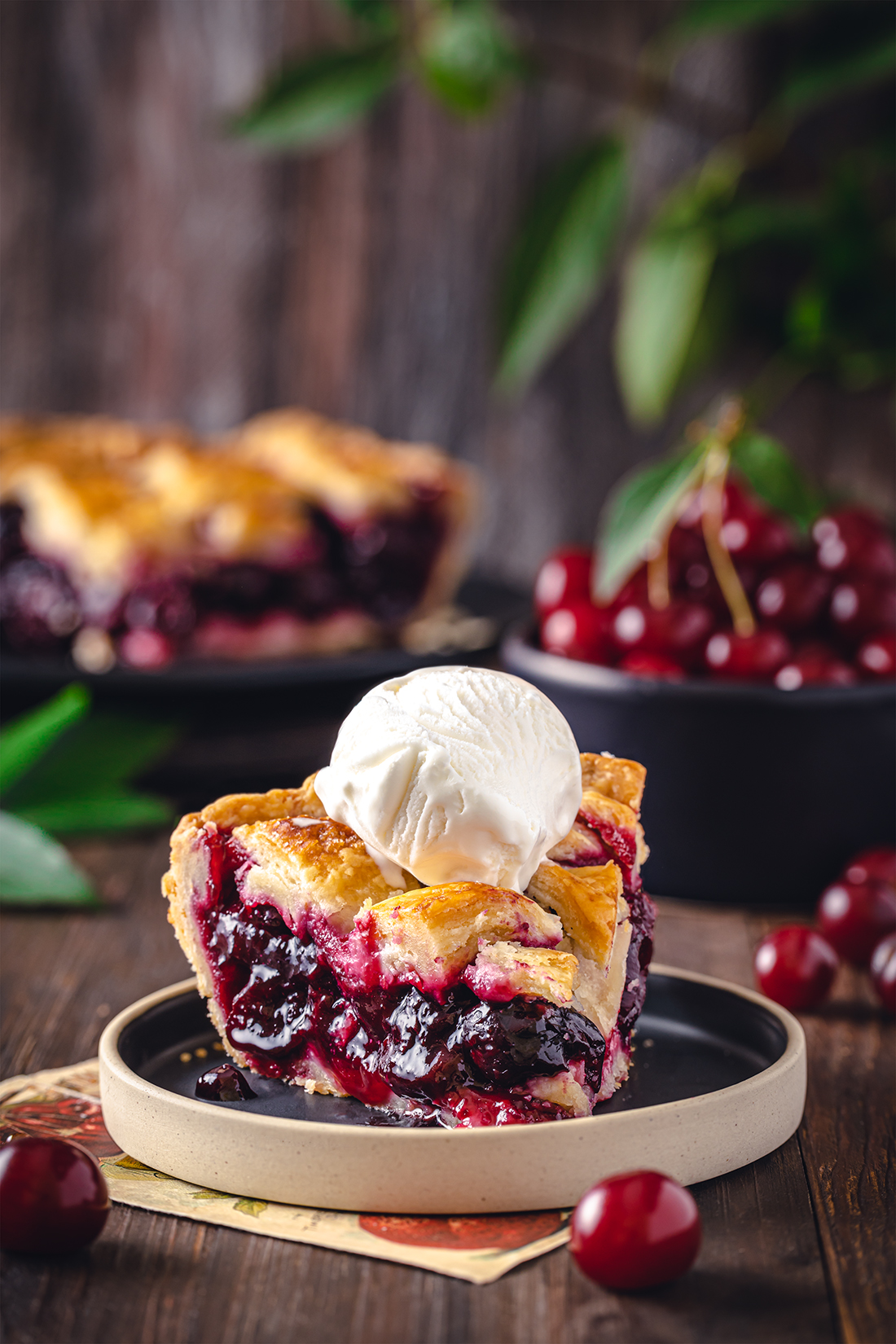 It's quite simple and easy to make. The pie crust only needs to chill in the fridge for 30 minutes. And the filling is super easy to make.  There's nothing like a homemade cherry pie on a flaky buttery crust.  It's so delicious that it's hard to resist eating the whole pie at once. And when served with a scoop of vanilla ice cream, it's literally one of the best desserts for your family to enjoy.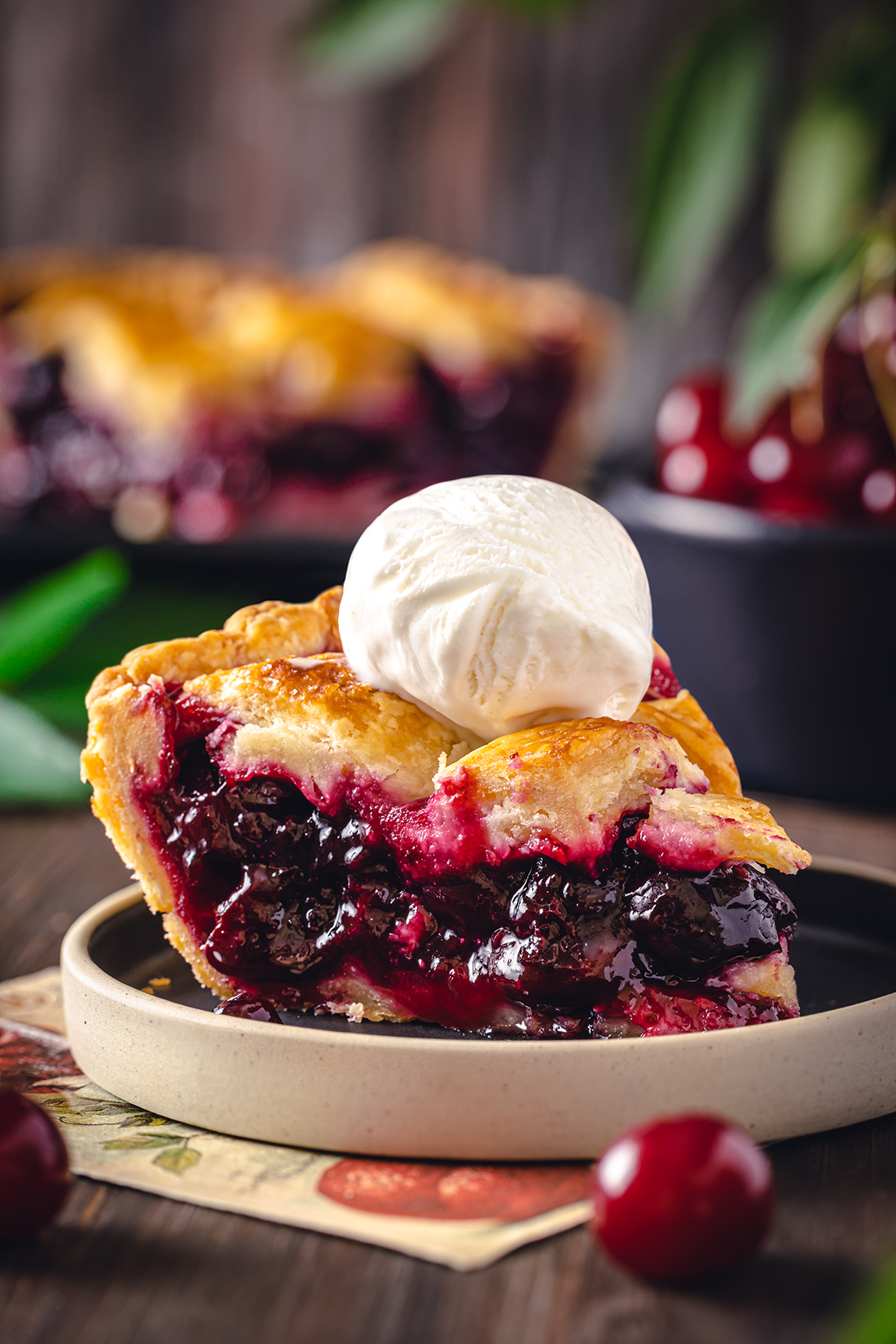 Ingredients
This recipe calls for fresh tart (sour) cherries. If fresh cherries are unavailable, use frozen cherries. Don't use canned cherries, it will give much worse results. You may use also dark sweet cherries instead, but this slight sourness of tart cherries in this sweet filling gives really incredible tone to the pie.
Spelt flour has mild, nutty flavor, it is great alternative to wheat. It is slightly higher in protein and has higher amount of some important vitamins, than the wheat flour has. And also it has less amount of gluten. But it is still a form of wheat, so people who are on gluten-free diet should choose gluten-free flour blend (that contains xantaham gum) instead of spelt flour to make this pie, or make this easy gluten-free pie crust without xanthan gum.
Butter is the essential ingredient in pie crust recipes. It makes crust flaky and super delicious. We use vegan butter in this recipe to make this pie dairy-free and vegan. But if you consume dairy products, of course, you can use regular dairy unsalted butter of the same amount.
Coconut sugar is a healthier alternative to refined white sugar, as has a lower glycemic index and contains some minerals and vitamins. Actually, you may use any kind of sugar you want – white, brown, coconut sugar or even sweeteners, like Swerve. But choose only dry, granulated or powdered sweeteners, not liquid ones, as it will influence the texture.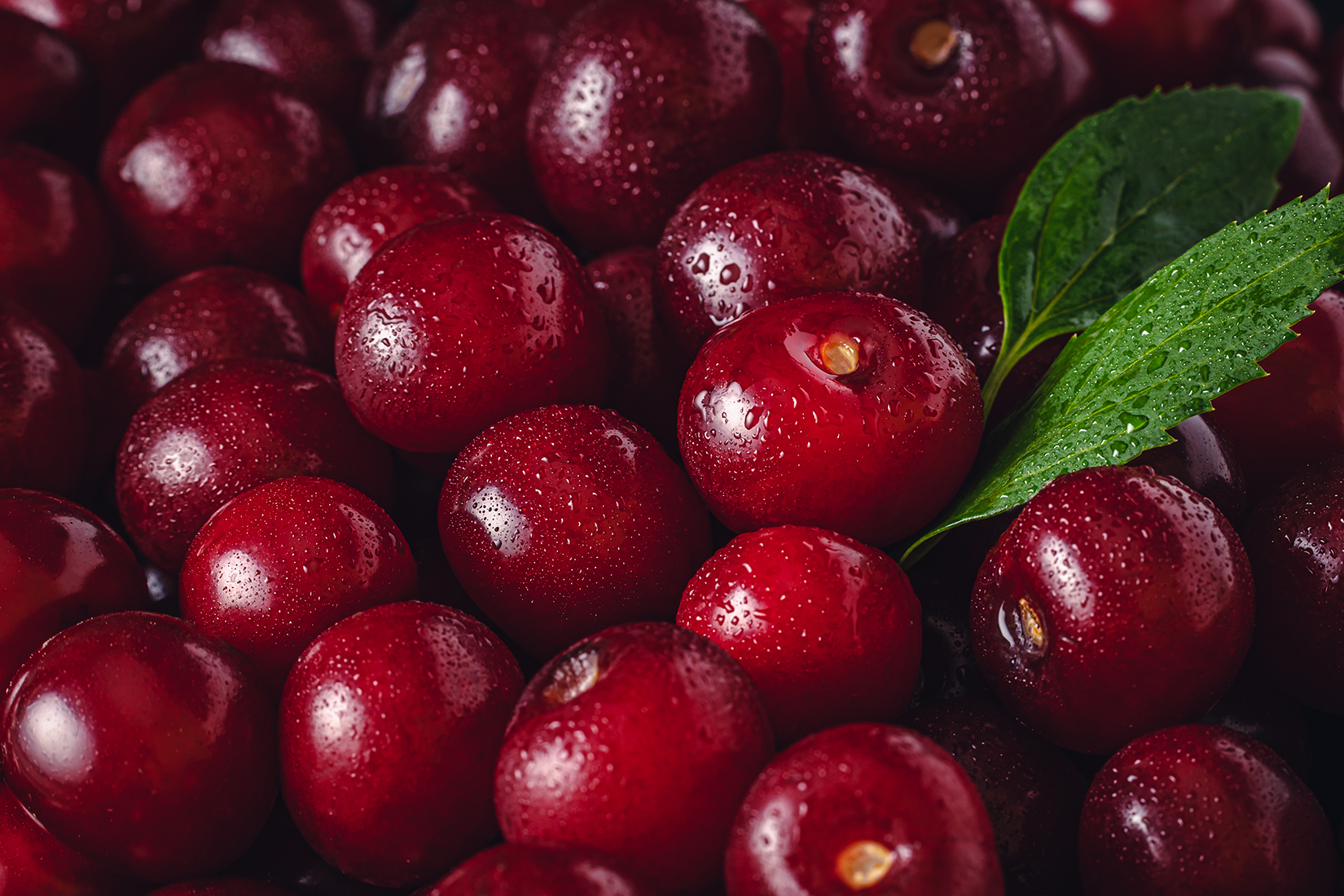 How to weave Lattice Pie Crust
Roll it out to an 11-inch circle, and cut it into 10 strips from the dough round.
Place 5 of the stripes evenly distanced on top of the filled pie. The longer stripes should be placed in the center of the pie and the shorter ones should be closer to the edges.
Fold the central strip and the ones near the edges all the way back. Place the new long strip perpendicularly on top and unfold folded stripes. Now time to fold the other two stripes and place the new strip perpendicularly. Repeat with all remaining stripes, weaving the stripes over and under other ones. In that way, we arrange stripes in a woven lattice pattern. Press the edges of the stripes into the bottom crust edges to seal. Trim off excess dough. Crimp the edges with your fingers or with a fork.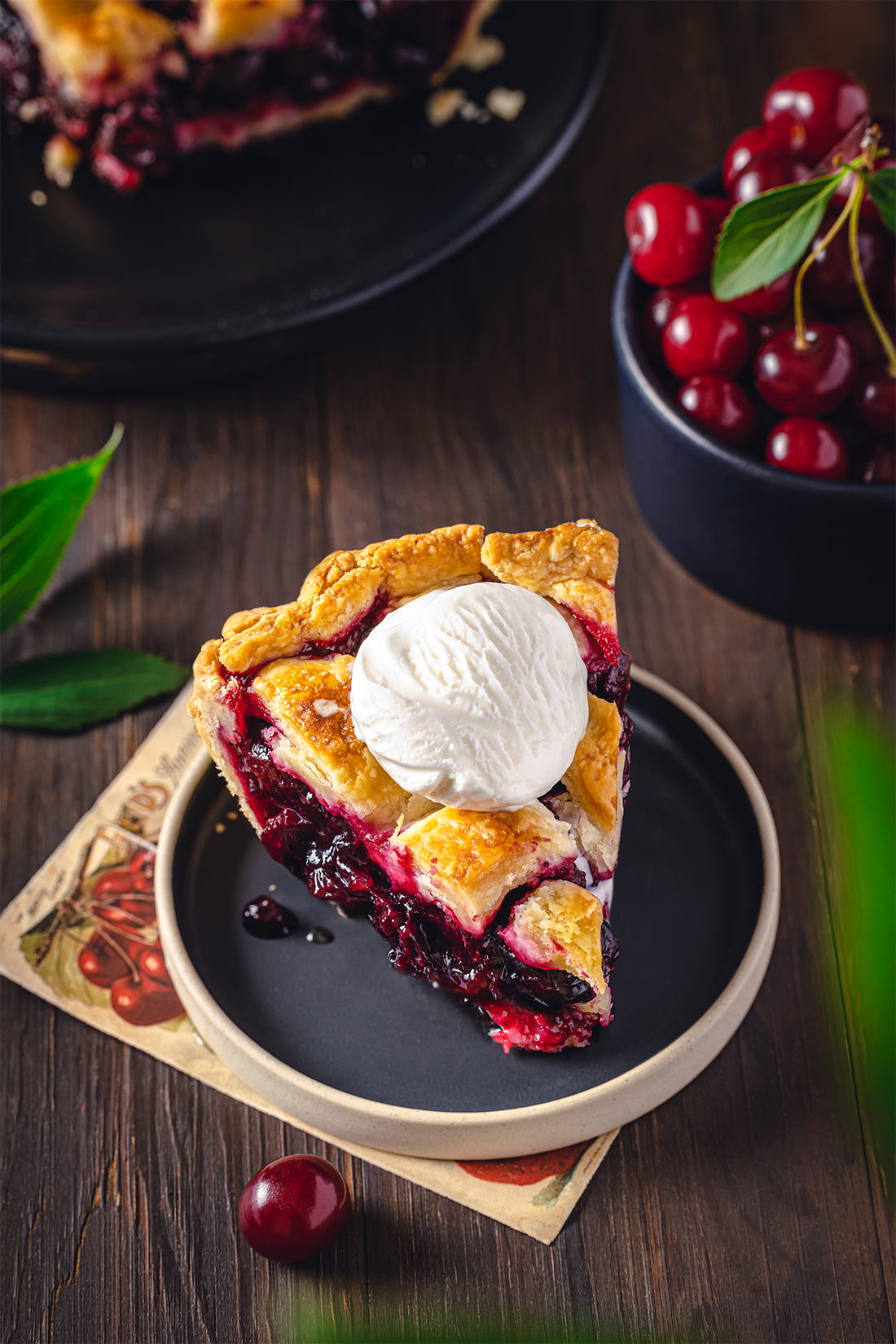 This is the best homemade cherry pie recipe, it's easy to make from scratch! With incredibly delicious cherry pie filling and a flaky butter pie crust, you will absolutely enjoy this pie. When cherries are in season, it's time to make this cherry pie! But even if not, it's still time to make it :)
Also, be sure to try our super delicious Strawberry Pie.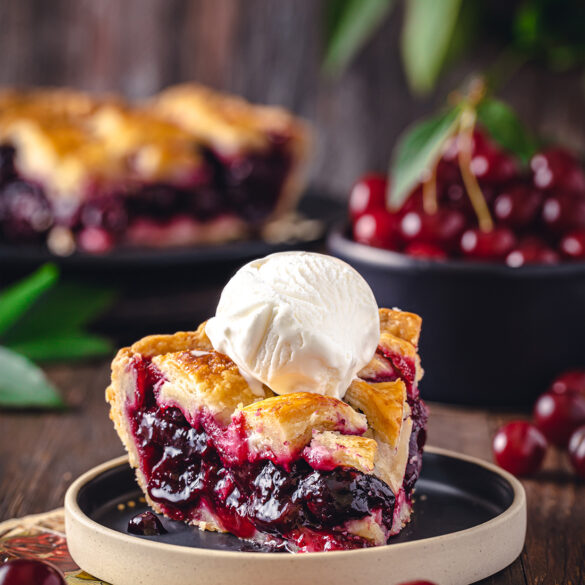 Ingredients
Crust:
2 ½ cups spelt flour
2 tbsp granulated sugar
½ tsp salt
1 cup vegan butter (or regular unsalted butter)
5 tbsp ice-cold water
Cherry filling:
5 cups cherries, pitted
1 cup coconut sugar (or any other sugar of your choice)
4 tbsp cornstarch
3 tbsp lemon juice
1 tsp vanilla extract
Instructions
In a large bowl, mix flour, sugar, and salt. Add the cold diced butter and cut in with a pastry knife until small pea-size pieces form. Add the ice-cold water and mix just until the dough comes together, form it into a ball and cut into 2 equal discs. Wrap each disc with plastic wrap and send it to the fridge for at least 1 hour.
Pit cherries. In a large bowl, combine cherries, sugar, cornstarch, lemon juice, and vanilla. Mix well.
Remove one disk of pie dough from the fridge. Place the disk on a lightly floured surface and roll out the pie dough to a 12-inch circle using a rolling pin. Transfer it to the 9-inch pie dish.
Place the filling into the pie dish over the dough.
Take the second disc of dough out of the fridge. Roll it out to an 11-inch circle, and cut it into 10 stripes from the dough round. Arrange stripes in a woven lattice pattern over the top. Press the edges of the stripes into the bottom crust edges to seal. Trim off excess dough. Crimp the edges with your fingers or with a fork. Place the pie into the fridge for 30 minutes prior to baking. Optionally you can sprinkle it with sugar.
Bake in the center of the oven for 15 minutes at 425˚F. Then lower the temperature to 350˚F, cover the edges of the pie with a foil collar, and bake it for 45-50 minutes more.
Let the pie rest at room temperature for at least 1 hour before serving. Serve with vanilla ice cream.
Did You Make This Recipe?
Tag us on Instagram
@thewillowskitchen
and hashtag #thewillowskitchen to show your results. And be sure to leave a comment in the section below :)