This Chickpea Salad is super easy to make and very healthy. Moreover, it's super delicious, filling, and packed with proteins and fiber. It can be a perfect healthy dinner or side dish.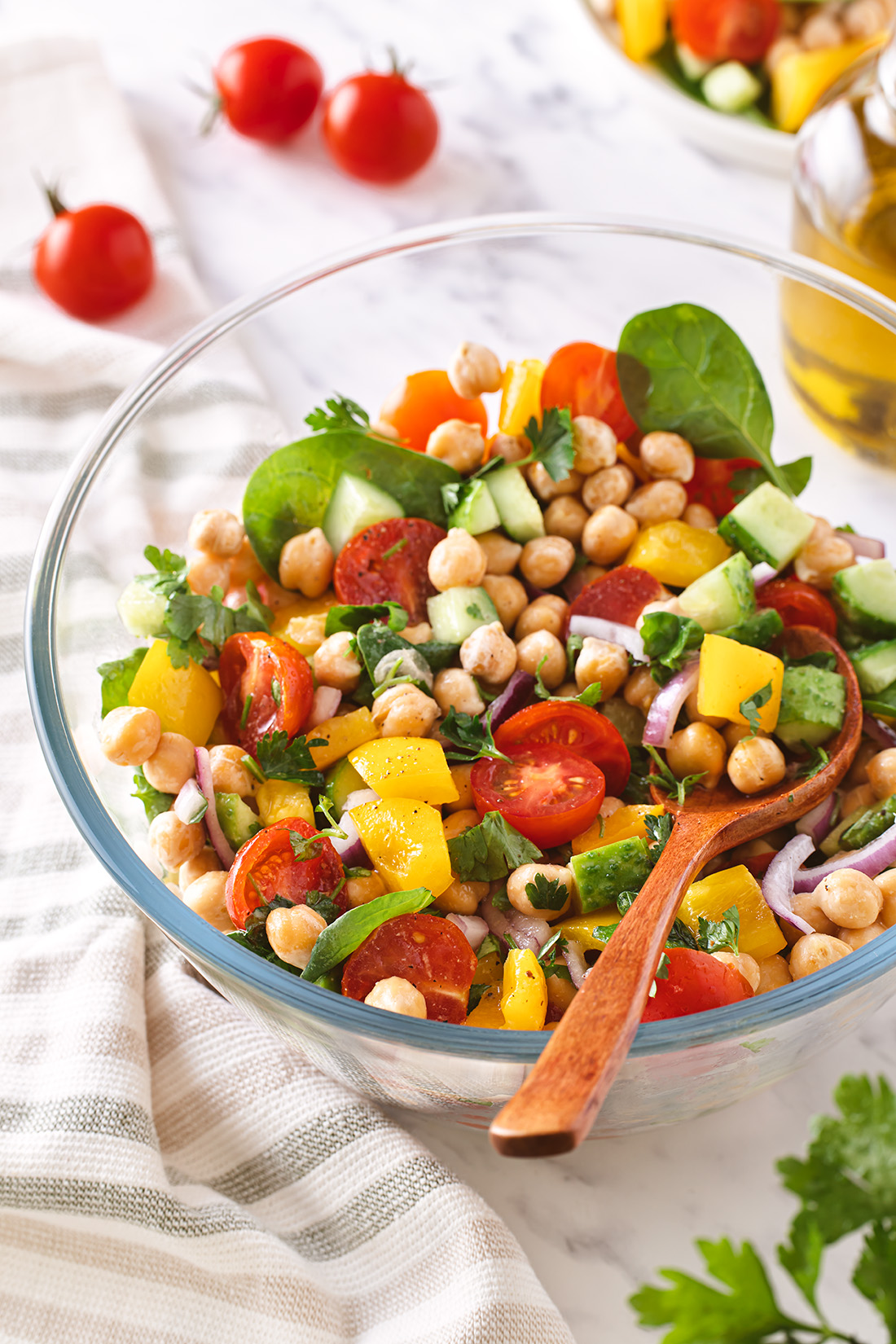 Ingredients for Chickpea Salad
This salad is loaded with a lot of veggies – cherry tomatoes, red onion, cucumbers, bell pepper, spinach, and parsley. And of course, the key ingredient of this salad is chickpeas. It is a super satisfying salad.
Including chickpeas or garbanzo beans in your daily meal plan will bring a lot of healthy benefits to your body, as chickpeas have an impressive nutritional composition. They are rich in soluble fiber and plant-based protein. Includes magnesium, zinc, selenium, choline, and other essential minerals and vitamins. Adding chickpeas can also improve your digestion and is great for your brain and nervous system. Beans are an excellent replacement for meat as a source of protein in vegetarian and vegan dishes.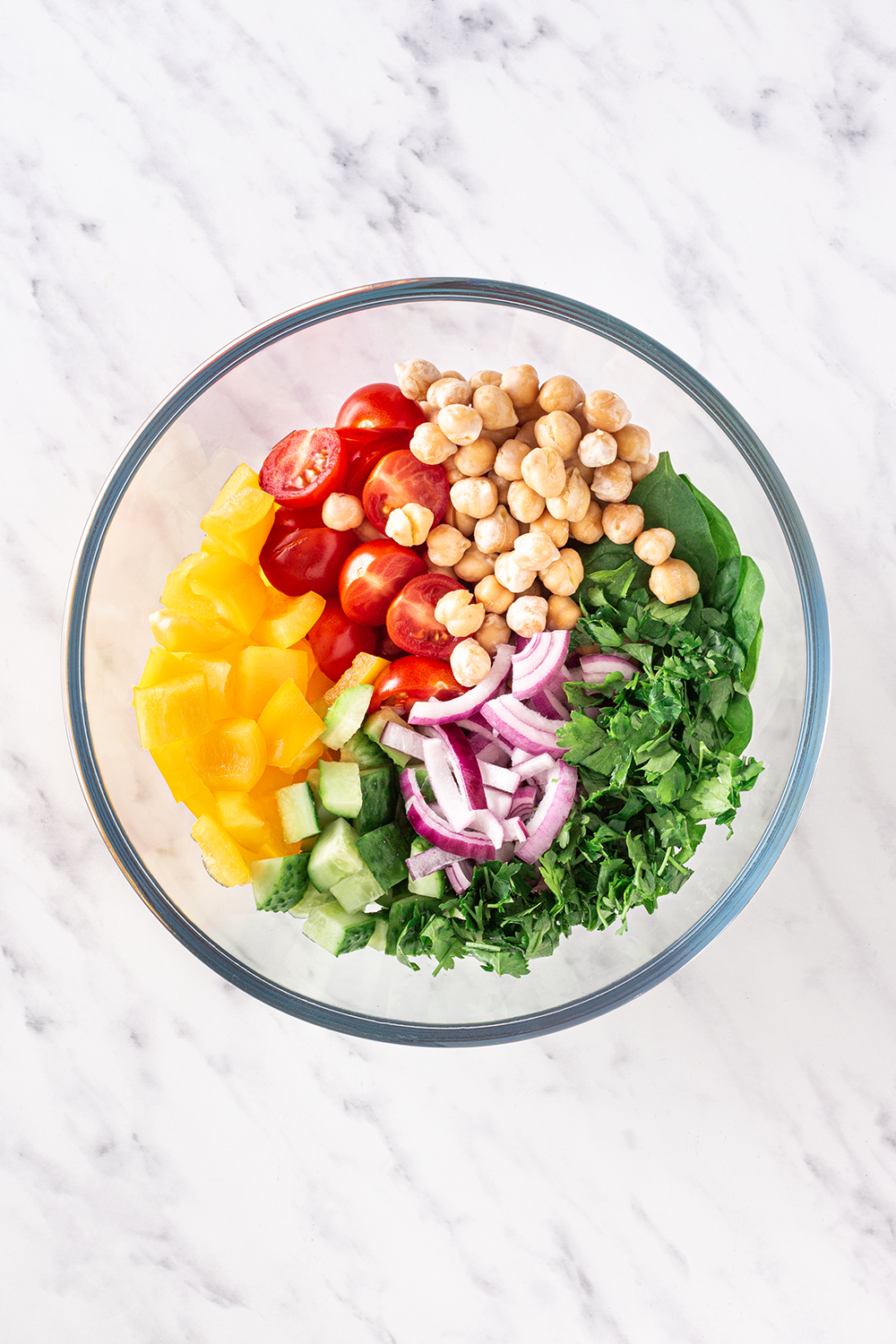 The process of making this salad couldn't be easier – just rinse and drain canned chickpeas, chop the veggies, toss with the dressing and that's all! It can be made in 10 minutes, not more!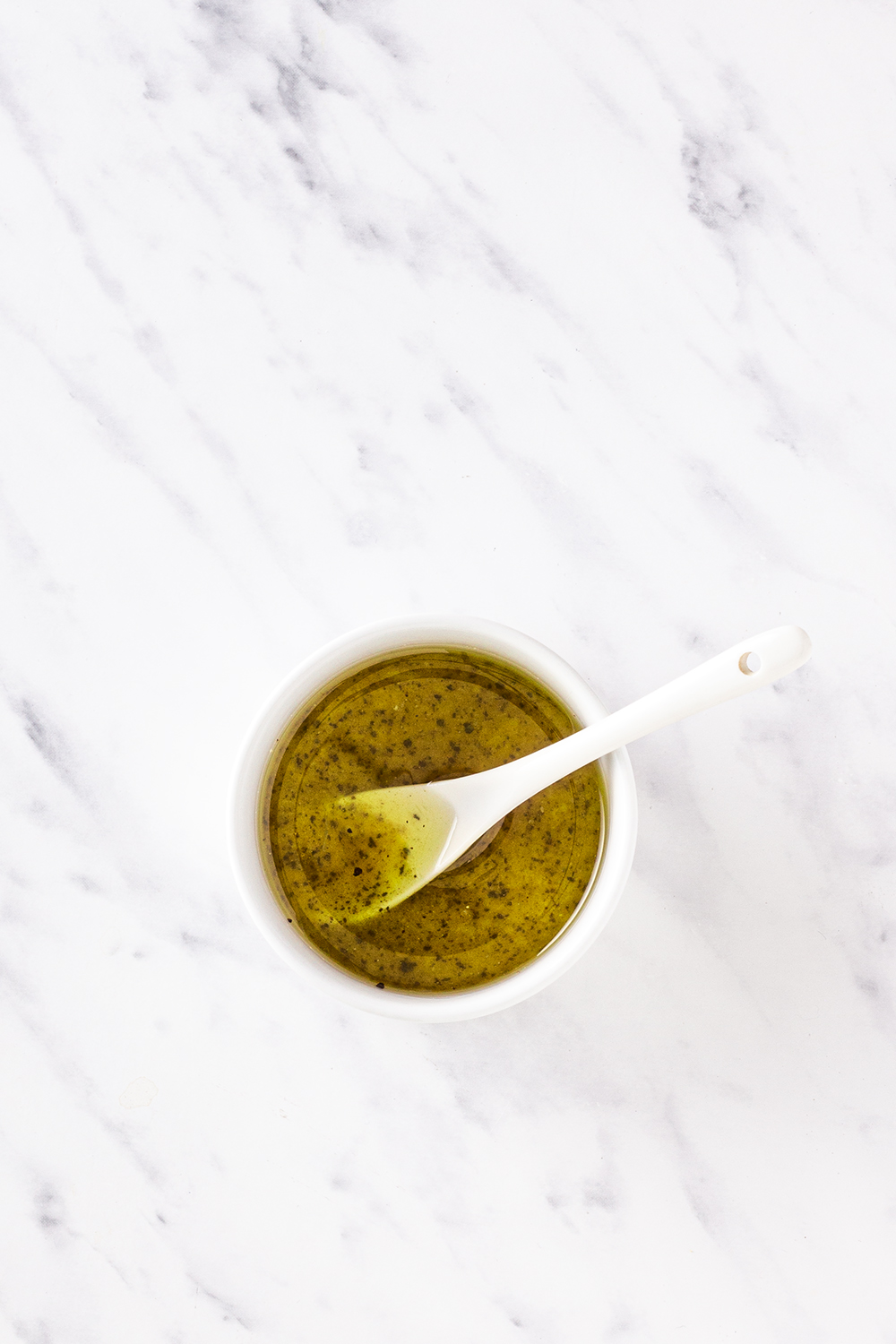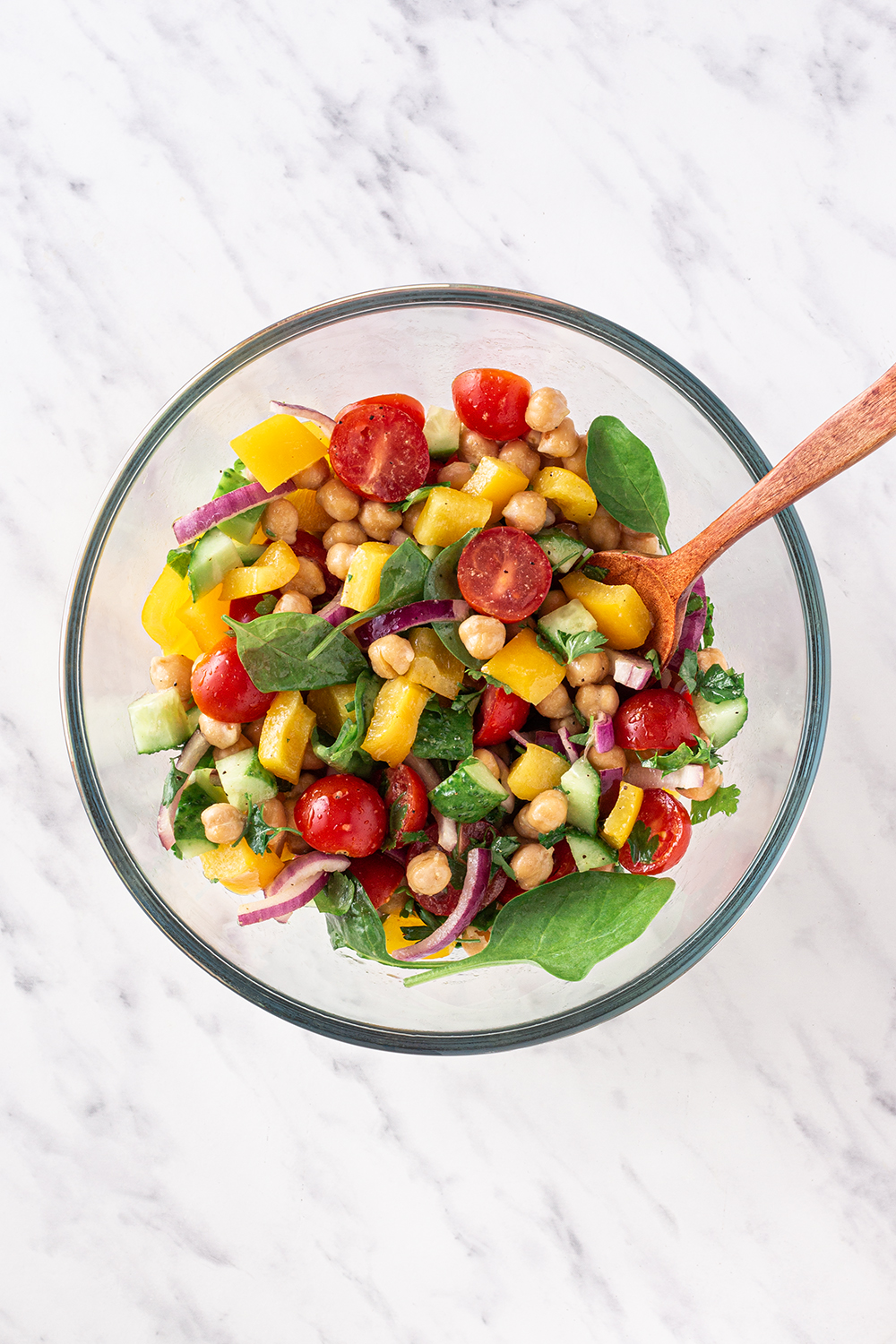 Lemon Dressing
The fresh lemon dressing fits very well with this light and fresh Chickpea Salad. Some slight hints of lemon sourness together with some bitterness of olive oil and sweetness of maple syrup create a very delicious dressing that makes this salad completely fresh, tasty, light, and very healthy! Use fresh lemon juice for the dressing.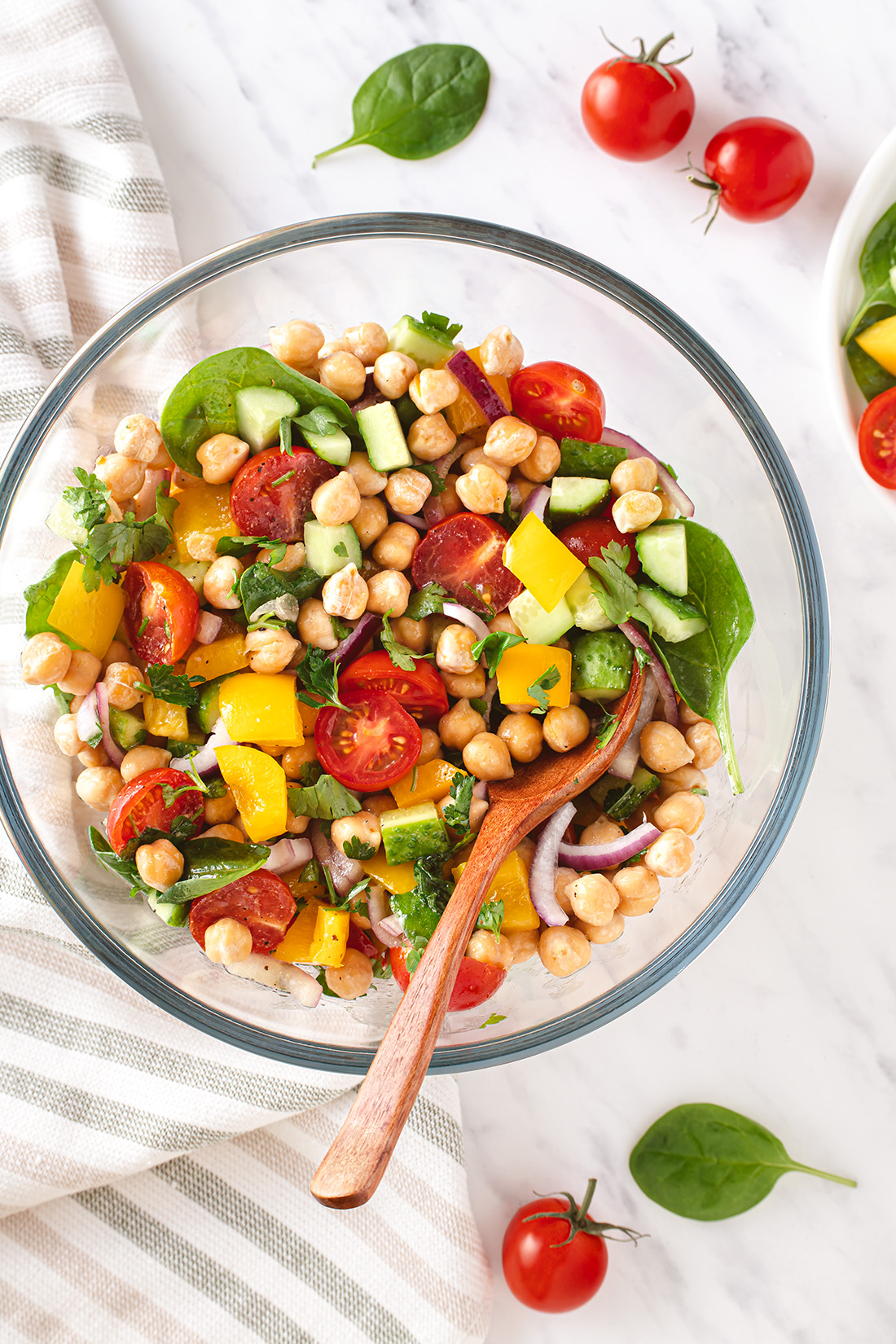 Substitutions and additions
You can add some crumbled Feta cheese (dairy-free, if you want to keep this recipe dairy-free and vegan) or sliced avocado to add some creaminess and healthy fats to the salad. Also, if you want, you may substitute parsley for cilantro. Of course, feel free to add your favorite herbs and seasonings to the salad and bring some different and unique flavors. It's so versatile.
Also, check out our other high-protein vegan and vegetarian salad recipes: Kidney Bean Salad with Hot Peanut Sauce, Broccoli Salad with Cranberries, Mediterranean quinoa salad with kale, or other salad or dinner ideas.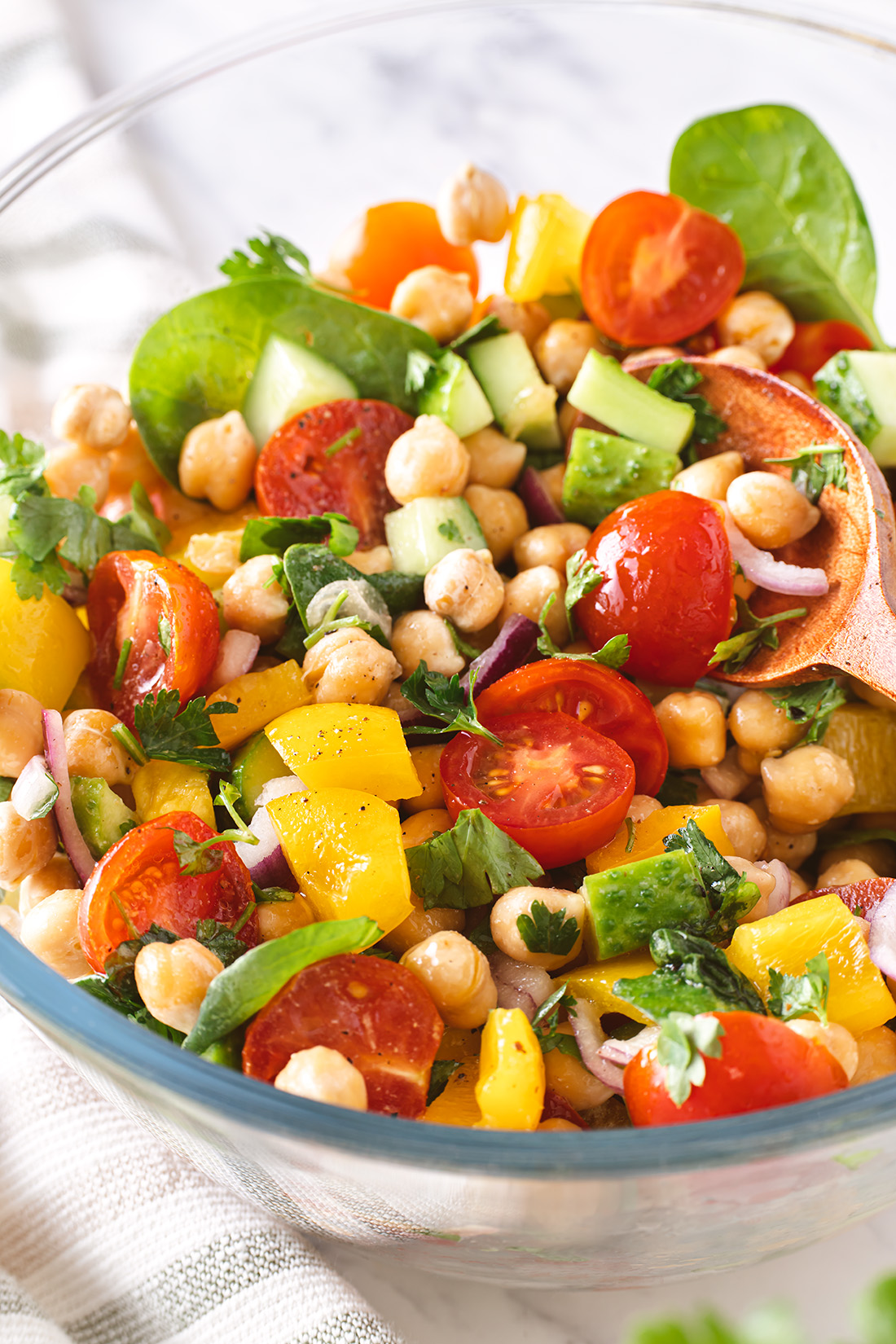 This Chickpea Salad is a great light dinner, especially in summer, when we want some cold and refreshing, not hot dishes. It is also great for those who are on a weight-loss diet, as contains not many calories and makes us feel fuller for a long period of time. We are sure that you will enjoy this super healthy and delicious high-protein Chickpea salad!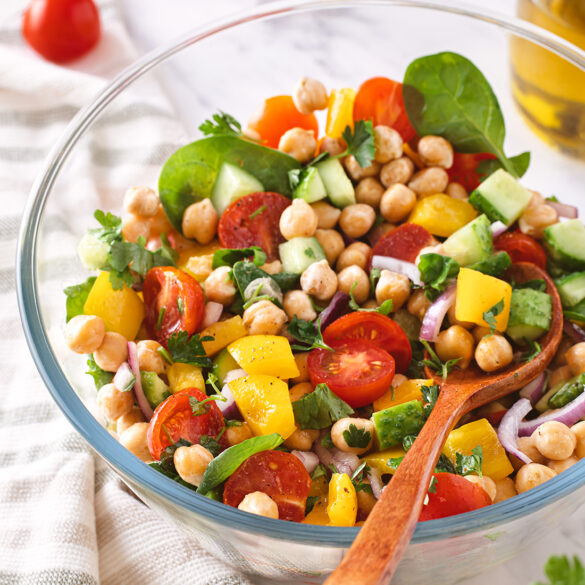 Ingredients
Salad
1 can chickpeas, rinsed and drained
12-15 cherry tomatoes
2 medium cucumbers
1 red onion
1 bell pepper
a handful of spinach
a handful of parsley
Dressing
2 tbsp olive oil
2 tbsp lemon juice
1 tbsp maple syrup (or honey)
1 clove garlic, minced
1 tbsp nutritional yeast
salt and pepper to taste
Instructions
Rinse and drain the canned chickpeas.
Cut cherry tomatoes into halves. Chop the onion, bell pepper, parsley and cucumbers.
Place all the ingredients for the salad into a large bowl.
In a small bowl mix all ingredients for the dressing until well combined.
Add the dressing and using a spoon mix well. Serve and enjoy!
Did You Make This Recipe?
Tag us on Instagram
@thewillowskitchen
and hashtag #thewillowskitchen to show your results. And be sure to leave a comment in the section below :)