There are moments when you just want to curl up with a bowl of hot soup to warm your soul from the inside out. Wintery soups are always in fashion and it doesn't necessary have to have meat in the ingredients. Try this vegan goodness if you're not convinced! This Chickpeas and Tomato Soup takes a classic you love and upgrades it with more diverse flavors and textures. Chickpeas provide a soothing and hearty quality to the recipe, as well as all of the vegetables that are considered pantry staples. This soup is great because it doesn't require any fancy ingredients. And it is easy to customize to your own taste.
A way to include more veggies in your diet
This recipe is light and healthy but also has a certain stick-to-your-bones quality that makes it so delectable. Often it can be difficult to incorporate more veggies into a day-to-day diet, this is a great way to get a head start! From the potatoes to the spinach this recipe is packed full of nutrients and is a great way to sneak in some extra flavors for children. Feel free to add in your own favorites, this recipe is great to riff on!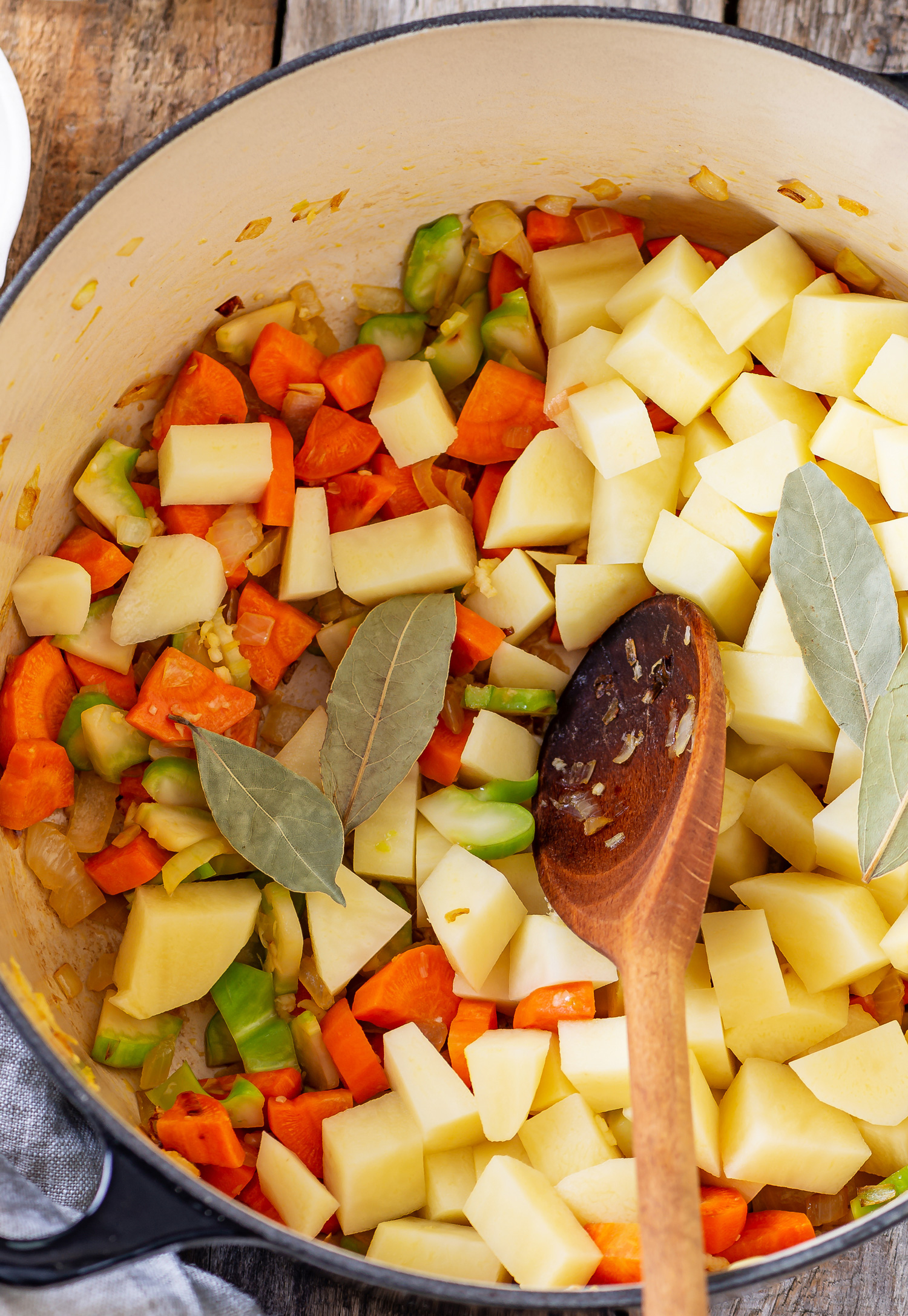 What you'll need
If you can, definitely make this in a Dutch Oven or crockpot. The thickness of the vessel's walls keeps the soup piping hot for quite some time. You might get a solid 1-2 hours of warmth if you can keep this covered. Don't have the dutch oven? Not a problem! Just keep the soup on the lowest heat for about 30 min after adding the tomatoes, then turn off the heat and let stand covered for 1 hour. Don't forget to heat it up and add the spinach before serving. If you cook the soup together with the spinach it will turn dull and you won't have this additional brightness of green on your plate.
What makes the flavor
The hot broth definitely blooms all of the spices you include. The toasted, earthy tones of the bay leaf add a slow-cooked flavor to the soup even though it comes together in less than an hour. The garlic also adds an ever-so-slight bite to the broth which is perfect for colder weather. It is definitely a very simple soup but it has so much body to it that you will forget it's so good for you!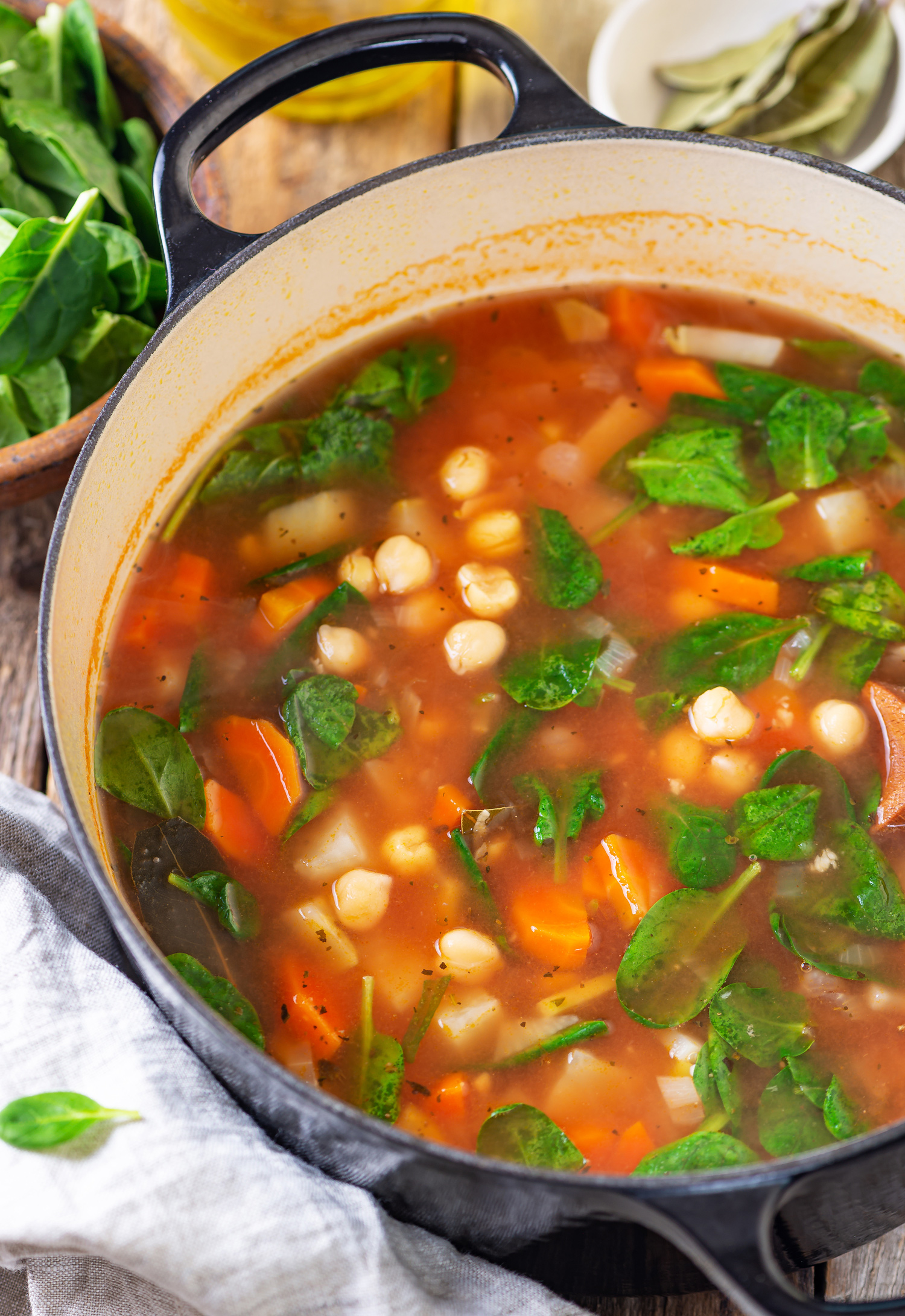 The soup starts with a common French flavor base called a Mirepoix. This technique combines celery, onions, and carrots in an oil base and heats them until they're cooked through. The goal is not to get a seared or caramelized crust on the veggies. As such, you will not look to achieve any "brownness" or color on the veggies. The goal is to add fresh, developed flavors to the broth or water to further enhance the end result. This dish will be fantastic served with garlic toast or a thick chunk of rustic white bread. You want to compliment it with something that is heavy and crisp to soak up the soup.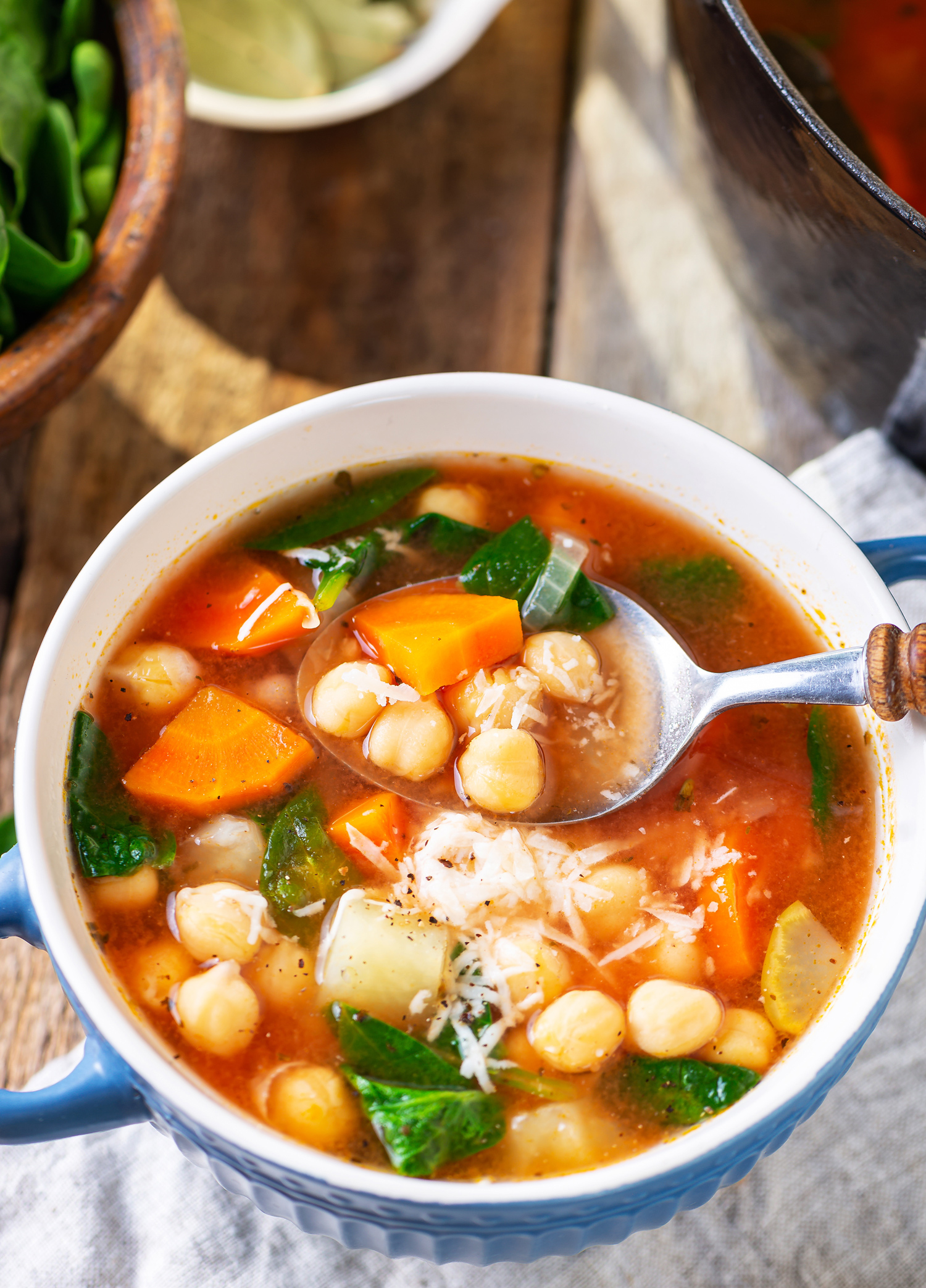 We have other very delicious and easy soup recipes, such as Tofu and Wakame Miso Soup, Creamy Mushroom Soup, Creamy Potato Soup, or other quick and easy recipes, great for a healthy dinner.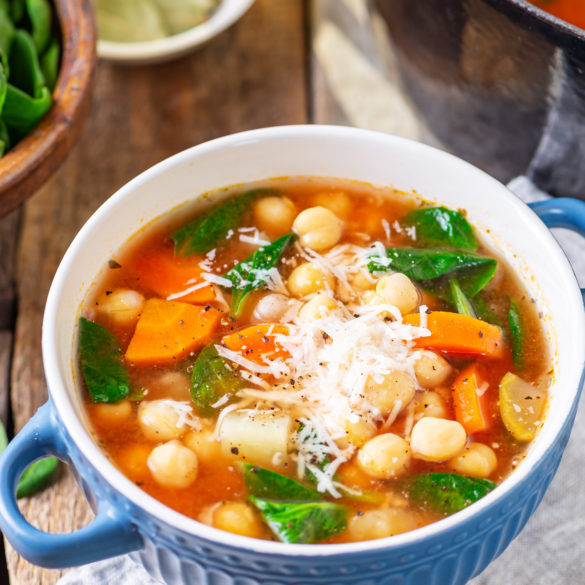 Made from only healthy ingredients, including chickpeas, tomatoes, carrots, celery, garlic, potatoes, spinach, vegetable broth, and some others, this easy Chickpea Tomato Soup creates a great dinner option for any season.
Ingredients
1 tbsp olive oil
1/2 cup chopped onion
1/2 cup diced carrots
1/2 cup diced celery
2 cloves garlic, minced
1 teaspoon Italian seasoning
1 cup diced potatoes
2 15 oz cans chickpeas, rinsed and drained
2 cups tomato passata
3 cups vegetable broth or water
3 bay leaves
freshly ground black pepper, to taste
2 cups fresh baby spinach
1/4 cup shredded vegan Parmesan cheese for garnish
Instructions
Heat oil in a large pot or Dutch oven over medium heat.
Add the carrots, celery, onion, garlic and Italian seasonings and saute until tender, about 6 to 8 minutes.
Add the broth, potatoes, chickpeas and bay leaves, cover and cook on low 20 minutes.
Add tomatoes and cook for 10 more minutes.
Add the spinach and simmer until wilted, about 2 more minutes.
Remove the bay leaves, and season to taste with salt and black pepper.
Serve with grated Parmesan cheese.
Notes
Parmesan cheese adds richness to the soup taste. You can definitely use the regular parmesan if you eat dairy, but vegan option will work well too.
This soup will taste amazingly with some sourdough bread.
Nutrition
Calories:
457kcal
Fat:
9.8g
Saturated Fat:
1.6g
Cholesterol:
3mg
Sodium:
378mg
Carbohydrate:
70.7g
Fiber:
19.6g
Sugar:
13.1g
Protein:
24.3g
Calcium:
169mg
Iron:
7mg
Potassium:
1139mg
Did You Make This Recipe?
Tag us on Instagram
@thewillowskitchen
and hashtag #thewillowskitchen to show your results. And be sure to leave a comment in the section below :)