Here is the recipe that you will absolutely love. Rich, decadent, and unbelievably delicious double Chocolate Blackcurrant Ganache Cupcakes will become one of your new favorites!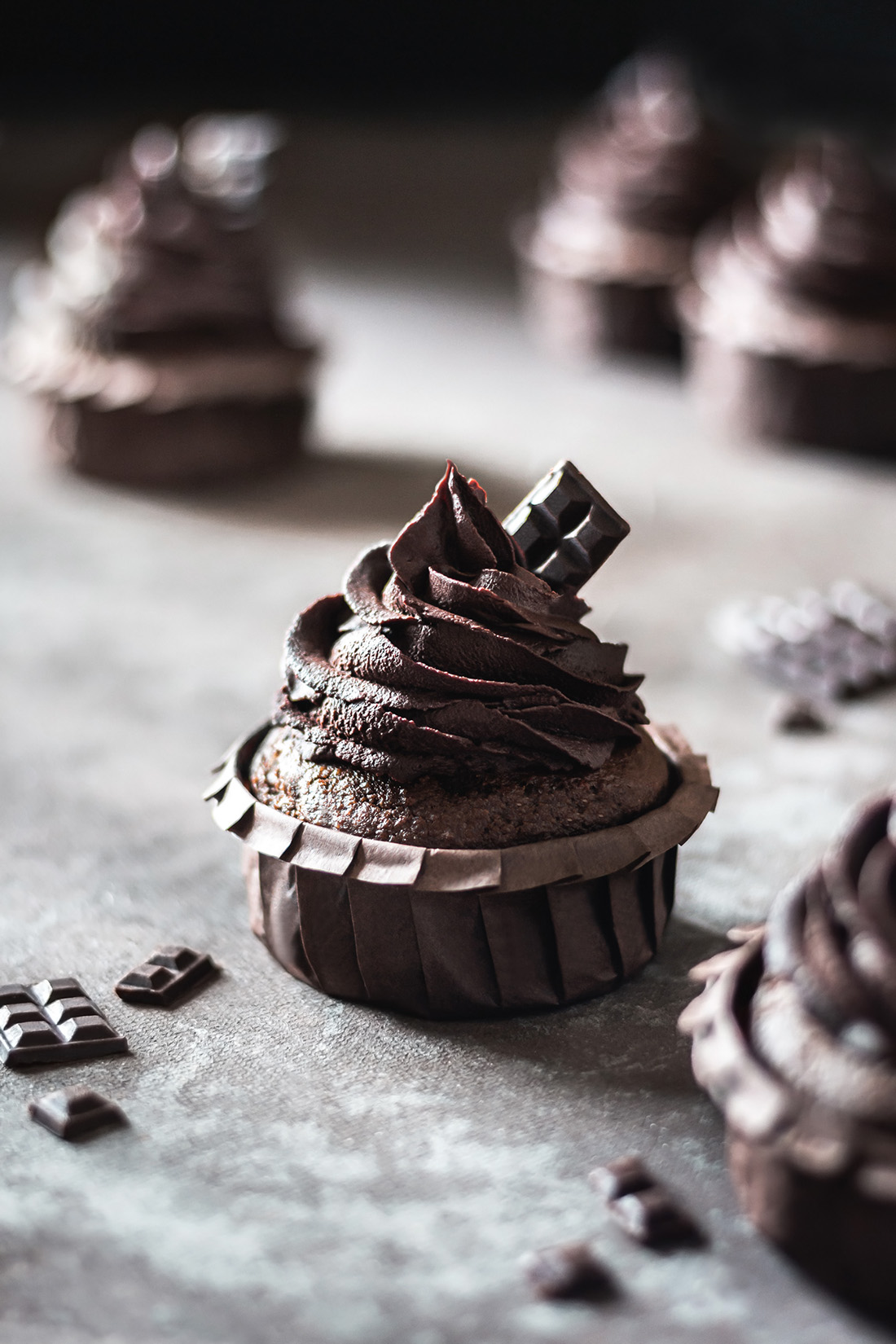 These vegan chocolate blackcurrant cupcakes will be a huge hit for any occasion. Furthermore, they are much healthier than traditional desserts, as they contain no refined products. Just a perfect treat.
Tender, moist, fluffy cupcakes with a deep and elegant chocolate flavor are topped with incredible chocolate blackcurrant ganache. It's a divinely delicious combination. It's a true double chocolate pleasure. Chocolate lovers will be delighted with these chocolate blackcurrant cupcakes. Just like everybody else.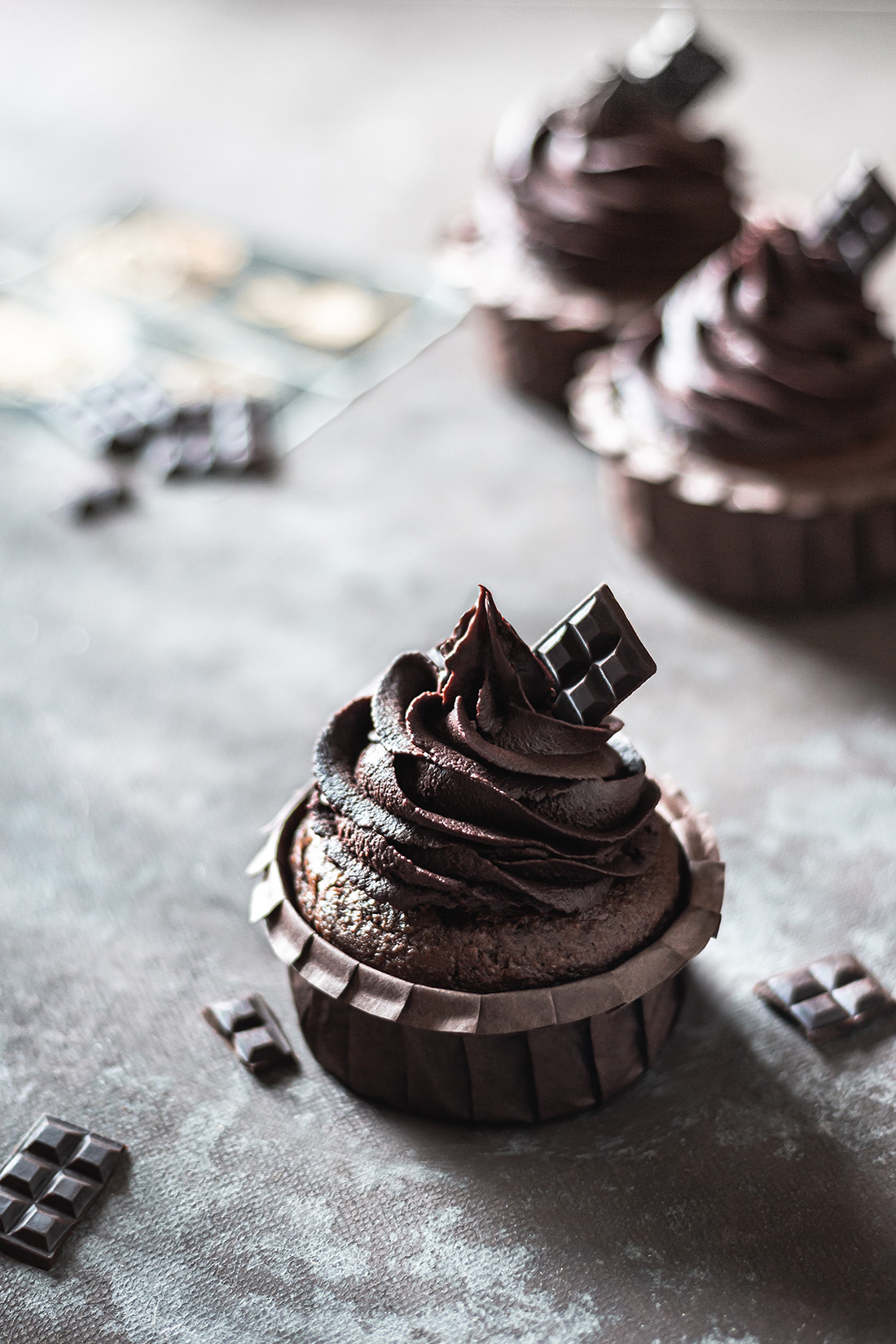 Light sourness of black currants contrasts the deep dark chocolate flavor, creating an unbelievably delicious combination of taste. This delicate and deep chocolate ganache is so yummy, it's so hard to resist and stop yourself from eating it with a spoon while cooking :)
Currants go great with chocolate. You can use either fresh or frozen black currants. Raspberries are also very good for this ganache, so you can sub currants with raspberries.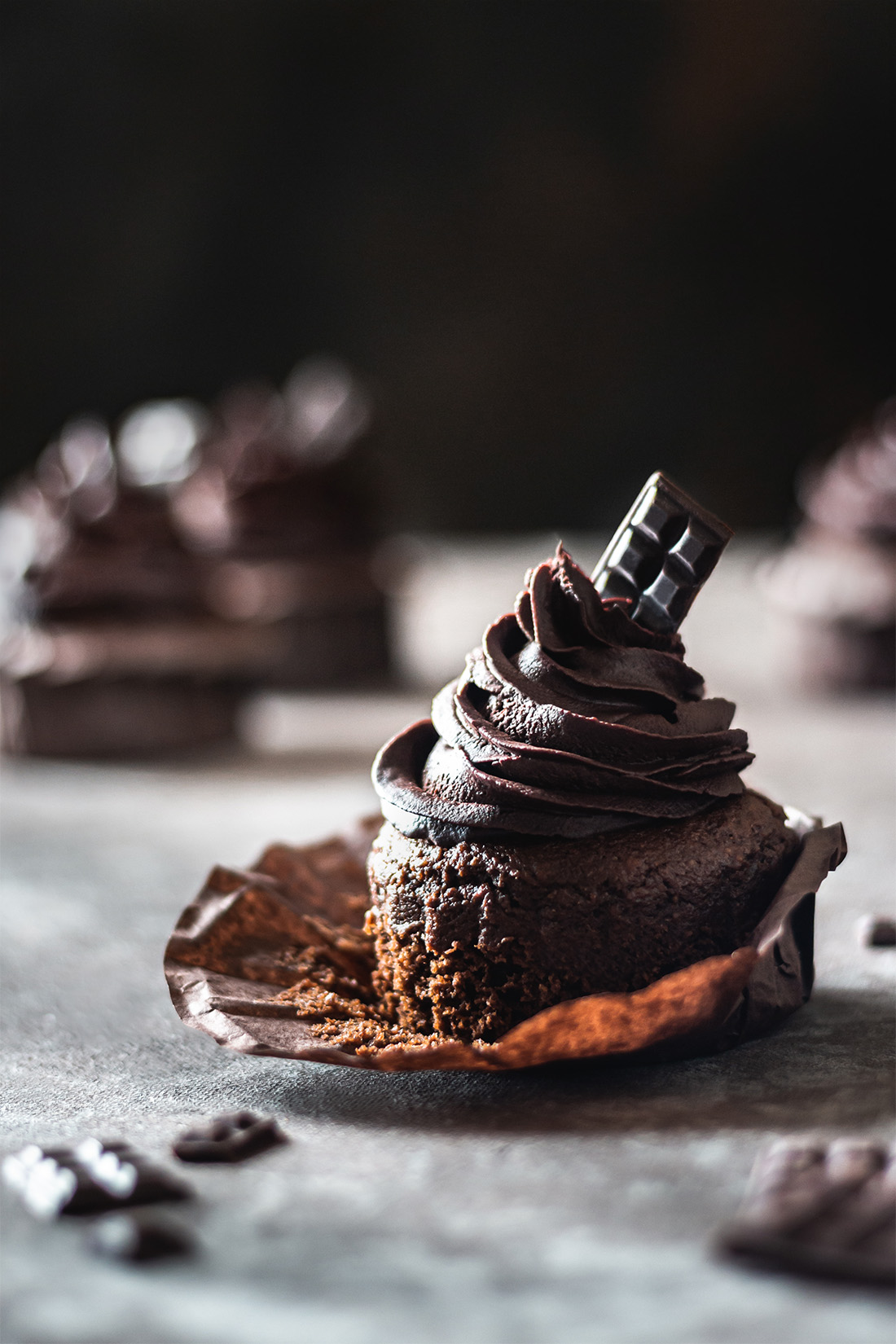 I recommend to use dutch-processed cocoa powder for baking the cupcakes. Such cocoa powder gives cupcakes a more intense and rich chocolate flavor. It's very important to choose a high quality dark chocolate for the ganache. Its taste and flavor influence the final taste of ganache and the whole dessert. Use chocolate with at least 70% cacao content.

These cupcakes will not leave anyone indifferent. You can make it for any holiday, as a special gift to your friends or just on a regular day to please your family. This is a recipe you must try!
More Vegan Chocolate Desserts to Try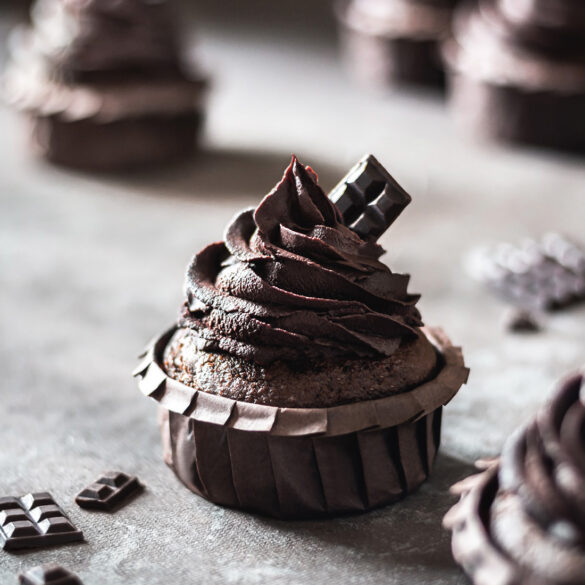 Here is the recipe that you will absolutely love. Rich, decadent and unbelievably delicious double Chocolate Blackcurrant Ganache Cupcakes will become one of your new favorites!
Ingredients
For the Cupcakes:
1 cup (130 g) whole wheat pastry flour
½ cup (50 g) almond flour
2 tbsp cocoa powder
½ cup (80 g) coconut sugar
⅔ cup (160 ml) full-fat coconut milk
4 tbsp (70 g) applesauce
2 tbsp (25 g) coconut oil, melted
1 tsp baking powder
1 tsp vanilla extract
pinch of salt
For the Chocolate Blackcurrant Ganache:
7 oz (200 g) dark chocolate (at least 70% cacao)
½ cup (120 ml) full-fat coconut milk
⅓ cup (80 g) blackcurrant puree* (or raspberry puree)
⅓ cup (40 g) powdered coconut sugar
Instructions
Preheat the oven to 350°F (180°C). Lightly grease a muffin pan or fill it with muffin liners. Set aside.
All the ingredients should be at room temperature. Mix all dry ingredients - both types of flour, cocoa powder, coconut sugar, baking powder and a small pinch of salt.
In a separate bowl, combine coconut milk, melted coconut oil, applesauce, and vanilla extract. Mix thoroughly with a whisk. Add dry ingredients and stir gently until smooth. Pour the batter into prepared paper liners, filing them about ⅔ full.
Bake cupcakes for about 25-30 minutes until a toothpick comes out clean. Remove from the oven, let them cool completely before frosting.
Pour coconut milk into a saucepan and place it on a medium heat until gently simmering. Remove from the heat. Add finely chopped chocolate into warm milk and stir with a spatula until chocolate is melted. Add blackcurrant puree and powdered coconut sugar and stir until smooth. Set aside for a couple of hours until thickened enough to pipe as a frosting.
Transfer ganache to a piping bag fitted with a star tip and pipe it onto each cupcake.
Decorate with berries or chocolate.
Notes
*To make the homemade blackcurrant puree, process 1 cup of the currants in a food processor. Transfer to a small saucepan, add a couple tablespoons of water. Over medium heat let it simmer and cook it for a couple of minutes. Remove from heat and let it completely cool. Pour the mixture through a sieve to remove skin and seeds to get a smooth texture.
Nutrition
Calories:
233kcal
Fat:
14.9g
Saturated Fat:
10.2g
Cholesterol:
0mg
Sodium:
25mg
Carbohydrate:
22.2g
Fiber:
1.6g
Sugar:
15.3g
Protein:
2.4g
Calcium:
18mg
Potassium:
47mg
Did You Make This Recipe?
Tag us on Instagram
@thewillowskitchen
and hashtag #thewillowskitchen to show your results. And be sure to leave a comment in the section below :)