This Chocolate Cherry Cake is super moist, layered with silky chocolate ganache and cherry filling. If you are looking for an easy, moist, fudgy, chocolate-rich cake, this is one for you! There is a riot of flavors – a sweetness and little bitterness of rich creamy dark chocolate ganache, slight bursts of cherry sourness, and it's all combined with moist and fluffy deep chocolate layer cakes. The taste and flavor of this cake are wonderful!
We highly recommend making this cake, you will love it a lot. Tag us on Instagram to show your results for this amazing cake. And don't forget to follow us on Instagram, we share also many helpful tips there :)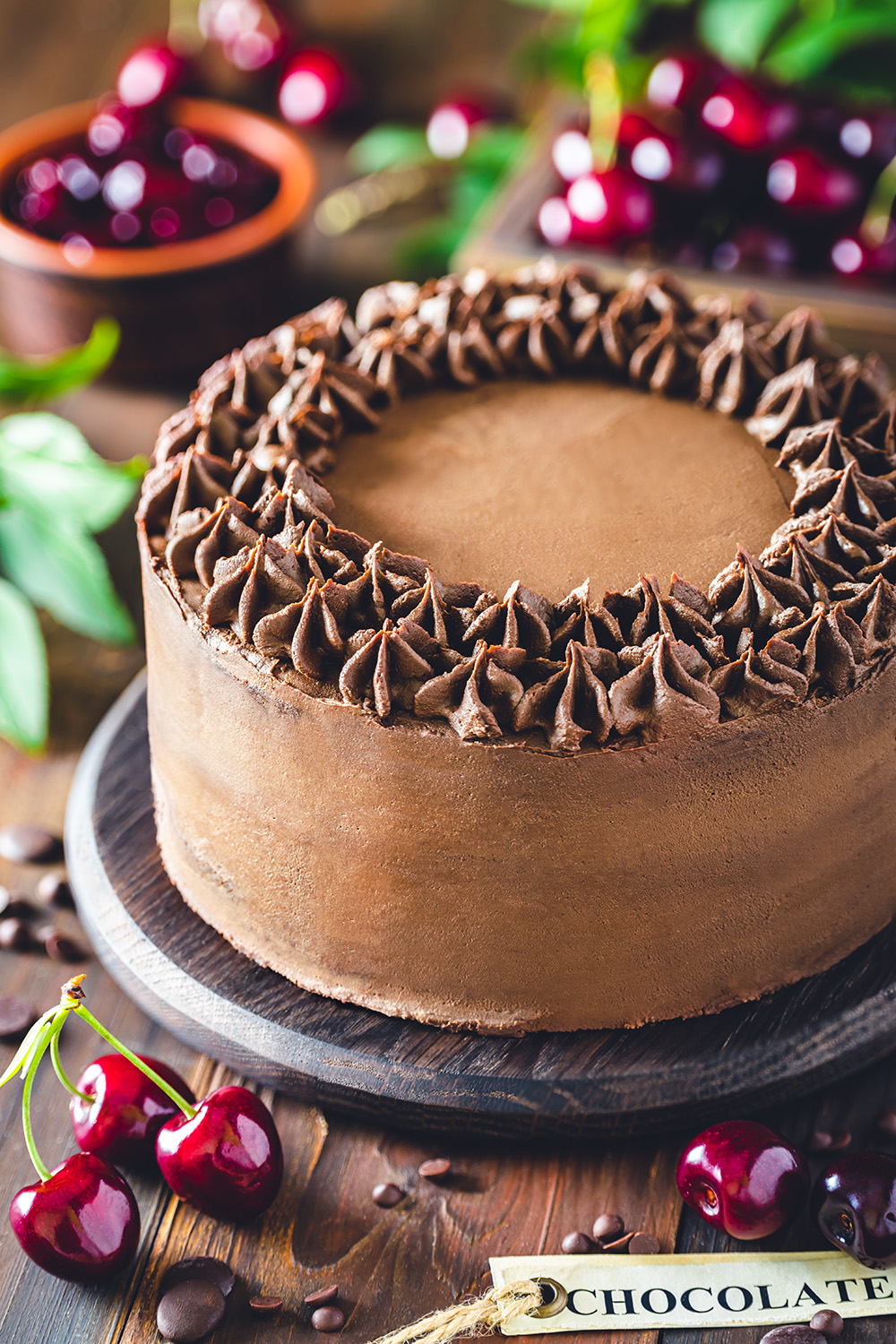 Cherry filling
The combination of cherry and chocolate is one of my favorite. And who does not love it? :) Slight cherry sourness combined with rich and elegant chocolate taste. You may use other berries for the filling – raspberries, strawberries, blueberries, currants, and much more. Every version will have its advantages and some interesting tones in this chocolate elegant taste. You can use fresh or frozen cherries.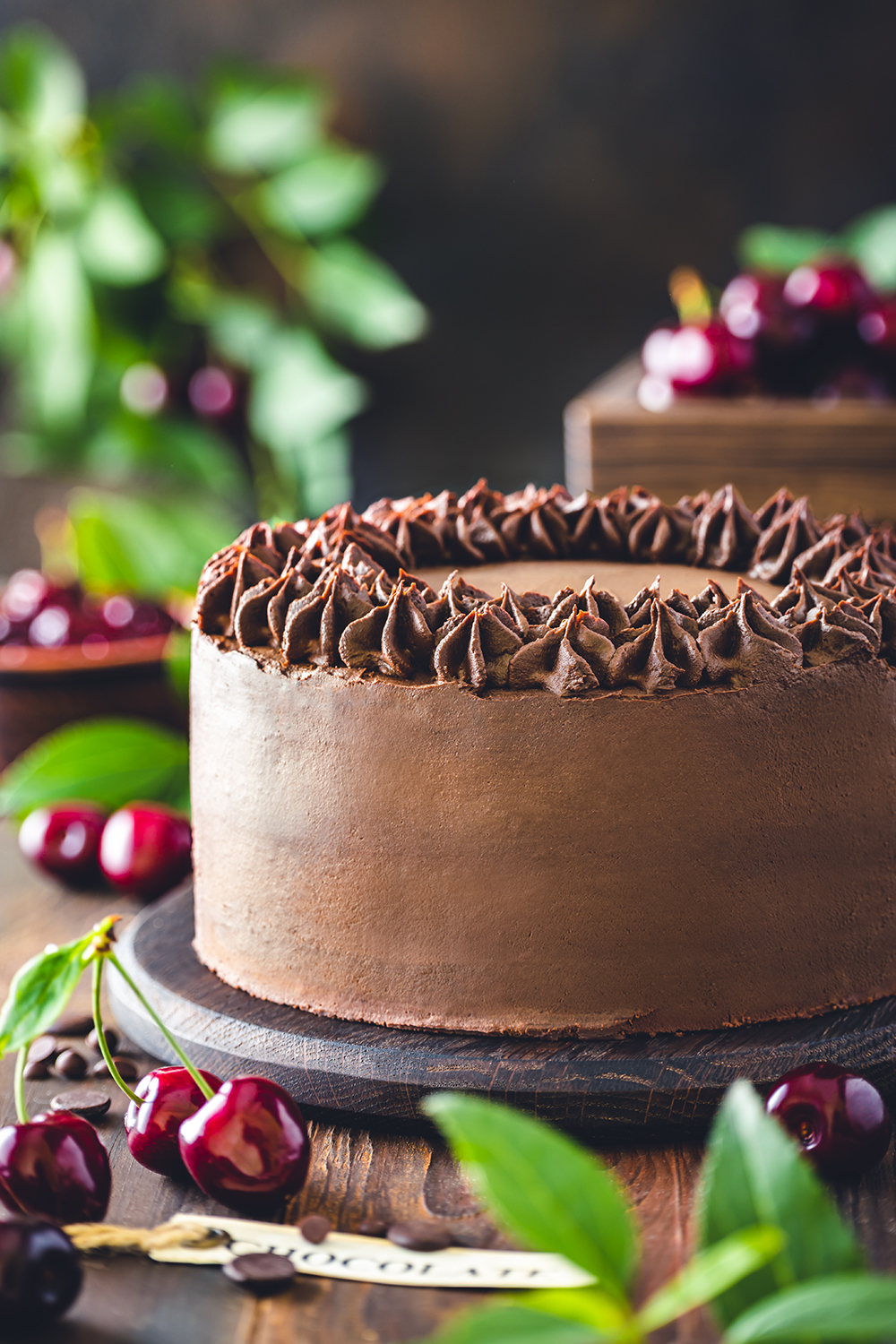 Ingredients
For this recipe, you will need dark chocolate with at least 70-75% cacao. It's important because if you use chocolate with less percentage of cacao, the ganache will be quite thin to use it as a frosting. Be sure to choose delicious high-quality chocolate, because the quality of the chocolate determines how good our ganache and the whole cake will be.
Use only canned full-fat coconut milk to make the ganache, not low-fat milk. Also, you can use coconut cream for this recipe, the ganache will be thicker in this case.
Coconut sugar is a better and healthier alternative to refined white sugar, as has a lower glycemic index and contains some minerals and vitamins. To make powdered coconut sugar, just grind it in a coffee grinder until flour consistency.
Whole wheat flour does not undergo heavy processing, contains fiber, and is much healthier than all-purpose flour. But also contains gluten, which is inappropriate for people on a gluten-free diet.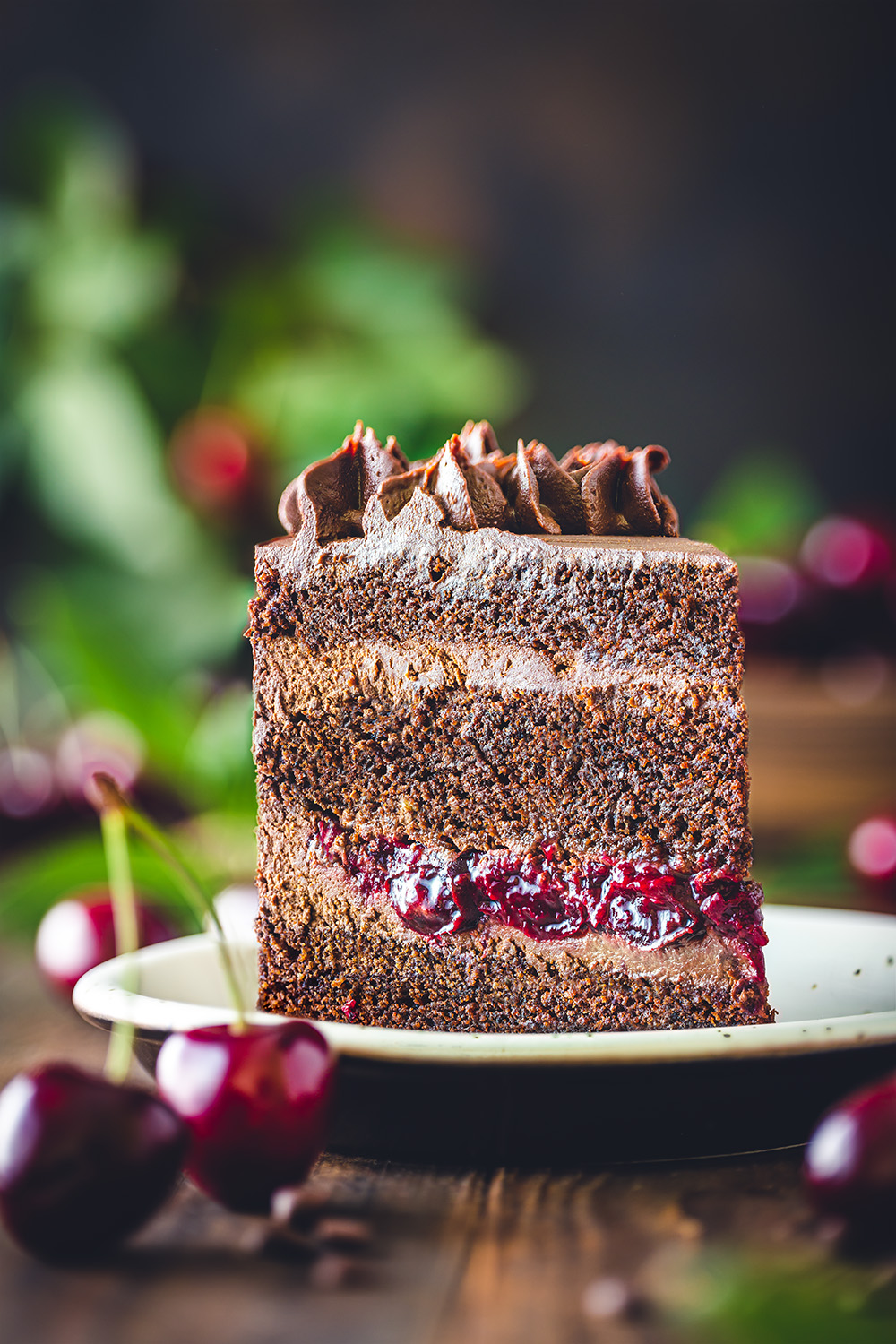 Chilling the cake
I suggest you chill your cake before cutting and frosting it. Wrap the cake with plastic wrap and place it in the fridge overnight. It allows cutting the cake into three equal layers without any crumbling, as the chilled cake is firmer and less crumbly. You can also bake the layer cakes in three separate pans, but the time of baking will change, as the height will be much smaller. So if using three pans, bake the cakes for about 25-30 minutes, the toothpick should come out clean. Allow the cake to cool completely and only then wrap it with plastic wrap.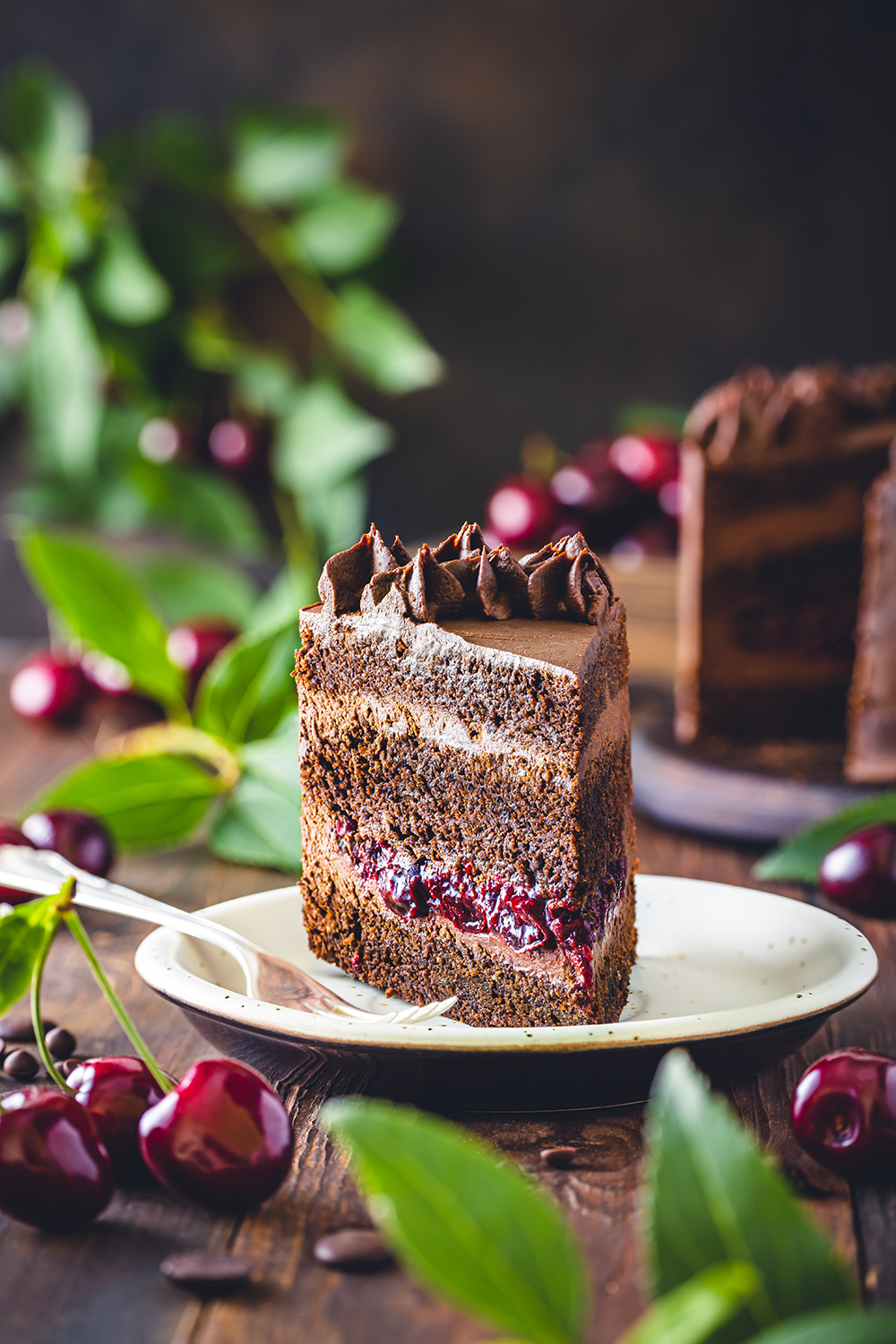 How to Make Chocolate Ganache
It's very easy to make the perfect chocolate ganache and use it as the frostings, toppings, or fillings in your dessert. But there are some moments, you should take into account. First of all, it's very important to overheat the chocolate. Heat the milk on medium heat until the first bubbles form, but don't boil over. Remove from the heat and pour over chopped chocolate. A detailed description of the process is in the recipe card below. When the ganache is made, cover it with a piece of plastic wrap directly over the top of the ganache, touching it. Set aside to thicken.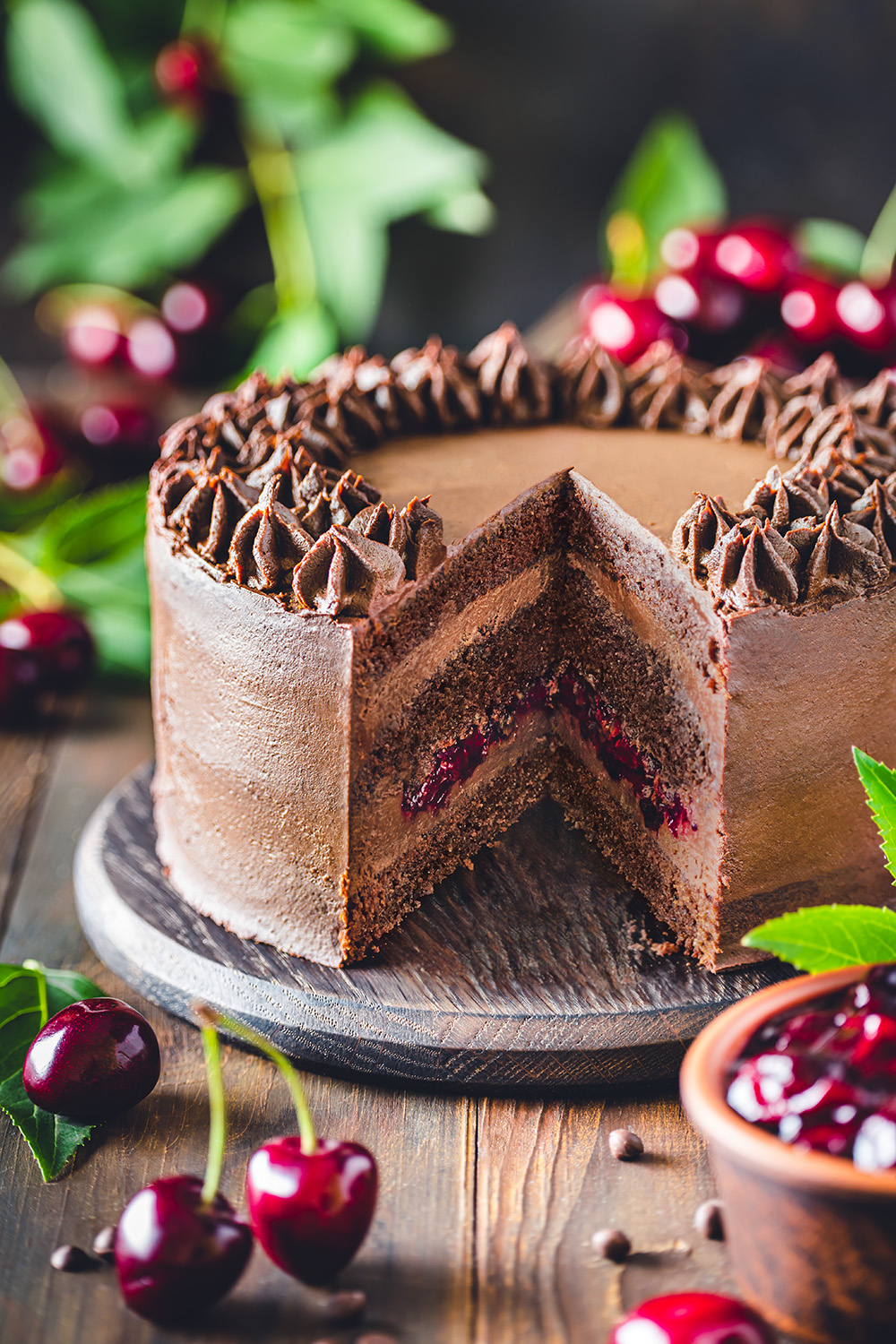 If you like this recipe, be sure to try our other chocolate vegan recipes, check out the links below:
Silken Tofu Chocolate Pudding
Vegan Chocolate Peanut Cheesecake,
Chocolate Blackcurrant Ganache Cupcakes,
No-Bake Mini Chocolate Cheesecakes with Strawberry Filling.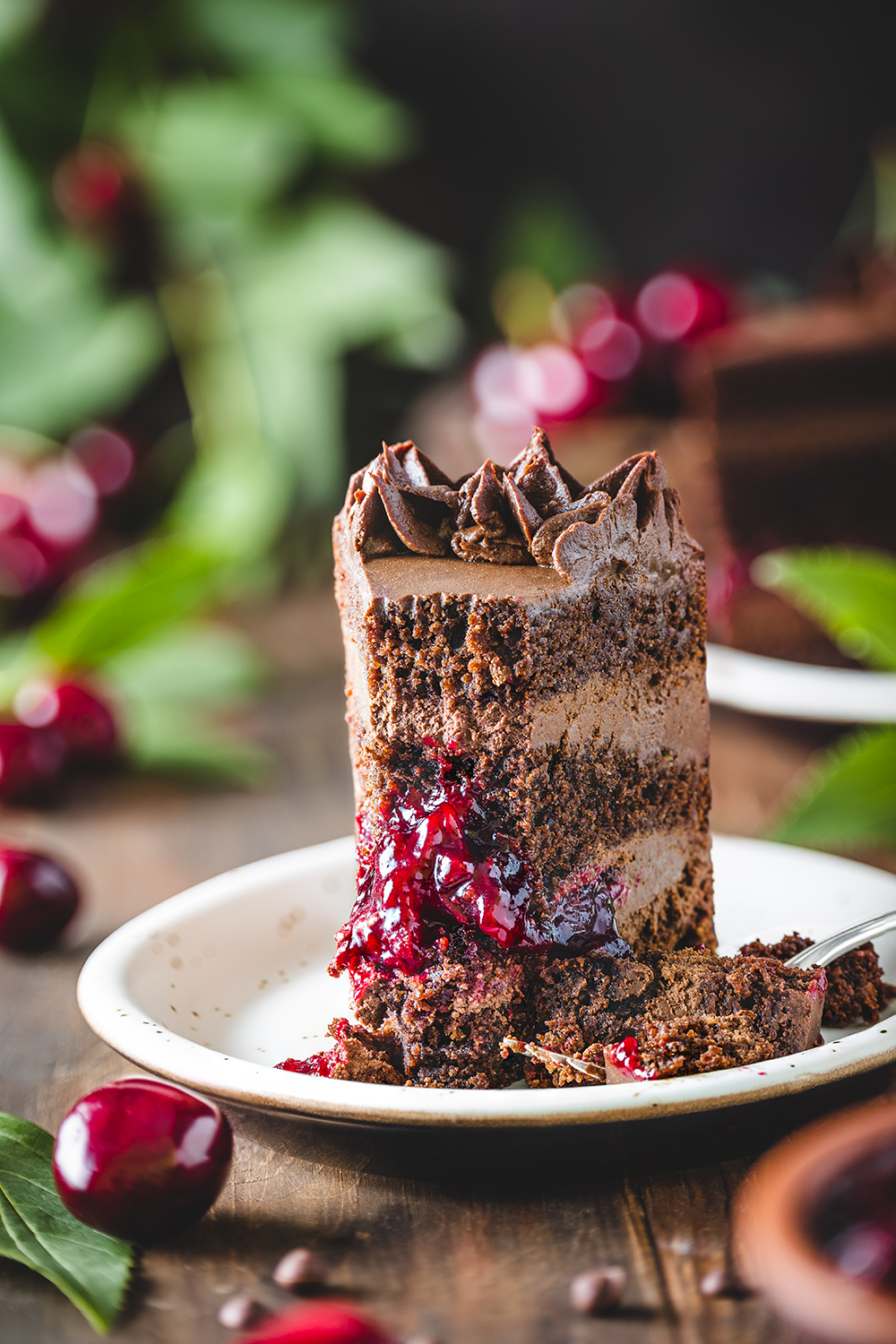 For decoration, you can top it with fresh cherries, grated chocolate, or pipe with the remaining ganache with a star tip.
It's the perfect celebration cake for any party and holiday table, it's moist and packed with rich chocolate flavor. This beautiful, delicious Chocolate Cherry Cake will delight all your guests. You definitely need to try this recipe, it's so delicious.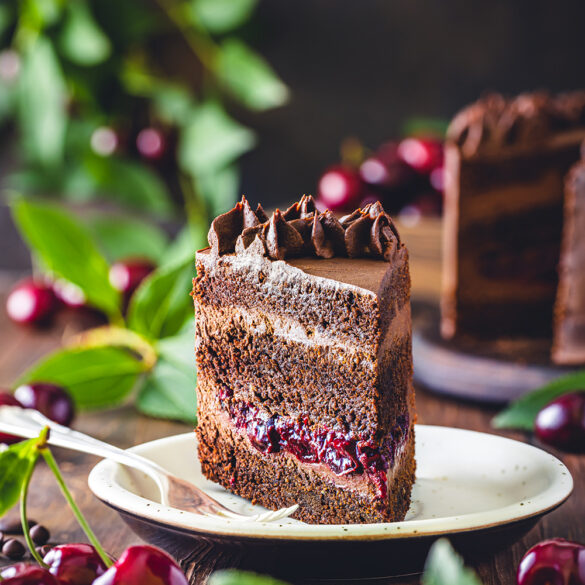 Ingredients
Chocolate cake
1 ⅓ cups (170g) whole wheat flour
⅓ cup (30 g) cocoa powder
⅔ cup (110g) coconut sugar
⅓ cup (90 g) applesauce
1 cup (240 g) full fat coconut milk
2 tbsp vegetable oil

1 tbsp apple cider vinegar
1 tbsp baking powder
1 tbsp baking soda
1 tsp vanilla extract
Chocolate ganache
10.5 oz (300 g) dark chocolate (with 70-75% cacao)
1 can (400 ml) full-fat coconut milk
½ cup (60 g) powdered coconut sugar
Cherry filling
1 cup (160 g) cherries, pitted
1 tbsp cornstarch (+ 2 tbsp water)
¼ cup (40 g) coconut sugar
Instructions
Preheat the oven to 350°F (180°C). Grease and line the base and sides of a 7-inch (or 18 cm) cake pan with parchment paper. All the ingredients should be at room temperature.
Mix coconut milk with apple cider vinegar and set aside for 10 minutes. Add applesauce, oil, vanilla extract, and coconut sugar, and mix well.
In a separate bowl, mix all dry ingredients - flour, cocoa powder, baking powder, and baking soda. Add dry ingredients to wet ingredients and stir gently until smooth. Pour the batter into the prepared pan.
Bake the cake for about 40-45 minutes until a toothpick comes out clean. Remove from the oven, and let it cool completely. Wrap with plastic wrap and refrigerate overnight.
Pour coconut milk into a saucepan and place it on medium heat until gently simmering. Remove from the heat. Pour the milk into the bowl with finely chopped chocolate and powdered coconut sugar. Set aside for 5 minutes. Then stir well, the mass should be smooth and glossy. Set aside for a couple of hours until thickened enough to pipe as a frosting (but not too thick).

Add cherries and coconut sugar to a saucepan and at medium heat let it simmer. In a small bowl combine corn starch with water and stir well until all lumps are gone. Add cornstarch mixture to cherries and constantly stir until sauce is thickened (about 1 minute). Remove from the heat. Cover with a layer of plastic wrap touching the top of the sauce to avoid a film forming. Let it cool completely.

Cut the cake into 3 equal layers.

Spread the layer of frosting to the first cake using a spatula. Then make the boards with frosting and bring cherry filling in the middle. Cover with the second sponge layer. Add a thicker layer of ganache and cover with the third cake layer.

Coat the top and the sides of the cake with the remaining frosting. Decorate with ganache (using a piping bag fitted with a tip) or fresh cherries. Send to the refrigerator for a couple of hours. Enjoy!

Did You Make This Recipe?
Tag us on Instagram
@thewillowskitchen
and hashtag #thewillowskitchen to show your results. And be sure to leave a comment in the section below :)