The richness of chocolate cake with pear in the center gives the right amount of juicy and savory taste for a perfect dessert.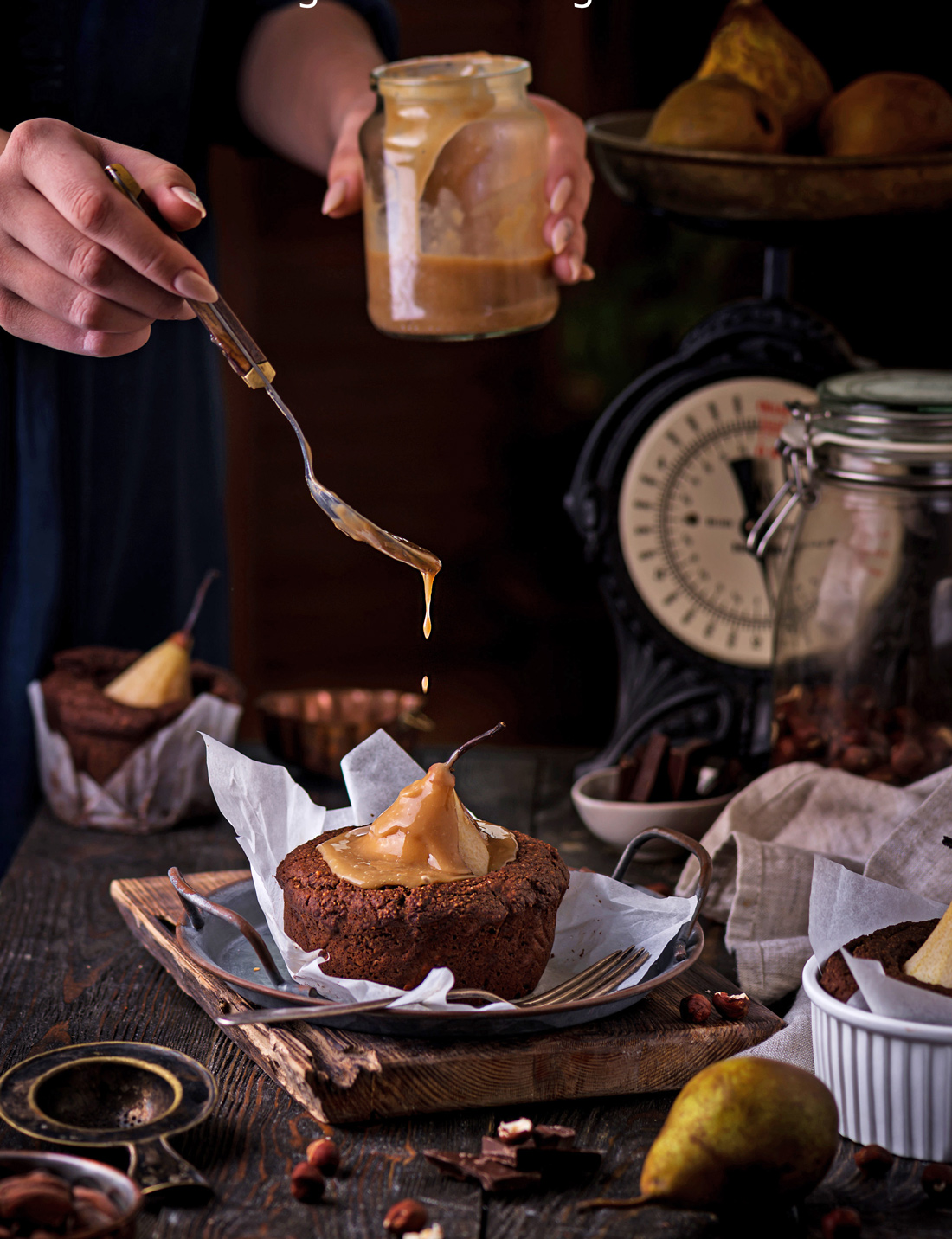 This recipe utilizes flax eggs which are a combination of ground flax seeds and water. This mixture is refrigerated until slightly gelatinous. This combo not only helps as a binder but also adds an aspect of nuttiness to the final product. Another common egg substitute is applesauce, this recipe utilizes a combination of both egg substitutes to round out the final result in different ways. The applesauce adds tartness and silkiness which compliment the bitterness of the chocolate very well. The plant-based milk in this recipe also can slightly alter the flavor of this cake. Choose a milk variety that suits your tastes the most. Oat and soy milk tend to be more on the neutral side of the spectrum whereas coconut may lean more on the flavored side. 
The almond flour will neutralize the dish as well, it adds a great body to the cake and is also a great protein addition! One might even say that the almond flour could make this cake "healthy"! From the outside this looks like a standard chocolate cake with caramel sauce, which alone is a tasty dessert. The hidden surprise of the pears elevates this dessert to a whole different level. The pears are almost poached in the cake batter. An hour in the oven makes the pears soften and release their juices to moisten the surrounding cake. The pears in the center become soft, sweet and just slightly acidic which make it a perfect contrasting core.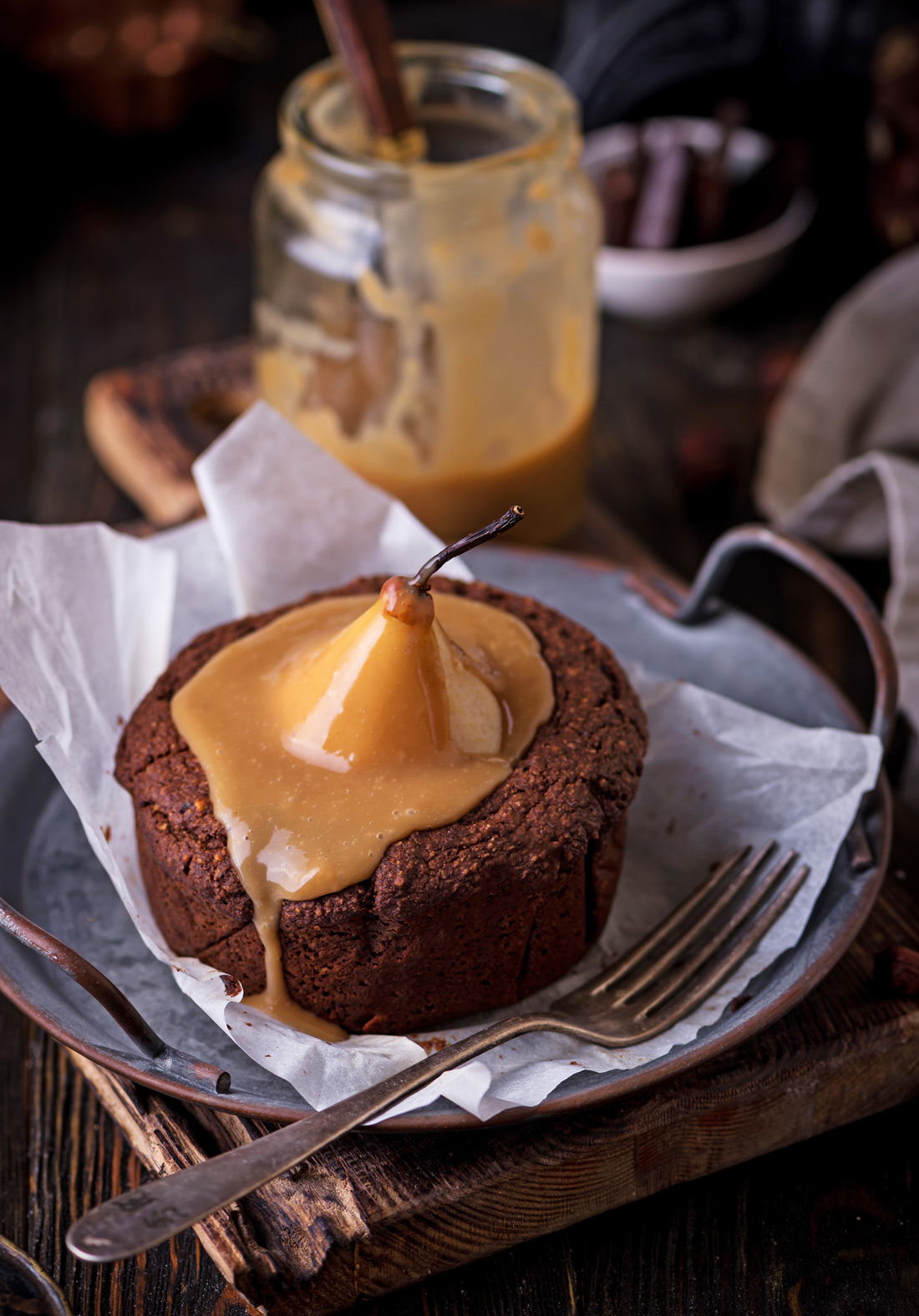 The warm topping is a smooth and succulent coconut caramel sauce. This Chocolate Pear Cake is the perfect dessert for any dinner party, it is an uncomplicated, simple dessert that is ready in a snap!
More gluten-dree cakes to try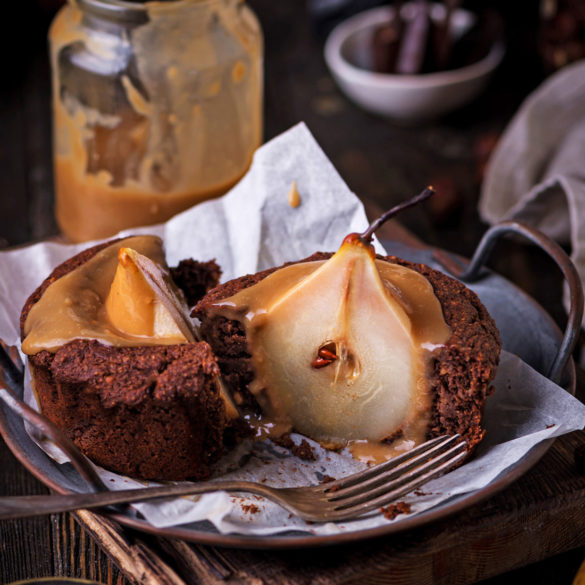 The richness of chocolate cake with pear in the center gives the right amount of juicy and savory taste for a perfect dessert. 
Ingredients
⅓ cup applesauce
⅓ cup coconut oil, melted
½ cup plant-based milk
2 flax eggs (2 tbsp ground flaxseed + 6 tbsp water)
1 ½ cup fine almond flour
⅔ cup coconut sugar
1 tsp baking powder
⅓ tsp sea salt
⅓ cup cocoa powder
3 small pears
Instructions
Peel 3 small pears.
Mix wet ingredients in a mixing bowl.
Add dry ingredients and stir well to combine.
Pour your batter into a lined baking pan (around 25 cm long). Put inside peeled pears.
Bake for 45-50 min at 180°C.
let cool down completely.
Serve with coconut caramel sauce.
Nutrition
Calories:
532kcal
Fat:
33g
Saturated Fat:
17.3g
Cholesterol:
0mg
Sodium:
213mg
Carbohydrate:
59g
Fiber:
9.3g
Sugar:
41.7g
Protein:
8g
Vitamin D:
30mcg
Calcium:
74mg
Iron:
2mg
Potassium:
471mg
Did You Make This Recipe?
Tag us on Instagram
@thewillowskitchen
and hashtag #thewillowskitchen to show your results. And be sure to leave a comment in the section below :)