If you are looking for a quick and delicious vegan caramel, you've found it! It's so easy to make, you'll never buy a caramel from the store. And the best part is that it's made from healthy ingredients. No refined sugar! You'll love to drizzle this Coconut Caramel Sauce on desserts, cakes, ice cream or for your breakfast oatmeal or pancakes.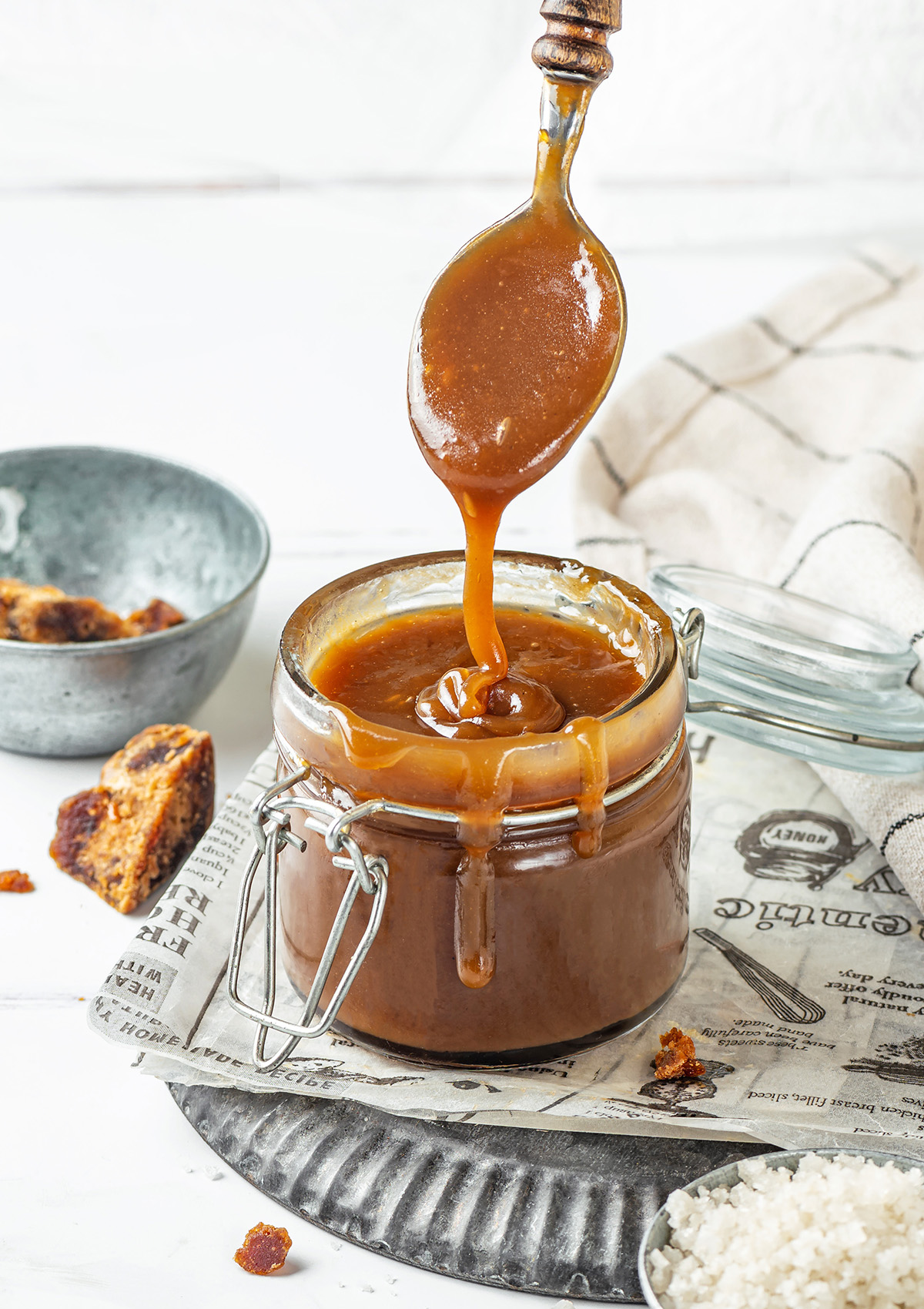 Only three ingredients and 5 minutes to make!
It's completely vegan, which means no dairy that is usually used for regular caramel. You'll need only canned coconut milk and non refined dark coconut sugar. Often coconut caramel is made by evaporation of the liquid from milk and long simmering. I make it by thickening with tapioca or cornstarch. This way it takes only a few minutes and I like that it turns out not so overbearingly sweet this way. Don't worry you'll still get this sweet caramel taste thanks to coconut sugar, even without a long cooking process and with no risk of burning the butter.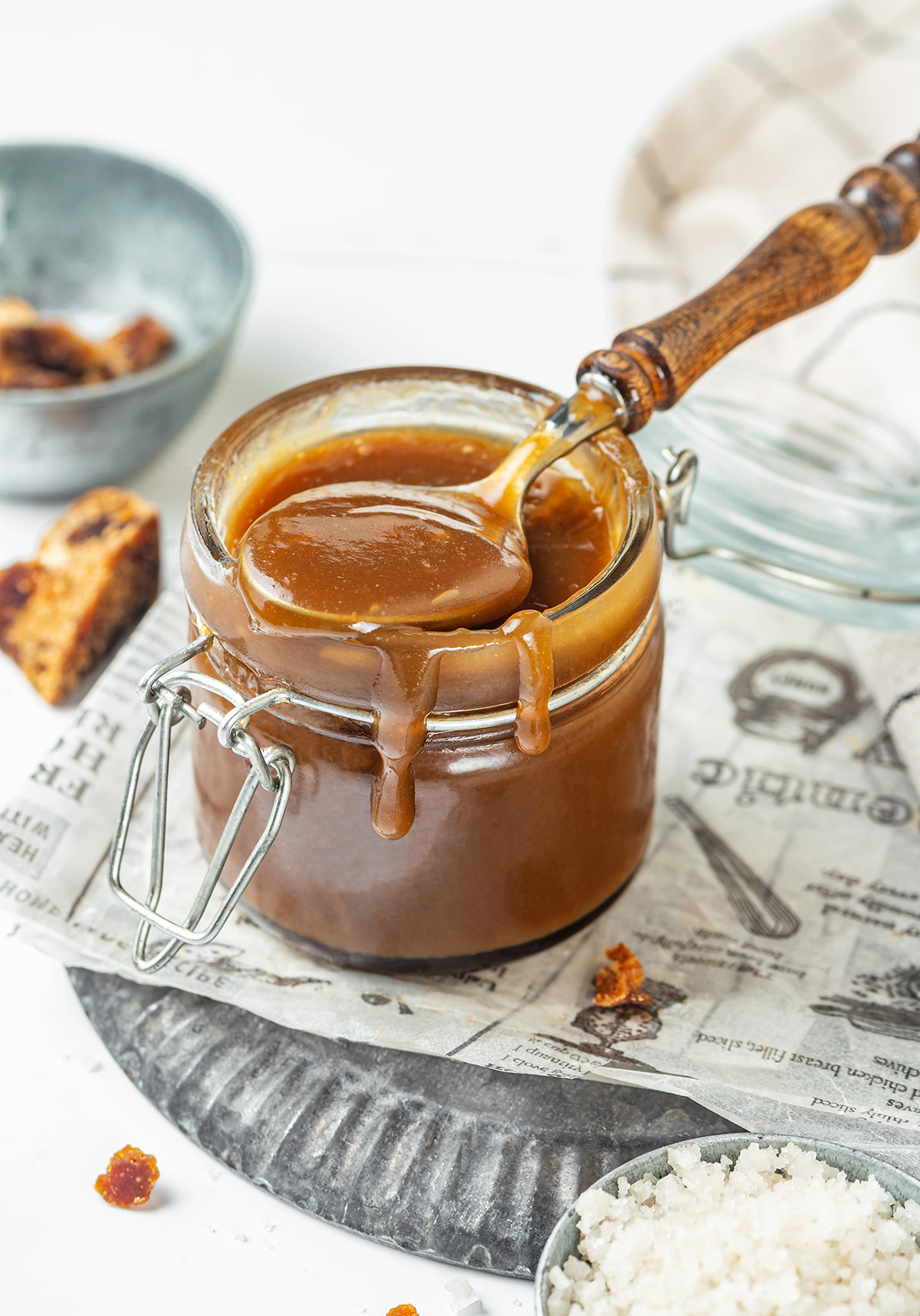 If you're worried it has a distinct coconut taste, don't be. It actually tastes like regular caramel and doesn't have any aftertaste. This coconut caramel sauce is rich and creamy, plus tastes 100 times better than any store bought option. And you don't need to worry about the ingredients used!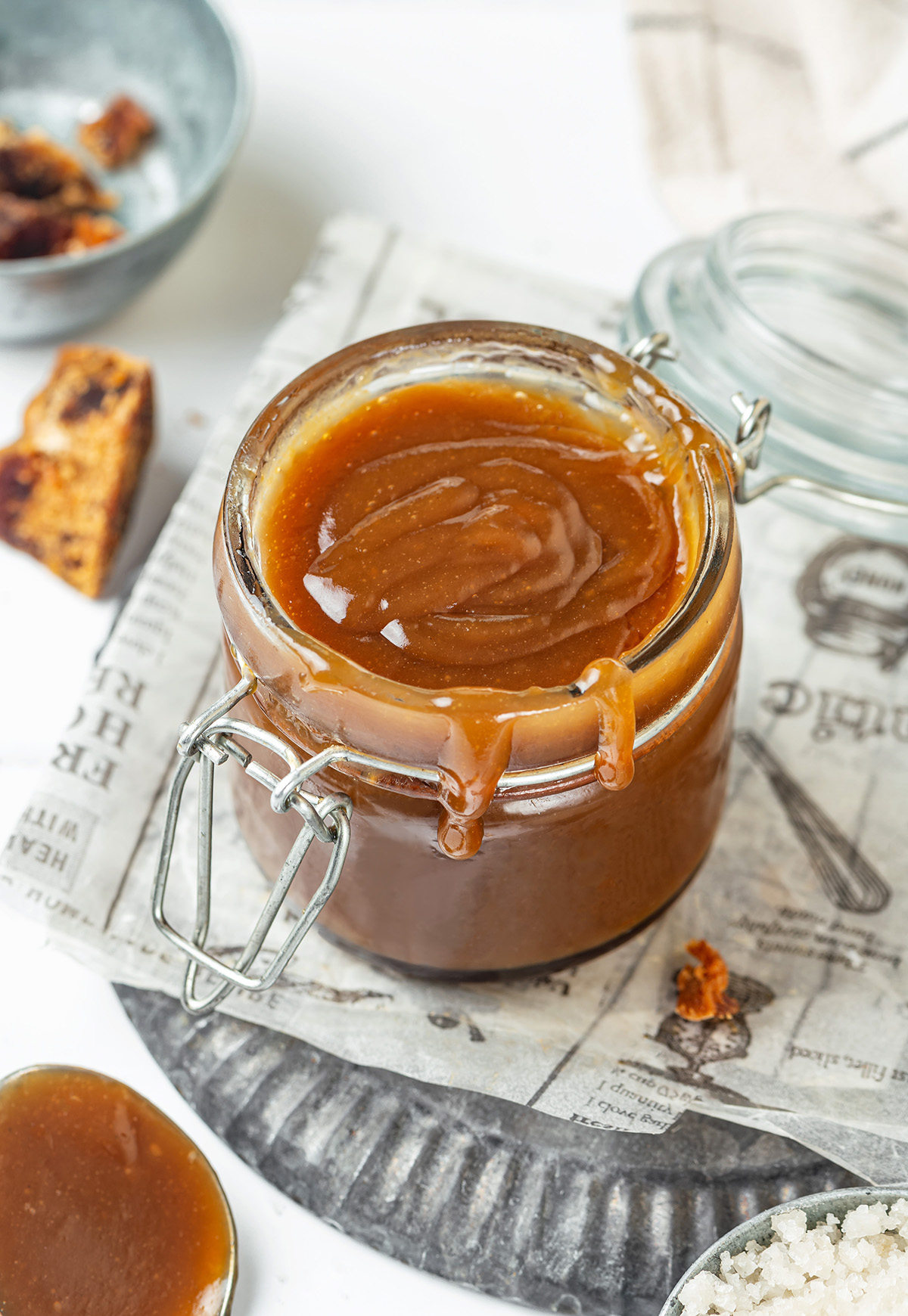 Want some ideas where to use this delicious caramel sauce? Try it with these overnight oats. Or here is an amazing gluten free and vegan pear cake that will taste amazing paired with this caramel goodness. Want a quick delicious dessert? Just drizzle it on your favorite fruits, or peanut banana sandwich🤤 You will love it!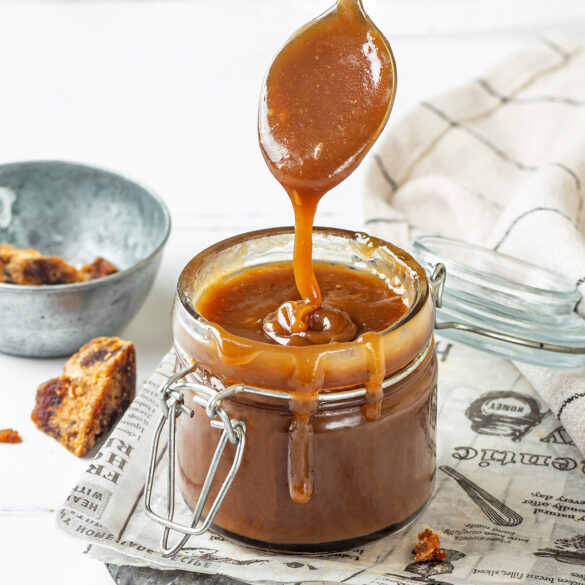 Ingredients
2/3 cup dark coconut sugar
15.5 oz (380g) can full fat coconut milk
1/3 tsp sea salt
1 tbsp cornstarch
Instructions
Place coconut milk in a medium size saucepan, keeping separate 4 tbsp liquid from the bottom of the can. (see notes)

Add coconut sugar to the saucepan and place it on medium heat.

Bring to a simmer and cook for about 4 min, stirring constantly.

After 4 minutes remove the sauce from the heat. 

Mix 1 tbsp cornstarch with remaining 4 tbsp liquid. Add to the sauce and mix well.

Place the sauce back on the stovetop and bring to boil, stirring constantly. After 20 - 30 seconds you will see that the sauce thickens. It will still get thicker after cooling down.

Remove from the heat and let it cool down completely. If it separates a bit after cooling just give it a good stir and it will be perfect again.

Keep in the fridge for 10 days. Tha sauce could harden a bit in the fridge but will thin down at room temperature.
Notes
if your coconut milk is smooth and without separated liquid on the bottom, you can still take 4 tbsp of coconut milk
Did You Make This Recipe?
Tag us on Instagram
@thewillowskitchen
and hashtag #thewillowskitchen to show your results. And be sure to leave a comment in the section below :)