This Cottage Cheese with Fruit recipe is a wholesome and protein-rich option that can be enjoyed as a nutritious breakfast, a refreshing snack, or even a light dessert. The natural sweetness from the fruits and honey, along with the creaminess of the cottage cheese, makes it a delightful and guilt-free treat that everyone will love.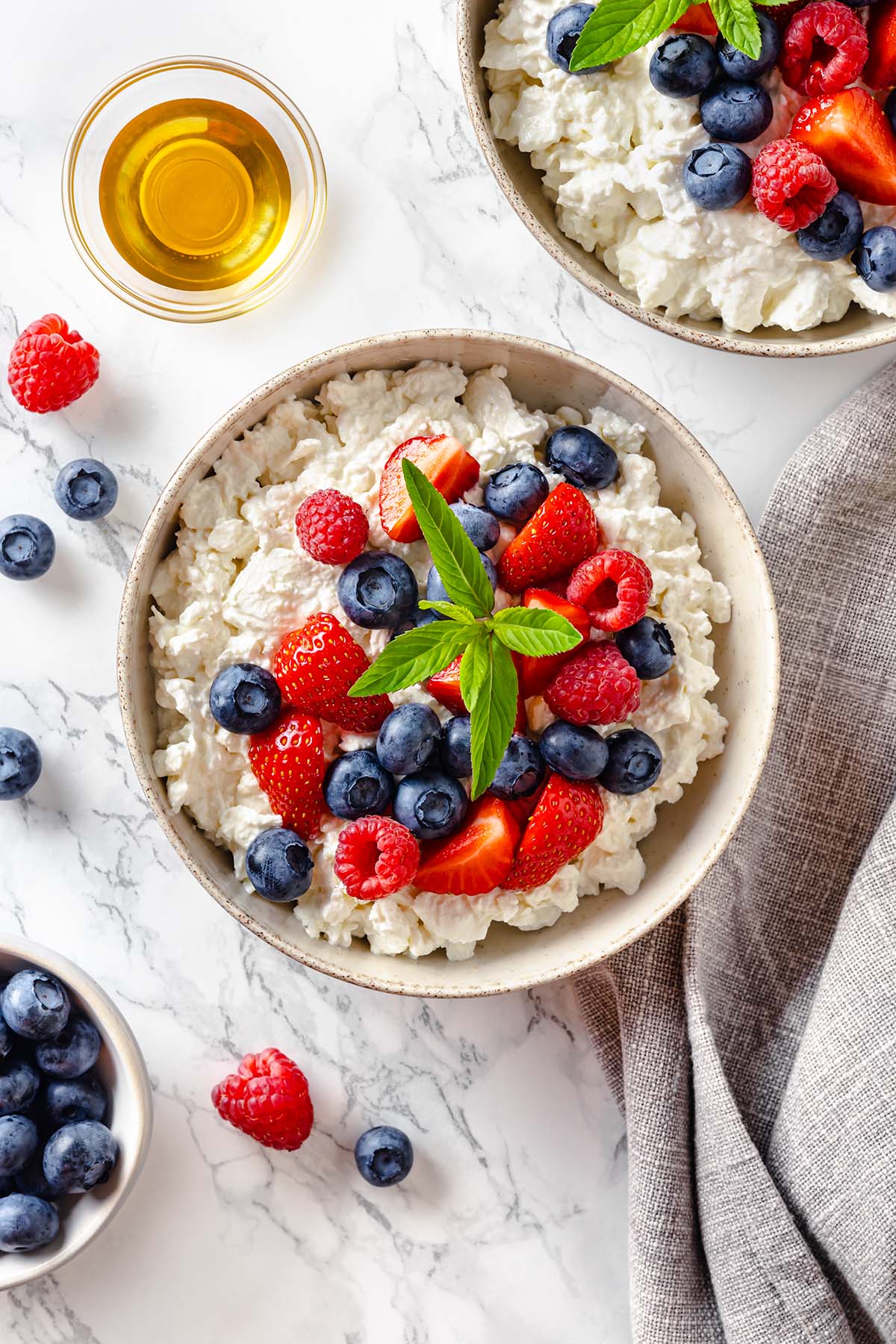 Why You'll Love This Recipe
This Cottage Cheese with Mixed Berries recipe offers simplicity, versatility, and deliciousness in one dish. Whether you're seeking a nutritious breakfast, a refreshing snack, or a healthier dessert option, this recipe has got you covered, making it a delightful addition to your meal plan.
Quick and Easy: This recipe is incredibly simple to prepare, requiring minimal time and effort. It's the perfect choice for a satisfying and nutritious meal or snack, even on busy days.
Nutritious and Balanced: The combination of creamy cottage cheese and fresh fruits provides a wholesome and balanced mix of protein, vitamins, and fiber. It's a great way to start your day or refuel after a workout. Cottage cheese is a rich source of high-quality protein. It contains all nine essential amino acids, making it a complete protein source. 1 cup of cottage cheese typically provides around 25-27 grams of protein, depending on the brand and variety.
Refreshing and Light: Cottage Cheese with Fruit is a refreshing and light option, making it an ideal choice for warmer weather or as a cooling treat on a hot day.
Perfect for Kids: This dish is loved by both kids and adults, making it a family-friendly option for breakfast. The protein content from cottage cheese provides kids with essential nutrients for growth and development, helping to keep them energized and satisfied.
Guilt-Free Dessert Alternative: This recipe provides a guilt-free alternative to satisfy your dessert cravings without the excess sugar and calories.
Natural Energy Boost: The combination of protein and natural sugars from the fruits provides a sustainable energy boost, keeping you energized and satisfied for longer periods.
Convenient for On-the-Go: Cottage Cheese with Fruit can be packed in a small container, making it a convenient and portable snack for school lunches or outings.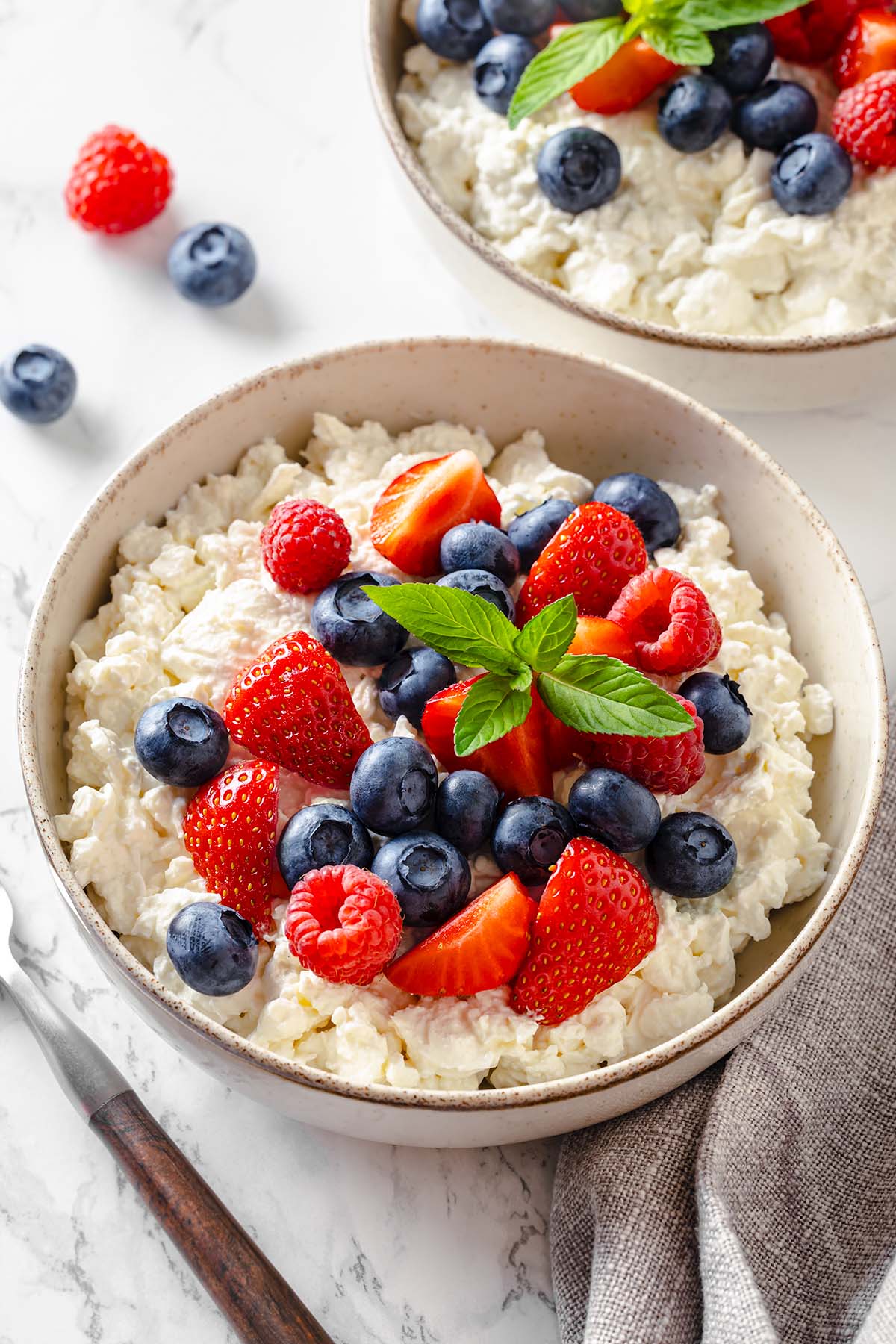 Ingredients
The combination of cottage cheese and fresh berries in this recipe provides a delectable blend of flavors and textures. Here's what you will need to create this healthy and delicious breakfast::
Cottage Cheese: Cottage cheese is a type of soft cheese made from the curds of cow's milk. It is a good source of protein, calcium, phosphorus, and other essential nutrients. Cottage cheese comes in various fat-content options, so choose it according to your dietary preferences.
Honey: Adds a touch of sweetness to the dish, balancing the tartness of the berries.
Blueberries: Blueberries are a good source of vitamin C, vitamin K, and dietary fiber, contributing to a healthy immune system and promoting digestive health.
Strawberries: These luscious and vibrant fruits are rich in vitamin C, manganese, and antioxidants. They offer a sweet and slightly tangy flavor, complementing the other fruits and cottage cheese in this dish.
Raspberries: Add a burst of color and flavor to the cottage cheese breakfast bowl, enhancing its nutritional profile. Raspberries are rich in dietary fiber, vitamin C, and manganese.
Mint Leaves: Fresh mint leaves are used as a garnish for this dish, adding a refreshing and aromatic touch.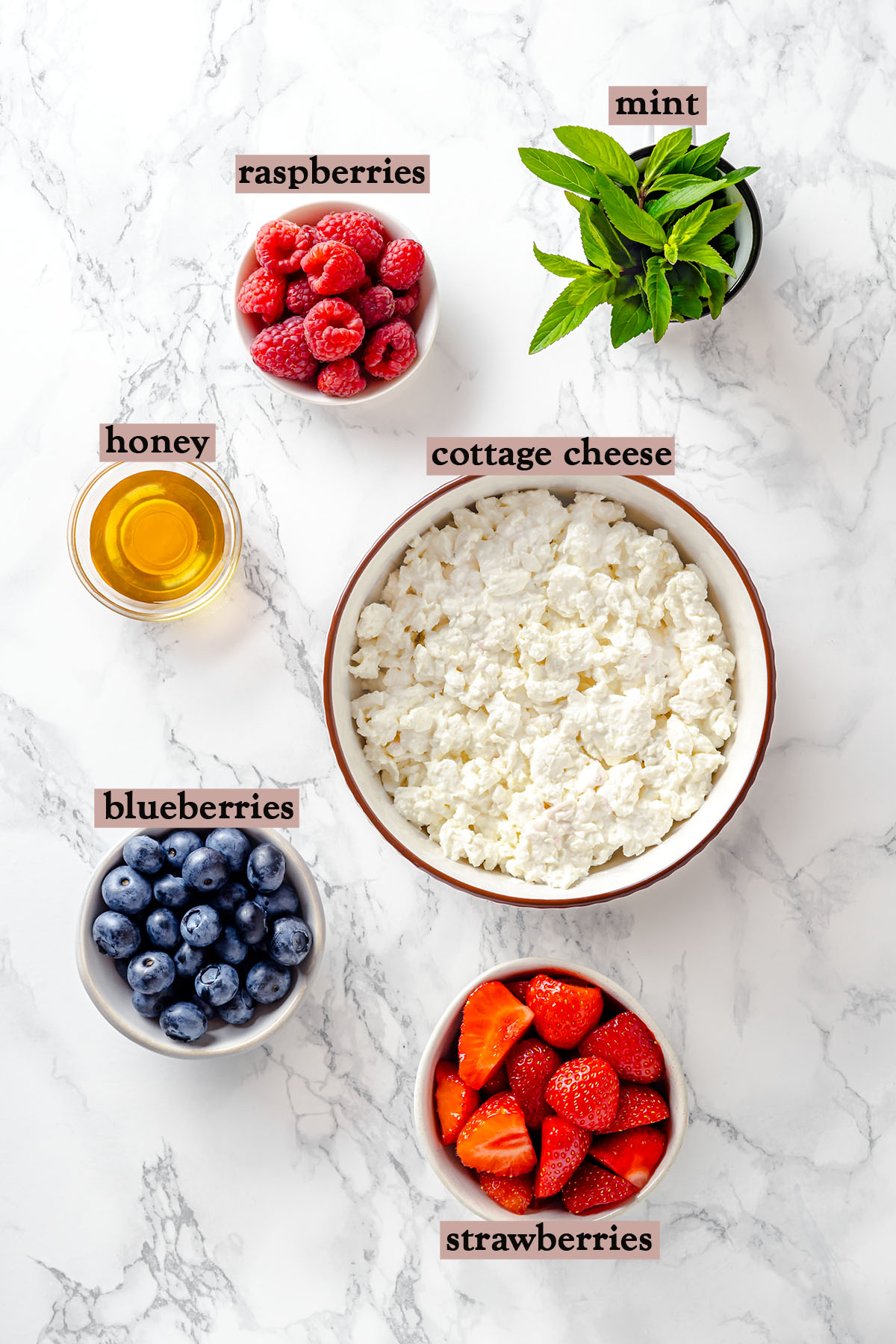 Step-by-Step Instructions
Combine Cottage Cheese and Honey: In a medium-sized bowl, gently mix the cottage cheese and honey until well combined.
Mix Cottage Cheese and Sweetener: In a mixing bowl, place the cottage cheese and drizzle the honey over it. Gently mix the honey into the cottage cheese until well combined. Adjust the sweetness to your liking by adding more honey if desired or omitting it for a sugar-free version. Divide the Cottage Cheese with Fruit into individual serving bowls.
Add the Fresh Berries: Top cottage cheese with the washed and dried berries.
Chill the Dish (Optional): If you prefer a slightly chilled breakfast, refrigerate the Cottage Cheese with Fruit for about 15 minutes before serving.
Garnish and Serve: Before serving, garnish the bowl with fresh mint leaves. The mint leaves add a refreshing aroma and visual appeal to the dish.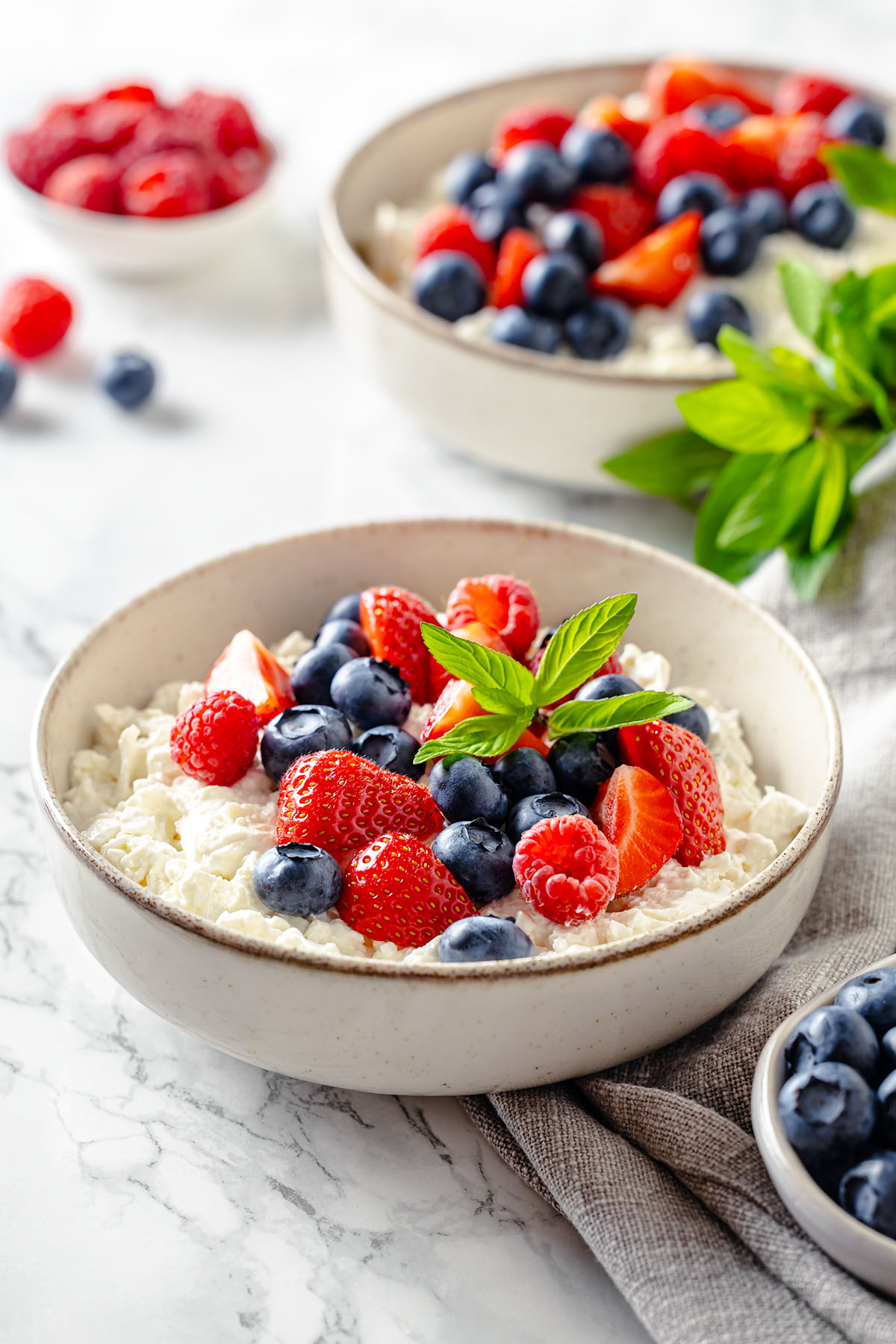 More Cottage Cheese Toppings Ideas
Cottage cheese is incredibly versatile, and there are numerous creative and delicious toppings that you can pair with it to elevate its flavor and texture. Here are some more cottage cheese variation toppings to try:
Tropical Paradise: Top the cottage cheese with a delightful mix of diced mangoes and juicy pineapples. Then sprinkle shredded coconut and chopped macadamia nuts to create a taste of the tropics in every bite.
Apple Cinnamon Delight: Sweet and tangy caramelized apples paired with the warm aroma of ground cinnamon are the perfect topping for cottage cheese! Sprinkle it with chopped walnuts and enjoy!
Coconut Flavor: Drizzle with coconut caramel sauce and sprinkle with toasted coconut flakes for a delightful crunch.
Raspberry Chia Jam: Consider adding raspberry chia jam to cottage cheese, it will taste amazing. The jam will add a touch of sweetness and a delightful spreadable consistency, making it perfect for mixing into cottage cheese or layering on top. Top with sliced almonds.
Peanut Butter Banana Crunch: Creamy peanut butter and sliced ripe bananas over velvety cottage cheese, finished with a crunchy touch of homemade granola or crushed graham crackers will create an amazing combination.
Cherry Chocolate: The perfect combination of fresh cherries and dark chocolate chips or cocoa nibs, enhanced with a pinch of sea salt for an irresistible treat will pair perfectly with your cottage cheese breakfast bowl.
Pomegranate Powerhouse: Try a vibrant mix of fresh pomegranate arils and chopped pistachios or pumpkin seeds, with a sprinkle of ground cardamom for an exotic touch.
Peaches and Pecans: Sliced peaches paired with chopped pecans and drizzled with agave nectar or honey for a delightful balance of sweetness and crunch.
Lemon Blueberry Cheesecake: Try the refreshing combination of lemon zest, lemon juice, fresh blueberries, and a sprinkle of crushed graham crackers for added texture, you'll love it!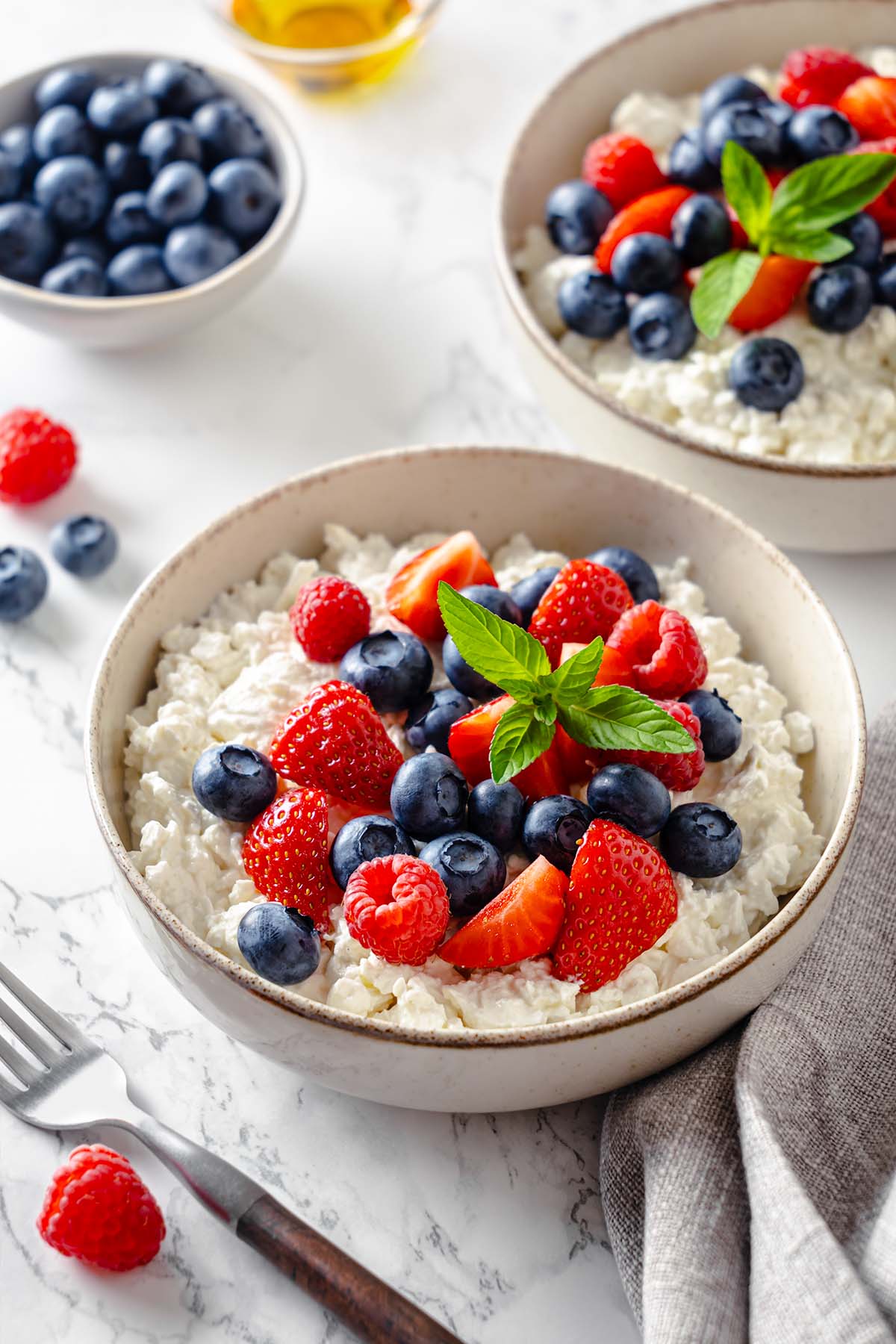 Ideas to Customize
The recipe is super versatile, so customize it to suit your preferences and dietary needs:
Greek Yogurt: Mix Greek yogurt with cottage cheese for a creamier and tangier base.
Dairy-free/Vegan Variation: Choose a dairy-free and vegan-friendly cottage cheese brand made from plant-based ingredients like tofu or cashews.
Sugar-free Variation: Skip honey. Rely on the natural sweetness of the fresh berries, or add sliced banana into the fruit mix.
Low-fat Variation: Opt for low-fat cottage cheese to create a lighter version of the dish.
Whipped Cottage Cheese: For a smoother consistency, whip the cottage cheese with a splash of yogurt and honey in a food processor.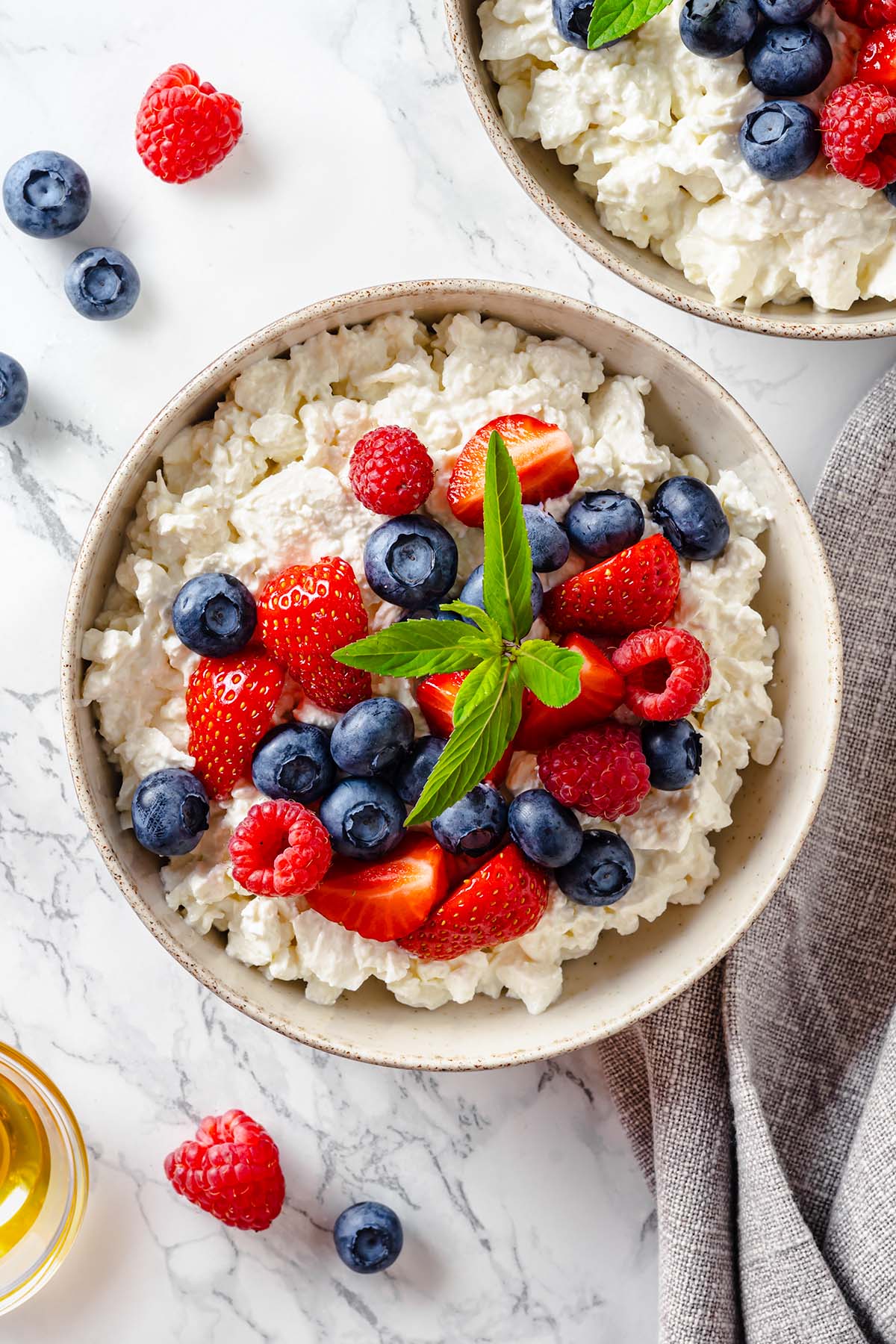 Tips for Best Results
Choose Ripe and Flavorful Berries: Opt for fresh, ripe, and seasonal fruits and berries to ensure the best flavors and nutritional benefits.
Balancing Sweetness: Adjust the sweetness level to your taste. If using sweet fruits, you may want to reduce or skip the sweeteners altogether to let the natural flavors shine.
Mind the Consistency: If you prefer a chunky texture, fold the fruits into the cottage cheese or top them over cottage cheese. For a smoother consistency, blend a portion of the fruit with the cottage cheese before folding in the rest.
Garnish with Fresh Mint: Adding fresh mint leaves as a garnish not only enhances the presentation but also adds a refreshing note that complements the fruits.
Storage Instructions
Place any leftovers in an airtight container, ensure it is tightly sealed to prevent air exposure and store them in the refrigerator. As the recipe includes fruits like strawberries, raspberries, and blueberries, it's best to consume the dish within 1-2 days.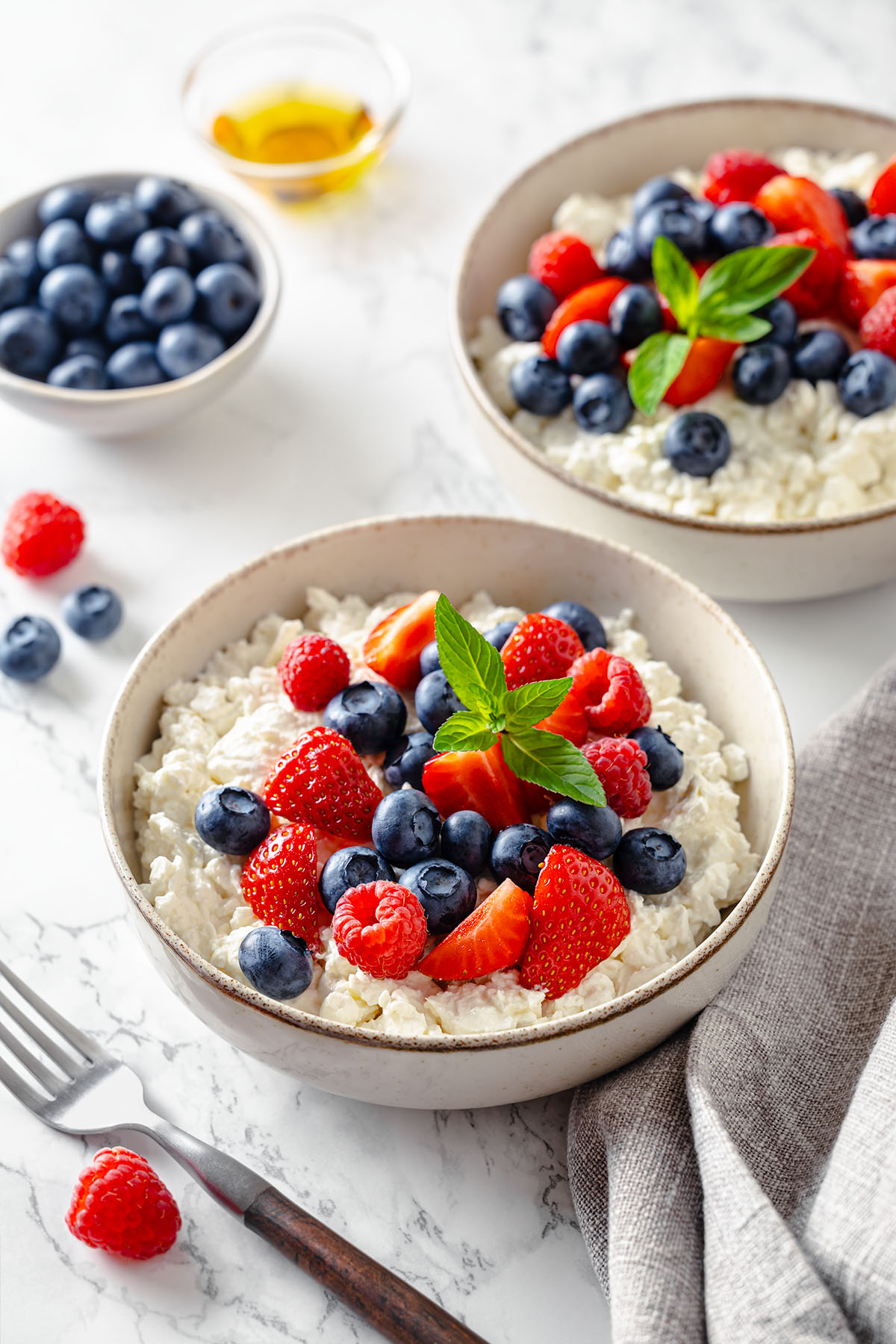 More Healthy Breakfast Ideas
Enjoy the delightful blend of cottage cheese and fresh fruits in this versatile and nutritious dish. Whether for a quick breakfast or a satisfying snack, it is sure to become a favorite addition to your menu.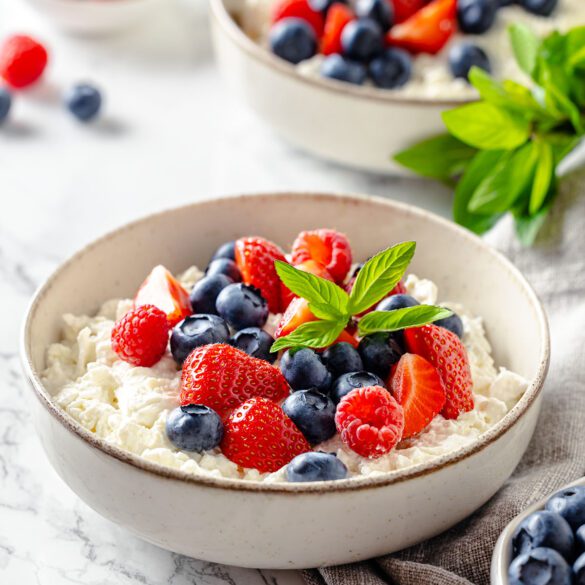 This Cottage Cheese with Fruit recipe is a wholesome and protein-rich option that can be enjoyed as a nutritious breakfast, a refreshing snack, or even a light dessert. The natural sweetness from the fruits and honey, along with the creaminess of the cottage cheese, makes it a delightful and guilt-free treat that everyone will love.
Ingredients
1 cup (225 g) cottage cheese
1 tbsp (20 g) honey
½ cup (75 g) blueberries
½ cup (75 g) strawberries
1/4 cup (40 g) raspberries
mint leaves for garnishing
Instructions
In a medium-sized bowl, gently combine the cottage cheese and honey until well combined. Divide into serving bowls.
Add the blueberries, sliced strawberries, and raspberries over the cottage cheese.
Garnish the dish with fresh mint leaves. Serve and enjoy!
Nutrition
Calories:
176kcal
Fat:
2.6g
Saturated Fat:
1.4g
Cholesterol:
9mg
Sodium:
462mg
Carbohydrate:
23.1g
Fiber:
3g
Sugar:
15g
Protein:
16.5g
Calcium:
100mg
Iron:
2mg
Potassium:
246mg
Did You Make This Recipe?
Tag us on Instagram
@thewillowskitchen
and hashtag #thewillowskitchen to show your results. And be sure to leave a comment in the section below :)
FAQs
What fruit tastes good with cottage cheese?
Cottage cheese pairs well with a variety of fruits. Except for berries, other excellent choices are peaches for a juicy and tangy flavor, pineapples for tropical sweetness, and mangoes for a delightful tropical twist. Kiwi adds a tangy and refreshing touch, while apples and pears contribute a crisp texture and subtle sweetness. Cherries bring a sweet-tart burst, and bananas add smoothness and natural sweetness. Dried fruits like raisins, cranberries, or apricots offer chewy texture and sweetness. Whether fresh or dried, these fruits create delicious and refreshing combinations with the creamy texture of cottage cheese.
What are the health benefits of cottage cheese?
Cottage cheese offers numerous health benefits as a nutrient-rich dairy product. Packed with high-quality protein, it supports muscle repair and immune function. The calcium content promotes strong bones and teeth, while phosphorus and magnesium contribute to energy metabolism and nerve function. Cottage cheese contains probiotics, helping digestion. Low in carbs and sugar, it's suitable for various diets and weight management.
Is cottage cheese the same as ricotta cheese?
Cottage cheese and ricotta cheese are two distinct types of cheese with different tastes, textures, and production methods. Cottage cheese is a fresh cheese made from cow's milk curds, offering a mild and slightly tangy flavor with visible curds that create a chunky texture. It comes in various fat-content options and is commonly used in both savory and sweet dishes. On the other hand, ricotta cheese is an Italian whey cheese made from the whey leftover during cheese production. It has a creamy, slightly grainy texture, and a delicate, slightly sweet flavor.