This refreshing and creamy Mango Peanut Butter Smoothie combines the luscious sweetness of ripe mango and banana, the creaminess of peanut butter, and a slight hint of vanilla. Whether you're looking for a quick breakfast idea, a post-workout refuel, or a delightful healthy snack, this smoothie is the perfect choice. With its rich texture and delectable taste, this recipe is truly worth making.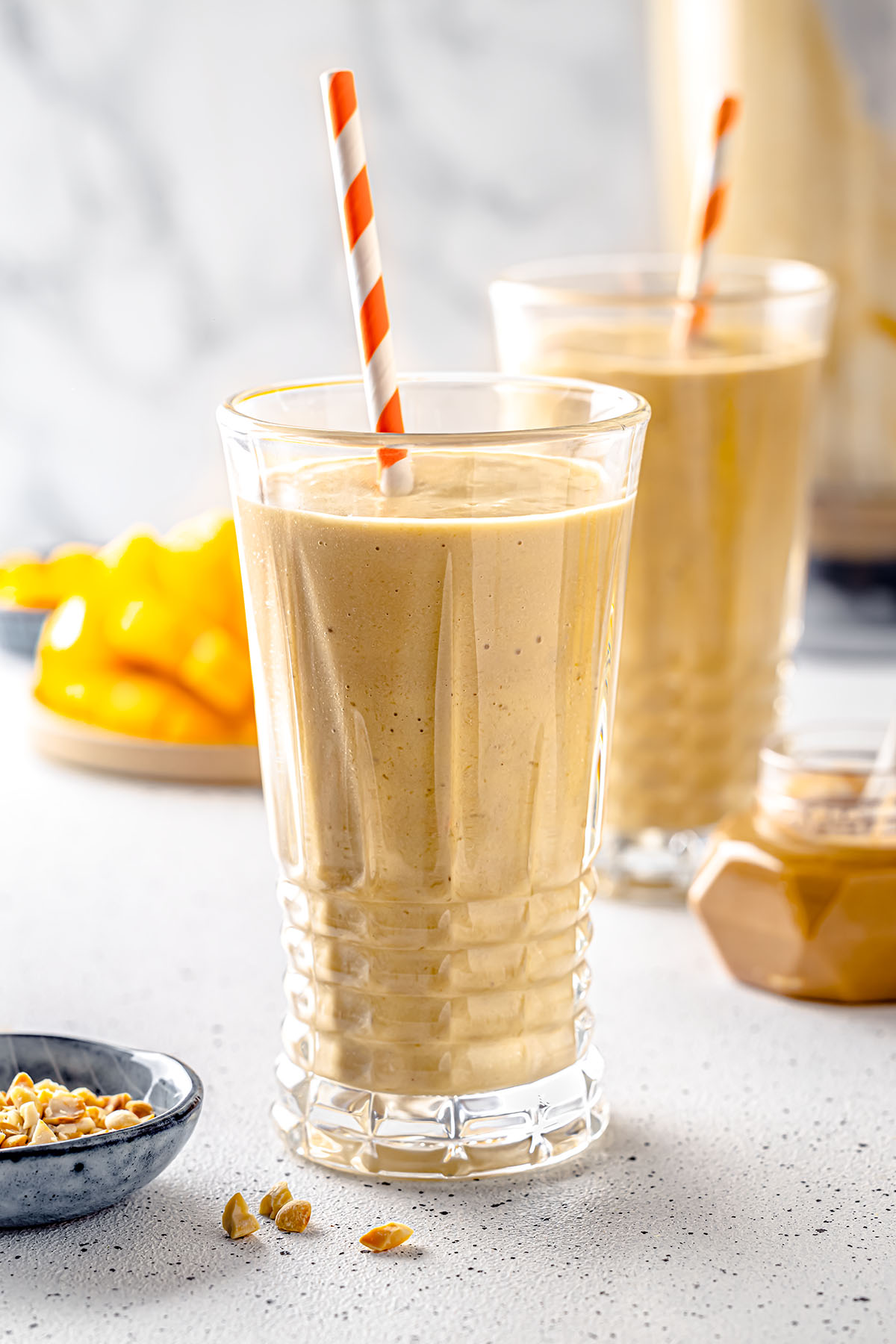 Why You'll Love This Recipe
Quick and Easy: With just a handful of ingredients, this recipe comes together effortlessly, making it the perfect choice for a busy morning or a quick snack.
Creamy and Delicious: The combination of peanut butter, frozen banana, and mango provides luxurious creaminess to the smoothie that elevates its overall taste and makes it a truly indulgent treat. Get ready for a smoothie that is not only delicious but also incredibly flavorful.
Healthy and Nutritious: Packed with fiber from mango and banana,  healthy fats and protein from peanut butter, and essential vitamins and minerals from all the ingredients, this smoothie makes a nutritious well-balanced breakfast.
Versatile and Customizable: Based on this Mango Peanut Butter Smoothie recipe, you can feel free to customize it to your liking by adding a handful of spinach for an extra nutrient punch or a scoop of protein for an even bigger nutritional boost.
Gluten-free, Dairy-free, and Vegan: This Mango Peanut Butter Smoothie is naturally gluten-free, dairy-free, and vegan, so whether you follow a specific dietary lifestyle or have dietary restrictions, this smoothie is a delicious and inclusive choice that will satisfy your cravings while keeping your dietary needs in mind.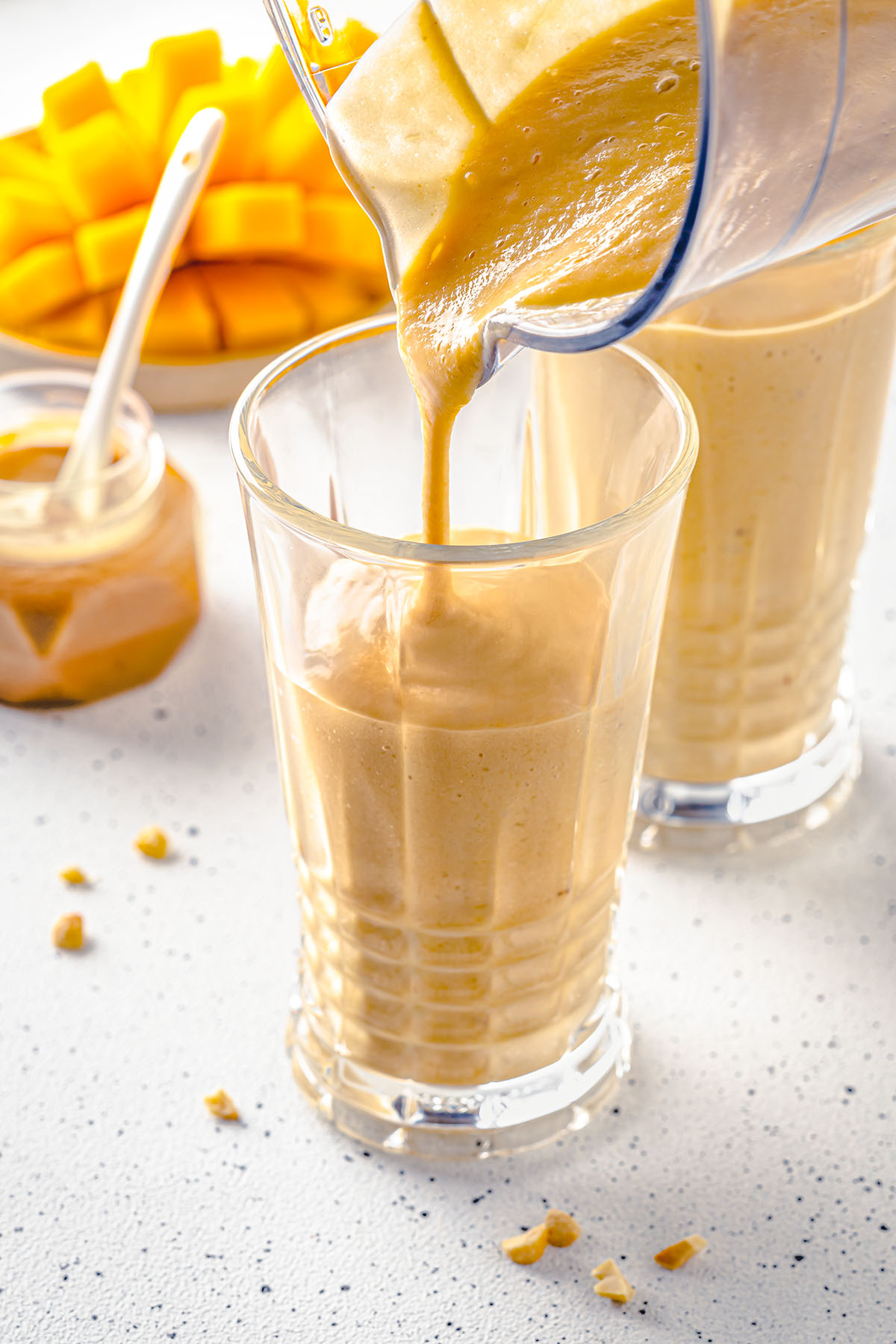 Ingredients
Mango: Choose a ripe mango that is fragrant and slightly soft to the touch. The sweetness of the mango will shine through in the smoothie.
Peanut Butter: Creamy peanut butter brings a rich flavor that pairs perfectly with the tropical mango. Choose natural peanut butter without added sugars or oils for a healthier choice.
Frozen Banana: The frozen banana adds natural sweetness and creates a creamy texture when blended.
Almond Milk: Use almond milk (or other milk of your choice) as the liquid base for the smoothie.
Vanilla Extract: The vanilla extract enhances the overall flavor profile of the smoothie, adding a subtle vanilla touch.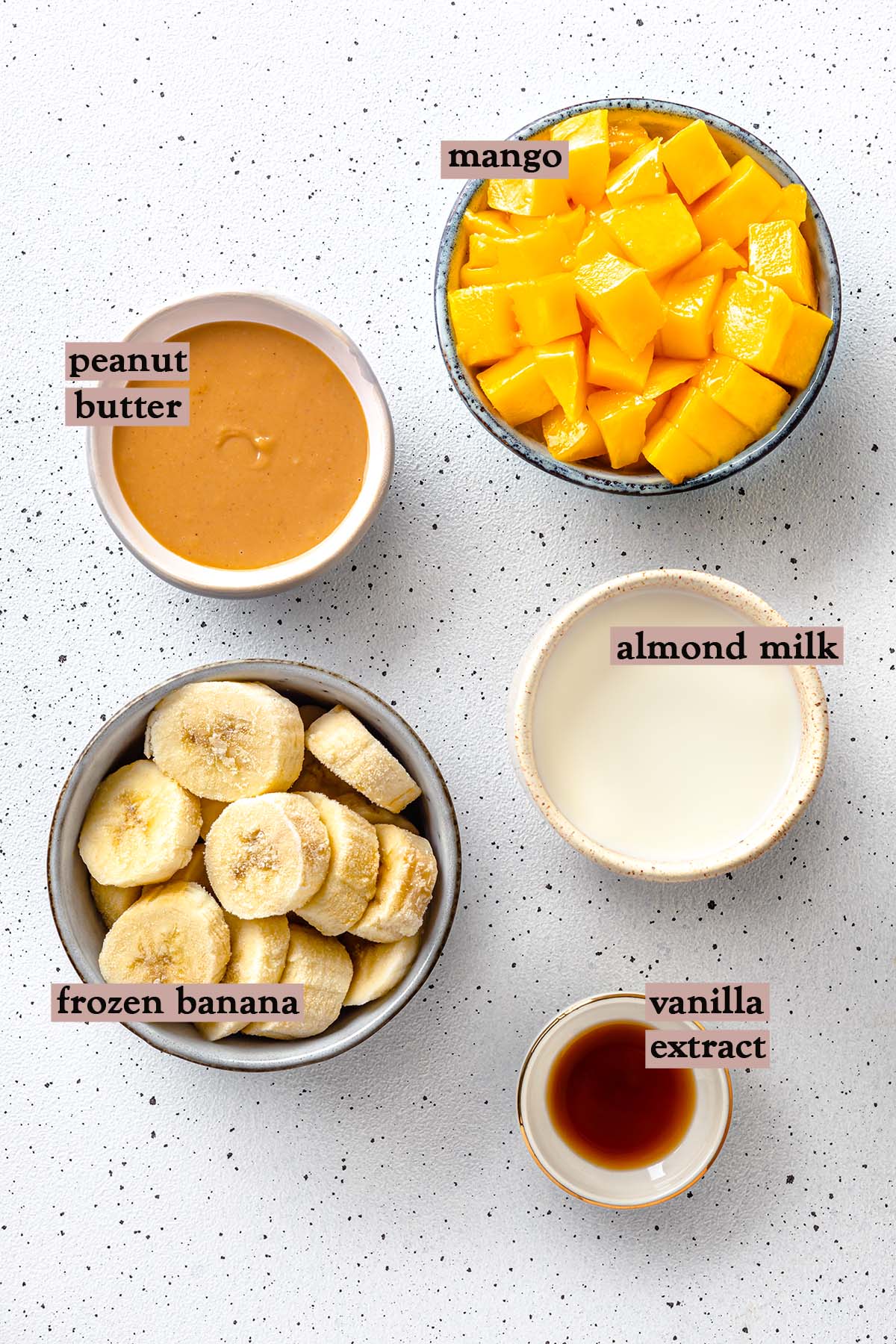 How to Make Mango Peanut Butter Smoothie
The recipe is super easy, just make sure to freeze the banana in advance:
Peel and chop the ripe mango, discarding the pit.
Add the mango chunks, frozen banana, almond milk, vanilla extract, and peanut butter to a blender. Blend on high speed until smooth and creamy.
Pour into a glass, serve, and enjoy!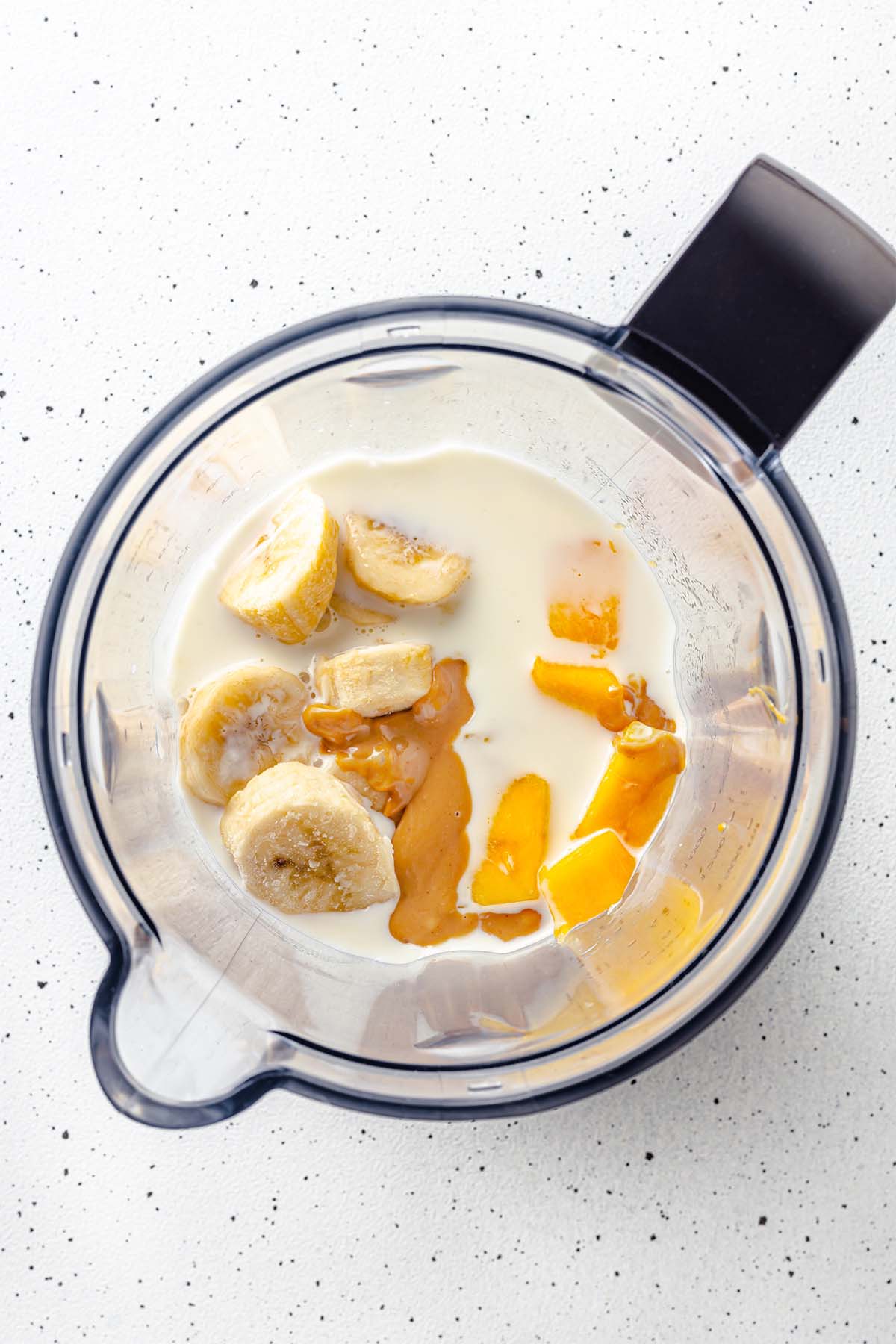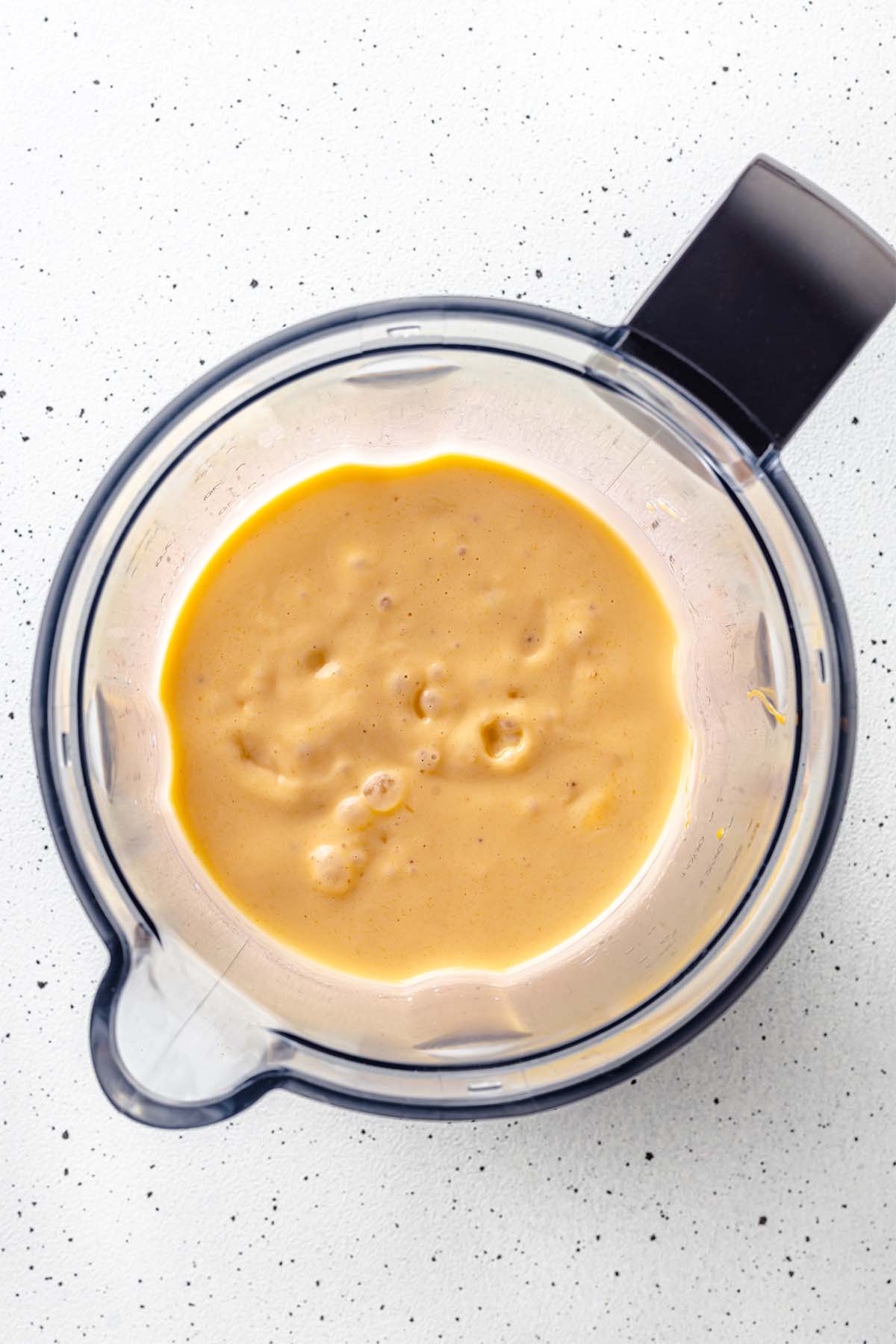 Tips for Success
By following these tips, you will get the perfect smoothie!
Use ripe mango: As mentioned before, choose a ripe mango for the smoothie. This ensures the smoothest consistency.
Use creamy peanut butter: Use creamy not crunchy peanut butter to achieve a smooth and velvety texture in your smoothie.
Freeze banana for creaminess: Freezing the banana before blending adds a creamy and thick consistency to the smoothie. For an even thicker consistency, use a frozen mango instead of a fresh one and add less almond milk.
Use a high-speed blender: It's better to use a high-speed blender to achieve the smoothest texture possible. It easily blends frozen fruit to get a creamy velvety smoothie.
Chop ingredients into smaller pieces: To help the blending process, chop the ingredients into smaller pieces. This helps ensure that they blend more easily and smoothly.
Blend in stages: If your blender is not powerful enough, blend the ingredients in stages to achieve a smoother consistency. Start by blending the liquids and softer ingredients first, and gradually add the frozen fruit and peanut butter. This allows better blending and reduces the strain of the blender.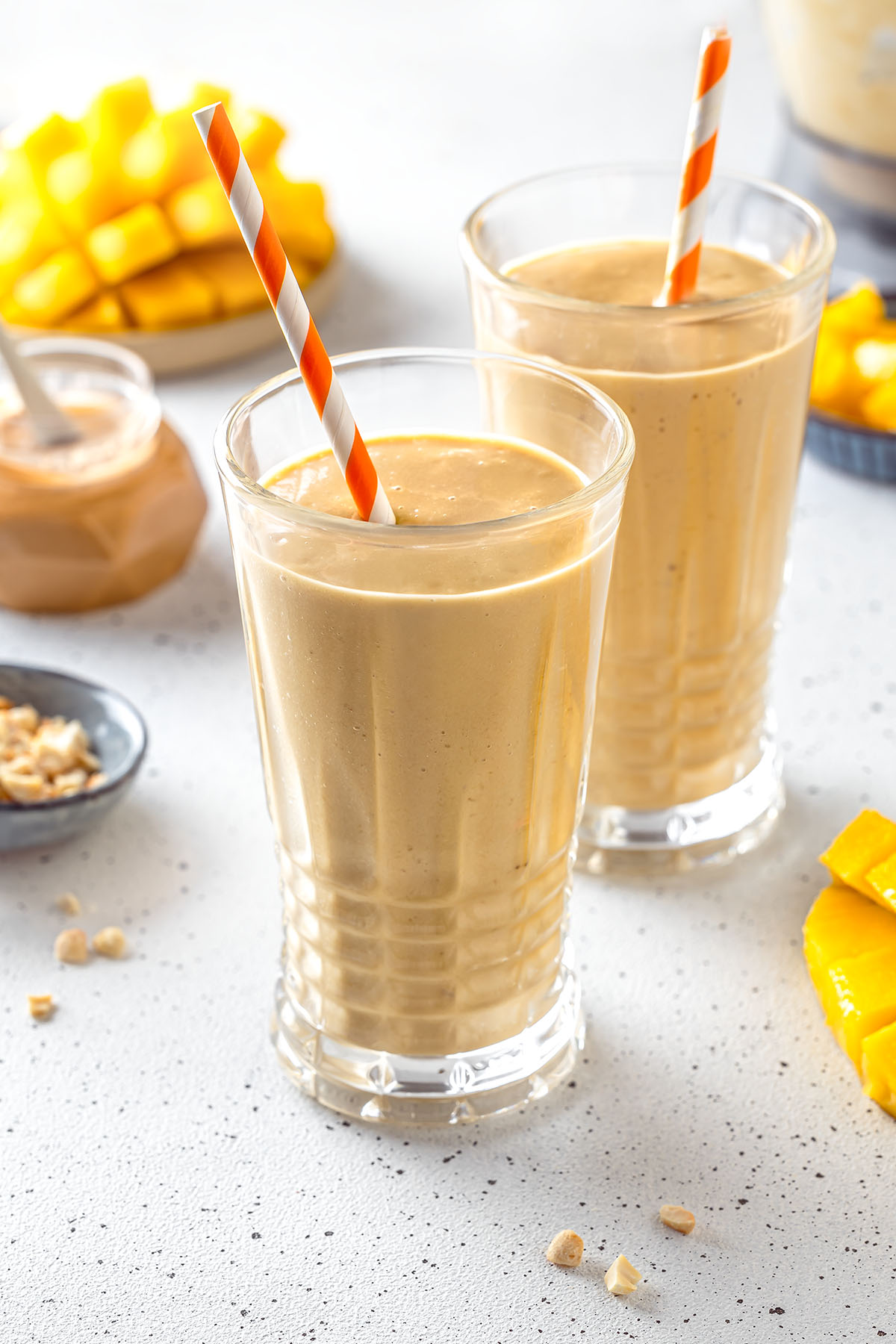 Optional Add-Ins and Variations
Here are some additional ideas that will further elevate the flavor, nutrition, and enjoyment of your Mango Peanut Butter Smoothie, allowing you to explore new combinations and find your perfect blend:
Spinach: Boost the nutritional value of your smoothie by adding a handful of fresh spinach. It adds a vibrant green color and provides an extra dose of vitamins and minerals without compromising the flavor.
Chia Seeds: For added texture and a nutritional boost, sprinkle in some chia seeds. These tiny seeds are packed with fiber, omega-3 fatty acids, and antioxidants, making them a great addition to enhance the health benefits of your smoothie.
Greek Yogurt: If you're not following a dairy-free or vegan diet, you can incorporate a scoop of Greek yogurt into the smoothie. It adds extra protein, and probiotics, giving your smoothie a tangy twist.
Cinnamon: Add a pinch of cinnamon for a warm and comforting flavor. Cinnamon pairs well with the sweetness of mango and adds a delightful aroma to the smoothie.
Protein Powder: For those looking to increase their protein intake, consider adding a scoop of your favorite protein powder. Choose a flavor that complements the mango and peanut butter, such as vanilla or chocolate.
Matcha Powder: For an energizing boost, consider adding a teaspoon of matcha powder to your smoothie. Matcha is high in antioxidants and provides a subtle, earthy flavor that complements the other ingredients. See our guide on how to choose the best quality matcha in this Iced Strawberry Matcha Latte recipe.
Cacao Powder: Add a tablespoon of cacao powder to create a chocolate twist to your smoothie. The rich and indulgent flavor of cacao pairs exceptionally well with the tropical notes of mango and the creaminess of peanut butter.
How to Store
To fully experience the vibrant flavors and creamy texture, it is best to enjoy this smoothie fresh. However, if you have any leftovers, you can store them in an airtight container in the refrigerator for up to 24 hours. Before consuming, give the smoothie a good shake as some separation may occur over time. For longer storage options, freezing is recommended. See the section below for details.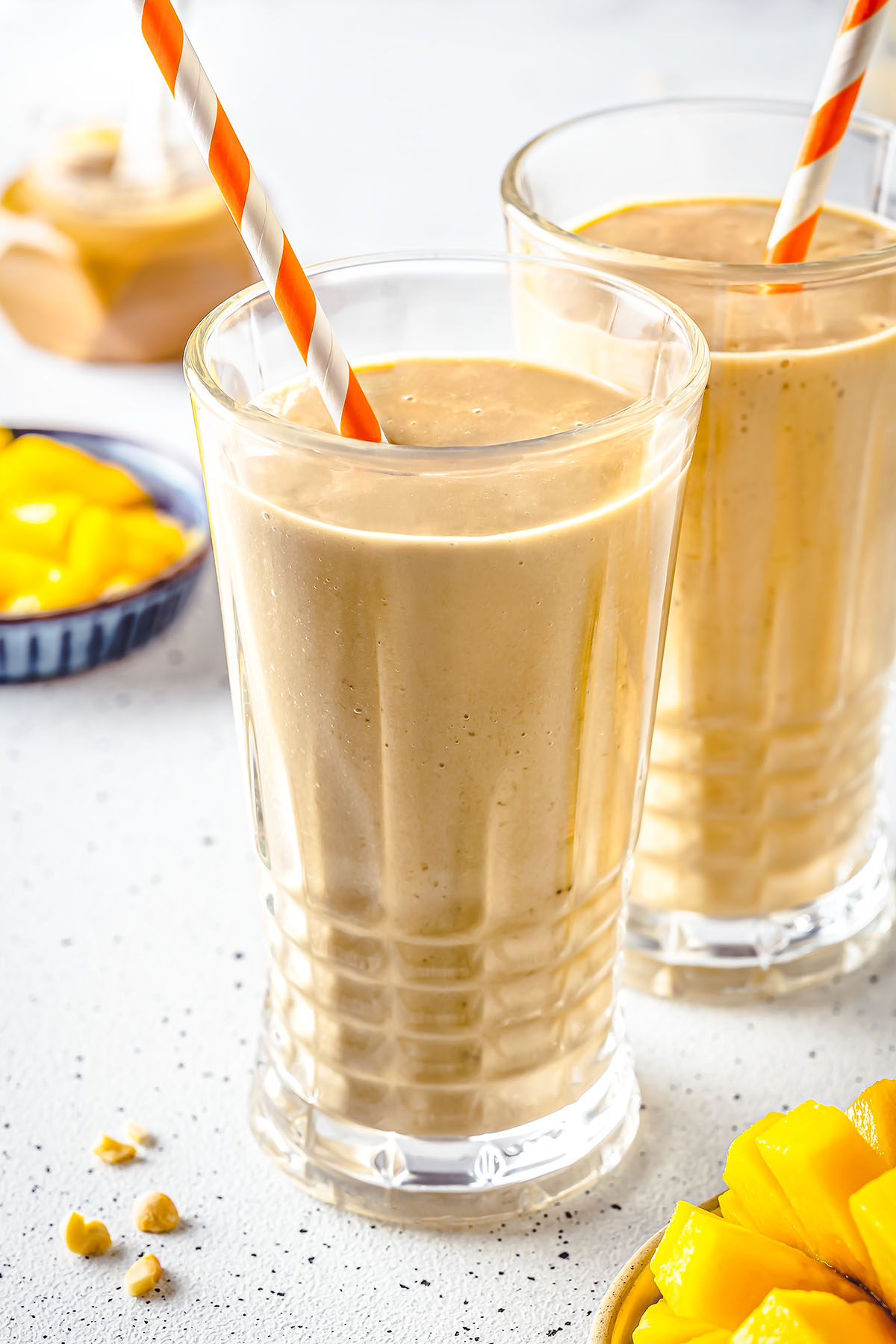 Make Ahead and Meal Prep
Save time and ensure you can enjoy the Mango Peanut Butter Smoothie whenever you want by incorporating some make-ahead and meal prep strategies:
Frozen Ingredients: Freeze the mango and banana ahead of time. Simply peel and chop the mango, and slice the banana, then store them in airtight containers or freezer bags. When you're ready to make the smoothie, take out the frozen fruit and blend it with the remaining ingredients for a refreshing and creamy smoothie.
Blend and Store in the Freezer: Prepare the smoothie by blending all the ingredients together. Pour it into airtight containers or ice cube trays and freeze it. Frozen smoothie cubes can be easily blended with a splash of almond milk or water for a quick and refreshing treat.
More Healthy Breakfast Ideas
With its tropical flavors and creamy texture, this Mango Peanut Butter Smoothie is a true delight. Give it a try and experience the irresistible taste of this mango-infused healthy breakfast!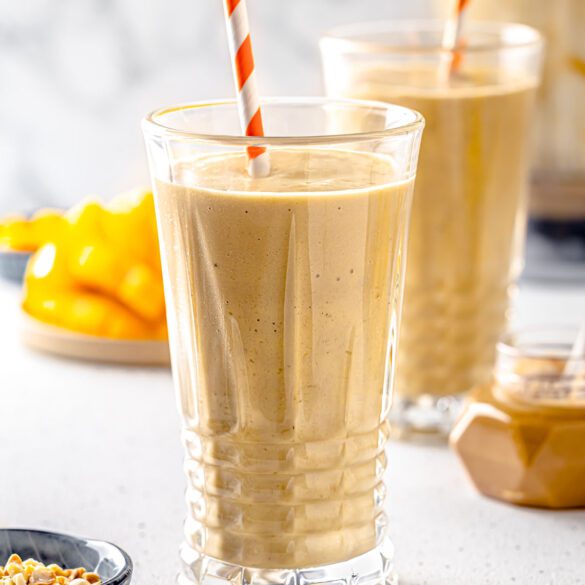 This refreshing and creamy Mango Peanut Butter Smoothie combines the luscious sweetness of ripe mango and banana, the creaminess of peanut butter, and a slight hint of vanilla. Whether you're looking for a quick breakfast idea, a post-workout refuel, or a delightful healthy snack, this smoothie is the perfect choice.
Ingredients
1 large (200 g) ripe mango, pitted and cut into chunks
3 tbsp (55 g) peanut butter
1 large (120 g) frozen banana
1 cup (240 g) almond milk
1 tsp vanilla extract
Instructions
Peel the mango and remove the flesh from the pit. Cut the mango into chunks.
In a blender, combine the frozen banana, mango chunks, almond milk, vanilla extract, and peanut butter.
Blend the ingredients on high speed until smooth and creamy, ensuring there are no lumps.
Pour the smoothie into glasses. Serve immediately and enjoy!
Nutrition
Calories:
353kcal
Fat:
17.4g
Saturated Fat:
3g
Cholesterol:
0mg
Sodium:
174mg
Carbohydrate:
43.9g
Fiber:
4.8g
Sugar:
31g
Protein:
9.6g
Vitamin D:
120mcg
Calcium:
26mg
Iron:
1mg
Potassium:
564mg
Did You Make This Recipe?
Tag us on Instagram
@thewillowskitchen
and hashtag #thewillowskitchen to show your results. And be sure to leave a comment in the section below :)
FAQs:
Can I use a different type of milk?
Absolutely! Feel free to substitute the almond milk with your favorite types of milk, such as soy milk, coconut milk, or even dairy milk.
Can I make this smoothie ahead of time?
While it's best to enjoy this smoothie immediately after blending, you can prepare the ingredients in advance and store them separately. When ready to enjoy, simply blend everything together for a quick and easy treat.
Can I use homemade peanut butter instead of store-bought?
Yes, you can use homemade peanut butter if you prefer. Just make sure it has a smooth and creamy consistency for the best results.