If you don't eat dairy products, it doesn't mean that you can't enjoy a creamy and very rich mushroom soup. This Creamy Mushroom Soup is absolutely vegan, gluten-free, dairy-free, and incredibly tasty and nutritious. Also, it's quick and very easy to make. The whole secret is in cashew cream, which with its delicate creamy taste will completely replace the usual dairy – sour cream, yogurt, ricotta, or heavy cream in any dish.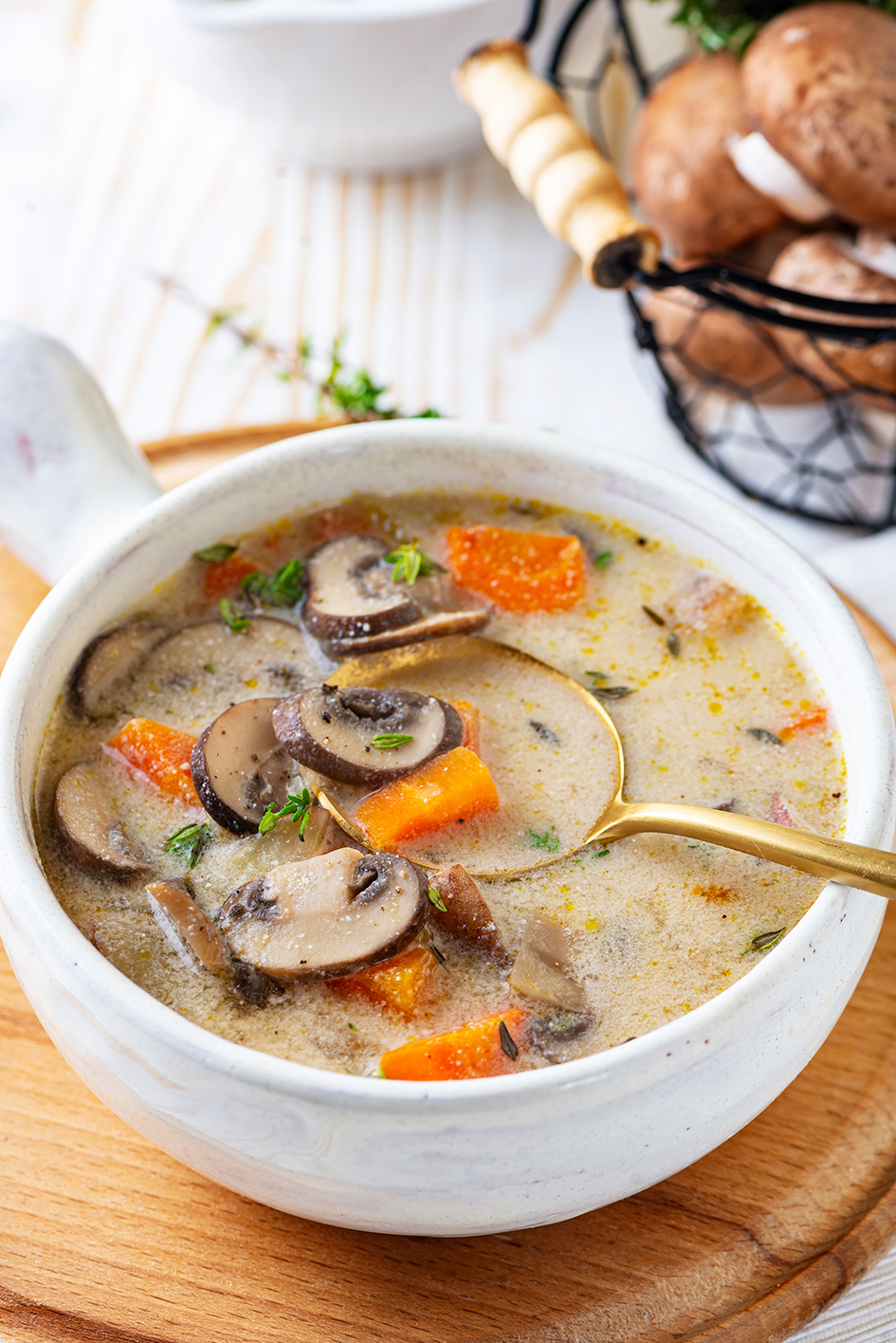 Cashew cream
To make cashew cream, we need a minimum of time and ingredients – just cashews and water. As a result, we get the most delicate cream that will improve and enhance the taste of any dish, making it more tender, creamy, and very delicious. This plant-based cream is very versatile and can be used in a variety of ways.  As a base for pasta sauces, soups, dressings for salads, dips for roasted vegetables, and other cream-based meals. It is the best vegan alternative to dairy cream products. Cashew cream is quite neutral in flavor, so adding different herbs and spices can turn it into a million different flavor sauces. You can add mustard, lemon juice, herbs, hot pepper, nutritional yeast, or other ingredients to make a unique sauce.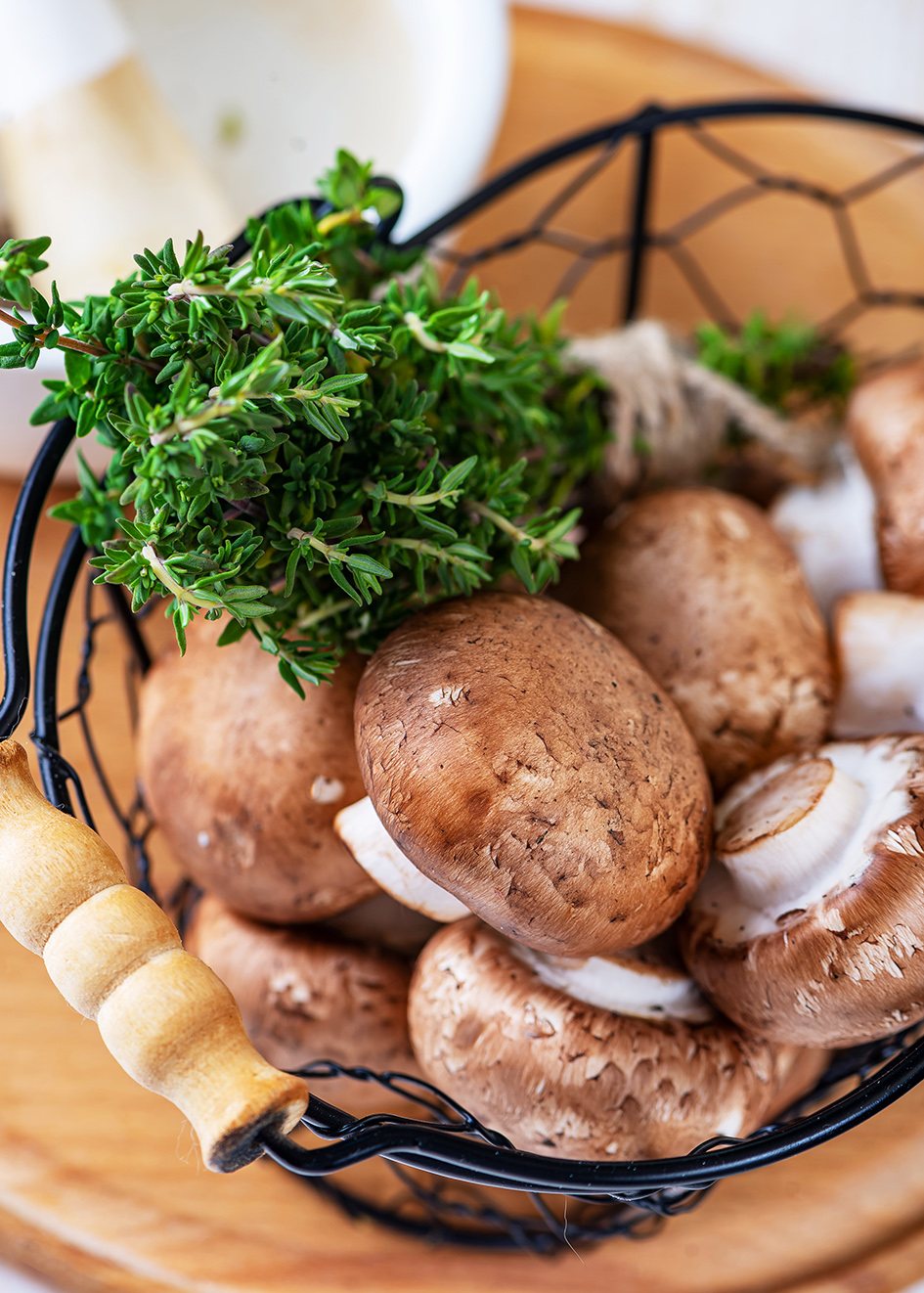 Main Ingredients that create the taste
An important ingredient here is thyme which boosts both the aroma and taste of mushrooms and makes this soup even better. And the best part is that it's really healthy and very nutritious. 
To create a rich taste we caramelize onions and mushrooms. An additional trick is to add the porcini mushroom powder. It has a much stronger taste compared to crimini or button mushrooms. Even one tablespoon will make a huge difference and your soup will be an explosion of mushroom flavor with every spoon.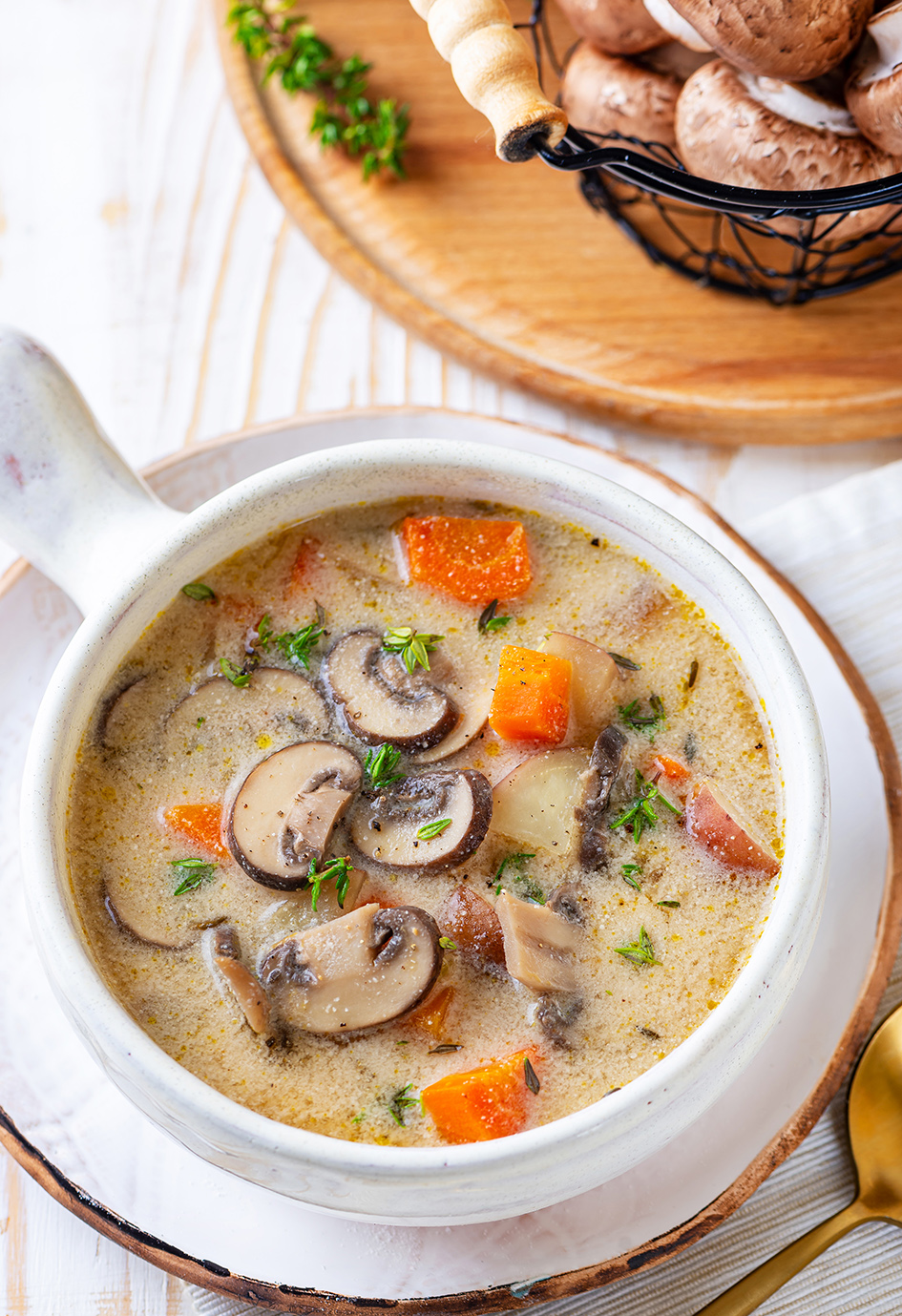 All the components of this soup complement each other in the best way, turning it into the perfect dish you will definitely love.  This Vegan Creamy mushroom soup will make you feel warm and cozy and satisfy you with its great taste loaded with amazing mushroom flavor. This hot and cozy creamy mushroom soup is a perfect way to warm up on a cold day. And it's so easy to make!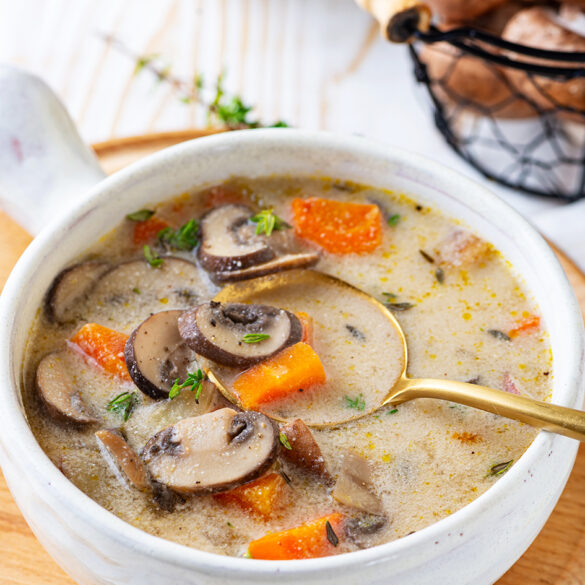 Ingredients
1 tbsp olive oil
2 celery sticks chopped
½ onion, minced
1 garlic clove, minced
1 medium carrot chopped
3 fresh thyme sprigs (or 1 tsp dried thyme)
2 cups sliced crimini mushrooms (about 8 ounces)*
4 cups vegetable broth
1 tbsp porcini mushroom powder (optional)
⅓ cup cashews
1 cup water
2 tbsp corn or tapioca starch
1 tsp salt, or more to taste
½ tsp Black pepper
Instructions
First cover ⅓ cup cashews with 1 cup of boiling water, and let them soak for 30 min.
Heat 1 tbsp olive oil in a 4-5 quart pot, or a dutch oven.
Add chopped onion and cook until translucent 2-3 min.
Add sliced mushrooms and cook on medium heat for about 15 min. Your mushrooms should be caramelized and smell amazing.
Add chopped celery, carrot,  garlic, and thyme. Cook for 5 more minutes, stirring with a wooden spoon.
Add broth, salt, and pepper. Cover and bring to a boil. Cook for about 10 min, or until carrots are soft.
While the soup is cooking make a cashew cream. Place soaked cashews together with water in a blender. Add tapioca or cornstarch and blend until completely smooth.
When your soup is cooked, add cashew cream and bring it to a simmer. Cook for 1-2 min stirring, while cooking starch will thicken the soup and it can stick to the bottom of your pot.
Serve with fresh thyme.
Notes
*porcini mushroom powder is optional, but I highly recommend to use it. This will inhense the mushroomy taste of the soup and will make a real difference.
Did You Make This Recipe?
Tag us on Instagram
@thewillowskitchen
and hashtag #thewillowskitchen to show your results. And be sure to leave a comment in the section below :)