Looking for a healthy and delicious plant-based dinner option? Try this Crispy Tofu Buddha Bowl with Rice, Avocado, and Veggies! Packed with protein and fiber, this recipe is great for a healthy balanced dinner to enjoy! Give it a try and enjoy a nutritious meal that tastes amazing!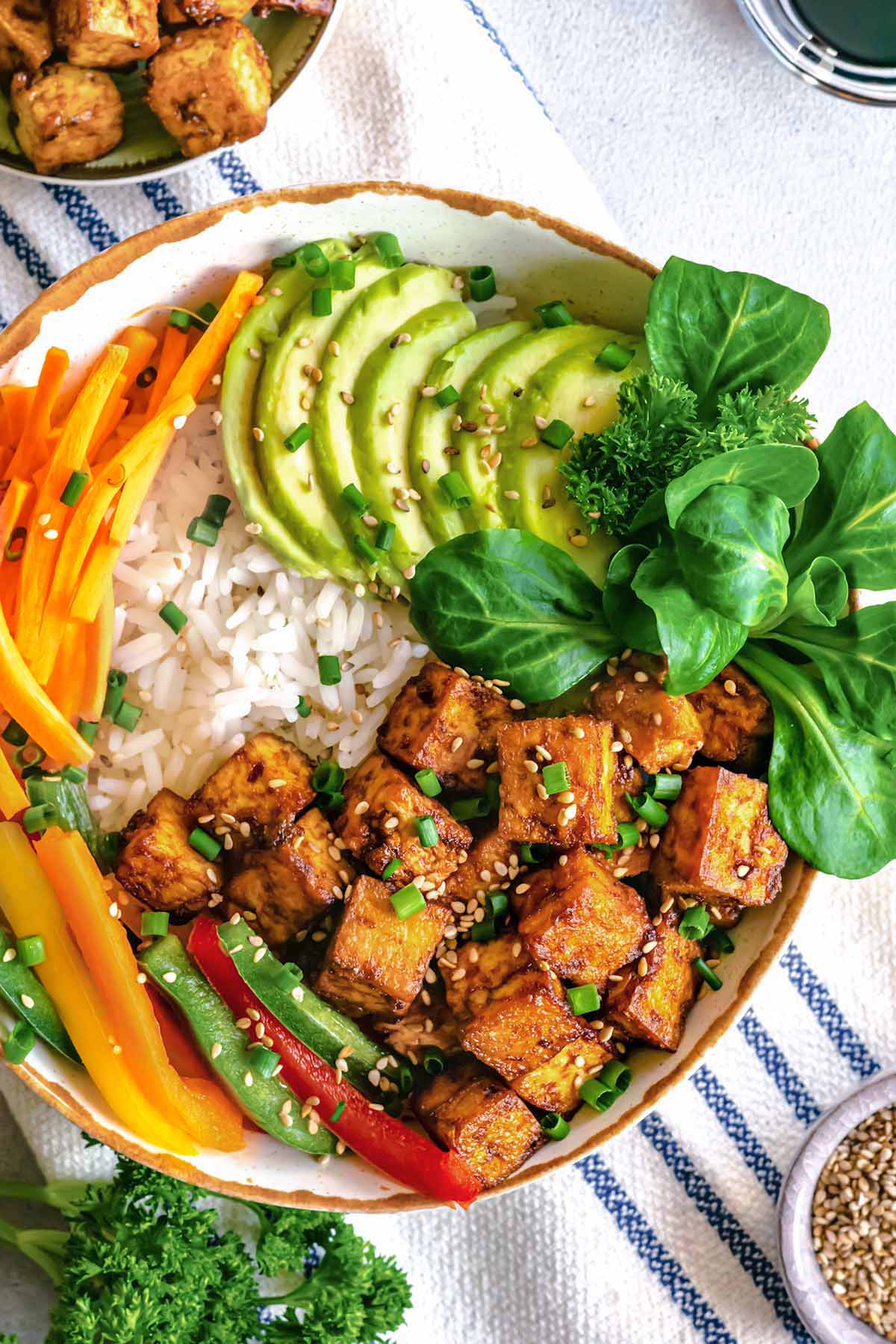 Why You'll Love This Crispy Tofu Bowl
Nutritious and delicious: This bowl is not only good for you, but it tastes amazing too. The combination of crispy tofu, creamy avocado, and fresh veggies makes a satisfying and flavorful meal.
Packed with plant-based protein: Tofu is a great source of plant-based protein. Protein is essential for building and repairing tissues in the body, making it an important nutrient for overall health and wellness.
Customizable: One of the great things about this recipe is that it's highly customizable. Don't like radishes? Swap them out for your favorite veggie instead. Want to add some spice? Up the chili powder. The possibilities are endless, so you can make this dish your own.
Easy to make: With just a few simple ingredients and steps, this recipe is easy to make even on busy weeknights. Plus, it's a great way to use leftover rice or veggies you may have on hand.
Gluten-free, vegan, and dairy-free: This recipe is perfect for anyone with dietary restrictions or preferences. It's completely gluten-free, vegan, and dairy-free, making it a great option for those with celiac disease, lactose intolerance, or who are following a plant-based diet.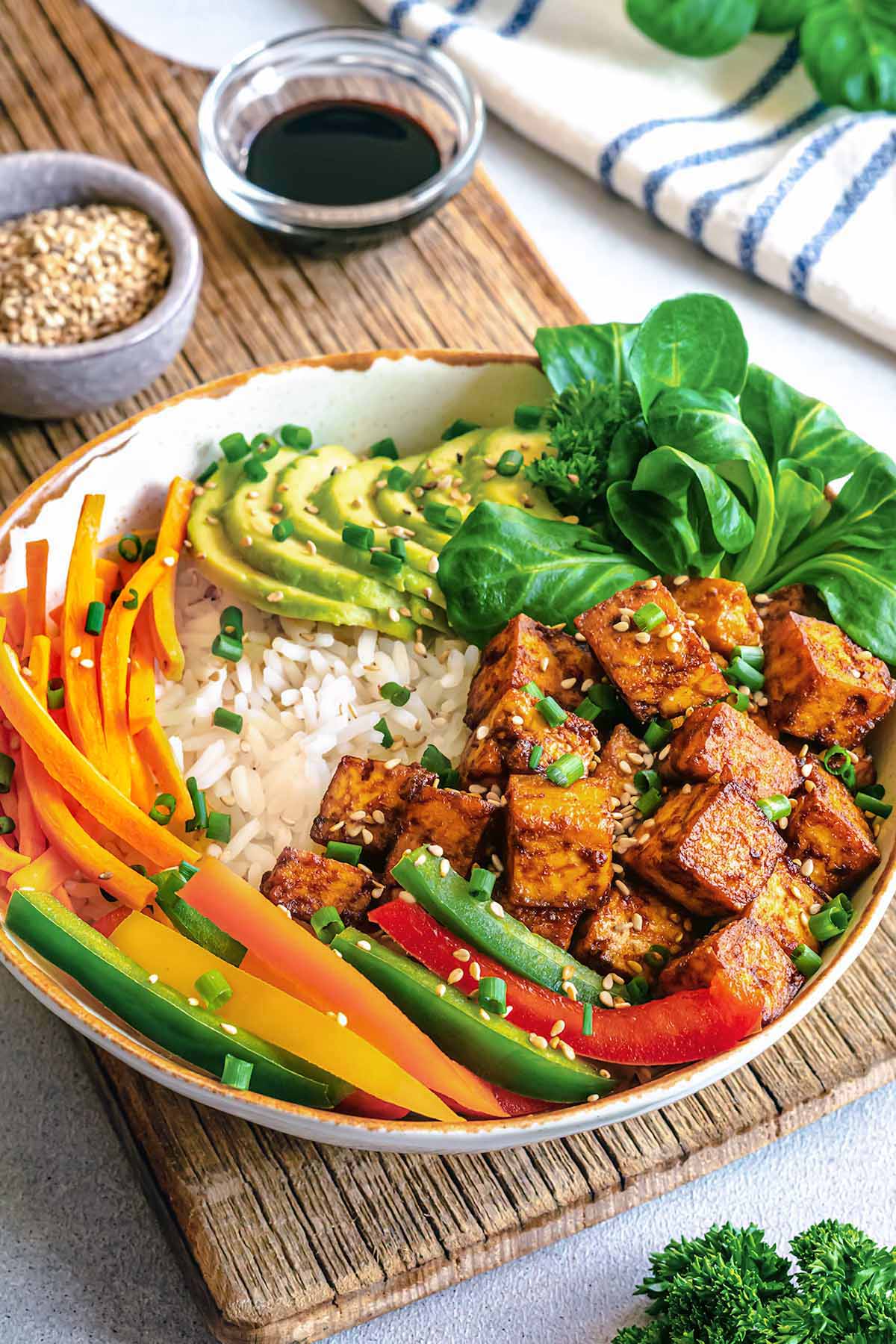 Ingredients Needed
Firm Tofu provides a high-quality source of plant-based protein and is a great meat alternative.
Cornstarch helps to create a crispy outer layer on the tofu when fried.
Garlic adds a strong, pungent flavor to the dish, and complements other seasonings.
Smoked Paprika adds a smoky, slightly sweet, and earthy flavor to the bowl.
Soy Sauce provides a salty and umami-rich flavor to the marinade.
Chili Powder adds a spicy kick and complements the smoky flavor of the paprika.
Cooked Rice. It is a filling and nutrient-dense base for Buddha Bowl.
Avocado adds a creamy texture and healthy fats to the dish.
Carrot provides a sweet and crunchy contrast to the savory tofu and creamy avocado.
Bell Pepper adds a sweet and slightly tangy flavor to the bowl and provides a good source of vitamin C and other antioxidants. I like to choose mini bell peppers of different colors for a beautiful presentation.
Sesame Seeds for sprinkling on top of the bowl. They add a nutty flavor and a extra slight crunch.
Green Onions add a fresh and mild onion flavor to the bowl and provide additional color and texture.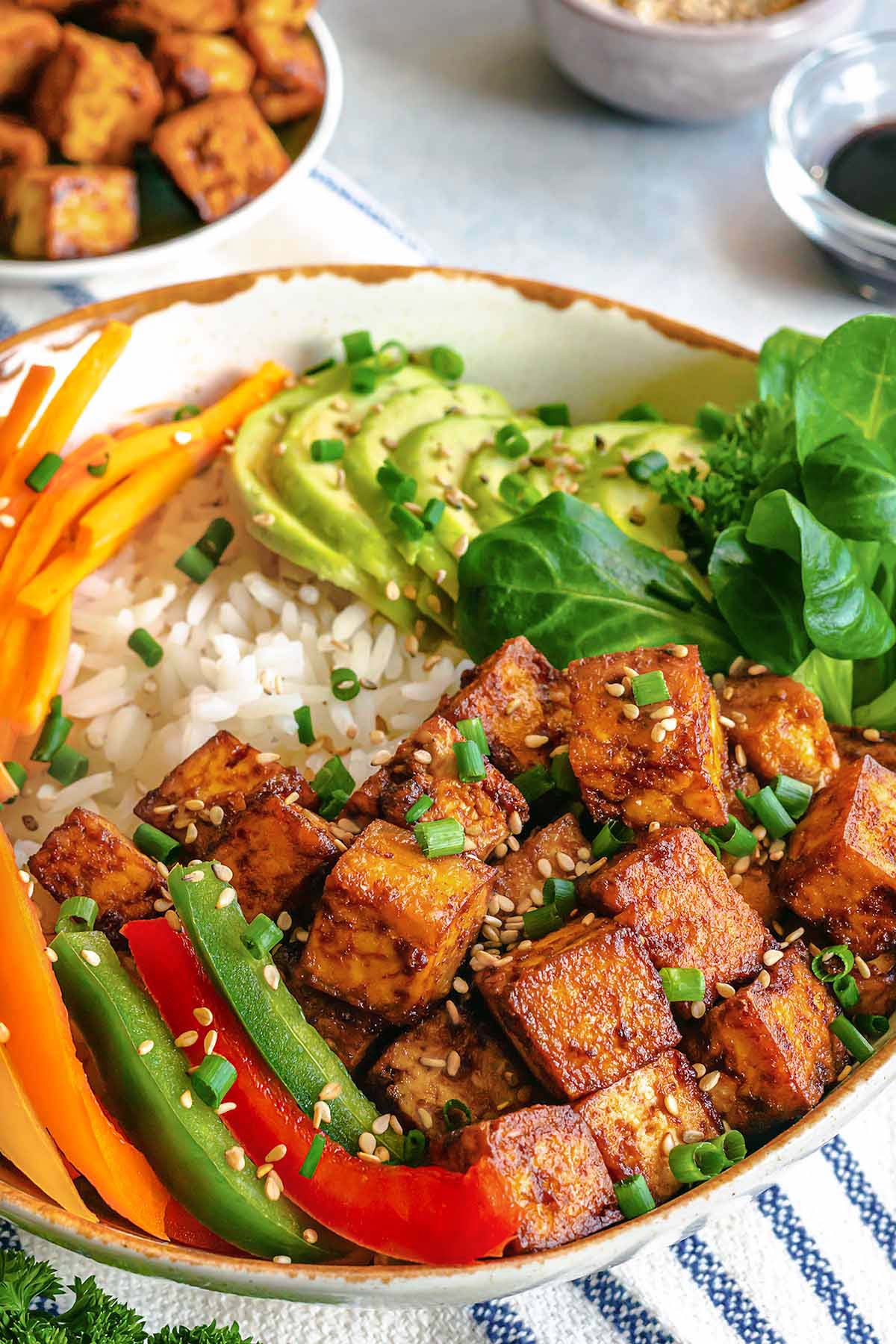 How To Make Crispy Tofu?
Crispy tofu is the perfect addition to this Buddha bowl, adding a satisfying crunch to each bite. Here's how to make crispy tofu:
Start by draining the tofu block and pressing out any excess moisture with paper towels or a tofu press. This will help the tofu get crispy and golden brown when cooked.
Cut the tofu into bite-sized cubes or slices, depending on your preference.
In a bowl, mix together cornstarch, minced garlic, smoked paprika, chili powder, soy sauce, and black pepper. This will be your seasoning mixture.
Toss the tofu in the seasoning mixture until it is fully coated, using your hands to make sure every piece is covered.
Heat olive oil in a large nonstick pan over medium heat.
Once the oil is hot, add the seasoned tofu to the pan and fry for about 10 minutes, flipping the tofu occasionally with a fork or tongs, until it is crisp and golden brown on most sides.
Remove the tofu from the pan and place it on a paper towel-lined plate to absorb any excess oil. Your crispy tofu is now ready to be added to your Buddha bowl!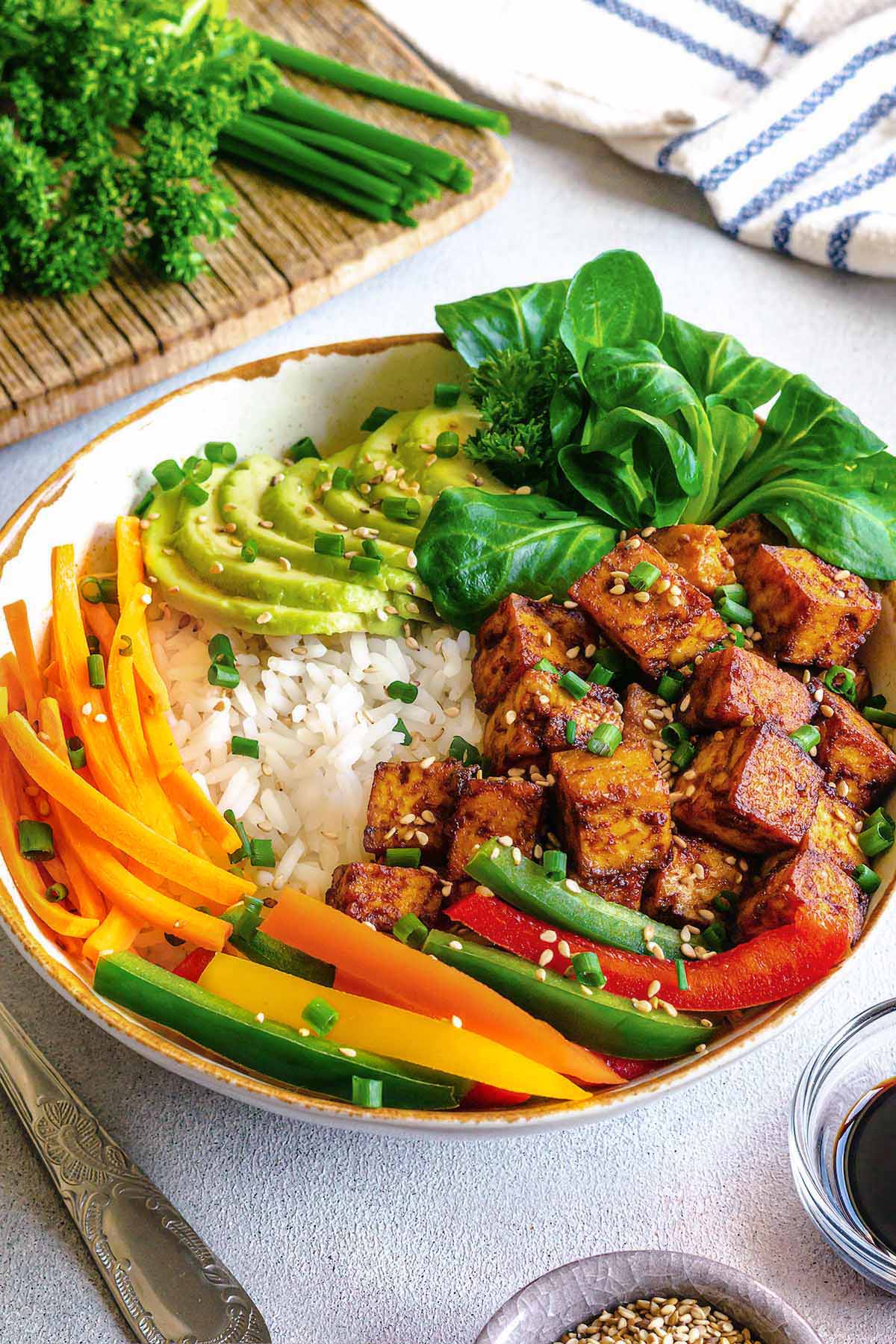 Variations and Additions
This Tofu Bowl recipe is very versatile and can be customized to suit your preferences. Here are some variations you can try:
Swap out the veggies: You can swap the carrot, bell pepper, or avocado for your favorite vegetables, such as steamed broccoli, roasted sweet potato, or sautéed zucchini.
Add more protein: If you want to add more protein to your bowl, you can add some cooked chickpeas, black beans, or edamame. You can also try using tempeh instead of tofu.
Add the sauce before serving: Add the sauce before serving. You can try adding a spicy peanut sauce from our recipe for Kidney Bean Salad, a tahini dressing from the recipe for Mediterranean Quinoa Salad, a spicy sriracha sauce, or any other sauce you like.
Use a different grain: Instead of rice, you can try using quinoa, bulgur, or farro as the base for your bowl.
Make it more spicy: If you like spicy food, you can add more red pepper flakes or cayenne pepper to the marinade or sprinkle some hot sauce over your bowl before serving.
Use other nuts or seeds for topping: try adding some roasted pumpkin seeds, sunflower seeds, chopped almonds, or cashews for a crunchy and protein-packed addition instead of sesame seeds.
The possibilities are endless with this recipe, so feel free to experiment and find your favorite combination.
Expert Tips for the Perfect Tofu Buddha Bowl
Here are some tips that help you to make the best Buddha Bowl:
Use a variety of colors: A Buddha bowl is all about creating a colorful and nutritious meal. Include a variety of different colored vegetables to make it look visually appealing.
Mix up textures: Incorporate different textures in your bowl to complement each other. Crispy tofu, crunchy vegetables, and creamy avocado make it interesting and satisfying to eat.
Keep it balanced: Make sure your bowl includes a good balance of protein, carbohydrates, and healthy fats to keep you feeling full and satisfied.
Press the tofu before using it: Pressing the tofu removes any excess moisture and makes it easier to achieve a crispy texture.
Use firm or extra-firm tofu: Firm or extra-firm tofu is best for making crispy tofu. Silken or soft tofu is not recommended for this recipe.
Cut the tofu into bite-sized pieces: Cutting the tofu into small, bite-sized pieces helps to ensure that it cooks evenly and gets crispy on all sides.
Use fresh ingredients: Fresh ingredients are always better when it comes to flavor and nutrition. Try to use fresh vegetables and herbs in your bowl.
Prep ahead: Buddha bowls are great for meal prepping. You can prepare all the ingredients ahead of time and assemble the bowl when you're ready to eat.
Storing Instructions
Leftovers of the Tofu Rice Bowl can be stored in an airtight container in the refrigerator for up to 3 days. To reheat, simply microwave the leftovers for a couple of minutes until heated through, or reheat in a pan on the stove over medium heat until warm. It's best to store rice, tofu, and vegetables separately if possible. This will help to prevent the vegetables from getting soggy and the tofu from losing its crispiness.
However, it's important to note that the crispy texture of the tofu may not hold up as well when reheated, so it's best to enjoy this dish fresh if possible.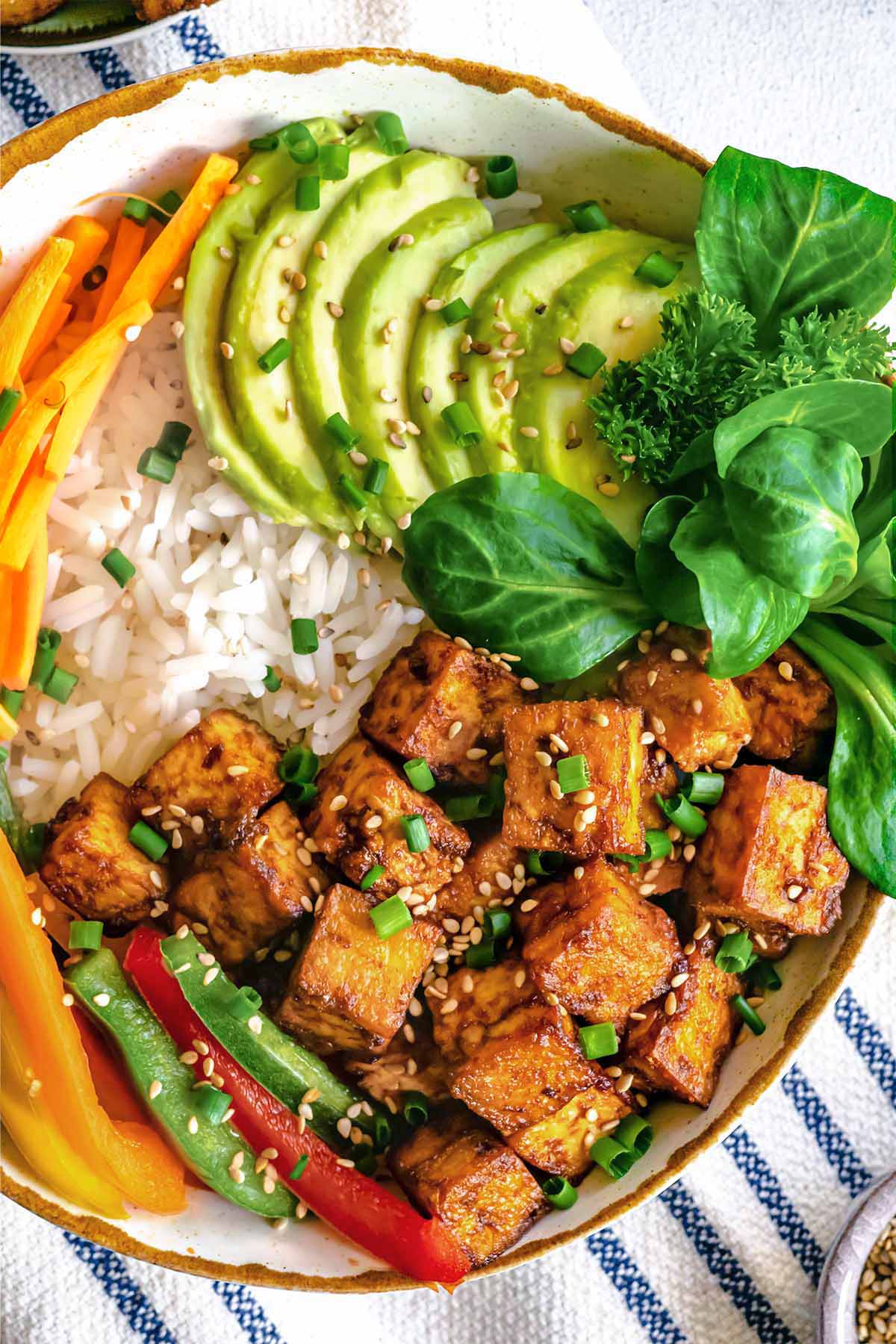 This Crispy Tofu Bowl is a nutritious, delicious, customizable, and diet-friendly plant-based meal that's easy to make and perfect for supporting overall health and wellness. Give it a try and see for yourself why it's sure to become a new favorite in your dinner rotation.
More Healthy Plant-Based Dinner Recipes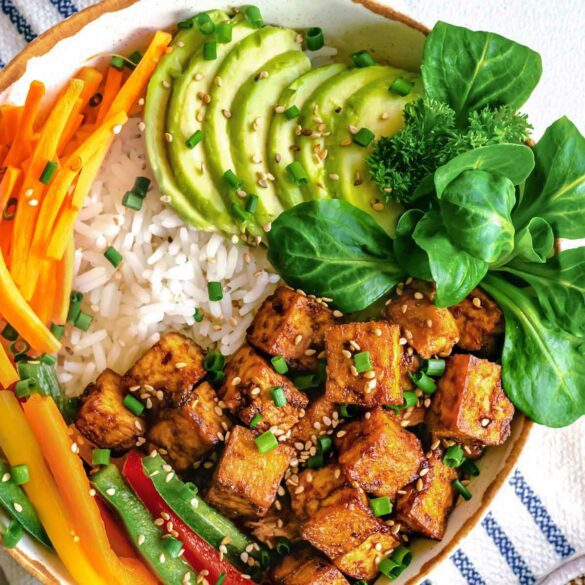 Looking for a healthy and delicious plant-based dinner option? Try this Crispy Tofu Buddha Bowl with Rice, Avocado, and Veggies! Packed with protein and fiber, this recipe is great for a healthy balanced dinner to enjoy! Give it a try and enjoy a nutritious meal that tastes amazing!
Ingredients
For Crispy Tofu:
1 block (14 oz) firm tofu
4 tbsp cornstarch
2 garlic cloves, minced
1 tsp smoked paprika
2 tbsp soy sauce
½ tsp chili powder
2 tbsp olive oil
For the Bowl:
2 cups cooked rice
1 carrot, julienned
1 bell pepper, sliced (or 3-4 mini bell peppers)
1 ripe avocado, sliced
1 cup fresh spinach
¼ cup parsley
1 tbsp sesame seeds, toasted
2 tbsp green onions, chopped
Instructions
Start by preparing the crispy tofu. Drain the tofu block and cut it into 1 cm dice.
In a bowl, mix together cornstarch, minced garlic, chili powder, smoked paprika, soy sauce, and pepper. Mix until well combined and set aside.
Toss the tofu cubes with the seasoning mixture until the tofu is fully coated. Use your hands to ensure the tofu is fully coated.
Warm the olive oil over medium heat in a large nonstick pan. Add the tofu cubes and fry for about 10 minutes, flipping the tofu with a fork periodically until crisp and golden brown on most sides.
While the tofu is cooking, prepare the bowl ingredients. Julienne the carrot, slice the bell pepper (or mini bell peppers), and slice the avocado.
To assemble the bowl, divide the cooked rice among the serving bowls. Top with the fried tofu, sliced carrot, sliced bell pepper, sliced avocado, and fresh spinach.
Garnish with toasted sesame seeds, chopped green onions, and fresh parsley. Serve and enjoy!
Nutrition
Calories:
437kcal
| Fat:
22.5g
| Saturated Fat:
3.9g
| Cholesterol:
0mg
| Sodium:
513mg
| Carbohydrate:
47.2g
| Fiber:
6.7g
| Sugar:
2.9g
| Protein:
14.4g
| Calcium:
232mg
| Iron:
11mg
| Potassium:
499mg
Did You Make This Recipe?
Tag us on Instagram
@thewillowskitchen
and hashtag #thewillowskitchen to show your results. And be sure to leave a comment in the section below :)
FAQs
How long does tofu take to get crispy?
The tofu is first coated in cornstarch and then pan-fried for about 2-3 minutes on each side until it is golden brown and crispy. Overall time is about 10 minutes. However, the actual time may vary depending on the heat level and size of your cubes, as well as the firmness of your tofu. It's best to keep an eye on the tofu and adjust the cooking time accordingly to ensure it gets crispy and golden brown.
How do I keep fried tofu crispy?
To keep fried tofu crispy, it is best to avoid stacking it on top of each other, which can cause the steam to make the tofu soggy. Instead, it's best to place the fried tofu in a single layer on a wire rack or on a plate, lined with paper towels to absorb any excess oil. It's also a good idea to serve the tofu immediately after frying to maintain its crispy texture. But if you need to reheat the tofu, the best way to keep it crispy is to reheat it in a pan over medium-high heat with a bit of oil. This will help to restore the crispiness of the tofu. Be careful not to overcook it, as this can make it rubbery. It's best to reheat the tofu just until it is warmed through.
Can I freeze crispy tofu?
Yes, you can freeze crispy tofu. Once the tofu has been cooked and cooled, place it in an airtight container or freezer bag and store it in the freezer. When you're ready to use it, let it thaw in the refrigerator overnight and then reheat it in a pan or oven to crisp it up again. Keep in mind that the texture may change slightly after freezing and thawing, but it should still be tasty.