How about showing some imagination and bringing some bright colors to the cookies? These beautiful and tasty Edible Flower Cookies are a wonderful way to make a perfect gift for Mother's Day or any other special occasion. Plus, they're not only delicious and beautiful, but also gluten-free, vegan, and refined sugar-free, sweetened with natural pure maple syrup, making them a healthier dessert option.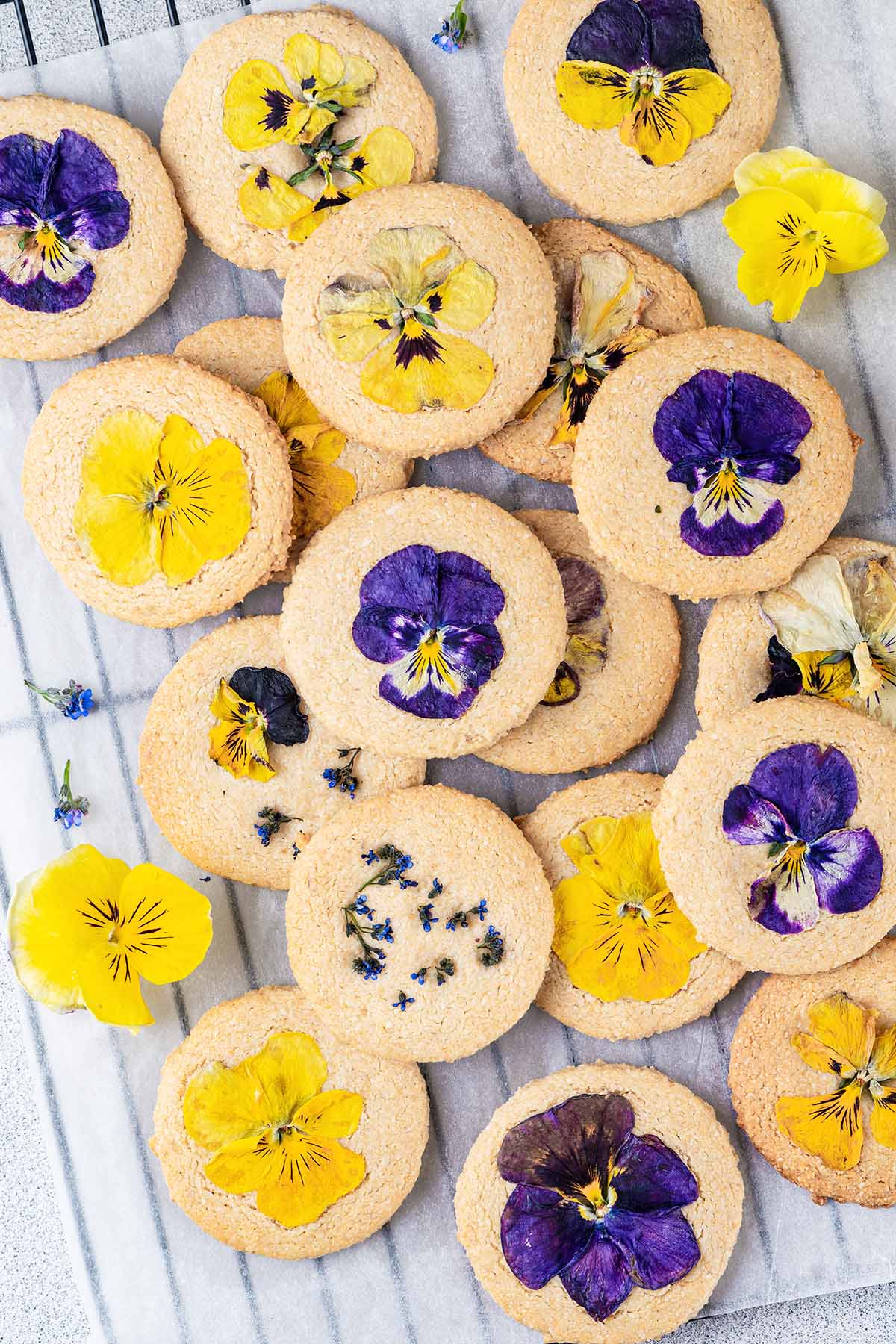 Ingredients
With these simple wholesome ingredients, the cookies turn out gluten-free, vegan, and very tasty with a subtle floral flavor, making them a perfect treat for any special occasion. And as they don't contain any refined products, but only natural ingredients, they are also healthy for your body.
Flowers. The main and essential ingredient for these cookies is obviously flowers. Flowers make these cookies really special and very good-looking. You may use different types of flowers such as pansy, rose, nasturtium, lavender, daisy, cornflower and some other flowers. See the section with types of edible flowers below. And don't worry that the flowers will be burnt in the oven – we will bake our cookies only for up to 10 minutes, so the flowers will keep their bright colors and beautiful look.
The combination of almond flour, oat flour and tapioca flour make the cookies gluten-free. Be sure to choose gluten-free certified oat flour.
Coconut oil adds moisture to the cookies and helps them hold together.
Pure maple syrup is a natural sweetener that adds a slight caramel-like flavor to the cookies. It's a healthier alternative to refined sugar and also adds moisture to the cookies.
Baking powder helps the cookies rise and give them a light texture.
Vanilla extract gives a delicious, sweet flavor to the cookies.
Sea salt balances the sweetness in the cookies and enhances the other flavors.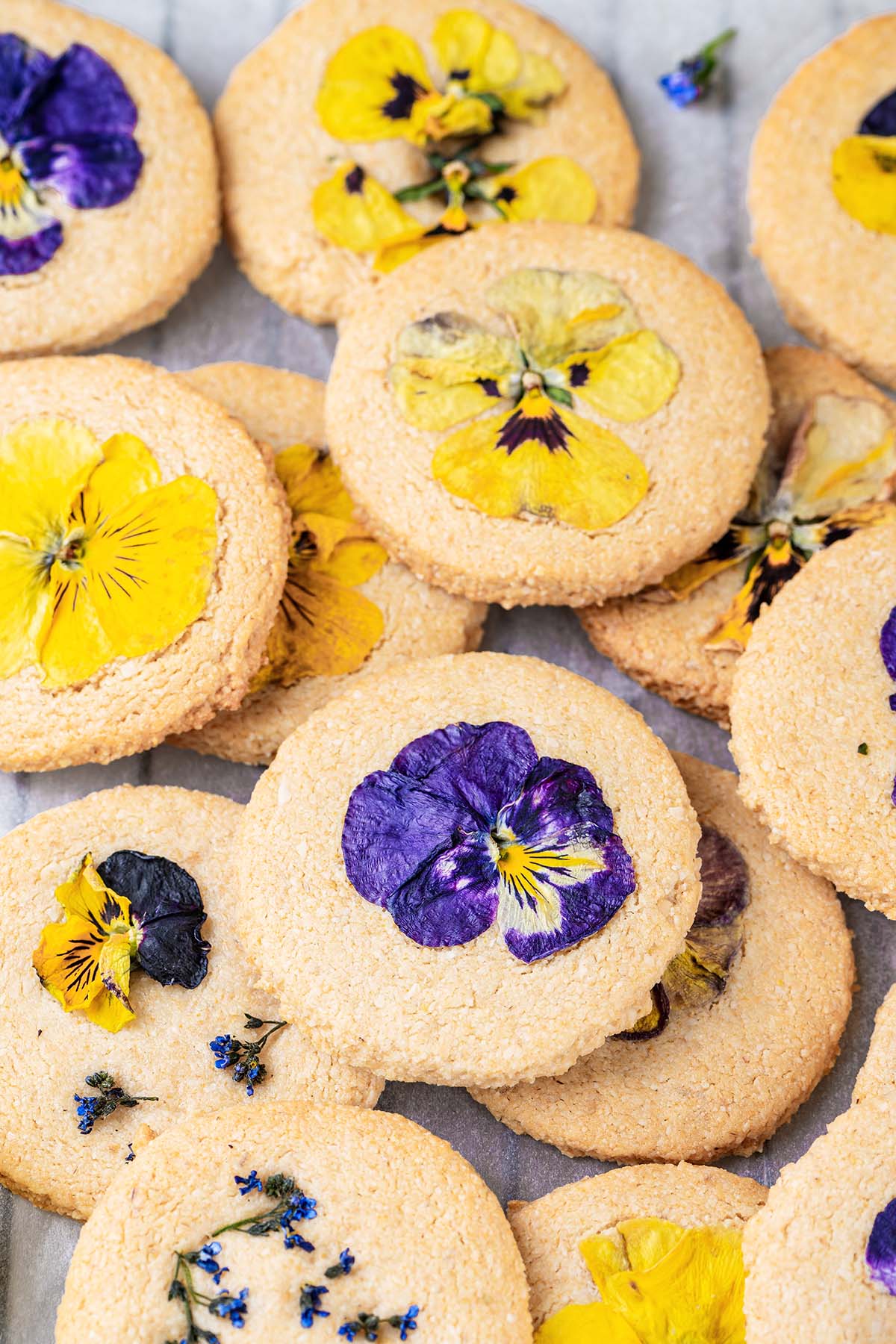 Types of edible flowers
Pansies. These delicate flowers come in a range of colors and are a popular choice for decorating cakes and cupcakes. They have a slightly sweet flavor and pair well with vanilla and lemon.
Roses. With their sweet and floral aroma, rose petals are a perfect addition to any cookie recipe. They come in a variety of colors and can be used fresh or dried.
Nasturtiums. These vibrant, peppery flowers add a spicy kick to any baked goods. They come in shades of orange, yellow, and red and are perfect for adding color and texture to your cookies.
Lavender. This fragrant flower has a sweet, slightly floral flavor that pairs well with chocolate and lemon. Use it sparingly, as too much can make your cookies taste soapy.
Daisies. These simple, cheerful flowers are perfect for decorating sugar cookies or shortbread. They have a mild, slightly sweet flavor and come in a variety of colors.
Cornflowers. These delicate blue flowers have a slightly sweet, clove-like flavor and add a beautiful pop of color to any baked good.
When using edible flowers in baking, it's important to ensure that they are organic and free from pesticides. Edible flowers should be grown organically. So buy it only in organic markets or stores. Use them sparingly and be sure to remove any green stems or bitter parts before using them in your recipe.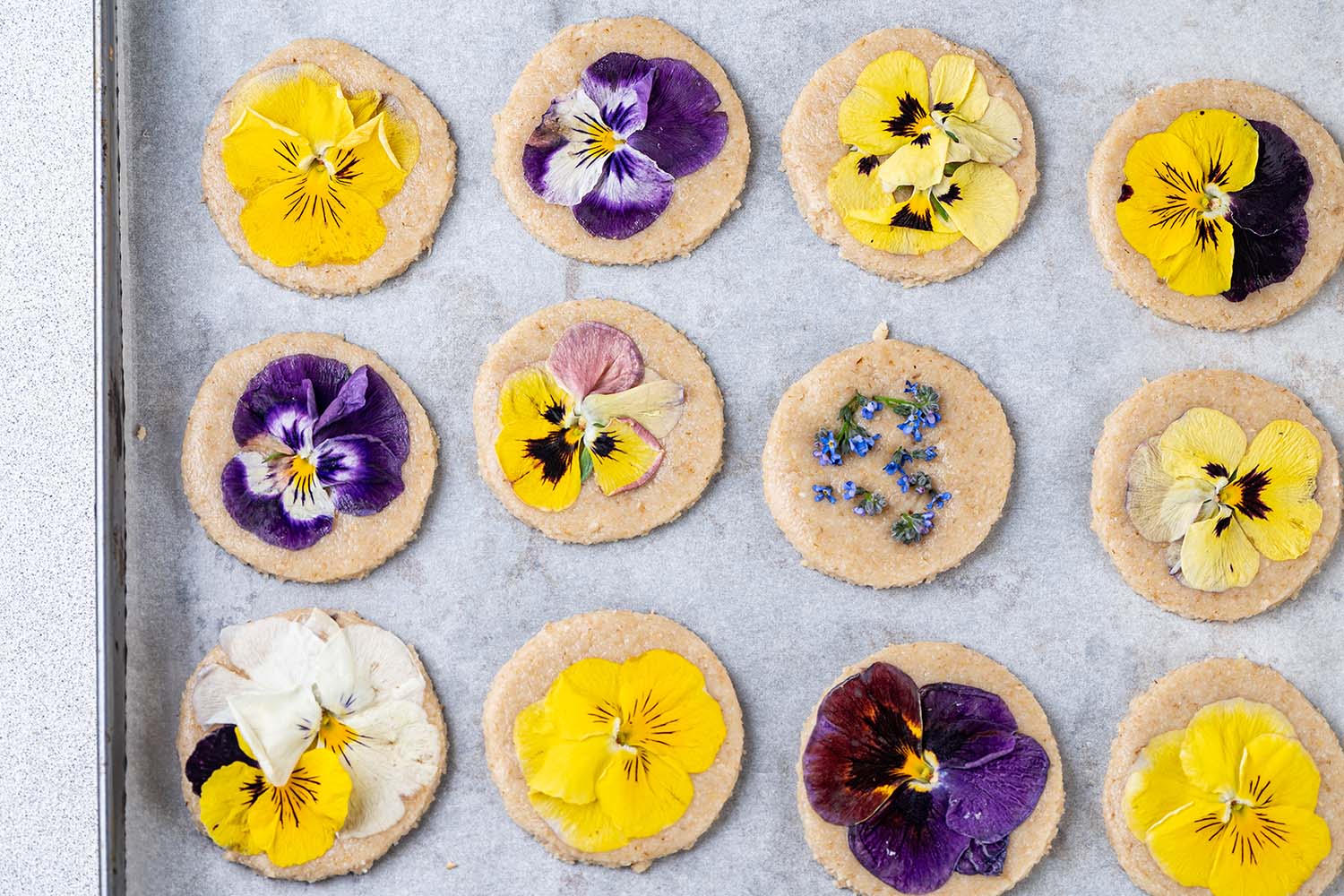 Tips for using edible flowers in baking
Choose organic flowers. As mentioned earlier, when selecting flowers for baking, it's important to use organic flowers that are grown without the use of pesticides or other harmful chemicals. Avoid flowers that have been sprayed with pesticides or other chemicals as they may be unsafe to eat.
Clean flowers properly. Before using edible flowers, make sure to clean them properly. Rinse them gently with cool water and pat them dry with a paper towel or a clean kitchen towel. Be careful not to damage the delicate petals.
Remove the stems and pistils. When using edible flowers in baking, it's important to remove the stems and pistils as they can be bitter and unpleasant to eat. Simply pluck the petals from the flower and discard the stems and pistils.
Use flowers sparingly. As mentioned earlier, use flowers sparingly as they have a strong flavor and can easily overpower the other ingredients in your recipe. A little bit of flower goes a long way. A good rule of thumb is to use no more than one or two flowers per cookie, depending on the size of the cookie and the intensity of the flower's flavor.
Store flowers properly. To store edible flowers, wrap them in a damp paper towel and place them in an airtight container. Store them in the refrigerator for up to three days. Avoid storing them in the same container as fruits or vegetables, as the ethylene gas that they produce can cause the flowers to wilt.
By following these tips, you can ensure that your edible flowers are properly prepared and used in your baking to add both visual appeal and unique flavors to your creations.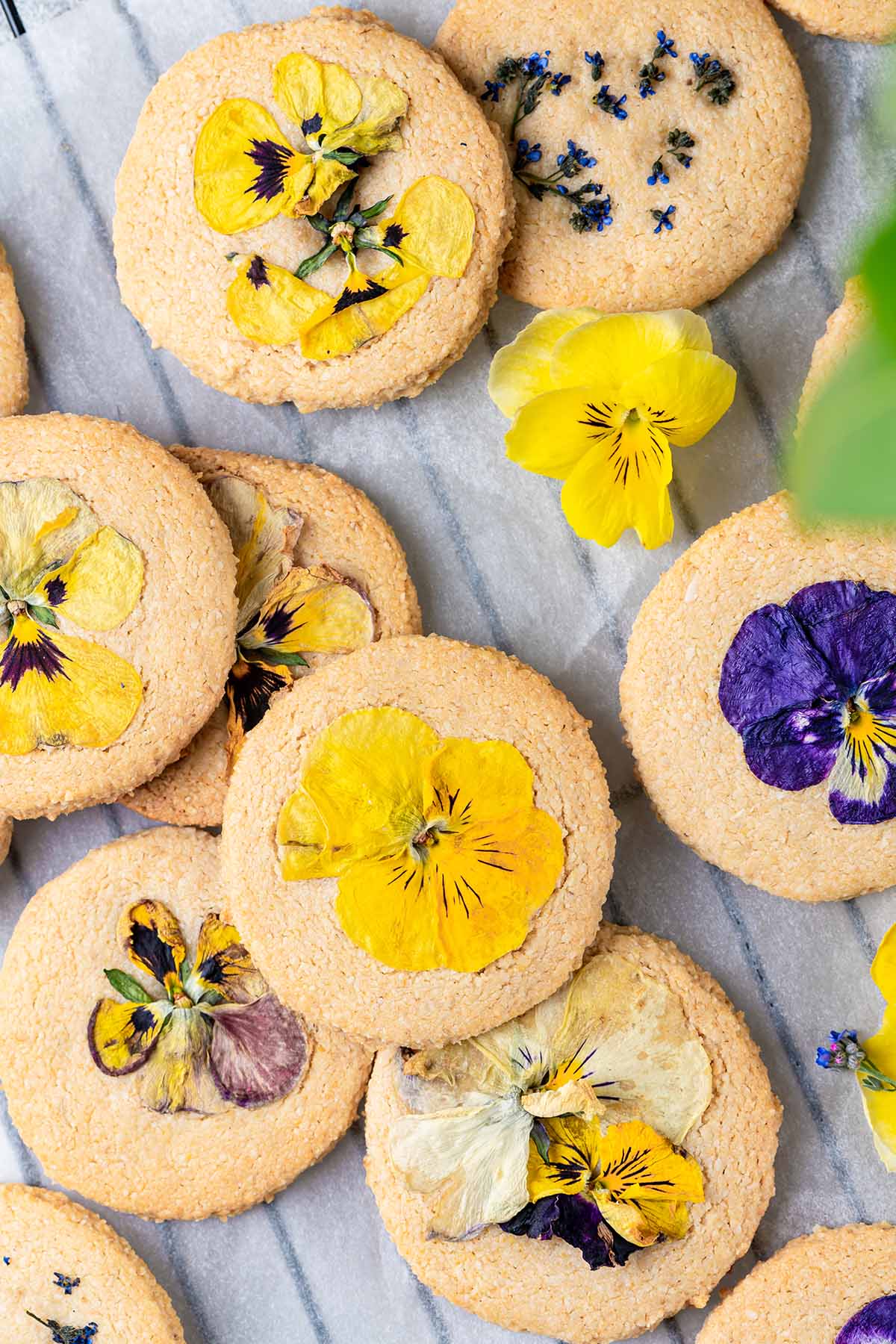 More delicious cookie recipes:
Check out the other great ideas for delicious cookies:

Adding edible flowers to your baked goods can be a fun and unique way to make your treats stand out. These gluten-free, vegan edible flower cookies are a great example of how easy it is to incorporate flowers into your baking. With a combination of almond, oat, and tapioca flours, natural sweeteners, and delicate floral flavors, these cookies are a delicious and beautiful addition to any occasion. So why don't give them a try and add some floral flair to your next batch of cookies?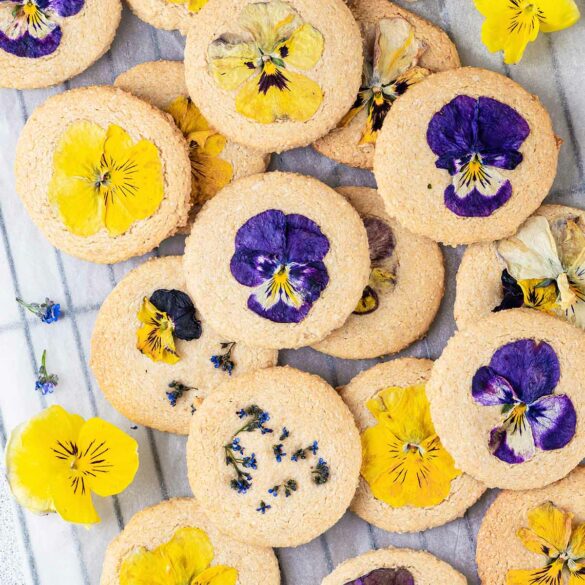 These beautiful Edible Flower Cookies are a wonderful way to make a perfect gift for Mother's Day or any other occasion. Plus, they're not only delicious, but also gluten-free, vegan, and refined sugar-free, sweetened with natural maple syrup, making them a healthier dessert option.
Ingredients
¼ cup coconut oil, melted
¼ cup pure maple syrup, at room temperature
1 tsp vanilla extract
1 ½ cups almond flour
½ cup oat flour
¼ cup tapioca flour
½ tsp fine sea salt
½ tsp baking powder
24 edible flowers
Instructions
Preheat your oven to 350°F (180°C) and line a baking sheet with parchment paper..
In a medium-sized mixing bowl, combine all ingredients (except flowers), and mix into soft dough. Refrigerate for about an hour to make the dough easier to work with.
Roll the dough between two sheets of parchment paper. Use a cookie cutter to cut out your desired shapes
Place the cookies onto the lined baking sheet and press edible flowers onto the top of each cookie.
Bake cookies for about 9-10 minutes, be careful to not overbake, they shouldn't become brown.
Remove the cookies from the oven and let them cool on the baking sheet for 5 minutes. Transfer the cookies to a wire rack to cool completely.
Nutrition
Calories:
66kcal
Fat:
4.4g
Saturated Fat:
2.1g
Cholesterol:
0mg
Sodium:
41mg
Carbohydrate:
5.6g
Fiber:
0.7g
Sugar:
2g
Protein:
1.1g
Calcium:
8mg
Potassium:
24mg
Did You Make This Recipe?
Tag us on Instagram
@thewillowskitchen
and hashtag #thewillowskitchen to show your results. And be sure to leave a comment in the section below :)