Whether you're looking for a healthy and delicious snack, post-workout boost, or after-dinner dessert, these Healthy Oatmeal Raisin Cookies are sure to hit the spot. So why not whip up a batch today and indulge in a treat that's both delicious and nutritious! These cookies come out perfectly every time, making them a go-to for any occasion. With just a few basic ingredients and a little bit of time, you can whip up a batch of these irresistible oatmeal cookies that everyone will love. Get ready to indulge in the perfect combination of crispy, soft, chewy, and sweet in every single bite!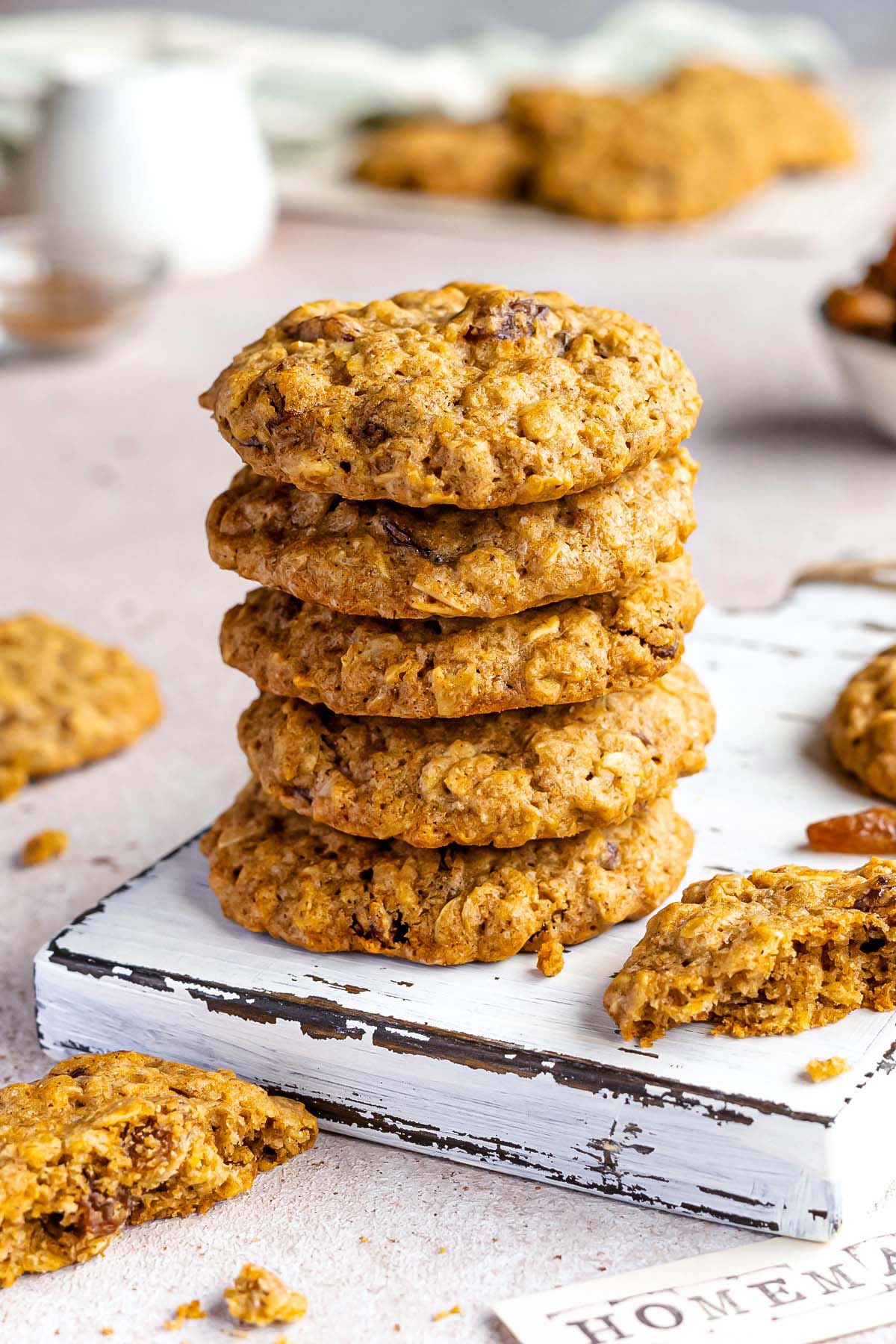 Ingredients for healthy oatmeal cookies
Rolled oats. For this recipe, it's best to use old-fashioned rolled oats, they provide a chewy texture to the cookies. Quick-cooking oats are more processed and finer in texture, which can result in a softer, less chewy cookie.
Whole wheat flour adds a variety of nutrients to the cookies compared to using all-purpose flour. Whole wheat flour is higher in fiber, protein, and vitamins than all-purpose flour. This added fiber also creates a denser, heartier texture in the cookies that complements the oatmeal and raisins. Using whole wheat flour is a great way to make the cookies more nutritious and healthier.
Egg. Only 1 egg is needed for the recipe. Acts as a binder, and gives the necessary liquid balance.
Brown sugar adds sweetness and also influences the texture, as brown sugar has a higher moisture content, which leads to a softer and more tender cookie. Use light brown sugar or dark brown sugar, it's up to you. But take in mind, that with dark sugar, the color of the cookies will be darker, and there will be a stronger molasses flavor. Other types of sugar will also work.
Coconut oil. Using coconut oil instead of butter makes the cookies dairy-free. But feel free to use unsalted butter for this recipe in the same proportion, it will work great too.
Baking powder and baking soda help the cookies rise and create a light, tender texture.
Raisins add natural sweetness and chewy texture to the cookies. Actually, you may sub it with other mix-ins if you like, see our "Ideas for Mix-ins" section.
Vanilla and cinnamon. These flavorings add warmth and depth of flavor to the cookies.
Salt balances the sweetness and enhances the flavor of the other ingredients.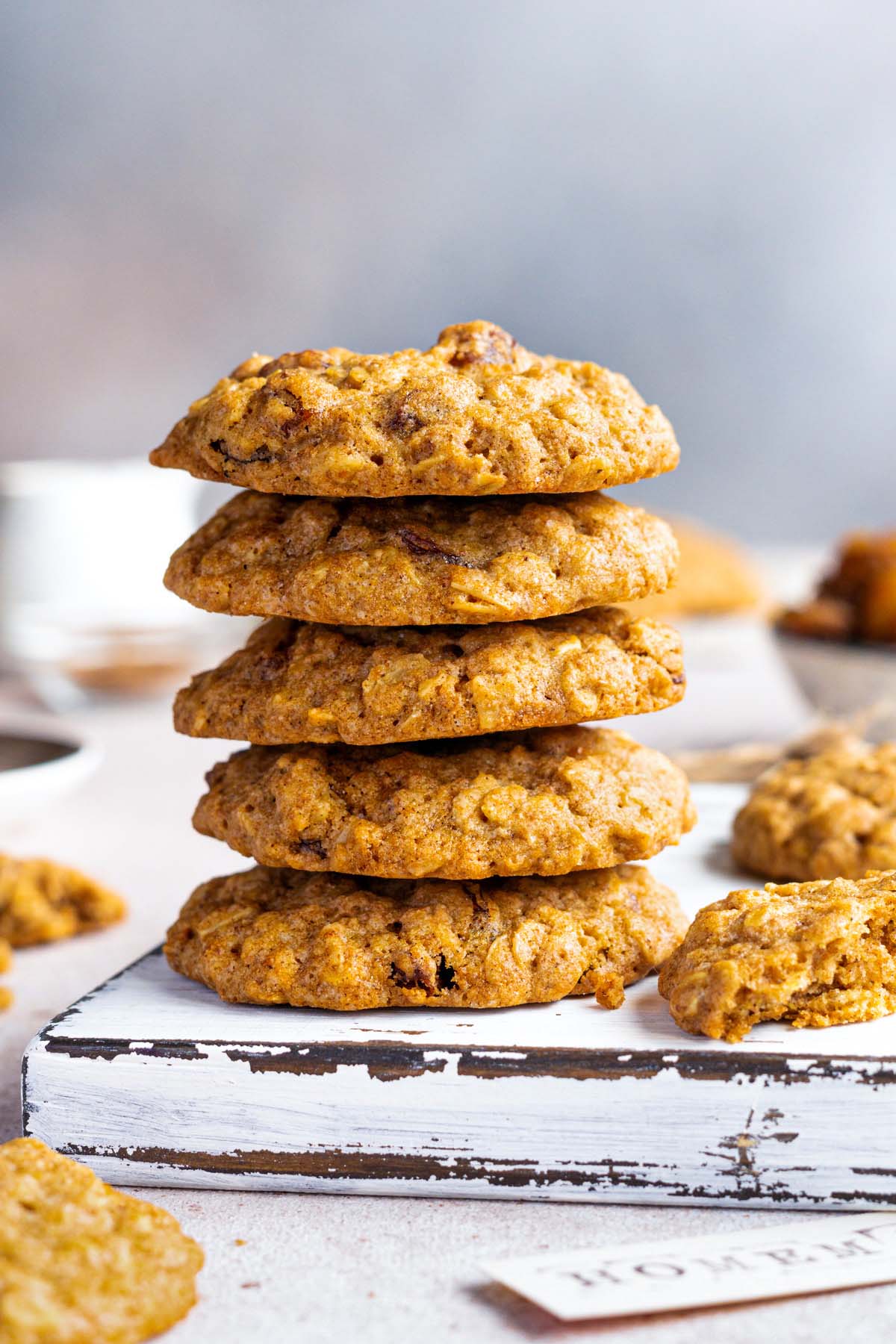 Why you'll love this recipe
Healthy twist. This oatmeal raisin cookie recipe is made with whole grain flour, rolled oats, and coconut oil, making it a healthier alternative to traditional cookies.
Easy to make. With simple ingredients and easy-to-follow instructions, these cookies are perfect for beginner bakers and busy people who want a quick snack.
Delicious flavor. The combination of cinnamon, vanilla extract, and plump raisins gives these cookies a warm, comforting flavor that is perfect for any time of the day.
Versatile. You can customize this recipe by swapping the raisins for your favorite dried fruit or adding nuts or chocolate chips for extra texture and flavor.
Perfect for on-the-go. These cookies make a great snack for busy mornings or as an afternoon pick-me-up. They can also be stored in an airtight container for a few days, making them a convenient option for a quick snack on the go.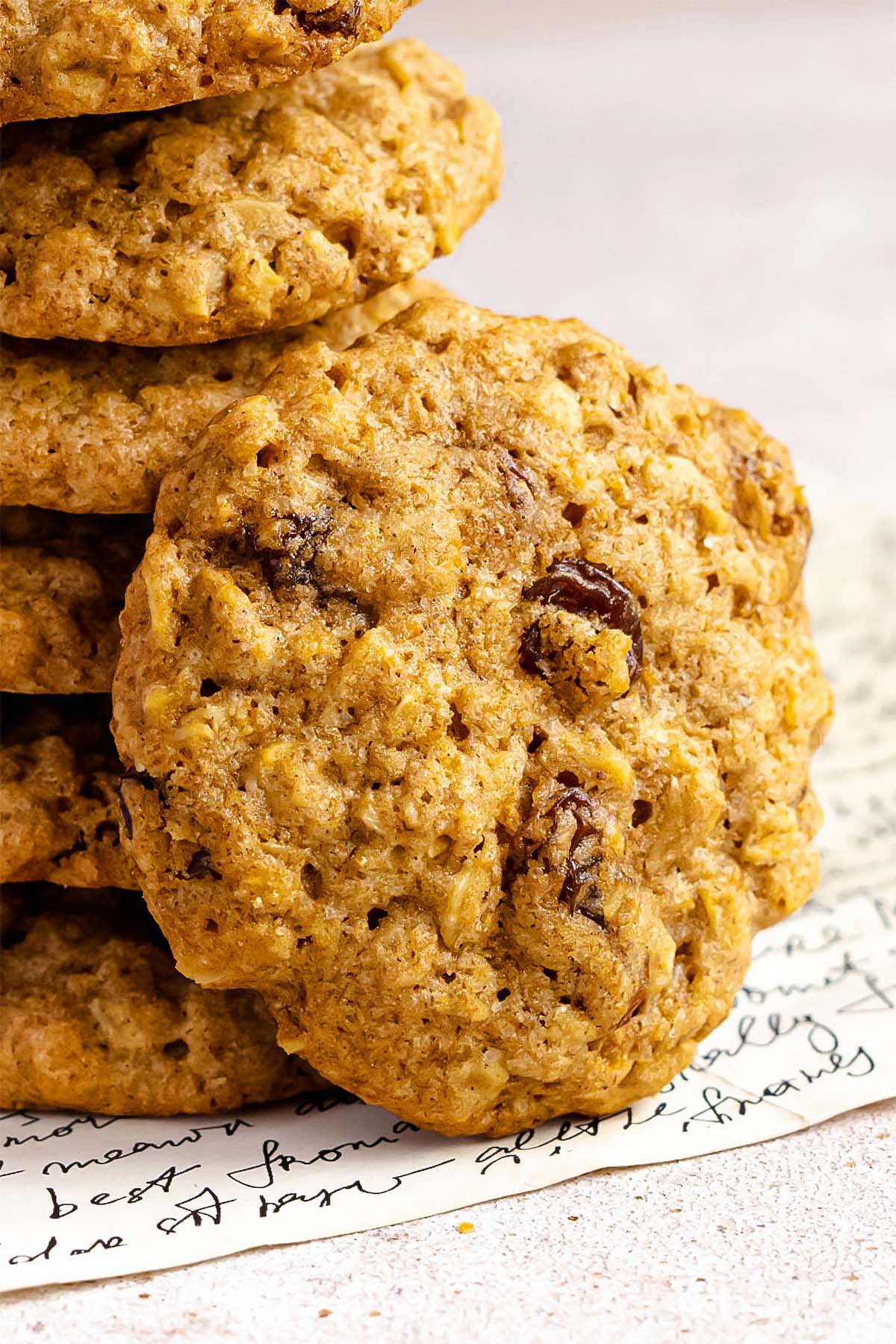 Ideas for Mix-ins
This oatmeal raisin cookie recipe is versatile and can be easily customized to your preferences. Here are some variations you can try:
Chocolate chips. Swap the raisins for chocolate chips to make a classic chocolate chip oatmeal cookie.
Cranberries and white chocolate. Replace the raisins with dried cranberries and add 1/2 cup of white chocolate chips to the dough for a festive and flavorful cookie.
Almonds and coconut. Instead of raisins, add couple of tablespoons of shredded coconut and 1/2 cup of chopped almonds to the cookie dough for a tropical twist on the classic oatmeal cookie.
Blueberries and lemon. Replace the raisins with fresh or dried blueberries and add 1 tbsp of lemon zest to the cookie dough for a bright and tangy cookie.
M&M's. Adding M&M's will add a fun and colorful element to the cookies, and they'll be a hit with kids and adults alike.
Feel free to add a variety of nuts, seeds, and dried fruit to the cookie dough to make a healthy and delicious trail mix cookie. You can use chopped pecans, sunflower seeds, pumpkin seeds, dried cherries, or any other mix-ins you like. Just follow the ratio given in the recipe.
Whether you prefer raisins, chocolate chips, nuts, or anything in between, these cookies can handle it all. The possibilities are endless with this versatile recipe!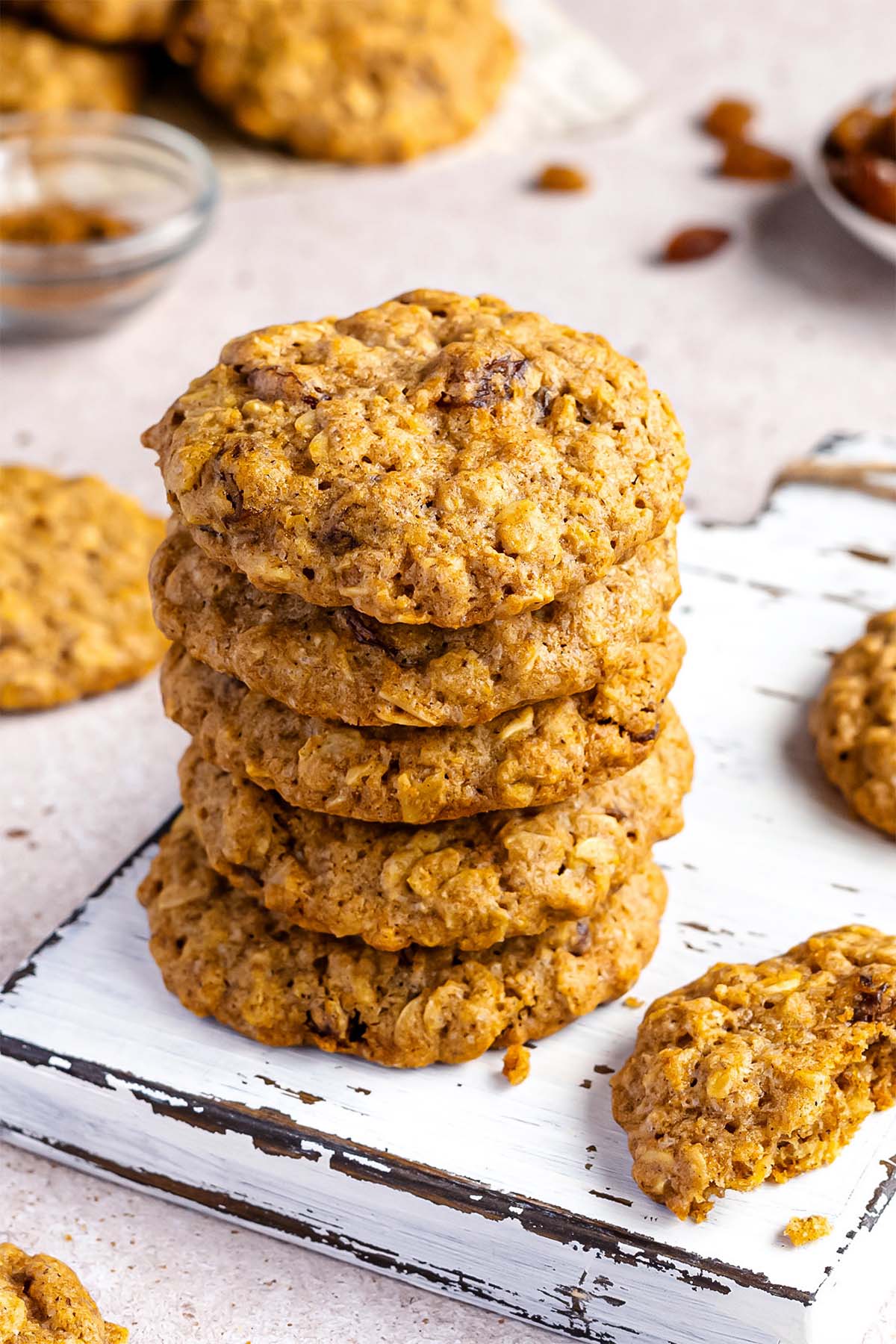 Frequently Asked Questions about Oatmeal Cookies
How many calories are in oatmeal raisin cookies?
The number of calories in an oatmeal raisin cookie can vary depending on the size of the cookie and specific ingredients used. This recipe makes 24 cookies and one cookie contains around 117 calories and 5.4 fats.
How healthy are oatmeal raisin cookies?
Oatmeal raisin cookies can be a healthier option compared to other types of cookies since they contain oats and whole wheat flour which are a good source of fiber. This recipe consists of only healthy wholesome ingredients, so obviously these cookies are healthy alternative to traditional cookies. However, it's important to note that cookies are still a treat and should be enjoyed in moderation as part of a balanced diet. If you are looking for a lower-sugar option, you can try reducing the amount of brown sugar or using a sugar-free sweetener like Erythritol or Swerve.
Can I make this recipe gluten-free?
Yes, you can use a gluten-free flour blend in place of whole wheat flour. Keep in mind that the texture and flavor may be slightly different.
Can I use different types of nuts or dried fruits?
Yes, you can customize this salad using different nuts or dried fruits. Almonds, pecans, or sunflower seeds would make a great substitution for pumpkin seeds. Raisins could be used instead dried cranberries.
What type of oatmeal is best for cookies?
It's best to use old-fashioned rolled oats rather than instant oats or steel-cut oats. Rolled oats have a medium thickness and a slightly chewy texture that make them ideal for cookies. Instant oats are too thin and powdery, while steel-cut oats are too thick and will not soften enough during baking, resulting in cookies with a tough texture.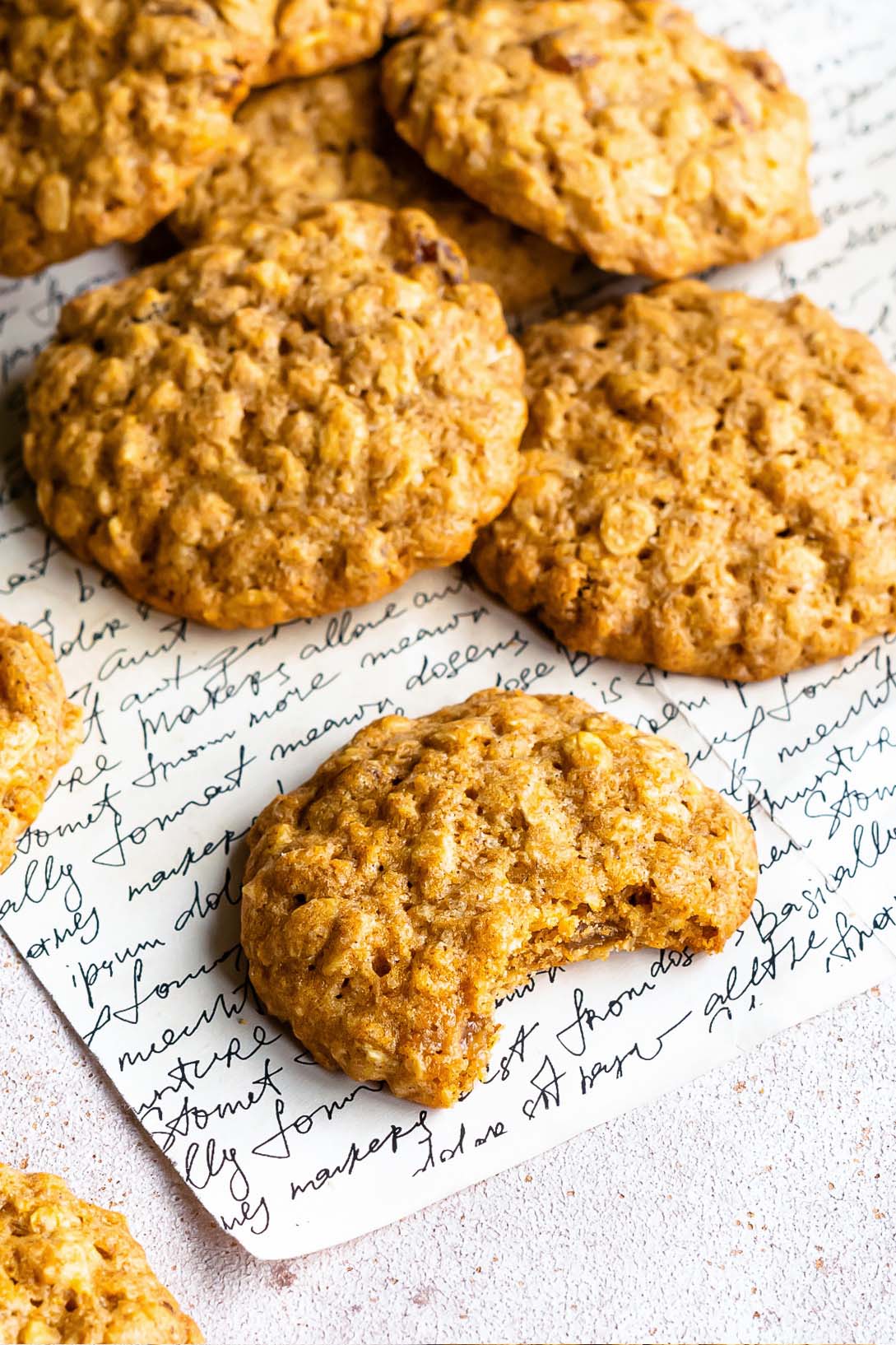 Storage instructions
These oatmeal raisin cookies can be stored in an airtight container at room temperature for up to 5 days. For longer storage, you can keep them in the fridge for up to 1 week, or in the freezer for up to 3 months. If freezing, make sure to place the cookies in a freezer-safe container or bag. Thaw them at room temperature for a few hours before serving.
To ensure that the cookies stay fresh and don't get stale, you can add a slice of bread or an apple slice to the container or bag. The bread or apple will absorb any excess moisture and help the cookies stay soft and chewy.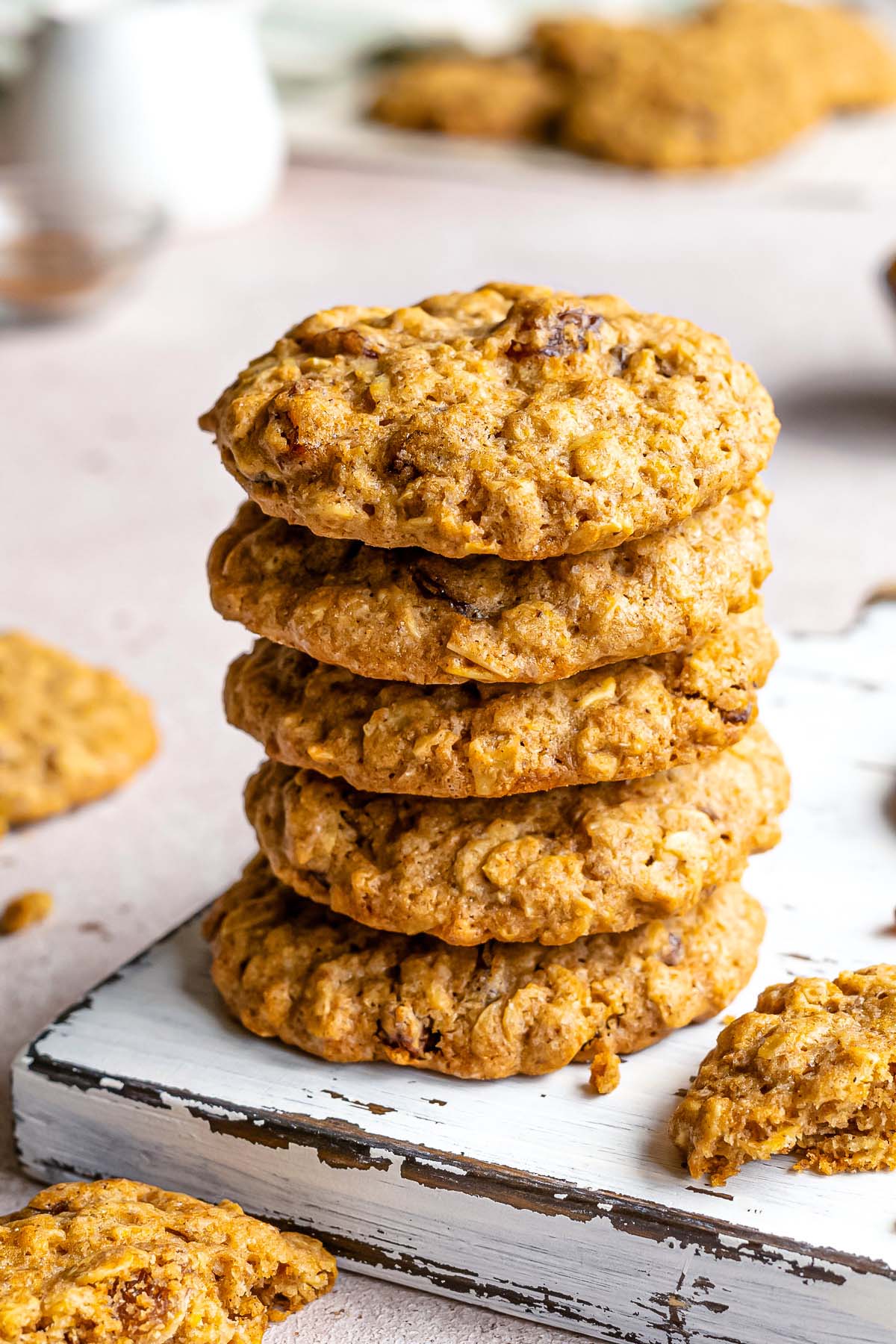 More super delicious cookie recipes
Whether you're looking for a healthy snack or a sweet treat to enjoy after dinner, these healthy oatmeal raisin cookies are the perfect choice. Easy to make and packed with nutritious ingredients, they are sure to become a new favorite in your household. So why not whip up a batch today and see for yourself how delicious healthy eating can be!
With just a few basic ingredients and a little bit of time, you can whip up a batch of these irresistible Healthy Oatmeal Raisin Cookies that everyone will love. So get ready to indulge in the perfect combination of crispy, soft, chewy, and sweet in every single bite!
Ingredients
1 cup (130 g) whole wheat flour
½ tsp baking powder
½ tsp baking soda
1 tsp ground cinnamon
¼ tsp salt
1 large egg, at room temperature
⅔ cup (130 g) light brown sugar
1 tsp vanilla extract
½ cup (110 g) coconut oil, melted
1 ½ cups (150 g) rolled oats
⅔ cup (100 g) raisins
Instructions
Preheat your oven to 350°F (180°C) and line a baking sheet with parchment paper.
In a small bowl, mix together the flour, baking soda, baking powder, salt, and cinnamon.
In a separate bowl, beat the egg with the brown sugar until light and fluffy. Add the melted coconut oil and mix until well combined.
Add the dry ingredients to the wet ingredients and mix on low speed until just combined.
Stir in the rolled oats and raisins until evenly distributed.
Shape the dough into balls and place them on the prepared baking sheet, leaving some space between each cookie. Gently press down the cookies to slightly flatten them.
Bake cookies for about 12-14 minutes, or until the tops are set and slightly golden. Let cool for a few minutes on the baking sheet, then transfer to a wire rack to cool completely.
Nutrition
Calories:
109kcal
Fat:
5.2g
Saturated Fat:
4.1g
Cholesterol:
8mg
Sodium:
56mg
Carbohydrate:
14.8g
Fiber:
0.9g
Sugar:
6.4g
Protein:
1.6g
Vitamin D:
1mcg
Calcium:
15mg
Iron:
1mg
Potassium:
73mg
Did You Make This Recipe?
Tag us on Instagram
@thewillowskitchen
and hashtag #thewillowskitchen to show your results. And be sure to leave a comment in the section below :)