Today we want to share a recipe for quick and tasty healthy pumpkin waffles. Easy to make, healthy and super delicious, it's the perfect breakfast for you and your family!
It's pumpkin season. So pumpkin should be almost everywhere – in desserts, soups, salads, side dishes, it makes dishes warm and cozy, bright, beautiful and very tasty. These pumpkin waffles are so delicious and perfectly spiced. It's one of our favorite fall breakfast recipes – easy and quick to make, well-balanced nutritionally, and very healthy. Drizzle with maple syrup or serve with Greek yogurt and berries, and you will get the best breakfast to enjoy!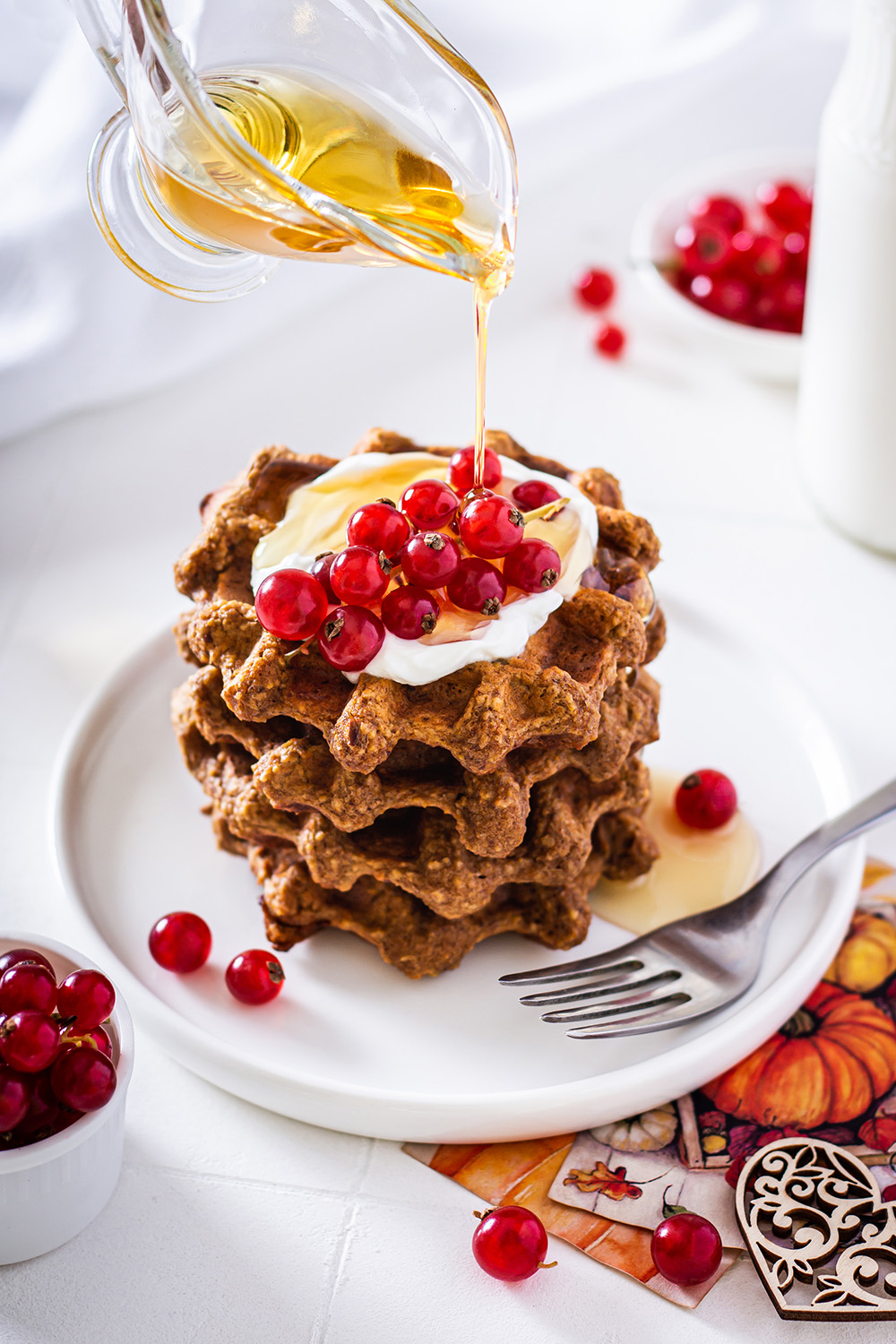 What we will need
Rolled oats are a great source of carbs and fiber, they contain a big amount of vitamins, minerals and antioxidants. Regular use of oats helps to lower blood sugar and cholesterol levels, supports your gut health. You can use ground rolled oats or oat flour.
Pumpkin is a key ingredient in this Pumpkin Waffles recipe. We will use freshly grated pumpkin, not pumpkin puree, it gives great texture and taste to our waffles. And of course, use pumpkin spice mix to bring a special flavor to this fall recipe. You can use bought one or mix cinnamon, nutmeg, ginger, allspice, and clove.
Eggs are a great source of protein, which is important for a balanced breakfast, and also serve as a binder.
To sweeten the waffles, we won't use any sugar, but Medjoul dates. They are very sweet, healthy, and very delicious, just a perfect combination.
Chopped walnuts are great for these Pumpkin waffles, but also you can add different types of nuts, such as pecans, almonds, peanuts, or dried fruits, such as raisins, dried cranberries.
And be sure to check out our other oat recipes for breakfast, like Strawberry Banana Avocado Smoothie, Apple Cinnamon Oatmeal, Peanut Butter Banana Overnight Oats, Applesauce Oatmeal Pancakes, Banana Oatmeal Pancakes and Skillet Honey Granola with Almonds and Dried Cranberries, Creamy Mango Peanut Butter Smoothie or other great breakfast recipe ideas.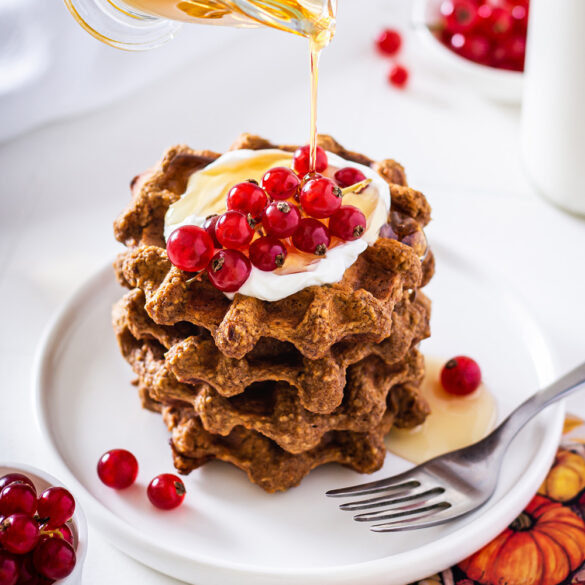 Ingredients
1 cup (80g) rolled oats
1 cup (120g) pumpkin, grated
3 Medjoul dates, pitted (about 60g)
2 large eggs
1 tsp baking powder
½ cup (50g) walnuts
½ tsp pumpkin spice mix
Instructions
Finely grate the pumpkin. If the pumpkin is too juicy, slightly squeeze out the juice. Chop the walnuts.
In a food processor grind the oats to almost flour consistency. Then add all the ingredients to the food processor and blend. Let the batter rest for 10 minutes.
Grease the waffle iron and heat it up. When hot, pour the batter onto it by 1 tbsp at a time. Cook it for about 7 minutes.
Repeat the process with the rest of the batter. Serve with maple syrup, whipped coconut cream, berries, nuts, or other toppings you choose.
Did You Make This Recipe?
Tag us on Instagram
@thewillowskitchen
and hashtag #thewillowskitchen to show your results. And be sure to leave a comment in the section below :)