This Kidney Bean Salad with Hot Peanut sauce is very easy to make, delicious, and loaded with proteins, healthy fats, and fiber. It can be an excellent healthy dinner or side dish. It is very filling and nutritious, but at the same time is light and refreshing. It's packed with flavor, texture, and colors. I'm sure you'll like it.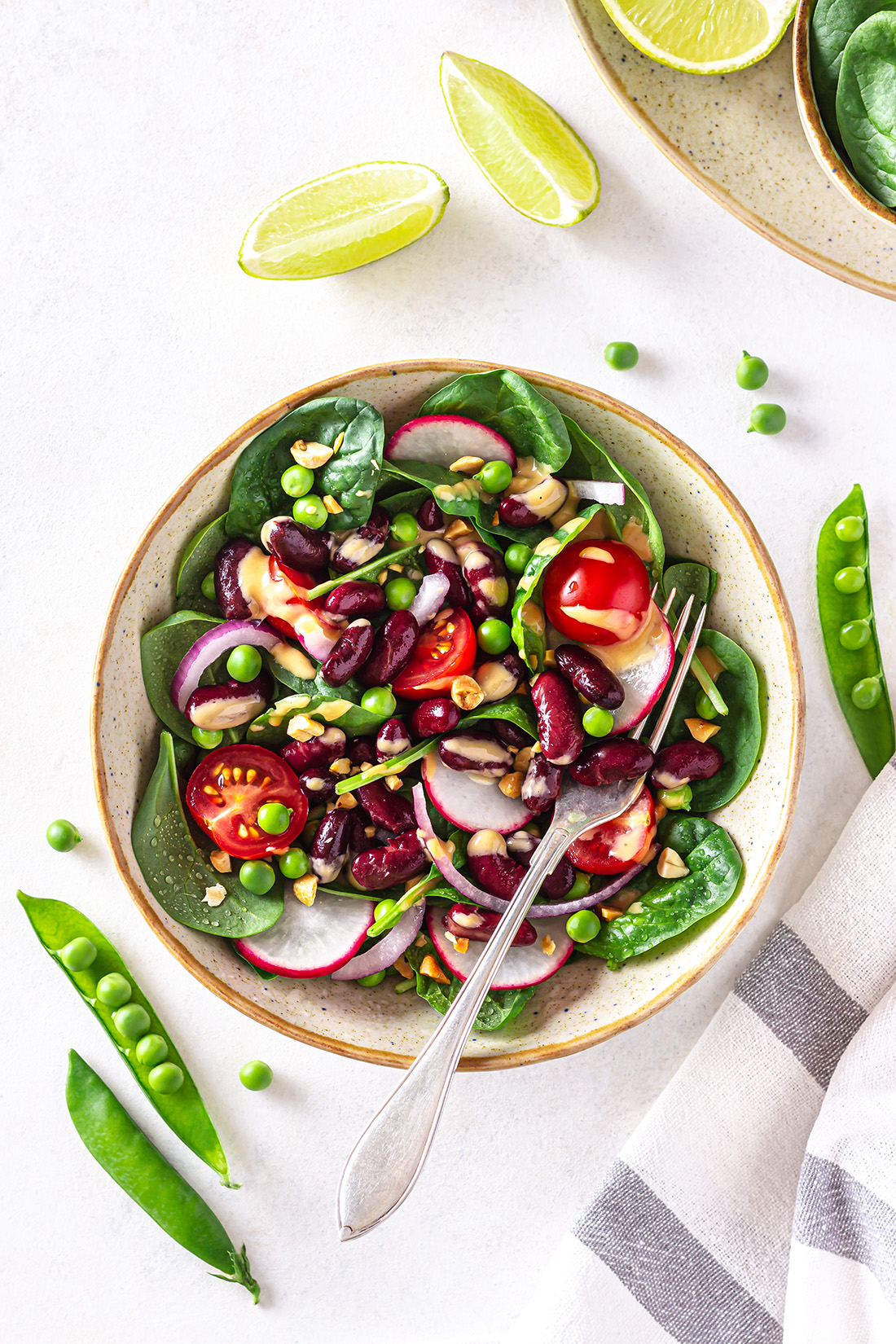 Kidney beans are very healthy. It's a great source of fiber and plant-based protein that is very important for vegans and vegetarians. 1/2 cup of kidney beans provides about 8 grams of protein. Also, kidney beans are rich in various minerals, vitamins, and antioxidants. This type of bean contains folate, thiamin, vitamin K, vitamin B6, vitamin C, riboflavin, niacin, etc.
Adding kidney beans to your daily meal will bring a lot of healthy benefits to your body. It is a good way to increase protein and fiber intake without adding a lot of calories, so it is also great for those who are on a weight-loss diet. Also, they are very versatile and can be cooked in many different ways. Even in desserts, they are great. The name originates from its visual shape and color similarity to a kidney.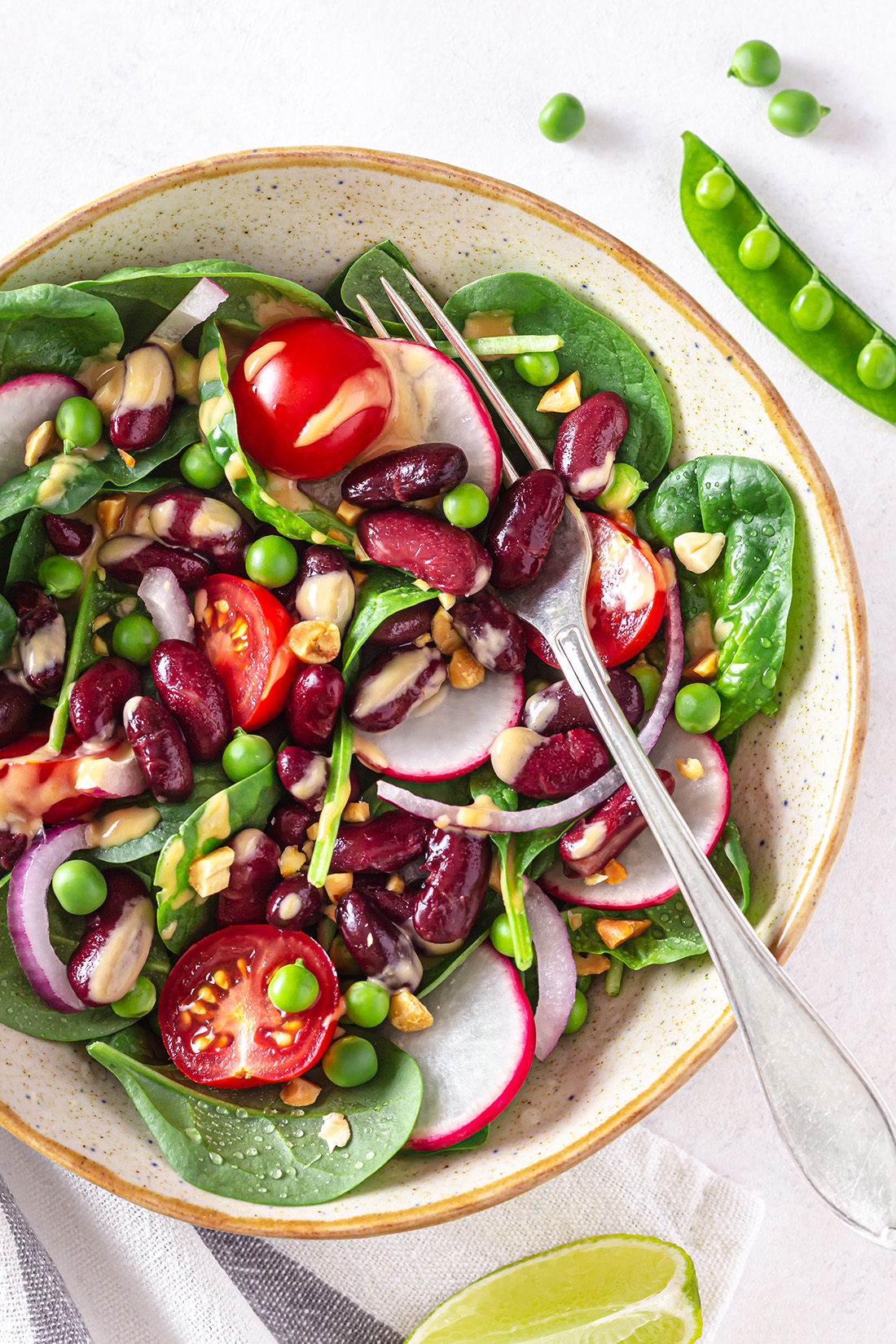 If you want to cook dry beans, it's better to soak beans in cold water for at least 5-6 hours. If you buy canned beans, drain and rinse thoroughly before using.
The hot peanut sauce
The hot peanut sauce can be used not only as a salad dressing but also as a dipping sauce or as a sauce for pasta, spring rolls, and more. Incredible peanut flavor and hot tabasco create a very delicious combo. It's hot and creamy, full of proteins and healthy fats.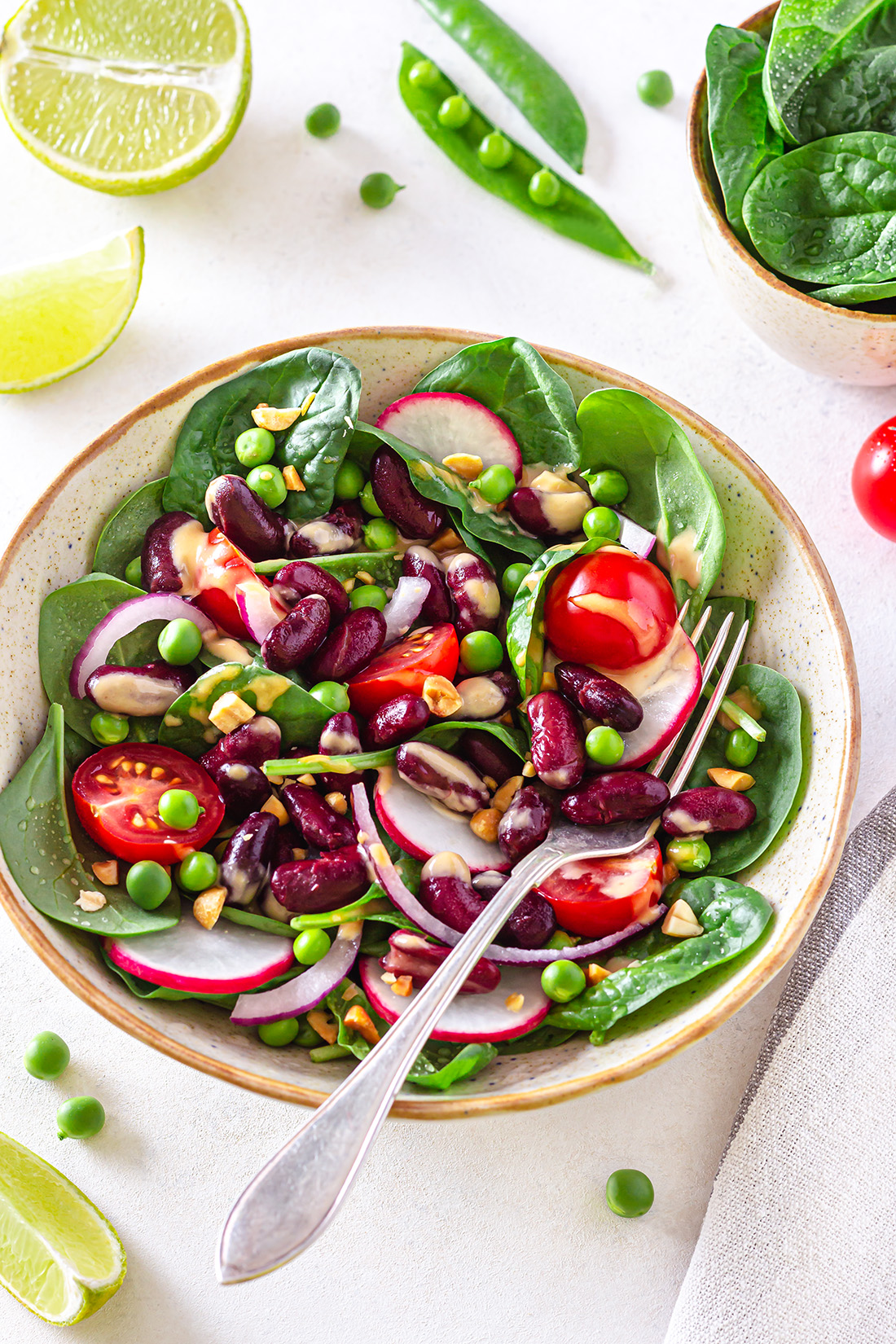 You will need only 10 minutes of prep time to make this Kidney Beans Salad with Hot Peanut Sauce – just combine all ingredients, serve and enjoy!
If you like this recipe, be sure to check out other delicious salads that are perfect for healthy dinner, such as Mediterranean quinoa salad with kale, Broccoli Salad with Cranberries or Kidney Bean Salad with Hot Peanut Sauce, or other easy and tasty dinner ideas.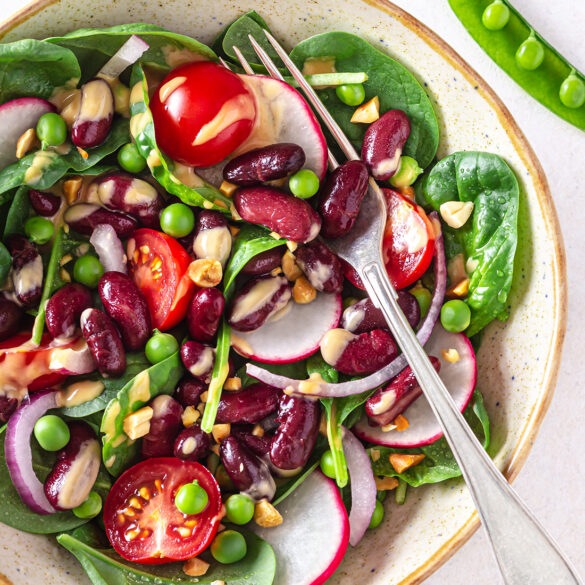 Ingredients
Salad
1 package (5 oz or 140 g) spinach
1 can kidney beans, rinsed and drained
10 cherry tomatoes
4 radishes
1 small red onion
⅓ cup green peas
2 tbsp peanuts, roasted and chopped
Hot Peanut Sauce
3 tbsp (50 g) peanut butter
3 tbsp water
1 tbsp soy sauce
1 tbsp lime juice
1 tbsp maple syrup
1 tsp Tabasco sauce
⅓ tsp garlic powder
salt to taste
Instructions
To make the sauce, add creamy peanut butter, lime juice, soy sauce, maple syrup, garlic powder, Tabasco sauce, water and salt to a small bowl and whisk together until well combined.
Cut cherry tomatoes into halves. Chop the onion and slice radishes.
Place spinach and veggies on serving plates.
Top with kidney beans and sprinkle with chopped peanuts.
Sprinkle with hot peanut sauce and gently toss.
Did You Make This Recipe?
Tag us on Instagram
@thewillowskitchen
and hashtag #thewillowskitchen to show your results. And be sure to leave a comment in the section below :)