This Mediterranean quinoa salad with kale with tahini dressing is full of fresh flavors and textures. It is the best light lunch or dinner idea for your family. It is super easy and simple to make, and also nutritionally balanced, rich in carbs, protein, and healthy fats, This salad is absolutely delicious, your family will definitely enjoy it!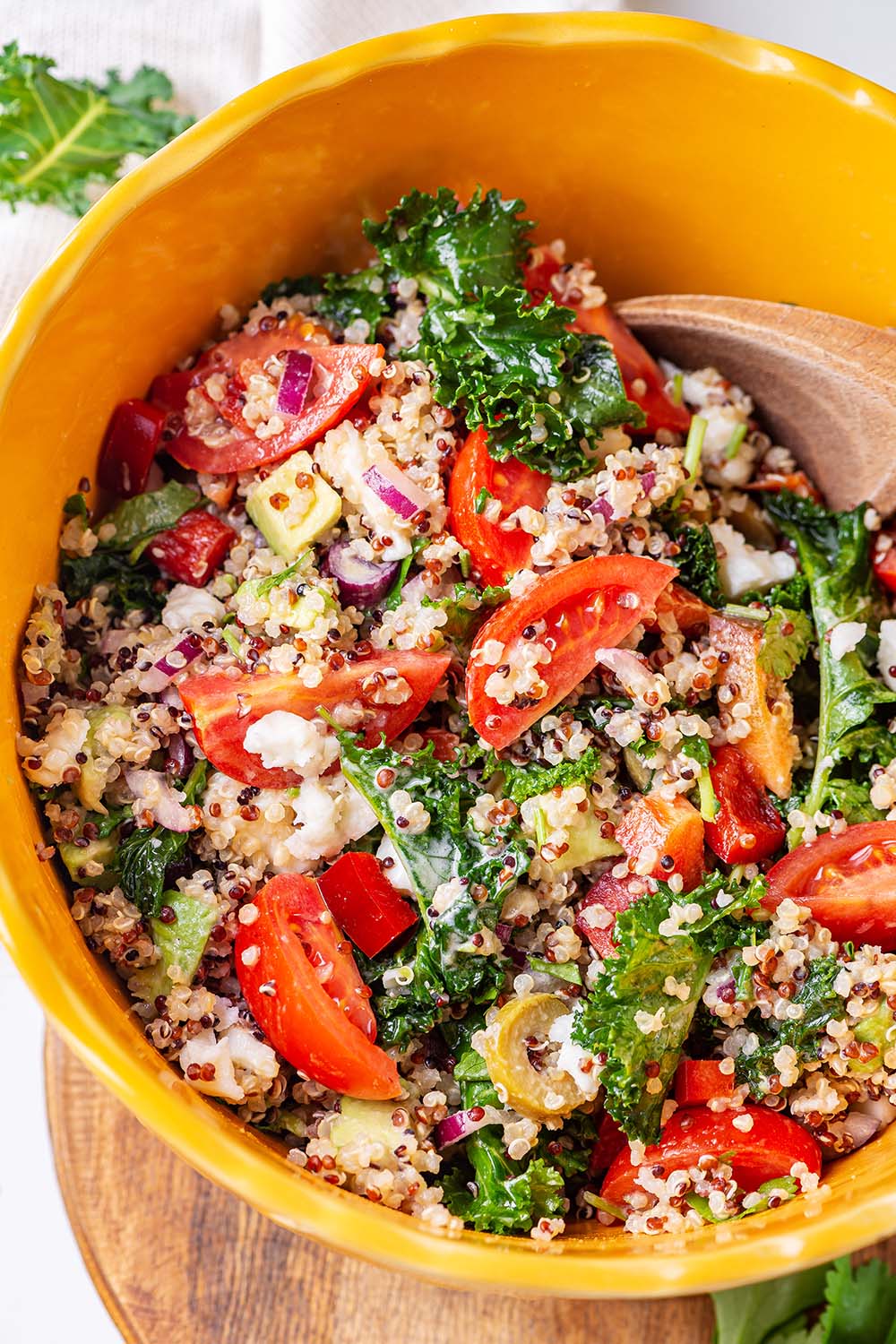 Making veggie-based salads is an excellent way to consume multiple types of veggies at once. This Mediterranean quinoa salad with kale is full of fresh flavors and textures. Made with tomatoes, creamy avocado, green olives, red onion, red bell pepper, and kale, it is loaded with fiber, vitamins, and minerals. Crumbled feta cheese gives the salad creamy and delicate notes and enriches its taste. This dish is absolutely nutritionally balanced as it is rich in carbs, protein, and healthy fats. This delicious and flavorful meal is just perfect for a healthy lunch or dinner. It's definitely worth cooking!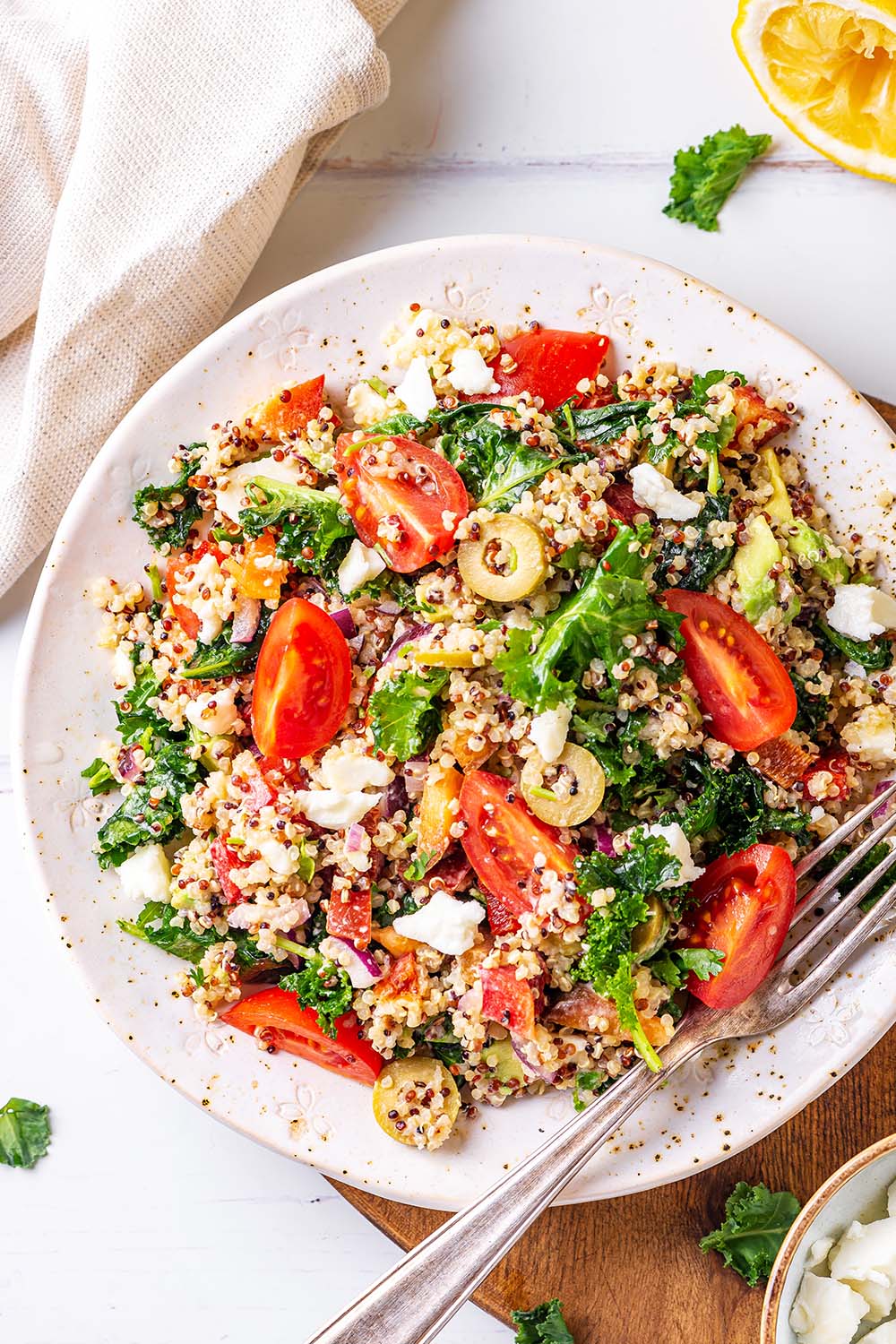 Healthy benefits of Quinoa
Quinoa is high in protein, fiber, low in fat, and is gluten-free. It is one of the few plant sources that contains all 9 essential amino acids. Therefore, quinoa is an excellent plant-based source of protein that is especially important for vegetarians and vegans. It contains many vitamins, minerals and is very high in antioxidants that can help to prevent the harmful effects of free radicals and prevent many diseases. So the benefits of quinoa are undeniable. And combo with its delicious slight nutty taste makes it a real superfood and an excellent base for making salads.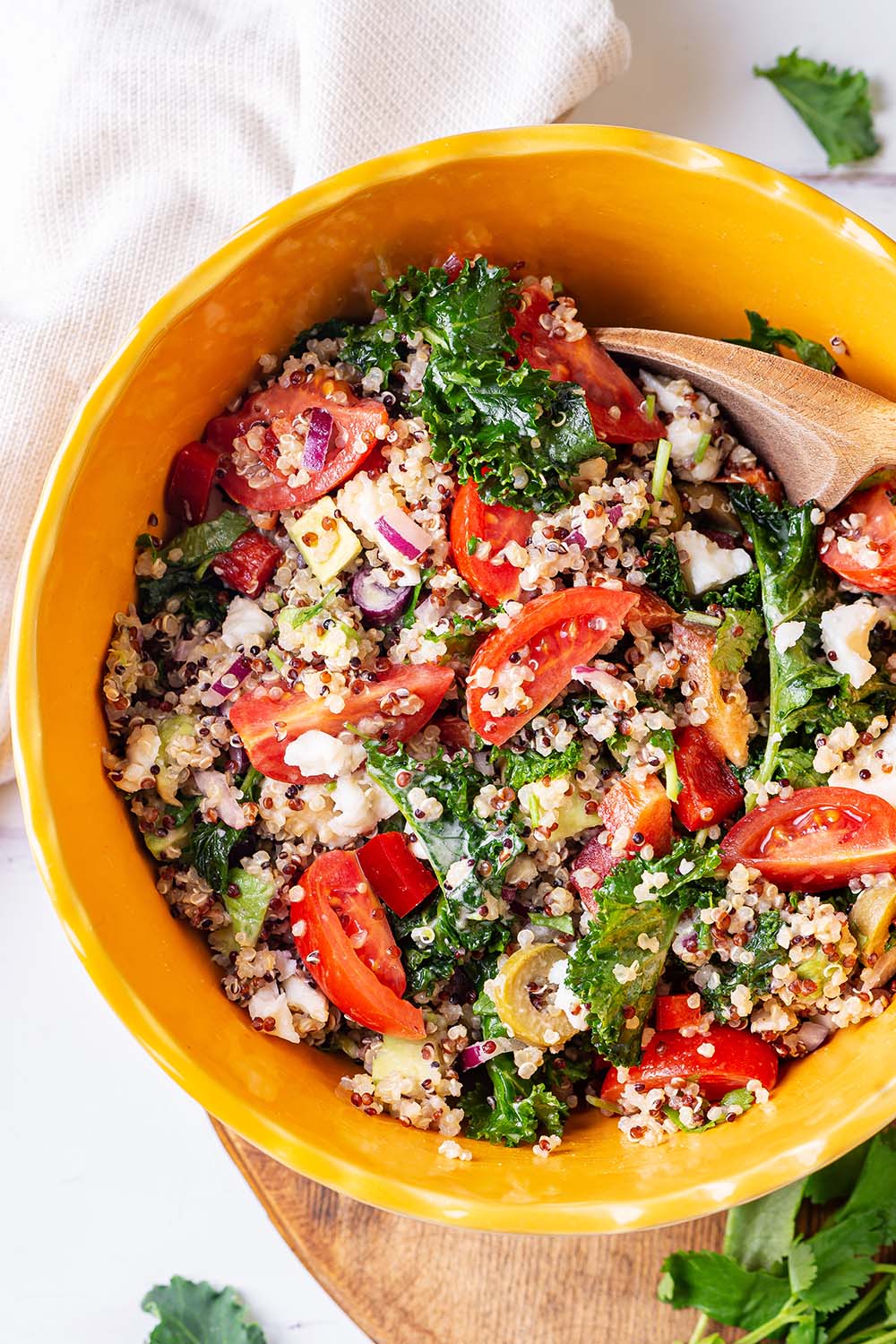 Ingredients
Quinoa. Use white, red, or black quinoa or even its mix. If you use black quinoa, the time of cooking may take a little bit longer, and the cooked quinoa will be a bit firmer.
Water to cook the quinoa.
Cherry tomatoes give fresh hins to the salad and enrich the taste.

Red onion. It gives additional beautiful color and extra flavor and taste to the salad. Also, a great idea is to use shallot or leek.
Avocado. For creaminess and to
Red bell pepper. Any color of bell pepper is great, you can use red, yellow, or green if you want.
Green olives. Be sure to choose pitted olives.
Kale. Choose regular or baby kale. both are great for the salad.
Feta cheese. For a vegan option, use vegan feta cheese.
Fresh coriander. If you are not a fan of coriander, you can use parsley or simply omit this ingredient.
Homemade Tahini dressing gives a special flavor and taste. There is a full description below.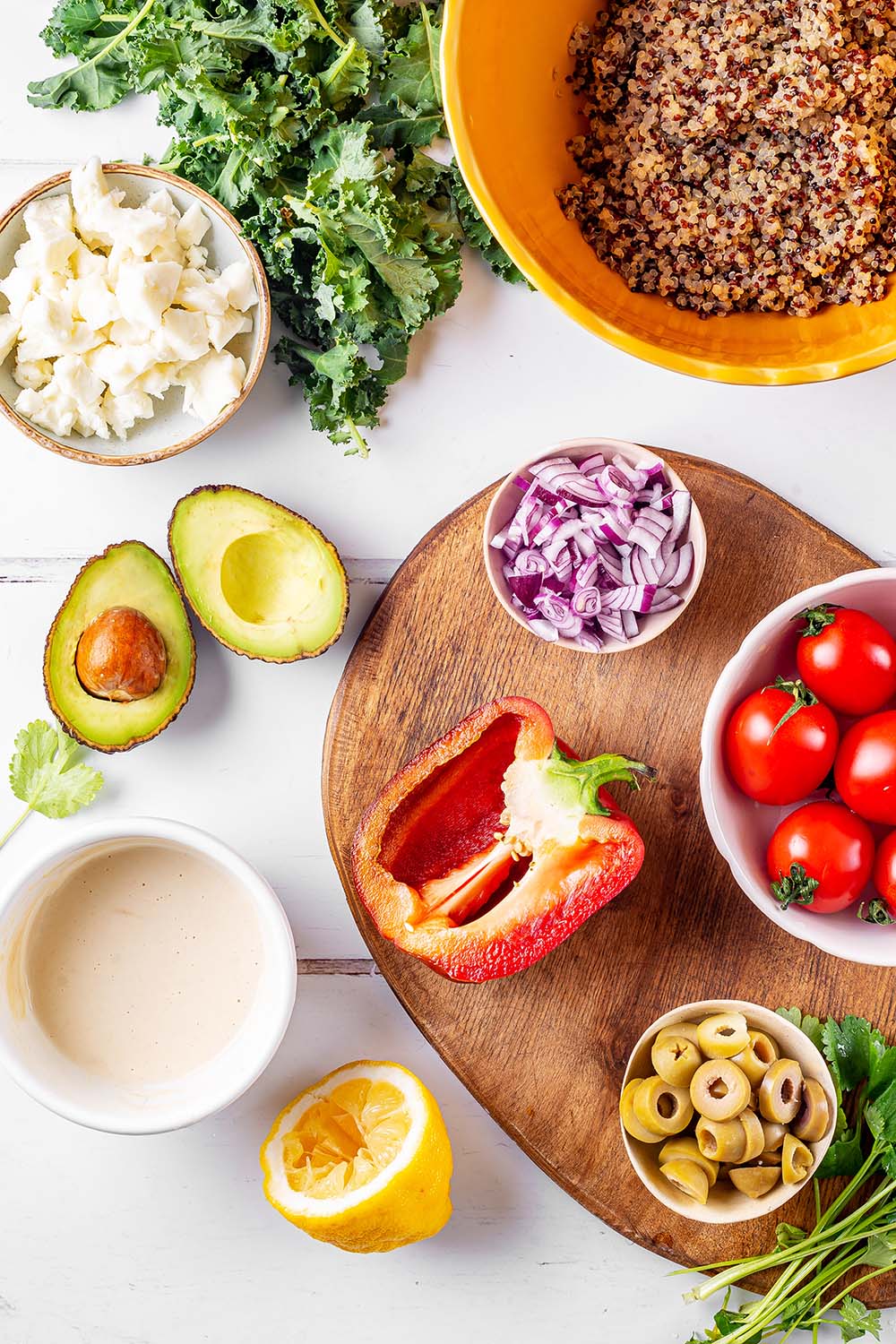 How to make Tahini Dressing
A delicious tahini-based dressing gives a special flavor to the dish. Tahini is a paste or butter made from ground sesame seeds. Using tahini, you can cook the most perfect dressing for salads – with a slight bitterness and slight sourness. It's healthy, gluten-free, vegan, and is easy to make at home. The cooking method is very similar to making any nut butter – just process hulled sesame seeds in a food processor with a small amount of oil until creamy and smooth consistency. That's it! Our homemade tahini paste is made! It's very versatile and perfect for dressings, and sauces and, of course, is an indispensable ingredient of hummus. A little squeeze of lemon juice, black pepper, and a pinch of salt enhances the taste and create the perfect combination of taste and flavor. Salads with such dressings definitely won't be boring and flavorless!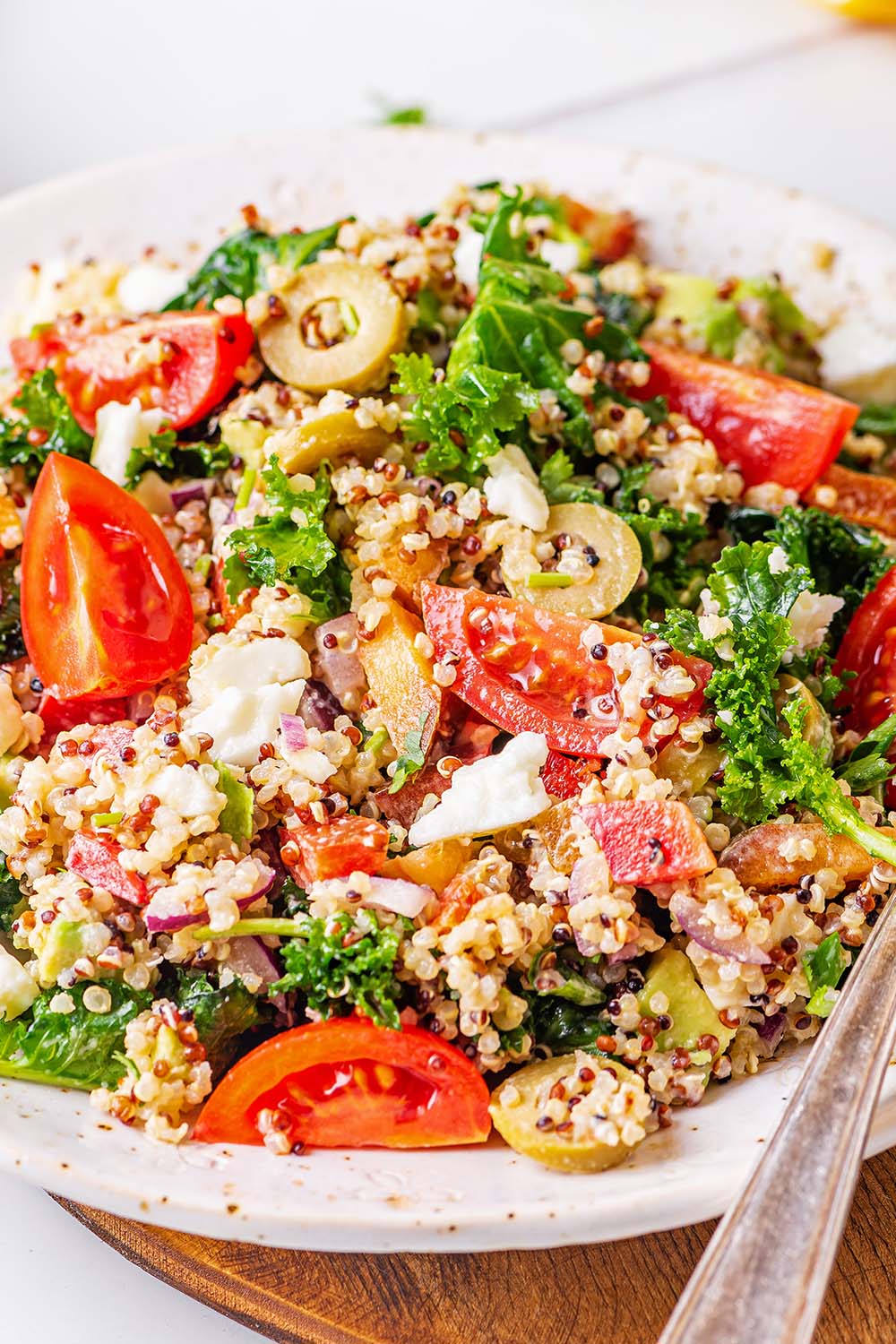 More healthy and delicious vegetarian dinner ideas
Here there are other great ideas for a tasty vegetarian dinner: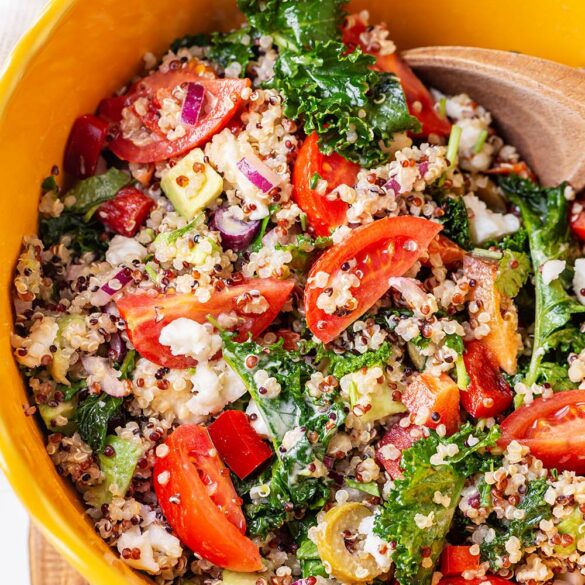 Ingredients
Salad Ingredients:
½ cup quinoa, dry
1 cup water
a pinch of salt
a handful of cherry tomatoes
⅓ red onion, minced
½  avocado, cubed
½ red bell pepper, cubed
⅓ cup green olives, sliced
2 cups kale, chopped (or baby kale)
½ cup feta cheese, crumbled
⅓ cup fresh coriander, chopped
Ingredients for the Dressing:
2 tbsp tahini
juice from ½ lemon
½ tsp salt
¼ tsp black pepper
2 tbsp warm water
Instructions
Rinse and drain the quinoa. Add it to the saucepan with 1 cup of water and a pinch of salt. Bring to a boil and cover with a lid. Cook for about 10 min, or until there is almost no water left. Turn off the heat and let it rest for 10 more minutes.
To make a dressing, whisk all ingredients until smooth. Add more water if needed.
 When your quinoa is done and cooled, toss all ingredients in a large salad bowl until evenly covered in dressing.
Did You Make This Recipe?
Tag us on Instagram
@thewillowskitchen
and hashtag #thewillowskitchen to show your results. And be sure to leave a comment in the section below :)