Easter is a time for celebration and indulgence, and what is a better way to enjoy the holiday than with a delicious dessert that also happens to be healthy and easy to make? Made with millet, dark chocolate, cashews, maple syrup, and almond milk, this no-bake chocolate cheesecake dessert is a vegan version of the classic Ukrainian Easter dessert. It is a super delicious treat with the decadent goodness of chocolate and rich, creamy flavors. So why not give it a try and impress your friends and family with a unique and flavorful dessert that's perfect for the holiday season?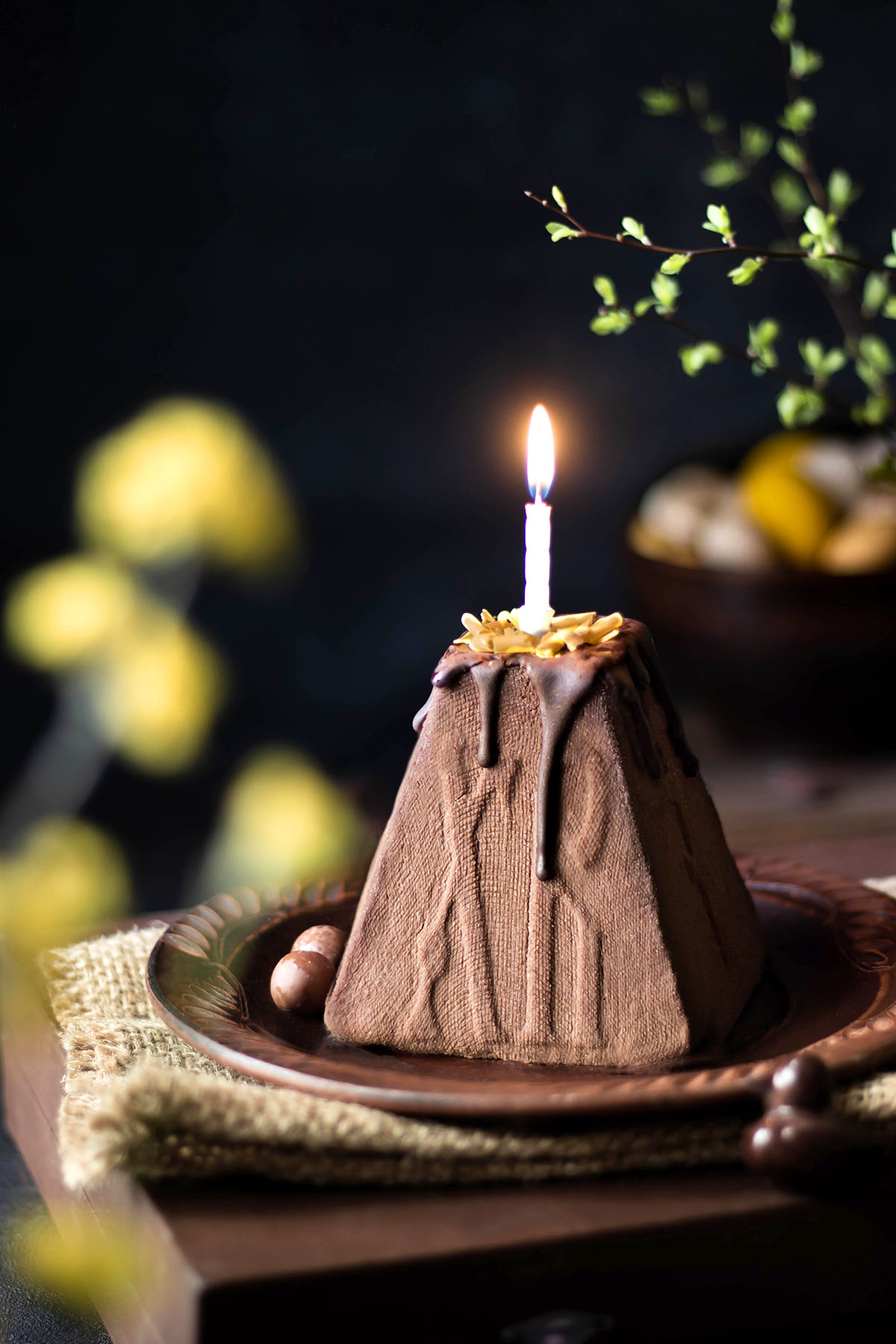 What is traditional Ukrainian Easter Paska?
This type of Paska, also known as Ukrainian Easter Cheese Paska, is a sweet, molded dessert that is made with farmer's cheese (cottage cheese), eggs, sugar, butter, and sometimes cream. The mixture is typically flavored with vanilla or other spices, and may also include raisins or other dried fruits.
In the traditional version, the cheese Paska is supposed to be shaped like a cut pyramid that resembles the shape of the tomb where the resurrection of Christ occurred. That is why the letters "ХВ" (which stands for "Christ is Risen!") are applied on one side of the cheese Paska. The dessert is made using a special mold to get such a shape, called a paska mold, which has a decorative pattern on the sides.
The mold is typically greased with butter or oil, and the Paska mixture is poured into it and smoothed out evenly. Once the mixture has been poured into the mold, it is chilled for several hours or overnight to allow it to set. Once it has been set, the Paska is carefully removed from the mold and may be decorated with religious symbols such as a cross or candle.
Ukrainian Easter Cheese Paska is a beloved and longstanding Easter tradition in Ukraine. It is often served alongside other traditional Ukrainian Easter desserts like Easter Bread and hard-boiled eggs. Paska is the perfect dessert for celebrating the springtime holiday season.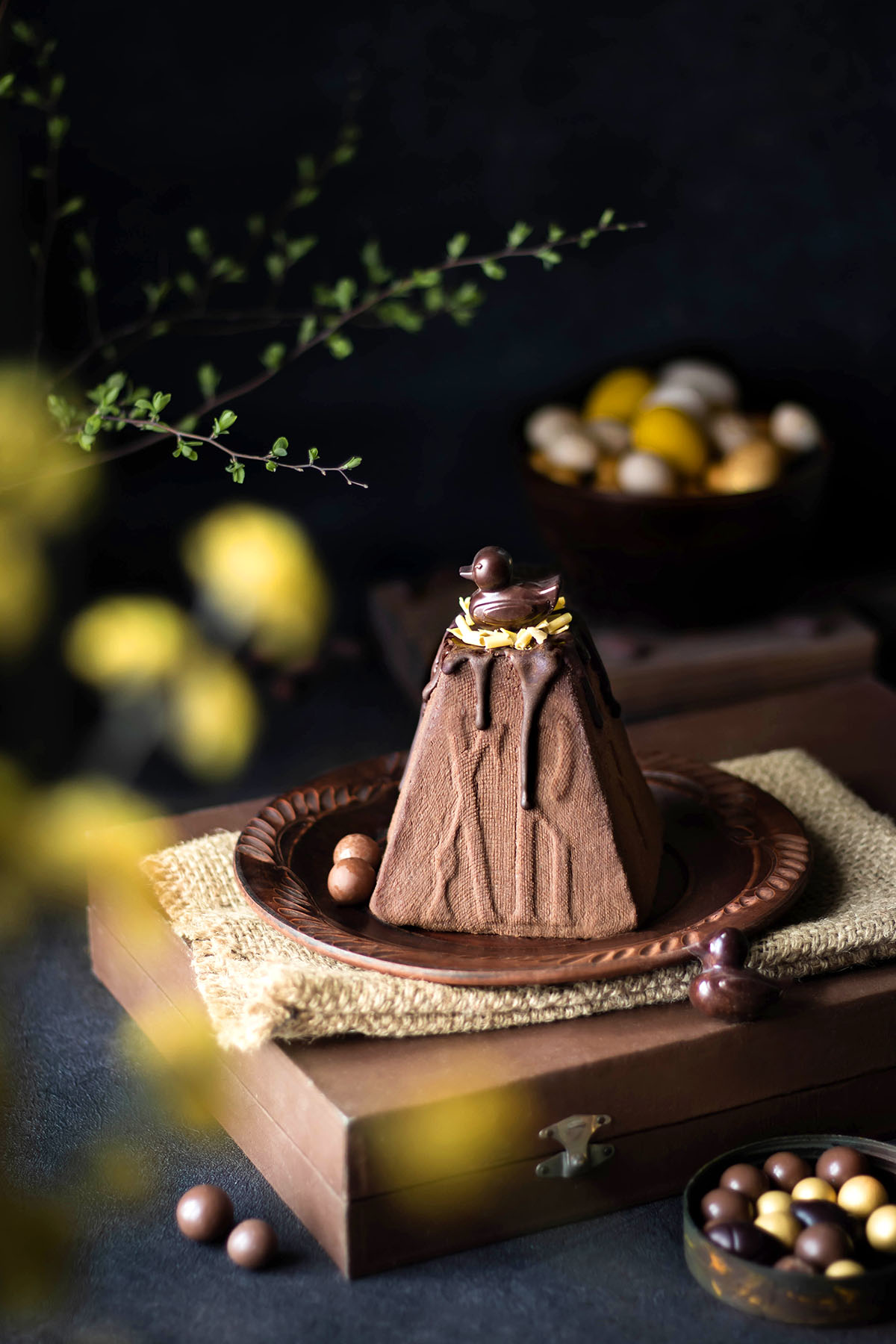 Ingredients for Vegan Chocolate Easter Paska
Millet provides a gluten-free and nutrient-rich base for the dessert. Also, millet is high in fiber, protein, and minerals like magnesium and phosphorus. So this dessert is a great way to consume healthy millet :)
Cashews give the dessert a creamy and rich texture. They are also a good source of healthy fats and protein.
Almond milk serves as a liquid that helps to blend the ingredients together smoothly. You can use any other milk of your choice.
Maple syrup provides a natural sweetener that complements the flavor of the chocolate.
Dark chocolate adds a rich and decadent flavor to the dessert. Be sure to use delicious high-quality chocolate with 70-75% cocoa content to get the best results. White chocolate or milk chocolate will not work here, because the chocolate acts as a stabilizer and to get the right consistency and texture we need to use 70-75% dark chocolate.
Salt enhances the other ingredients' flavors and helps balance the sweetness.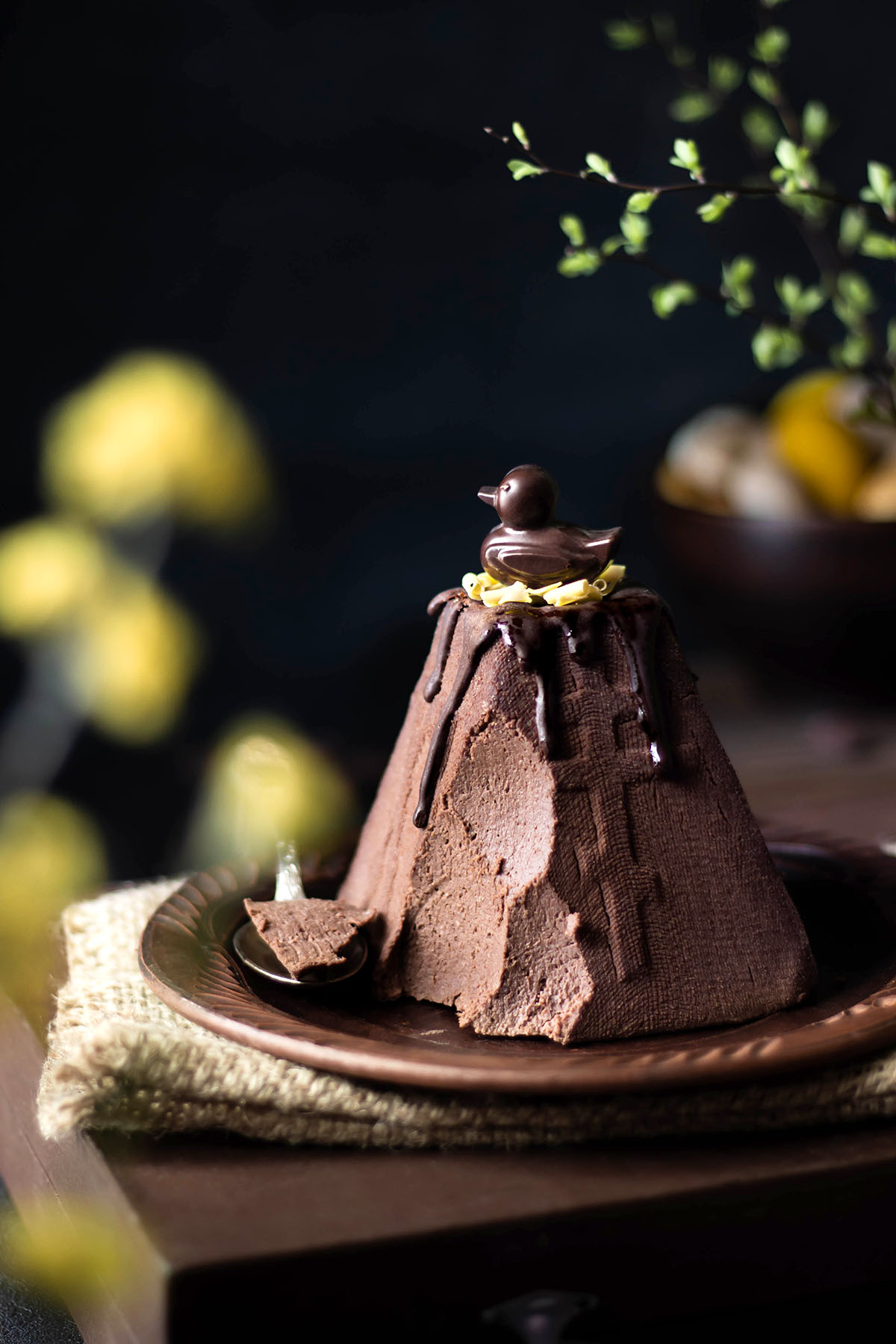 Tips for Success
Soak the cashews and millet for the recommended time – it will ensure that they blend smoothly and give the dessert a creamy texture.
Use a high-speed blender or food processor to blend the ingredients together. It will help to ensure that the dessert is smooth and silky, with no lumps or chunks.
Line your mold with a piece of cheesecloth if you want a traditional Paska shape. It will make it easier to remove the dessert from the mold and keep its shape. If you are using a silicone mold, you can skip this step.
Allow the dessert to fully set in the refrigerator for a couple of hours. This will ensure that it is firm enough to hold its shape when removed from the mold.
When melting the chocolate, be careful not to overheat it. Because overheating can cause the chocolate to seize up and become clumpy. Use a double boiler or microwave in short intervals to melt it gradually.
Following these tips will help you achieve the best results when making this delicious Chocolate Cheesecake Dessert! Also, be sure to check our No-Bake Mini Chocolate Cheesecakes with Strawberry Filling recipe.
How to store
Once the chocolate Easter Paska is set, you can store it in an airtight container in the refrigerator for up to 5-7 days. Make sure to cover it properly to prevent it from drying out or absorbing any unwanted flavors. If you want to store it for a longer period, you can wrap it tightly in plastic wrap or aluminum foil and place it in the freezer for up to 2 months. Before serving, allow it to thaw in the refrigerator overnight, and then bring it to room temperature before serving.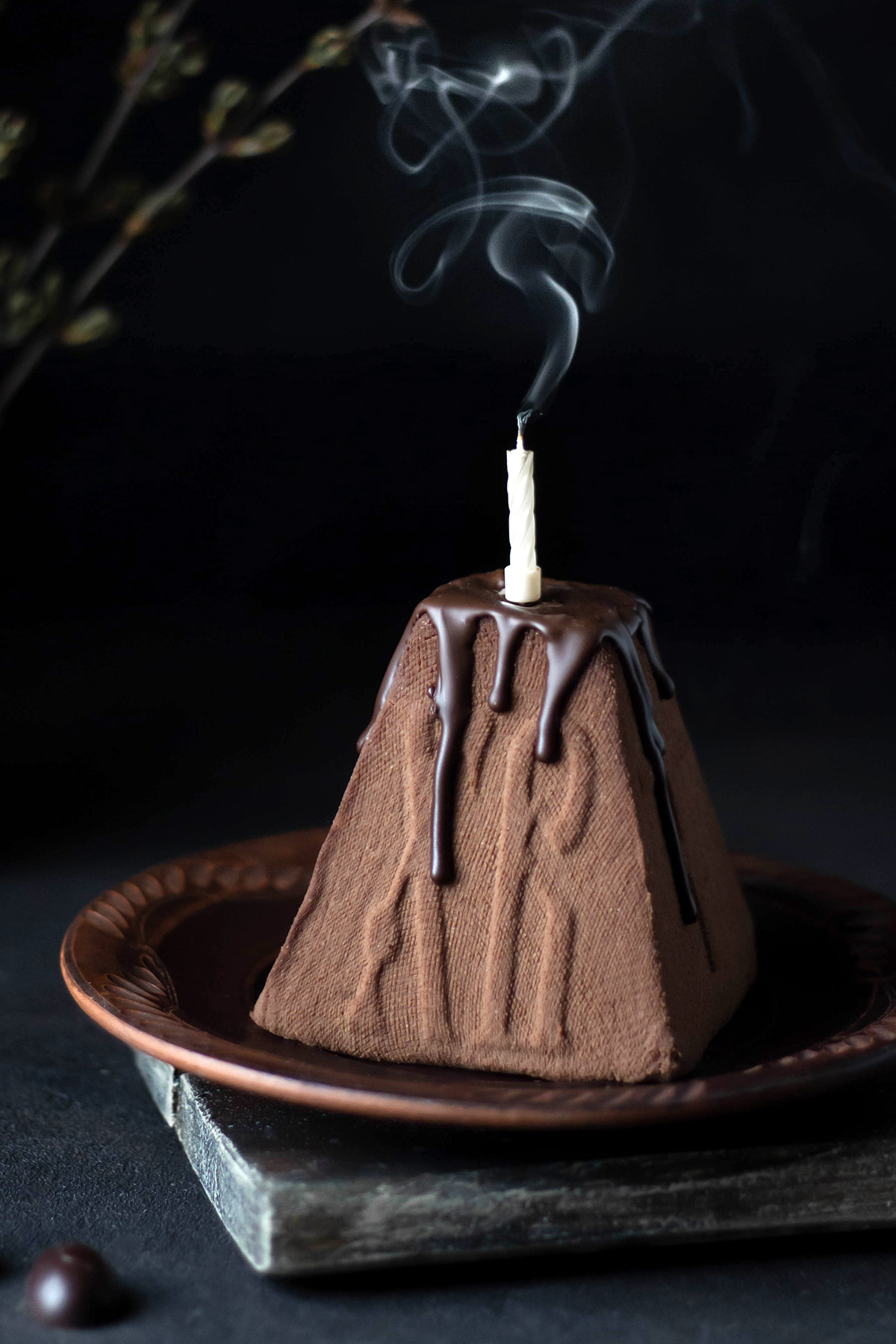 More healthy and delicious Easter recipes
This Ukrainian Easter Paska is an absolutely delicious treat for anyone who loves rich and indulgent desserts. The combination of ingredients creates a smooth and silky texture that will leave you wanting more. Plus, it's completely dairy-free, vegan, and gluten-free, making it a great option for those with dietary restrictions. The best part is that it's a no-bake dessert, so you won't even have to turn on your oven. Whether you're celebrating Easter or just looking for a delicious dessert to share with friends and family, this no-bake chocolate cheesecake dessert is easy to make and super delicious! It's definitely worth it to try this amazing dessert.
Tag us on Instagram to show your Paska results and leave comments in the section below. Happy Easter!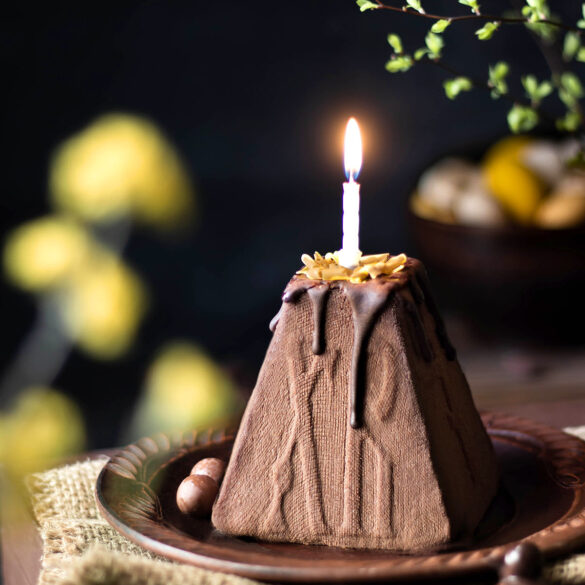 Made with millet, dark chocolate, cashews, maple syrup, and almond milk, this healthy no-bake chocolate cheesecake dessert is a vegan version of the classic Ukrainian Easter Paska. It is a super delicious treat with the decadent goodness of chocolate and rich, creamy flavors.
Ingredients
½ cup (95 g) uncooked millet (about 2 cups of cooked millet)
¾ cup (100 g) raw cashews
¼ cup (60 g) almond milk
¼ cup (80 g) maple syrup
5.3 oz (150 g) dark chocolate (with cocoa 70-75%)
¼ tsp salt
Instructions
Soak the cashews in water for 4-6 hours, then rinse and drain them.
Soak ½ cup of millet in boiling water for 10 minutes to remove any possible bitterness and millet flavor. Drain the millet.
Add 1 cup of water to a medium saucepan and bring to a boil. Add the millet, lower the heat, and cook for about 10 minutes, until the millet is cooked. It should be soft, but not overcooked. Let it cool for a bit.
Melt the chopped dark chocolate in a double boiler or in the microwave (if using this method, microwave the chocolate for 15-second intervals, stirring after each, until the chocolate is completely melted and smooth).
Combine all the ingredients except chocolate in a food processor or high-speed blender and blend until you get a smooth and silky mixture. It may take a couple of minutes. Then add the melted chocolate and blend again.
Soak a piece of cheesecloth in water and use it to line the mold you'll be using to shape your paska. If you have no paska mold, you can easily use any silicone mold you have. If using a silicone mold, you don't need to use cheesecloth, just pour the mixture in the mold.
Refrigerate the mixture for at least 4 hours or until it fully sets. Once it's set, carefully remove the paska from the mold and serve.
Nutrition
Calories:
327kcal
Fat:
18.9g
Saturated Fat:
7.3g
Cholesterol:
0mg
Sodium:
122mg
Carbohydrate:
34.2g
Fiber:
5.1g
Sugar:
14.9g
Protein:
7.1g
Vitamin D:
10mcg
Calcium:
43mg
Iron:
5mg
Potassium:
156mg
Did You Make This Recipe?
Tag us on Instagram
@thewillowskitchen
and hashtag #thewillowskitchen to show your results. And be sure to leave a comment in the section below :)