These soft and chewy Orange Cookies are delicious with an incredible orange flavor. They are vegan, gluten-free, flourless, and sugar-free which makes them a great healthy dessert option. Vegan Gluten Free Orange Cookies are great for Christmas holidays, Thanksgiving, and even Easter, they are perfect at any time of the year! It will be a hit at any holiday party! Cook them once, and I'm sure they will be your go-to cookie for many future events!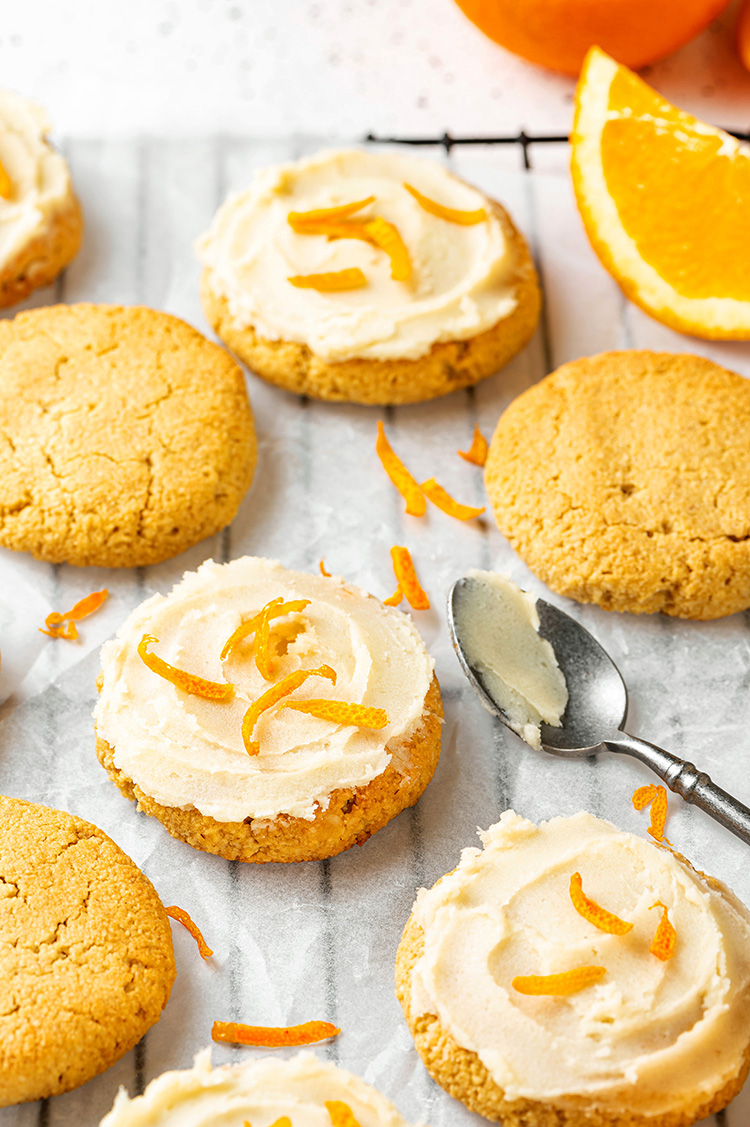 Healthy Sweets
Cookies are flavored with orange juice and zest and iced with a perfect orange glaze. This coconut butter orange glaze adds extra orange flavor and enhances the taste of the cookies. Besides being unbelievably delicious with rich orange flavor and taste, these cookies are healthy, consisting of only unrefined and nutritious ingredients. Perfect treat.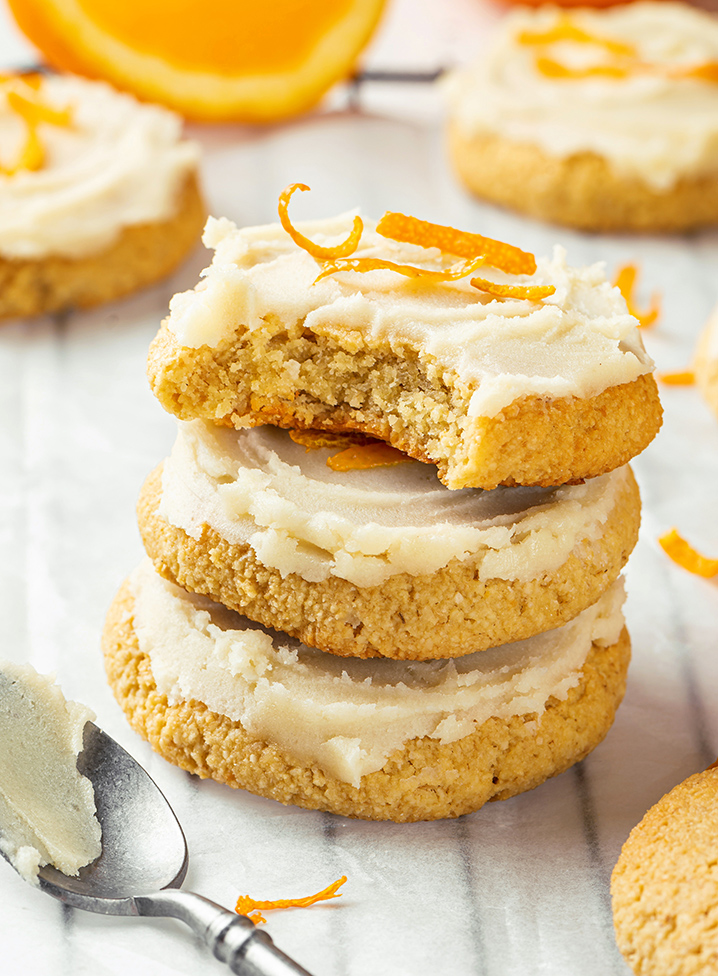 Almond flour gives these cookies incredible texture and loads the cookies with healthy fats and proteins. Oats are high in fiber, vitamins, minerals, and many essential amino acids. Cookies are naturally sweetened with maple syrup with no use of refined sugar.
Which ingredients to use
The sweet, fresh, citrus aroma evokes a feeling of warmth and comfort, and at the same time is very refreshing. Orange zest and juice provide a perfect citrusy orange flavor to the cookies. To make sure that there is no other flavor in the cookies except orange, use the lightest Grade A maple syrup and refined coconut oil.
*Update! I made them with regular coconut oil and it was great too! So I would say use refined coconut oil if you don't like the coconut taste.
To get the fresh orange zest, it's important to use only unwaxed oranges. If you want, you may sub orange zest with orange extract or edible orange essential oil.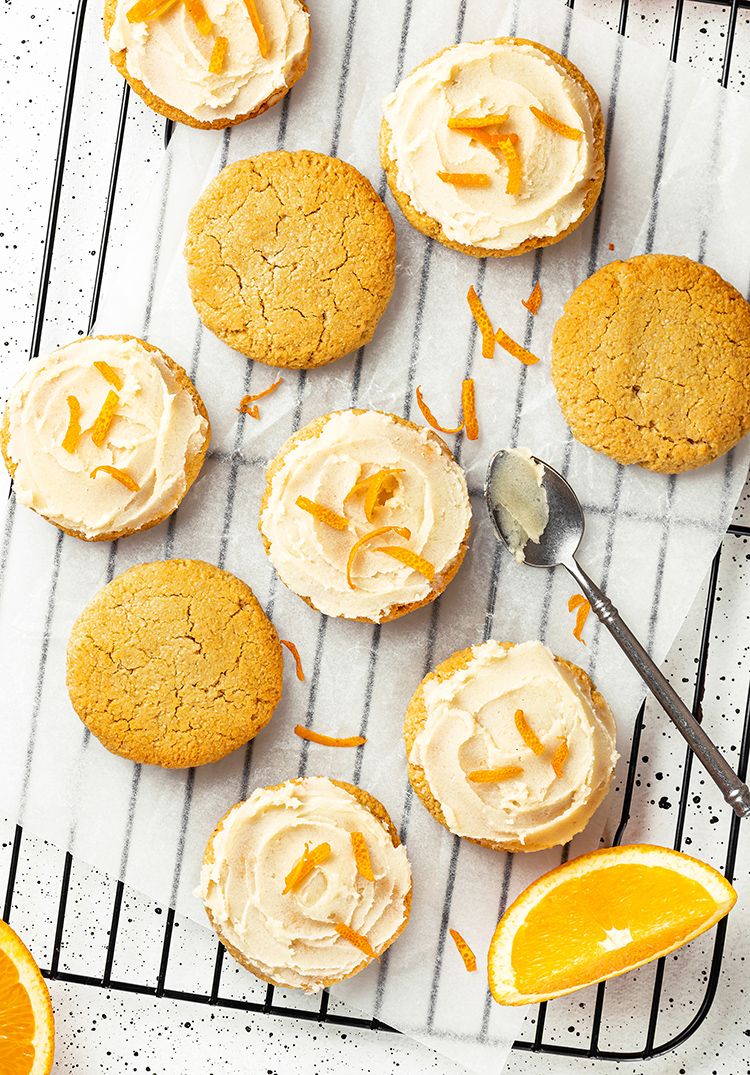 If you're hankering for orange desserts, these tender Vegan Gluten Free Orange Cookies with a creamy glaze will satisfy your cravings! It's a pleasure in every bite!
More ideas for delicious and healthy cookies
Here there are other super yummy cookie recipes: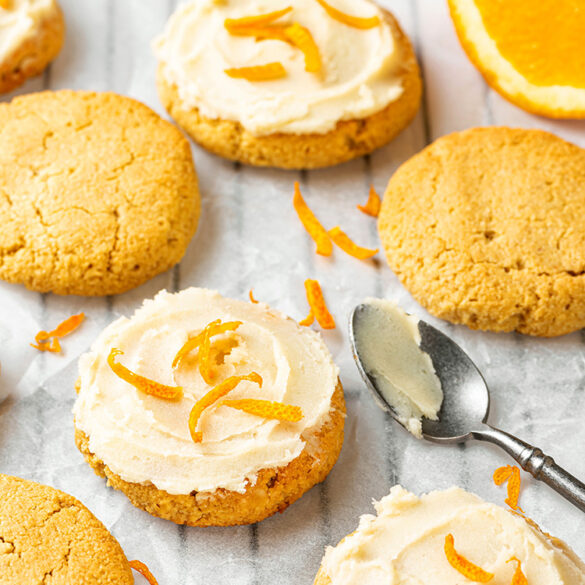 Ingredients
1/8 30g refined coconut oil, melted*
1/3 cup (80 milliliters) maple syrup (I used the lightest Grade A syrup, which results in no maple taste in the cookies)

10 tablespoons orange juice (around 1 medium-sized orange)
2 tablespoons orange zest (make sure oranges are unwaxed - or sub 1 teaspoon orange extract)
1 1/3 cups (133 grams) blanched almond flour
1 cup rolled oats (

blended into a fine flour) 90g

2 tablespoons (17 grams) coconut flour, sifted if lumpy
1 teaspoon baking powder
For the glaze:
1/4 cup (63 grams) coconut butter (NOT coconut oil!), softened but not melted
1 1/2 tablespoons maple syrup
3 tablespoons orange juice
1 teaspoon (or more to taste) orange zest
Instructions
Place the coconut oil in a large bowl and melt over a saucepan of boiling water or in the microwave.
Add the maple syrup, orange juice, orange zest and vanilla, and mix well.
Measure out the dry ingredients (ground almonds, gluten-free flour and baking powder) and mix well.
Add the dry ingredients to the wet ingredients and mix well until you get a soft dough but one that's firm enough to mold.
If the dough looks too wet, placing it in the fridge for an hour will help it firm up. If it looks too dry, add a splash of any type of plant-based milk.
Make 12 cookies by rolling balls with your hands and pressing them with a bootom of a glass to make a disk shape. Cookies won't spread much while baking, but will rise slightly.
Bake 10-12 minutes, until very lightly browned – be careful not to over-bake!
To make the glaze just stir all ingredients in a small bowl until smooth. Make sure your cookies are completely cooled before you glaze them. Otherwise the cream will melt.
Notes
*Update! I made them with a regular coconut oil and it was great too! So I would say use refined coconut oil if you don't like the coconut taste.
Did You Make This Recipe?
Tag us on Instagram
@thewillowskitchen
and hashtag #thewillowskitchen to show your results. And be sure to leave a comment in the section below :)