Time is the most valuable resource today. Overnight oats are a great choice to save your time and please you with the wonderful taste. Such a quick and easy made breakfast is just a perfect breakfast for busy mornings. This no-cook method of making oatmeal is very simple and very delicious. It takes only a few minutes of time and night in a fridge – and the most delicious oatmeal is ready. You don't need to cook it in the morning – just take it out of the fridge, warm up a little bit, if you want, and serve! So if you're looking for quick and tasty breakfast – the Peanut Butter Banana Overnight Oats are a great solution!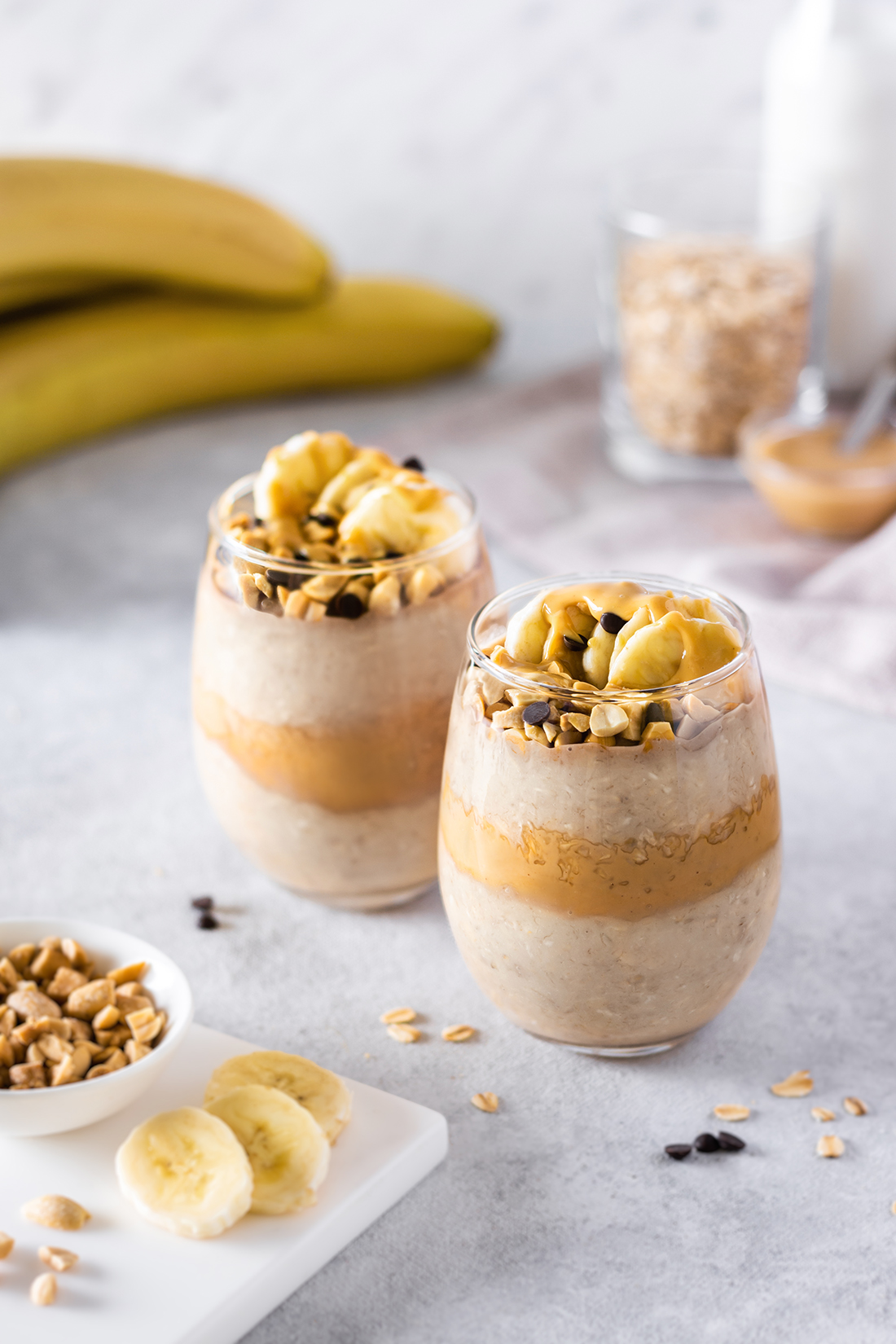 Just make it once and these Peanut Banana Overnight Oats will be one of your favorite breakfasts. Because the taste and flavor of these overnight oats are amazing. The combination of banana and peanut butter is just extremely good. Adding a small pinch of salt enhances peanut butter flavor and enriches the dish. The savory and sweet flavors in this recipe are perfectly combined. Mmm, yummy, tastes like snickers. Almost : ) Also, you can sprinkle it with chocolate chips or add 1 tbsp of cocoa powder to bring a rich chocolate flavor to the oats.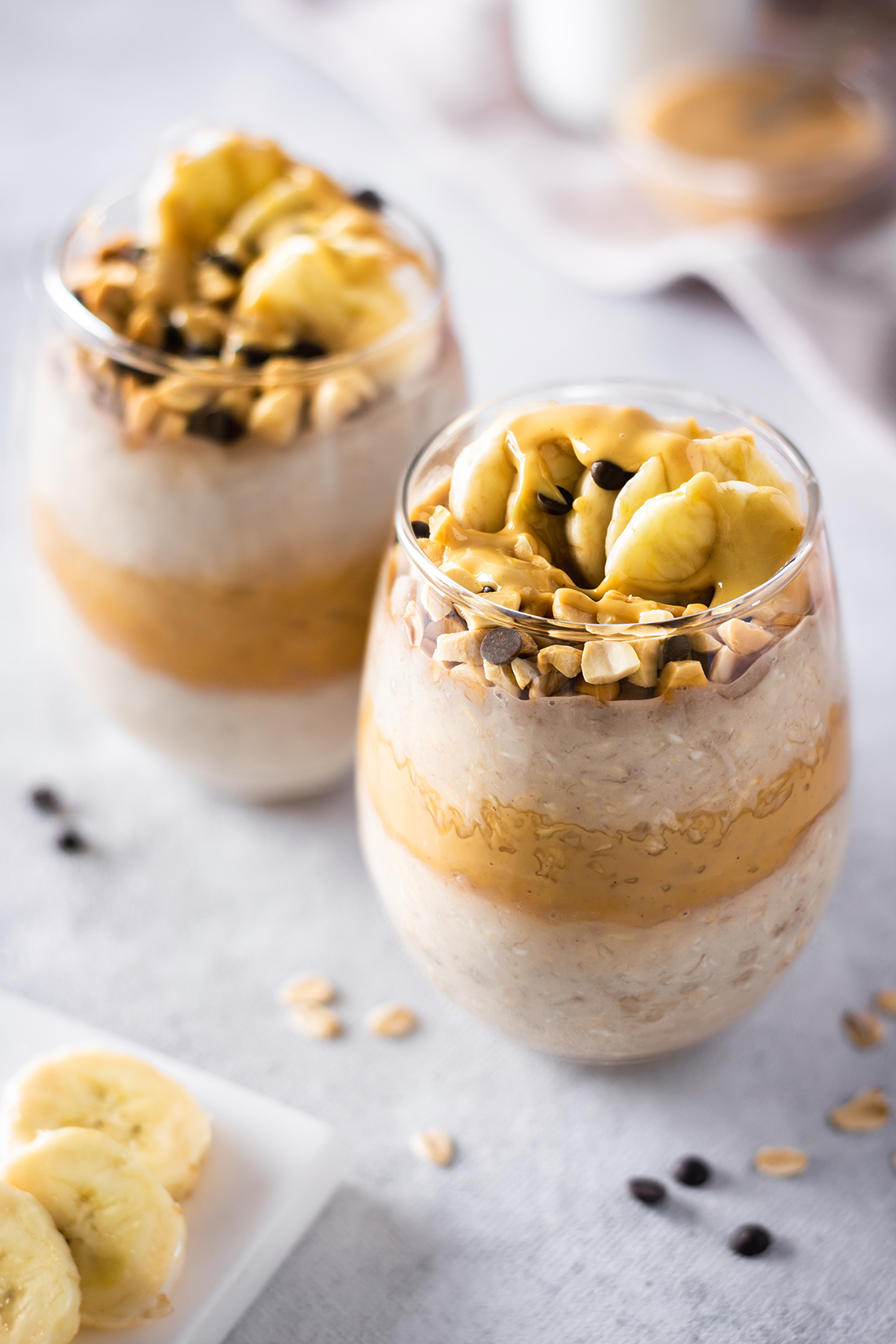 Oatmeal is very well-balanced nutritionally. Firstly, it is a good source of carbs and fiber, and contains a huge amount of vitamins, minerals and antioxidants. Regular use of oats helps to lower cholesterol, blood sugar levels and supports your gut health. Addition of bananas, dairy-free milk, peanut butter and flax seeds makes it more nutritious. As a result, you get a perfect breakfast that provides you with energy for the whole day.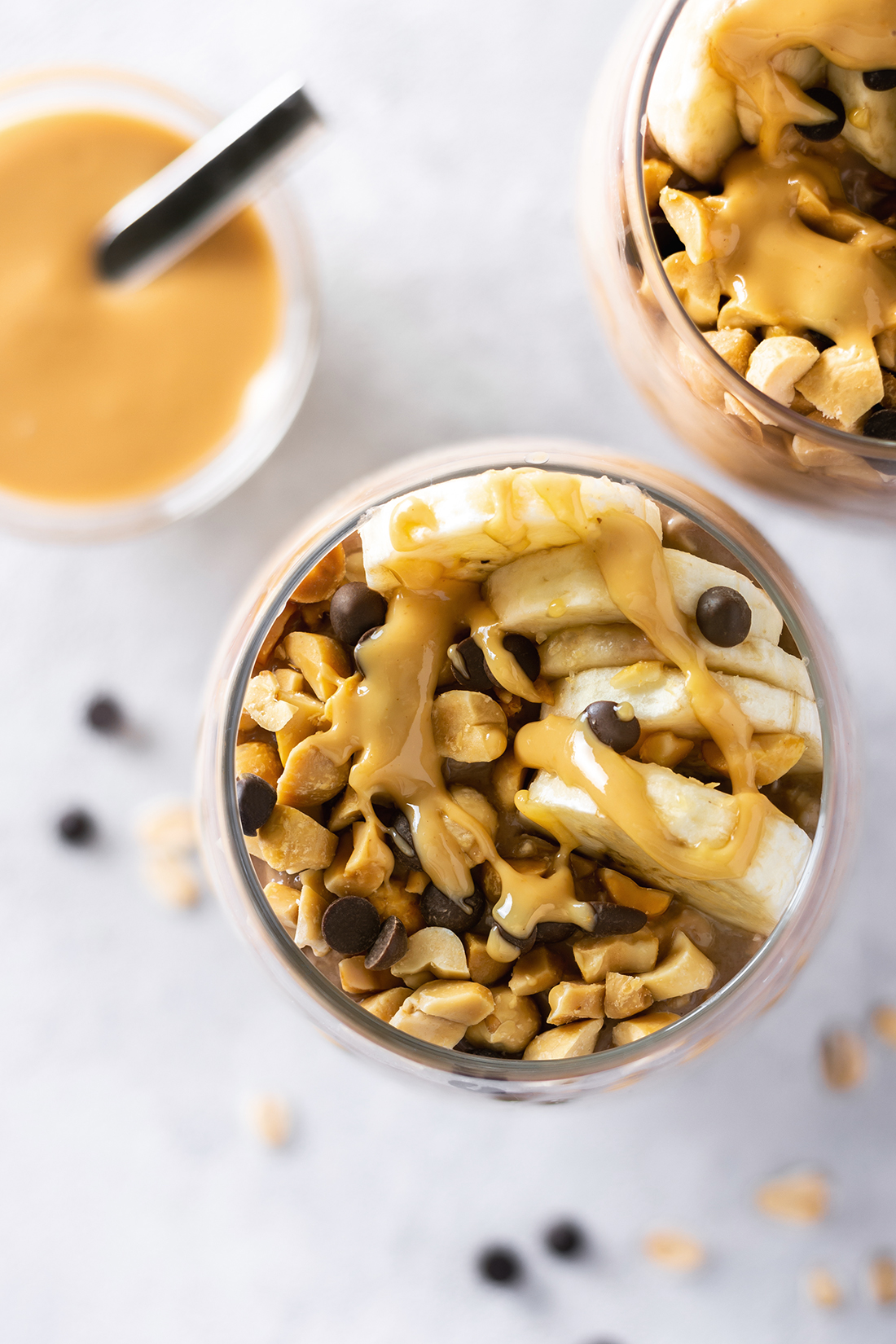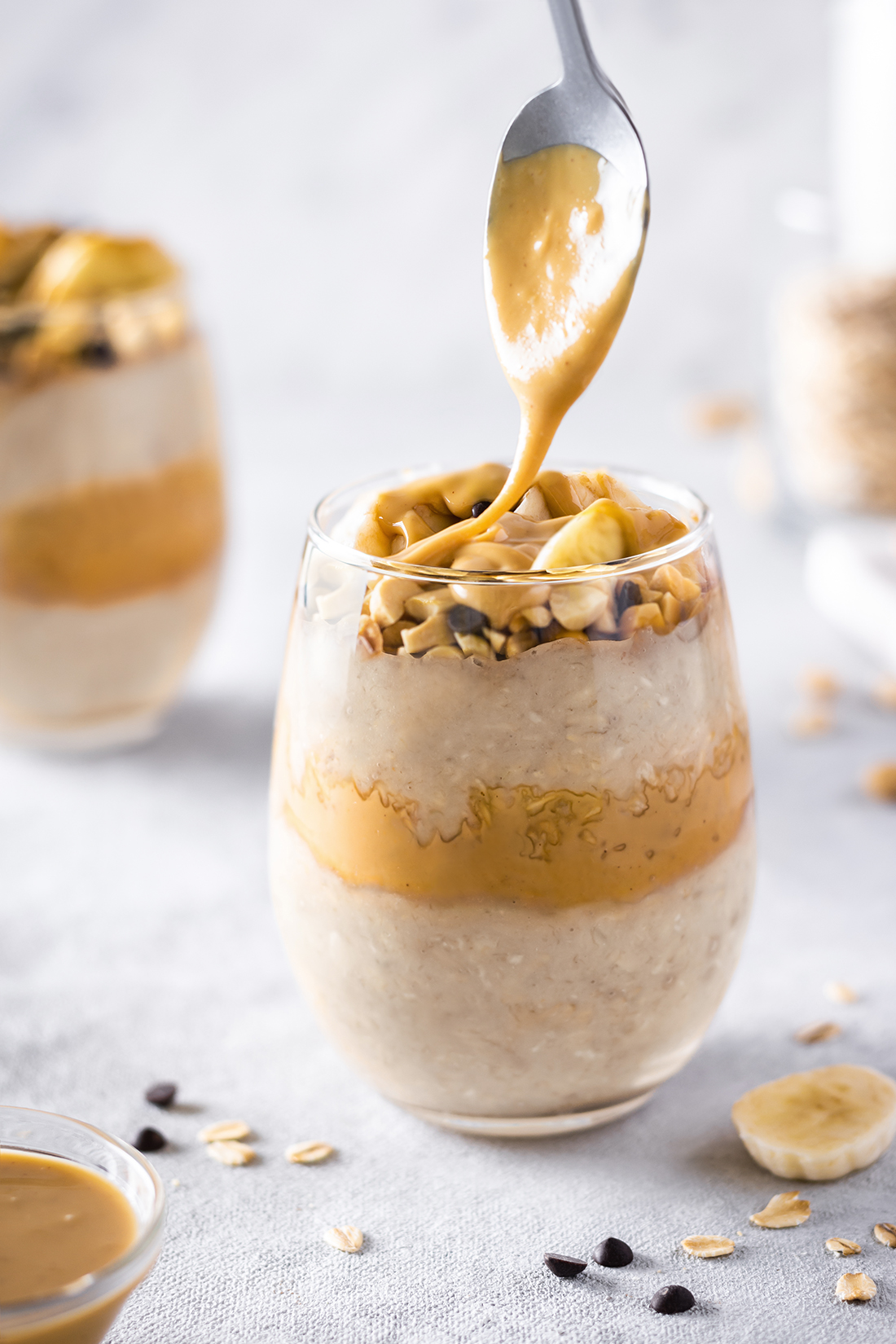 The type of oats affects the texture you will get. By using quick instant oats we make the texture softer and creamier, a bit like oatmeal porridge or pudding. With old-fashioned oats we get a chewier consistency. It's better to buy old-fashioned oats instead of instant ones. They are less processed, so contain a higher amount of fiber and are healthier. To keep this dish gluten-free, be sure to use gluten-free certified oats. Also, you can add more or less milk to adjust the consistency as you wish.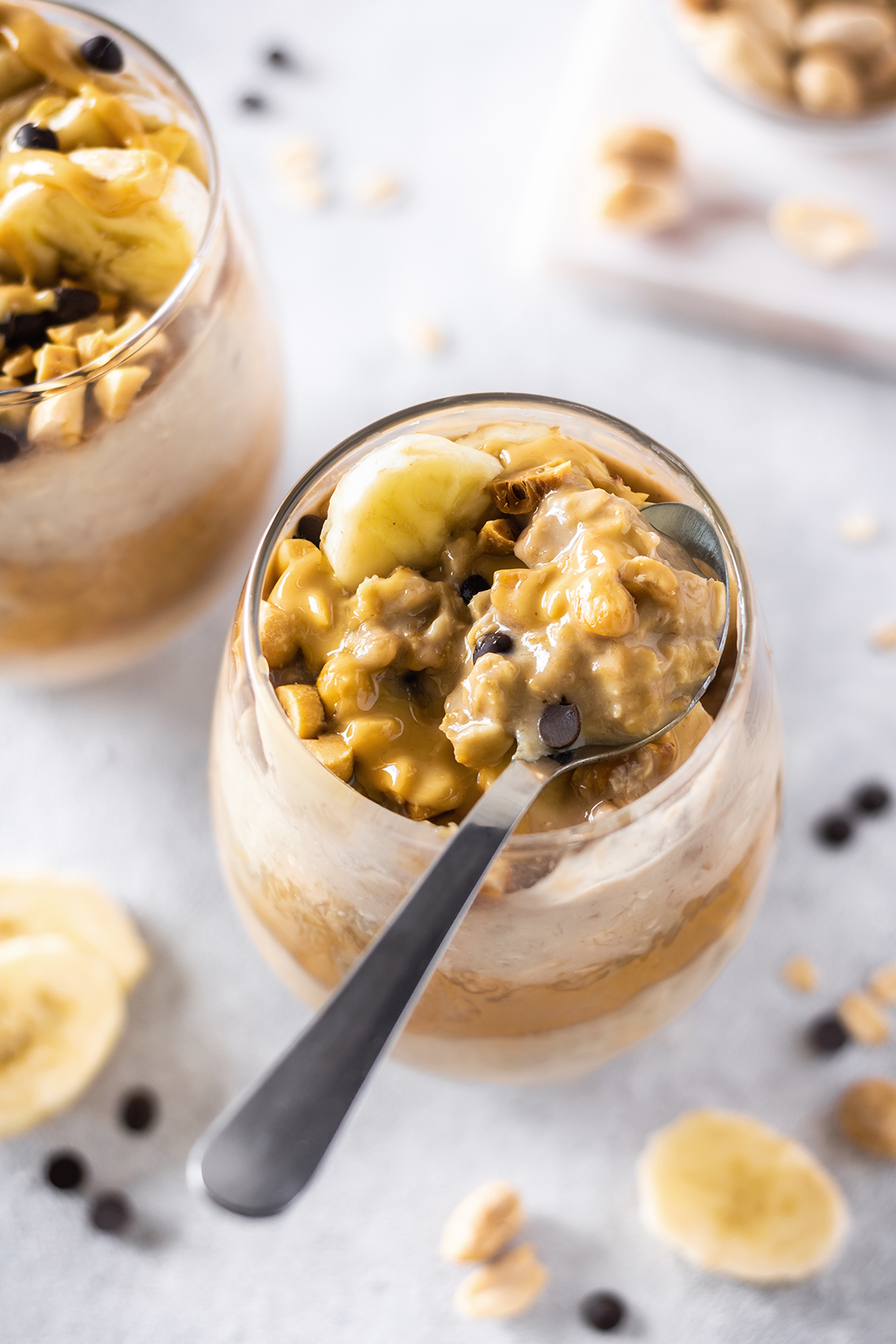 Let's make these Peanut Butter Banana Overnight Oats and enjoy this amazingly delicious energy-boosting breakfast!
And if you like this recipe, check out more healthy breakfast ideas, you will enjoy it a lot: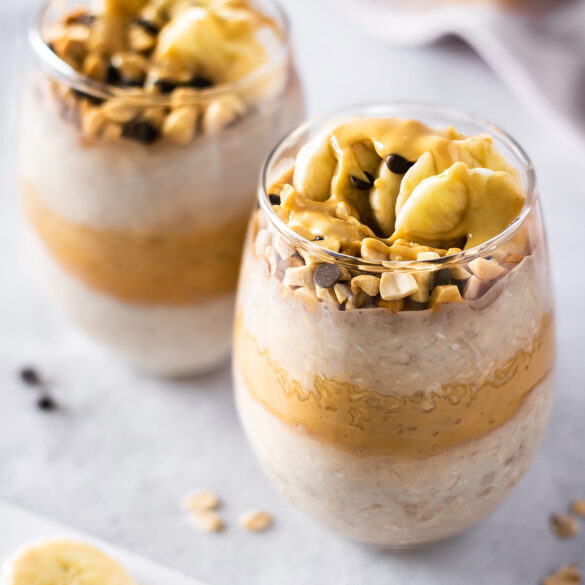 Ingredients
1 cup (100 g) rolled oats
2 small ripe bananas, mashed (about 7 oz or 200 g)
¾ cup (180 ml) plant-based milk
3 tbsp (55 g) peanut butter
1 tbsp (20 g) honey (or maple syrup)
1 tbsp ground flax seeds
small pinch of salt
Toppings
peanuts, roasted
peanut butter
banana slices
Instructions
Mix well the oats with ground flax seeds, milk, peanut butter, mashed bananas, honey and a pinch of salt in a bowl.
Cover the bowl with a lid or plastic wrap and place into the fridge overnight.
If you want to eat overnight oats warm, place the bowl in the microwave for one minute. Or you can serve it cold. It's up to you. Use a spoon to transfer the mixture into jars or glasses.
Optionally, you can add the layer of peanut butter - transfer half of the oats into the jar, then place 1-2 tsp of peanut butter and coat with the remaining oats mixture.
Decorate with banana slices, drizzle with peanut butter and sprinkle with chopped peanuts, chocolate chips or any other toppings you want.
Did You Make This Recipe?
Tag us on Instagram
@thewillowskitchen
and hashtag #thewillowskitchen to show your results. And be sure to leave a comment in the section below :)