Whether it is a special occasion, or you just want to try something new and unique, here is a spectacular dinner idea that is guaranteed to impress. These incredibly flavorful and delicious pumpkin gnocchi with garlic butter sauce are savory-sweet, cozy, colorful and gluten-free. This spectacular dish will be a hit at any dinner party! And the best part it's super quick and simple to make!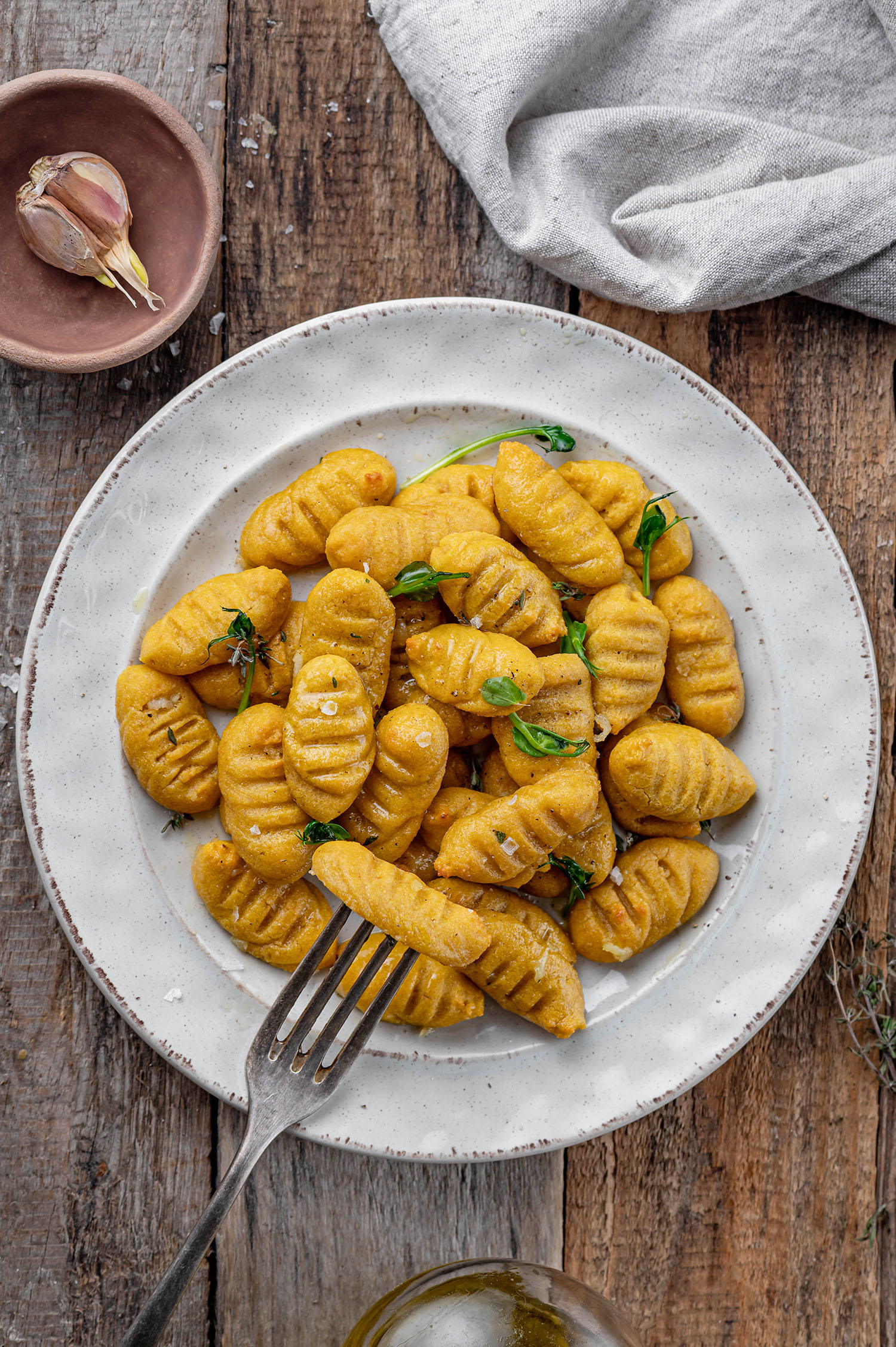 What Are Gnocchi?
Gnocchi are a type of Italian pasta or dumplings that are usually made of mashed potatoes, flour and eggs. Although potato gnocchi are the most common type, there are also many different variations of this dish. Sometimes gnocchi are made with semolina or with different starchy vegetables. Pumpkin gnocchi are one of the most delicious versions of this dish. It's incredibly warm, cozy and tasty.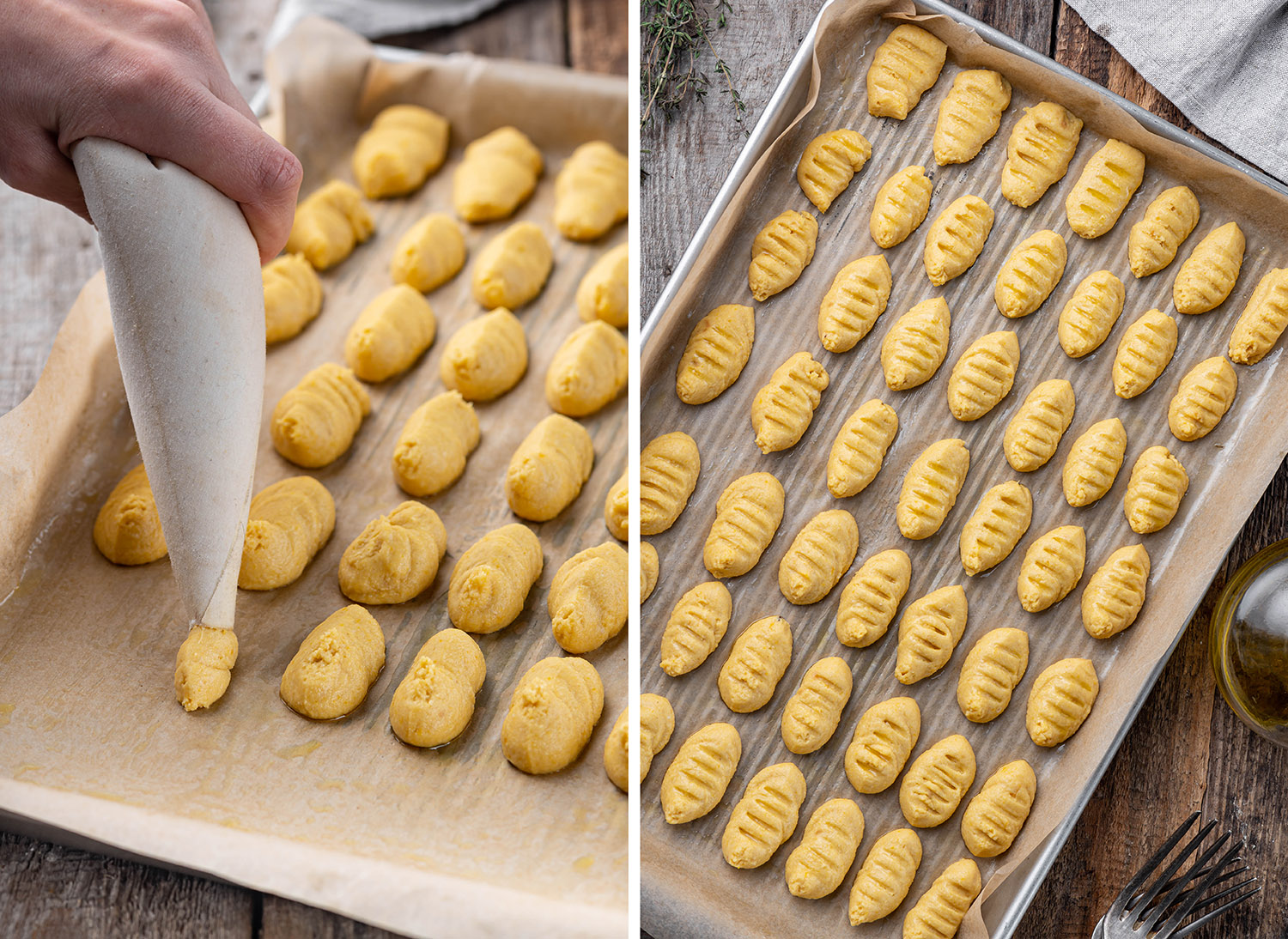 Tasty Plus Healthy!
Moreover, it is very beautiful, bright-colored and good for your health, as pumpkin is rich in vitamins A, C and E and has many other vitamins and minerals. In addition to great taste and health benefits, pumpkin puree gives the gnocchi a festive autumn color and mood. Even though pumpkin dishes are highly popular in autumn season, you can enjoy them all year long. This amazing dish really tastes and looks like something you'd be served in a restaurant. Be sure to try this easy pumpkin gnocchi recipe for a delicious gluten-free version of this Italian classic dish.
Nutritional yeast gives the gnocchi a slight cheesy taste and flavor. But you may sprinkle it with parmesan or other cheese, as desired.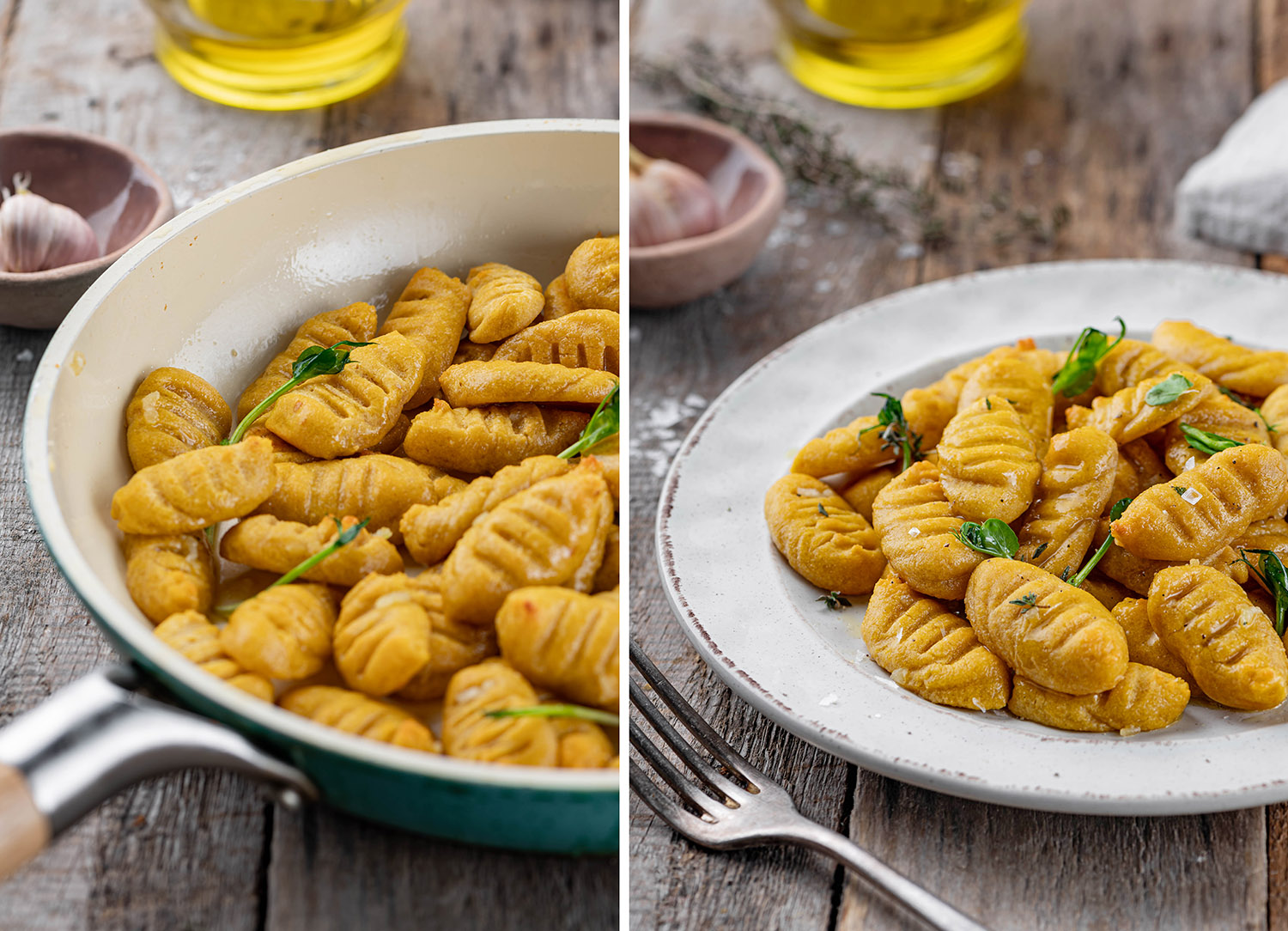 For dairy-free option, you can use any vegan butter for the garlic sauce. Also, you can optionally add some seasonings like thyme, rosemary or oregano.
Because of the use of the baking method it's much easier to make. These gnocchi are more crispy on the outside than the traditional ones. Toss the gnocchi with creamy garlic butter sauce, let all the flavors fuse together, and serve it immediately. The color, the texture and the flavours make this pumpkin gnocchi amazingly good. Every bite is a real pleasure, they're so addicting! It's a great meal for the whole family to enjoy.
More Delicious Healthy Dinner Ideas:
Here there are other great ideas for a tasty dinner: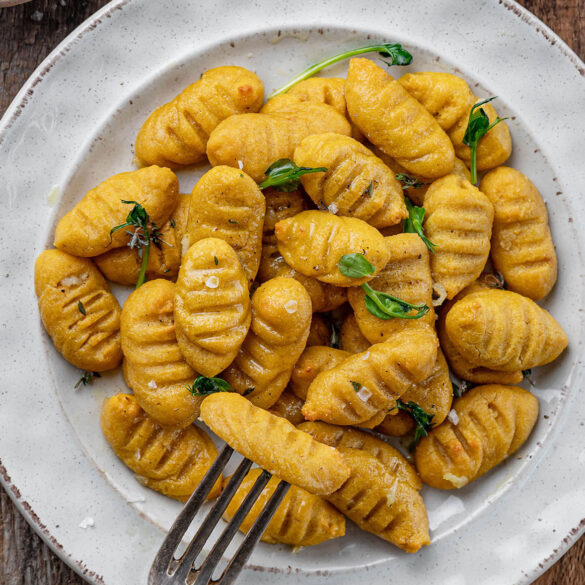 Ingredients
1 cup pumpkin puree
1 cup almond flour
1/2 cup tapioca starch
1/2 cup cassava flour
1 egg
1/3 tsp Salt
1/2 tsp garlic powder
1 tbsp nutritional yeast
2 tbsp butter, melted
1 garlic clove, minced
Instructions
Preheat the oven to 350°F. Line the baking sheet with parchment paper.
Mix pumpkin puree with an egg. In a separate bowl mix all of the dry ingredients. Pour dry ingredients into the wet ingredients and whisk well.
Transfer the batter into a pastry bag. Cut off one corner of the bag and pipe out the batter onto a baking sheet leaving some space between each gnocchi. Use a fork to make a dent on the top of each gnocchi.
Bake the gnocchi in the preheated oven for 20 minutes.
Whisk 2 tablespoons of melted butter with minced garlic clove. Transfer to the pan and heat up for about 15 seconds. Place gnocchi into the pan with butter and stir well.
Notes
*you can add some thyme, rosemary or sage to the butter and garlic, this will infuse the butter with herbs and give you the opportunity to experiment with flavours each time.
Did You Make This Recipe?
Tag us on Instagram
@thewillowskitchen
and hashtag #thewillowskitchen to show your results. And be sure to leave a comment in the section below :)