These very easy and delicious Pumpkin Muffins are super moist and soft, full of flavor, and consist of only healthy wholesome ingredients, that make them the perfect healthy snack on the go. Perfect for a school lunchbox for your kids. They are so simple to make and also very yummy. It's a love from the very first bite.
These easy and healthy Pumpkin Muffins contain no refined sugar, no dairy, no milk, and no eggs, making them absolutely vegan. Also, you can decorate the muffins with frosting and make very tasty pumpkin cupcakes.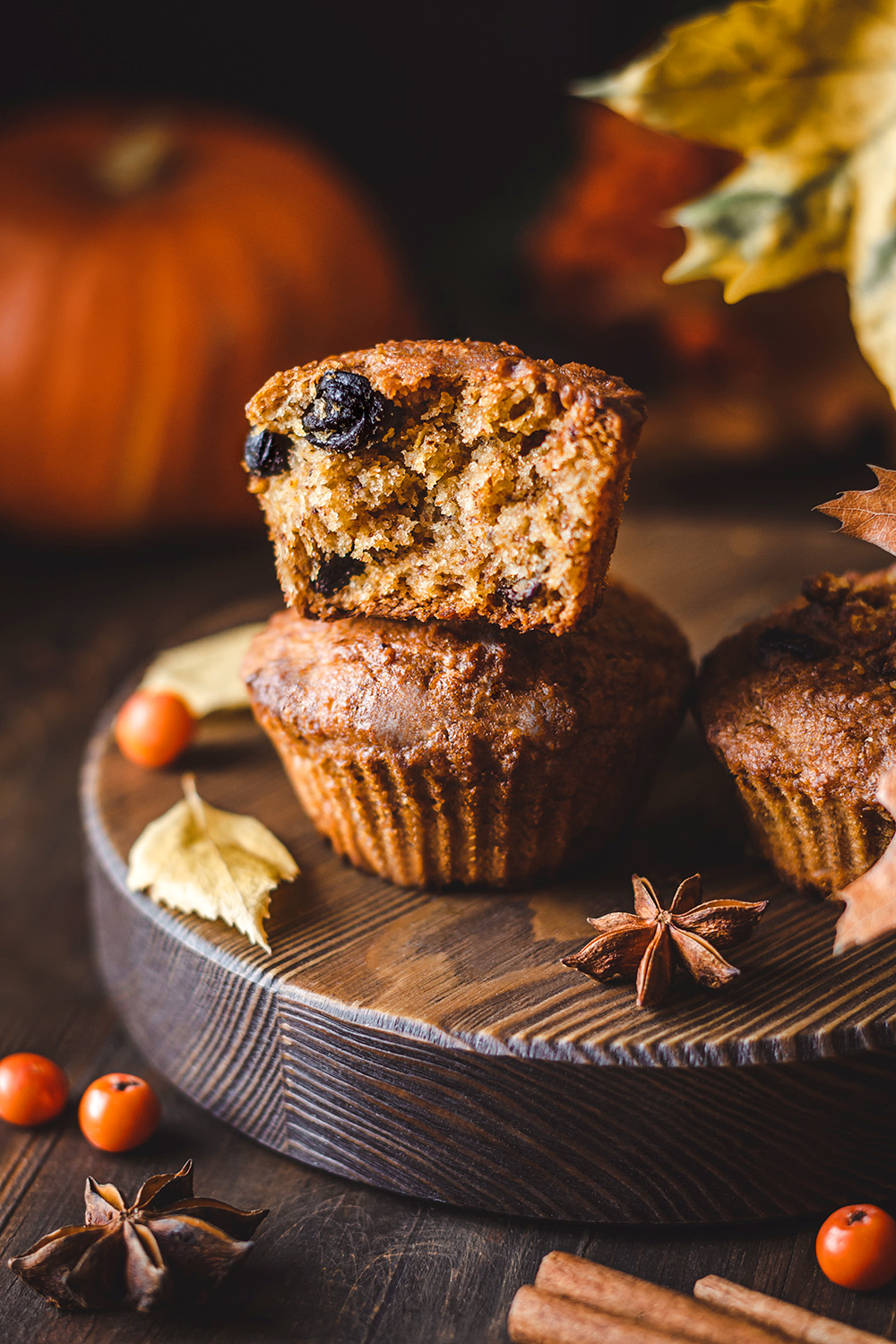 Ingredients
Pumpkin is the key ingredient. It gives incredible moist texture and enriches the cake. Use freshly grated pumpkin, not pumpkin puree for this recipe. It influences the texture and will make the cake moist and super delicious. If the grated pumpkin is too juicy, slightly squeeze the juice. When measuring pumpkin with cups, loosely pack it, don't press.
Spices are super important for these muffins. Cinnamon, nutmeg, ginger, and vanilla give incredible flavor to these pumpkin muffins, filling your kitchen with coziness and warmth.
Whole wheat flour contains fiber and is healthier than all-purpose flour. But also contains gluten, which is inappropriate for people on a gluten-free diet.
Combination with almond flour gives great texture, so muffins are soft and moist even a few days later.
Maple syrup is a healthy sweetener, a better alternative to refined white sugar. But in this recipe, it also influences the texture, so if you need to substitute it, use honey or another liquid sweetener, not sugar.
You can use either refined or unrefined coconut oil for this recipe. I prefer making these muffins with the unrefined oil. The flavor is mild and it fits the muffins, but of course, you can use refined oil without any flavor.
Any plant-based milk is suitable for these muffins. I use almond milk, but oat milk, soy milk, and others are good too.
We use both baking soda and baking powder, because the combination of these makes muffins fluffy, as they contain no eggs.
Raisins or dried cranberries are really great mix-ins for these Pumpkin Muffins. Optionally, you can add some chopped nuts, chocolate chips, or other dried fruits.
This warm and cozy vegan pumpkin dessert recipe is great for the fall season. They're moist, soft, fluffy, and loaded with the flavor of autumn! You'll bake these pumpkin muffins again and again.  A perfect muffin to enjoy as a snack, or for the breakfast.
Be sure to check out the links for other pumpkin recipes for this fall, like Pumpkin Gnocchi and Pumpkin Oatmeal.
Tag us on Instagram to show your results for these pumpkin muffins. And don't forget to follow us, we share also many helpful tips there :)
Ingredients
1 cup (120 g) whole wheat pastry flour
1 cup (100 g) almond flour
1 cup (120 g) grated pumpkin
¼ cup (80 g) maple syrup
½ cup (120 g) almond milk
4 tbsp (50 g) coconut oil, melted
1 tsp baking powder
½ tsp baking soda
1 tsp apple cider vinegar
⅓ cup (50 g) raisins (or dried cranberries)
¾ tsp ground cinnamon
⅙ tsp ground nutmeg
⅓ tsp ground ginger
1 tsp vanilla extract
Instructions
Preheat the oven to 350°F (180°C). Lightly grease a muffin pan or fill it with muffin liners. Set aside.
All the ingredients should be at room temperature. Mix all dry ingredients - both types of flour, baking powder, baking soda, and spices.
In a separate bowl, combine almond milk, melted coconut oil, maple syrup, apple cider vinegar, and vanilla extract. Mix thoroughly with a whisk. Grate the pumpkin on a fine grater. If the grated pumpkin is too juicy, slightly squeeze the juice. When measuring pumpkin with cups, loosely pack it, don't press. Add pumpkin to wet ingredients, and mix well.
Add dry ingredients to wet ingredients and stir gently until smooth. Add raisins, mix, and transfer the batter into prepared paper liners, filling each one about ¾ full.

Bake muffins for about 30 minutes until a toothpick comes out clean. Remove from the oven, let them cool, and enjoy.
Did You Make This Recipe?
Tag us on Instagram
@thewillowskitchen
and hashtag #thewillowskitchen to show your results. And be sure to leave a comment in the section below :)