With the start of the fall, the season of pumpkin begins. We can make so many healthy, easy, and very delicious dishes with this versatile vegetable. Pumpkin is perfect for waffles, pancakes, breakfast oatmeal, many desserts, as well as savory dishes. This Pumpkin Oatmeal is a super easy and quick-to-make breakfast recipe, warm and cozy, just perfect for fall!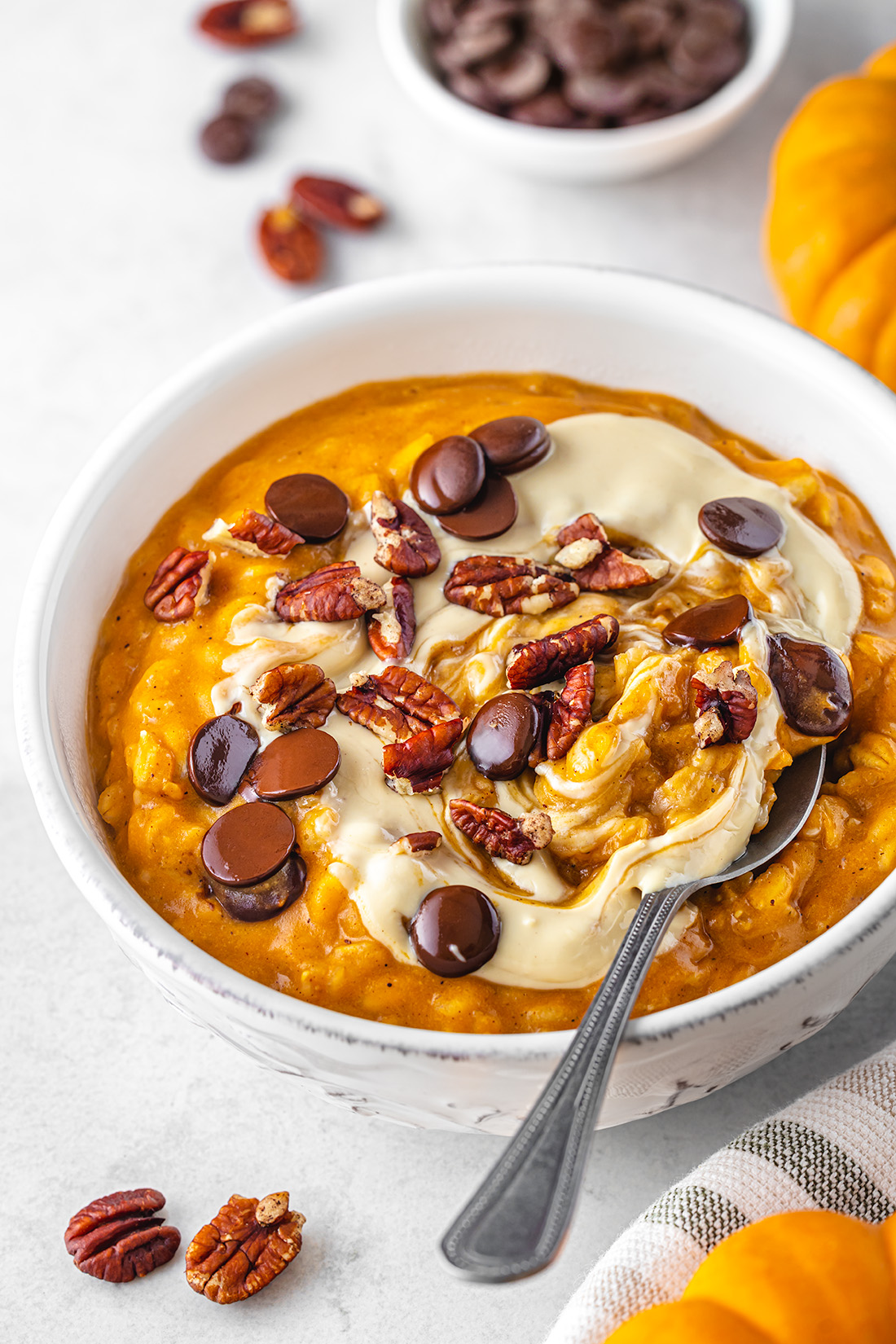 This Pumpkin Oatmeal is incredibly easy – just mix all the ingredients and cook for about 5-7 minutes and you'll get a super yummy and hearty dish that will warm you in cold autumn mornings and provide you with energy for the day.
Ingredients
You can use store-bought canned pumpkin puree (but not pumpkin pie filling) or a homemade one. To make homemade pumpkin puree, bake the pumpkin in the oven for about 50-60 minutes and then blend in the blender.
Any kind of milk is good for this recipe. We use almond milk, but the oatmeal goes well with other kinds of plant-based or even regular dairy milk if a dairy-free option is not necessary for you.
Rolled oats are a good source of carbs and fiber, and contain a huge amount of vitamins, minerals, and antioxidants. Regular use of oats helps to lower cholesterol, and blood sugar levels and supports your gut health.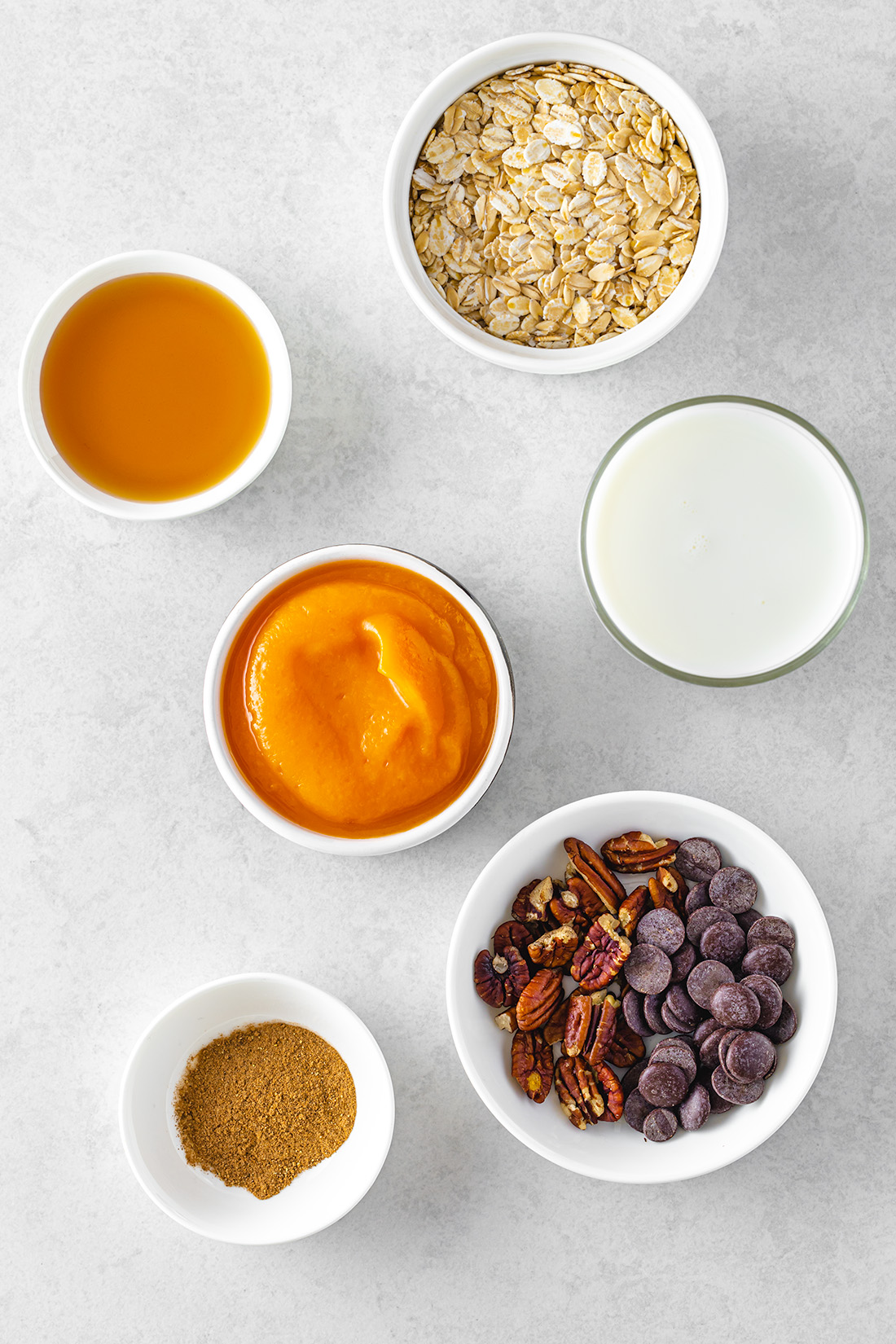 Maple syrup is used to sweeten the oatmeal and make it even tastier like dessert. If you want, you can substitute it with honey, other syrup, or even sugar.
The pumpkin spice mix is an essential component of pumpkin oatmeal. It gives this incredible flavor of pumpkin pie, a flavor of warmth and coziness. It consists of cinnamon, nutmeg, ginger, allspice, and clove. You can mix it yourself or use store-bought pumpkin spice mix.
Be free to add your favorite toppings – any kinds of nut butter, nuts, seeds, chocolate chips, or fruits and berries, it makes it more nutritious. Get creative and choose various tasty combinations to complete the taste.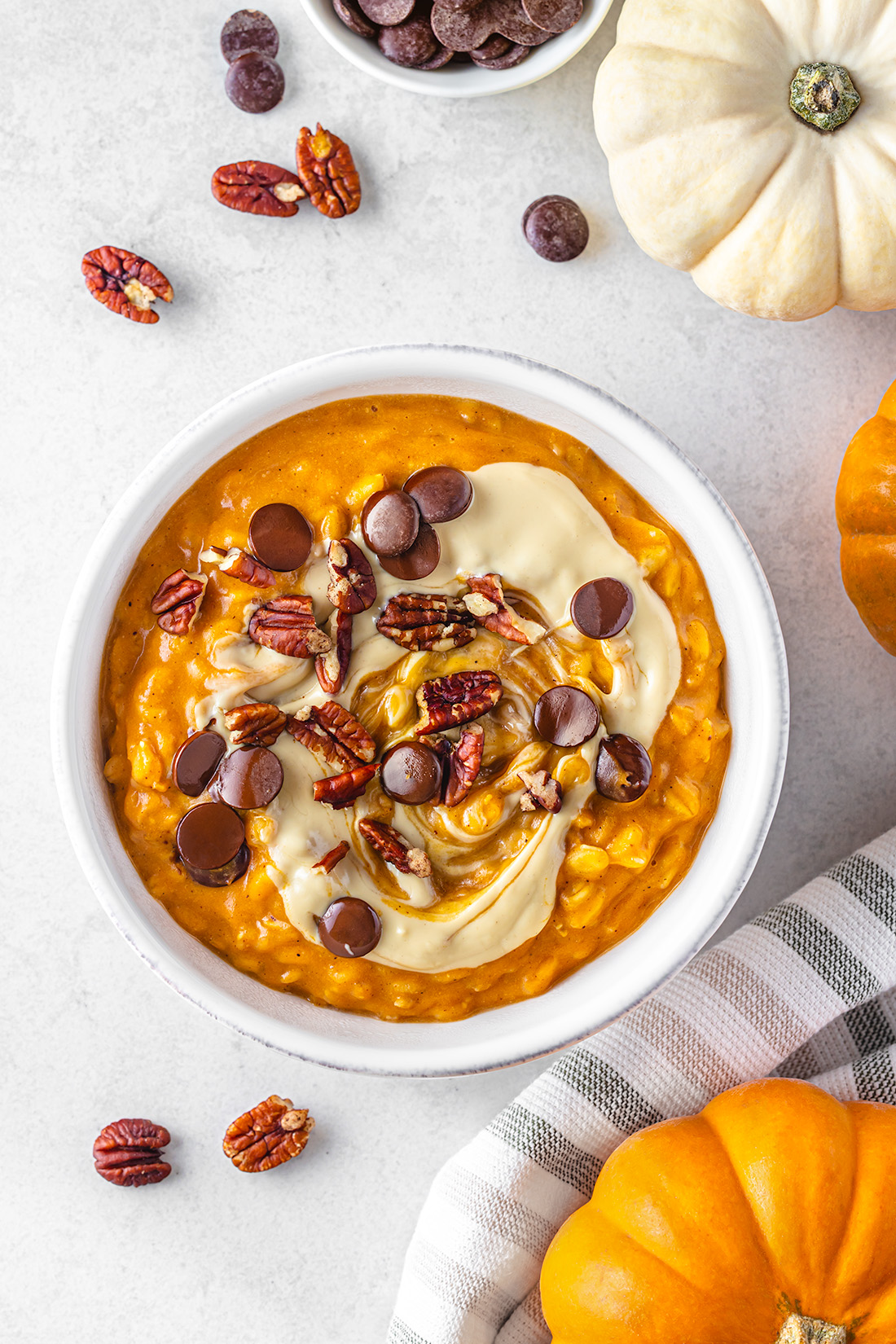 Be sure to check out our Pumpkin Gnocchi recipe, which is perfect for a healthy dinner or lunch.
And also here are the links for other oats recipes for breakfast, like Apple Cinnamon Oatmeal, Peanut Butter Banana Overnight Oats, Applesauce Oatmeal Pancakes, Carrot Banana Smoothie, Tiramisu Overnight Oats and Skillet Honey Granola with Almonds and Dried Cranberries, Creamy Mango Peanut Butter Smoothie or other great breakfast recipe ideas.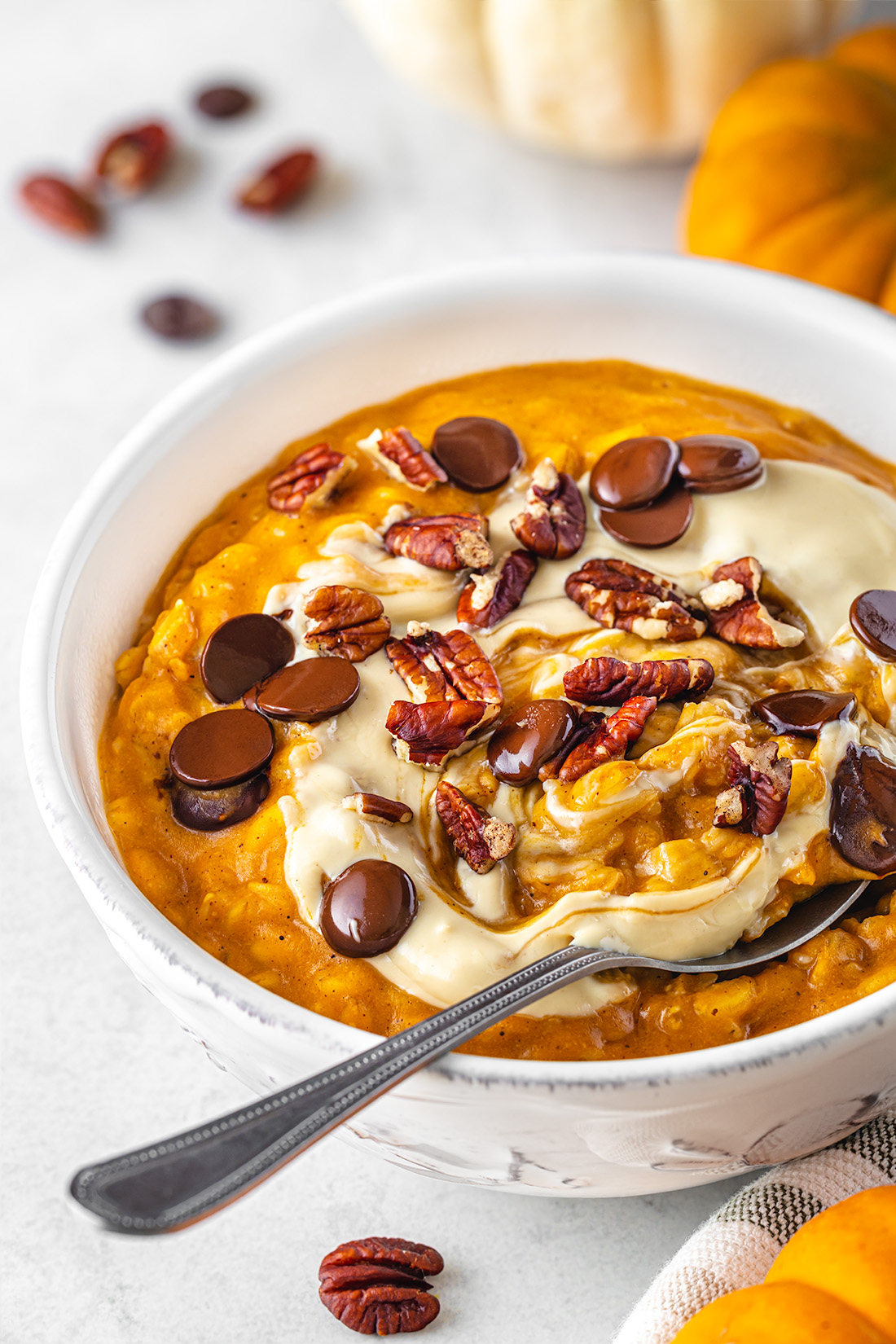 This Pumpkin Oatmeal is a super easy and very nutritious breakfast that provides you with energy for the whole day.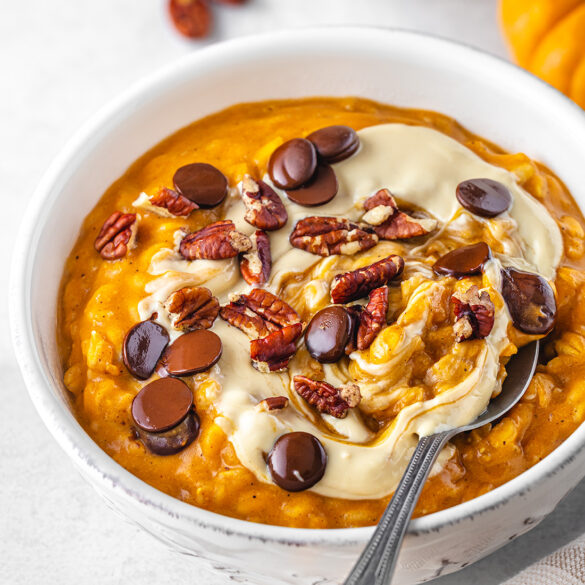 Ingredients
1 cup rolled oats
1 cup pumpkin puree
2 tbsp maple syrup
1 cup almond milk

½ tsp pumpkin spice mix
Toppings:
chocolate chips
pecans
cashew butter
Instructions
Add pumpkin puree, maple syrup, almond milk, and spices to a small saucepan and bring to a boil. Add oats, lower the heat, and cook for 5-7 minutes.
Serve with your favorite toppings - nuts, nut butters, berries, fruits, or chocolate chips. Enjoy!
Did You Make This Recipe?
Tag us on Instagram
@thewillowskitchen
and hashtag #thewillowskitchen to show your results. And be sure to leave a comment in the section below :)