Smoothie is a perfect way to start your day, especially in hot summer. It's a quick, easy, delicious, and refreshing breakfast that brings a lot of energy. Raspberry Citrus Protein Smoothie is a perfect combination – berries, citruses, and bananas provide you with energy, and protein makes you feel full for longer. And also it's very tasty and simple to make. The best choice for busy mornings. Also, is great as a healthy snack.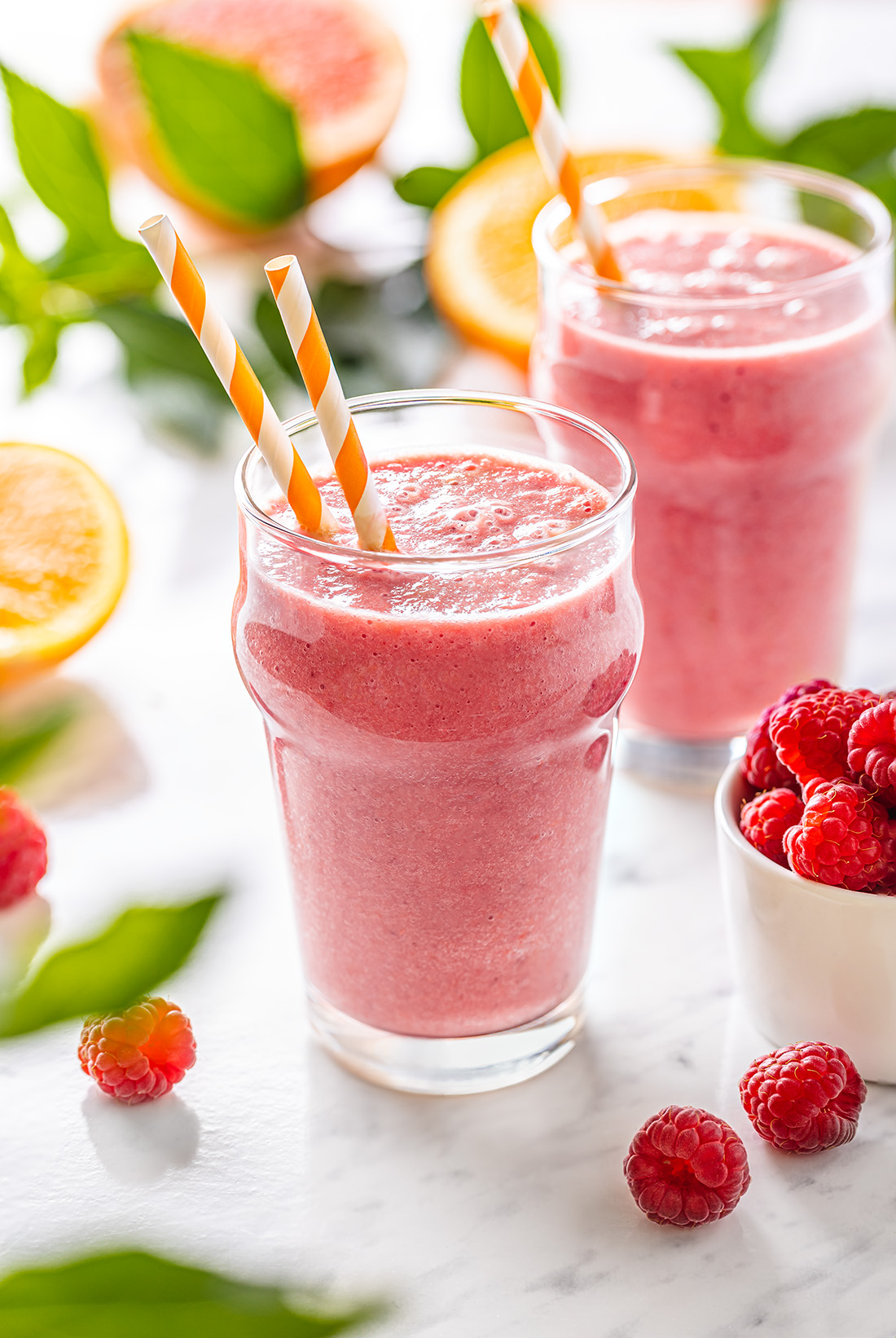 Ingredients
For this recipe, you will need a banana, grapefruit, orange, raspberries, protein, and almond milk. Each ingredient gives its own benefits to your body, together creating a well-balanced healthy breakfast.
Raspberries are an excellent source of vitamin C, vitamin K, manganese, copper, iron, and potassium, and fiber. Also, they give this beautiful color to our smoothie (the brightness will depend on your protein) and of course incredible flavor and taste.
Bananas are a great source of fiber, rich in potassium, magnesium, vitamin B6, vitamin C, and other vitamins and minerals. In addition to the health benefits, bananas give natural sweetness to a smoothie and great texture. You may use frozen bananas for a thicker and creamier consistency. Use ripe soft yellow-colored bananas with brown spots.
Oranges and grapefruits are high in vitamin C, folate, calcium, etc. One medium orange covers about 90% of your daily vitamin C needs. Citruses contain antioxidants that fight free radicals in your body. But if you don't like the bitter taste of grapefruit, you can sub it with one more orange.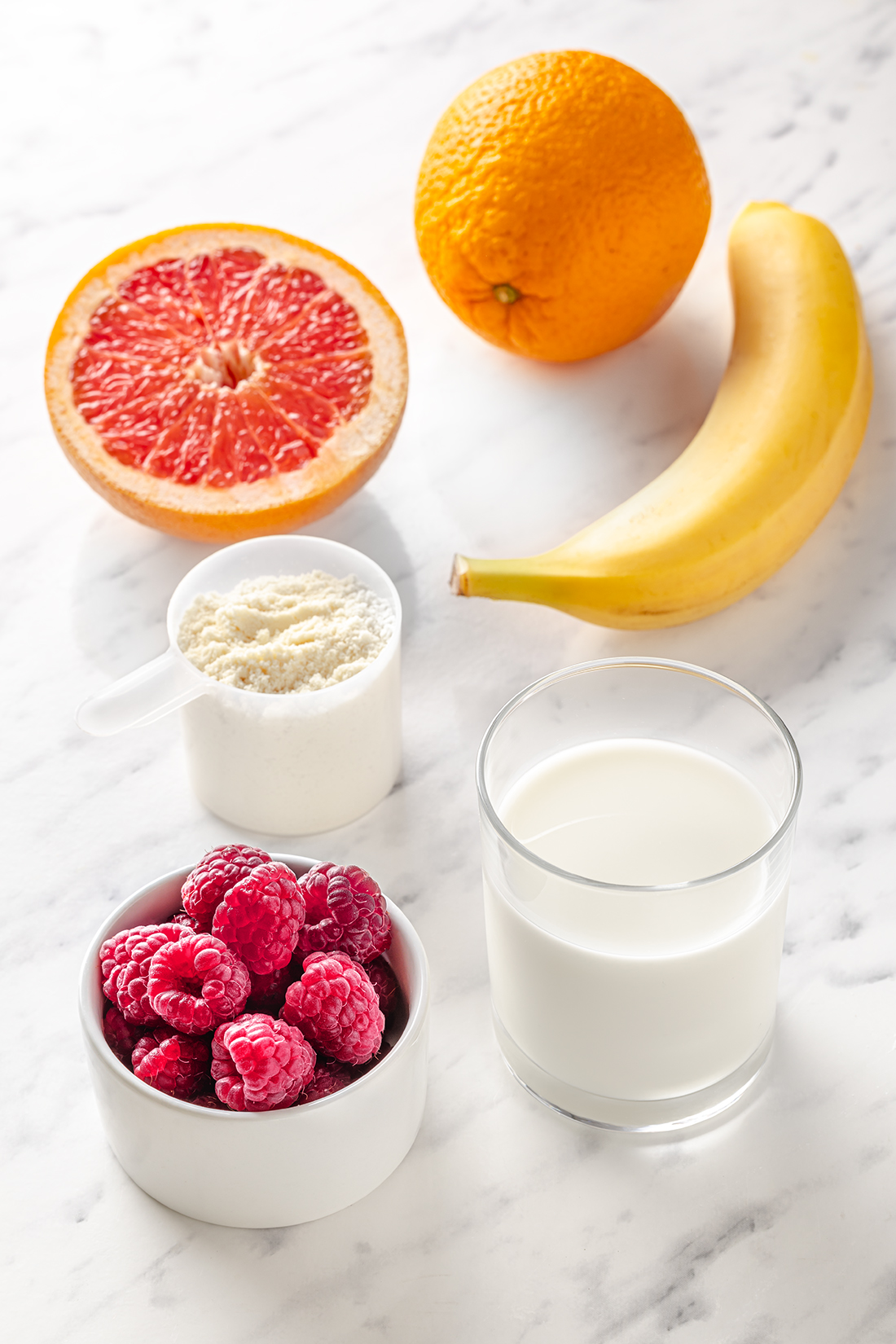 Protein is a very important macronutrient. Adding a scoop of protein powder into a smoothie allows you to feel full for a longer period of time. Also, protein is very important for cells, muscles, and bones. Proper intake of protein with food supports a healthy metabolism.
Almond milk is a good source of vitamin E and calcium, vitamin D (choose enriched almond milk), etc. Moreover, It's low in fat and calories, which is great for those who are on a weight-loss diet. But you can sub it with any other milk you want.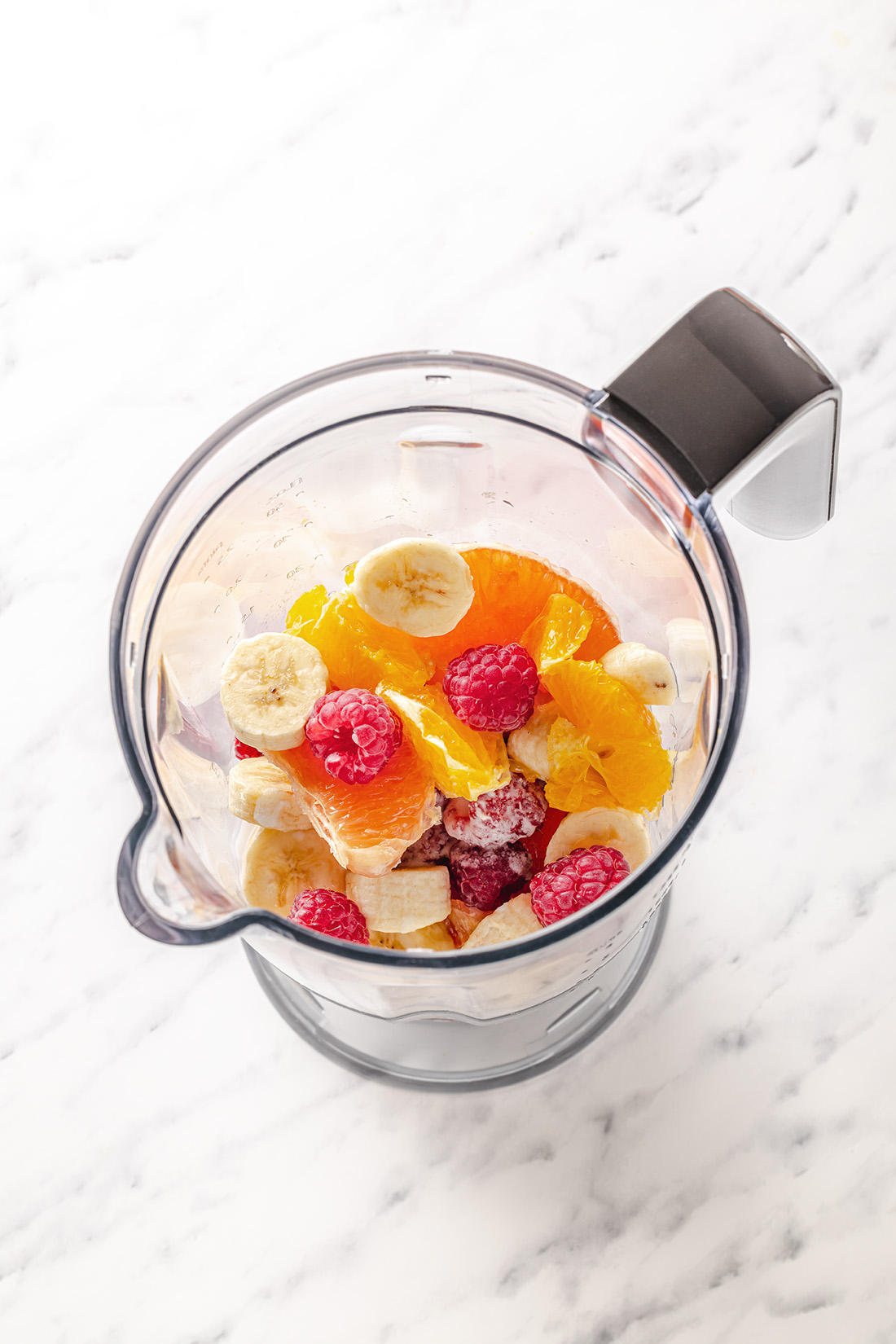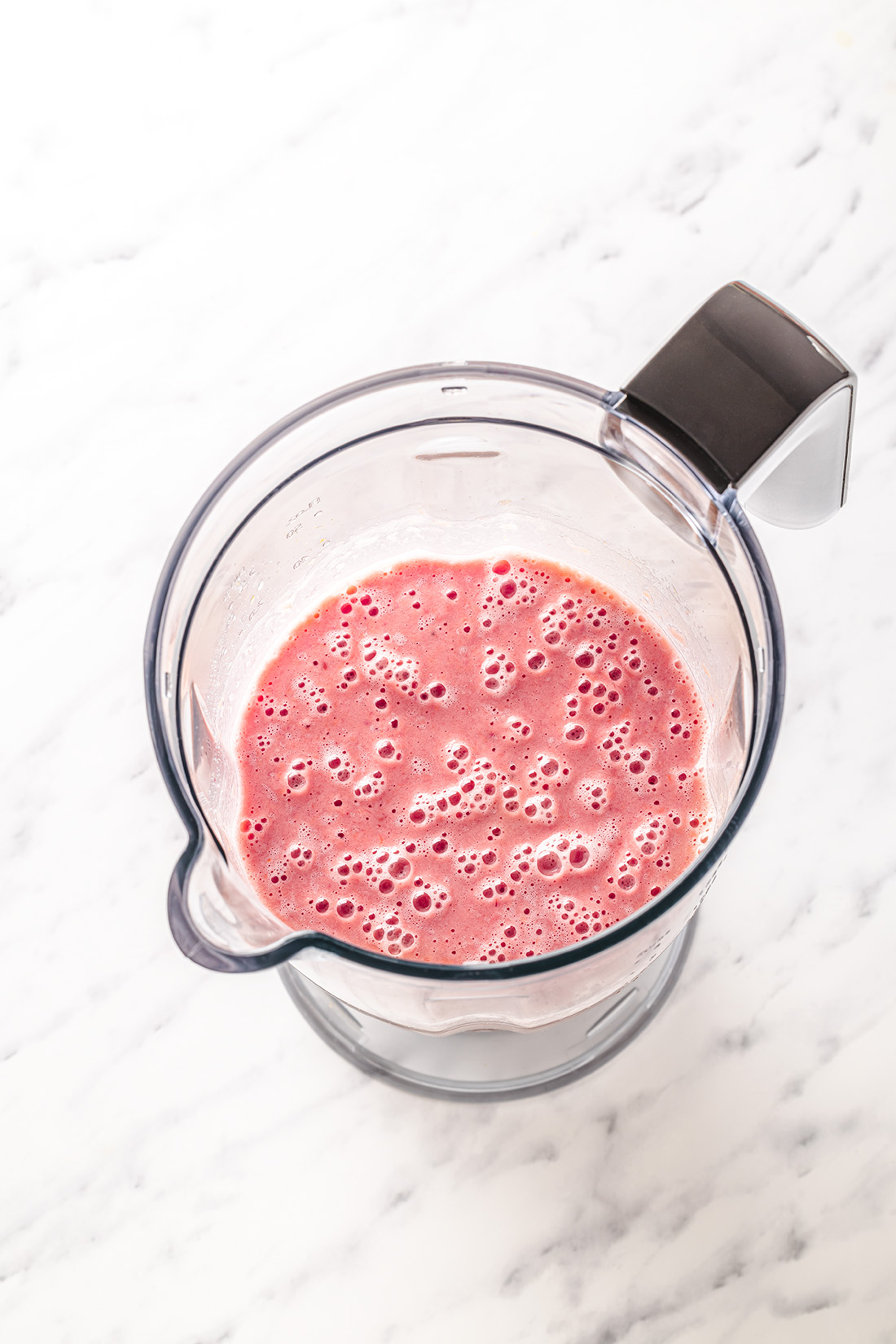 The process of making this dish couldn't be easier and faster. Just peel off the citruses and blend them all together until smooth and creamy texture.  It's very important to choose a high-quality protein powder, that has no chemical smell and doesn't have tons of sugar or sweeteners. Choose more neutral and good taste protein.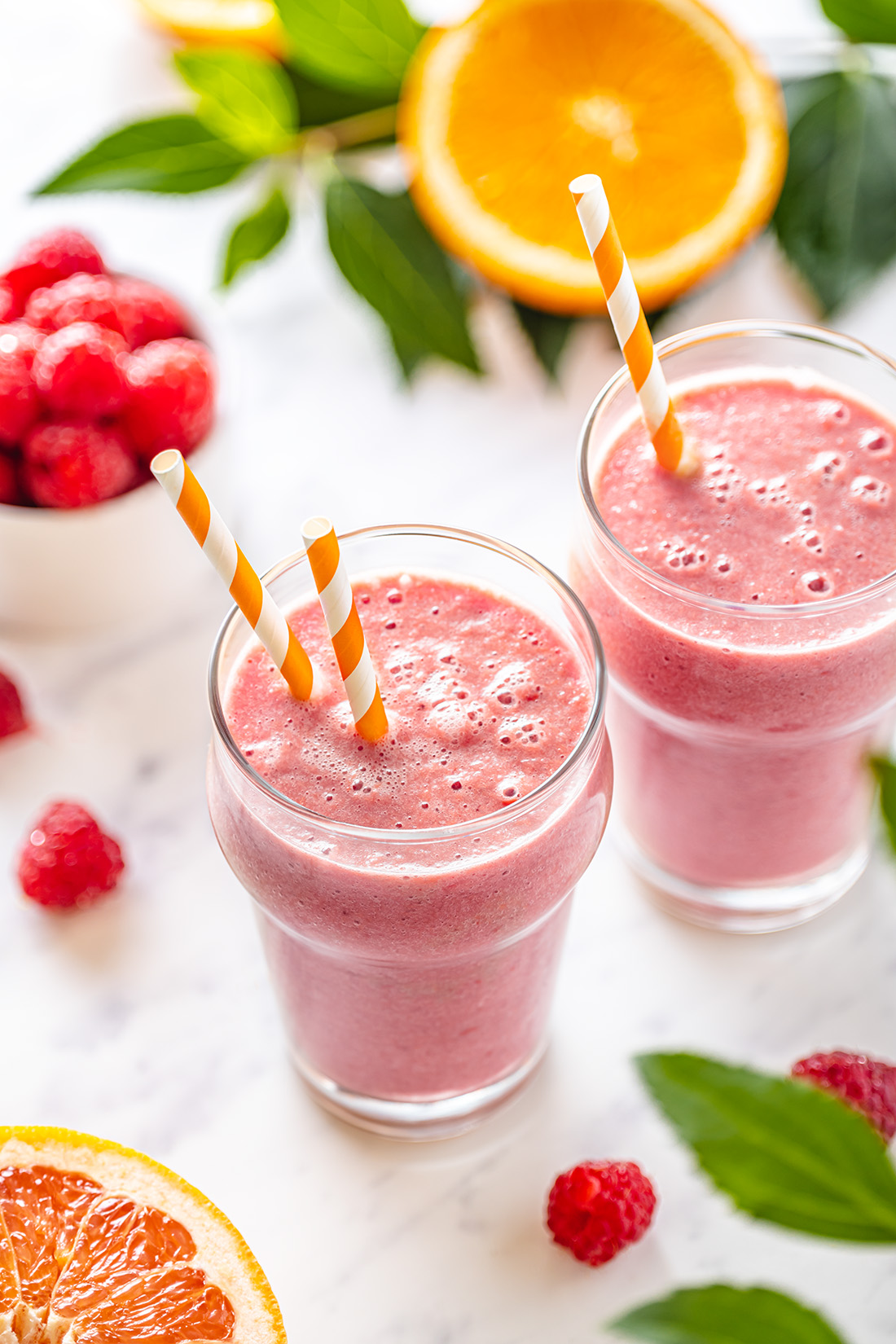 Healthy breakfast for a good day
Breakfast is a very important meal of the day, but very often people are in hurry and skip it. So this smoothie is a perfect quick and easy breakfast for those who have no time in the morning to cook something to eat! Consisting of only 6 ingredients, it is well balanced and super nutritious!
Also, be sure to try our other super delicious quick and easy breakfast recipes, check out the links below:
Peanut Butter Banana Overnight Oats,
Mango Chia Pudding,
Applesauce Oatmeal Pancakes,
or other delicious breakfast ideas.
This Raspberry Citrus Protein Smoothie is light and refreshing, delicious, full of energy-boosting ingredients, and loaded with protein, which gives you a perfectly balanced, easy, and healthy breakfast!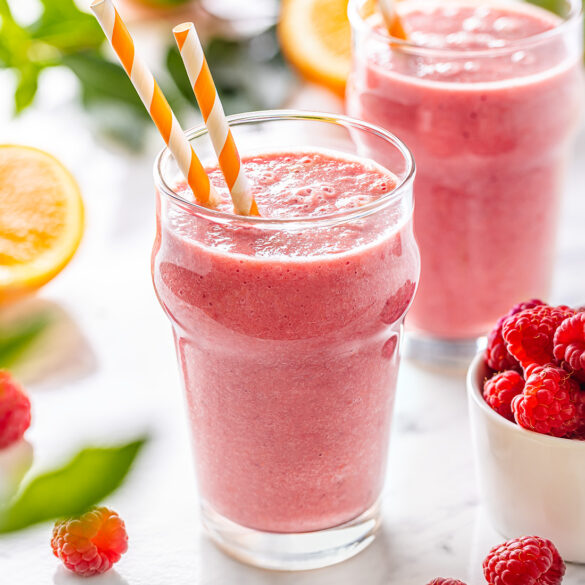 Ingredients
½ cup raspberries
1 orange
½ grapefruit
1 banana
¾ cup almond milk (or any other milk)
1 scoop protein*
Instructions
Peel orange, banana, and grapefruit. Cut into pieces.
Put all the ingredients into the blender and blend until smooth. Serve immediately and enjoy!
Notes
Use any protein, you like. Be sure to use plant-based protein, if you want to get a vegan version of the smoothie.
Did You Make This Recipe?
Tag us on Instagram
@thewillowskitchen
and hashtag #thewillowskitchen to show your results. And be sure to leave a comment in the section below :)