Smoothie is a perfect way to start your day, especially in the hot summer days. It's a quick, easy, delicious, and refreshing breakfast that brings a lot of energy. Raspberry Protein Smoothie is a perfect combination – berries, citruses, and bananas provide you with energy, and protein makes you feel full for longer. And not only is this smoothie delicious and nutritious, but it's also incredibly simple to make, making it an ideal choice for busy mornings. Enjoy this delicious smoothie for the ultimate summer breakfast or healthy snack!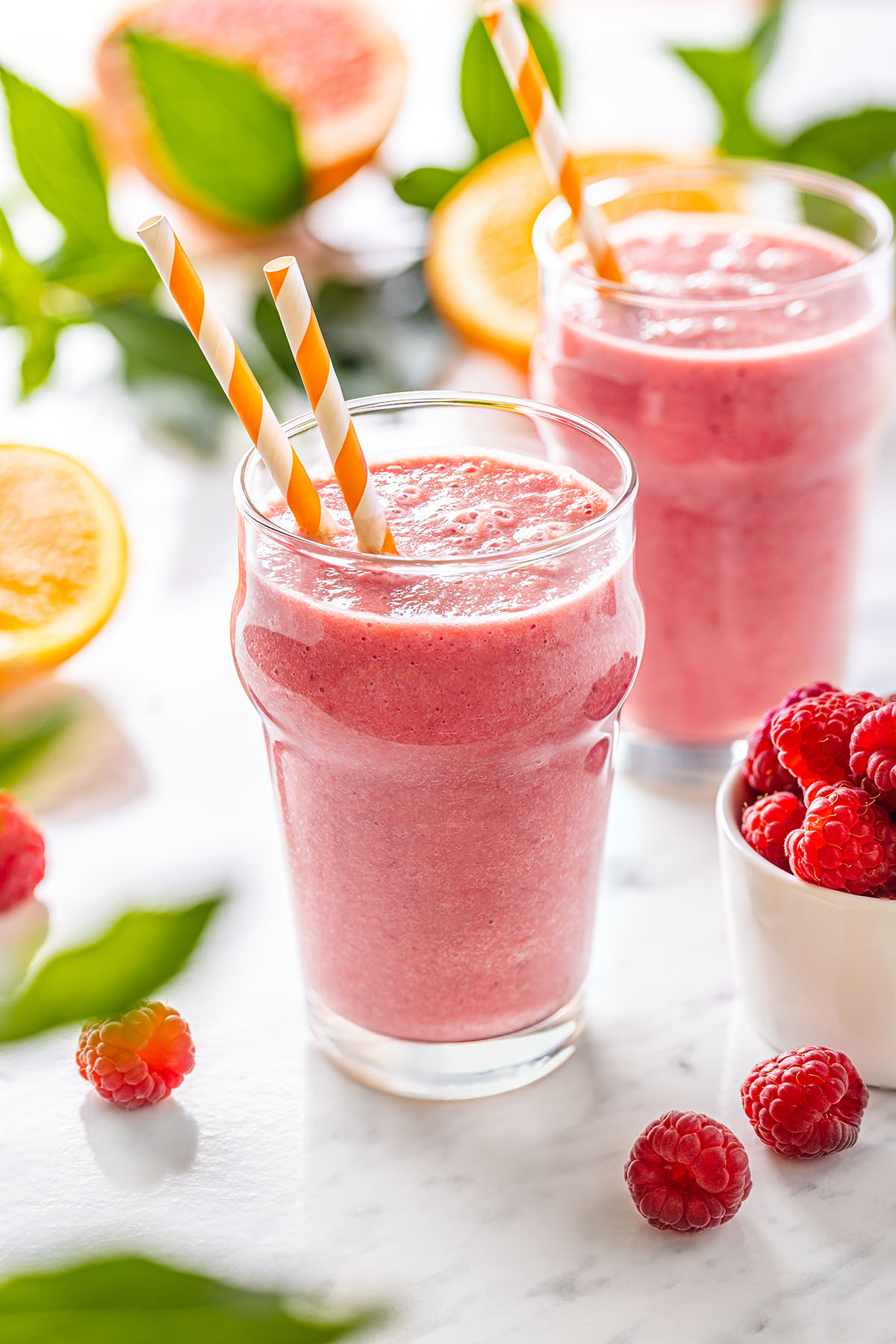 Why You'll Love This Smoothie
This Raspberry Protein Smoothie recipe stands out as the perfect choice due to its balance of nutrients, energy-boosting ingredients, satiety value, delicious taste, and ease of preparation. It's an excellent option for a nutritious breakfast or a healthy snack for any time of the day.
Balanced and Nutritious: This combination of ingredients creates a well-balanced and nutrient-rich smoothie. It provides a variety of vitamins, minerals, antioxidants, fiber, and protein, ensuring you get a wholesome start to your day.
Quick and Easy: With just a few simple steps, this recipe is incredibly quick and easy to make. It requires minimal prep work, making it a convenient choice for busy mornings when you're short on time. Simply blend the ingredients together, and you'll have a refreshing smoothie ready to enjoy.
Energy-Boosting: The inclusion of raspberries, bananas, and citruses provides natural sources of energy to fuel your morning. These fruits are rich in vitamins, minerals, and carbohydrates, giving you a revitalizing boost to kick-start your day.
Satiety and Fullness: The addition of protein powder in the smoothie helps to increase its satiety value, making it an excellent choice for those looking for a satisfying breakfast or snack.
Refreshing and Delicious: The combination of raspberries and citrus fruits creates a delightful flavor profile. The tartness of the citrus fruits balances the sweetness of the berries and banana.
Breakfast is a very important meal of the day, but very often people are in a hurry and skip it. So this smoothie is a perfect quick and easy breakfast for those who have no time in the morning to cook something to eat! Consisting of only 6 ingredients, it is well-balanced and super nutritious!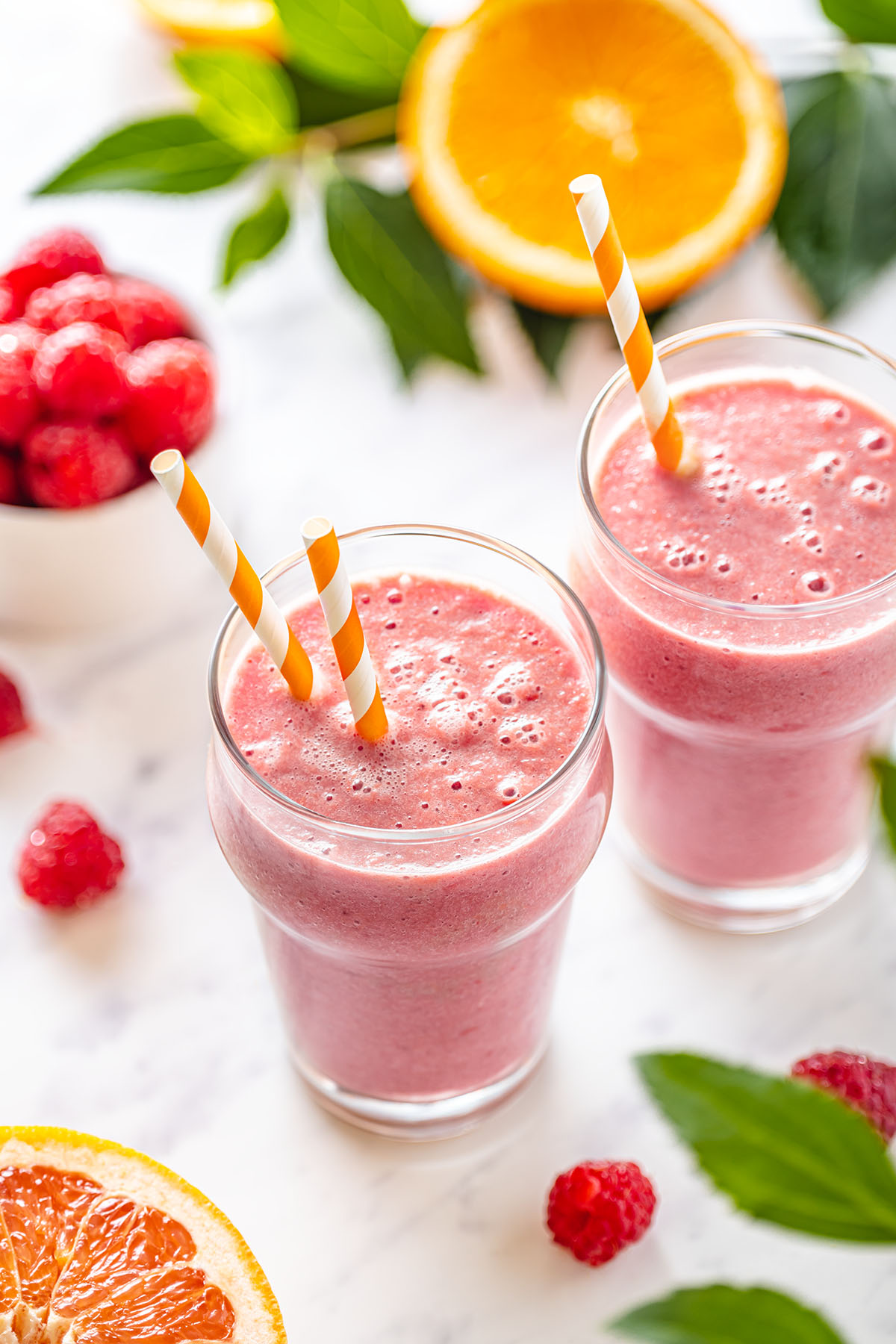 Ingredients and Health Benefits
For this recipe, you will need a banana, grapefruit, orange, raspberries, protein, and almond milk. Each ingredient gives its own benefits to your body, together creating a well-balanced healthy breakfast.
Raspberries: The excellent source of vitamin C, vitamin K, manganese, copper, iron, and potassium, and fiber. Also, they give this beautiful color to our smoothie (the brightness will depend on your protein) and of course incredible flavor and taste.
Banana: Banana is a great source of fiber, rich in potassium, magnesium, vitamin B6, vitamin C, and other vitamins and minerals. In addition to the health benefits, bananas give natural sweetness to a smoothie and great texture. You may use frozen bananas for a thicker and creamier consistency. Use ripe soft yellow-colored bananas with brown spots.
Oranges and Grapefruits: Citruses are high in vitamin C, folate, calcium, etc. One medium orange covers about 90% of your daily vitamin C needs. Citruses contain antioxidants that fight free radicals in your body. But if you don't like the bitter taste of grapefruit, you can substitute it with one more orange.
Almond Milk: Liquid base for the smoothie. It is also a good source of vitamin E, calcium, and, if enriched, vitamin D. Moreover, It's low in fat and calories, which is great for those who are on a weight-loss diet. But you can use any preferred type of plant-based milk.
Protein: Protein powder is a convenient way to increase the protein content of your smoothie. Choosing a plant-based protein powder ensures a dairy-free and vegan version of the smoothie. Adding a scoop of protein powder into a smoothie allows you to feel full for a longer period of time. Also, protein is very important for cells, muscles, and bones. Proper intake of protein with food supports a healthy metabolism.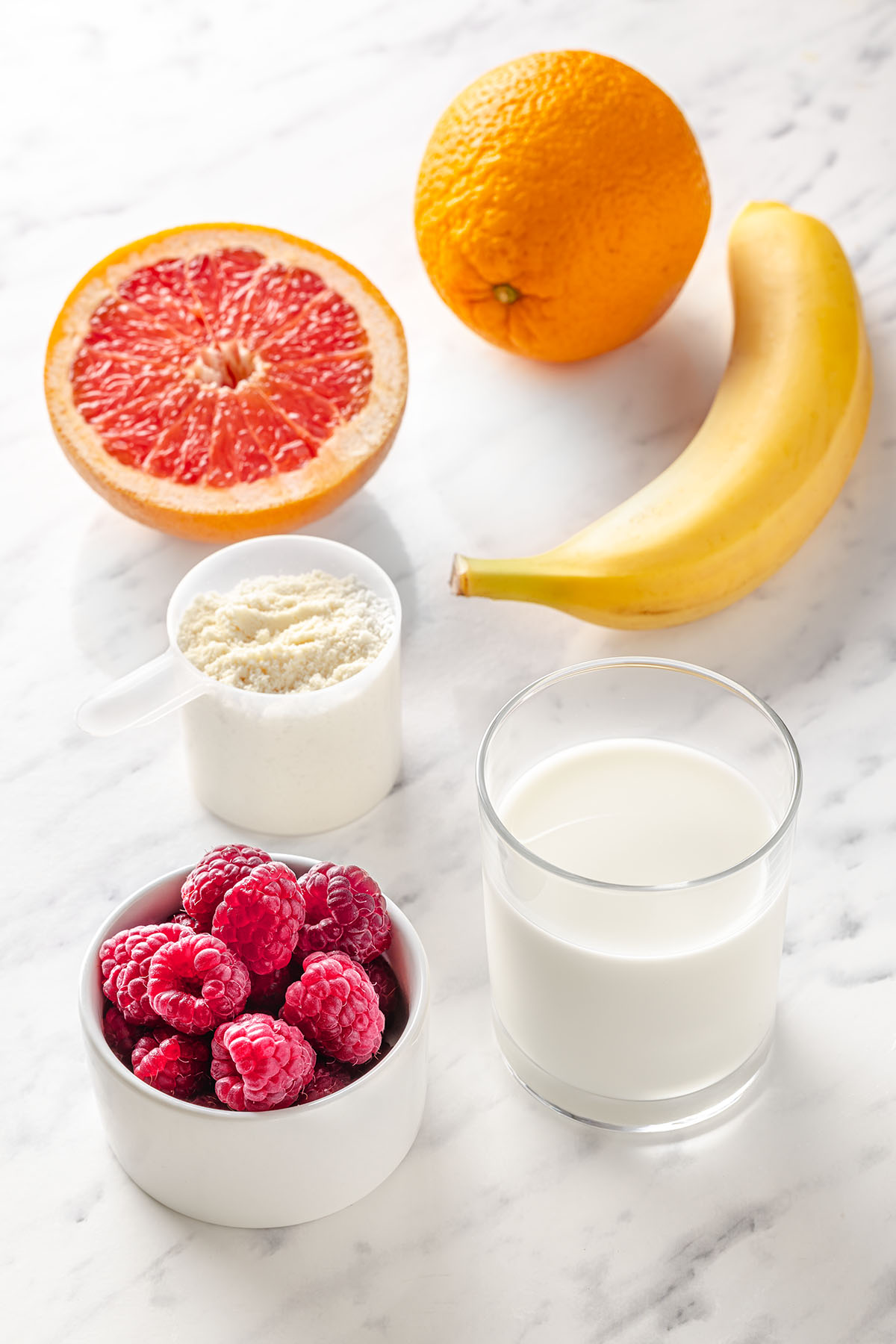 How to Make Raspberry Protein Smoothie
The process of making this dish couldn't be easier and faster. Here's a step-by-step guide:
Prepare the citrus fruits: Start by peeling the orange and grapefruit. Cut them into pieces.
Combine the ingredients: Add the peeled orange, grapefruit pieces, raspberries, banana, almond milk, and protein powder to a blender.
Blend until smooth: Blend all the ingredients together until smooth and creamy. Make sure to blend long enough to fully incorporate the ingredients.
Adjust consistency if needed: If the smoothie is too thick, you can add a little more almond milk and blend again until you reach your desired consistency. If you prefer a thicker smoothie, you can add some ice cubes and blend again.
Taste and adjust: Take a moment to taste the smoothie and adjust the flavor if necessary. You can add a touch of honey or a natural sweetener of your choice if you prefer a sweeter taste.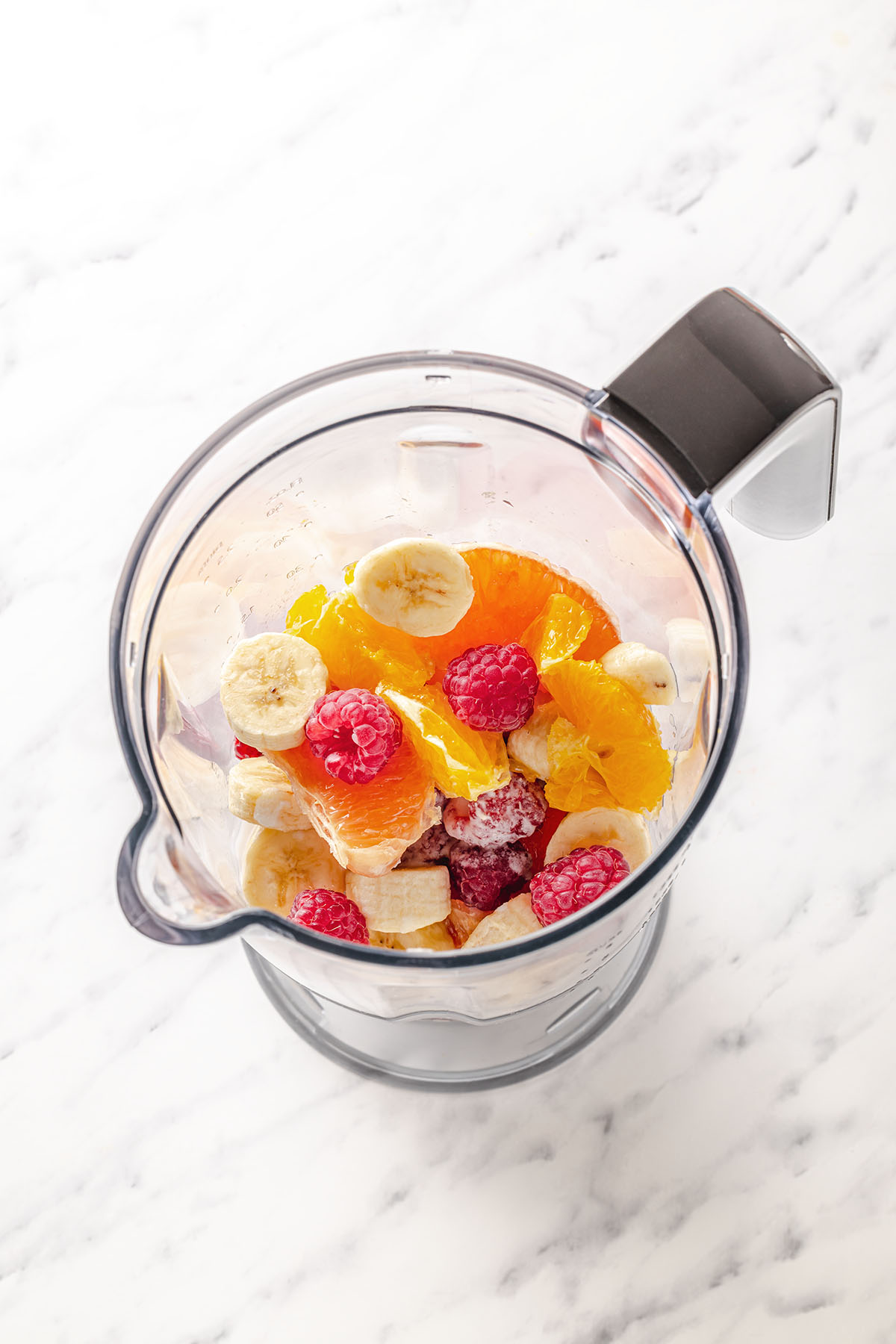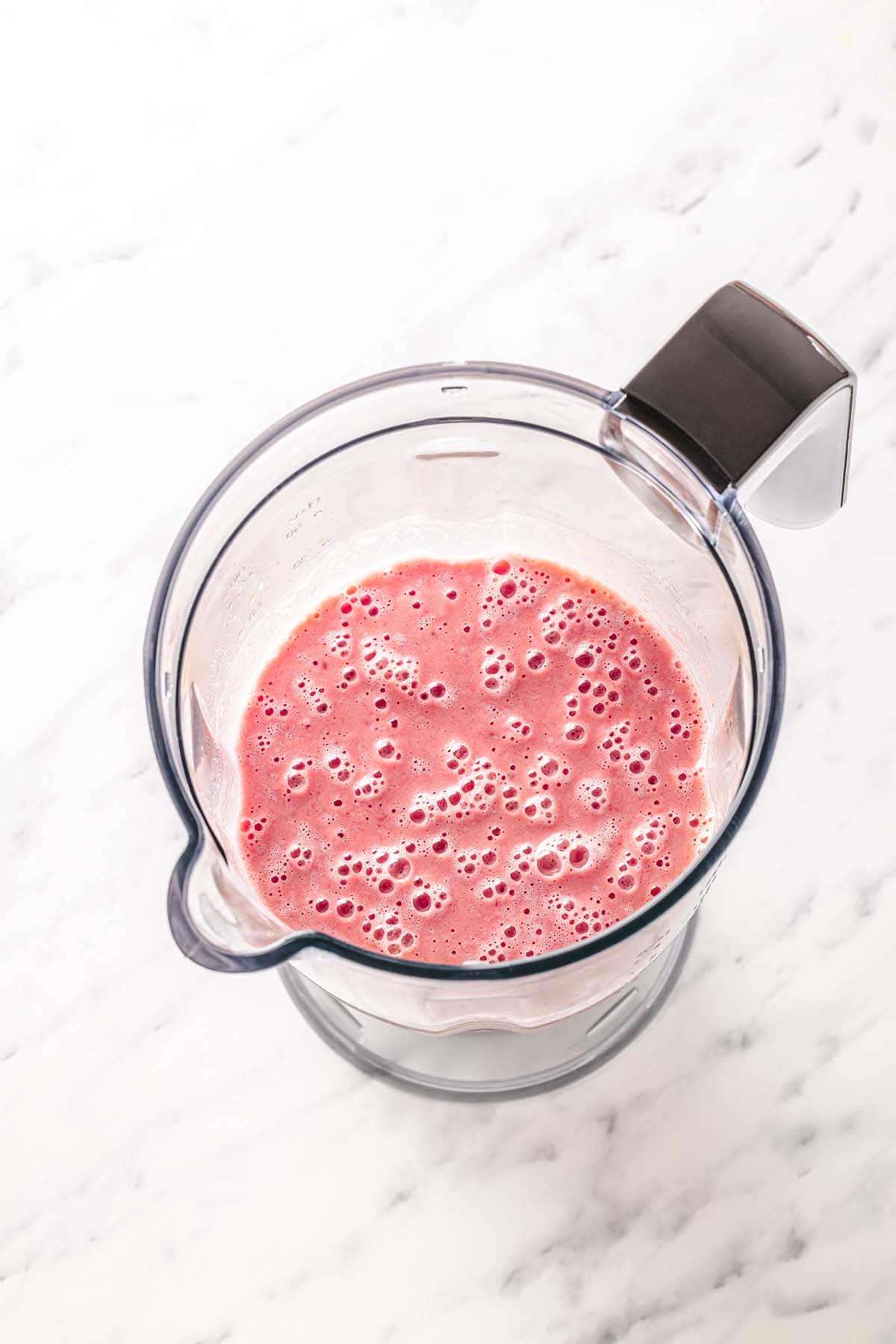 Ideas for Add-Ins
Looking to add some extra flavor and nutritional benefits to your Raspberry Citrus Protein Smoothie? Here are some ideas for add-ins that can take your smoothie to the next level:
Chia or Flax Seeds: Add a tablespoon of chia or flax seeds for a dose of omega-3 fatty acids.
Nut Butter: Enhance the creaminess and add richness by including a spoonful of almond butter, peanut butter, or cashew butter. It brings healthy fats, protein, and a touch of richness to the smoothie.
Shredded Coconut: Sprinkle the top of the smoothie with shredded coconut for a tropical twist. It adds a delightful crunch and a hint of coconut flavor.
Cinnamon or Vanilla Extract: Add extra flavor by adding a pinch of cinnamon or a splash of vanilla extract.
Hemp Seeds: Sprinkle a small amount of hemp seeds on top of the smoothie for an extra nutrient boost. They are rich in vitamins, minerals, and plant-based protein.
Ginger or Turmeric: Add a small piece of fresh ginger or a pinch of ground turmeric for a spicy kick and potential anti-inflammatory benefits.
These are only a few ideas on how to customize your smoothie. Feel free to experiment and create your favorite smoothie combination based on this recipe.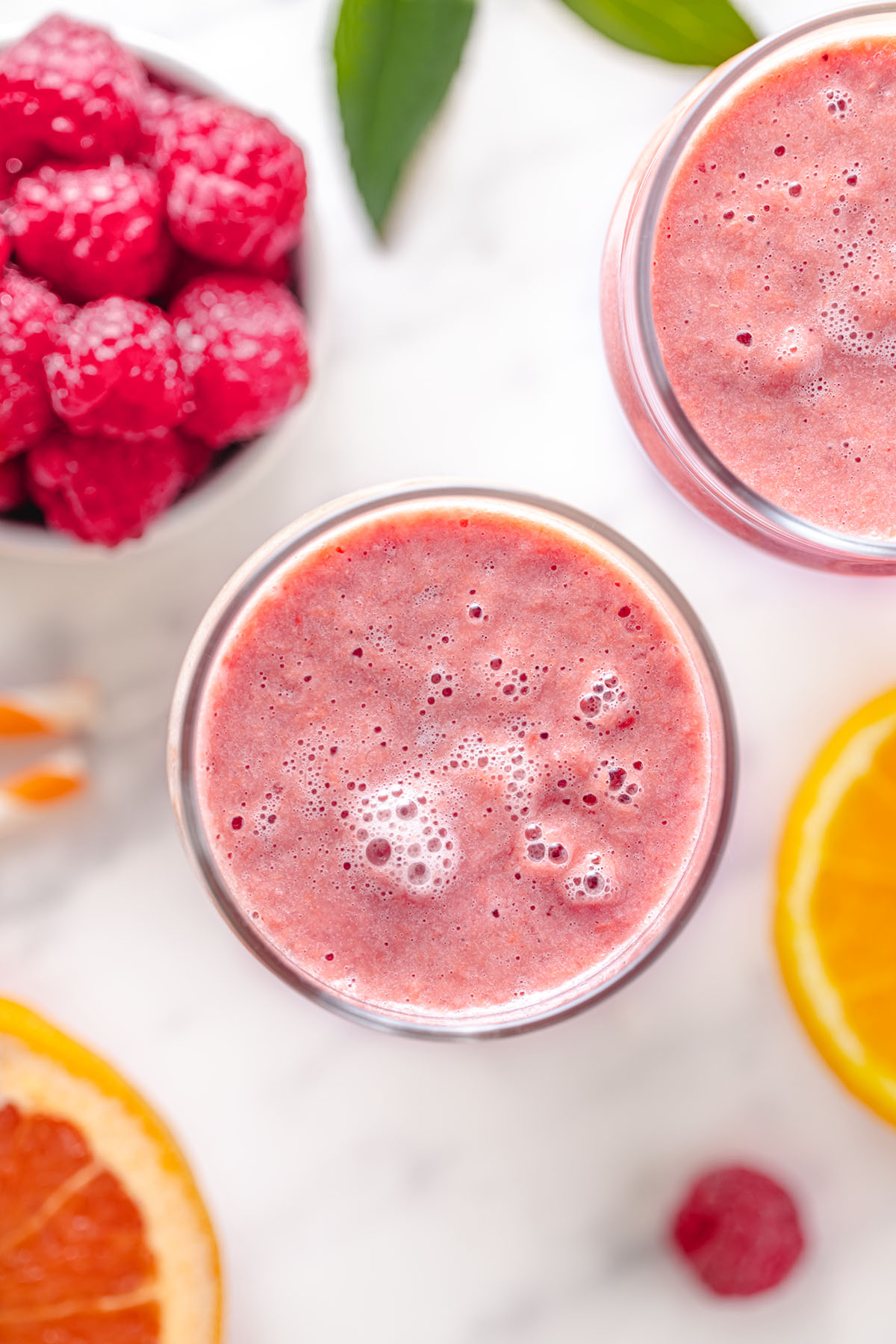 How to Store
Smoothies are best enjoyed fresh and immediately after blending to preserve their flavor and nutritional benefits. However, if you have any leftovers or need to prepare the smoothie ahead of time, pour the smoothie into an airtight container and place it in the refrigerator. Ideally, consume the refrigerated smoothie within 24 hours to maintain its freshness and quality. After this time, the taste and texture may change, and the smoothie may lose some of its nutritional value. Before enjoying the refrigerated smoothie, give it a good shake.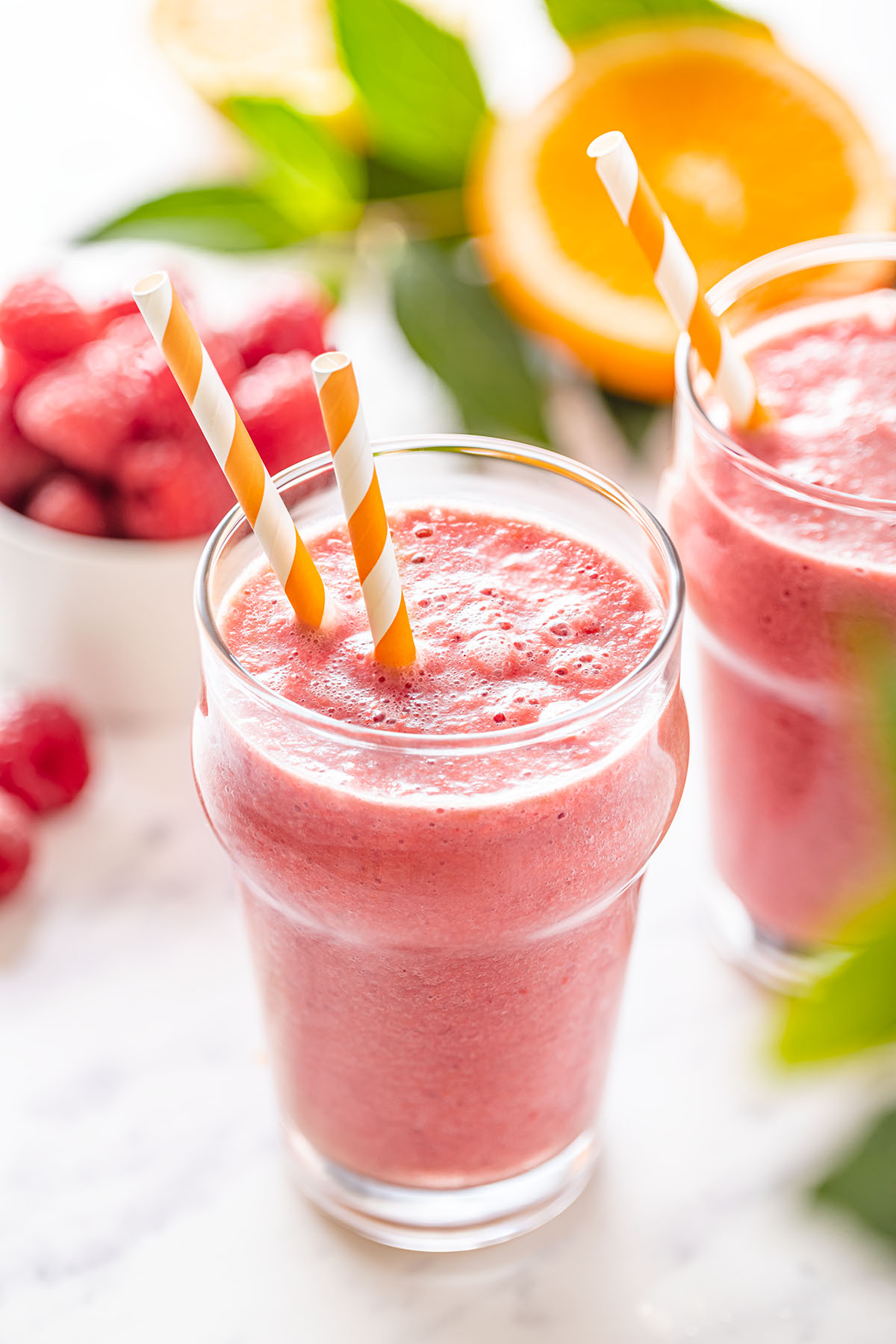 More Healthy Breakfast Ideas
Also, be sure to try our other super delicious quick and easy breakfast recipes:
This Raspberry Citrus Protein Smoothie is a delightful and energizing choice for a perfectly balanced and healthy breakfast. Give it a try and don't forget to share your feedback in the comments below. Enjoy the goodness of this smoothie and start your day with a nutritious boost!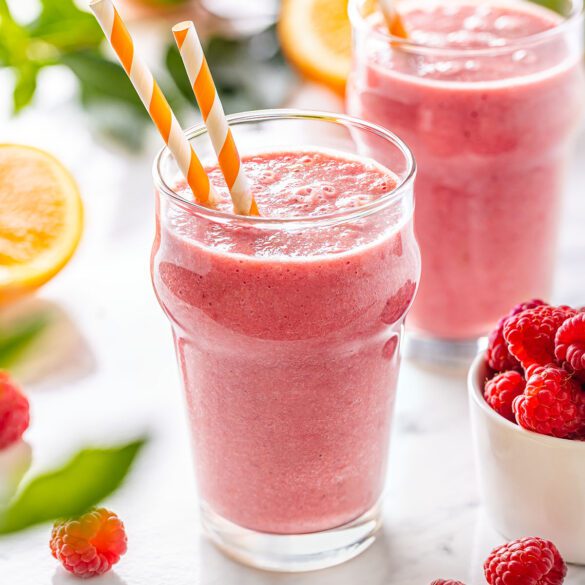 This Raspberry Citrus Protein Smoothie is light and refreshing, delicious, full of energy-boosting ingredients, and loaded with protein, which gives you a perfectly balanced, easy, and healthy breakfast!
Ingredients
½ cup raspberries
1 orange
½ grapefruit
1 banana
¾ cup almond milk (or any other milk)
1 scoop protein
Instructions
Peel the orange, banana, and grapefruit. Cut into pieces.
Put all the ingredients into the blender and blend until smooth. Serve immediately and enjoy!
Nutrition
Calories:
204kcal
Fat:
2.4g
Saturated Fat:
0.6g
Cholesterol:
32mg
Sodium:
81mg
Carbohydrate:
35.4g
Fiber:
6.1g
Sugar:
22.1g
Protein:
13.5g
Vitamin D:
38mcg
Calcium:
101mg
Iron:
1mg
Potassium:
556mg
Did You Make This Recipe?
Tag us on Instagram
@thewillowskitchen
and hashtag #thewillowskitchen to show your results. And be sure to leave a comment in the section below :)
FAQs
Can I use frozen raspberries instead of fresh ones in the smoothie?
Yes, you can use frozen raspberries instead of fresh ones. Frozen raspberries work well in smoothies and can help to make the smoothie colder and thicker.
Can I adjust the sweetness of the smoothie?
Yes, you can adjust the sweetness of the smoothie to your liking. If you prefer a sweeter taste, you can add a natural sweetener like honey, maple syrup, or dates. Start with a small amount and gradually increase it until you reach your desired level of sweetness.
Can I add ice cubes to make the smoothie colder?
Yes, if you prefer a colder smoothie, you can add a few ice cubes to the blender when blending the ingredients. This will help to chill the smoothie and give it a refreshing, icy touch.
What protein goes best in smoothies?
The best protein for smoothies depends on individual preferences and dietary needs. Whey protein is popular for its fast absorption and creamy texture, making it ideal for smoothies. Plant-based proteins like pea, rice, hemp, and soy are great options for those following vegetarian, vegan, or dairy-free diets. Collagen peptides offer potential benefits for skin and joint health. Ultimately, the best protein for your smoothies will depend on factors such as taste, dietary restrictions, and personal nutritional goals. Experimenting with different protein sources can help you to find the one that suits your needs and adds a nutritional boost to your smoothies.