This Almond Cranberry Skillet Granola is very flavorful, crispy, and yummy. When your mornings get busy, just pour in your favorite milk or yogurt, and a delicious and nutritious breakfast is ready to go. But granola isn't limited to breakfast alone, it can also be a fantastic addition to desserts. Imagine the delightful crunch it adds to parfaits, chocolate bars, truffles, and countless other sweet treats. Granola is incredibly easy to make at home, and we offer a method that's even simpler and quicker than the traditional one – just cook it in a skillet on the stovetop, and in just 7 minutes, you'll have a batch of super yummy granola!
If you've never been a fan of granola, it's simply because you haven't tasted the right one yet. Give this easy stovetop granola a try, and you'll be pleasantly surprised by how much you enjoy it. Trust me, it's a real winner!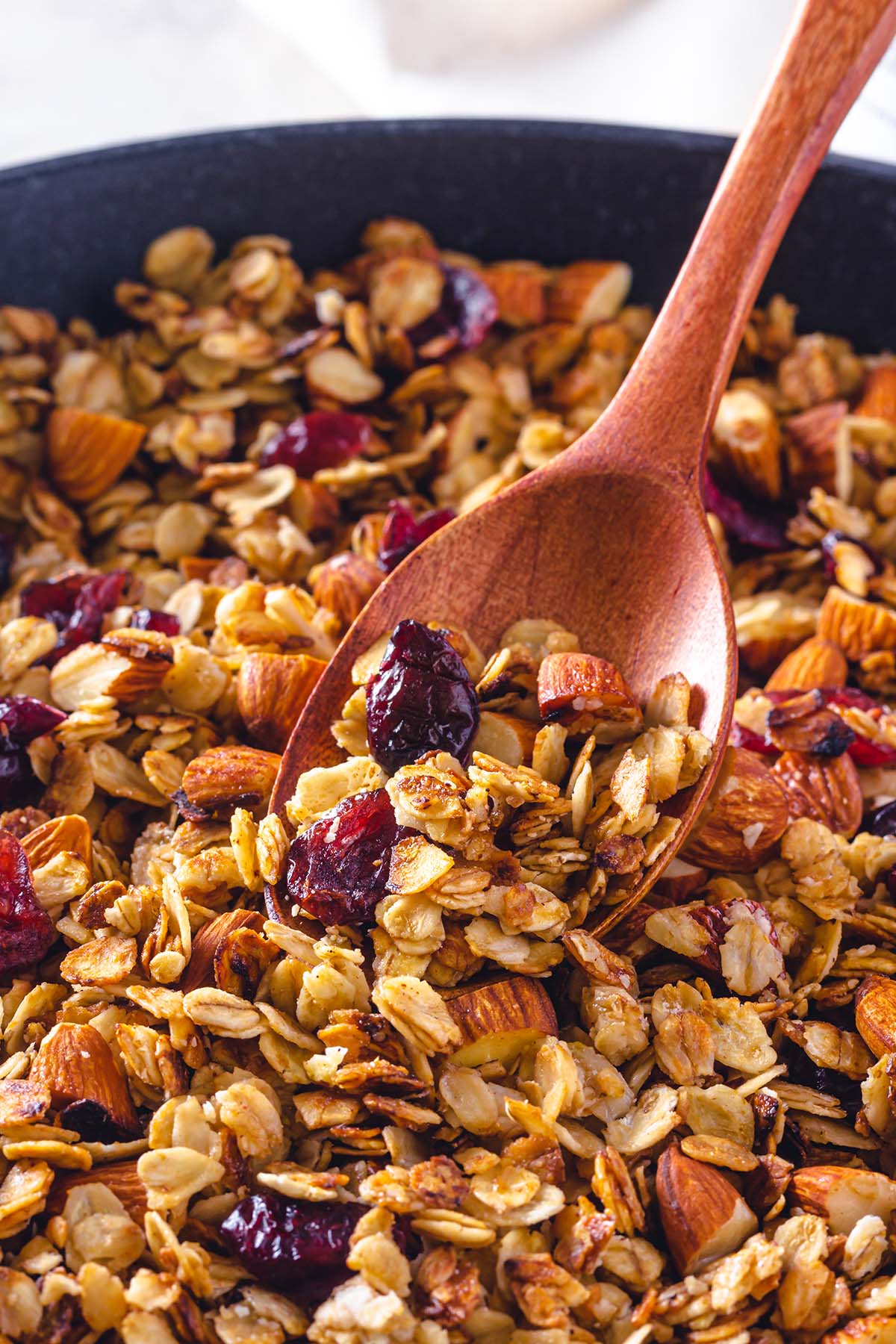 Healthy Way to Start Your Day
Oats are very good for your health. They're perfect for breakfast – filling, nutritious, and very healthy. They are a good source of fiber and have a rich nutritional composition. Eating oatmeal or an oat-based breakfast is a good way to begin your day.
This recipe also includes almonds and dried cranberries. Almonds are high in healthy fats, vitamin E, calcium, magnesium, riboflavin, potassium, and other valuable nutrients for your health. Cranberries are rich in antioxidant compounds, support the immune system, and may help prevent anemia. Additionally, these berries are good for your heart and gut health.
Ingredients
Rolled Oats. They are rich in fiber, vitamins, and minerals, and offer a satisfying texture to the granola.
Almonds add a delightful crunch and a boost of healthy fats and protein to the granola.
Dried Cranberries add a sweet and tart flavor to the granola.
Honey acts as a natural sweetener, helps bind the granola together, and influences the crunchiness of the granola.
Coconut Oil helps to achieve a crispy texture when cooked.
Vanilla Extract contributes a warm and fragrant aroma to the granola.
Ground Cinnamon adds a warm and comforting flavor to the granola. It pairs well with the other ingredients and adds a hint of spice.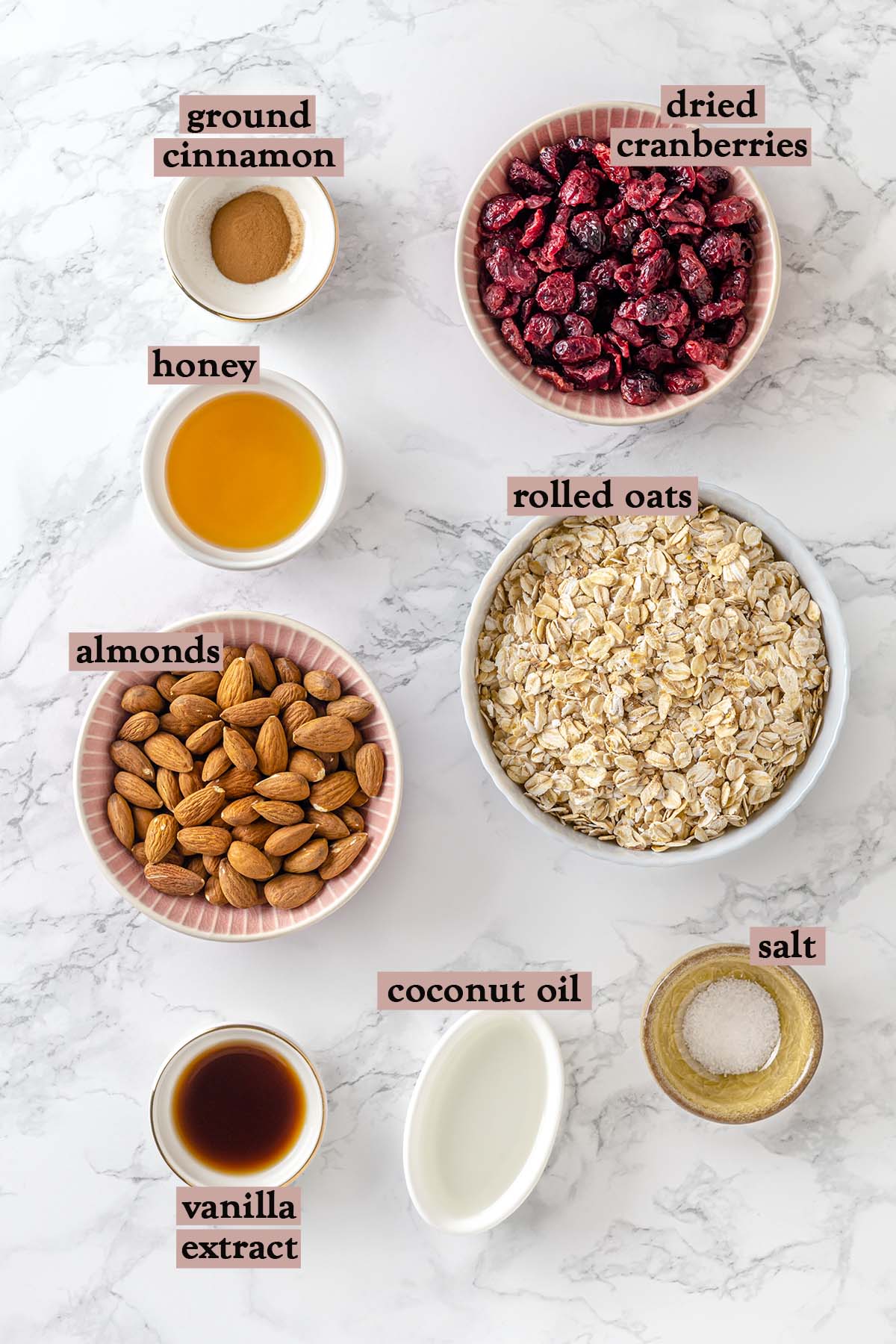 Why This Recipe Is the Best
Super Quick and Easy: This skillet granola recipe takes just 5-7 minutes to cook, making it faster than traditional oven-baked granola. It's the perfect option for those who want a homemade treat without spending too much time in the kitchen.
Perfect for Meal Prep: This recipe is great for meal prepping. You can double or triple the ingredients and make a large batch to have granola ready for the week. Simply store it in an airtight container and enjoy it whenever you need a quick and nutritious breakfast or snack.
Flavorful and Crunchy: The combination of honey, almonds, dried cranberries, and warm spices creates a tempting blend of flavors and textures. The granola turns out crispy and perfectly toasted, offering a delightful crunch with every bite.
Versatile and Customizable: While the recipe highlights the delicious pairing of almonds and cranberries, you have the freedom to customize it to your liking. Swap out the nuts, experiment with different dried fruits, or add your favorite seeds to create unique variations of this granola.
Nutritious and Filling: Oats are packed with fiber and offer a wide range of nutrients. Almonds and coconut oil contain healthy fats. All of the ingredients provide a filling and nutritious base for the granola, making it a wholesome option for breakfast or a snack.
Cost-effective and Healthier: Homemade granola not only tastes better than store-bought alternatives, but it's also a healthier option. By making it at home, you can control the quality of ingredients and adjust the sweetness to your preference. Plus, you'll save money in the process!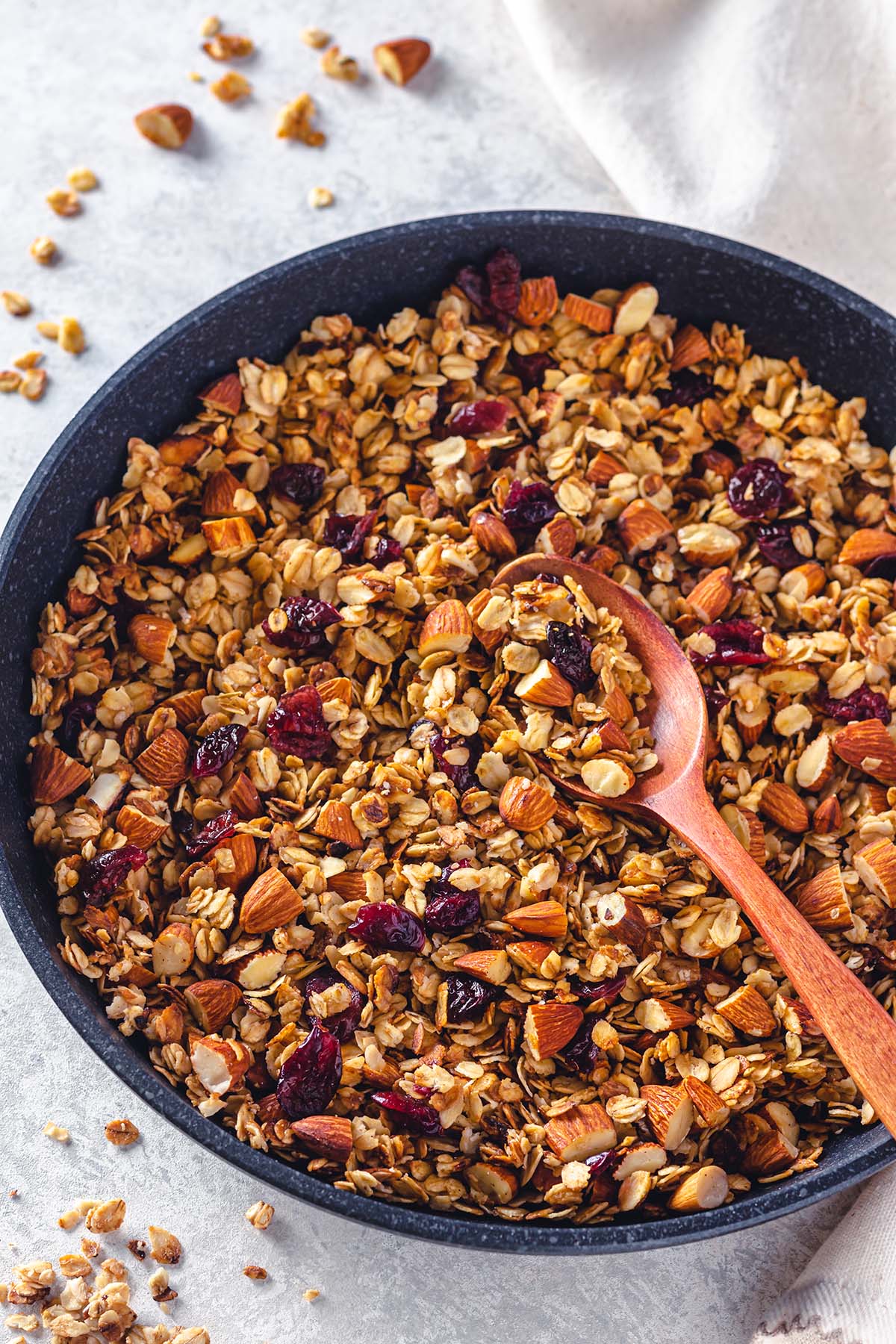 Storage Instructions
To keep your Almond Cranberry Skillet Granola fresh and crunchy, you should store it properly. Properly sealed, the granola can stay fresh for up to two weeks. After making the granola, allow it to cool completely and only then transfer the granola into an airtight container. This helps keep moisture out and preserves the crunchiness of the granola. Store it in a cool, dry place away from direct sunlight.
If your granola has become soft over time, you can easily restore its crunchiness. Here's a simple method:
Heat a skillet over medium heat and add the soft granola.
Stirring constantly, cook the granola for a few minutes until it becomes crispy again.
Keep a close eye on it to prevent burning. The heat will help evaporate any moisture and restore the desired texture.
Ideas to customize
The combination of almonds and cranberries is very good. It complements crispy honey oats, and together they make amazingly delicious and flavorful granola. But you may combine different types of nuts, seeds, and dried fruits, as you like. Here are some ideas on how to customize the granola recipe to your liking:
Different Nuts: Experiment with different nuts such as pecans, walnuts, cashews, or pistachios. You can chop them finely or leave them whole for added texture and flavor.
Seeds: Boost the nutritional profile of your granola by adding a variety of seeds like chia seeds, flaxseeds, sunflower seeds, or pumpkin seeds. They add a delightful crunch and provide an extra dose of healthy fats and essential nutrients.
Dried Fruits: While cranberries are a delicious choice, consider mixing in other dried fruits like raisins, chopped apricots, cherries, or blueberries. The burst of sweetness and chewiness will elevate the overall taste.
Spices: Experiment with different spices to add a hint of warmth and complexity. Try ground cardamom, nutmeg, or ginger for a unique twist on the flavor profile.
Sweeteners of Choice: Feel free to substitute the honey with maple syrup, agave nectar, or date syrup for a different flavor and sweetness level.
Chocolate Granola: Add a handful of chocolate chips or chunks to the granola mixture after it has cooled down. Or add 2 tablespoons of cocoa powder before cooking.
Savory Granola: If you're feeling adventurous, consider creating a savory granola by adding herbs, spices, and a pinch of salt. This unique twist can be a great addition to salads, soups, or roasted vegetables.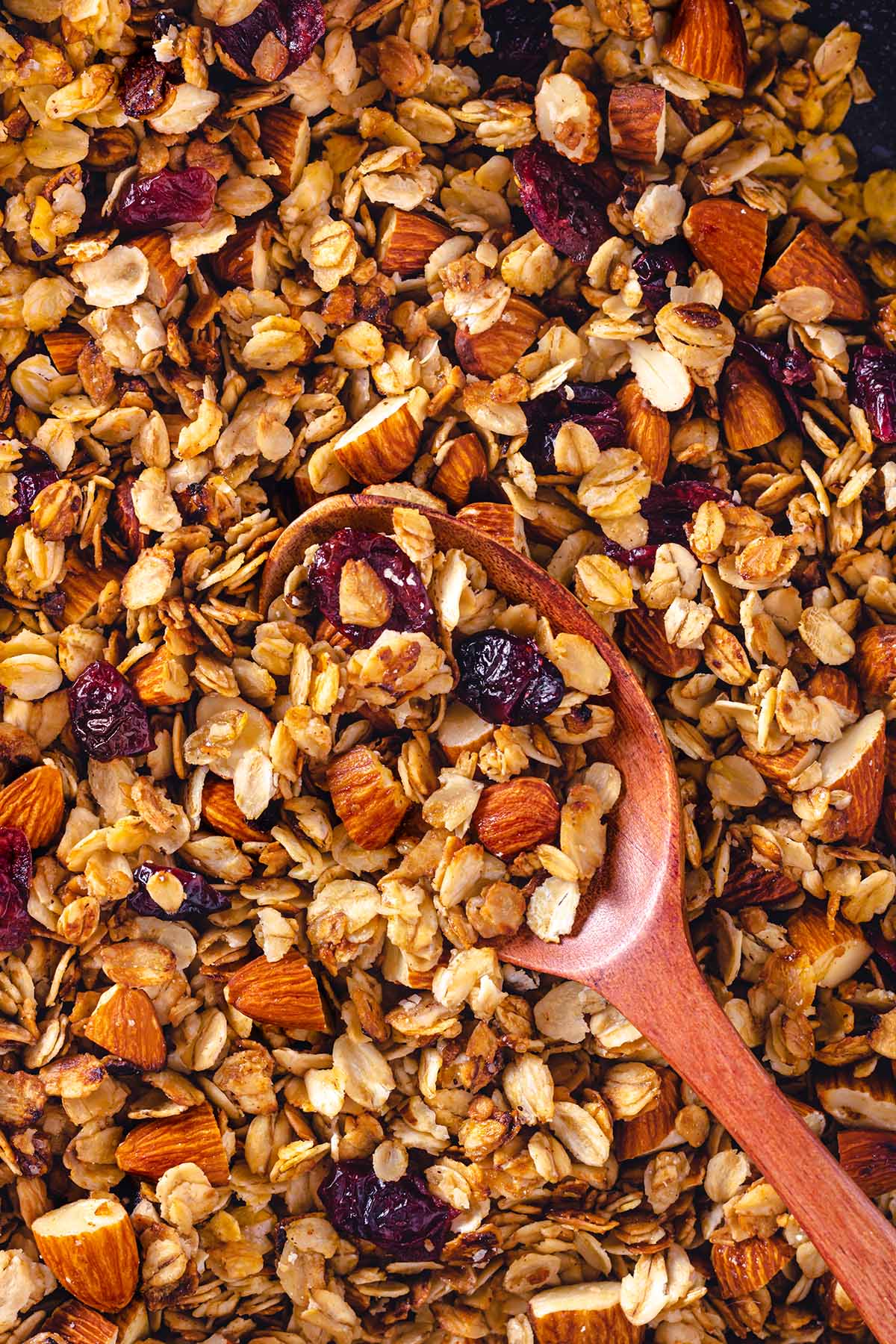 Tasty Ways to Eat Granola
There are numerous ways to enjoy granola. Here are some popular ways to eat granola:
Breakfast Cereal: One of the most common ways to eat granola is as a breakfast cereal. Pour a serving of granola into a bowl, add milk (dairy or plant-based), and enjoy it. Also, you can add fresh fruit or yogurt for added flavor and nutrition.
Yogurt Parfait: Create a delicious and nutritious yogurt parfait by layering granola, yogurt, and fresh fruit in a glass or jar. Repeat the layers as desired and top it off with a drizzle of honey or maple syrup.
Smoothie Bowl Topping: Sprinkle granola on top of a thick and creamy smoothie bowl for added texture and crunch. The combination of the smoothie base and granola creates a balanced and filling meal. For example, you can try a smoothie bowl with a Creamy Mango Peanut Butter Smoothie base and top it off with granola for a delightful contrast of flavors and textures.
Salad Topping: Sprinkle granola on top of salads to add a crunchy element. It works particularly well with green salads, fruit salads, or yogurt-based dressings.
Granola Bars: Turn your homemade granola into convenient and portable snacks by making granola bars. Bars are perfect for a quick and energizing on-the-go snack.
Dessert Topping: Use granola as a topping for desserts like ice cream, yogurt bowls, or fruit crisps. The crunchy texture and sweet flavors of the granola add a delightful contrast and extra indulgence to your favorite treats.
Baking Ingredient: Incorporate granola into baked goods like cookies, muffins, or bread. You can add it as a mix-in for added texture and flavor, or even use it as a crust for pies and bars.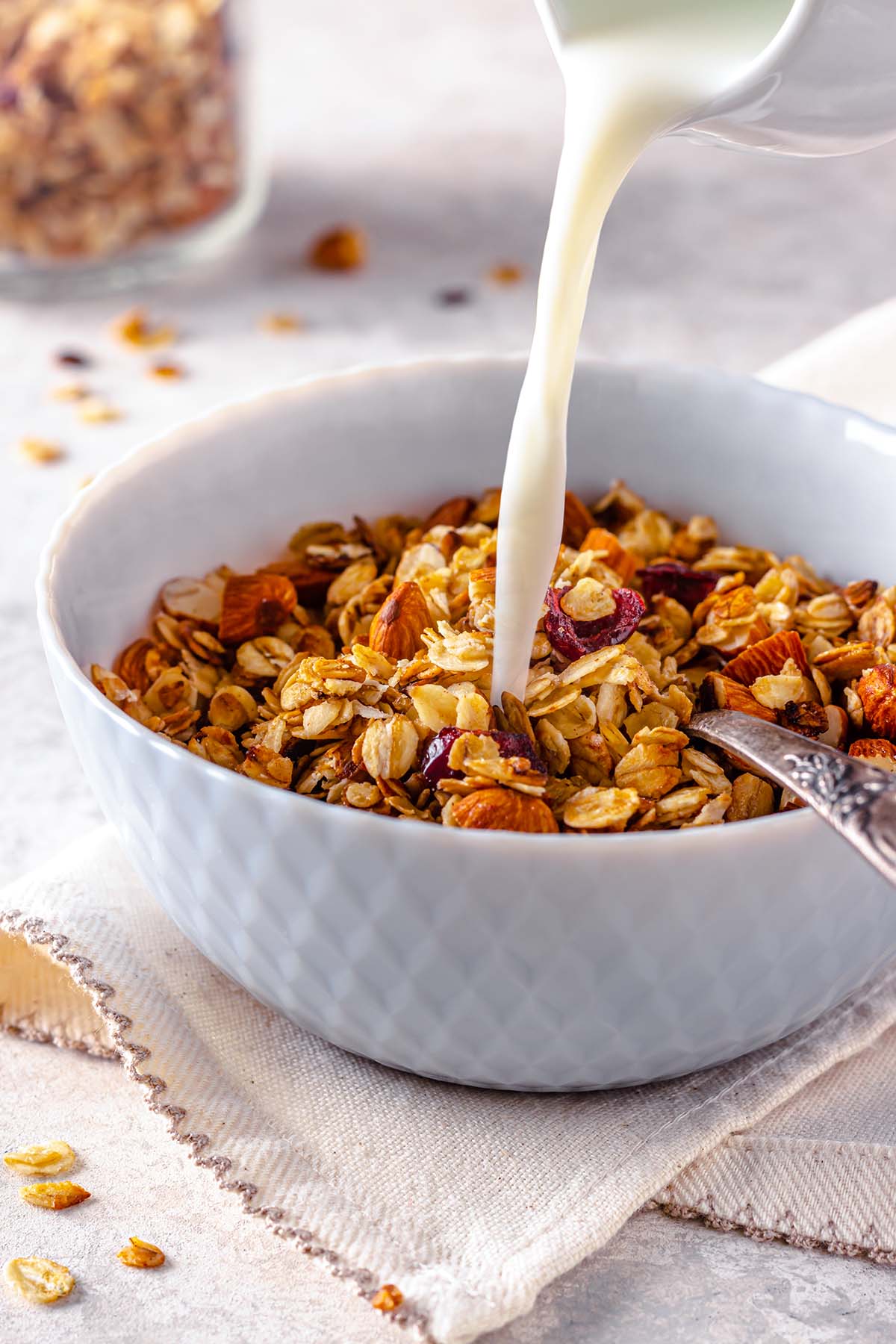 More Healthy Breakfast Ideas
As has been noted, this granola is the perfect choice for a make-ahead breakfast or as a healthy snack. Moreover, homemade granola is much more delicious and healthier than the bought one. By making it at home you may also save money. Sounds great, right? Give it a try, I'm sure you'll like it!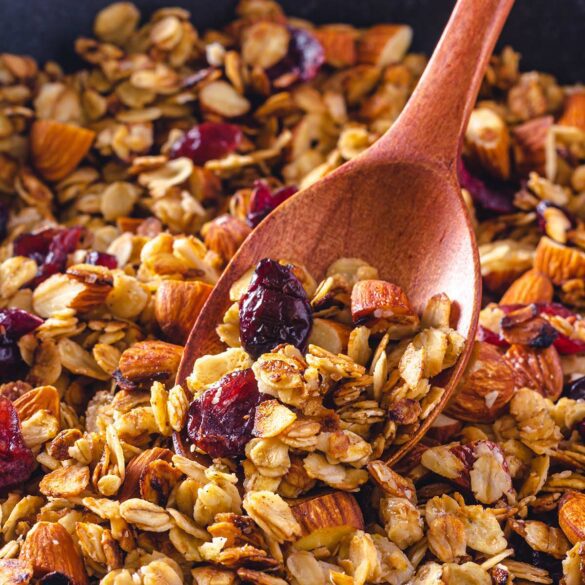 This Almond Cranberry Skillet Granola is very flavorful, crispy, and yummy. When your mornings get busy, just pour in your favorite milk or yogurt, and a delicious and nutritious breakfast is ready to go!
Ingredients
3 tbsp (60 g) honey
2 tbsp (25 g) coconut oil, melted
1 ½ cups (150 g) rolled oats
½ cup (70 g) almonds
⅓ tsp ground cinnamon
1 tsp vanilla extract
¼ tsp salt
½ cup (80 g) dried cranberries
Instructions
Heat up a skillet over medium heat. Add honey and coconut oil.
Once the mixture starts to bubble, add oats, almonds (whole or coarsely chopped), cinnamon, vanilla, and salt. Stir constantly while cooking for about 7 minutes until the liquid evaporates, and the granola turns golden in color.
Remove the skillet from heat and stir in the dried cranberries.
Transfer the granola onto a baking sheet lined with parchment paper to allow it to cool. As it cools, the granola will become crunchy and incredibly tasty.
Store the granola in an airtight container.
Nutrition
Calories:
303kcal
Fat:
14.7g
Saturated Fat:
6.7g
Cholesterol:
0mg
Sodium:
150mg
Carbohydrate:
37.8g
Fiber:
5.2g
Sugar:
14.4g
Protein:
6.6g
Calcium:
53mg
Iron:
2mg
Potassium:
232mg
Did You Make This Recipe?
Tag us on Instagram
@thewillowskitchen
and hashtag #thewillowskitchen to show your results. And be sure to leave a comment in the section below :)