This Gluten-free Strawberry Chantilly Cake consists of fluffy vanilla sponge cake layers, and divinely delicate Chantilly cream and is topped with fresh strawberries. It will really melt in your mouth! It is a light, airy, and very tasty treat that is bound to impress you!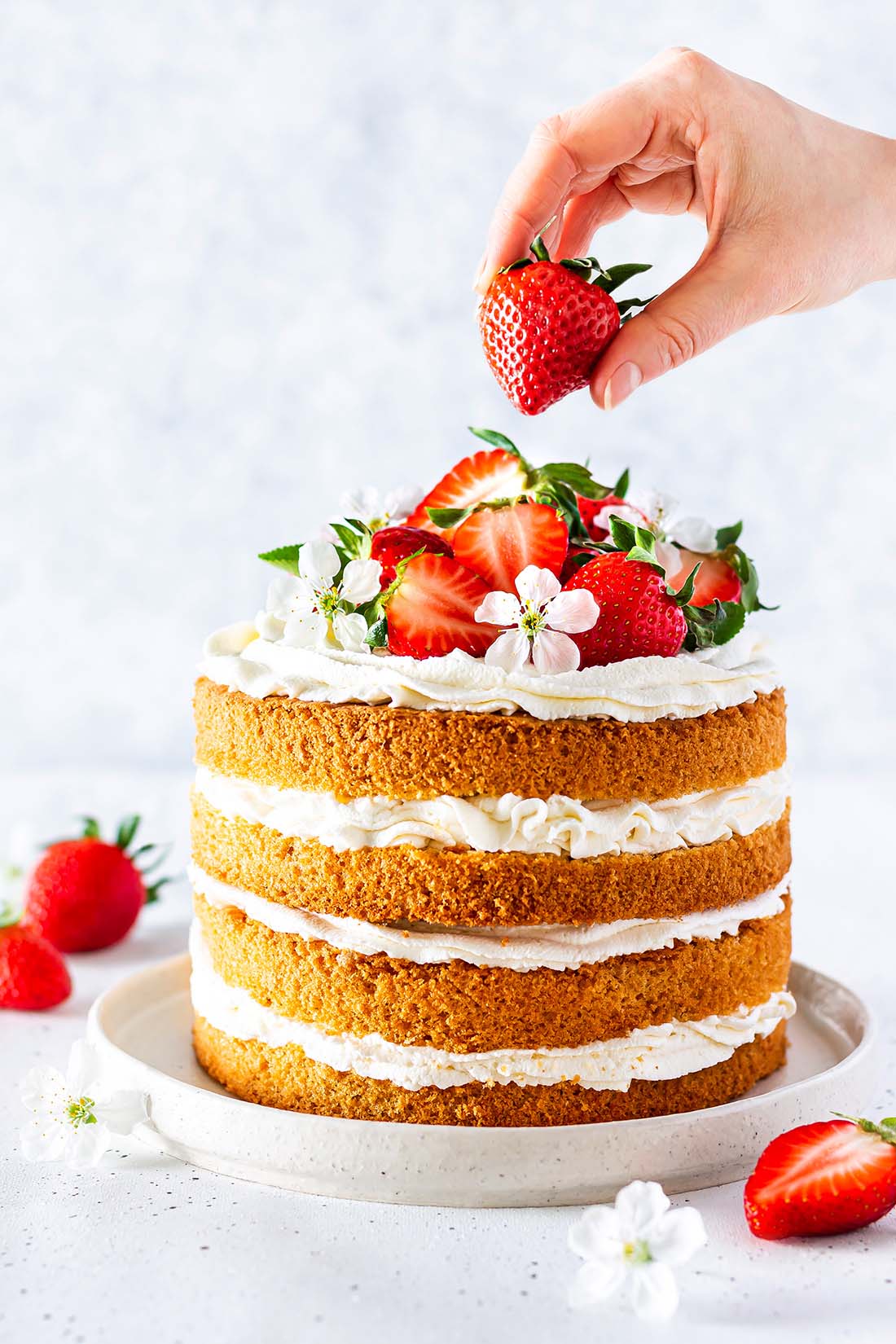 Why You'll Love This Cake
Sponge cake is very fluffy, delicious, and easy to make. With only a few simple ingredients, this cake is easy to make, even for novice bakers. A few minutes of prep time and 30 minutes of baking – and you get tasty, light, and fluffy sponge cake. It's one of the easiest and quickest layer cakes in the world :)
This Chantilly Cake is gluten-free. It's also a healthier option compared to traditional cakes since it contains a lower amount of sugar and is not too heavy. And if you prefer a sugar-free version, you can easily substitute it with a dry sweetener like Swerve Sweetener or any other sweetener of your choice.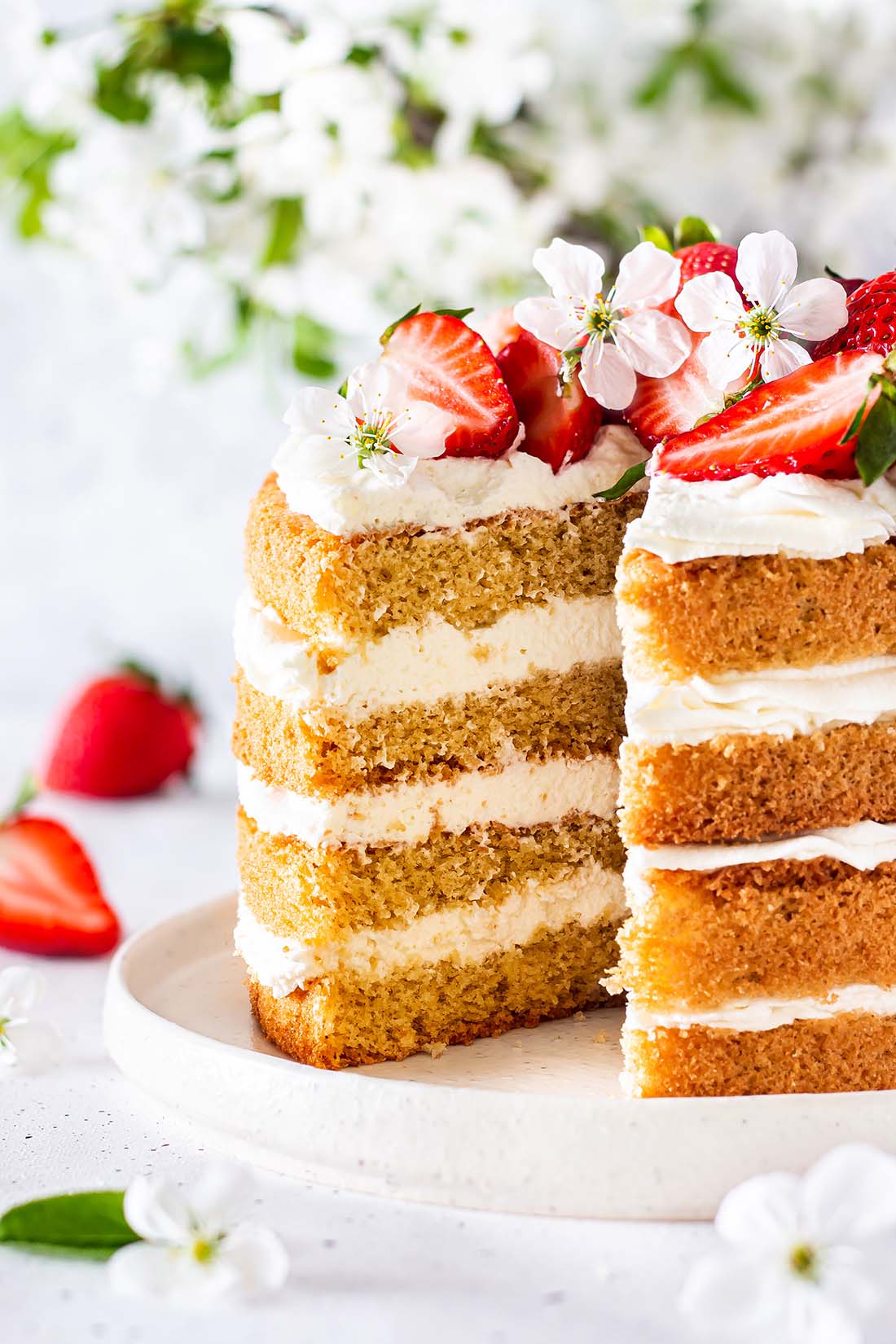 Ingredients
White rice flour. This gluten-free flour is made from ground rice and is commonly used in gluten-free baking. It has a fine texture and a neutral flavor.
Cornstarch helps lighten the texture of the cake and makes it more tender.
Eggs help to bind the ingredients together and provide structure. Also, add moisture and help to make the sponge cake light and fluffy.
Light brown sugar. This type of sugar is less processed, still containing some molasses. For this recipe any sugar will work – you can use regular white sugar or Swerve sweetener for a sugar-free version. But be sure to choose dry, not liquid sweeteners.
Baking powder helps the cake to rise and become light and fluffy.
Vanilla extract adds flavor to the cake and complements the strawberries and Chantilly cream.
Heavy whipping cream needs to be cold and have a high-fat percentage to ensure that it whips up properly.
Powdered light brown sugar is used to sweeten the Chantilly cream. Any powdered sugar will work.
Fresh strawberries for decorating the cake and adding a burst of fresh, berry flavor, complementing the Chantilly cream.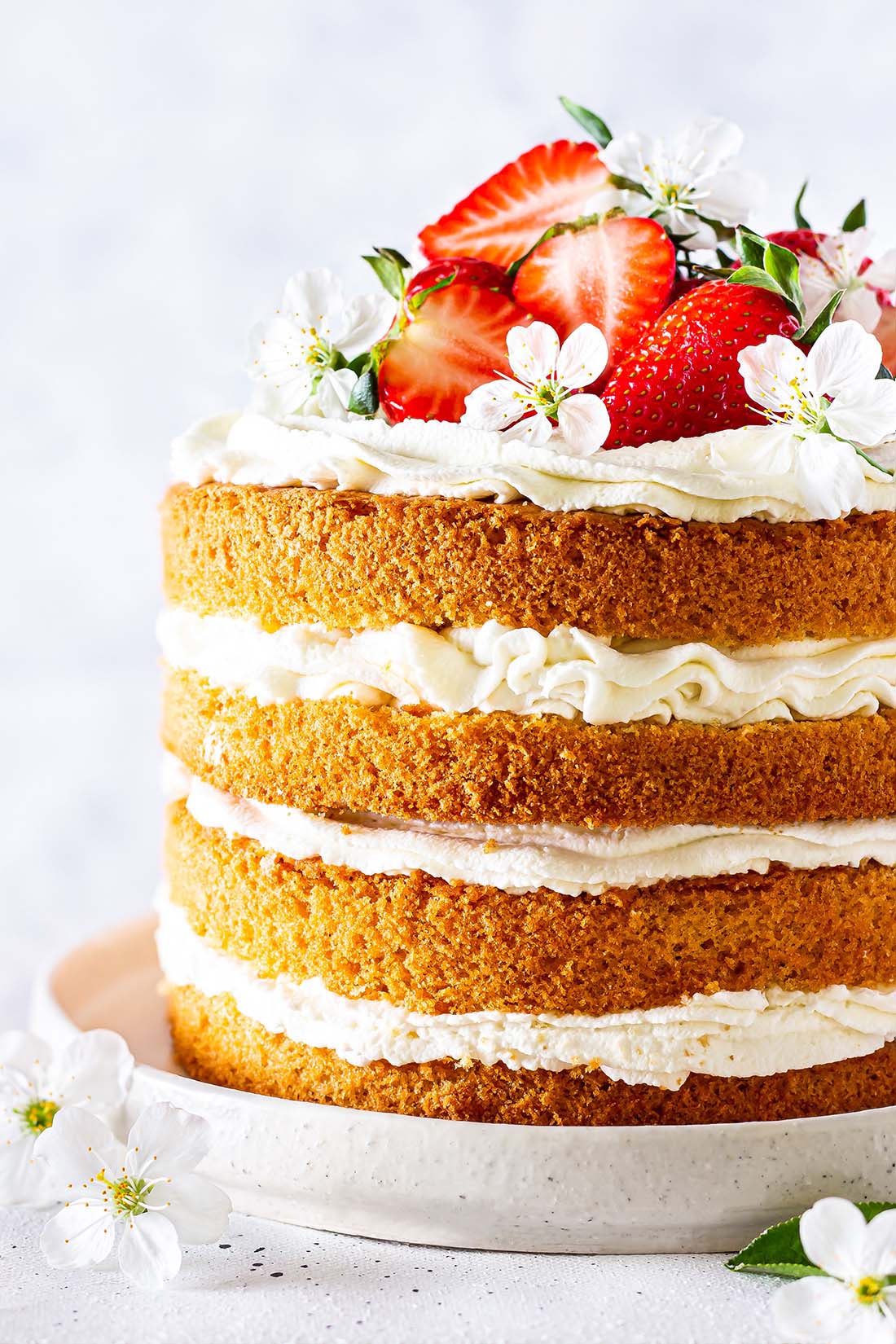 What is Chantilly Cream
Chantilly cream is a luxurious and delicious topping that adds an indulgent touch to any dessert. Consisting of only a few ingredients, it is very simple and very delicious. It is sweet, fluffy, delicate, and very light, especially in comparison to butter or chocolate frostings.
Chantilly cream is made by whipping heavy cream with powdered sugar and vanilla extract until it forms stiff peaks. The addition of sugar and vanilla gives the cream a delicate flavor that complements the sweetness of the dessert it is paired with. Some variations of Chantilly cream may also include other flavorings such as liqueurs, citrus zest, or chocolate.
Today, Chantilly cream is a popular topping for many desserts, including cakes, pies, and fruit. It can also be used as a filling for pastries or as a component in more complex desserts, such as mousse or parfait.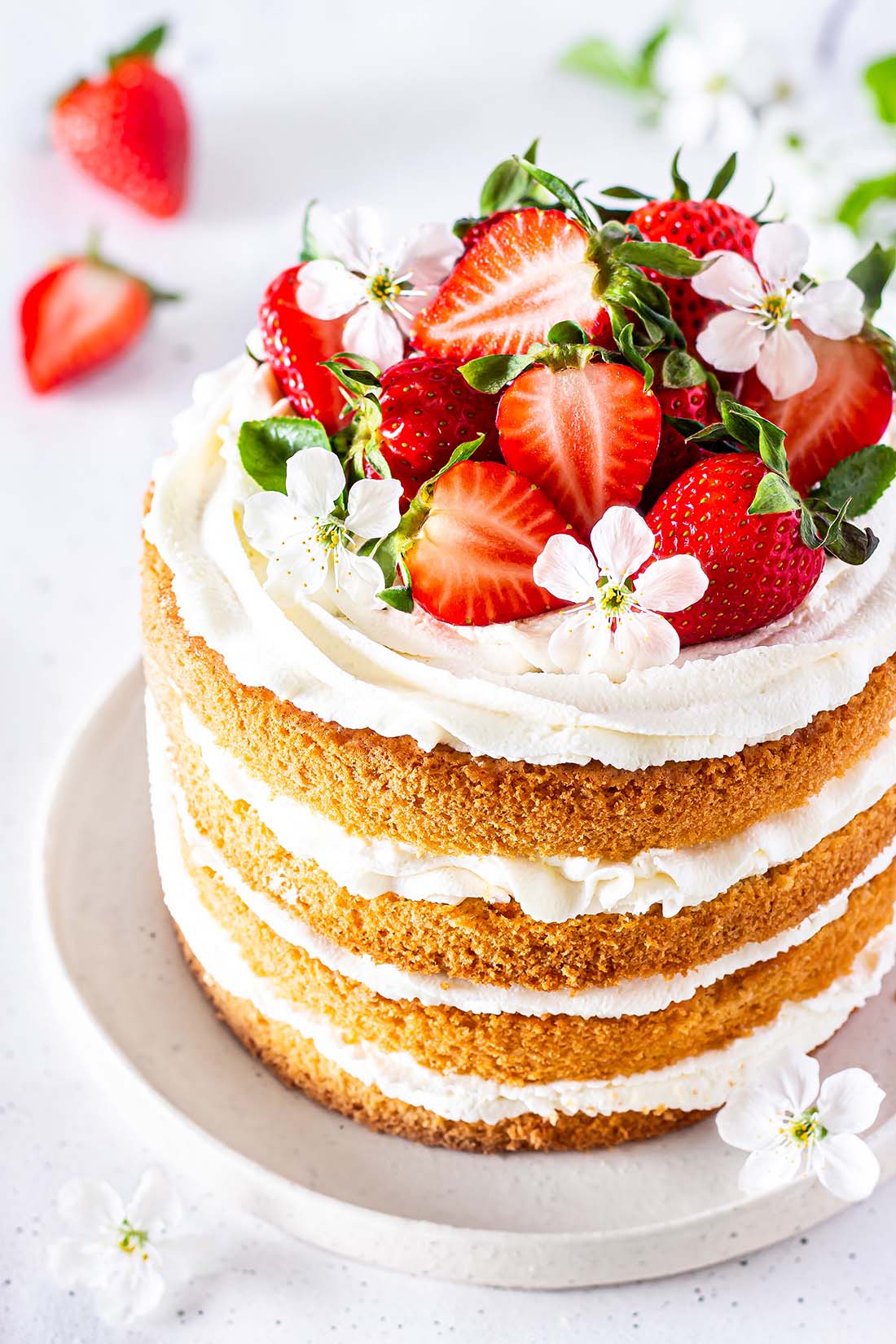 Expert Tips for Making Chantilly Cream
Chantilly cream is easy to make at home and only requires a few simple ingredients. However, it is important to ensure that the cream is whipped to the correct consistency, as over-whipping can cause it to turn into butter. But to get a good result and make fluffy Chantilly cream, you should know a few important things.
The most important thing is that we should use only cream with a high-fat percentage – at least 35%. Only in this case, we get stable and thick whipped cream.
The second important moment is that all the ingredients and tools have to be cold. So place the beaters and the bowl into the refrigerator to cool for about 40 minutes before whipping the cream. The cream should also be cold, so be sure to use the cream after at least one night in the refrigerator.
As the cream will increase in volume, choose a quite big bowl for whipping.
Also, I suggest whipping the cream at medium speed instead of high speed. The process may take a little longer, but the whipped cream will be much fluffier and lighter. Stop whipping when the cream becomes really thick and the peaks will be completely stiff.
Be sure that you do not overwhip it, because the cream may start to become grainy and separate, which will ruin the texture of the finished product. So, it's important not to whip it too little or too much. Just get the stiff peaks and stop whipping. And use immediately.
By following these tips, you can ensure that your Chantilly cream turns out perfectly every time, with a light and fluffy texture and a delicate, sweet flavor.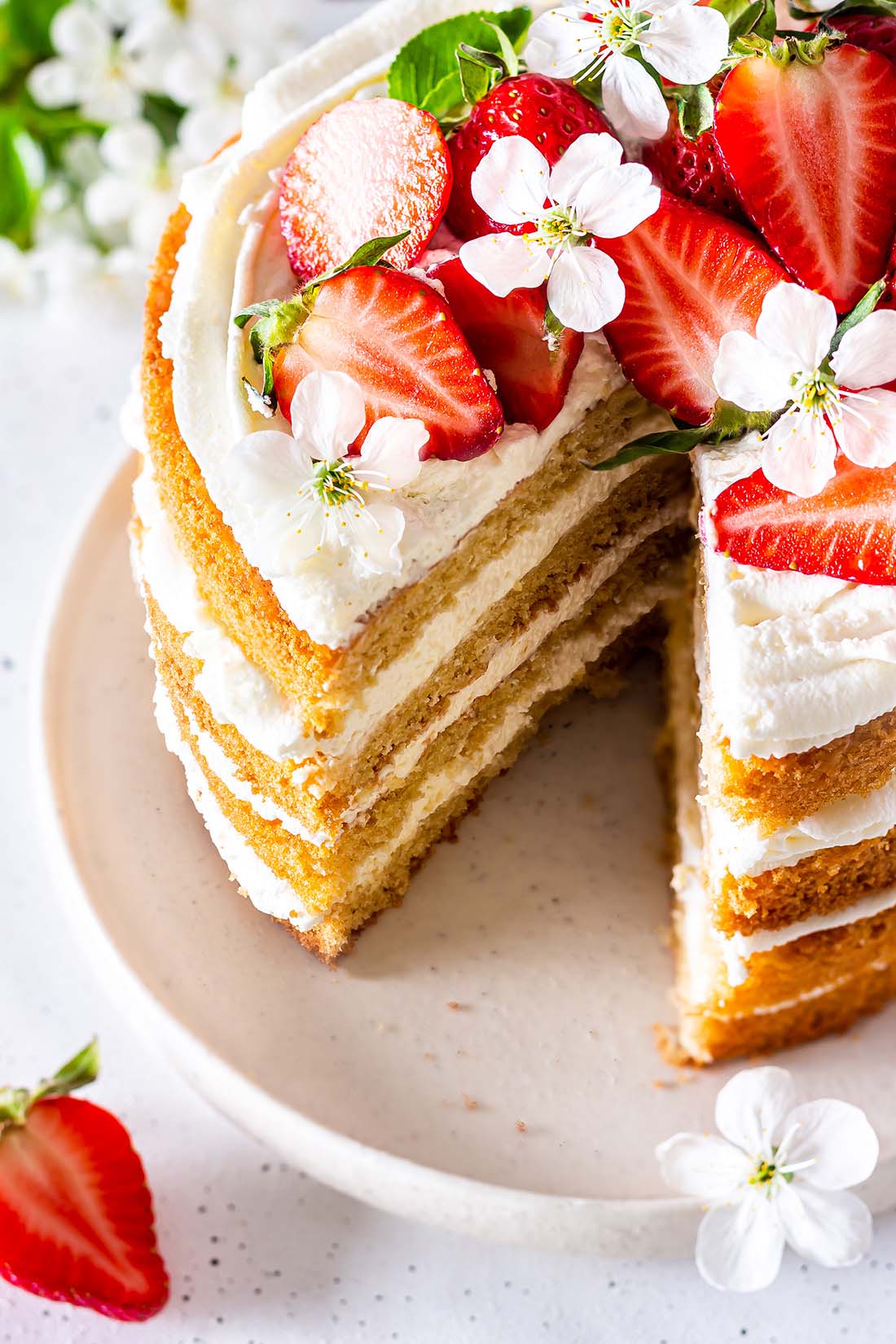 Storage Instructions
Store the cake in the refrigerator. It's better to serve it in the first 2 days, but you may store it in the fridge for longer, up to 5-7 days, however, the cream may become more liquid as mentioned above.
Homemade whipped cream is better used within the first 24 hours as we don't add any stabilizers to it. You can stabilize it with gelatin, cornstarch, or any other whipped cream stabilizers. In this case, it can last for up to 4 days without quality loss.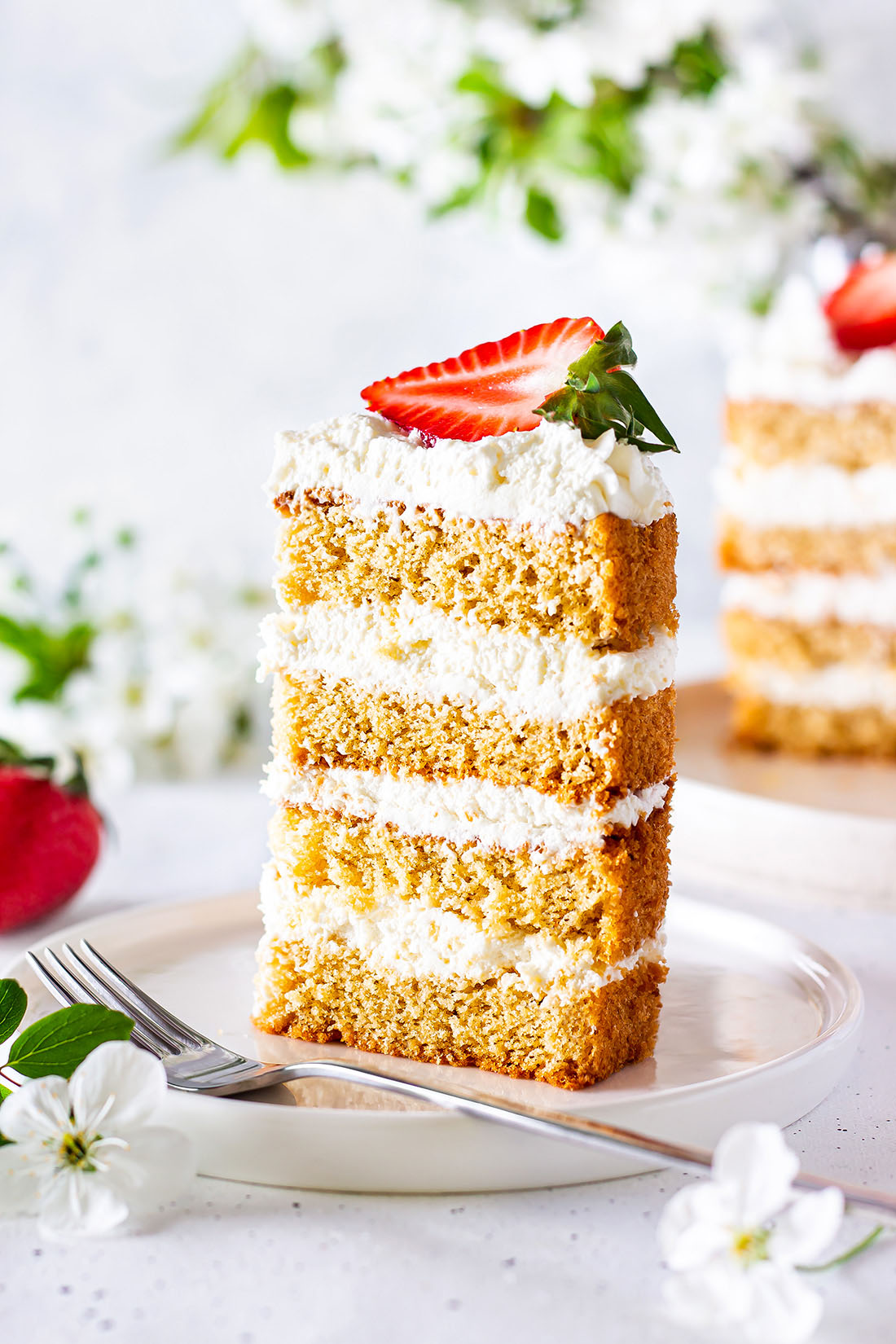 More Gluten-free Cakes to Try
This Strawberry Chantilly Cake is a perfect dessert for any occasion. It's elegant and beautiful, with fresh strawberries and a light, fluffy texture that will impress your guests.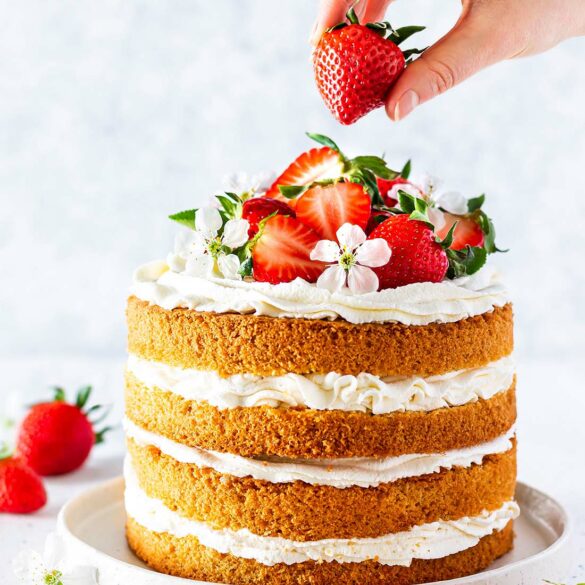 This Strawberry Chantilly Cake consists of fluffy vanilla sponge cake layers, and divinely delicate Chantilly cream and is topped with fresh strawberries. It will really melt in your mouth!
Ingredients
For the Vanilla Sponge Cake:
4 large eggs (about 8.5 oz or 240 g)
⅔ cup (135 g) light brown sugar
⅔ cup (100 g) white rice flour
2 tbsp (15 g) cornstarch
2 tsp baking powder
1 tsp vanilla extract
For the Chantilly Cream:
2 cups (480 g) heavy whipping cream (at least 35% fat)
5 tbsp (40g) powdered light brown sugar
1 tsp vanilla extract
For the Decoration:
Instructions
For the sponge cake. All the ingredients for the cake should be at room temperature.
Preheat the oven to 350°F (180°C). Grease and line the base and sides of two 6-inch (or 16 cm) cake pans with parchment paper.
Using a mixer, beat the eggs with sugar on high speed until a pale color and foam-like consistency (about 2-3 minutes).
Add rice flour, cornstarch, baking powder, and vanilla to the eggs, and on a small speed beat the batter for a minute to combine without any lumps. The batter will be quite thin.
Pour the batter into the prepared pans. Bake the cakes for about 30 minutes until a toothpick comes out clean.
Take it out from the oven, and let cool for about 20 minutes. Remove from the pans and place on the cooling rack to let completely cool. Wrap with plastic wrap and refrigerate for a couple of hours or overnight.
For the Chantilly whipped cream. The cream, the beaters, and the bowl should be cold to get the best result. So place the bowl and the beaters into the fridge to chill for about 30-40 minutes before whipping the cream.
Use a big bowl as the cream will increase in volume when whipped.
Pour the heavy whipping cream (33-38%) into the bowl. Beat the cream on medium speed for about 1 minute until thick and frothy. Then add the powdered light brown sugar and vanilla. Continue to beat on medium speed until the cream becomes thick and stiff peaks form. It usually takes about 5-7 minutes. It's very important not to overbeat the cream!
To assemble the cake. Сut each cake into 2 equal layers to get 4 layer cakes.
Transfer the cream into a piping bag. Place a tiny amount of frosting on a cake turntable and secure the first sponge layer on top of it.
Spread the layer of frosting over the first cake using a pipe. Top with the second layer of cake and repeat the process with all layers.
Decorate with fresh strawberries. Also, you can dice strawberries and place the pieces of it over each layer of cream. It's up to you.
Nutrition
Calories:
363kcal
Fat:
22.7g
Saturated Fat:
14.8g
Cholesterol:
173mg
Sodium:
60mg
Carbohydrate:
30.6g
Fiber:
0.7g
Sugar:
16.9g
Protein:
4g
Vitamin D:
9mcg
Calcium:
160mg
Iron:
1mg
Potassium:
244mg
Did You Make This Recipe?
Tag us on Instagram
@thewillowskitchen
and hashtag #thewillowskitchen to show your results. And be sure to leave a comment in the section below :)