Strawberry Matcha Iced Latte – refreshing, revitalizing and energetic summer drink. Even if you're not a fan of Matcha, I encourage you to give this drink a chance. It tastes like something in between a milkshake and Matcha plus the fruity strawberries layer. And it's fun looking and easy to make!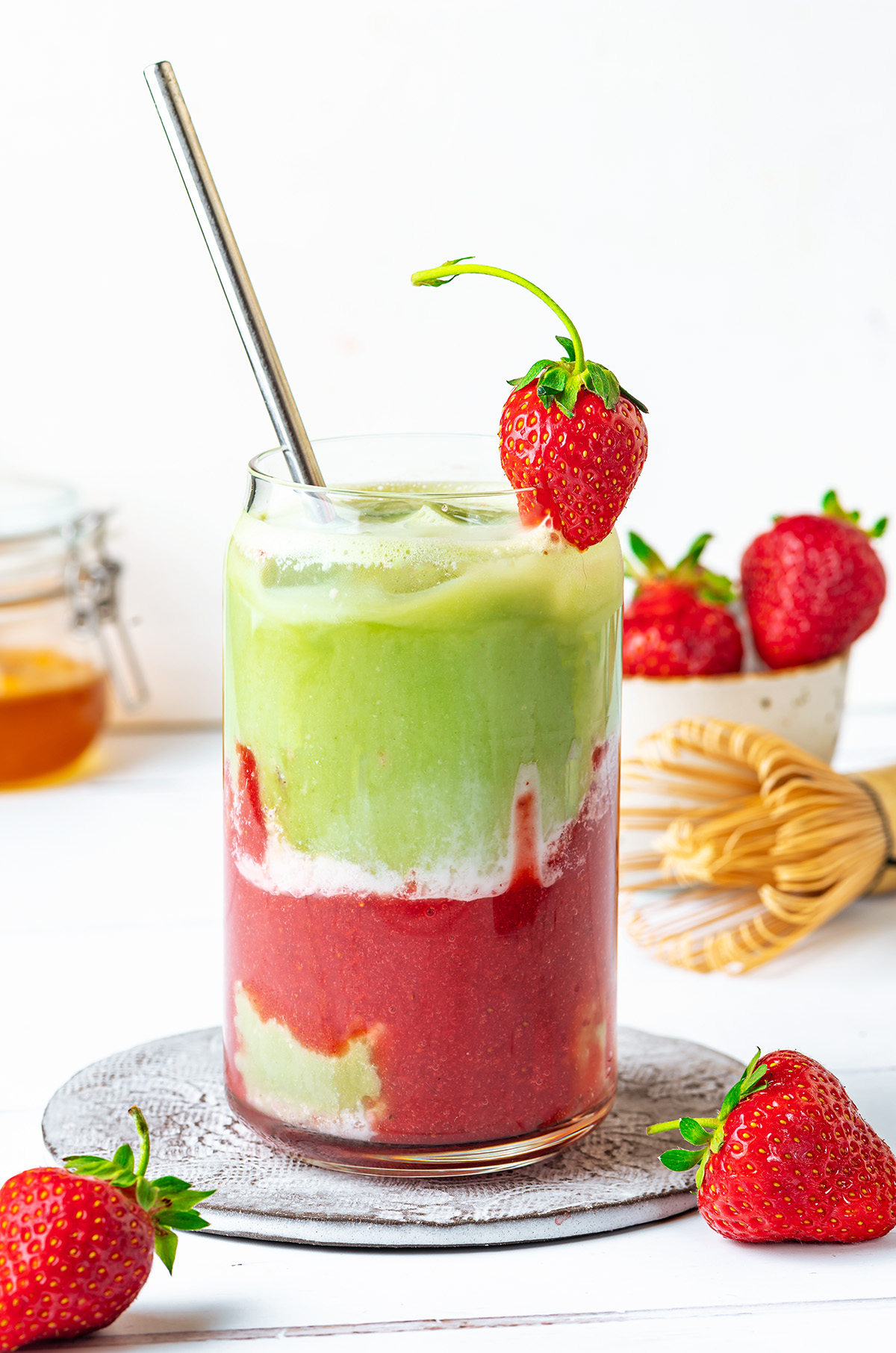 Ingredients
Matcha is finely ground powder of specially grown and processed green tea leaves. Important thing here is to choose a good quality Matcha. If you already tasted Matcha once before and hated it, a big chance is it was a low quality tea. A good quality Matcha powder should have a nice vibrant green color. Never dull, dark or yellowish! The texture should be smooth fine powder, never sand like. Tha last tip, don't expect to find a good quality Matcha for a low price, it just doesn't work this way)
For the milk oprions you can take any milk you like, but keep in mind that coconut milk will give a slight coocnut taste to the drink. I recommend:
Oat milk
Almond milk
Soy milk
or even a regular whole milk if you don't want a vegan option.

Make your strawberry Matcha Iced Latte in a just a few minutes
To make this awesome summer drink you only need to prepare matcha tea and puree your strawberries with a sweetener of your choice. That's it!
To make the matcha tea base for your latte put a teaspoon of matcha powder in a mixing cup and add a few tablespoons of hot water. Whisk it until the matcha has dissolved andpour in the remaining water and whisk some more. For the iced Latte it's better to chill it then in the refrigirator for about 15 minutes.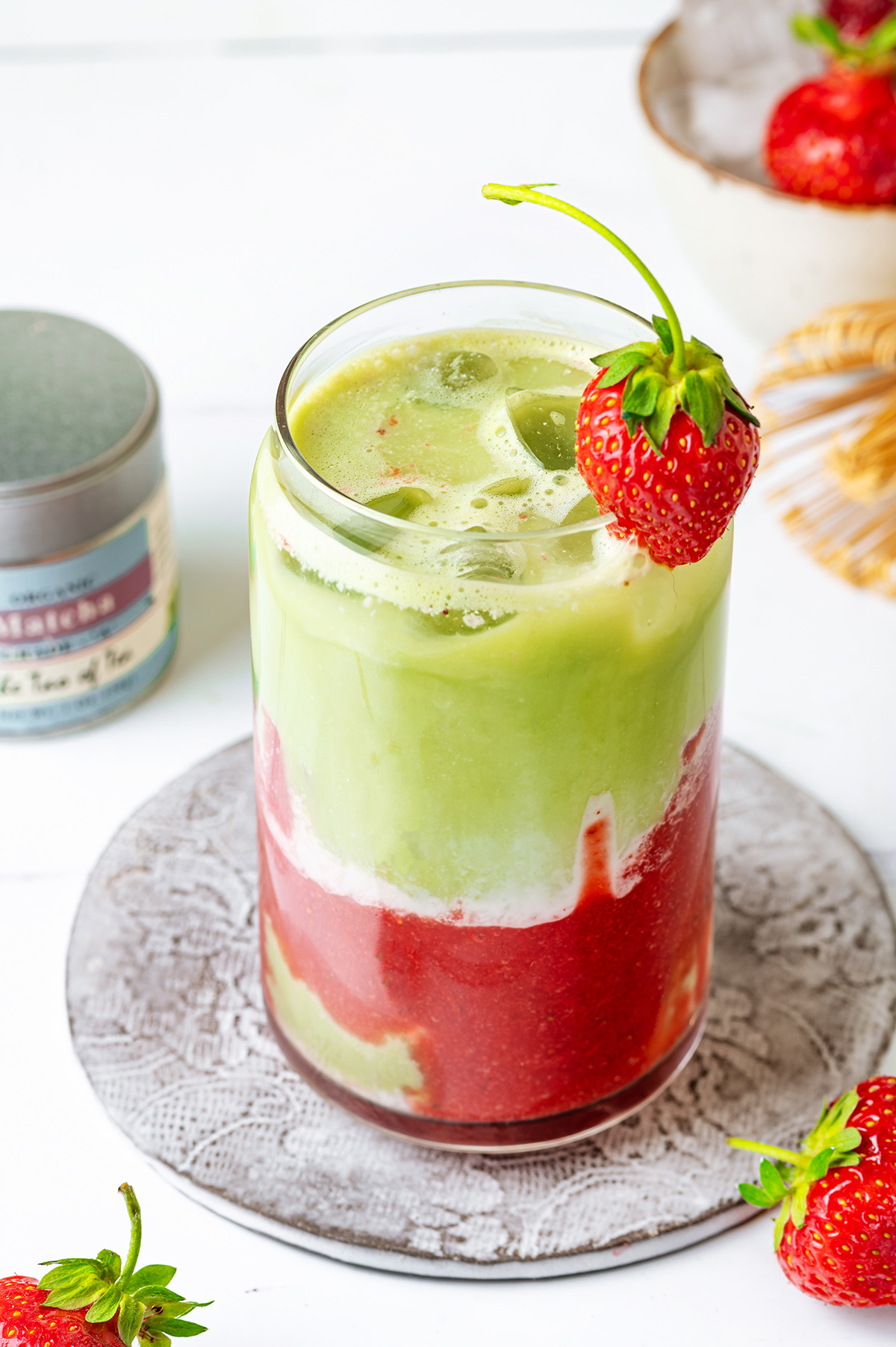 If you're still not convinced about this drink, just look at the health benefits of Matcha. High in antioxidants that help stabilize harmful free radicals, which are compounds that can damage cells and cause chronic disease. It's believed that matcha could help enhance brain function. Who doesn't need this! It's well known for its ability to enhance weight loss.I think I made my point here)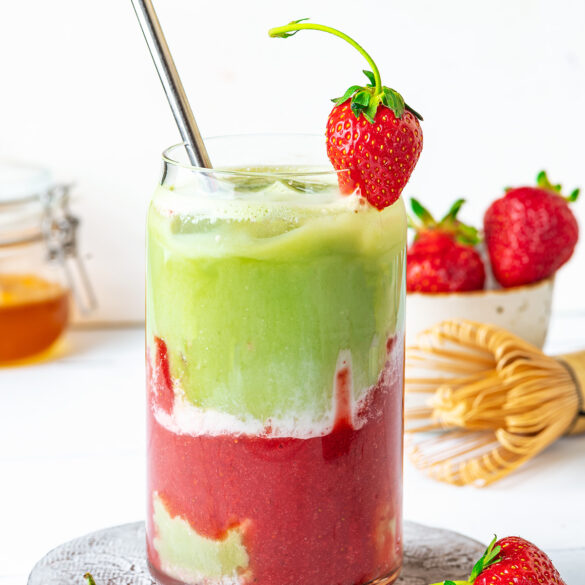 Ingredients
1 teaspoon matcha powder
1 to 2 tablespoons hot water
1/3 cup warm water
1/3 cup Ice
1/3 cup milk of choice
6 strawberries
1-2 teaspoon agave syrup
Instructions
In a measuring cup or bowl, add the matcha powder. Pour in 1 to 2 tablespoons of hot water and whisk until you get a smooth paste like consistency.

Pour in 1/3 cup of warm water and mix. Transfer to the fridge or freezer to chill for about 15 minutes.

Prepare the strawberry layer by blending strawberries and sweetener of your choice with a blender.* Pour the strawberry puree to your serving glass.

Then top it with ice and pour cold milk on top.

Lastly, pour in the chilled matcha and stir.
Notes
* You can experiment with sweeteners here, adding honey, maple syrup or even simple syrup.
* If you make just one portion it would be hard to blend a small amount of fruits in a big blender. So if you don't have a small blender, like a nutri bullet you can just finely mash your strawberries with a fork. Just make sure it's as smooth as possible.
Did You Make This Recipe?
Tag us on Instagram
@thewillowskitchen
and hashtag #thewillowskitchen to show your results. And be sure to leave a comment in the section below :)