Trifles are perfect for a summer party as they are refreshing, delicate and very tasty. These Strawberry Trifles are an easy dessert that is bursting with flavor! So, if you're looking for a quick and very easy dessert that is at the same time unbelievably delicious and easy to make, here is a perfect one. Trifle is a layer dessert that is made very quickly and easily. There are many variations to make trifles, you can serve it in a big trifle bowl or in individual glasses, add different fillings, frostings and cakes or even biscuits.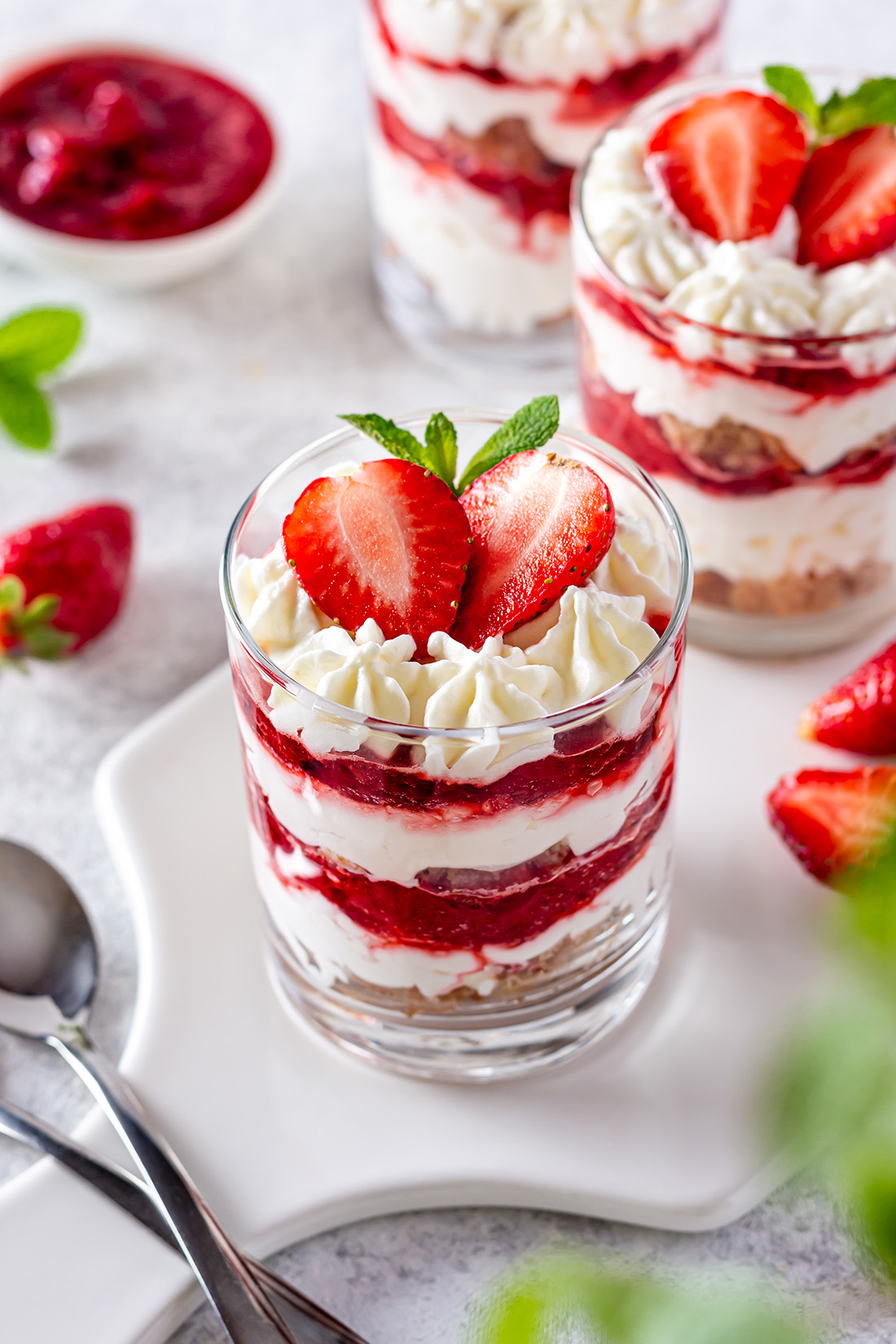 These Strawberry Trifles are served in glasses and consist of several layers. Gluten-free cake pieces, whipped cream and strawberry sauce are combined in these light and flavorful strawberry shortcake trifles. It is a real cake in a glass. And it comes out perfectly every single time, so be sure to try it! This recipe is for 6-8 trifles, depending on the size of your serving glasses.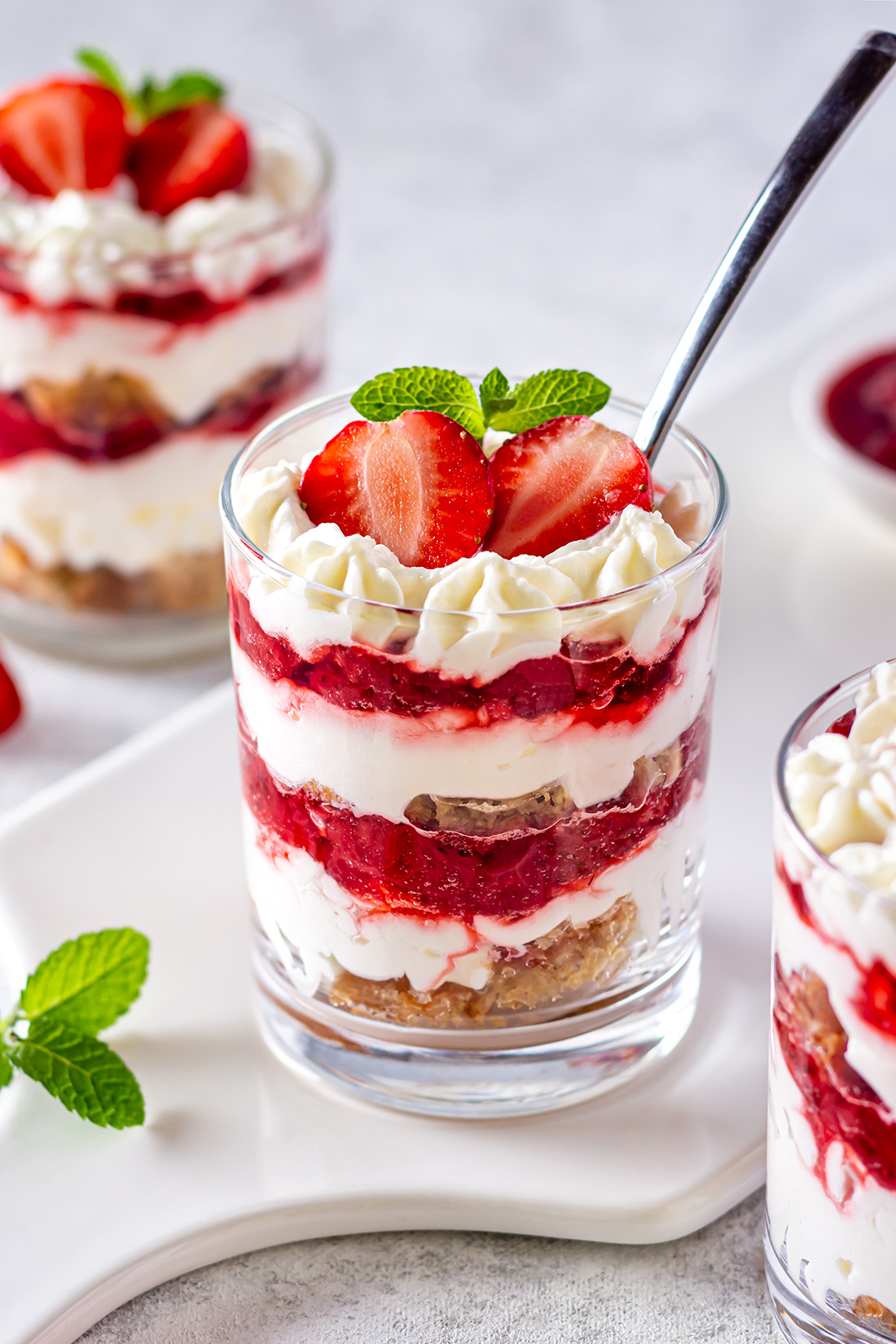 You can use strawberry jam or fresh strawberries instead of strawberry sauce. But I recommend to make this strawberry sauce that is great for desserts and toppings, for example over pancakes, waffles or breakfast oatmeal. You can make this sauce for a few days in advance. The process is very easy.
Whipped cream combines perfectly with strawberries, making this dessert very light and airy. For whipping we will need heavy whipping cream with at least 35% fat. Visit the page of our Strawberry Chantilly Cake recipe, where the process of whipping the cream is described in detail.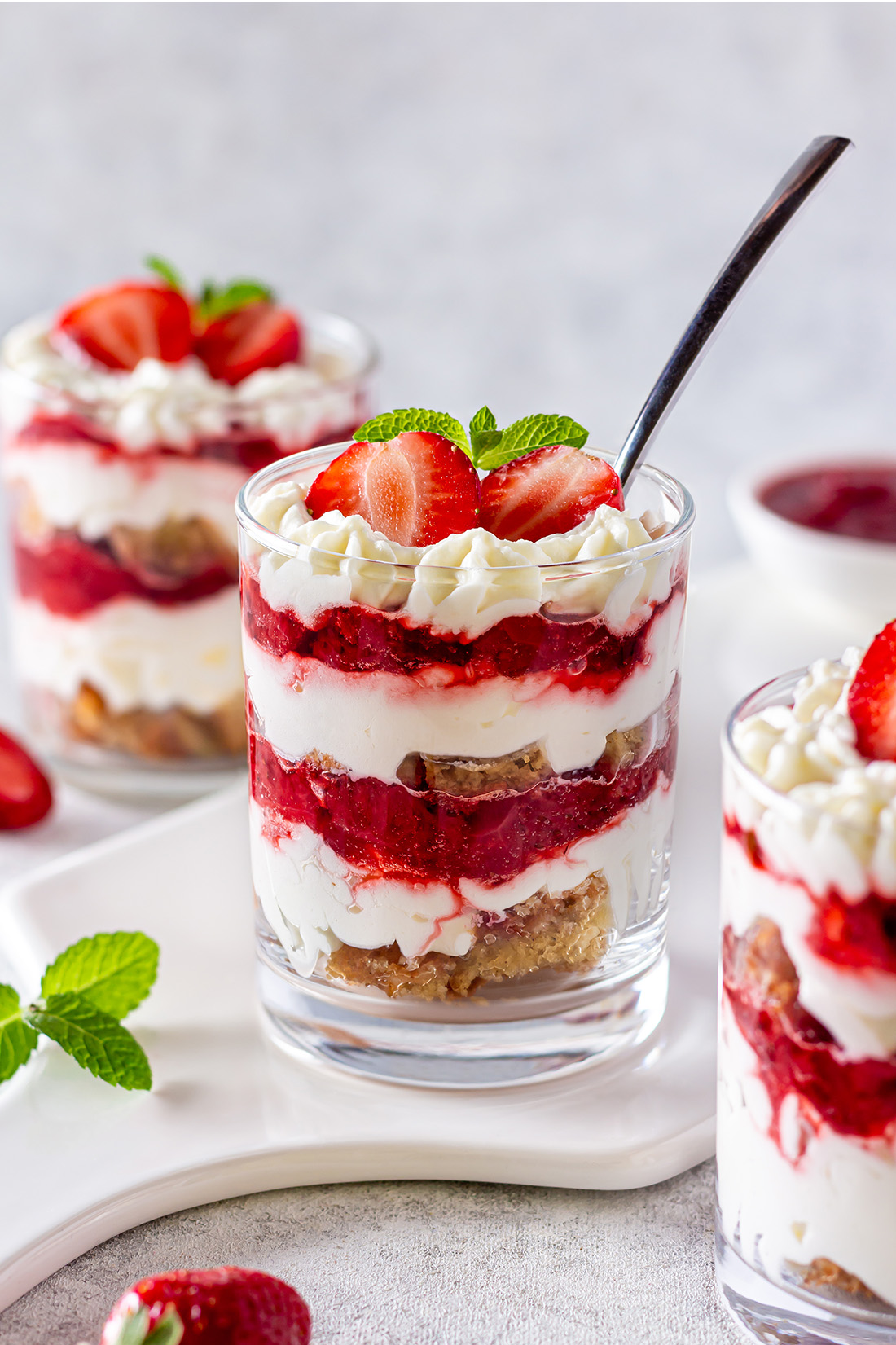 These Strawberry Trifles are a great dessert for any gathering – refreshing, light and very beautiful. Surprise your guests with this delicious dessert, they will enjoy it.
More Gluten-free Desserts to Try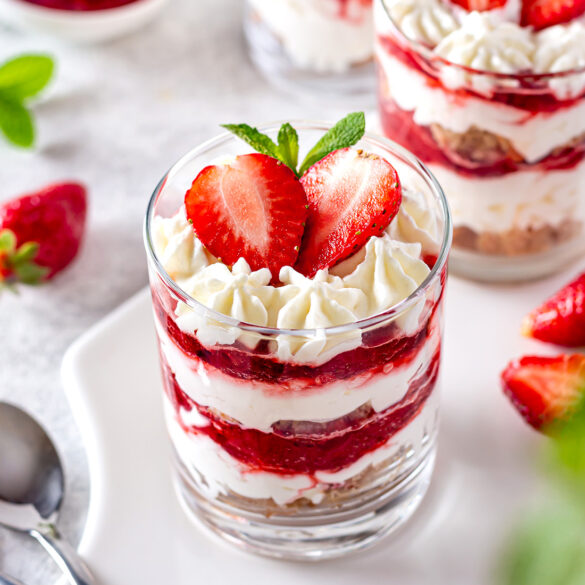 Ingredients
For the cake:
3 large eggs
1 cup (100 g) almond flour
⅓ cup (30 g) coconut flour
⅓ cup (50 g) brown rice flour
⅓ cup (70 g) brown sugar
⅓ cup (80 g) almond milk (or any other plant-based milk)
2 tbsp (25 g) coconut oil, melted
1 tbsp baking powder
1 tsp vanilla extract
⅓ tsp ground cinnamon
pinch of salt
For the whipped cream:
1 ½ cups (360 g) heavy whipping cream (at least 35% fat)
⅓ cup (40g) powdered sugar (brown, coconut or white)
For the strawberry sauce:
2 cups (300 g) strawberries, hulled and cut into pieces
¼ cup (50g) brown sugar
1 tbsp lemon juice
Instructions
Sponge Cake
All the ingredients for the cake should be at room temperature. Preheat the oven to 350°F (180°C). Grease and line the base and sides of 7-inch (or 18 cm) cake pan with parchment paper.
Mix all the dry ingredients. Set aside.
Using a mixer, beat the eggs with sugar on high speed until a pale color and foam-like consistency (about 7 minutes).
Add melted butter and milk to the eggs, whisk with a silicone spatula.
Add the dry ingredients to the wet ingredients and mix well.
Pour the batter into the prepared pan. Bake for about 30 minutes until a toothpick comes out clean. Take it out from the oven, let cool for about 20 minutes. Remove from the pans and place on the cooling rack to let completely cool. Wrap with plastic wrap and refrigerate for a couple of hours or overnight.
Strawberry filling
Cut strawberries into pieces. In a saucepan mix strawberries, lemon juice and sugar. At a medium heat bring it to boil. Lower the heat and simmer for about 20 minutes, occasionally stirring. Remove from the heat and let it cool.
Whipped Cream
Beat the cream with powdered sugar until the cream becomes thick and stiff peaks form. You will need for about 5-7 minutes. Be careful not to overbeat the cream.
Assembling
Cut the sponge cake into cubes.
Start layering trifles - place some sponge cake pieces into the bottom. Then place a large dollop of whipped cream.
Then follow with a layer of strawberry filling.
As the next layer, place sponge cake pieces again, then whipped cream and strawberry filling. Top with the remaining whipped cream.
Place into a fringe for a couple of hours. Decorate with fresh strawberries.
Did You Make This Recipe?
Tag us on Instagram
@thewillowskitchen
and hashtag #thewillowskitchen to show your results. And be sure to leave a comment in the section below :)