Chocolate Oatmeal Balls are super easy, 5-ingredient snack that you will definitely enjoy. These balls are very quick and simple to make and at the same time are very tasty with intense chocolate flavor. This snack will bring real pleasure, and it is much healthier than the regular sweets. Dark chocolate gives these balls a rich flavor, so it is a real chocolate pleasure in every bite!
It was actually my grandma's recipe, I just modified it slightly to make it more healthy)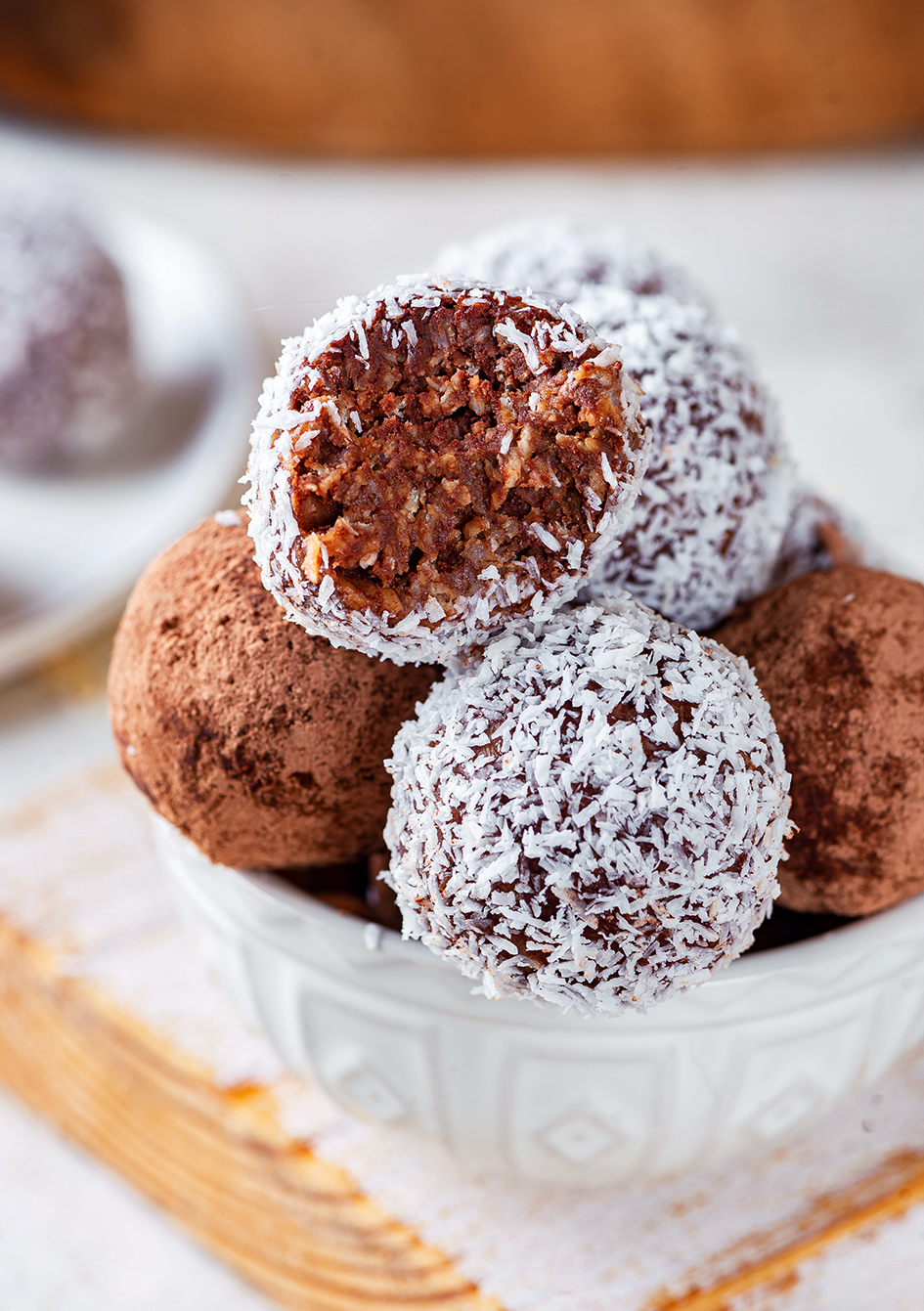 Ingredients
Oats are used as the base of these energy balls. For gluten-free version of this treat, be sure to use gluten-free certified oats. Oat-based snacks are a very good choice because oats are slow to digest, so you feel full for longer. Oatmeal is a great source of important vitamins, minerals, fiber and antioxidants. Therefore, oat balls are not only a very tasty snack, but also very nutritious and healthy.
A small pinch of salt brings out the flavors and enhances the sweetness even more.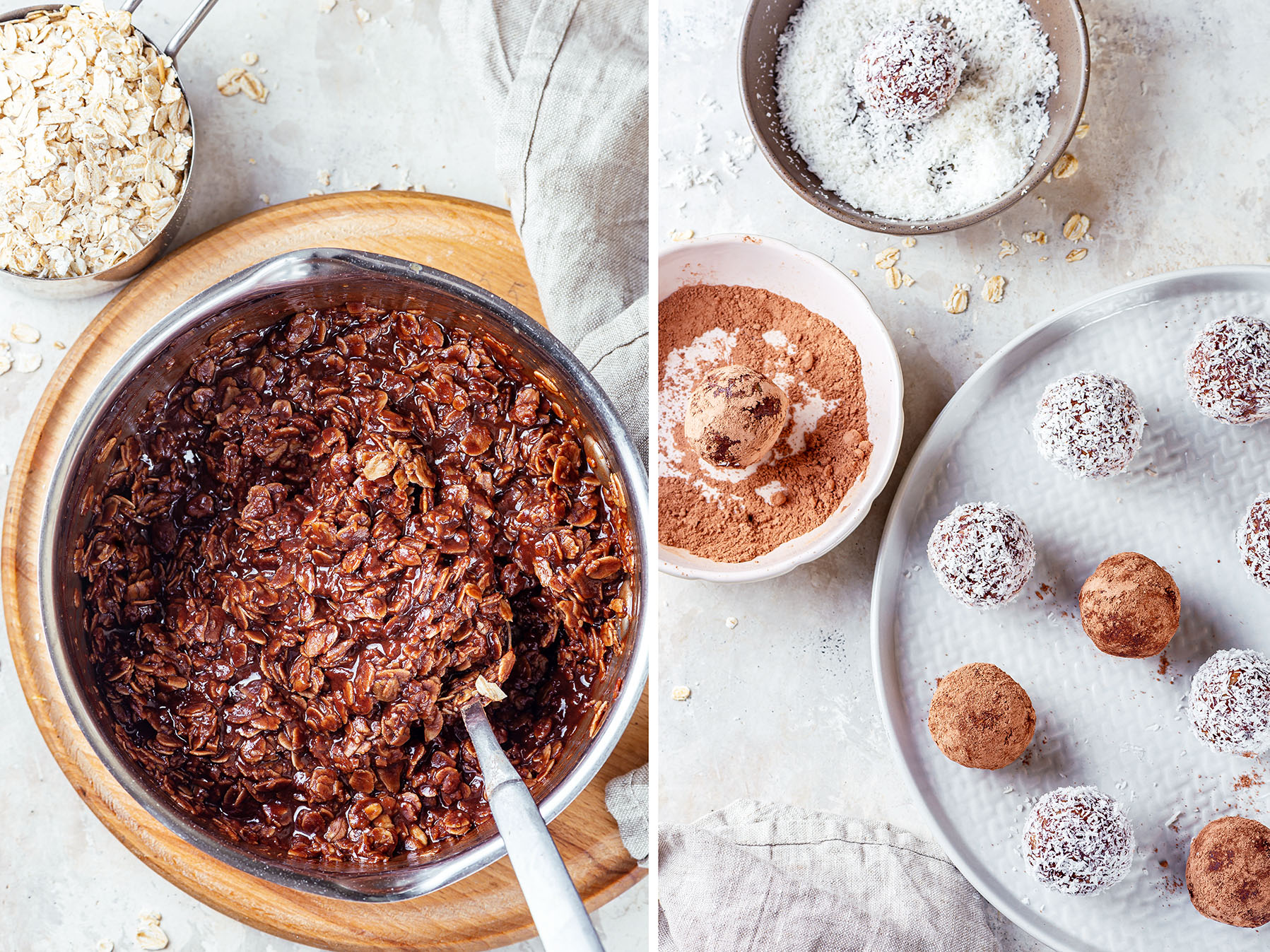 No Refined Sugar
These Chocolate Oatmeal balls contain no white sugar and other refined ingredients. Using coconut sugar makes this delish treat healthier and also gives a slight caramel flavor to the balls. You can make these balls with dairy products, using dairy milk and butter or make them dairy-free and absolutely vegan with coconut oil and any plant-based milk you like.
Variations
You can experiment with the recipe by adding some different components to the balls, such as chopped nuts, seeds, shredded coconut or a few scoops of protein. If adding some addtional ingredients make sure to decrease the amount of oats  by 1-2 tbsp. Use vanilla, cinnamon and even a small amount of pepper to create an interesting spicy flavor.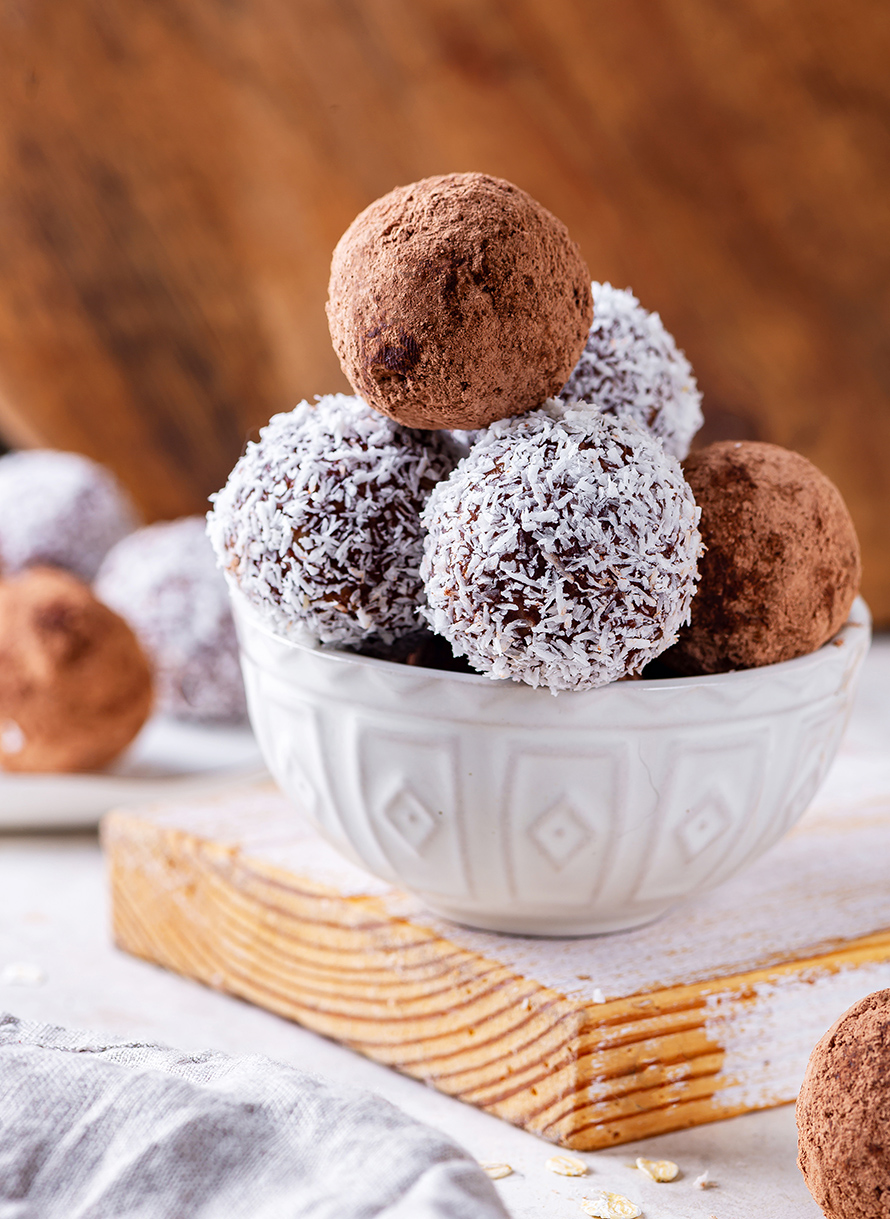 Store them in the fridge for up to 1 week, but I'm sure that they won't last so long :) It is very comfy to make a lot of these delicious energy balls and store them in the freezer. They are very simple to make, so it is a perfect recipe to cook together with your kids.
With just a few simple ingredients, these Chocolate Oatmeal balls are a great snack that will satisfy your need for a sweet treat and can be a perfect sweet lunchbox addition. The best snack to satisfy your chocolate cravings! Want more chocolate recipes? Check our desserts category.
Also, check out our other healthy and easy desserts, made with healthy oats, such as Super Moist Carrot Cake Loaf and Healthy Oatmeal Raisin Cookies.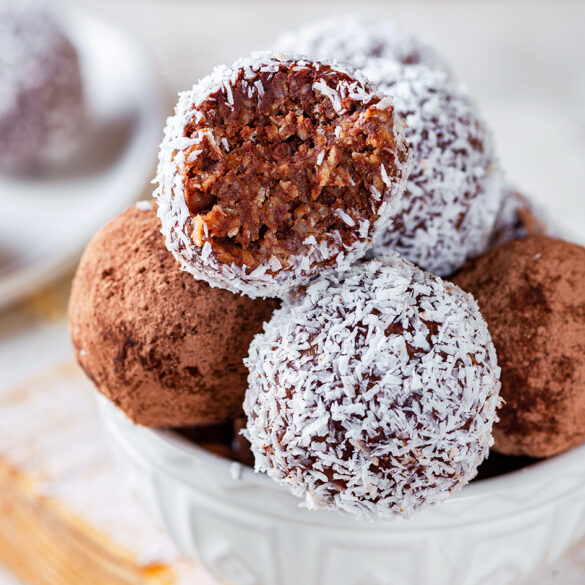 Ingredients
½ cup coconut sugar
113g vegan or regular butter, you can also substitute with coconut oil
85g dark chocolate
1/2 milk of your choice (I used almond milk)
2 cups (220g) jumbo oats
pinch of salt
Instructions
Combine butter, chocolate, milk and sugar in a medium saucepan. 

Place on low heat and cook until chocolate and butter are completely melted.  Stir often to make sure the chocolate won't burn. 

When the mixture is smooth and hot, remove from the heat and add oats. Mix well.

Let the mixture cool down, then place into the fridge for an hour.

After 1 hour in the fridge the mixture will harden and will be easy to work with. Use your hands to roll small balls.

Pour some coconut flakes or cocoa powder into a deep bowl and roll each ball in it.

Store them in the fridge for up to 1 week.
Did You Make This Recipe?
Tag us on Instagram
@thewillowskitchen
and hashtag #thewillowskitchen to show your results. And be sure to leave a comment in the section below :)