Made with fresh basil, spinach, Parmesan cheese, olive oil, and sunflower seeds, this vibrant and flavorful Sunflower Seed Pesto sauce is a delightful twist on traditional pesto. We'll share expert tips, customizable variations, step-by-step instructions, and storage guidelines to help you create this perfect nut-free homemade pesto. Be sure to try this recipe, you'll like it!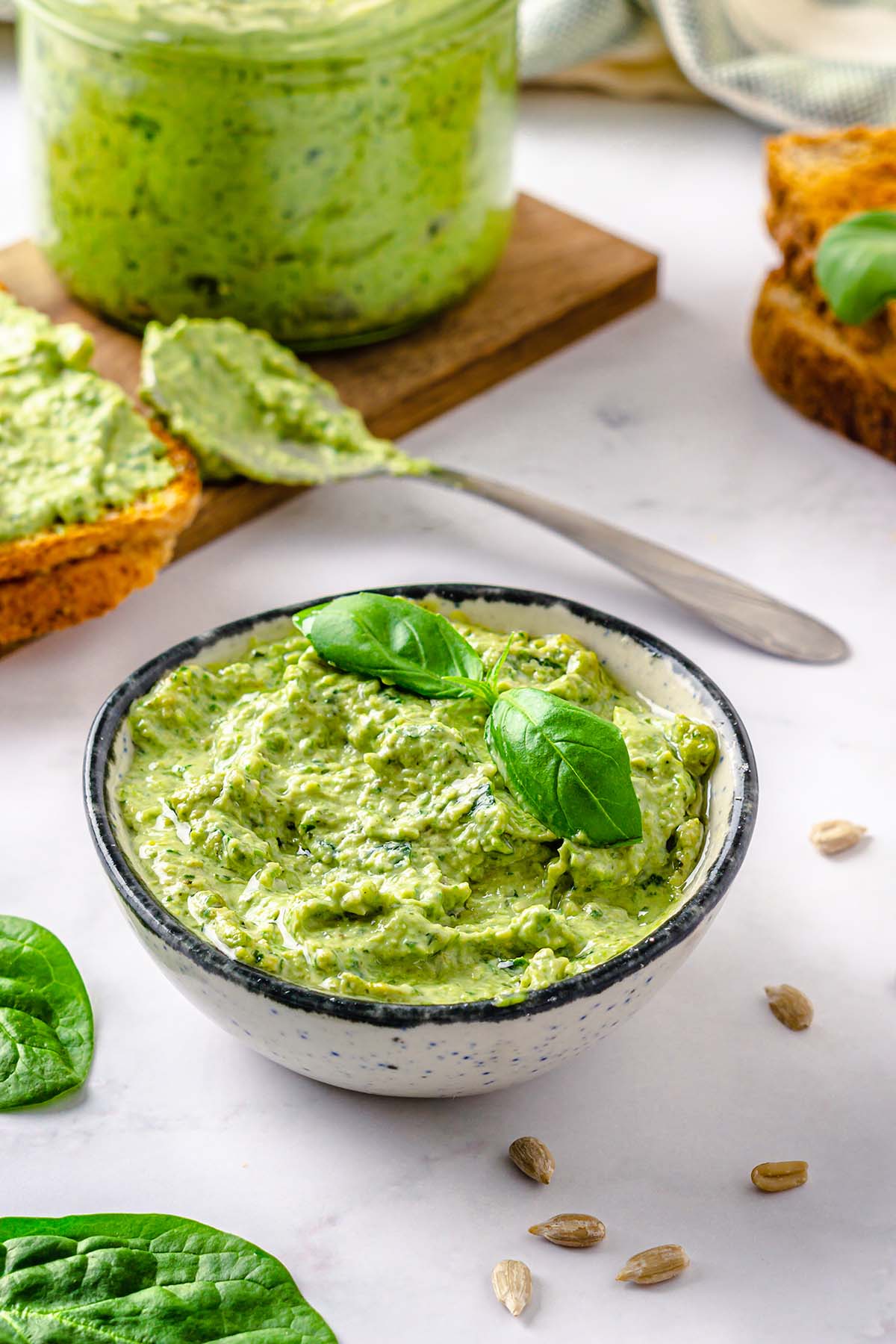 Pesto is a popular sauce originally from Italy that has gained worldwide fame. The name "pesto" comes from an Italian word that means "to pound" or "to crush". The traditional recipe combines fresh basil leaves, pine nuts, garlic, Parmesan cheese, and olive oil. These ingredients are carefully pounded together to create a delicious blend of flavors.
Sunflower Seed Pesto puts a new spin on the classic recipe, offering a unique taste and texture. It has a creamy consistency and a special sunflower seed flavor that adds a delightful twist to various dishes.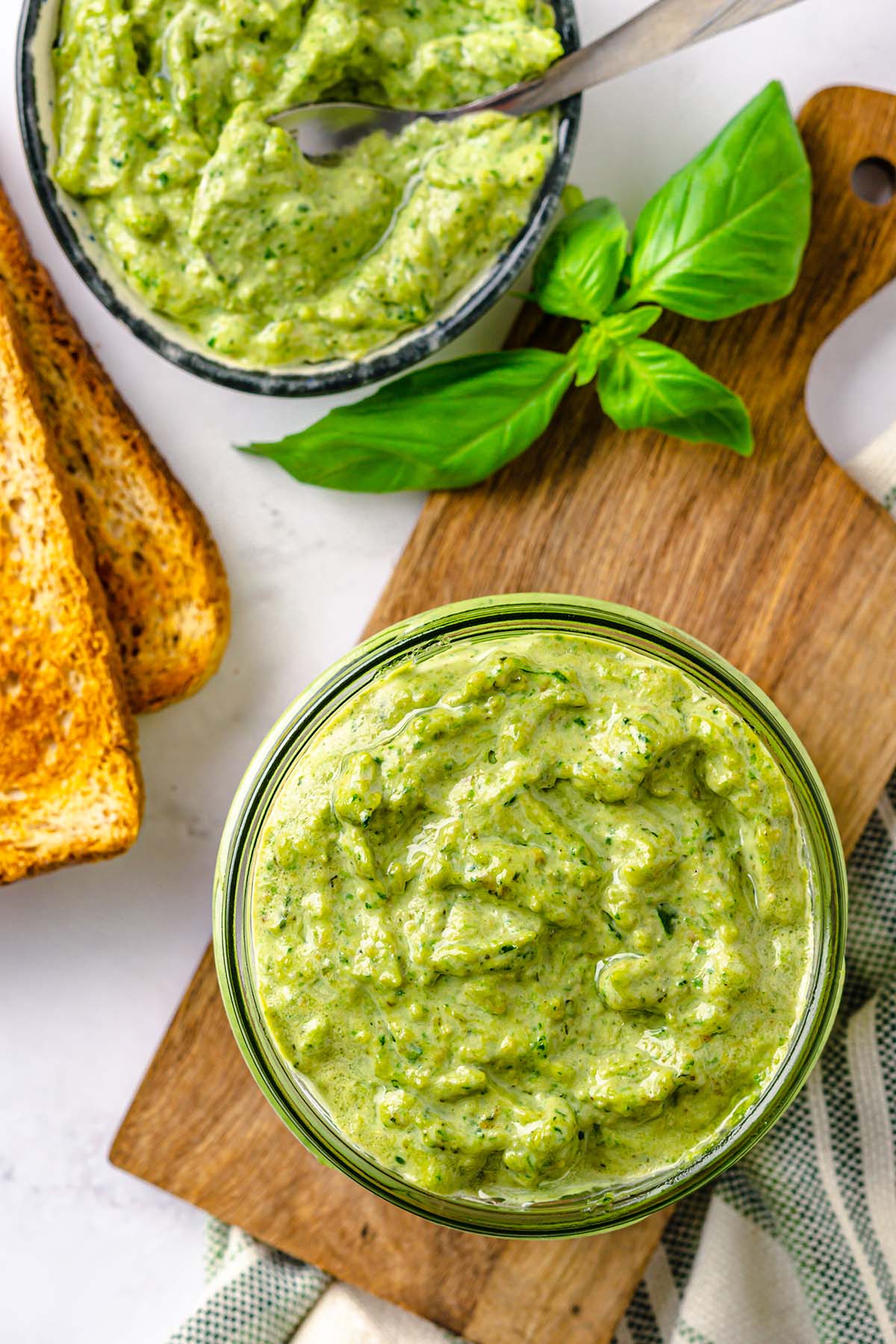 Ingredients
Fresh Basil Leaves: Basil leaves bring a vibrant and aromatic special flavor to the pesto.
Spinach Leaves: Adding spinach not only boosts the nutritional value of the pesto but also helps to balance the flavors and adds a vibrant green color to the sauce.
Parmesan Cheese: Parmesan brings a rich and savory element to the pesto, and complements the other ingredients.
Sunflower Seeds: Sunflower seeds serve as a delicious and nutritious alternative to traditional pine nuts in this recipe. They bring a delicate creaminess to the pesto.
Extra Virgin Olive Oil: The olive oil creates a smooth and luscious texture.
Lemon Juice: The tangy and citrusy notes of lemon juice brighten the flavors of the pesto, adding a refreshing touch.
Garlic: Garlic brings aromatic flavor to the pesto.
Salt and Black Pepper: Seasonings for enhancing the flavors and adding depth to the overall taste.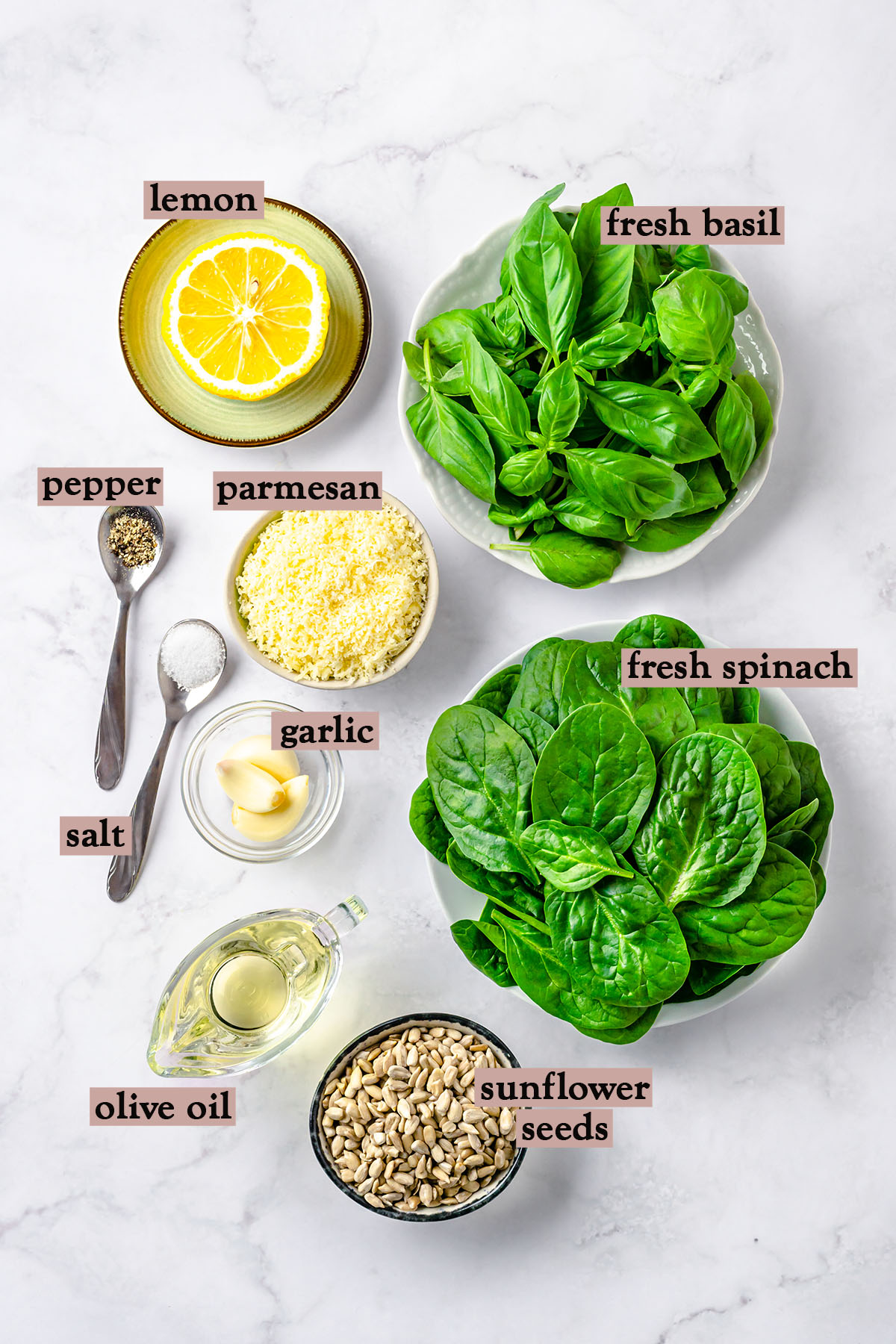 Tips for the Best Results
Use Fresh and Vibrant Greens: Choose fresh basil and spinach leaves that are vibrant green in color. This ensures a bright and flavorful pesto.
Blend in Stages: When blending the ingredients, start with the greens, sunflower seeds, and garlic cloves. Once they are partially blended, gradually add the olive oil in a steady stream. This technique helps to achieve a smooth and emulsified pesto.
Adjust Consistency: If you prefer a thicker pesto, reduce the amount of olive oil slightly. For a smoother and more spreadable consistency, add a little more oil. Adjust to your personal preference.
Taste and Adjust: Don't be afraid to taste the pesto as you make it. Adjust the amount of lemon juice, garlic, salt, and pepper according to your liking. Remember, pesto is all about finding the perfect balance of flavors for your own preferences.
Store Properly: To maintain the freshness and vibrant green color of the pesto, transfer it to an airtight container and store it in the refrigerator. Follow the storage tips mentioned in our How to Store section.
Preserve Bright Color: It is normal for pesto to darken slightly in color when stored in the fridge due to oxidation. To minimize discoloration, pour a thin layer of olive oil on the surface of the pesto before sealing the container. This creates a barrier and reduces contact with air, helping to preserve the vibrant green color for a longer time.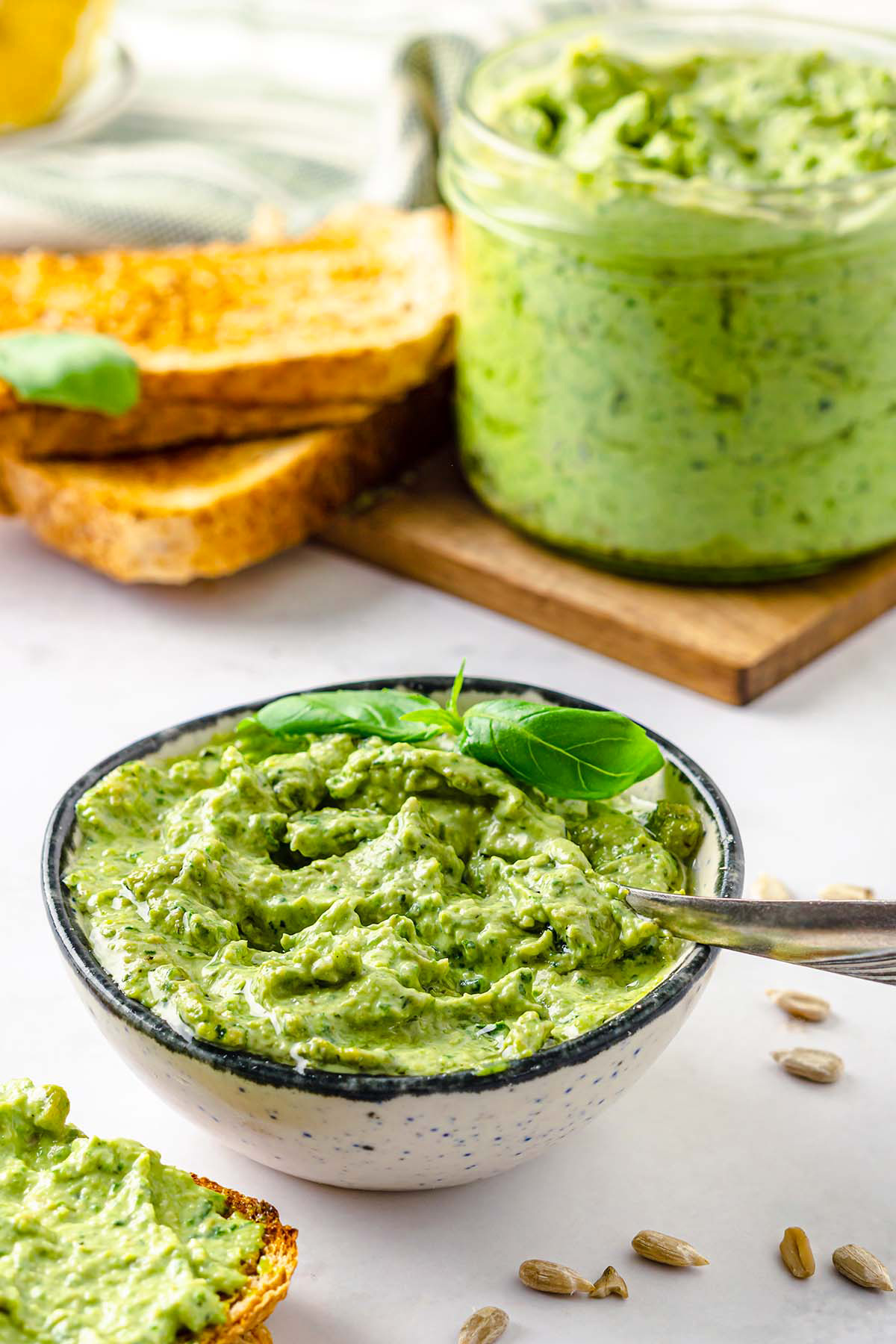 Ideas to Customize
While this Sunflower Seed Pesto recipe is super delicious on its own, you can customize it to suit your taste preferences and add exciting variations to your sauce. Here are a few ideas to inspire you:
Greens Variations: Experiment with different greens to give your pesto a unique twist. Consider adding arugula, kale, or a combination of fresh herbs like cilantro, mint, or parsley alongside the basil and spinach. Mixing and matching greens can bring exciting flavors to your pesto.
Spicy Pesto: For those who enjoy a touch of heat, incorporate some red pepper flakes or a small chili pepper to make your pesto spicy. Adjust the amount according to your desired level of spiciness.
Different Nuts: While sunflower seeds are the star of this recipe, feel free to mix them with other nuts. Try adding toasted almonds, cashews, or pistachios for a different flavor profile.
Cheese Variations: While Parmesan cheese is the traditional choice, you can explore other types of cheese to create unique flavor profiles. Consider using Pecorino Romano, Asiago, or a combination of different cheeses.
Lemon Zest: Enhance the citrus notes by adding freshly grated lemon zest to your pesto.
Roasted Garlic: Instead of using raw garlic, try roasting the cloves before adding them to the pesto. Roasted garlic gives a mellow and slightly sweet flavor, which is perfect for the pesto.
Sundried Tomatoes: Add a handful of chopped sundried tomatoes to give your pesto a tangy and intense flavor.
Roasted Red Peppers: Blend in some roasted red peppers for a sweet and smoky flavor.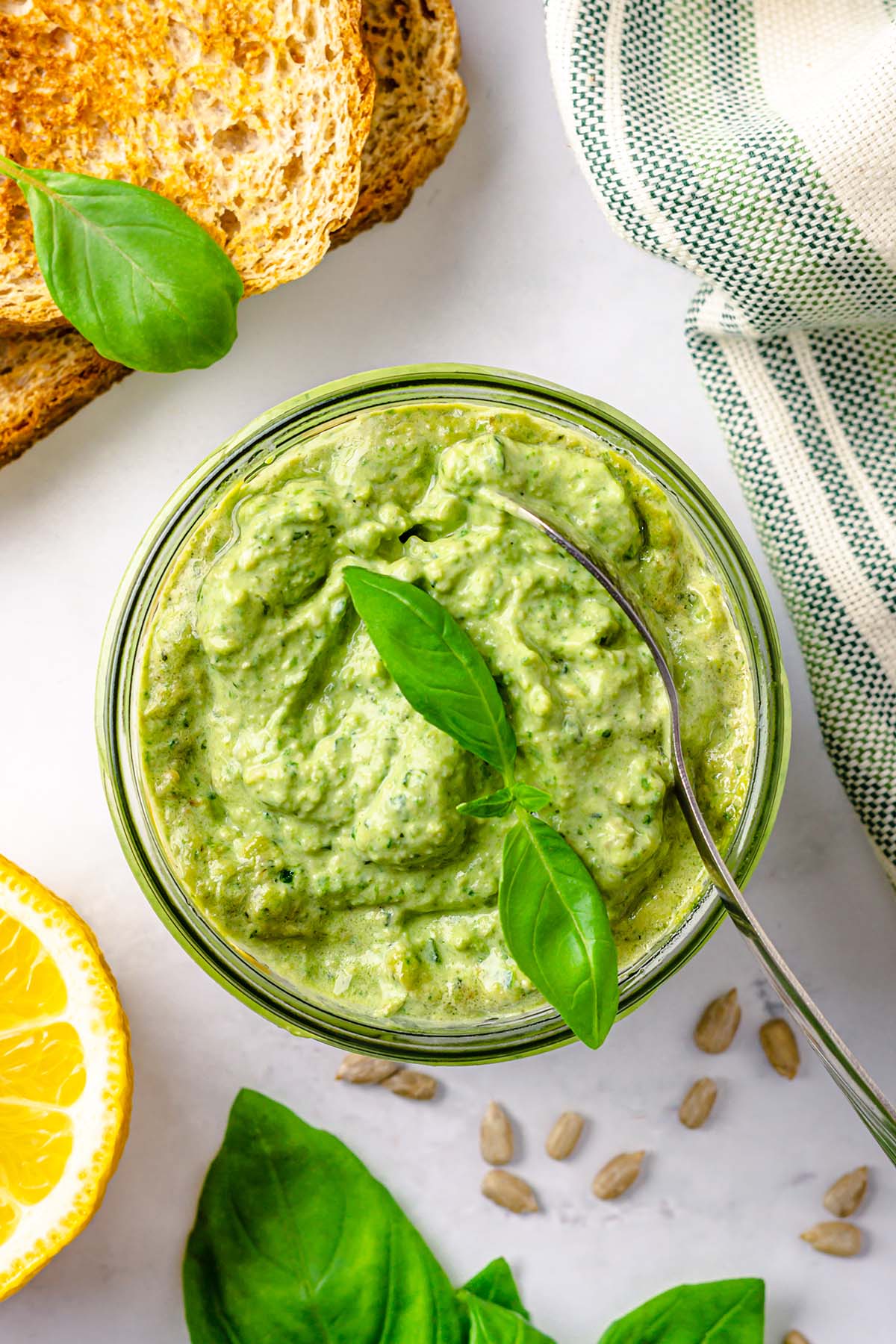 What Goes Well with Pesto?
Sunflower Seed Pesto is a versatile sauce that can elevate various dishes with its vibrant flavors. Here are some delightful pairings to enhance your culinary creations:
Pasta: Toss pesto with your favorite cooked pasta for a quick and satisfying meal. Linguine, spaghetti, or fusilli work particularly well, coating each strand with rich and aromatic pesto sauce.
Bruschetta: Spread a generous amount of sunflower seed pesto on toasted baguette slices for a delightful appetizer or snack. Top it with fresh tomatoes, mozzarella, or grilled vegetables for added texture and flavor.
Grilled Fish: Pesto adds a burst of flavor to grilled fish. Use it as a marinade or brush it onto salmon fillets, or shrimp skewers before grilling.
Sandwiches and Wraps: Enhance your sandwiches and wraps by spreading a layer of sunflower seed pesto on the bread or tortilla. It pairs well with grilled vegetables, or sliced fresh mozzarella.
Roasted Vegetables: Toss roasted vegetables such as zucchini, eggplant, or cherry tomatoes with a dollop of pesto before serving.
Salad Dressing: Transform a simple salad into a flavor-packed delight by using pesto as a dressing.
Dip: Serve sunflower seed pesto as a dip alongside a platter of fresh vegetables, crackers, tortilla chips, or breadsticks. It's a perfect option for parties, gatherings, or as a delicious appetizer.
Rice Bowls: Incorporate pesto into your bowls for a burst of flavor. For example, add a dollop of pesto to this Crispy Tofu Buddha Bowl, it is the perfect combination of tastes.
These are just a few ideas to get you started. Feel free to explore and experiment with pesto to discover your own favorite pairings. The possibilities are endless!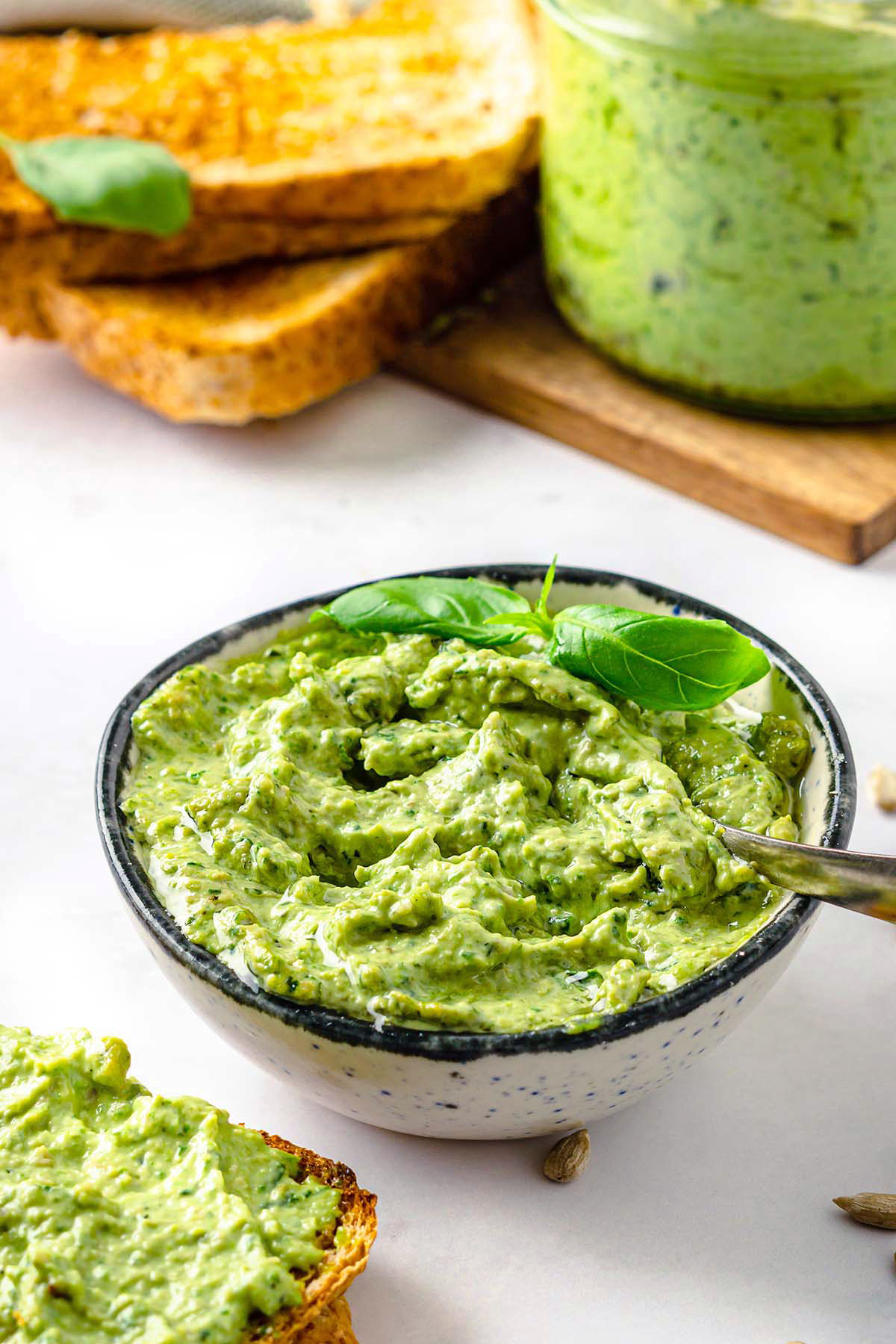 How to Store
It can be stored in the refrigerator for up to one week. Transfer the pesto to an airtight jar or container and refrigerate promptly. To prevent discoloration, pour a thin layer of olive oil on the surface of the pesto before sealing the container.
For storing for a longer period, you can freeze the pesto. Divide the pesto into smaller portions and freeze in ice cube trays or small containers. Store in the fridge for up to 3 months. Thaw frozen pesto in the refrigerator overnight.
More Italian-Inspired Recipes to Try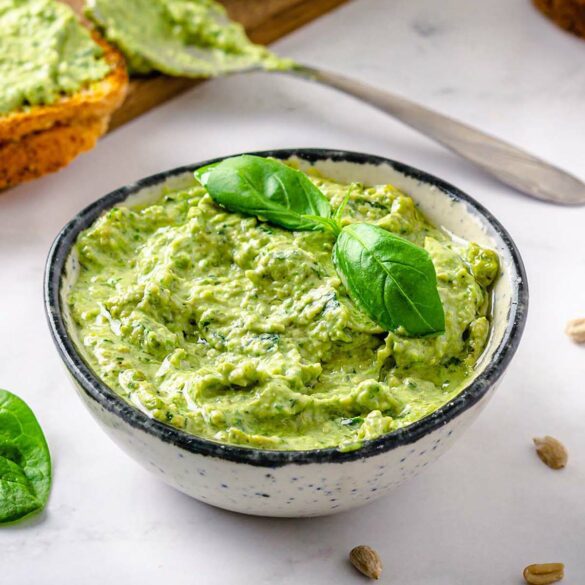 Made with fresh basil, spinach, Parmesan cheese, olive oil, and sunflower seeds, this vibrant and flavorful Sunflower Seed Pesto sauce is a delightful twist on traditional pesto.
Ingredients
½ cup sunflower seeds
1 cup fresh basil
1 ½ cups fresh spinach
½ cup Parmesan cheese, grated
1.5 tbsp lemon juice
3 cloves of garlic, minced
½ cup + 3 tbsp extra virgin olive oil
½ tsp salt or to taste
¼ tsp black pepper or to taste
Instructions
In a food processor or blender, combine the basil, spinach, Parmesan, sunflower seeds, garlic, lemon juice, salt, and black pepper.
Pulse the ingredients a few times to break them down.
While the food processor is running, gradually pour in the olive oil. Continue processing until the mixture reaches a smooth and creamy consistency.
Taste and adjust the seasonings as desired.
Transfer the Sunflower Seed Pesto to a jar or airtight container, and refrigerate until ready to use.
Nutrition
Calories:
248kcal
Fat:
26.2g
Saturated Fat:
4.4g
Cholesterol:
7mg
Sodium:
273mg
Carbohydrate:
1.8g
Fiber:
0.6g
Sugar:
0.2g
Protein:
4.6g
Calcium:
121mg
Iron:
1mg
Potassium:
90mg
Did You Make This Recipe?
Tag us on Instagram
@thewillowskitchen
and hashtag #thewillowskitchen to show your results. And be sure to leave a comment in the section below :)
FAQs
Can I substitute the sunflower seeds with other nuts?
Yes, you can experiment with different nuts like almonds, cashews, or pistachios to create a unique flavor profile.
Can I use dried basil instead of fresh?
Fresh basil is recommended for the best flavor and aroma. However, if fresh basil is not available, you can use dried basil in a smaller quantity (about 2 teaspoons), adjusting to your taste. In that case, increase the amount of fresh spinach.
Is this pesto sauce suitable for vegans?
The recipe of this pesto includes Parmesan cheese, which is not vegan. However, you can easily make it vegan and dairy-free using a plant-based alternative to Parmesan or omitting the cheese altogether.
Can I use frozen spinach for the pesto?
It is generally recommended to use fresh spinach for the best color and texture. However, you can use frozen spinach. Just make sure to thaw it completely and drain any excess moisture before using in the recipe.