Looking for a healthy breakfast that tastes like a dessert? Try these easy and healthy Tiramisu Overnight Oats, you will be delighted. With the start of the new year, we all want to make healthy recipes that can help us get back on track without feeling overwhelmed. But just because we want to eat healthily doesn't mean we have to sacrifice flavor and eat boring and tasteless dishes. Tiramisu Overnight Oats are the perfect option – it's a very quick and easy-to-make, simple, delicious make-ahead breakfast. With layers of creamy yogurt and rich coffee flavor, it tastes like an indulgent treat.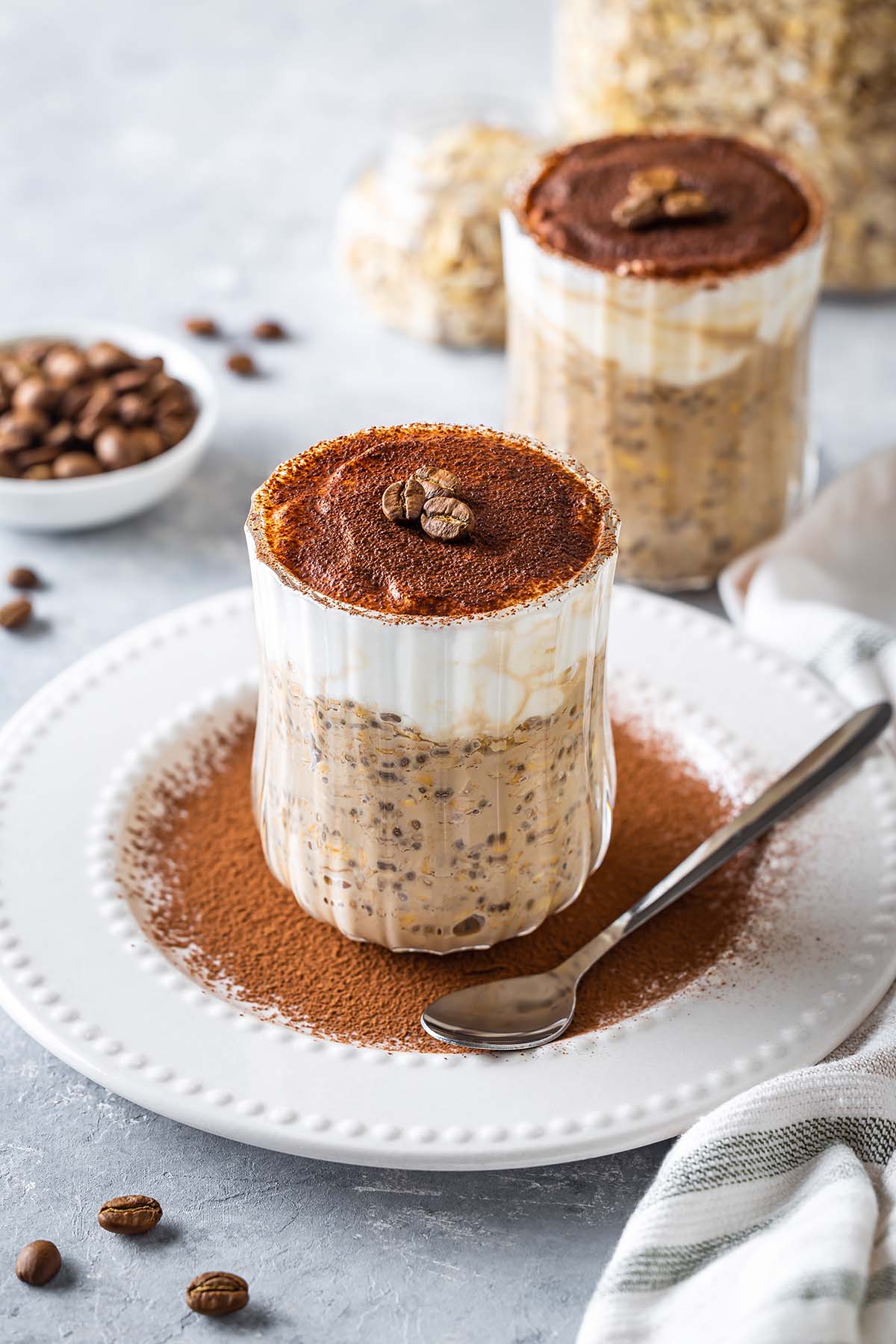 Ingredients
To make this delicious breakfast, we will need:
Rolled oats. Oats are a great source of fiber and contain a lot of vitamins, minerals, and antioxidants. The regular consumption of oats helps to lower cholesterol and blood sugar levels, also supports your gut health. Choose gluten-free labeled oats, if you are on a gluten-free diet.
Almond milk. You can use any milk of your choice, such as coconut, oat, soy, or regular dairy milk.
Greek Yogurt is high in protein and serves as a frosting in our Tiramisu dessert.
Coffee is the required ingredient that gives us a Tiramisu flavor. Use instant coffee or espresso shot.
Chia seeds help to thicken the oats and also give omega-3 fats, which are vital for your health support.
Maple syrup to sweeten our overnight oats. Maple syrup may be substituted by other sweeteners of your choice – honey, agave syrup, or your other favorite sweetener.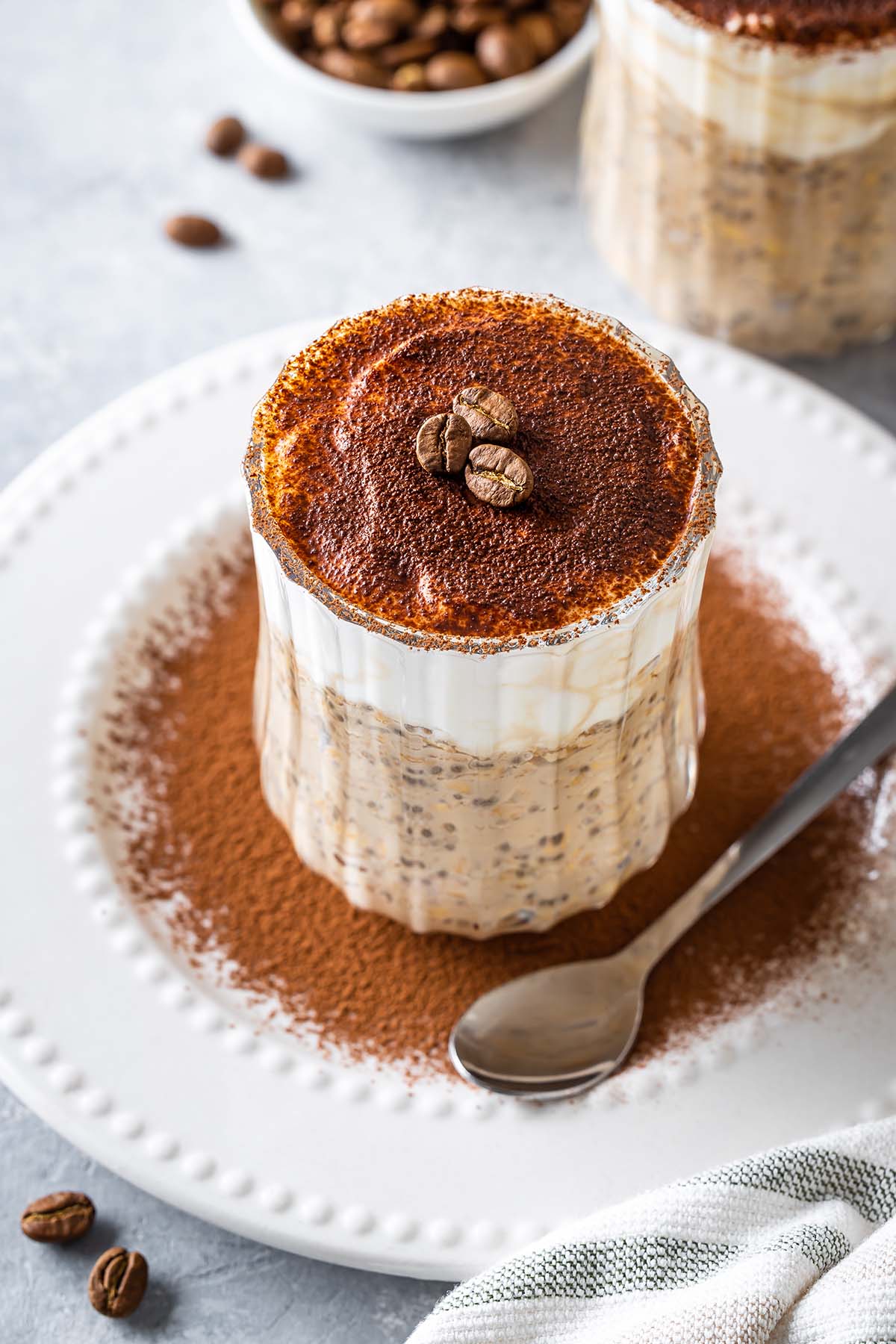 How to Make Overnight Oats
It takes only a few minutes of your time to make this dessert-like healthy breakfast. Firstly, mix the oats with milk, coffee, maple syrup, and chia seeds. Then, place the mixture in the fridge overnight. A night in a fridge – and a super delicious and healthy breakfast is ready. Just take it out of the fridge in the morning, top it with Greek yogurt, and dust it with cocoa powder, and voila – a super delicious and healthy breakfast that tastes like your favorite dessert!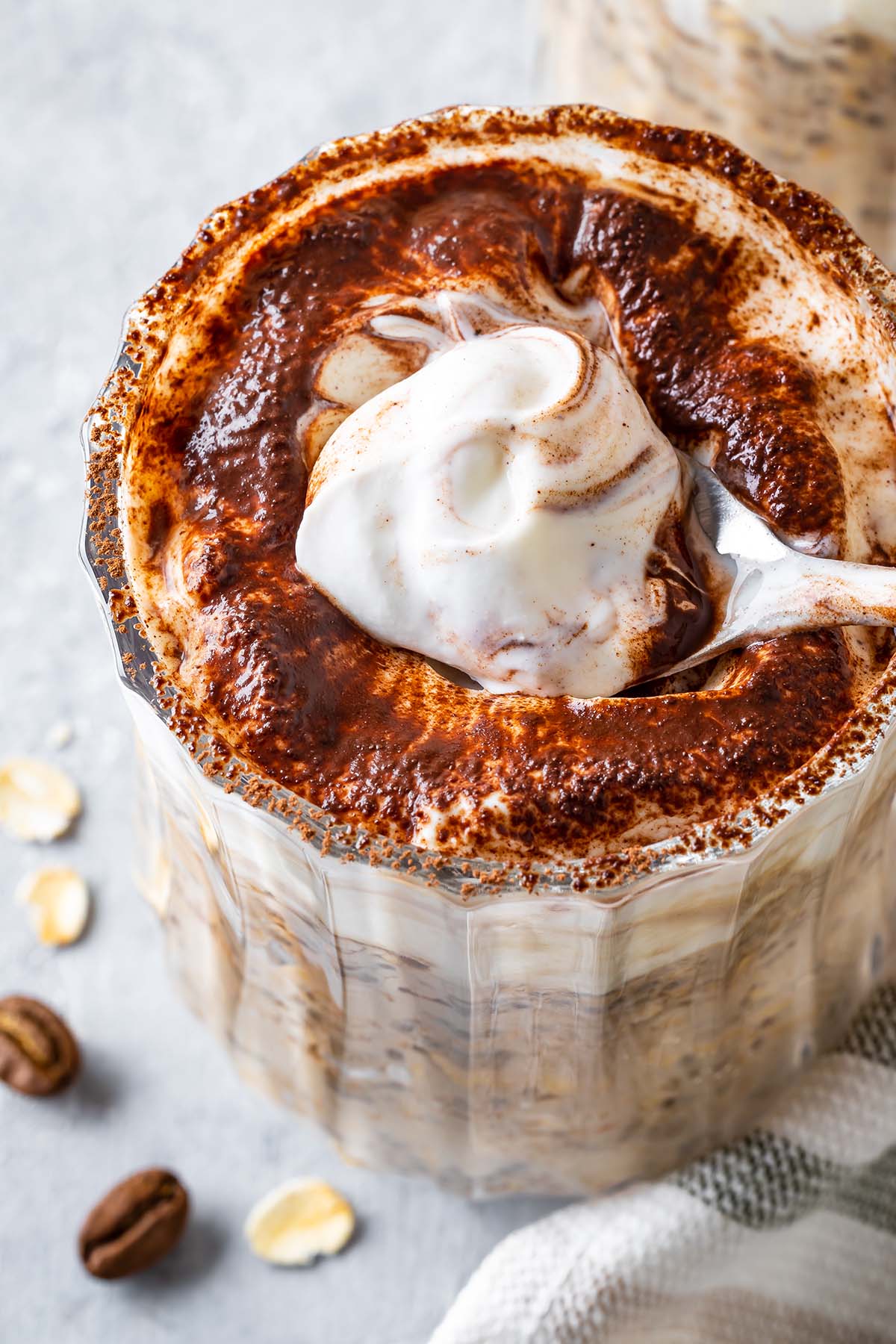 Variations
Using this recipe as a base, you can create your own perfect recipe for overnight oats to diversify your breakfast. Here are some great combinations I recommend:
Peanut Butter Banana. The classic combination. Peanut butter and banana complement each other perfectly, creating a delicious and nutritious breakfast. Here is the recipe for Peanut Butter Banana Overnight Oats.
Blueberry Lemon. Mix in some fresh blueberries and a squeeze of lemon juice for a bright and refreshing flavor.
Apple Cinnamon. Add diced apples and a sprinkle of cinnamon to the oat mixture before refrigerating. Or top the overnight oats with caramelized apples.
Carrot Cake. Mix in some shredded carrots, raisins, and a pinch of cinnamon for a healthier take on a classic dessert. In the morning, top with chopped pecans or walnuts.
Cherry Almond. Mix in some fresh cherries and top with sliced almonds for a delicious and satisfying breakfast.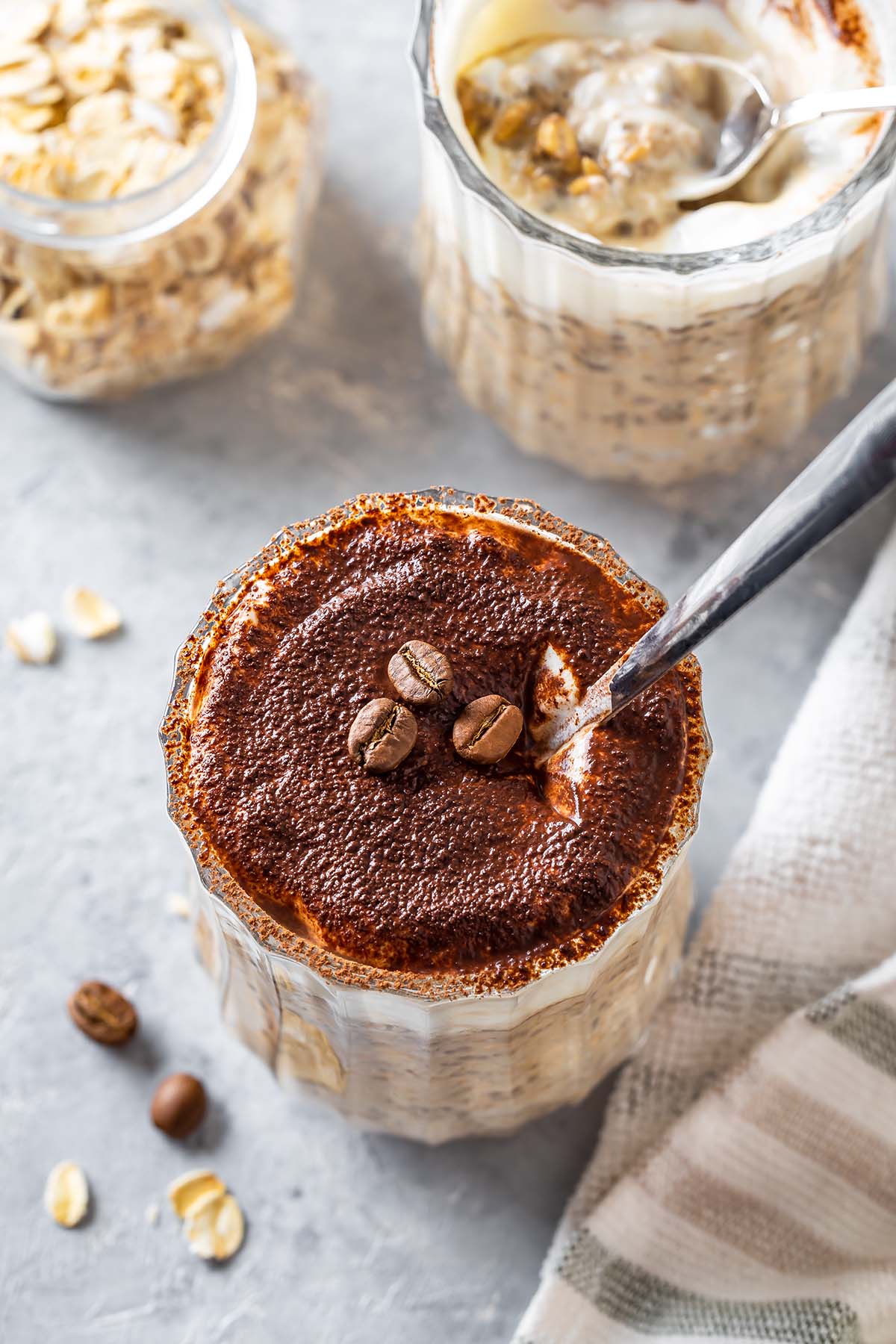 FAQs
Should overnight oats be cold or warm?
Overnight oats can be enjoyed either cold or warm, depending on personal preference. The classic way of serving overnight oats is a cold version. It can be especially nice during the hot summer months. But if you prefer a warm and comforting breakfast, you can heat up the overnight oats in the microwave. Simply transfer the oats to a microwave-safe dish and warm them up until they reach your desired temperature. And only then top it with yogurt.
Why add chia seeds to overnight oats?
Adding chia seeds to overnight oats can boost the nutritional value and texture of the dish, also they will help to thicken the oats. But if you want, you can omit chia seeds or substitute them with flax seeds.
Can I make it vegan?
Yes, absolutely! You can easily make a vegan version by substituting Greek yogurt with a plant-based alternative such as soy yogurt, coconut yogurt, or even coconut whipped cream.
Can I use water instead of milk for overnight oats?
Yes, you can use water instead of milk, but the oats may not be as creamy or flavorful.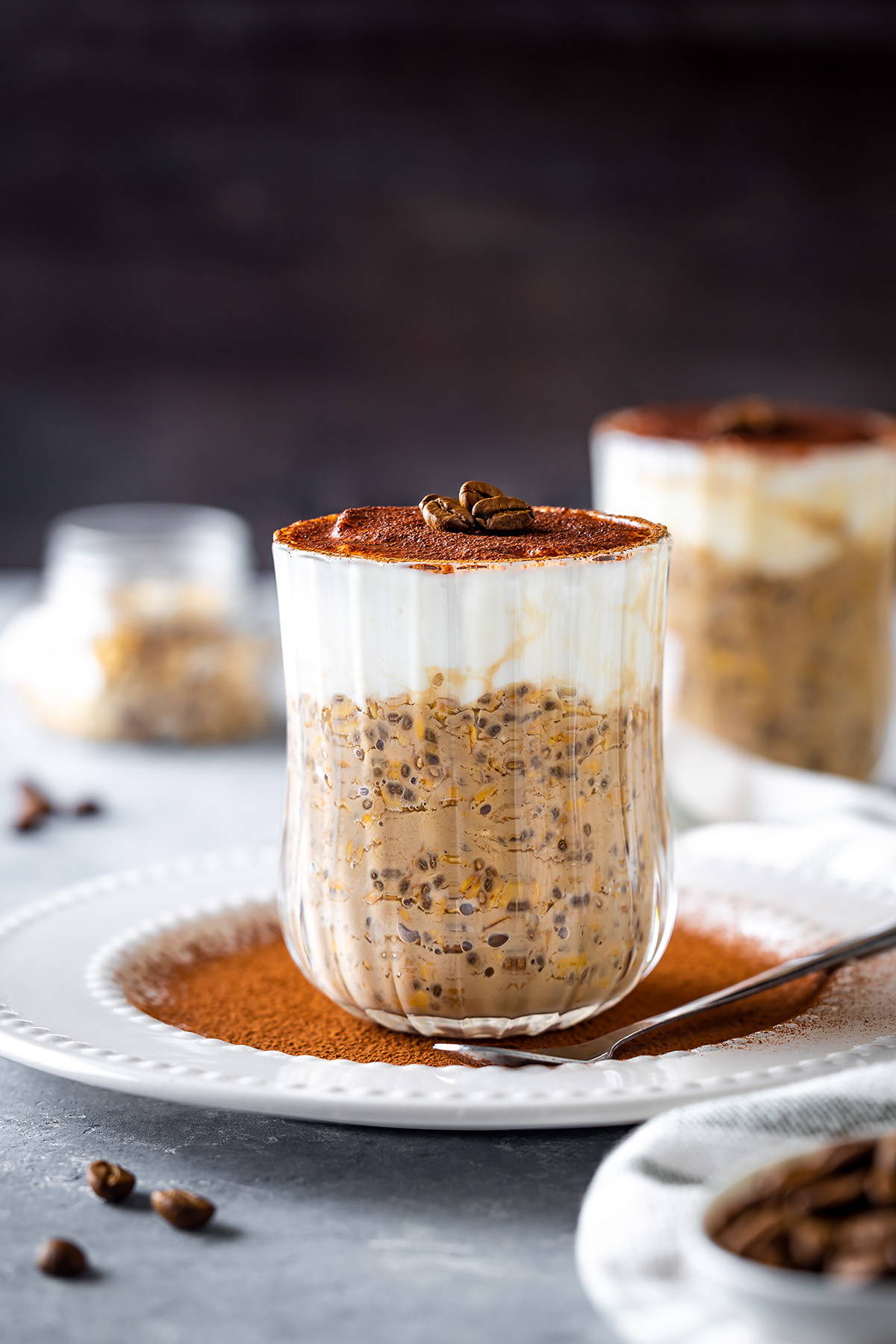 More healthy breakfast recipes
Also, check out our other super easy, delicious, and healthy breakfast ideas, like:

So if you are tired of regular morning oatmeal, you definitely should try this recipe. With just a few ingredients and no cooking required, you can enjoy a nutritious and flavorful breakfast to start your day off on the right foot. So next time you're feeling bored with your breakfast, give overnight oats a try – the convenience and taste make it well worth it.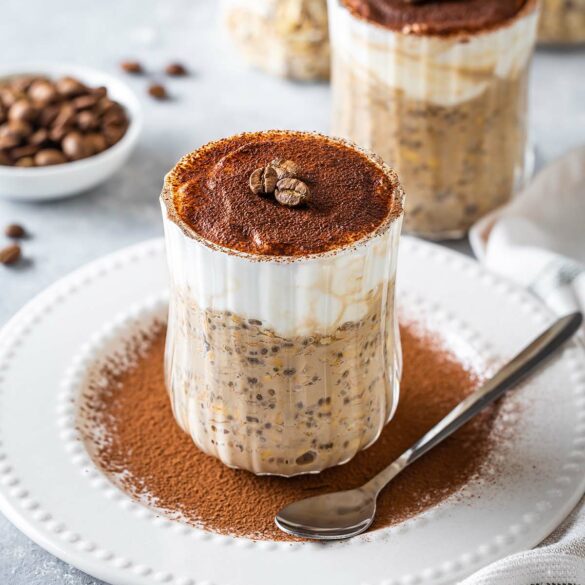 These Tiramisu Overnight Oats are very quick and easy to make, simple, delicious make-ahead breakfast. With the layers of creamy yogurt and rich coffee flavor, it tastes like an indulgent dessert.
Ingredients
1 cup (100 g) rolled oats
1 cup (240 ml) almond milk
2 tbsp (40 g) maple syrup
1 tsp instant coffee powder
1 tbsp chia seeds
4 tbsp Greek yogurt
cocoa powder (for dusting)
Instructions
Add 3 tbsp of milk to a cup and warm it, then combine hot milk with the instant coffee powder, mix well.
In a bowl, mix well the oats with coffee milk, the rest of milk amount, maple syrup and chia seeds.
Divide into two jars or glasses. Cover and place into the fridge overnight.
In the morning, top the oats with Greek yogurt, smooth it, and dust with cocoa powder. Enjoy!
Nutrition
Calories:
336kcal
Fat:
8.2g
Saturated Fat:
1.3g
Cholesterol:
2mg
Sodium:
186mg
Carbohydrate:
54.9g
Fiber:
6.1g
Sugar:
21.1g
Protein:
11.6g
Vitamin D:
120mcg
Calcium:
108mg
Iron:
3mg
Potassium:
289mg
Did You Make This Recipe?
Tag us on Instagram
@thewillowskitchen
and hashtag #thewillowskitchen to show your results. And be sure to leave a comment in the section below :)