With the start of January, we all want to make more healthy recipes that help to get us back on track without feeling overwhelmed. But it doesn't mean that we need to eat boring and tasteless dishes. Tiramisu Overnight Oats are the perfect breakfast – it's a very quick and easy to make, simple, delicious make-ahead breakfast that tastes like a dessert.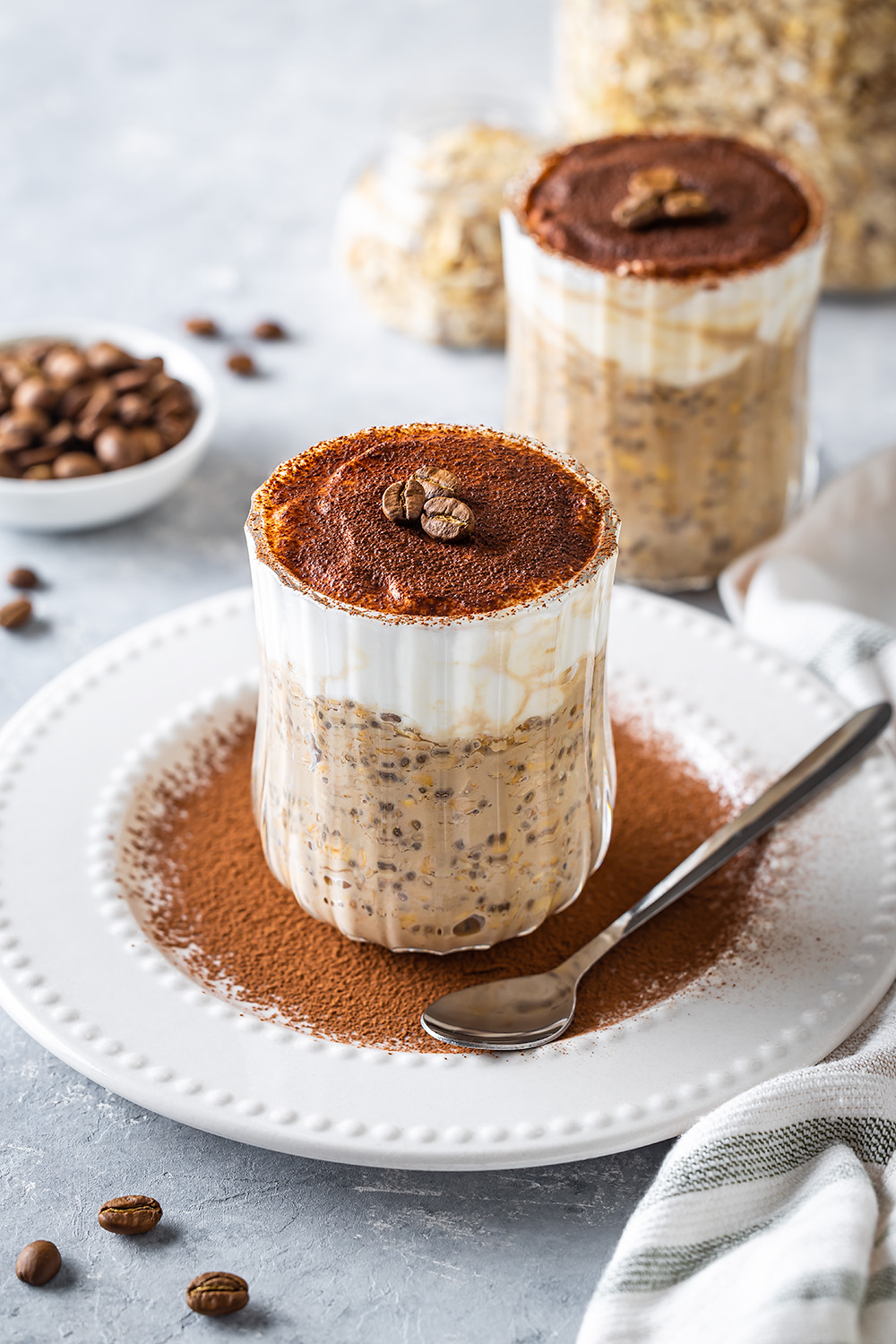 Everybody knows that oatmeal is very healthy and well-balanced breakfast. If you are tired of regular morning oatmeal, you should try overnight oats. Even easier method, as you don't need cooking at all – just mix all the ingredients and enjoy a healthy and delicious breakfast in the morning.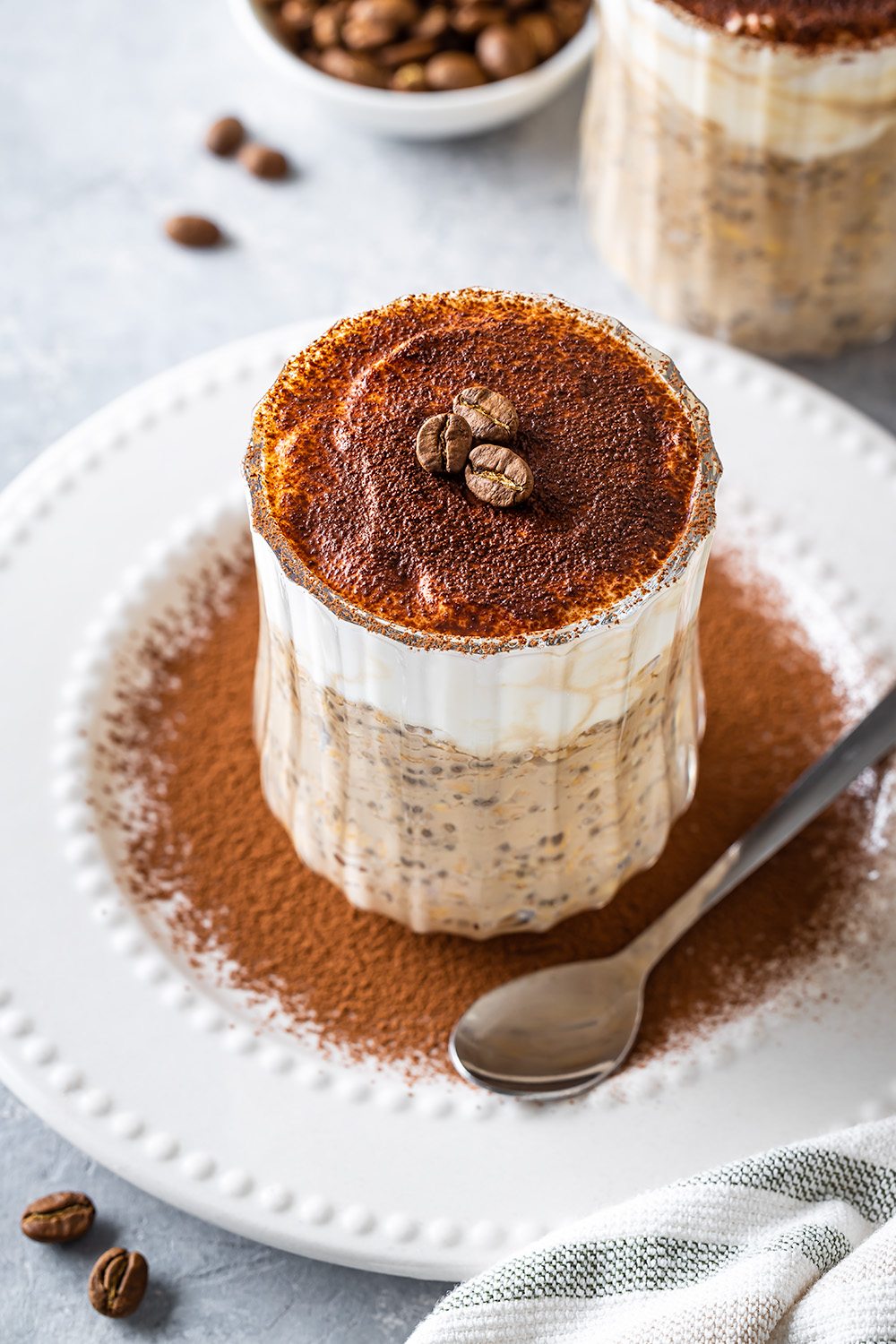 Ingredients to make Tiramisu Overnight Oats

To make Tiramisu Overnight Oats, we will need:
Rolled oats. Oats are a great source of fiber and contain a lot of vitamins, minerals, and antioxidants. The regular consumption of oats helps to lower cholesterol and blood sugar levels, also supports your gut health. Choose gluten-free labeled oats, if you are on a gluten-free diet.
Almond milk. You can use any milk of your choice, such as coconut milk, oat milk, soy milk, or regular dairy milk.
Greek Yogurt is high in protein and serves as a frosting in our Tiramisu dessert.
Coffee is the required ingredient which gives us a Tiramisu flavor. Use instant coffee or espresso shot.
Chia seeds help to thicken the dish and also give omega-3 fats, which are vital for your health support.
Maple syrup to sweeten our overnight oats. Maple syrup may be substituted by other sweeteners of your choice – honey, agave syrup, or other your favorite sweetener.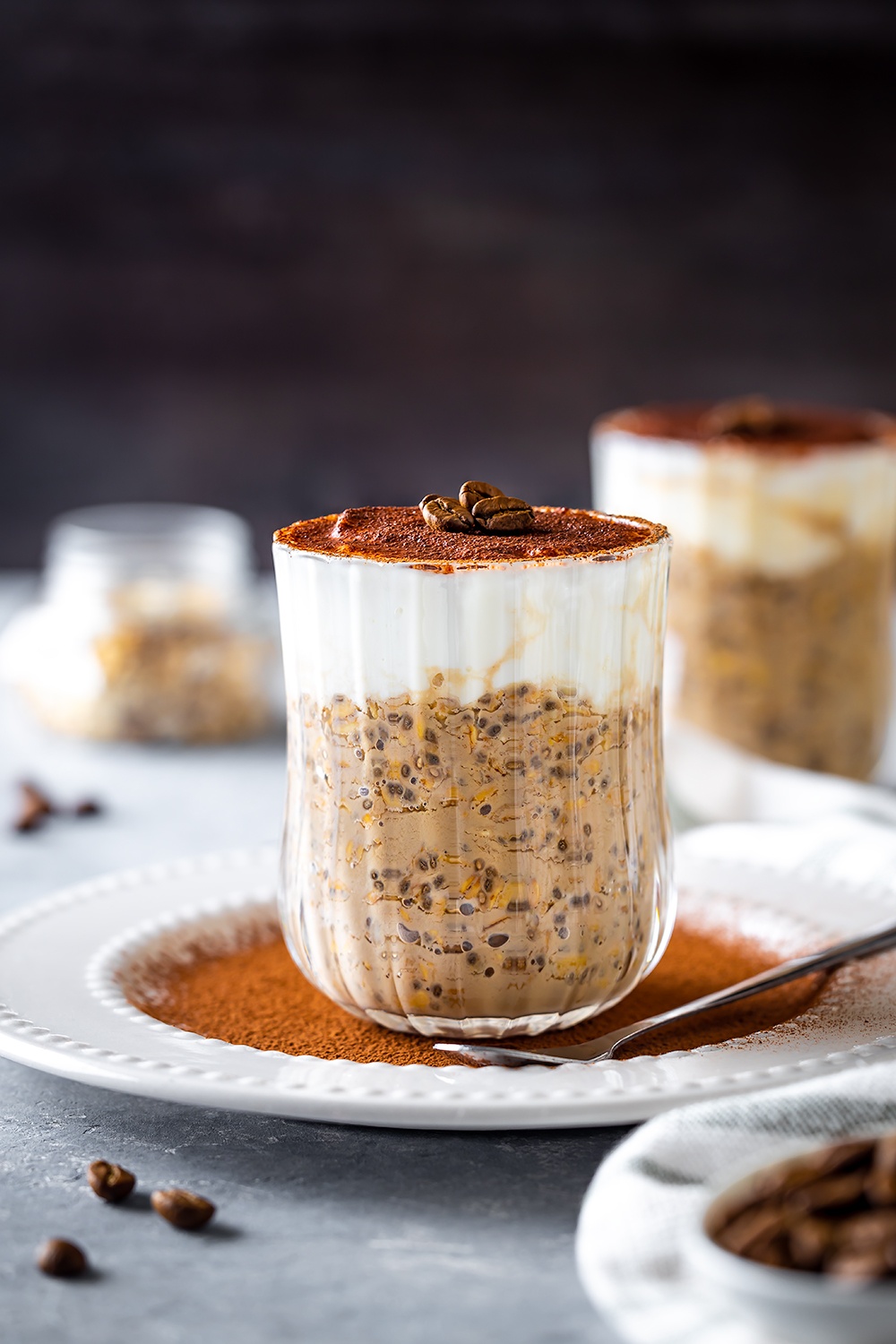 How to Make Overnight Oats
It takes only a few minutes of your time to make this dessert-like Tiramisu Overnight Oats. Mix the oats with milk, coffee, maple syrup and chia seeds and place into the fridge overnight. A night in a fridge – and a super delicious and healthy breakfast is ready. Just take it out of the fridge in the morning, top it with Greek yogurt and dust it with cocoa powder, and serve! Super yummy healthy breakfast idea that tastes like your favorite dessert!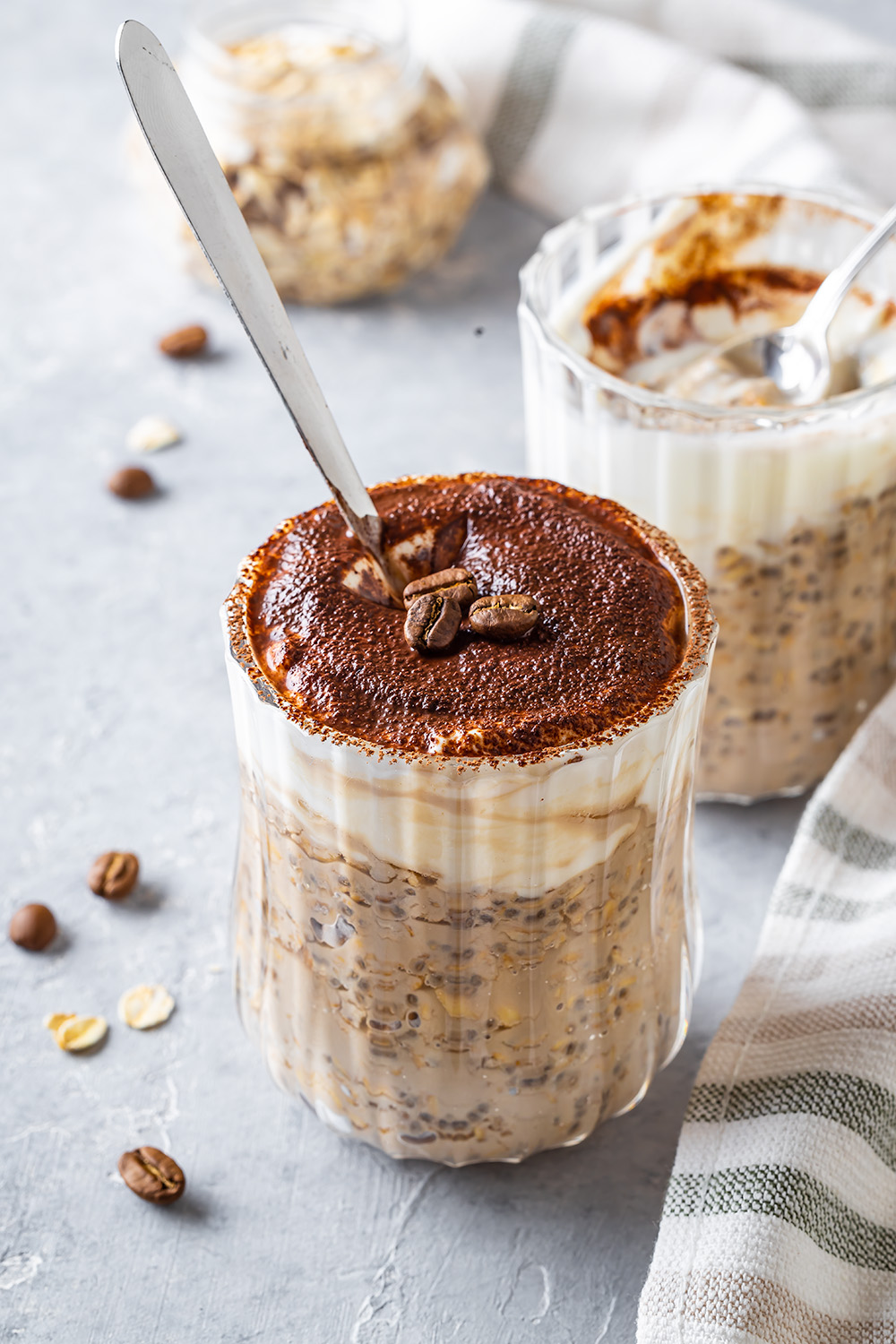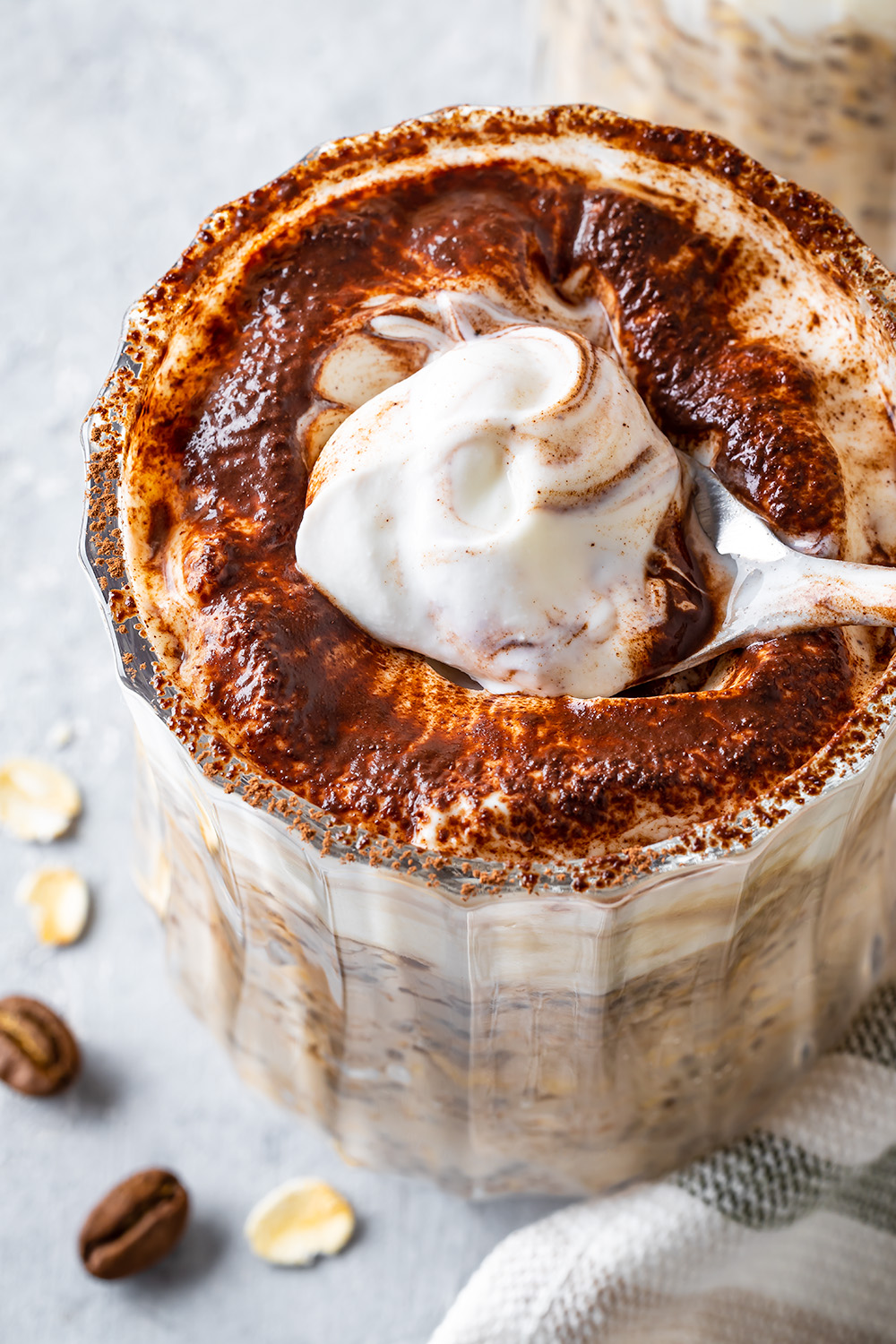 Also, check out our other super easy, delicious, and healthy breakfast ideas, like Peanut Butter Banana Overnight Oats, Mango Chia Pudding, Applesauce Oatmeal Pancakes, Apple Cinnamon Oatmeal, Healthy Pumpkin Waffles, Vegan Buttermilk Pancakes and other quick and healthy recipe ideas for breakfast.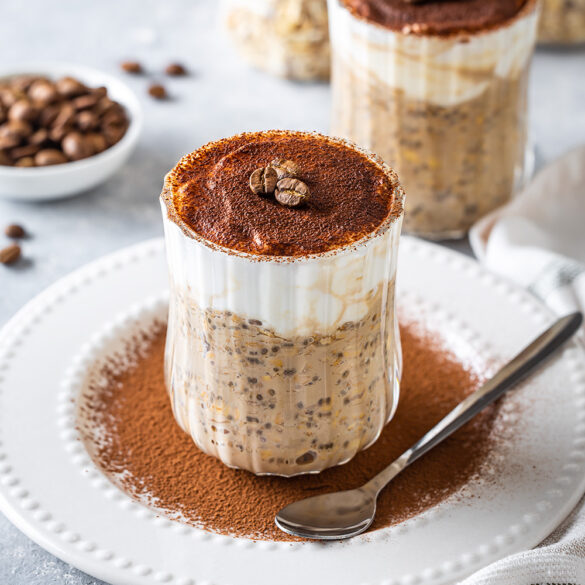 Ingredients
1 cup (100 g) rolled oats
1 cup (240 ml) almond milk
2 tbsp (40 g) maple syrup
1 tsp instant coffee powder
1 tbsp chia seeds
4 tbsp Greek yogurt
cocoa powder (for dusting)
Instructions
Add 3 tbsp of milk to a cup and warm it, then combine hot milk with the instant coffee powder, mix well.
In a bowl, mix well the oats with coffee milk, the rest of milk amount, maple syrup and chia seeds.
Divide into two jars or glasses. Cover and place into the fridge overnight.
In the morning, top the oats with Greek yogurt, smooth it, and dust with cocoa powder. Enjoy!
Did You Make This Recipe?
Tag us on Instagram
@thewillowskitchen
and hashtag #thewillowskitchen to show your results. And be sure to leave a comment in the section below :)