These vegan burritos are super delicious and nutritious. They are packed with black beans, rice, avocado, tomatoes, corn, and seasonings. These make a great healthy protein-packed breakfast, lunch, or dinner! And they are very easy to make with simple and healthy ingredients. If you want to diversify your breakfast with some interesting and delicious savory dish, then try these vegan burritos, you'll like them! Also great for lunch and dinner.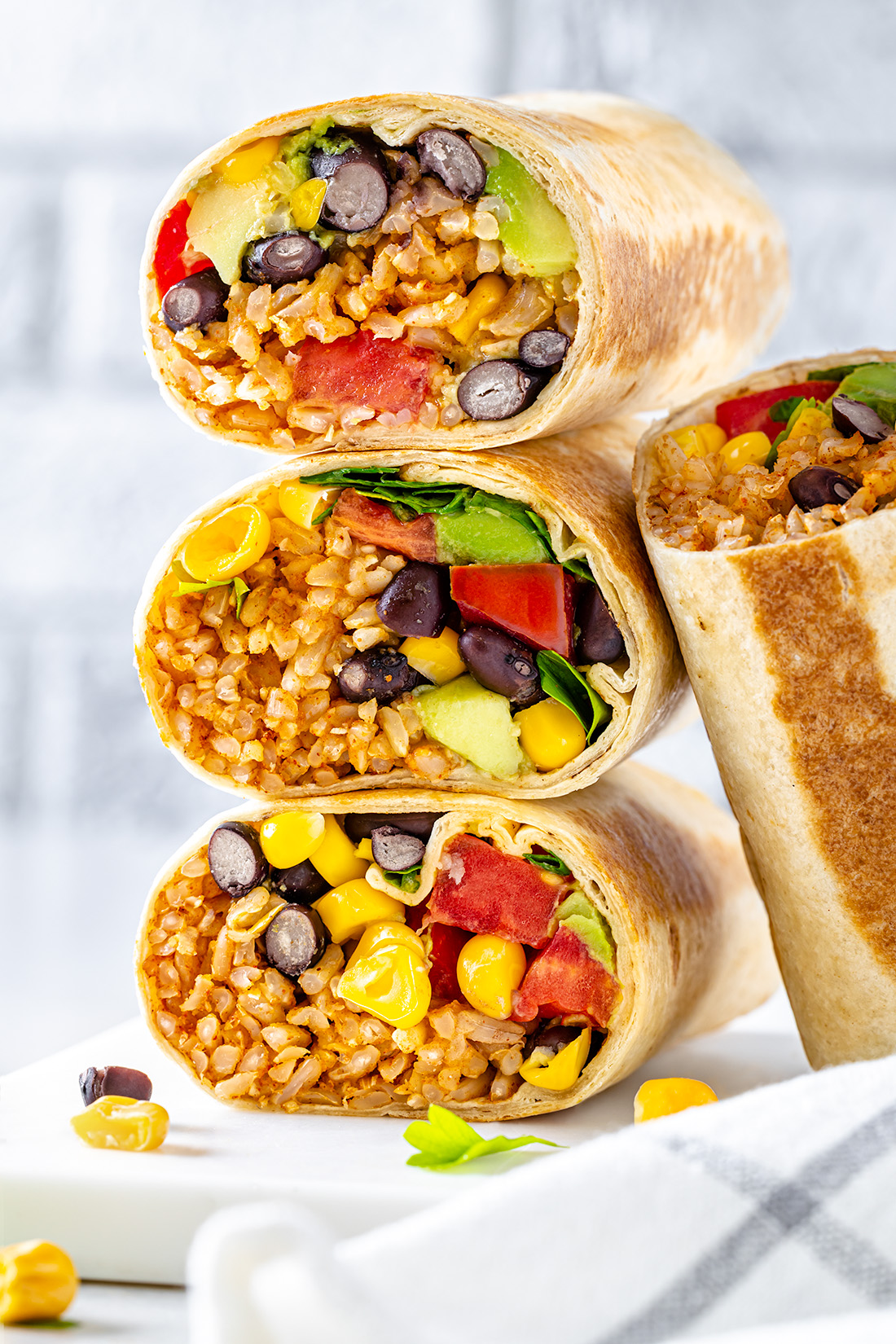 Serve with the toppings you like, for example, with vegan cheese, vegan sour cream, chipotle tahini dressing, cashew sauce or other creamy condiments. And of course, add leafy greens and your favorite veggies. This vegan burrito recipe is filling, healthy and super delicious!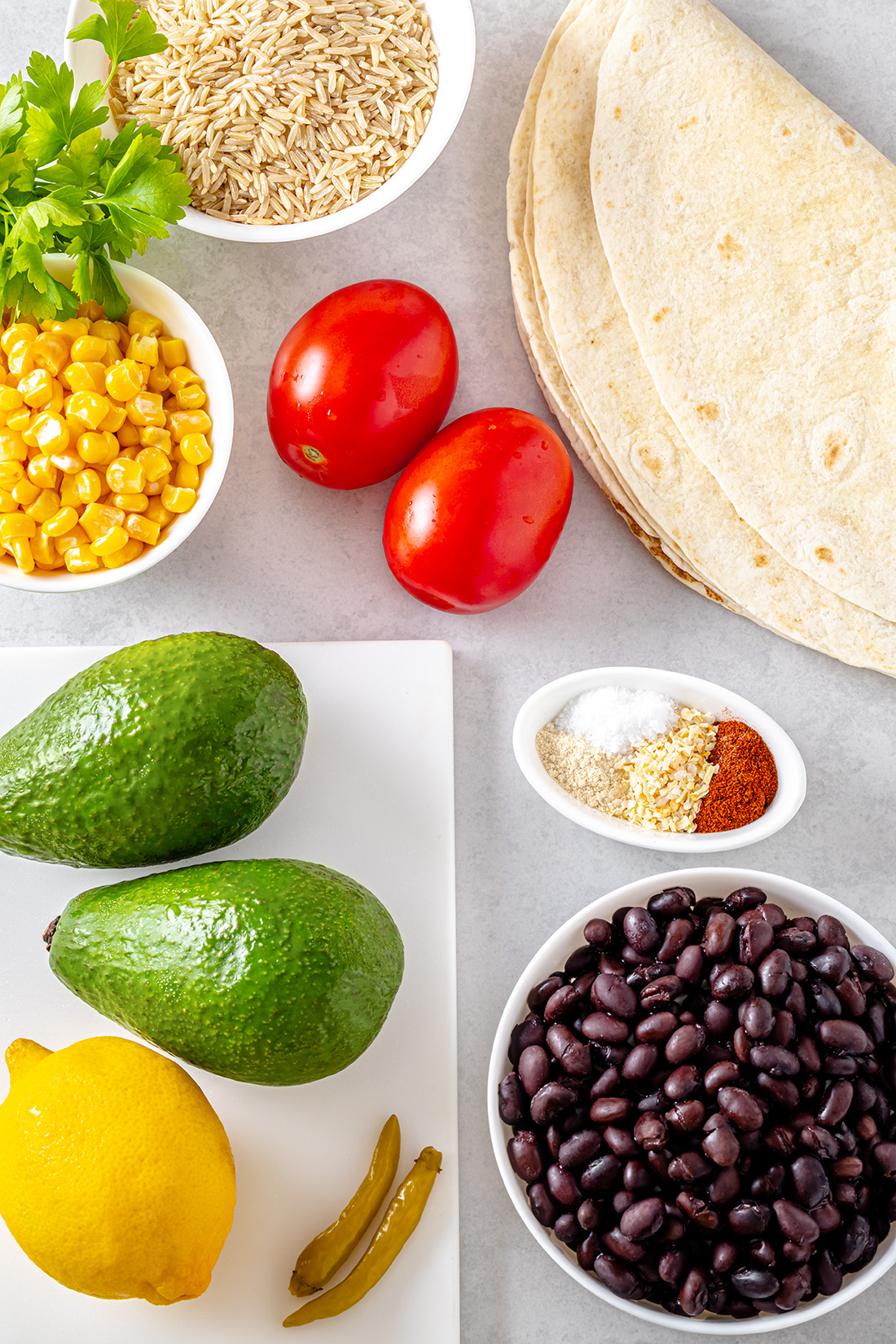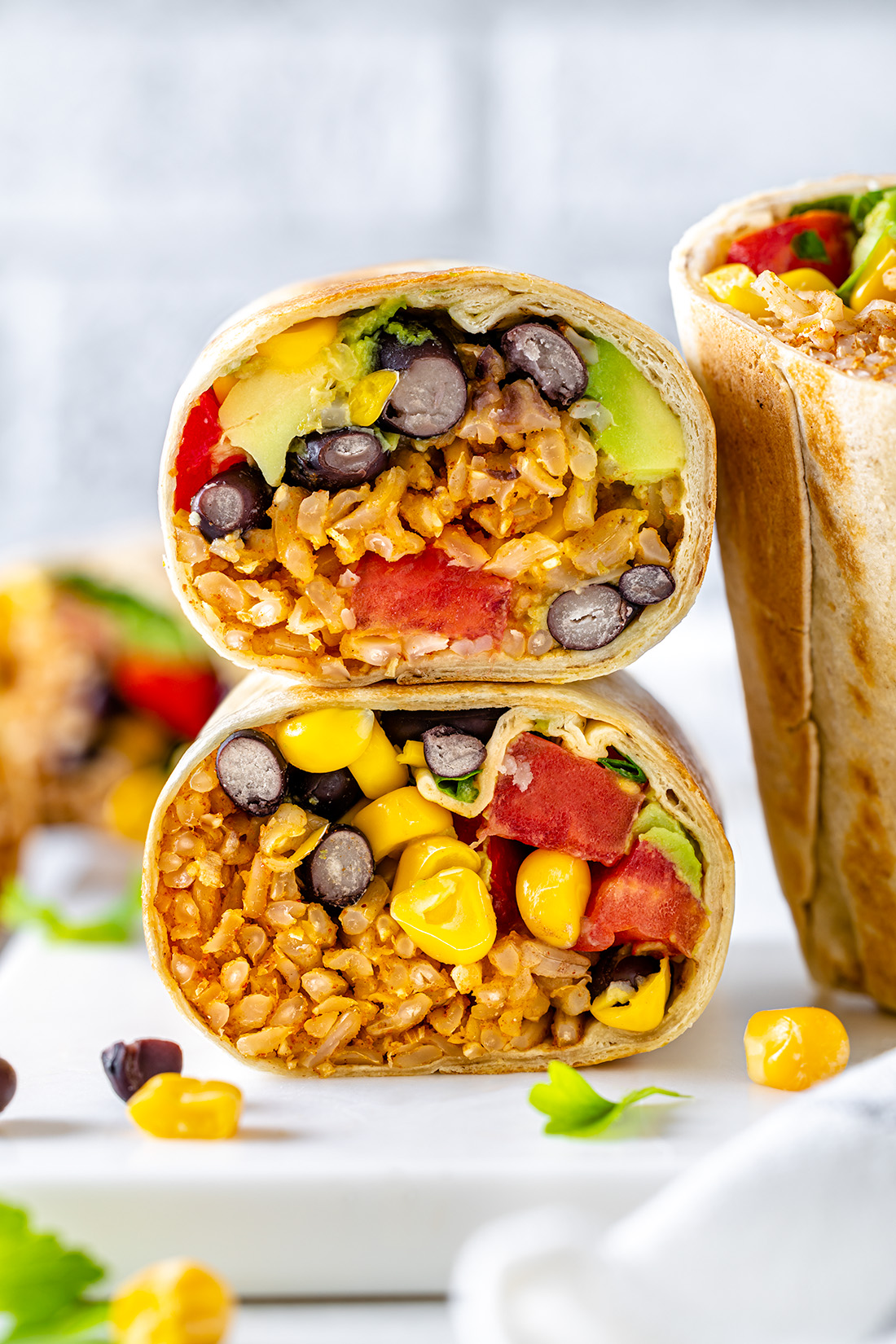 Ingredients
Black beans are a good source of fiber and protein, which helps you to feel full for longer. Eating black beans could curb your appetite and is good for those on a lose-weight diet. Black beans contain iron, calcium, phosphorus, manganese, zinc, copper, and other minerals. Beans are the perfect base for different dishes, even desserts.
Brown rice is a whole grain rice. It's a rich source of dietary fiber, magnesium, folate, B vitamins, and more essential vitamins and minerals. Consuming whole grains is beneficial to your health.
Tomatoes, avocado, corn, fresh parsley add the taste and bring a lot of health benefits to your body.
And of course, you need large tortillas to wrap it all up! It can be gluten-free tortillas for gluten-free burritos or regular flour tortillas. Choose the ones you like.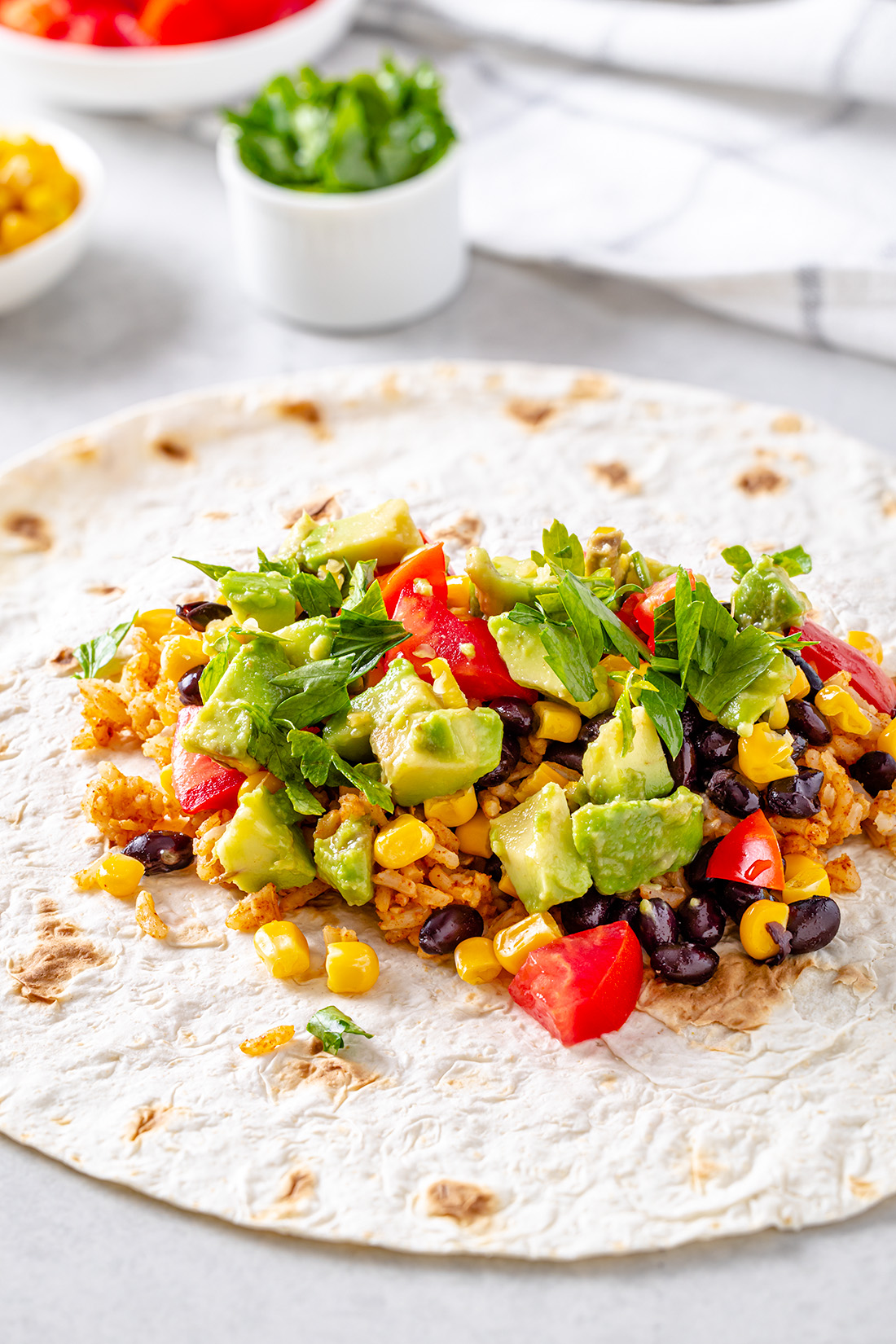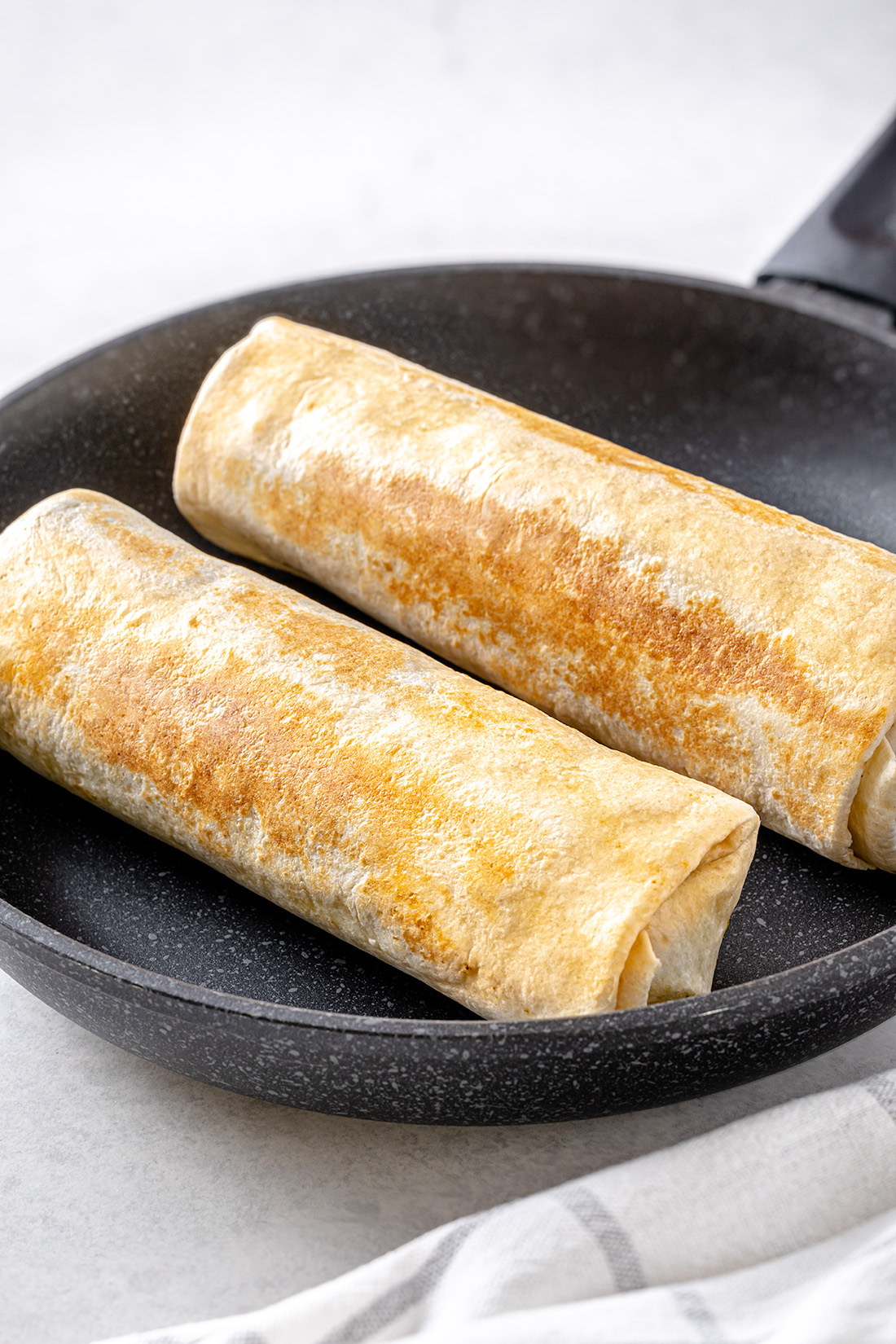 How to Make a Vegan Burrito
This super easy recipe is very simple and quick to make. You only need to cook the rice in advance. Then add all the ingredients and wrap the burrito. That's it!

Brown rice is cooked a little bit longer than white rice. But I suggest you soak the rice. In this case, the cooking process will be quicker, and the rice will be tastier. First of all, rinse and drain the rice. Then soak the rice in the water ( the approximate ratio is 1 cup of rice + 2 cups of water) for at least 1-2 hours. Then rinse and drain again. Add the rice, water, and 1 tsp of olive oil to a saucepan. Bring the water to a boil, reduce it to a simmer, and cook until water is absorbed. Add all the seasonings and let the rice rest for 10 minutes.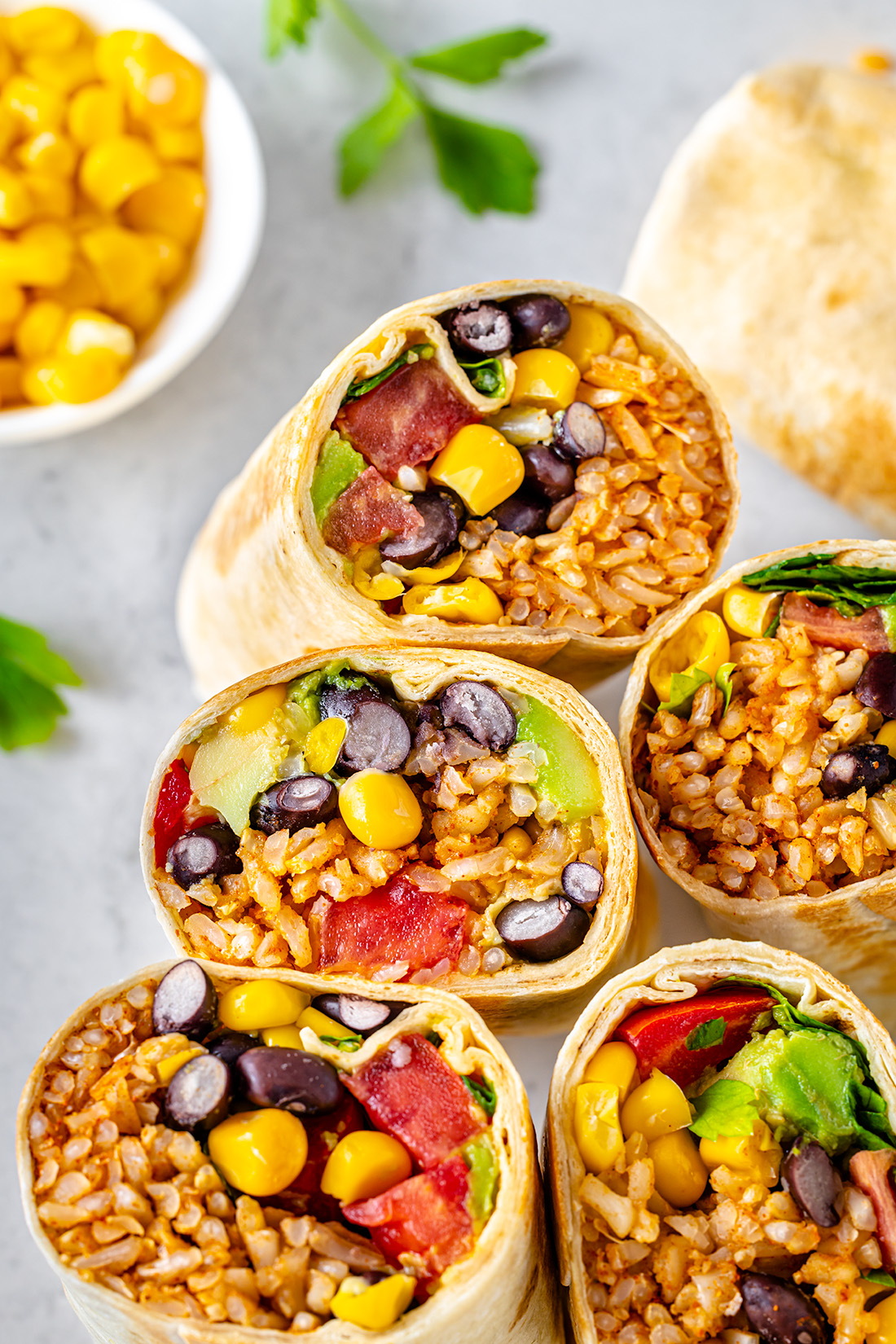 Options
This recipe is very versatile, you can add some other ingredients to create you own perfect combination. You can sub black beans with white, red or kidney beans, or even use chickpeas in this recipe. Also, you can use white or other kind of rice you like. And of course, you can add you favorite veggies and seasonings. Cumin is also great for burritos, you can add it with the other herbs and seasonings you like.

Burritos are best served with sauce. This dish is great with cashew sauce, tahini sauce or tomato sauce. Add leafy greens or cruciferous vegetables for even more vitamins and minerals. Actually, you can add whatever fillings you like to your vegan burritos.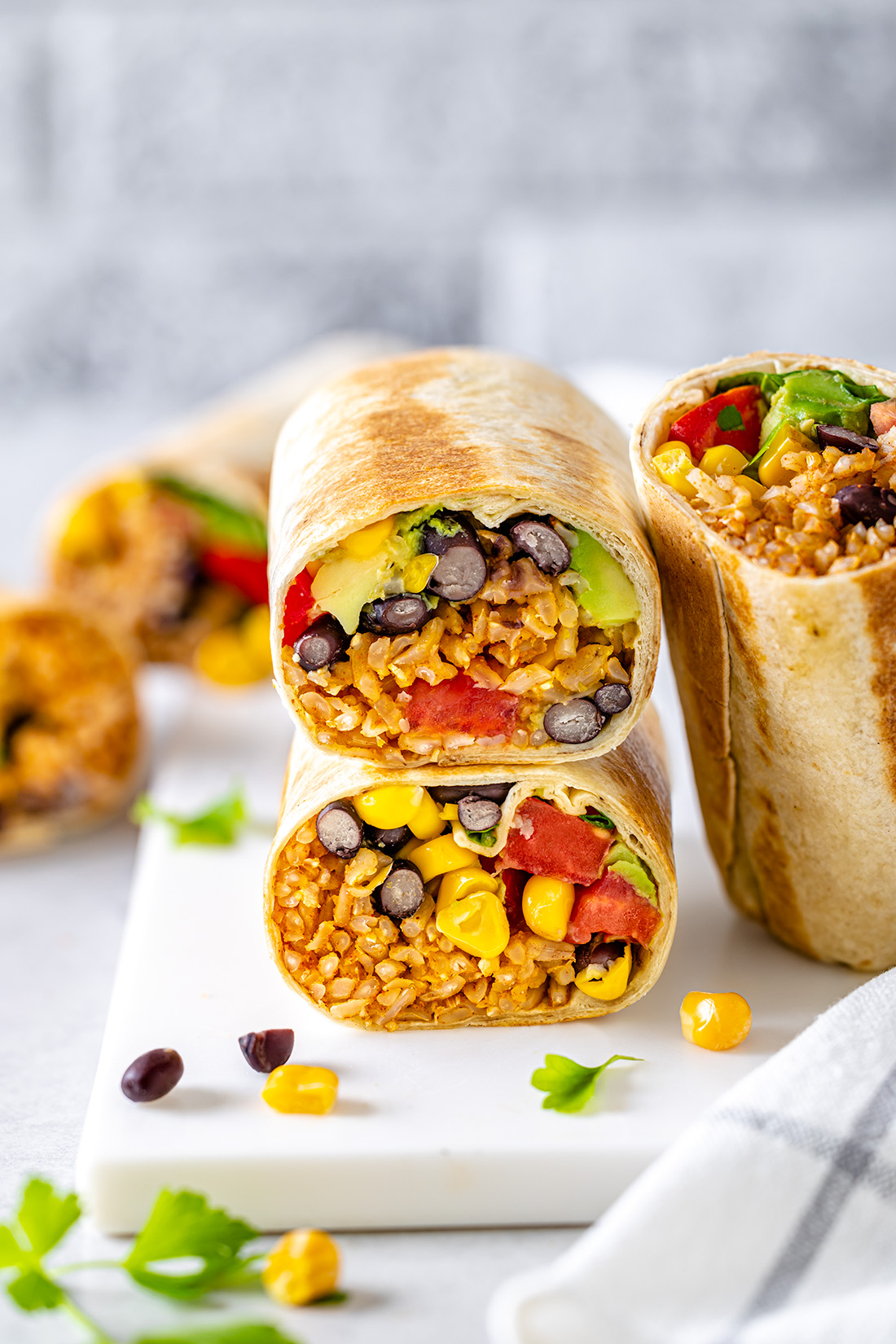 This recipe is so delicious and easy to make at home. Get the whole family to enjoy these delicious vegan burritos. They'll be great for lunch, breakfast, dinner, or as a quick weekday meal. Just right! We are sure, you'll love this plant-based savory recipe idea.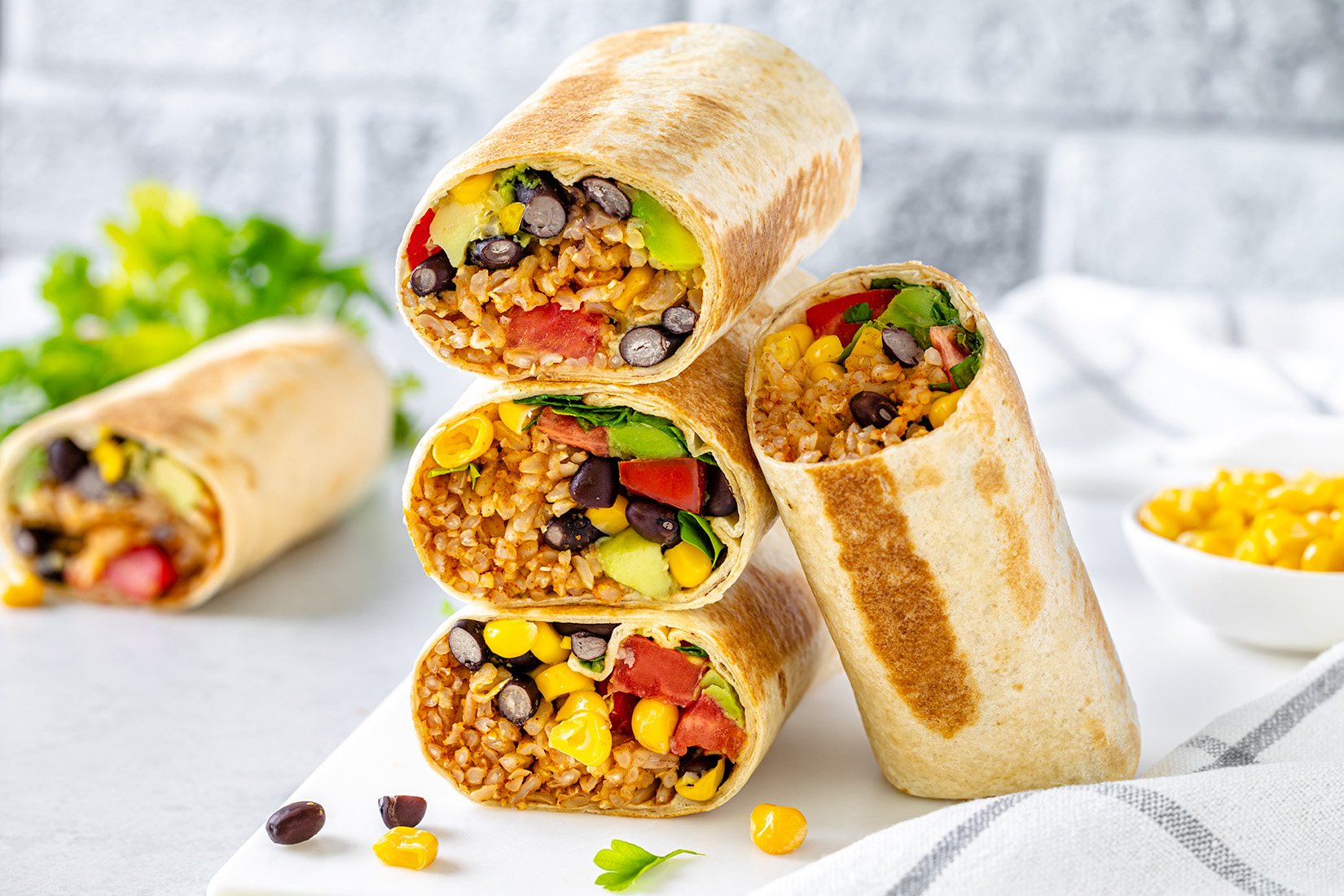 If you want more vegan recipes with different kinds of beans, check out the links below:
Baked Purple Sweet Potatoes with Beans and Cashew Sauce,
Chickpea Salad with Lemon Dressing,
Kidney Bean Salad with Hot Peanut Sauce.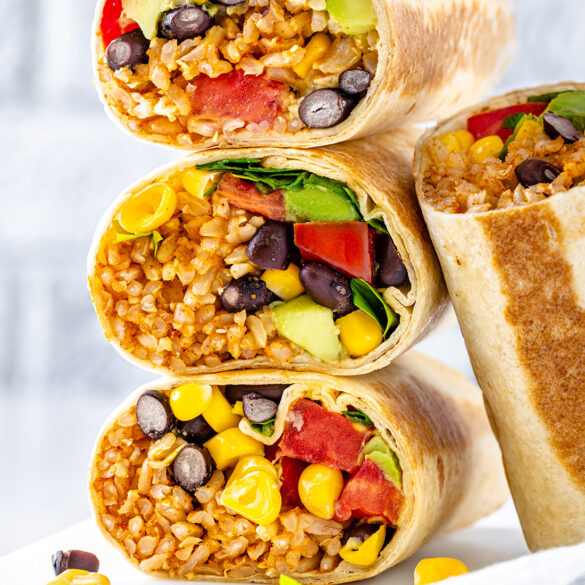 Ingredients
6 tortillas
1 cup brown rice

1 14oz can black beans, drained and rinsed

1 cup corn
2  tomatoes
2 avocados

2  small hot chili peppers
2 tsp smoked paprika
2 tsp garlic powder

2 tsp onion powder
handful of parsley
juice from ½ lemon
1 tsp salt (or more to taste)
2 tbsp tomato sauce
Instructions
Rinse and drain the rice. Soak the rice in the water (1 cup of rice + 2 cups of water) for at least 1-2 hours. Then rinse and drain again. Add the rice and water to a saucepan. Bring the water to a boil, reduce it to a simmer, and cook until water is absorbed. Add tomato sauce, smoked paprika, onion powder, garlic powder, and salt. Let the rice rest for 10 minutes.
Rinse and drain black beans and corn. Dice tomatoes, chop parsley and hot peppers. Peel and cut the avocado into pieces, then squeeze lemon juice on the avocado.
In the middle of each tortilla, spread the rice, black beans, corn, tomatoes, parsley, hot peppers, and avocado.
Wrap the tortilla burrito-style.
Heat the skillet, and warm burritos for about 2 minutes on each side until golden color. Serve and enjoy!
Did You Make This Recipe?
Tag us on Instagram
@thewillowskitchen
and hashtag #thewillowskitchen to show your results. And be sure to leave a comment in the section below :)