These vegan fluffy healthy buttermilk pancakes will be the perfect breakfast to begin your day with. Serve it with berries, fruits, whipped coconut cream, coconut caramel sauce or other toppings you love. Drizzle with some nuts or seeds to include healthy fats and protein for breakfast. Top it with maple syrup and enjoy this easy, but very delicious breakfast!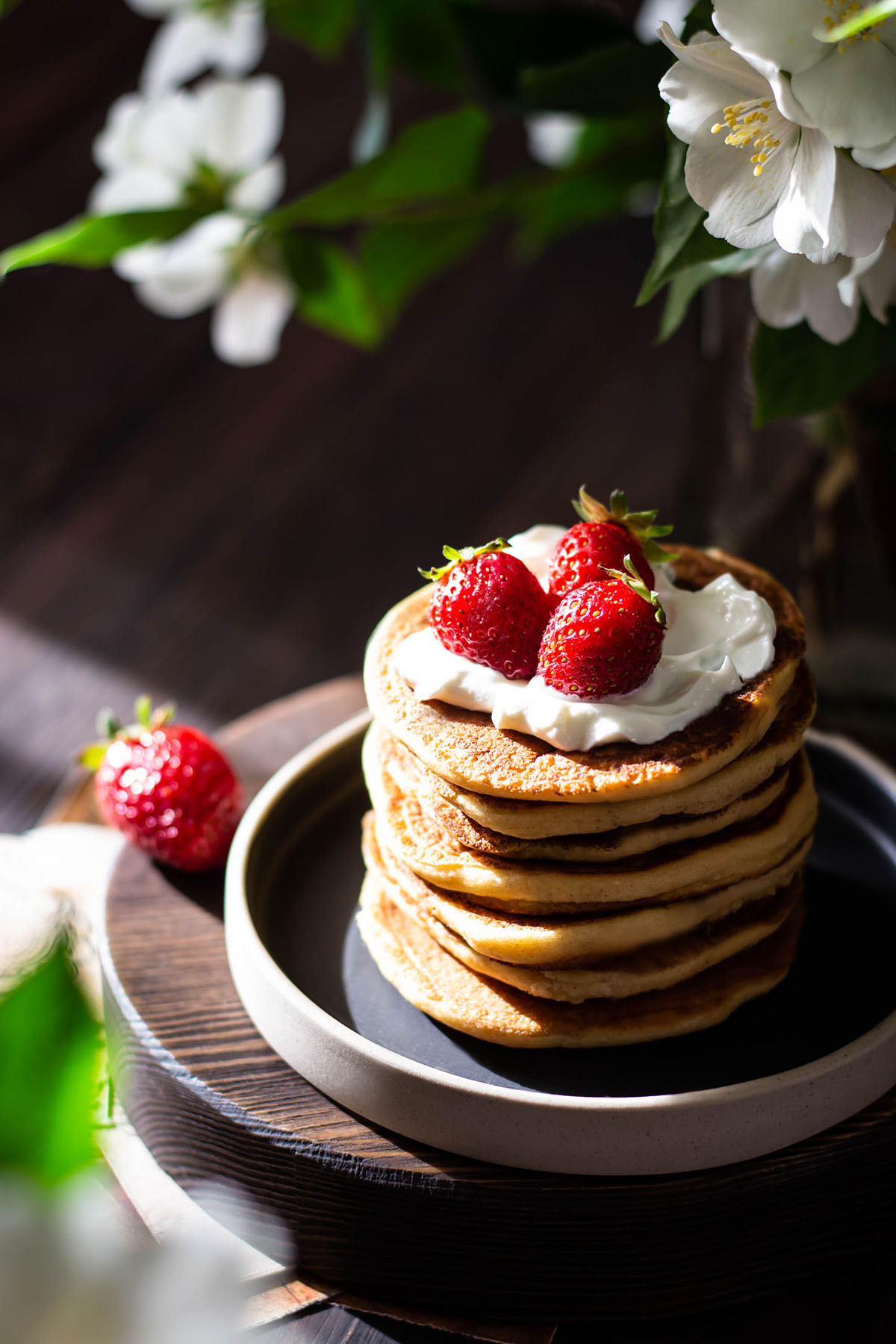 Healthy pancakes to start your day
Whole wheat flour is made from the whole wheat kernel and does not undergo heavy processing. Therefore, it is much healthier than all-purpose flour. Whole grains are a source of fiber and a lot of vitamins and minerals. Fiber prevents constipation and is vital for your digestion. Whole wheat flour in comparison with all-purpose flour regulates blood sugar level as it gives a lower glycemic index to the final product. Moreover, it might help you to lose weight, by making you feel fuller for longer. But of course, it contains gluten, so it is inappropriate for people on a gluten-free diet. So if you need to make the gluten-free version, try to replace whole wheat flour with any favorite gluten-free flour mix.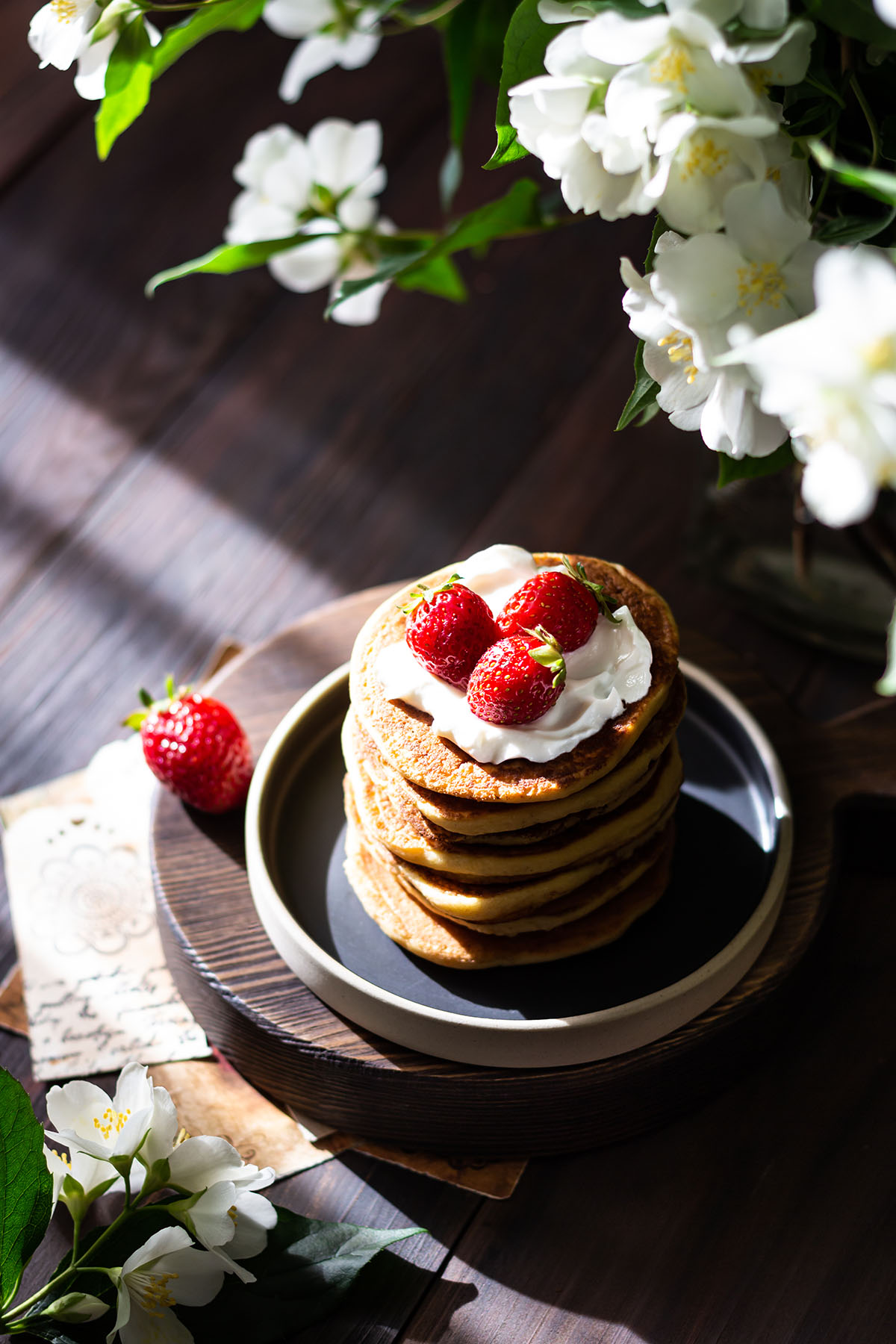 Ideas of add-ins
These buttermilk pancakes are tender, fluffy, and very simple. You can make it a little bit smaller, by pouring just 1-2 tbsp of batter into the pan, or make a regular size. By adding various add-ins to the batter you will get a different breakfast each time. For example, you may drizzle it with hazelnuts and chocolate to get a more nutritious and sweet breakfast, or you can serve it with only berries and vegan yogurt to get a lighter breakfast with much less calories. It's up to your preferences and the mood of the day.
Here are some ideas to try:
Chocolate chips. Mix in some chocolate chips in the batter for a decadent chocolatey treat.
Chopped nuts: Add some chopped nuts, such as almonds, walnuts, or pecans to your batter for some extra crunch and healthy fats.
Fresh or frozen berries. Fold in some fresh or frozen berries, such as blueberries, raspberries, or blackberries, for a burst of fruity flavor and antioxidants.
Cinnamon. Add a teaspoon of cinnamon to your batter for a warm and comforting spice flavor.
Lemon or orange zest. Add some zest to your batter for a bright and citrusy taste.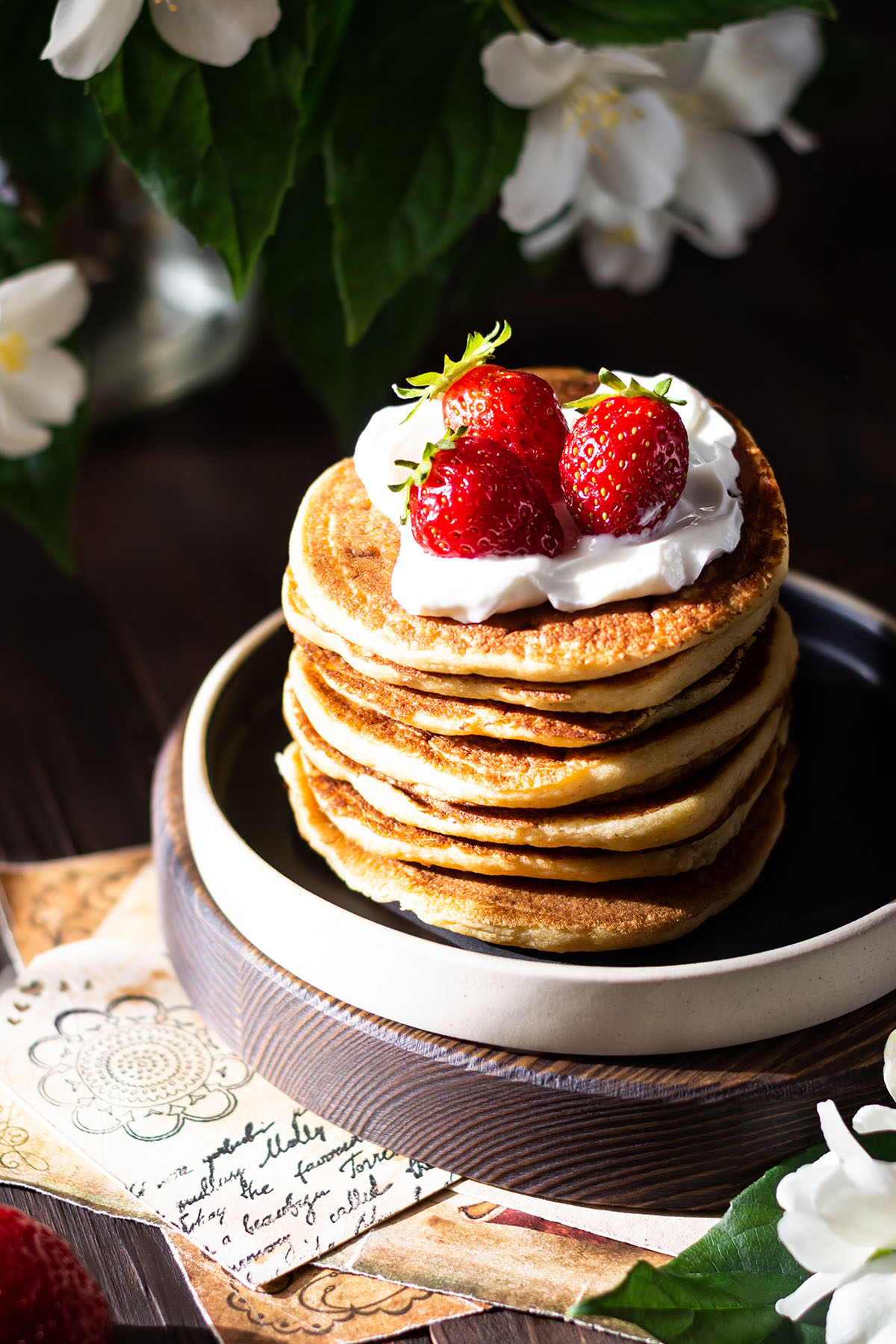 How to make Vegan Buttermilk
Buttermilk makes the pancakes lighter and fluffier. To make vegan buttermilk, you will need only two ingredients – 1 cup of almond milk and 1 tablespoon of apple cider vinegar. Also, a great option is to use soy milk, it works great as well for making this buttermilk.
In a small bowl, mix well almond milk with the apple cider vinegar.
Let the mixture sit for 5-10 minutes to allow the acid to react with the milk and curdle, similar to traditional buttermilk.
That's it! You now have a simple and easy substitute for traditional buttermilk in any vegan recipe.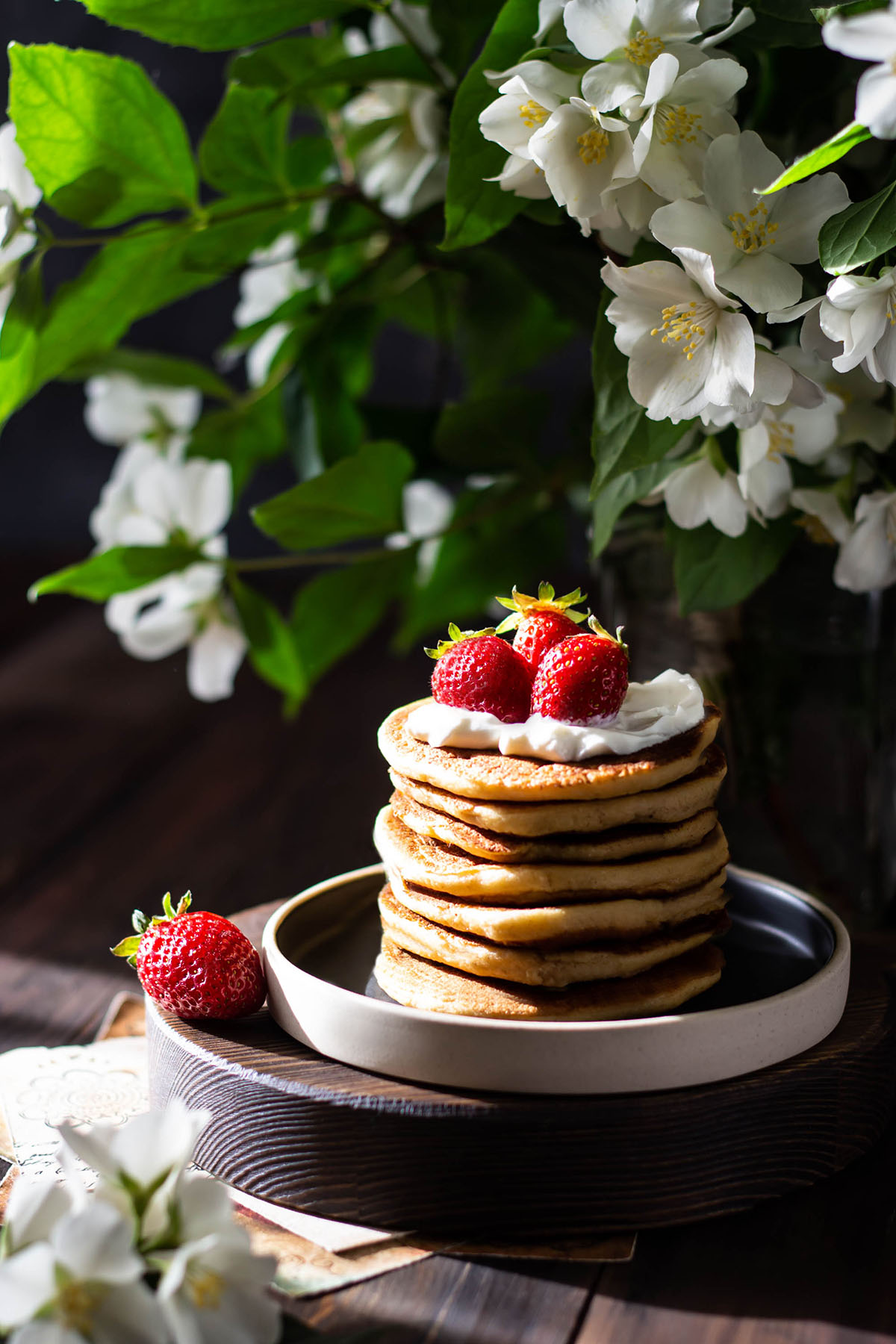 Tips for success
When mixing the wet ingredients, make sure to stir well to ensure the vinegar is evenly distributed. This will help the buttermilk curdle properly.
It's important to let the batter rest for a few minutes before cooking, as this allows the baking powder to activate and helps the pancakes rise.
When cooking the pancakes, make sure to wait until small bubbles appear on the surface before flipping. This ensures the pancakes are cooked through and prevents them from falling apart. You can also adjust the heat as needed to prevent burning.
Finally, feel free to experiment with different toppings to suit your tastes. Some popular options include fresh fruit, maple syrup, nut butter, or vegan whipped cream.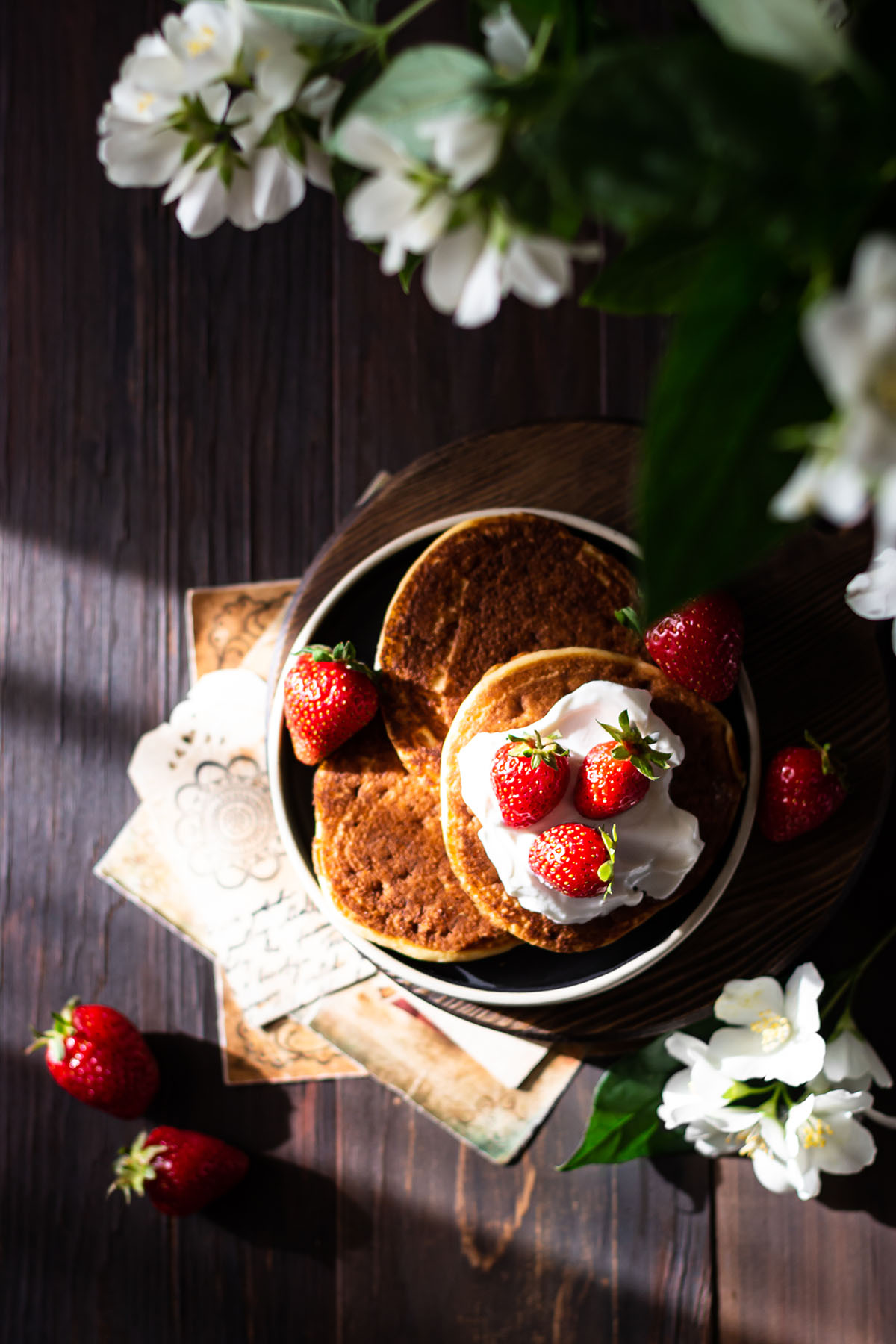 These homemade easy whole grain buttermilk pancakes are just an amazing way to start your day. Your family will absolutely enjoy this delicious breakfast.
As someone who loves breakfast food, these vegan buttermilk pancakes are a staple in my household. They're not only healthy and nutritious, but they're also incredibly delicious and satisfying. I love experimenting with different add-ins to switch things up and keep my breakfast exciting. Give this recipe a try and I promise you won't be disappointed!
More pancake recipe ideas
Here there are other great pancake recipes for delicious breakfast: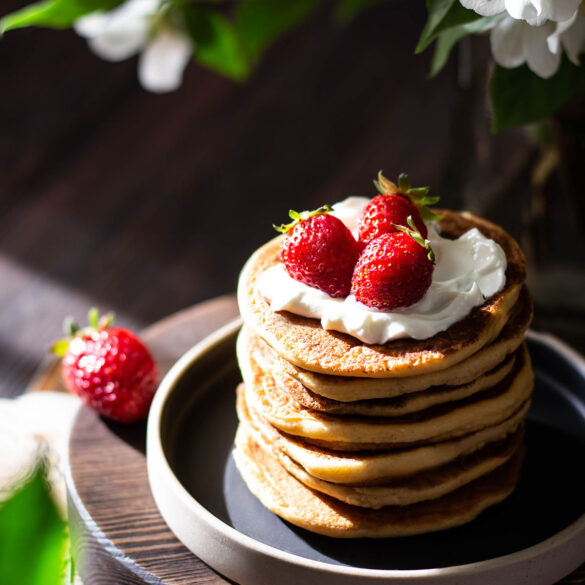 These vegan fluffy healthy buttermilk pancakes will be the perfect breakfast to begin your day with. Serve it with berries or fruits, drizzle with nuts or seeds to include healthy fats and protein, top it with maple syrup - and enjoy this easy, but very delicious breakfast!
Ingredients
1 cup (130 g) whole wheat flour
2 tbsp light brown sugar
1 tbsp baking powder
pinch of salt
1 cup (240 ml) almond milk
1 tbsp apple cider vinegar
1 tbsp olive oil (or other vegetable oil)
vanilla extract
Instructions
Mix the flour, sugar, baking powder and salt.
In a separate bowl, mix together almond milk and apple cider vinegar, stir to combine. Set aside for 5-7 minutes to curdle to get a vegan buttermilk. Add oil and vanilla extract.
Pour the liquid ingredients into the dry ingredients and stir well. Let the batter rest for about 5 minutes.
Preheat a non-stick pan on medium heat. If necessary, you can lightly oil the pan.
Pour the ¼ cup of batter onto the hot pan.
Cook it for about 3-4 minutes until small bubbles form and the pancake begins to dry around edges. Flip it and cook the second side until light golden brown.
Repeat the process with the remaining batter, adding more oil if needed.
Serve with your favorite toppings.
Nutrition
Calories:
406kcal
Fat:
10.6g
Saturated Fat:
1.1g
Cholesterol:
0mg
Sodium:
257mg
Carbohydrate:
69.8g
Fiber:
1.9g
Sugar:
16.3g
Protein:
7.7g
Vitamin D:
120mcg
Calcium:
342mg
Iron:
4mg
Potassium:
843mg
Did You Make This Recipe?
Tag us on Instagram
@thewillowskitchen
and hashtag #thewillowskitchen to show your results. And be sure to leave a comment in the section below :)