This Vegan Creamed Spinach is made with simple wholesome ingredients and tastes like a regular Creamed Spinach recipe with dairy.  As a bonus it's also gluten free and takes only a few minutes to prepare! It's great for a simple dinner or festive table. Even my non-vegan friends love it and don't notice the difference. So I encourage you to give it a try. If you love the Creamed Spinach here is a more healthy dairy free variation of the traditional recipe.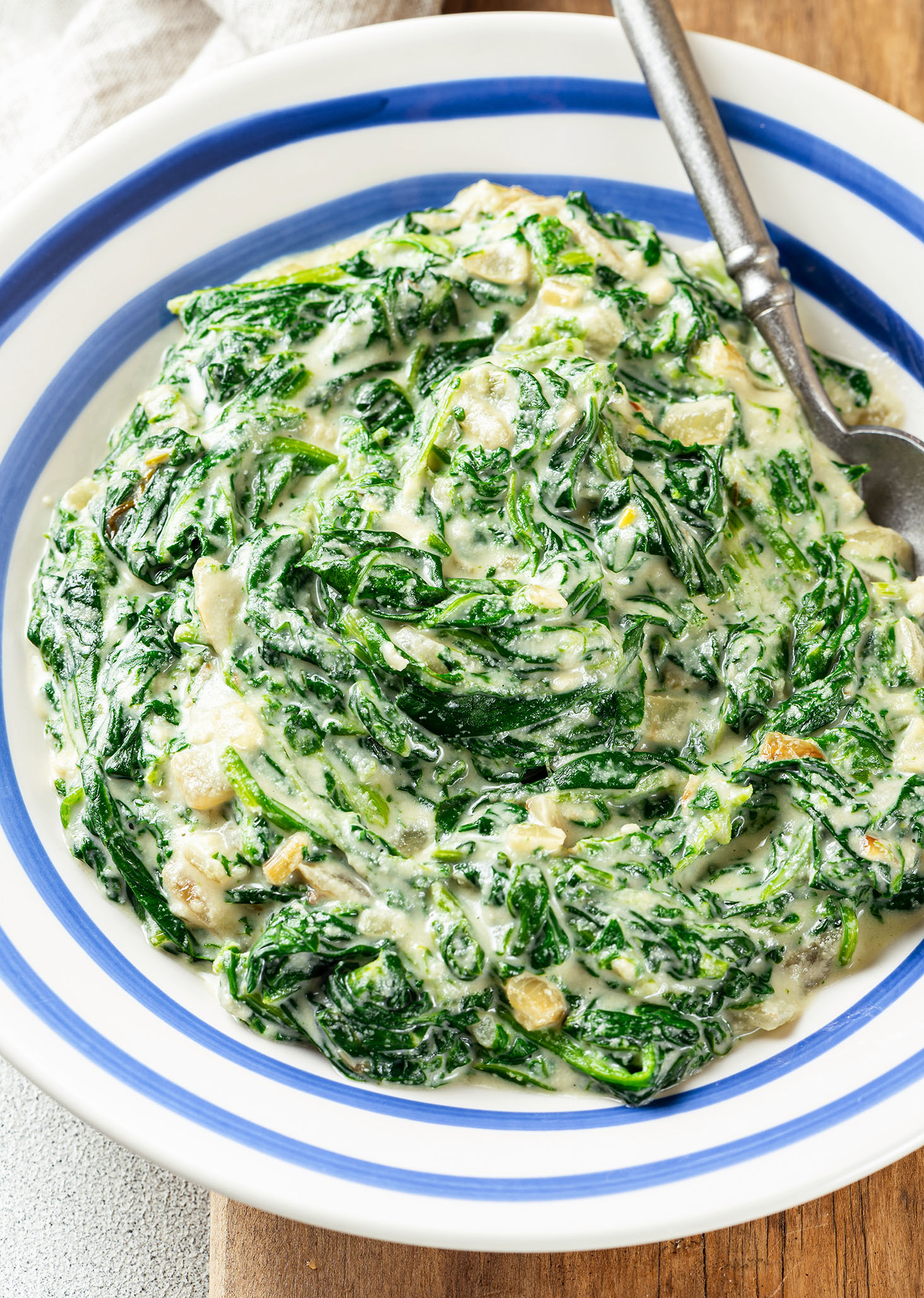 What you will need
First we will need an onion, chopped and caramelized in a pan with some garlic.
Main ingredient is spinach, of course. You can use fresh or frozen spinach. I like a whole leaf kind, but you can definitely use the chopped one. Frozen spinach I would recommend to thaw first and then squeeze the excessive liquid. If you are in a rush, just dump it into a pan when the onion is ready and stir from time to time. When it's completely defrosted, let the liquid evaporate, it will take a few minutes.
For the creamy part we use cashews. I soak them in hot water for 15 min, while preparing the onion and spinach, so it doesn't add up any time to the cooking process.
For the richer taste this recipe uses Italian seasoning and some nutmeg. And that's it! Only a few ingredients and an amazing dish is ready,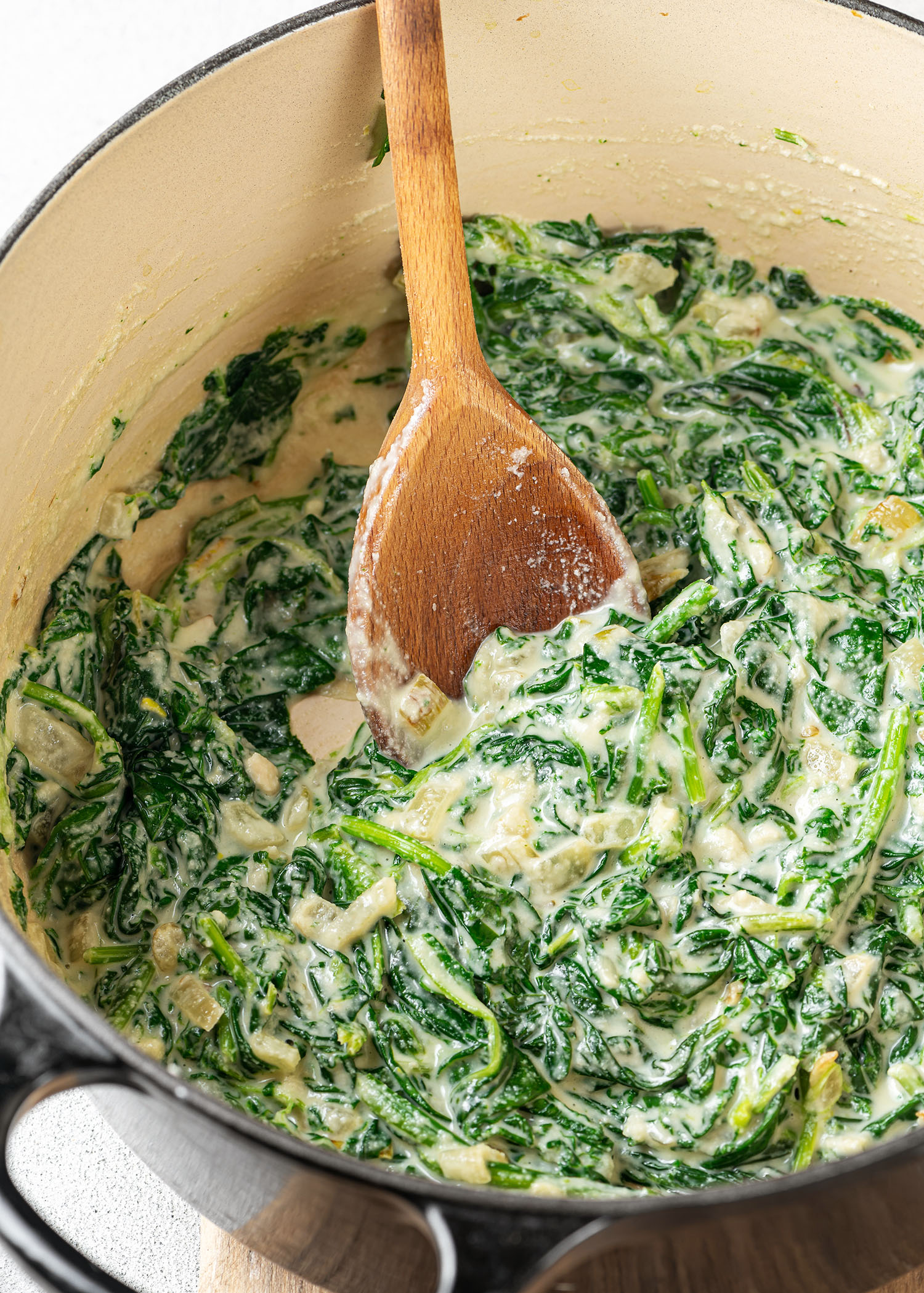 This Vegan Creamed Spinach makes an amazing side dish on your special occasion dinner. But it will make a great meal by itself or with some mashed potatoes too. You can keep the leftovers in the fridge for 3 days and reheat them in a pan or a microwave. You can even make it in advance to reheat and serve when the guests arrive.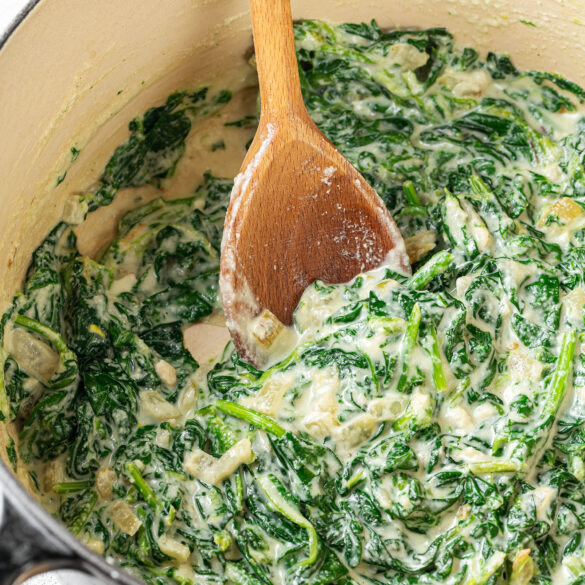 Ingredients
1 ½ pounds (680 g) spinach
2 tablespoons vegan butter or olive oil
½ yellow onion, chopped
2 cloves garlic, minced
½ teaspoon Italian Seasoning
¾ cup (112 g) cashews, unroasted
¾ cup water
1 teaspoon lemon juice
¾ teaspoon sea salt
⅛ teaspoon ground nutmeg
Instructions
Place the cashews in a bowl and cover them with boiling water. Soak for 15-20 minutes.
Heat olive oil or butter in a large pan over medium-high heat. Add the onion and garlic, and sauté for 5 minutes.
Add the spinach, and a pinch of sea salt, and sauté until the spinach is wilted. If you can't fit all your spinach at once, wait until it starts to wilt and add the rest then. Add Italian Seasoning.
Drain the cashews and add them to a blender with water, lemon juice, salt, and nutmeg. Blend on high speed for about 1 minute until very smooth consistency.
Stir the cashew cream into the spinach mixture, and cook until the sauce thickens, it will only take a moment. Serve immediately.
Did You Make This Recipe?
Tag us on Instagram
@thewillowskitchen
and hashtag #thewillowskitchen to show your results. And be sure to leave a comment in the section below :)