These Vegan Zucchini Muffins are not only a delicious treat but also a healthier option thanks to the nutritious ingredients used. Enjoy them as a satisfying snack or as part of your healthy breakfast. Customize them with your favorite mix-ins, and enjoy the goodness of homemade, vegan muffins!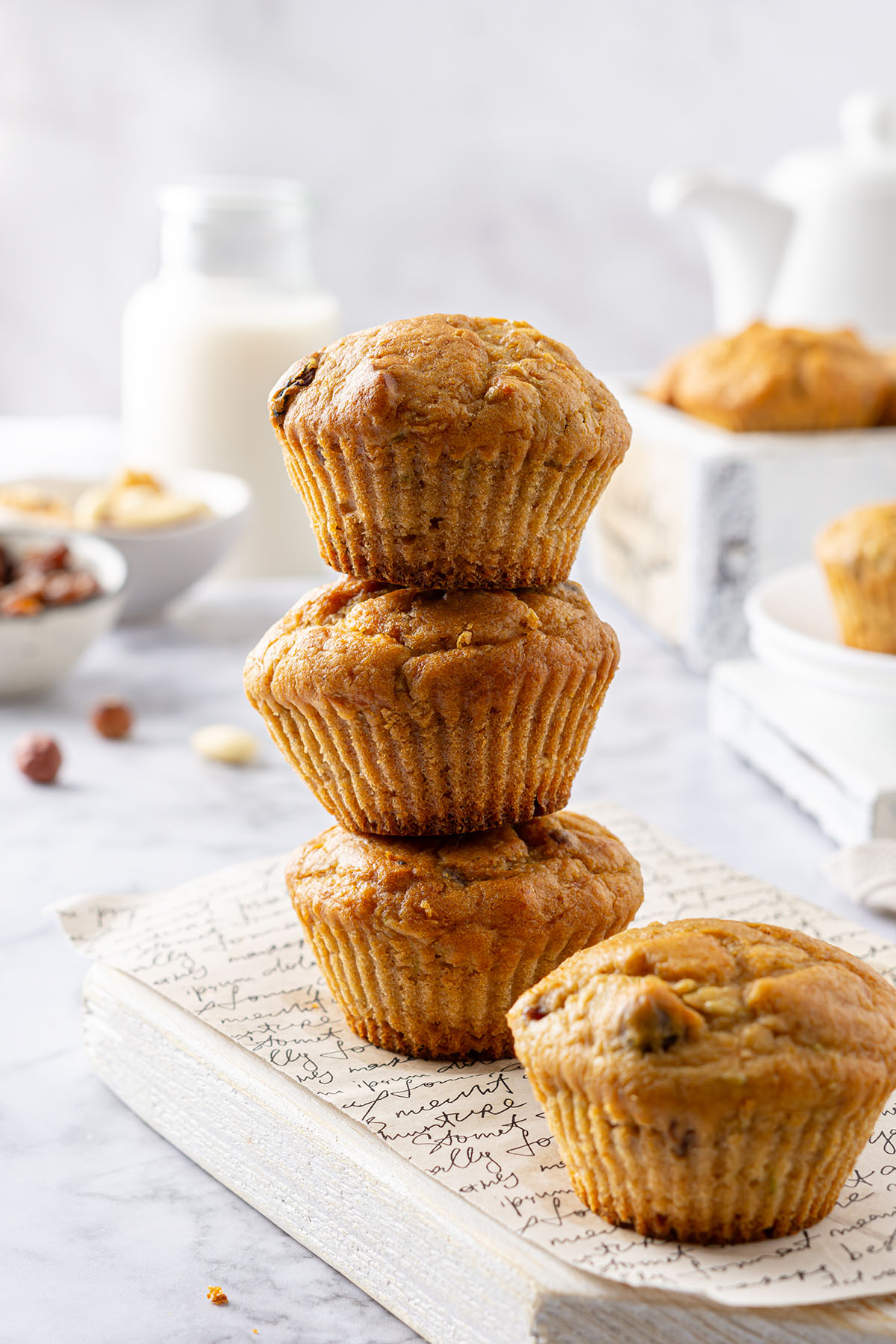 Why You'll Love This Recipe
Vegan, Dairy-free: This recipe opens a door to a world of delectable flavors that align with ethical and dietary choices.
Nutrient-Packed and Healthy: Beyond just taste, these muffins are a powerhouse of health benefits. Zucchini serves as the unsung hero, adding vitamins and minerals while infusing moistness that guarantees each bite is as satisfying as it is nourishing.
Easy and Simple to Make: Whether you're a seasoned baker or a kitchen novice, easy preparation ensures success for all levels of expertise. It's an invitation to unleash your inner chef without complexity.
Versatile: This recipe is your canvas for culinary creativity. With a diverse selection of mix-ins, you can craft muffins tailored to your exact cravings.
Perfect on the Go: These muffins are not just a delightful treat at home but also the perfect snack for busy days. Pack them in your lunchbox, take them to the office, or bring them along for picnics and outdoor adventures.
Ingredients
Zucchini: The secret ingredient that adds moisture and provides a great texture.
Vegetable oil: Provides moisture and a tender texture. Choose any neutral-flavored oil.
Maple Syrup: Adds natural sweetness. You can use agave syrup or other liquid sweetener instead. Honey works well too, so if you don't need the vegan option, feel free to use honey.
Apple Cider Vinegar: Acts as a leavening agent which in reaction with soda helps the muffins rise and become light and fluffy.
Cinnamon: Enhances the flavor profile of the muffins, adding a warm and comforting aroma.
Plant-Based Milk: You can use almond, soy, low-fat coconut milk, or other milk of your choice.
Almond Flour: Enhances texture and lets the muffins remain soft and moist.
Whole Wheat Flour: Whole wheat flour contains whole grain so is much healthier than plain white flour.
Baking Powder and Baking Soda: Leavening agents for muffins to rise.
Nuts and Raisins: Add crunchiness, flavor, and extra sweetness.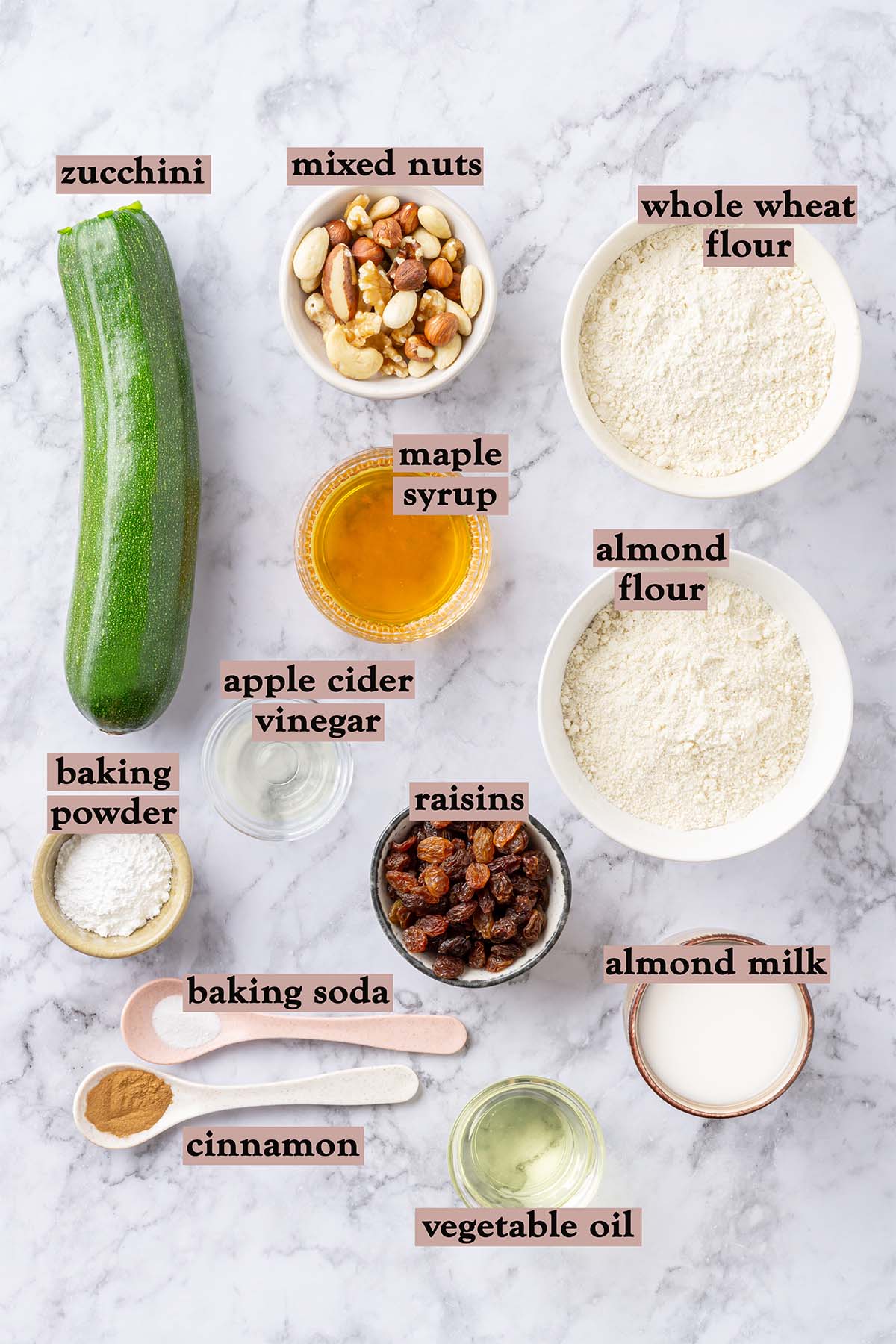 How to Make
Preheat Your Oven: Preheat your oven to 350°F (180°C). Line a muffin tin with paper liners.
Mix Wet Ingredients: In a large mixing bowl, combine the neutral-flavored vegetable oil, maple syrup, freshly grated zucchini, apple cider vinegar, ground cinnamon, and your choice of plant-based milk. Stir these wet ingredients until they are well combined.
Combine Dry Ingredients: In a separate mixing bowl, whisk together the almond flour, whole wheat flour, baking powder, and baking soda. These dry ingredients will form the base of your muffin batter.
Fold Dry Ingredients into Wet: Gently fold the dry ingredients into the wet mixture until they are just combined. Avoid overmixing; a few lumps in the batter are perfectly fine.
Add Nuts and Raisins: If desired, fold in the chopped nuts and raisins to add crunchiness and extra sweetness to your muffins. These ingredients are optional but highly recommended for added flavor and texture.
Scoop Batter into Muffin Tin: Using a spoon or an ice cream scoop, evenly distribute the muffin batter into the paper-lined cups of your muffin tin. Fill each cup about 3/4 full to allow room for the muffins to rise.
Bake to Perfection: Place the muffin tin in your preheated oven and bake for approximately 20 minutes. Keep an eye on them, as baking times may vary slightly depending on your oven. The muffins are done when a toothpick inserted into a muffin comes out clean.
Cool and Enjoy: Once your Vegan Zucchini Muffins are done baking, remove them from the oven and allow them to cool in the muffin tin for a few minutes. Then, transfer them to a wire rack to cool completely before serving.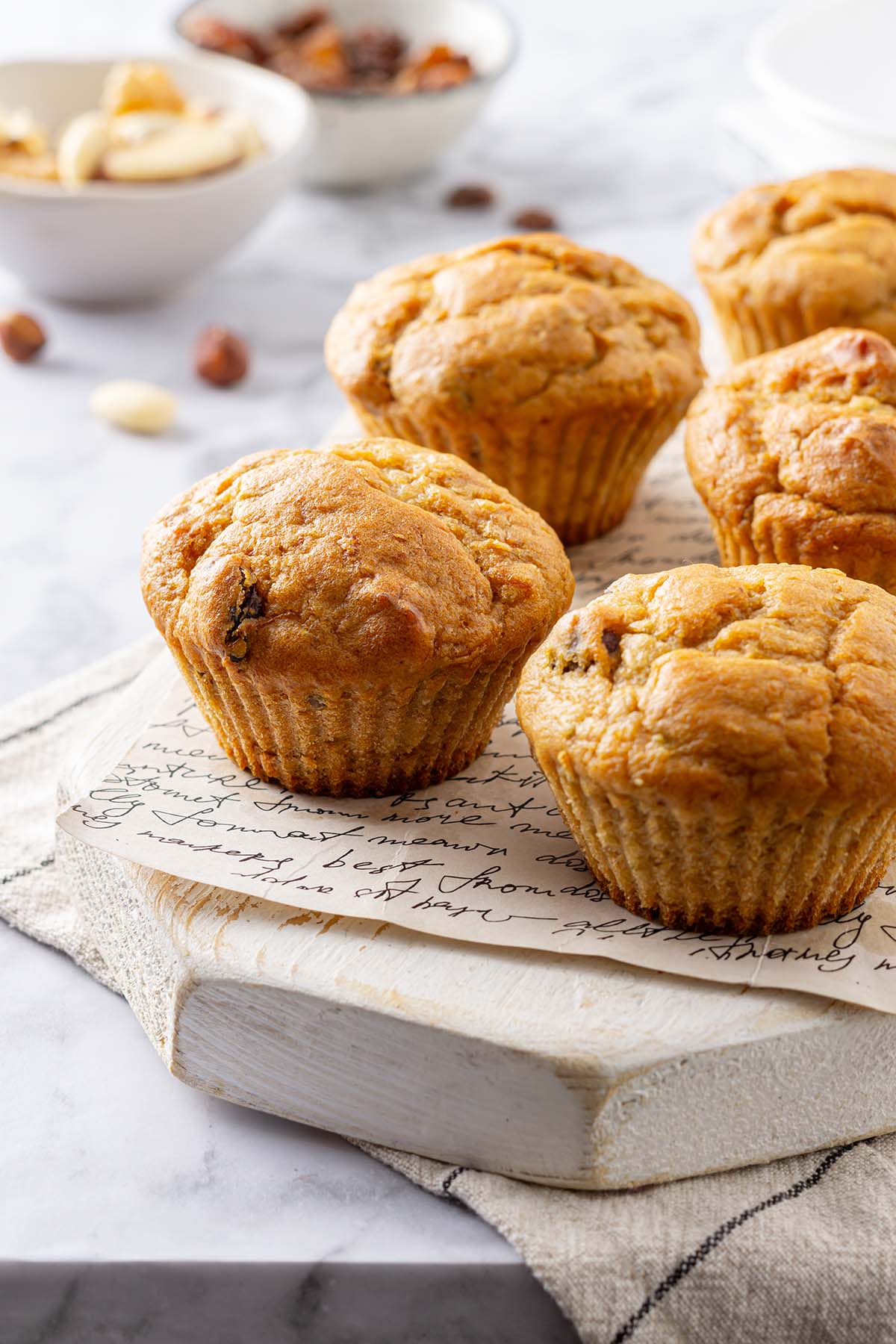 Expert Tips for Best Results
Grate Zucchini Fresh: Grate the zucchini just before adding it to the batter. Freshly grated zucchini contains more moisture, which contributes to the muffins' texture and moistness.
No Need to Squeeze Zucchini: Unlike some zucchini recipes, there's no need to squeeze the excess moisture from the grated zucchini for this muffin recipe. The natural moisture of the zucchini enhances the muffins' moistness.
Room Temperature Ingredients: Use ingredients at room temperature. Cold ingredients can affect the consistency of the batter.
Don't Overmix: When combining wet and dry ingredients, mix until just combined. Overmixing can lead to tough muffins. A few lumps in the batter are perfectly fine.
Properly Measure Flour: When measuring flour, use the spoon-and-level method. Spoon the flour into the measuring cup and level it off with a flat edge. This prevents compacting the flour, ensuring accurate measurements.
Evenly Distribute Mix-Ins: Using nuts and raisins, make sure to evenly distribute them in the batter. This ensures that each muffin has a balanced amount of add-ins.
Use Fresh Baking Powder and Soda: Ensure that your baking powder and baking soda are fresh and within their expiration dates. Fresh leavening agents are essential for achieving a good rise.
Baking Time May Vary: Keep an eye on the muffins as they bake. Baking times can vary depending on your oven's temperature accuracy. A toothpick inserted into a muffin should come out clean when they're done.
Cool Completely: Allow the muffins to cool completely on a wire rack before serving. This helps the flavors settle and ensures the best texture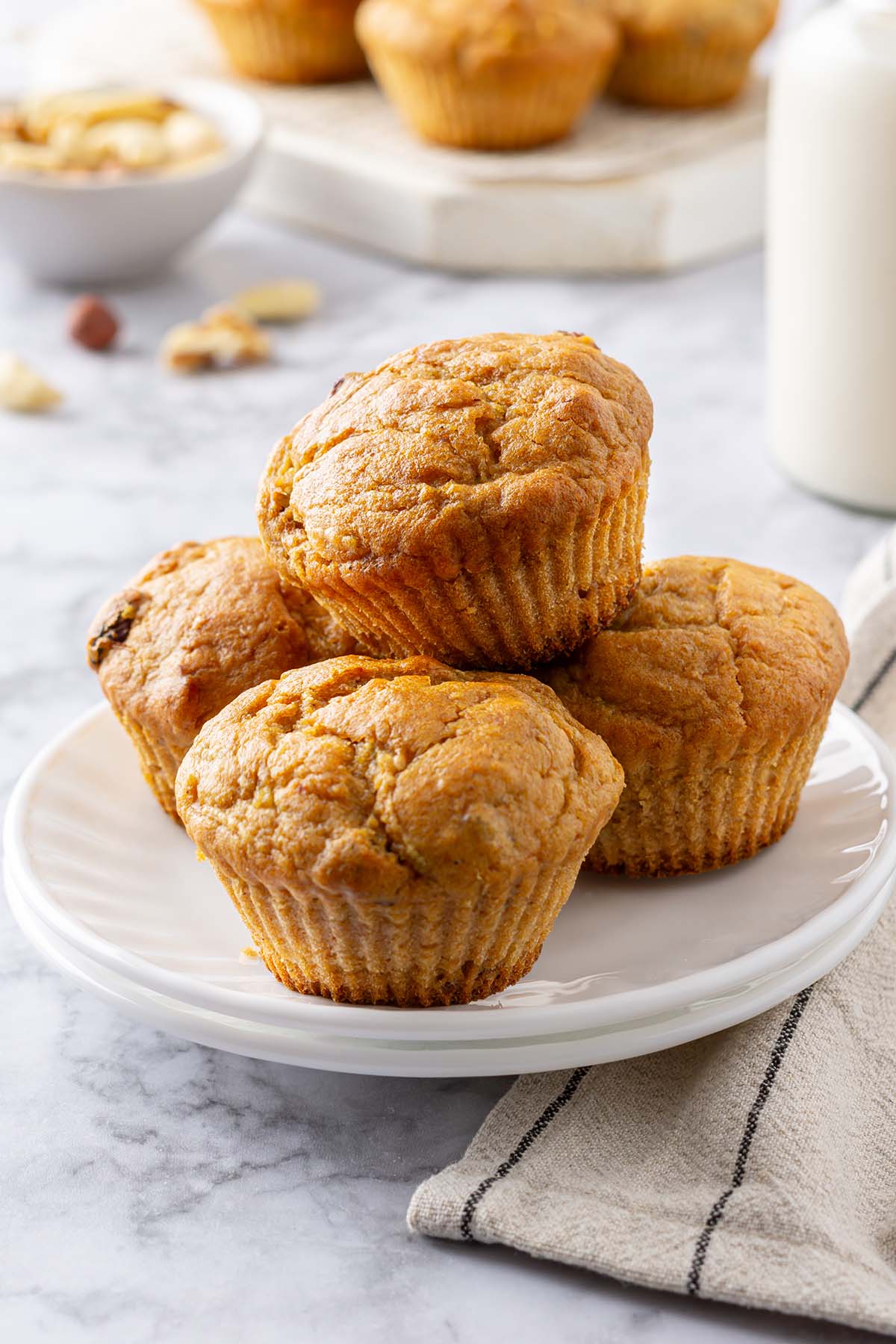 Ideas for Mix-ins
While these Vegan Zucchini Muffins are delicious as they are, you can add an extra layer of flavor and texture by incorporating various mix-ins. Experiment with these options to create your own unique muffin variations:
Chocolate Chips: Fold in dairy-free chocolate chips into the muffin batter. Dark chocolate chips work particularly well with the subtle sweetness of the muffins.
Dried Cranberries: Tangy and slightly sweet dried cranberries can brighten up your muffins and provide a burst of fruity flavor. Add them instead of raisins.
Chopped Dates: Chopped dates add natural sweetness and a caramel-like richness to your muffins. They pair wonderfully with the zucchini and cinnamon.
Lemon Zest: Brighten up your muffins with a touch of lemon zest. It adds a zesty, citrusy aroma and a refreshing contrast to the sweetness.
Blueberries: If you're a fan of berries, fold in fresh or frozen blueberries for a burst of color and juicy sweetness. Blueberries and zucchini go surprisingly well together.
Chai Spice: Create a spiced version by adding a blend of chai spices like cardamom, cloves, and ginger. These warm spices add depth and complexity to the muffins.
Pumpkin Seeds: Incorporate pumpkin seeds (pepitas) for a unique twist. They not only provide a delightful crunch but also a dose of healthy fats and nutrients.
Mini Vegan Marshmallows: For a playful twist, mix in mini vegan marshmallows. They'll create gooey pockets of sweetness throughout the muffins.
Chopped Candied Ginger: If you love a spicy kick, add chopped candied ginger. It provides a delightful sweet and spicy contrast.
Remember, these mix-ins are highly customizable, so you can combine different ingredients to suit your taste preferences. Be creative and have fun experimenting with various combinations to create your own taste of Vegan Zucchini Muffins. Enjoy the process of baking and discovering new flavors!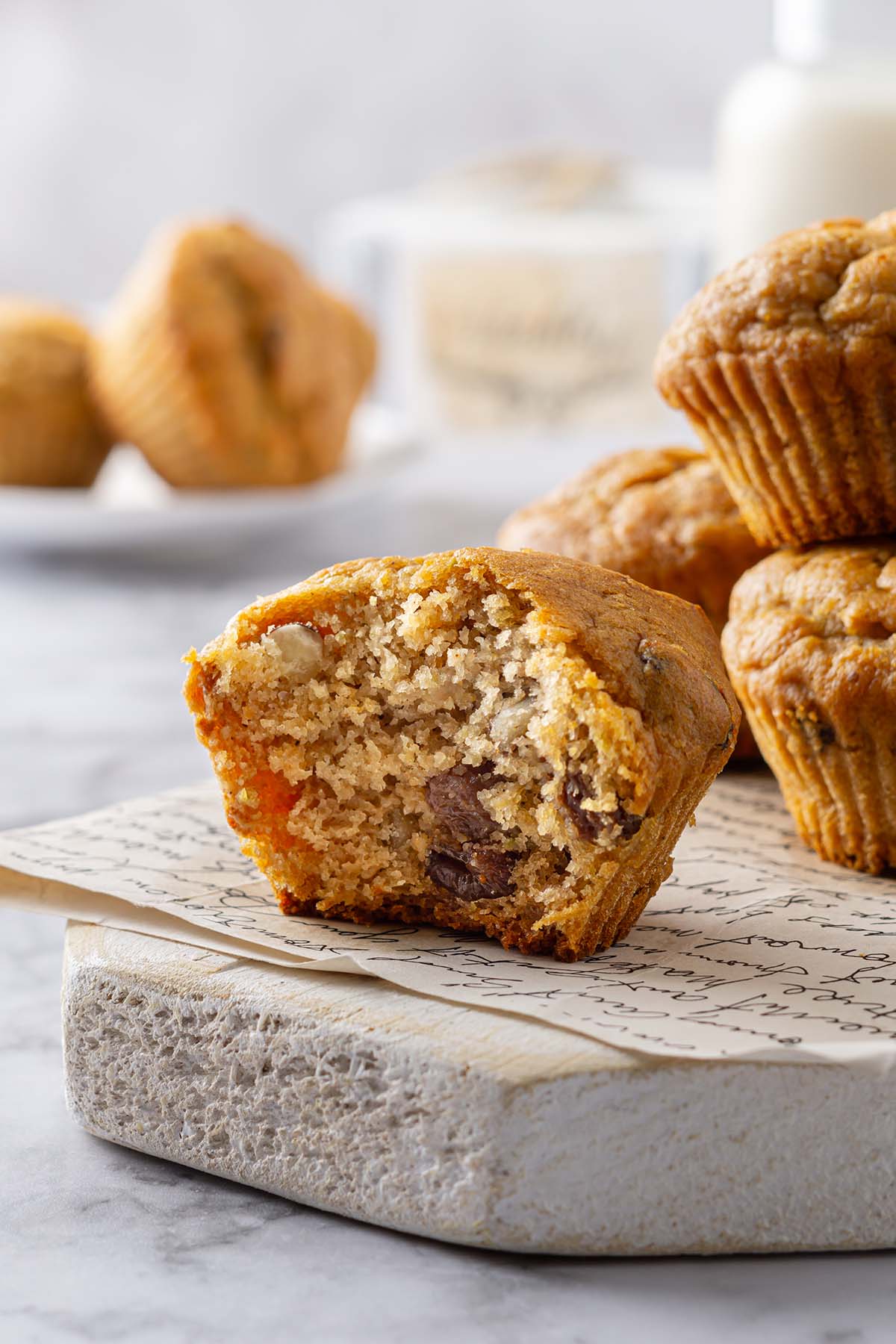 How to Store
To keep your Vegan Zucchini Muffins fresh and delicious, follow these simple storage steps. Once baked and cooled, place the muffins in an airtight container or resealable plastic bag, ensuring a tight seal to prevent moisture from entering. If you plan to consume them within 1-2 days, they can be stored at room temperature, but for longer freshness, refrigeration is recommended, extending their shelf life to up to a week.
For extended storage, freeze the muffins individually wrapped in plastic wrap or aluminum foil, then store them in an airtight container or freezer-safe bags. When ready to enjoy, allow them to thaw at room temperature or warm them up for that freshly baked taste.
Proper storage ensures that these delightful muffins stay moist and flavorful, ready to satisfy your cravings at any time.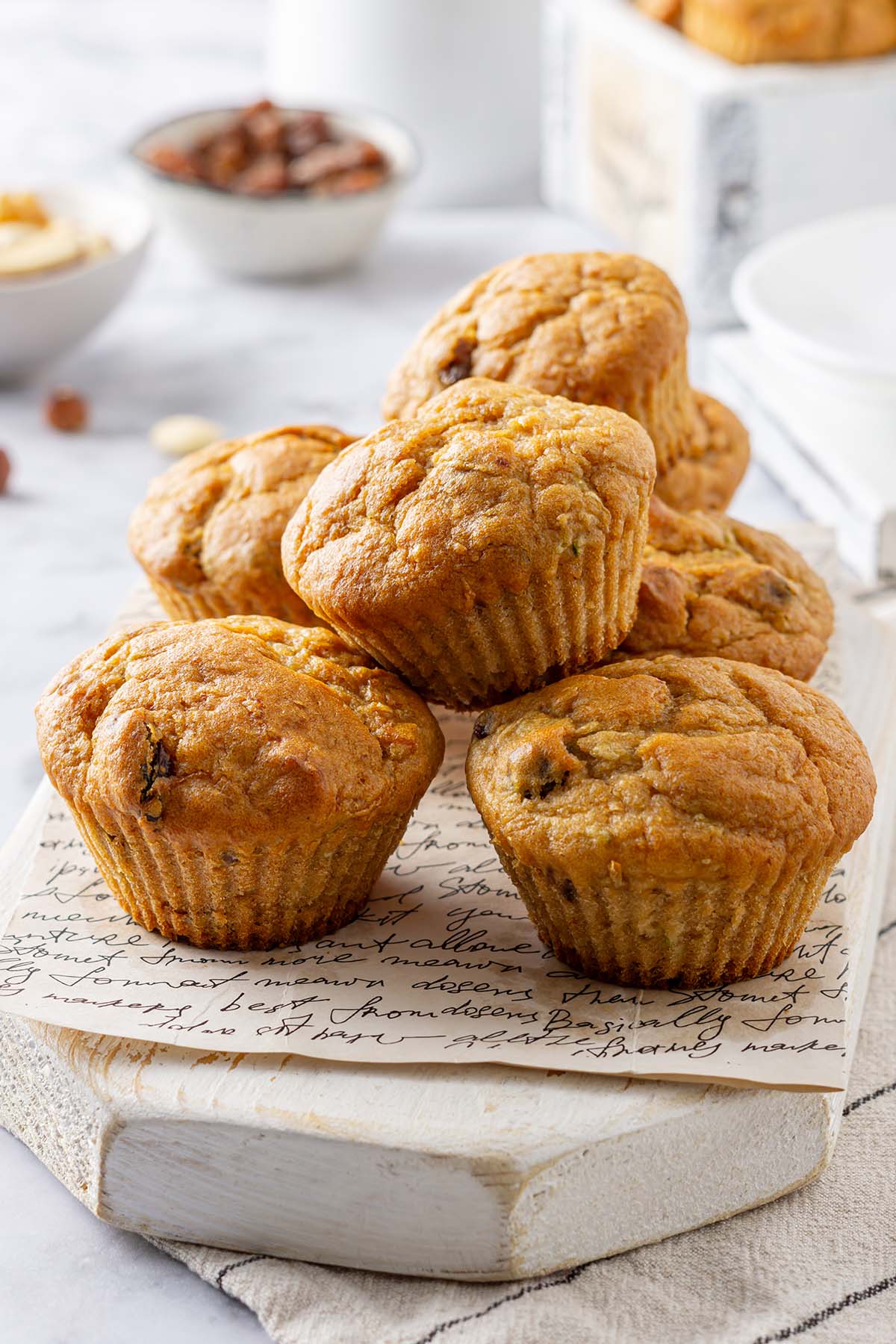 More Healthy Snack Ideas
Whether you're craving a wholesome breakfast or a satisfying snack between meetings, these muffins are your go-to option. Their moist, flavorful goodness will keep you energized and satisfied wherever your day takes you.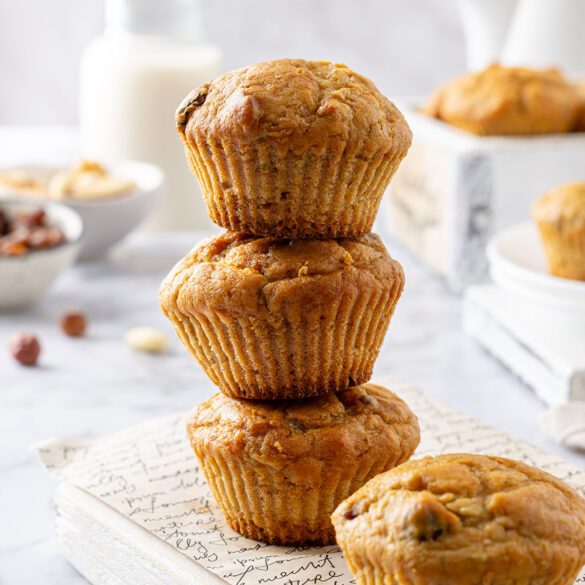 These Vegan Zucchini Muffins are not only a delicious treat but also a healthier option thanks to the nutritious ingredients used. Enjoy them as a satisfying snack or as part of your healthy breakfast.
Ingredients
¼ cup (60 g) vegetable oil
4 tbsp (80 g) maple syrup (or honey for non-vegan version)
1 cup (150 g) zucchini, grated (do not squeeze out excess moisture)
1 tsp apple cider vinegar
½ tsp ground cinnamon
⅔ cup (160 g) almond milk (or other plant-based milk)
1 cup (100 g) almond flour (or any other finely ground nut flour)
1 ⅓ cups (160 g) whole wheat flour
1 tbsp baking powder
¼ tsp baking soda
½ cup (60 g) mixed nuts, chopped
⅓ cup (50 g) raisins
Instructions
Preheat your oven to 350°F (180°C) and line your muffin tin with paper liners.
In a mixing bowl, combine oil, maple syrup, grated zucchini (do not squeeze), apple cider vinegar, cinnamon, and milk. Stir until well combined.
In a separate bowl, whisk together almond flour, whole wheat flour, baking powder, and baking soda.
Gently fold the dry ingredients into the wet mixture until well combined.
Add in the nuts and raisins, and fold them into the batter.
Scoop the batter into the prepared muffin tin, filling each liner about 3/4 full.
Bake for about 20 minutes or until a toothpick inserted into a muffin comes out clean. Allow the muffins to cool completely before serving.
Nutrition
Calories:
196kcal
Fat:
10.9g
Saturated Fat:
1.4g
Cholesterol:
0mg
Sodium:
41mg
Carbohydrate:
21.6g
Fiber:
1.7g
Sugar:
7.1g
Protein:
4.2g
Vitamin D:
6mcg
Calcium:
69mg
Iron:
1mg
Potassium:
246mg
Did You Make This Recipe?
Tag us on Instagram
@thewillowskitchen
and hashtag #thewillowskitchen to show your results. And be sure to leave a comment in the section below :)
FAQs
Can I replace the zucchini with other vegetables in this recipe?
While zucchini is the the main ingredient for zucchini muffins, you can experiment with grated carrots or even shredded sweet potatoes for a different twist, although it may slightly alter the flavor and texture of the muffins.
How can I make these muffins gluten-free?
To make these muffins gluten-free, you can use a gluten-free flour blend in place of whole wheat flour. Also, ensure that the baking powder and baking soda you use are labeled as gluten-free.
Can I make mini muffins with this recipe?
Absolutely! You can adapt this recipe to make mini zucchini muffins by reducing the baking time. Start checking for they are done after about 10-15 minutes.
Do I need to use paper liners, or can I grease the muffin tin directly?
While paper liners are convenient and prevent sticking, you can also grease the muffin tin if you prefer. Just ensure it's well-greased to avoid any sticking issues.