This vegetarian Halloween Charcuterie board is super easy and quick to make! It includes fruits, berries, cookies, candies, cheese, caramel corn, the jars of honey or jam. It's the best appetizer for a Halloween party. You can put it all together on a wooden board or use a big serving platter.  With spooky decorative touches, you can transform a classic appetizer board to perfect for the October holiday theme board.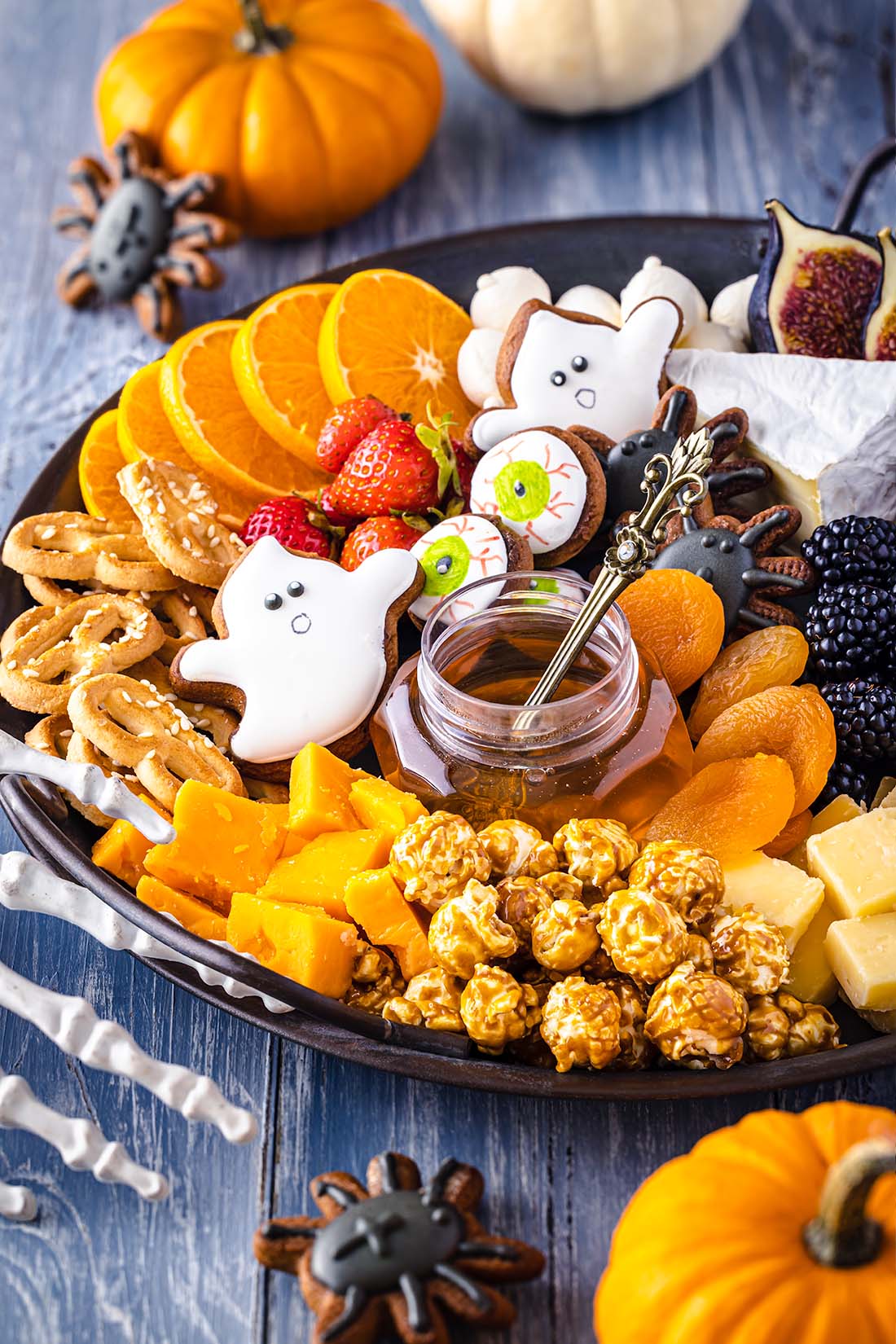 Charcuterie (shar-KOO-ta-REE) is a term that comes from France back from 15th century and is translated as the products of a fancy pork butcher. Modern charcuterie does often include pork, and our board doesn't include meat at all, as it is vegetarian. But of course, if you want, you may add some meat such as prosciutto, pepperoni, salami, or other.

If you're looking for a Halloween appetizer idea and don't want to waste much time cooking, the charcuterie board is for you. It takes only about 10 minutes to put together all the ingredients and some decorations to create a spooky Halloween mood.
Use fancy and moody decorations you have – skeleton arms, plastic spiders and skulls, candy eyeballs, and other decorations, and, of course, mini pumpkins to create the beautiful moody board.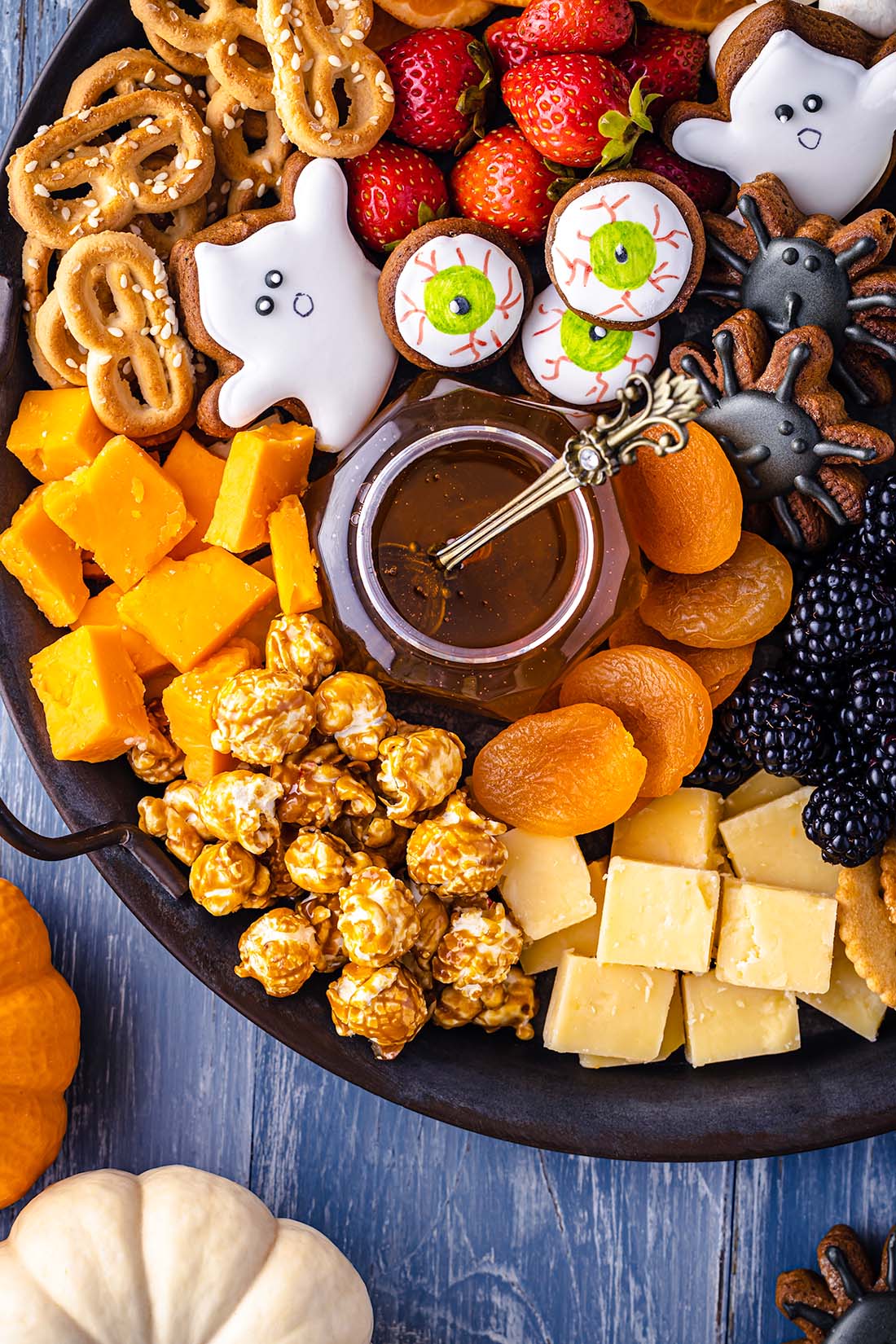 What to put on a vegetarian Halloween charcuterie board
Cheese – Mozzarella mini balls, Brie cheese, white and yellow Cheddar. Also, a great idea is to add Parmesan, Gouda, Gruyere cheese, or other cheeses you love. Use at minimum 3 different types of cheese. One standard-size portion is about 2-3 oz cheese per guest.
Pretzels and Crackers. You can use water crackers, ritz-style crackers, toasted crostini, artisan crackers, pretzels, ritz crackers, etc.
Cookies and Sweets. Chocolate chip cookies, Halloween themed cookies in the shape of ghosts, spiders, pumpkins, eyes, and other cookies, caramel corn, candies, and other sweets.
Fruits and berries – strawberries, blackberries, dried apricots, figs, oranges. Also, a great idea of what to add is raspberries, blueberries, grapes, apples, and pears.
Honey. Also, you can add jams and preserves to spread on crackers and cheese.
Additionally, you can add olives, nuts, jam and jelly, fresh herbs, like fresh rosemary and thyme, and other types of cheese and fruits.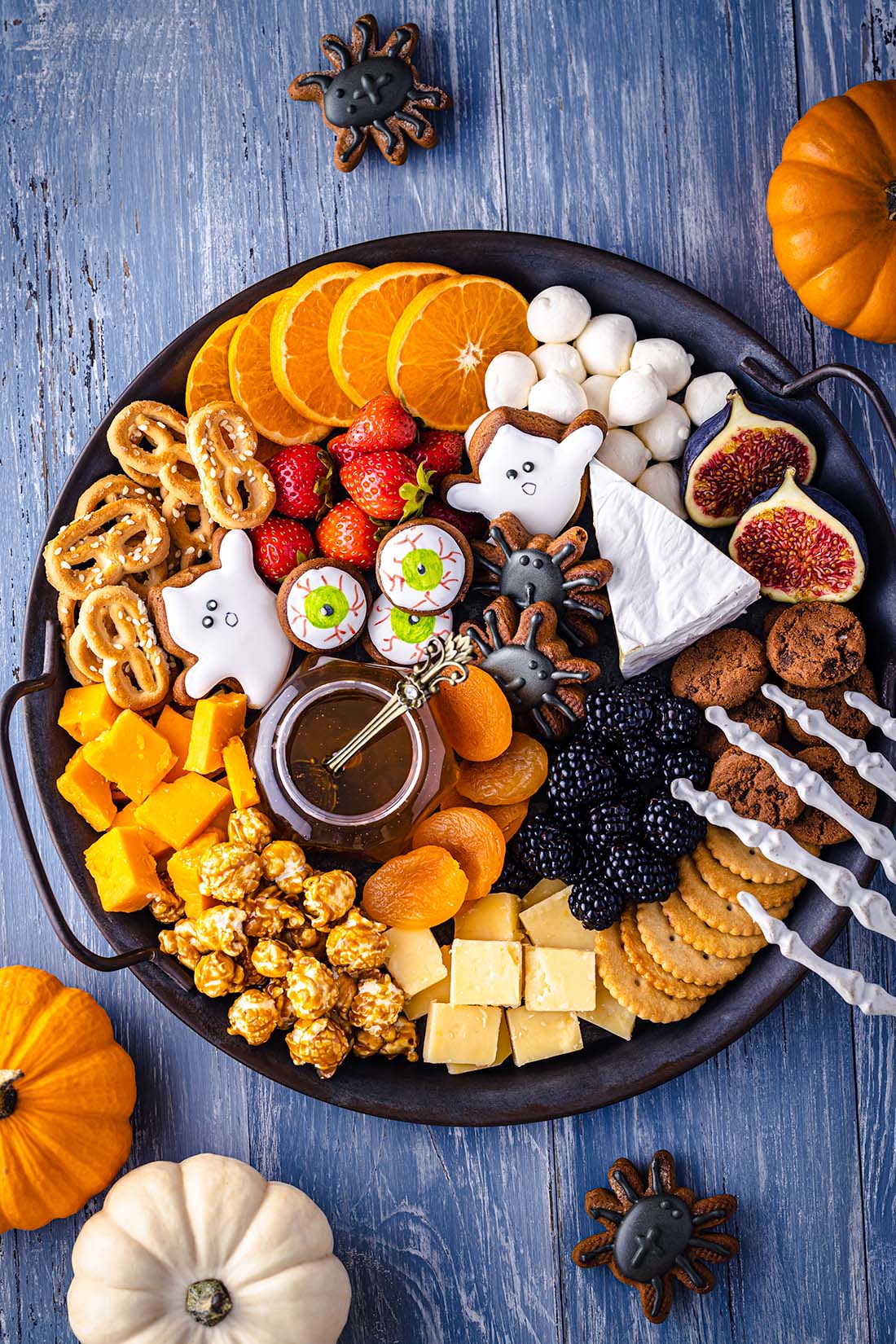 And of course, use mini pumpkins of different colors to decorate the board. These white and orange mini pumpkins look gorgeous and are perfect for any Halloween party. So if you are looking to make the perfect appetizer board with your favorite Halloween themed sweets, this vegetarian Halloween charcuterie is a great idea!
More recipes for parties and holidays
Check out our other recipes for appetizers and side dishes: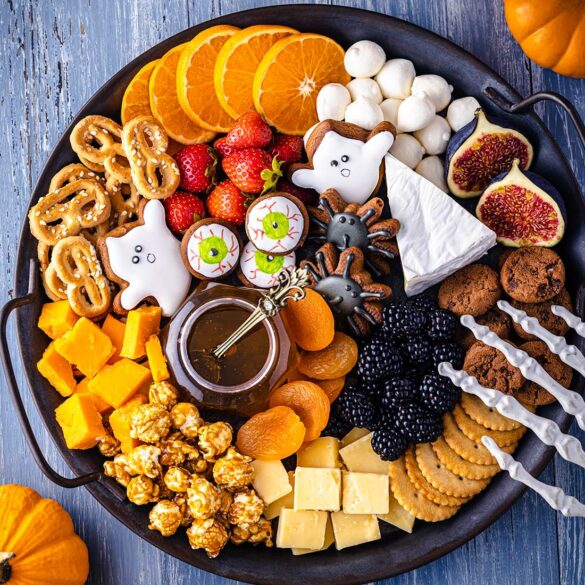 Ingredients
white Cheddar
yellow Cheddar
Mozarella mini balls
Brie cheese
crackers
pretzels
caramel corn
chocolate chip cookies
decorated cookies
strawberries
blackberries
dried apricots
figs
oranges
jar of honey
Instructions
Cut Cheddar cheese into cubes. Place Mozarella mini balls, Chedder and Brie into your board.
Then add fruits, berries, and a small jar of honey to the board, and fill the empty spots with crackers, corn, and cookies
Decorate with mini pumpkins, skeleton arm, candy eyeballs, and other spooky decorations. Serve and enjoy!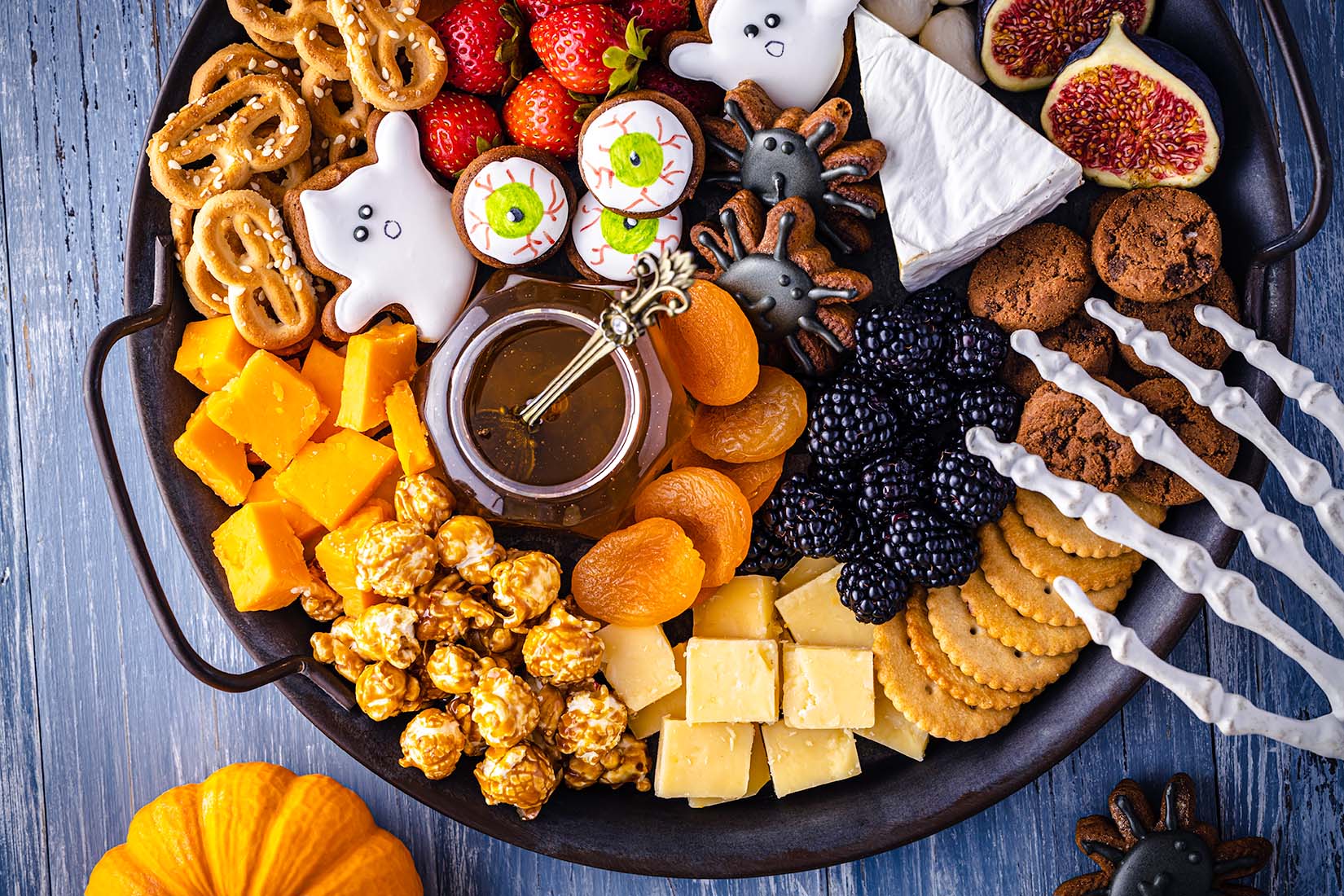 Did You Make This Recipe?
Tag us on Instagram
@thewillowskitchen
and hashtag #thewillowskitchen to show your results. And be sure to leave a comment in the section below :)