Blondies have a quite similar texture to brownies. Sometimes they are even referred as white brownies since they don't contain cocoa. These White Bean Blondies in addition to being delicious, are also good for your body. Consisting of only healthy ingredients – white beans, almond and oat flours, honey, and vanilla they are a great option for a daily sweet snack. 
This recipe needs only 20 minutes of prep and cook time. It is very easy to make! Just combine all ingredients in a blender and place the pan in the oven to bake. The hardest part is waiting for them to cool down.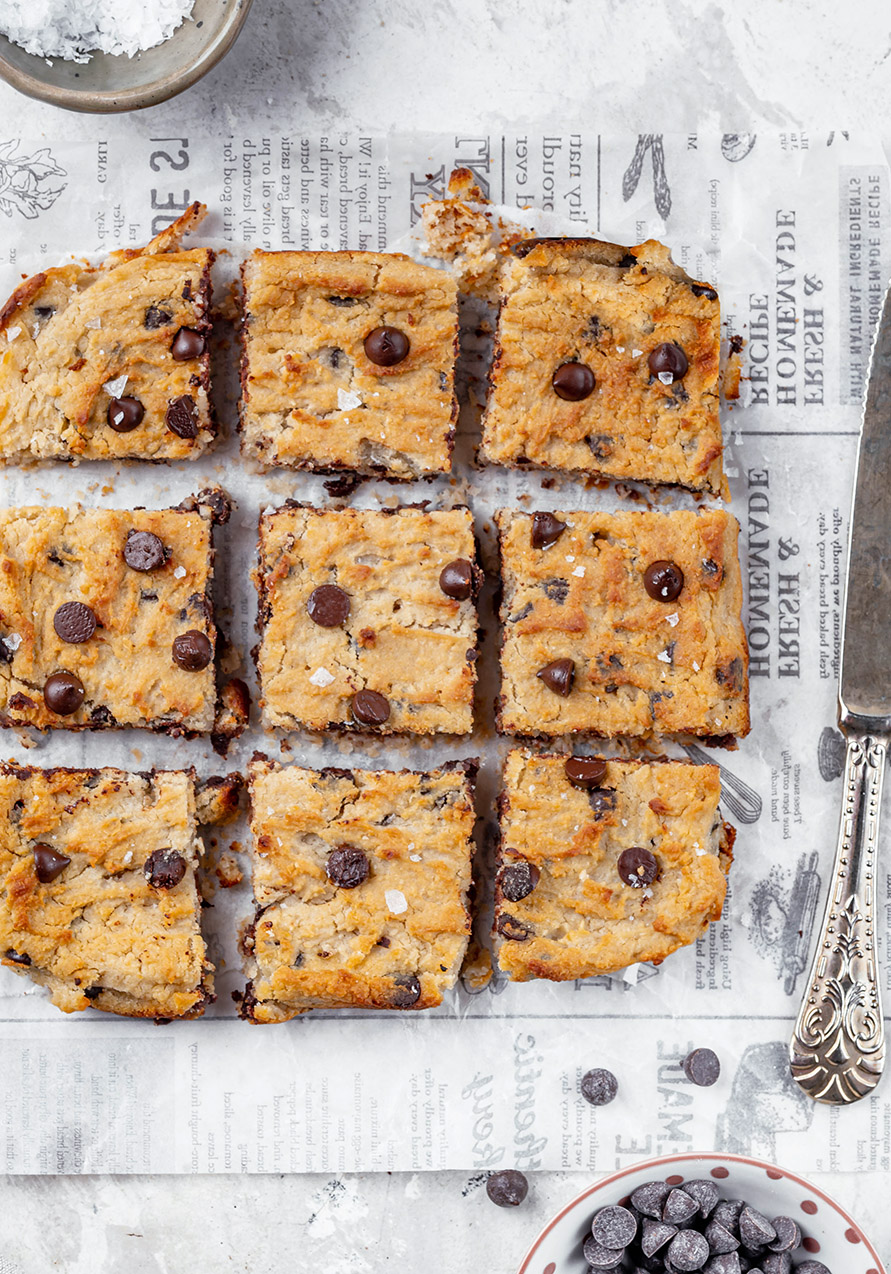 Ingredients
Beans. White Bean Blondies are nutritious, thanks to the high protein content in beans. I recommend to use the great northern beans in this dessert, as they have a mild, nutty flavor and have no strong smell of the beans. These beans are perfect for desserts.
Flours. Almond and oat flours absorb extra moisture from beans and butter, compensating for the lack of cocoa, so the blondies come out moist and fudgy inside with a little bit crispy crust outside. If you are on a gluten-free diet, make sure to choose gluten-free certified oat flour. You can also use rolled oats to make homemade oat flour by grinding them in a food processor or coffee grinder until very finely ground.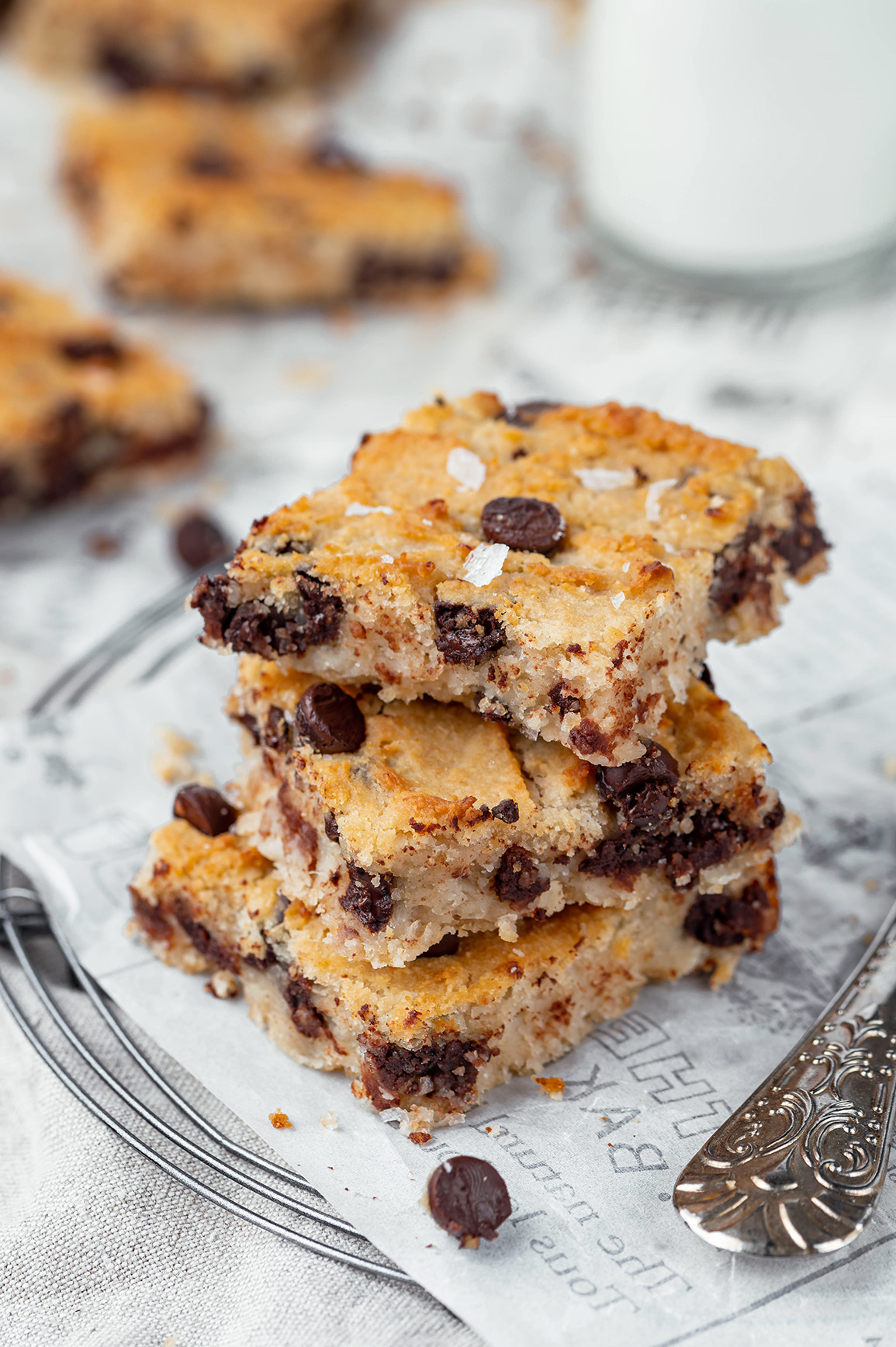 Taste
Even if you are confused by the use of beans in the recipe, you should definitely give them a try. There is no smell or taste of beans at all – blondies are delicious, tender, with some honey and vanilla flavor. If you do not eat honey, just use the same amount of maple syrup instead.
Adding chocolate chips into the blondies enriches the taste of the dessert. You can use dark, milk, or white chocolate chips – choose the ones you love. Or you can use any other add-ins – raisins and dried cranberries will be especially good, but you can also add different types of nuts or fresh berries such as raspberries or currants.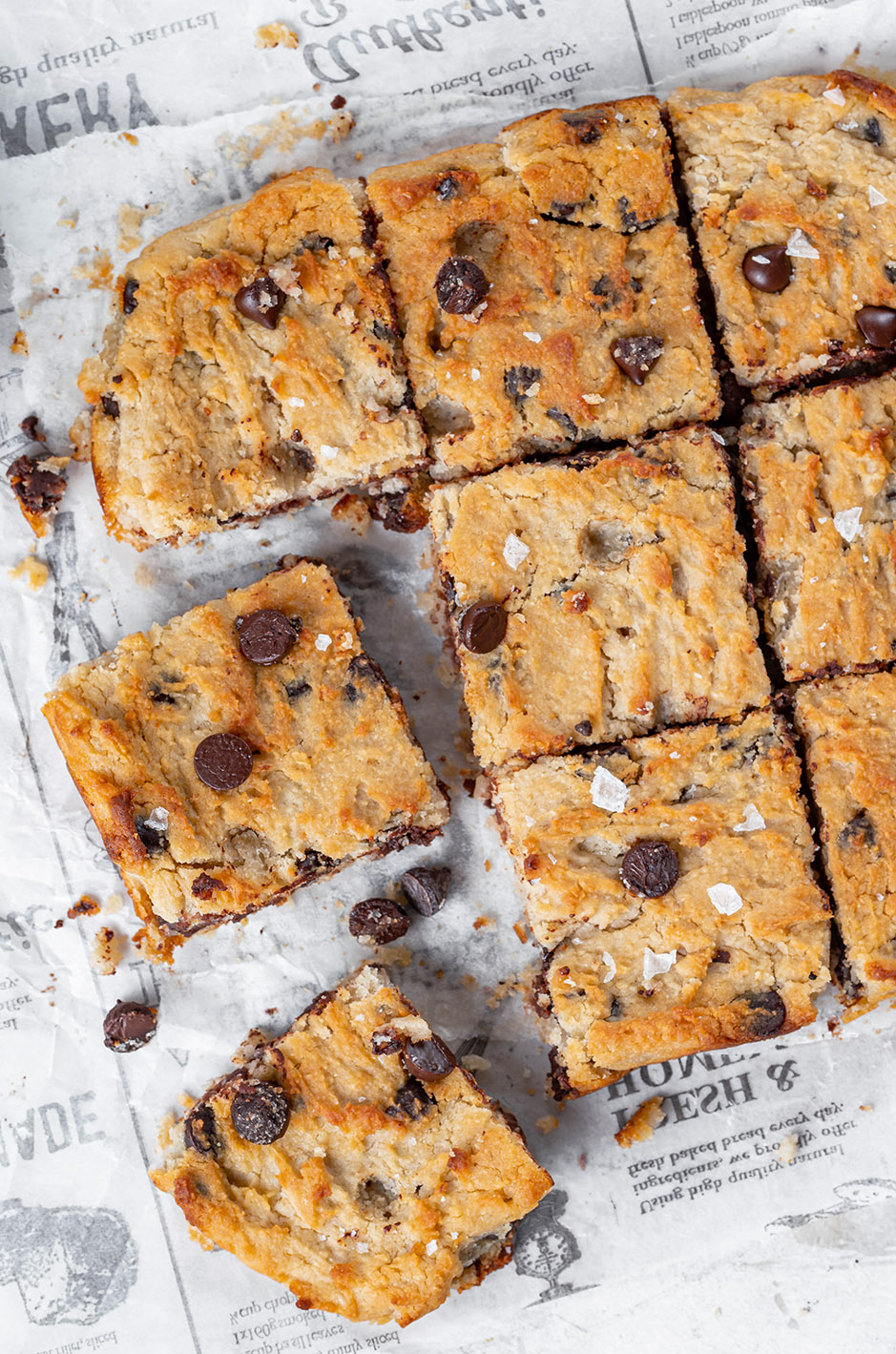 This dessert will blow you away with its great texture, vanilla and butter flavor and a slight nutty taste. Treat your friends and family, no one will guess that the blondies are made with beans – everyone will love this dessert.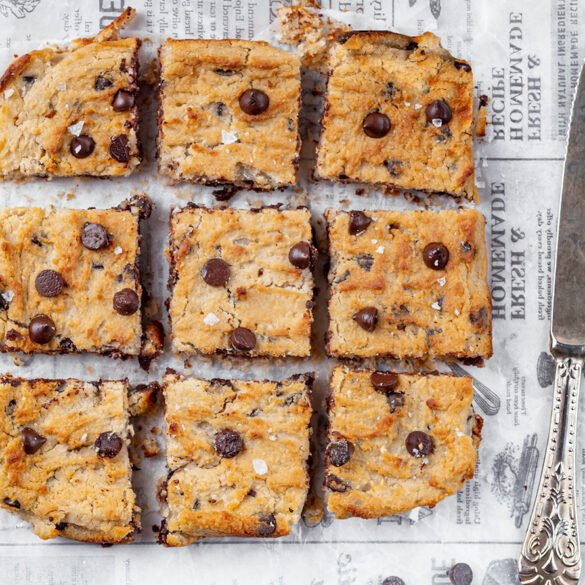 Ingredients
1 1/2 cups (1 15-oz can) white beans, drained and rinsed (I used the great northern beans)
1/2 cup oat flour
1/4 cup fine almond flour
1/3 cup honey *
1/4 cup butter, melted (or vegan butter)
1 tsp baking powder
2 tsp vanilla extract
1/4 tsp salt
1/2 cup chocolate chips
Instructions
Heat the oven to 350°F and cover a 8 x 8-inch pan with parchment paper.

Mix all the ingredients (except chocolate chips) in a blender. Blend until smooth batter consistency. At the end add chocolate chips and stir it well with a spatula.

Pour the batter into the prepared pan and bake for about 15-20 minutes until the top of the blondies turns slightly golden.

Let the blondies completely cool and only then cut into squares.
Notes
If you do not eat honey, just use the same amount of maple syrup instead.
Did You Make This Recipe?
Tag us on Instagram
@thewillowskitchen
and hashtag #thewillowskitchen to show your results. And be sure to leave a comment in the section below :)